Sai Baba's Blessing Hand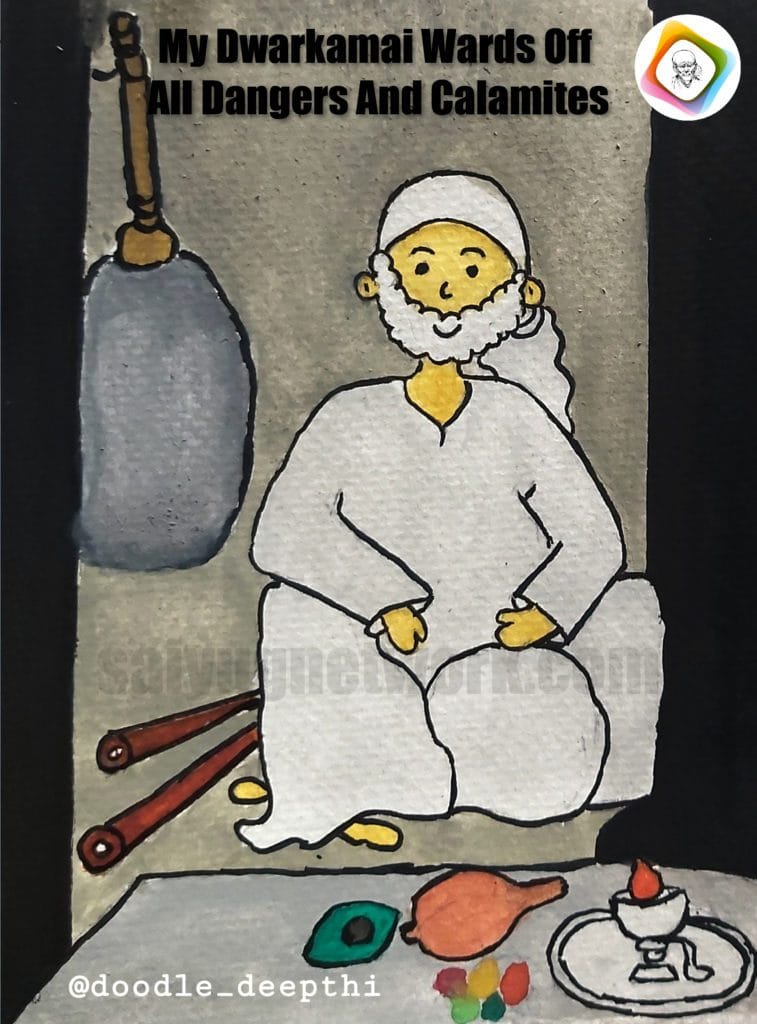 Anonymous Shirdi Sai Devotee from India says: Om Sai Ram. Sorry If I make any mistakes in writing the experience please correct me.
First of all a big thank you to the admin of this website as it is increasing the faith in Baba many-folds and giving a platform to share experiences. I have seen many miracles of Baba each and every day. I feel that Baba is always with me and my family and blessing us and guiding us at each step.
Solving Financial Issues And Shirdi Visit: I have been a devotee of Baba since class 10th as I remember before that also I was knowing Baba, having His idol in my home but I never worshipped Him like I do now. My family consists of four people including my parents and a younger sister. That time we were seeing the hardest part of our life. Financial crisis due to my father's irregularity in job, his health issue, daily quarrels and what not. We were feeling broken. My mother sold her jewelry to pay the school fees. We were in debt and the conditions got worse. That was the time Baba entered our life. We were trying to change our rental house but were not able to do so, so suddenly my mother went to Baba's temple for the first time. Actually she did not go; it was Baba's call for her. She was searching for a house; completely tensed and hopeless. She saw the temple, prayed to get a good new rental house and miracle was that day itself we got a chance to see a house and we shifted. Then all four of us started doing Sai Vrat (9 Thursday) and prayed to Baba to make things well. Then another miracle happened and we got a chance to visit Shirdi. One of my family friends whom I call his maternal uncle asked us to come to Shirdi along with them. We said yes but we were not able to afford the trip but Baba had His own plans like a bird with the string tied on the leg, He called His devotees and He did this to us. My uncle booked the tickets, asked us to come with us and afforded the whole trip. We felt as if Baba was present all the time with us on the trip. He made all proper arrangements and we felt immensely good after visiting Shirdi.
Saving From Accident: Things started going well but this was not fine, indeed my father's job had lots of problems. We started praying to Baba to make things good soon. Then my father bought a scooty for us so that we could go to school. It was the time when I was in class 12th. And that time we were going by auto-rickshaw to school but it was quite embarrassing for us as all the other friends used to have their own vehicle and due to this reason my sister asked the rickshaw driver not to come from the next day and asked me to drive scooty. I agreed somehow but I knew that I can't drive so well since it was just a week ago that I had started learning driving. Taking Baba's name we went to school and at the time of coming back to home we both were talking on the way and suddenly a speedy auto-rickshaw came from the wrong side and I felt that I will meet a big accident and closed my eyes and miracle I felt was that as if someone just turned the handle to left side and for two seconds I didn't understood what happened. It was Baba, Who saved me and my sister's life since the way it turned was the road where I never used to go and we reached home safely following that path. From that day on, I feel that Baba is always with me while I am driving. Om Sai Ram is written on my scooty and now I own another scooty too, all due to Baba's blessing.
Education: Baba afforded a high class ICSE board English medium school for us. Things were ill, still there was not a single problem we faced during school life. Without any coaching classes I passed well and got admission into an Engineering college as the fee structure was too high. Baba made it easy by giving a fee waiver seat to me and blessed me again. Even my sister got an ALL INDIA RANK in her competitive exams of CA/CS as she is a commerce student. I believe that Baba always blesses us and He will definitely get me a good job soon.
Self Guilt: Few days back I got a chance for an interview clearing a campus written round and GD and went out of town for it. It was a Thursday and I was not able to go to the temple that day nor did the Thursday Vrat pooja and many issues occurred. I felt that Baba was angry with me. I cried a lot in front of Baba and asked for forgiveness. Baba did so last Tuesday. Me and my sister went to Baba's mandir and I purchased Baba's pendant thread since the one I was already wearing was a little broken, so I gave it to Panditji to touch it to Baba's feet but Baba planned something more. Panditji used that pendant as a garland offered to Baba's idol and I felt extremely happy for 5 minutes. It was with Baba's idol and then was given back to me. I immediately wore it and thanked Baba.
Now me and my sister go to Baba's temple every Thursday and do the fast (Sai Vrat). One more thing after that visit we went twice to Shirdi spending our own money and all our debts were cleared. These Shirdi trips were wonderful. We even went to Nasik and Traymbakeshwar. We got His darshan thrice and even so many Udi packets and flowers touched from His Samadhi. My father got transferred from the rural place and we pray to Baba that all the other issues related to his job and our plot (with a court case) get solved soon.
We want to have our own house, I know Baba will bless us soon with our house. There are many more experiences; I don't know what to write and what to leave. Each day Baba blesses me with something new. I am sorry Baba for all my sins, forgive me but never forget me.
Love You A Lot.
Om Sai Ram!
Karacharana krutamva kaayajamkarma jamvaa vaa
Sravana nayanajam va maanasam va paradham
Vidita maviditam vaa sarvametat kshemasya
Jaya jaya karunaabde sree prabho sai naada
Shree Sachidananda Sadguru Sainath Maharaj ki Jai.
Baba's Blessings Are Always Present
Anonymous Shirdi Sai Devotee from India says: I am a devotee of Baba for the past eight years. Baba is there for me in each and every part of my life.
First experience: I had several health problems and on top of it, we were waiting for Baba to bless us with a child. After five and half years I got conceived by Baba's grace but it didn't last long. My doctor told that it was a chemical pregnancy (early miscarriage) and I wondered why it was happening to me. It happened on my birthday and I was so sad. We booked a taxi from the hospital to home and I was looking outside for the whole trip. My mom is a Sai bhakta too. She saw Baba's picture inside the car. She told Baba will bless you next month itself. Luckily I got conceived the next month itself and with the blessings of Baba I am currently four and half months pregnant.
Second experience: I had to take an NT scan during the third month of pregnancy. I have been a regular reader of this devotees' experience blog for the past few months. Just the day before the scan I saw a post about a devotee mentioning about her NT scan and it was a success. My joy knew no bounds and I knew that my scan would be a success. I saw lots of Baba's pictures on the way to the scan center and inside the scan room I saw a big picture of Baba. The scan was a success.
Third experience: I had to take a glucose tolerance test to check sugar levels. It had to be done on an empty stomach and fasting for two hours. I had a morning sickness problem and prayed Baba everything should go well. It went well without any problems and my report is normal too.
Baba, the baby in my womb is Your blessing, so bless the Baby with all health and happiness. Baba takes care of my family members who have taken vaccines. I am very worried about them and I am laying everything at Your lotus feet. Being a pregnant woman I am anxious during these Corona times and please save the world from this corona. Everything in my life is Your blessing Baba and without You I am nothing. I am so sorry for posting these experiences very late. Accept my apologies. Thank You for all Your blessings Baba. Om Sairam.
Baba Handled The Situation In His Way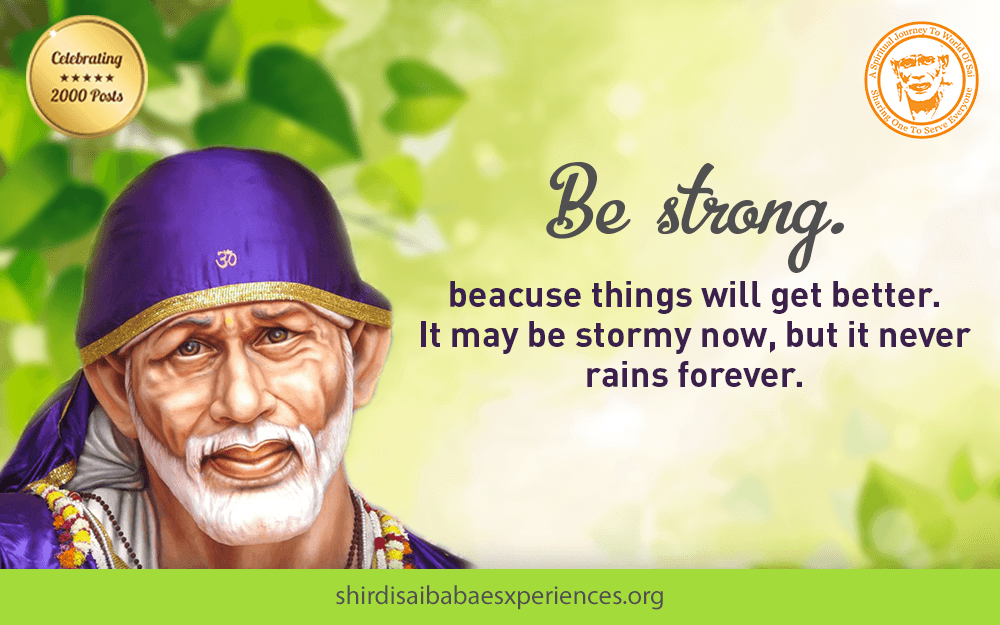 Anonymous Shirdi Sai Devotee from India says: Jay Shree Sai. Babas accept my heartiest gratitude. I don't have anything to give You.
You are the owner of everything Baba. Coming to my recent experience, five days back that was 9th June 2021 Wednesday; in the morning I logged into my laptop and started my office work. Meanwhile I got a message from a customer that they were facing some issues. Why did they message me? I didn't know that. I had not handled such a type of issue. So I asked a few questions to understand the issue and also contacted the manager for assistance. At the same time I tried to replicate the issue in our test lab. By Baba's grace, I was able to replicate the issue but didn't know that I had replicated it. I got immediate help from my senior and showed him my observations. He let me know that it had been replicated. Now the time was to show that to the development team and get it fixed. I was a little worried and prayed to Baba for help. Then some people from our team got involved and tried to get it fixed. Finally by Sai Maa's grace we could find the solution and they told me to pass that to the customer.
All activities such as replicating the issue, confirmation, fix and validation were completed in one short. Really it was like a miracle for me. Manager and senior manager also appreciated our teamwork and the customer was happy. I had never imagined handling such a type of issue. By making it happen Baba boosted my confidence. How Baba managed this, it was beyond my imagination. I just want to stay on Your lotus feet Baba. Please save this world from Corona Virus and make everything normal by Your grace. Om Sairam. Bow to Shree Sairam. Peace be to all!
Sai Showed His Presence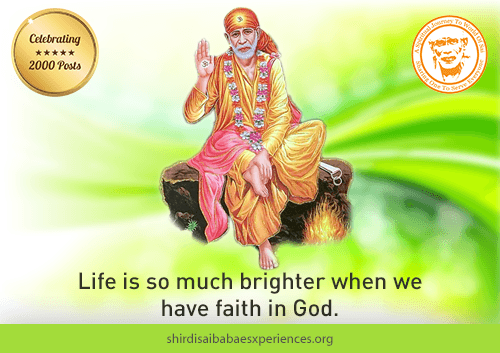 Shirdi Sai Devotee Saranya from India says: Hi All, I'm Saranya from India. I have been praying to Saipa for the last three years.
I call Sai Baba as Saipa (in Tamil it means Father) because I lost my father a few years ago and I keep telling Him that He's both my Father and Guru. I have been praying to Saipa the last few years to bless me to get married. I did the Sai parayan, Nav guruvar Vrat and read the Sai Satcharitra many times. But till date Saipa has not blessed me with marriage. So today while praying to Him I was asking Him to show me a miracle. I wanted to know if He was hearing me pray. So I asked Saipa if You are here then show that to me.
After Pooja in the evening, I went out for a drive and I saw an old man on the road asking for help. For some reason I felt it was Saipa right there and I immediately asked my friend to stop the car. We went closer to him and gave him some money. He looked at me and said that he hadn't eaten anything since morning and he said thank you. Soon after I opened my phone and I saw a picture of Saipa with a message saying "Those who wish to feed me, may feed the hungry; I receive it through every form." I felt so blessed. I felt Saipa's presence immediately. Thank You Baba for making me feel Your presence. Felt very special to see Your blessing.
Saipa You know I have been pleading You to bless me to get married. You know how much pain my mom and I are facing every day. Our friends and family have been treating us very badly because of this. We feel humiliated. Please Saipa no girl should go through the pain that I am going through. Please, Saipa, forgive me if I have made any mistake in the past. It's Your duty now that my father is also not there. Please Saipa bless me to get married and live a happy life.
Sai Baba Sends Voices And Signs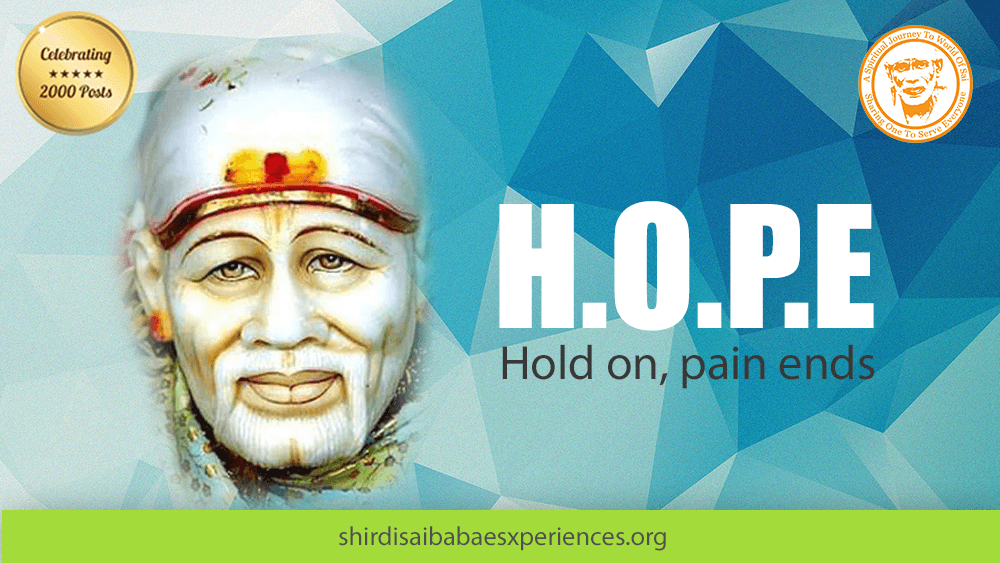 Anonymous Shirdi Sai Devotee from India says: I think a voice in my head told me to read a miracle and it led me to one miracle that Said "Baba Always Listens." This miracle title was somewhat kind of similar to some experiences and short stories that I shared before on here and snap chat or Instagram. Sai Baba sends voices or He is the voice in my head that leads me to new things or leads me to something. Baba is within us. He is helping us and He is guiding. Sai Baba is always with us. Jay Sairam!
Sai Baba Always Help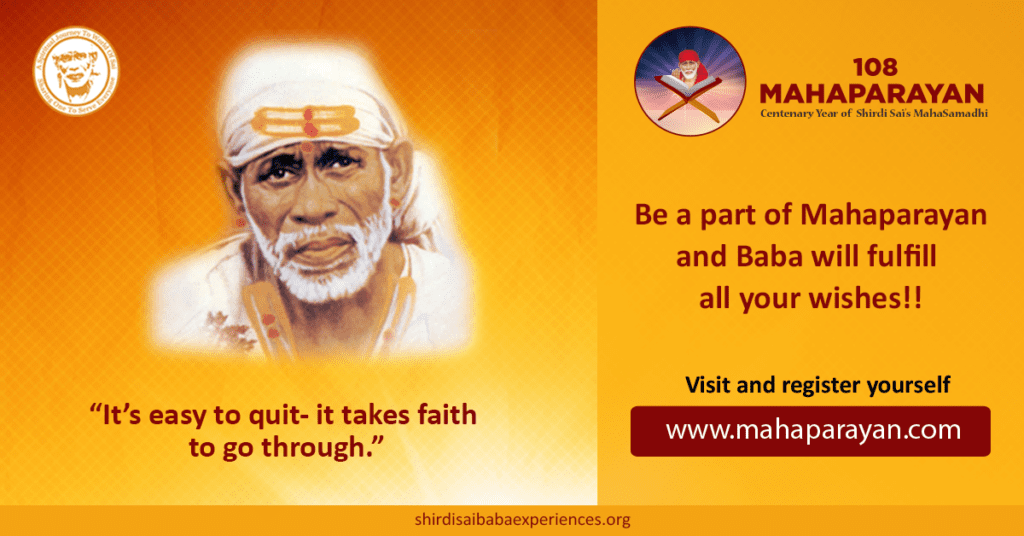 Anonymous Shirdi Sai Devotee from Malaysia says: Om Sairam! I am from Malaysia. I am a teacher. Whenever I needed Him, Baba used to help me. Thank You Baba for always being there. Jai Sairam!
More from SaiYugNetwork.com
© Shirdi Sai Baba Devotees.com – Member of SaiYugNetwork.com