Guru's Blessings Can Do Miracles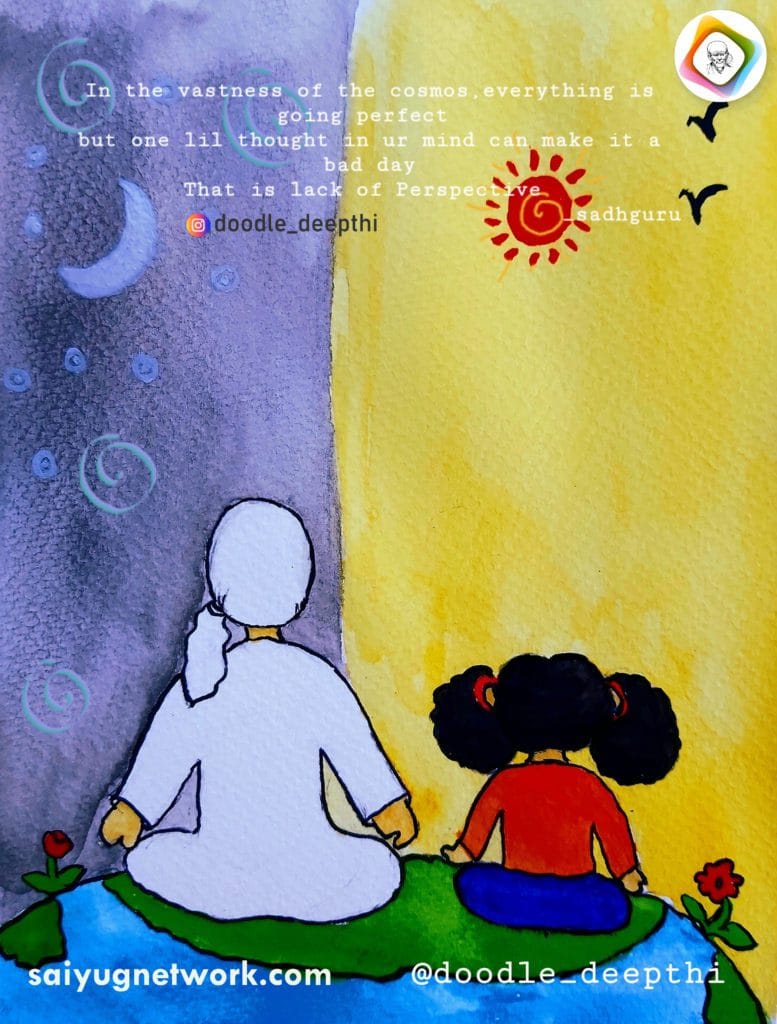 Anonymous Shirdi Sai Devotee from India says: Hare Krishna Hetalji. Thank you for this wonderful site which is like a boon for many people like me.
I have been a devotee of Sai Baba since my middle school days. This is my third experience being shared on the site. This is about how Baba restarted my career after 12 years and blessed me with a job in an MNC. 
Situations in my life back in 2007 were such that even though I did not want to quit my job, as I moved to the USA and was pregnant and couldn't come back and rejoin my job, I had to leave it. HR just gave up on me not allocating any project saying that I was pregnant and would eventually go on leave, so they did not try. Instead I was pursuing it by all means as I did not want to resign, so I did not resign as I wanted to save my job. Point to remember here is all this while I was just praying Baba like anything to save my job, but nothing worked.
Later almost 10 years passed and I delivered two girls eventually and I just lost hope of my career even though I was a very career oriented girl. I tried H1B twice but no luck. Later we moved back to India for a couple of years and then also I tried going back to my previous company saying as I did not quit, could I come back. Please note I was young then and I did not know all HR policies etc. and implications of not having a proper exit from an MNC. I did not even think about my bad. So when I asked for my experience letter, upfront the HR lady rejected me and also made fun of me saying, "How do you think you will even get the letter, it's a JA case." I was spell shocked, realising then the implications of this mistake in my career. I cried and cried and cried and decided now I cannot even think of having a career in IT again. So I just gave up and led my life as we moved back to the USA. But deep down there was never a day without feeling bad for the mistake I did unknowingly which spoiled my career. 
Fast forward 12 years, and in 2019 we again moved back to India. Now this time due to torture from in-laws and other personal reasons job was very important for me. I just picked myself up, took Baba's name with courage and started applying for jobs sincerely like anything and after two months of tremendous efforts and many rejections, finally I got a job in a small company and again that was a miracle as I was doing 9 Thursdays vrat then. Baba only gave me this job which I don't even deserve. I joined as a test manager. As it's a small company they didn't ask for an experience letter and I shared pay slips and they accepted. But still I was so tense until I joined the company as I was super scared of not having the request document. 
I worked hard and was very happy with the job, earned many appreciations and everything was cool for almost a year and half and suddenly I got an opportunity from a big MNC and was selected and offered the job. Now big tension started as this was MNC and they were very particular about all the documents and process. My husband encouraged me and said, "No problem, just submit all the documents we have and let's see." So I resigned from my current company and was serving a notice period. The HR from the new company was not asking anything about missing the relieving letter. So I felt ok as they were fine with the payslips I sent and so I was happy. I completed the notice period for my previous company and was ready to join this new company X. To my utter surprise and dismay I was not on board on the joining day and they were insisting on missing the relieving letter. Now imagine my plight, I restarted my career after 12 years with great difficulty, quit my good job due to this opportunity and now I was not allowed to join here and the job was on hold due to missing the relieving letter which I didn't know how to get. I cried like anything to Baba but was never angry at Him somehow. Was just asking Him to please help, show a solution and to please bless my career etc. 
I was having sleepless nights for a month thinking about this letter and now it was needed. What to do? I searched on the internet for some connection, help or lead to solve this problem like anything. Suddenly lo, by Baba's mercy I got a lead from one person who was also in the same situation and managed to get the letter. I was happy and immediately I contacted him and to my surprise he immediately responded too and told me the entire process to get the letter. It was just a miracle, still I couldn't digest this, since 12 years I was trying and now Baba connected me to this person to try for the letter. He was Baba's messenger I thought. So I was positive and followed all the steps and applied for the letter in my previous MNC Company. Remember I was jobless and just pursuing everyday for this letter and begging Baba to make things work. Then one day they emailed saying they would give a letter but they would mention the clause JA on the letter. Now this clause could create a bad mark in the career and I was not sure if new HR would accept that. 
At this point my situation was just helpless and just only hope was Baba and His miracles. I just continued praying and asking Him for a miracle and begging Him not to mention like that JA in the letter. Like this 21 days passed and finally I got the letter. I was so tensed to open it and finally when I saw the letter they did mention the JA clause but in a separate page and not in the main page. So I could just share the required info page to the X company HR. Isn't it a miracle? Finally I shared the relieving letter to my new company HR and still I was so tensed to see if they would accept it or not. So I was again praying Baba like anything, just trusting that He would never leave me empty handed. Finally I got the on boarding email and they accepted the letter and I was on boarded successfully just and only because of Baba's blessings and His kripa and nothing else. Infact I don't even deserve this job but as we all know He will never let His devotees down and will always help us when we sincerely and wholeheartedly seek His help and mercy.
This is how I restarted my career back in MNC after 14 years. With Baba's and my mom's blessings just last week I joined and as I prayed to Baba that I would share the experience so that it will help people like me who are facing difficulty; to never give up and just keep praying and Baba will surely help us. Thank You so much Baba for this job and I will try my best to give my 100% in it and I promise I will never repeat the blunder I did earlier. Thank You for forgiving me for this. I will never forget this miracle in my life. Om Sai Rakshaka Sharanam. Thank You and Hare Krishna.
Sai Baba's Blessing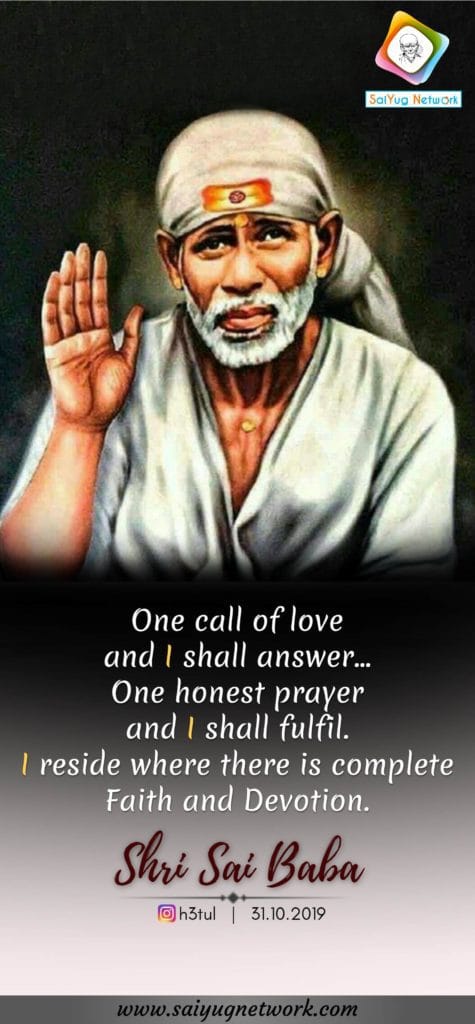 Anonymous Shirdi Sai Devotee from the USA says: Om Sairam, Om Sairam, Om Sairam. First I beg your forgiveness for posting all these miraculous experiences too late. I want to share the miracles that happened with Baba's grace.
Baba answered my many prayers, fulfilled my wishes and showered His blessing many times. I promised to post all these miraculous experiences. I have posted my experiences before in this blog. I want to thank Hetalji for creating and maintaining this blog.
First, my elder son was trying for a summer internship/research opportunity. For some reason I was afraid that he would get that opportunity. The program was supposed to start in the first week of June. He didn't get any positive response until the first week of June. I was very worried as he did not have any other activity over summer. I prayed whole heartedly and by Baba's blessing he was into the program from the second week of June. This is one of the miraculous experiences. 
Second experience, my mom used to visit us every summer for the last few years. Due to the pandemic she was unable to visit us for the last two years. I am very much depressed because she was unable to visit us. I had an innermost wish related to this. I had faith that Baba would somehow will fulfil my wishes. I am so happy that Baba listened to my prayer. It really strengthened my faith. Baba You are my saviour.
Another blessing from Baba, my mom is an arthritis and diabetic patient. She has different types of health issues. Once in her blood work blood sugar level came high and she was detected with a urine infection. I was so afraid that her kidney should not get affected by high sugar. After three months she did another test and her urine infection was reduced. Thank You Baba for answering my prayers. This time her blood sugar level is still very high. I am very much tensed about this. She is already taking medicine but nothing is helping. Baba, my mom has many health issues. Please cure her and save her from any major health issues. I love her so much. Bless her with good health. I cannot see her pain. Please cure her Arthritis.

By Baba's grace my mom got both vaccines by the beginning of May although at that time limited persons were getting vaccination.
My elder son got a perfect score on the ACT. We were so happy and surprised. This was only Baba's blessing for him. Baba, shower Your blessing on him so that he can get into top medical college in US as per his choice in undergrad program.

I wanted to send some money to my mom for our flat in India. I prayed to Baba that there should be no argument between me and my husband. By Baba's grace nothing went wrong.

Once we decided to build a sunroom at our house. Later I dropped the idea for some reason. I prayed to Baba that my husband should agree with me without any argument. When I spoke with him, he was ok with that.

Last month my aunt travelled out of state to attend a wedding. I was so scared that my mom and my aunt both could be infected with germs as she travelled at peak time of Covid. By Baba's grace they both were ok.

Thank You Baba for everything. Always stay with us and bless my both sons.
Naam Japa Experience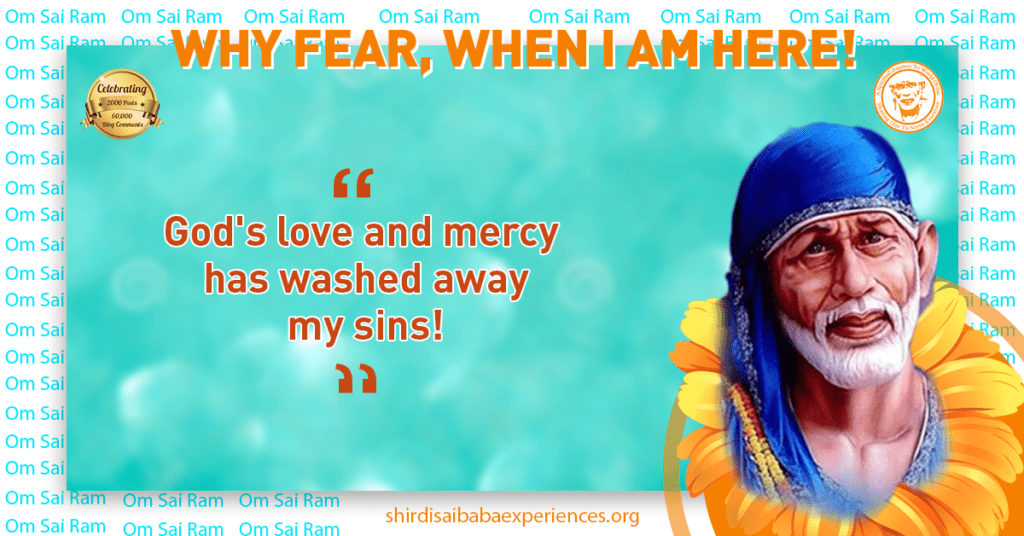 Anonymous Shirdi Sai Devotee from India says: interested in naamjapa. I always like Baba's Naam Saptah and try to join wherever 7 day chanting happens. Lately I was being asked to chant japa by someone. I wasn't much interested as I always thought that I am used to chanting Om Sai Sri Sai Jai Jai Sai. I thought this was a taraka mantra then why should I chant another mantra? Why change? I am so used to chanting this. What is the need and things like that? I paid no attention.

Last week I had a dream where one elderly person told me to see the source of what I was chanting. I did not understand. I googled, but could find no information on the taraka mantra of Baba. Same day, in the temple I visited, I was gifted a book by Zarine, written on Sivanesan Swamiji's Mahasamadhi in 1997. I was shocked to find information where it was written that only Sivanesan Swamiji coined the mantra – Om Sai Sri Sai Jai Jai Sai- I was shocked. So what was the original mantra which people of Shirdi chanted until then? I was curious, I wanted to know more.
Then I got so much information all in one day. I saw Rigopolus book, Narasimha Swamiji's, Radhakrishna Swamiji's, a publication from Tiruvannamallai, biography from son of Kakasaheb Dixit, and much more like Rege's letter to Narasimha Swamiji, published in Sai Sudha 1981 edition and much, much more. All stated the same – The mantra chanted in Baba's physical presence was Jai Guru Datta Digambara Jai Sainatha Digambara Digambara Digambara Sripada Vallabha Digambara. I was stunned. Why was I not shown all these years I wanted to ask? Why did no one tell me? Why does such info get veiled? I cried and I slept. I had a dream. I saw our Baba sitting on lotus, and He smiled and asked to chant – "Jai Guru Datta Digambara Jai Sainatha Digambara Digambara Digambara Sripada Vallabha Digambara" and He was about to tell 4th line, before that I woke up.

It was a great dream! I wish to take through this forum, that mantra which was given by Lord Baba Himself. Some may believe, many may not, but the truth remains. Jai Sainatha!
Baba Solved The Issue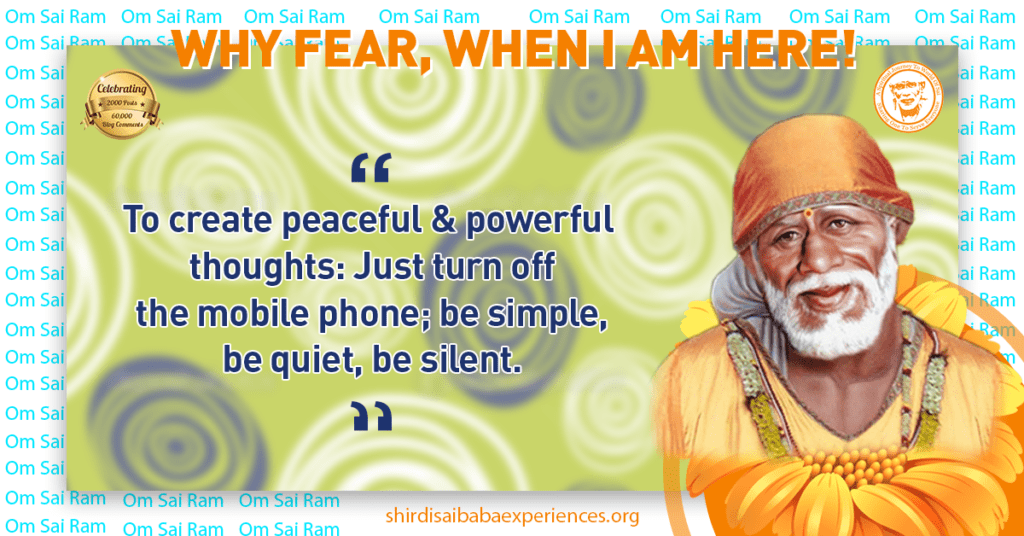 Shirdi Sai Devotee Madhu from India says: Om Sairam. Thank you very much for everything Baba. My life is Your bhiksha. I have seen so many miracles in my life Baba; everything is Your blessings. I want to thank everyone who is working for this holy blog. Baba bless you all.
Today I want to share my experience as I had promised Baba to share this experience. One day in my home, the sink was blocked very deeply. We tried for 2 hours but it was of no use. We were not able to unblock it. We tried every method but no use. It was my mom's mistake, as she had just pulled inside unknowingly. So my dad was scolding. So I prayed to Baba to solve this. Then by Baba's blessings my mom got some idea to pull the water pipe inside the sinkhole. We just did that and within just 2 minutes it was unblocked. Thank You very much for listening to my prayers.
Even though it may be a small experience for some people, if it was not unblocked then again we would need to spend some money to repair that. By Baba blessings without spending a single rupee it was just solved. Thank You very much Baba. Sorry for posting it late. Please pardon me. If there are any mistakes then please forgive me. Om Sairam!
Om Shirdi Vasaya Vidmahe
Shri Sacchidanandaya Dhimahi
Thanno Sai Prachodayath
Our Baba Is The Ultimate Solution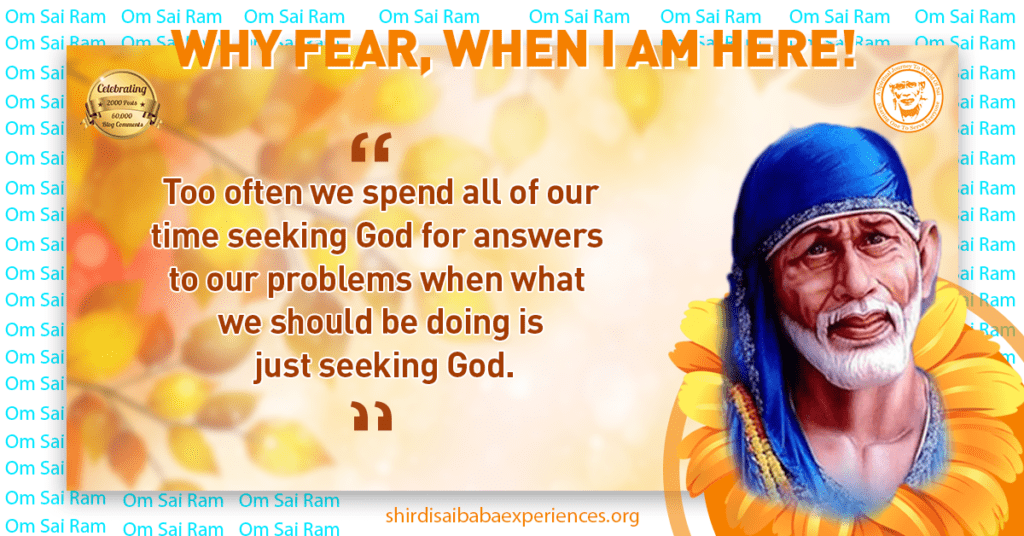 Anonymous Shirdi Sai Devotee from India says: Om Sairam to all readers and thanks to the people maintaining this blog. Whenever I have prayed to Baba I have realised that He gives what is suitable and good for us instead of our wishes. This time I prayed for three things to Him but He made only two of my prayers come true. The final prayer is still kept on hold by Baba and I don't know the reason right now but I trust Him completely. He would have definitely planned it considering the long term consequences. 
The first two were, Sairam protecting my mom from fever after the second dose of vaccination and blessing me from the side effects of the medication that I had taken.
Baba no one can understand You as You are the Bramhan. But we can pray to You with utmost devotion. So I am just praying to You to protect all of Your devotees from pandemic and save their families. Jai Sairam.
Sai Babaji Is Everything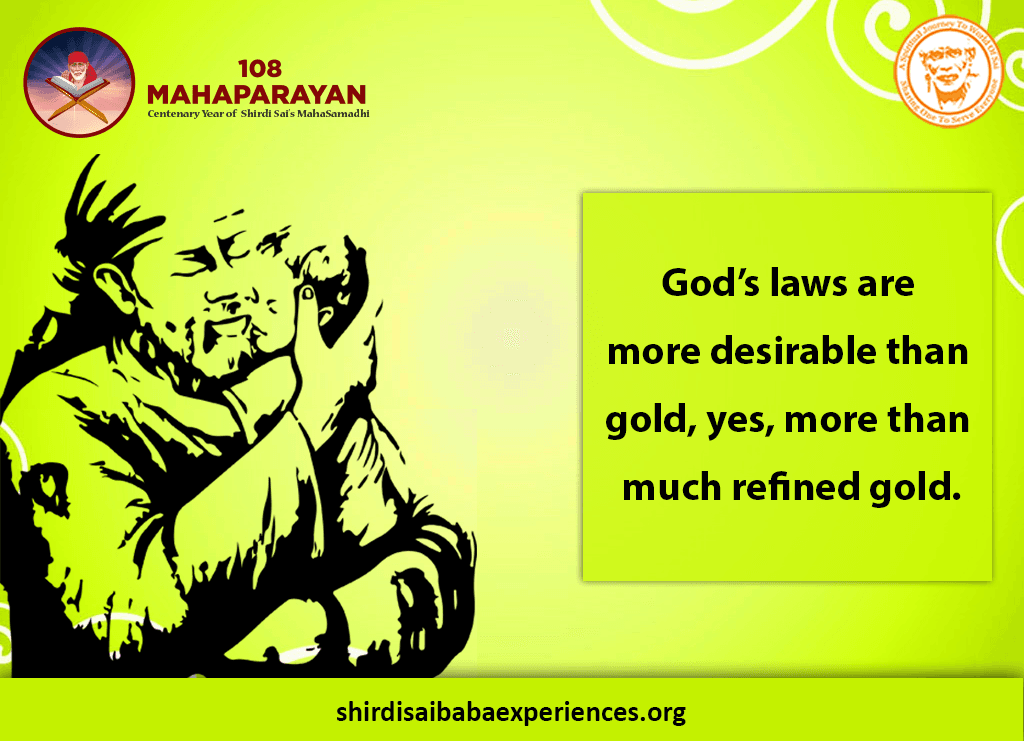 Shirdi Sai Devotee Shivani Gupta from India says: I am a small devotee of Babaji. I am very careless by nature still Babaji loves me.
It was Tuesday night when some kind of flies started coming from a hole in my almirah. We were worried as there was no other room in our home in which we could sleep. As it is very hot this month and we don't have AC in the other room, we were worried thinking about our and our kids' sleep. I prayed to Babaji about this. As soon as I prayed, the flies disappeared.
I had vowed to share this leela with you all but didn't complete my vow. Today, Thursday, my phone was dead. I prayed to Baba to please forgive me for not posting the previous experience. My phone started working after a few moments of praying. Om Sairam! Jai Sairam!
More from SaiYugNetwork.com
© Shirdi Sai Baba Devotees.com – Member of SaiYugNetwork.com