Thanks To Sai Baba
Anonymous Shirdi Sai Devotee from India says: I have been Sai Baba's devotee for the last 10 plus years and thanks to Baba for being with us. 
License Renewal – My license was expiring and had to renew it. I had all the documents and prayed to Baba to bless the process to go smoothly. Thanks to Baba, I was able to renew it. Om Sai Ram! 
Passport Application – I got an appointment after six months to apply for my son's passport and was afraid that they would deny it due to some missing documents. Thank You so much Baba as I was able to apply successfully. Om Sai Rakshaka Sharanam!
Travel – My husband traveled out of town and reached home safely. My son left with his friends to go to his college. There were four college kids driving and they reached safely. Thank You so much, Baba!
Physical activity – We went hiking with our friends over the weekend. My husband and I hadn't done it in a long time and were worried if we could do it. I prayed to Baba and we all had a good hike and came back home safely.
Health – I was delayed by a week with my monthly cycle and was worried but got it after a week. I have been having body pains, please bless me with good health and give me the motivation to exercise. Thanks, Baba.
Son's School – My son got two research positions and an internship in the summer in a good company. Thank You Baba for blessing my son and guiding him to decide what is good for him.
Covid – My brother's friend's daughter who is six years old tested positive for Covid. She had been in the same environment as my mom and was worried. My mom's results came back negative. Thank You so much, Baba! Please keep my mom, husband, kids, brother, sister, and their families safe from Covid. Also, keep my husband's side of the family safe from Covid. 
Please keep my family safe from the virus. Om Sai Arogya KshemaDaya Namaha. Please bless my mom, sister, brother, and their families, husband, and children with good health and peace of mind. 
If I have forgotten to share anything or if any of us have done any wrong then I truly apologize on all our behalf.
Sai Baba Grace
Shirdi Sai Devotee Sai from India says: Om Sairam, I thank everyone behind this successful running of this blog. Om Sairam! I would like to narrate my experiences.

In my work when I had something important to do at that time I asked for guidance from a person who is also new to the work. Based on his advice I did it, but later when I asked some seniors he said another method for that work. I was scared, praying that there shouldn't be any escalation and Baba helped me.

Another one is also in work where I performed some processes but my core team said that there was an issue in the server and asked the whole process to be redeployed. I thought it might be because of something which I did and was disturbed but Baba helped by resolving it quickly and it was not at all my fault.

Baba, I gladly say that because of You everything happens in my life no matter whether it is a small one or a big one. I thank You for everything, no words can explain what I feel for You, Sai.

I took one important decision which decides my life based on the chits that You made me pick up in front of You. Because You know what is good for me, make me reach my dreams and destination, Baba.

Baba, please protect my father these days. I am getting very scared of him. Even though he has diabetes and blood pressure he is not stopping or limiting his drinking and smoking habits. Sai You can do anything right. Baba, as in Sai Satcharitra, please make him stop or reduce his bad habits and develop good healthy habits, Sai.
Protect my Amma, father, and everyone from this Covid virus Baba. My cousins are girls and are reaching their old age for marriage. Please make them agree to the marriage and get them married soon, their mother is suffering a lot because of this.

I am sorry Baba for troubling You with every little thing but I don't know anything except You, Sai. Sai Rakshak Saisaranam Ayyappa
Sai Baba's Timely Help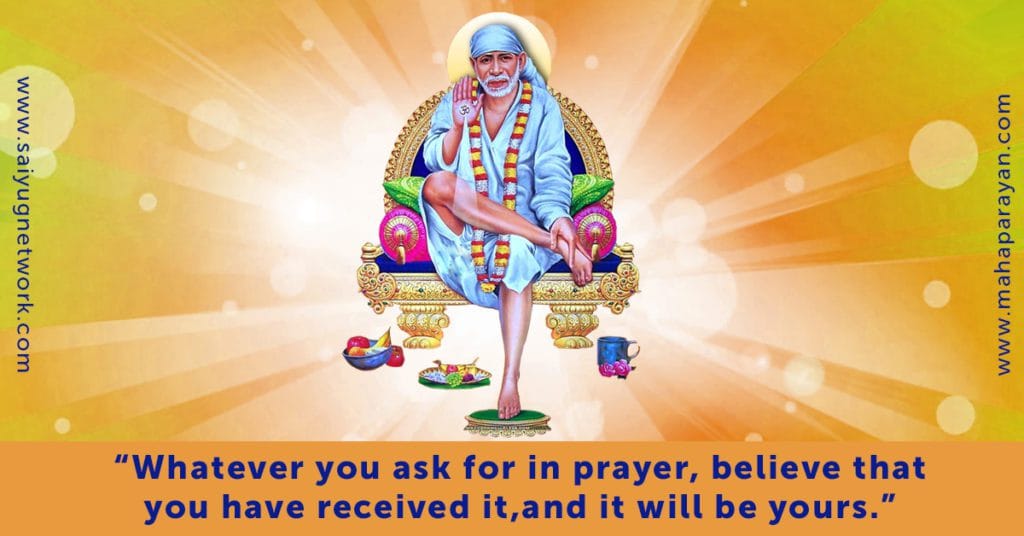 Anonymous Shirdi Sai Devotee from India says: Om Sairam I am Sai Baba's daughter from Noida, working in a private firm due to Sainath's grace.
After my office hours I joined an online course which starts at 8.30 pm but yesterday since morning my Wi-Fi was interrupted and every five minutes I needed to refresh.
For this course, I have paid 7k for 12 classes only and in their rules, it is clearly mentioned that if we need to leave then we need to inform a day prior.
Because of an internet issue, I didn't want my one day to be wasted and it was 8.25 pm. The Internet was not working. I tried everything possible. At last, I just left it and prayed to Sai Baba to please help me with my class and in no time the net got connected. It did not stop even once throughout the class of one hour. 
Thank You so much Deva for Your grace and I know with Your love I will be able to complete my course and crack the exam. Please bless everyone and be with me always no matter how harsh the situation is. Om Sairam everyone.
Thanks, Sai Baba For Being There In Our Life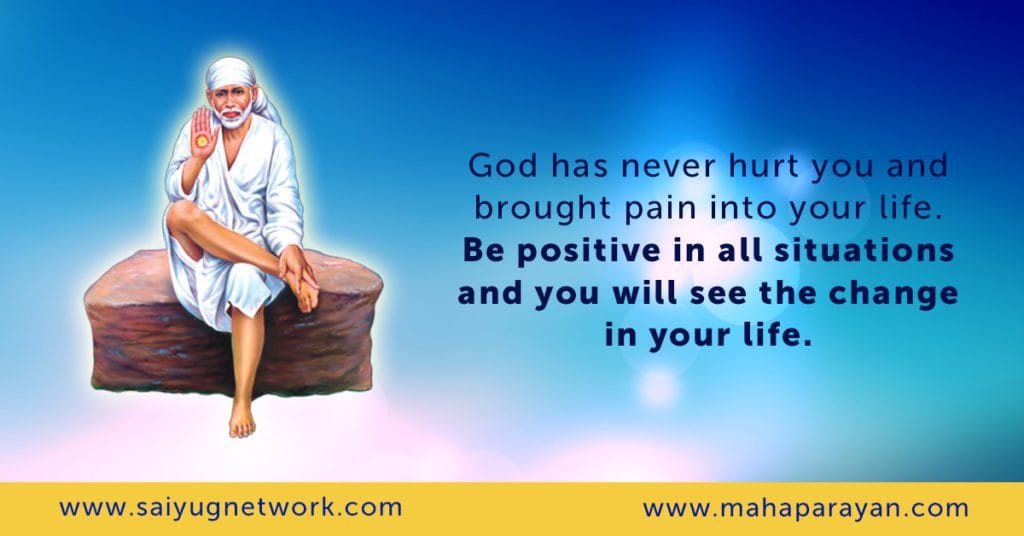 Anonymous Shirdi Sai Devotee from US says: Thank you admin and team for maintaining this modern Sai Satcharitra.
My cousin has had back pain for 10 years. The pain used to come and go but last year she had severe pain. It was so much that she had to go to the emergency. There because of Covid, nobody was allowed to go in with her, so she went alone and came to know that the disc was ruptured and she had to go into operation. She had to take the decision alone. She could not bear the pain so she decided to go in for the operation. We all prayed to Baba so that the operation should be successful. With Baba's grace, the operation was successful and I was released from the hospital. Thank You, Baba.
Another incident with her was that she has fibroids and the doctor suggested that she get her Uterus removed. She was very nervous as she had just recovered from the back surgery. We prayed to Baba that her operation also should be successful and yes Baba answered our prayer and the operation was successful. She just had to take three weeks off and then she was fine. After that, she had some complications with her back and neck but with Baba's grace, all reports came back normal. With Baba's grace, she is totally fine now. Thank You so much, Baba.
My request please, please never lose faith in Baba no matter what the situation is. Baba is always with us and He will help us.
Baba, I pray to please be with my family, friends, relatives, and Your devotees always. Thanks once again, Baba.
Experience With Sai Baba
Shirdi Sai Devotee Maheswara from India says: I am Maheswara from Hyderabad, working in the IT field.
As part of my project, we should do batch testing and we expect it to be online the next day if the batch went smooth without any issues. So the batch which I supported went fine and I saw the online email the next day with the help of Baba's blessings.

Baba, please resolve my personal life problem without going to court and not spending much money. 
Sai Baba Saved
Anonymous Shirdi Sai Devotee from India says: I am a small daughter of our beloved Baba.
Thanks to the entire admin team for maintaining the blog.
Baba, as promised I am herewith sharing my experience here. Baba saved me from a big tension related to my office workers. Without Him I am nothing. What I am today is because of our Sai only. Thanks, Baba.
---
More from SaiYugNetwork.com
© Shirdi Sai Baba Devotees.com – Member of SaiYugNetwork.com