Sai Baba's Support And Guidance
Anonymous Shirdi Sai Devotee from India says: Dear Saiyugnetwork team, I'm a small follower of Baba from Bangalore. From my maternal grandfather's time, Baba has been worshipped in our family. (I don't claim myself as a perfect devotee as I am still a common man asking our Baba some favours all the time and not like a devotee leaving the results and outcomes to Baba).
I changed my job during March 2020, during the start of Pandemic. Since the time I joined the organization I did not like the role, as the role is an unstructured job than what I experienced for the previous 25 years.
I was not liking what I was doing. As the organization started retrenching people, being new, I was worried about my job too. I requested Baba to help me change my role within the organization.
When the outside market and inside the organization the scenario was not good, Baba gave a change opportunity within eight months which was unknown.
My saga of problems did not end there. Even in the new role I was struggling and was contemplating quitting my job. Each day I was pushing myself to switch on my laptop to work and did not like the role. I was having challenges with the folks who were pushing me. I pleaded with Baba to show me a way. I promised that I would write about my experience here and share if things shape up.
From the time I was seriously praying, I felt Baba started solving my challenges. I was invited for some calls by some of the leaders and started extending help to me. Started organizing some orientation sessions in those areas which I was not exposed to. This gave me confidence to an extent. The pressure had reduced a lot. I started working willingly.
I know Baba listens to our prayers. But being a common man, I doubt Him when I'm in trouble. Baba, please don't leave my hand. I need You. You know what I'm going through. Praying for the welfare of humanity. Om Sairam. Samartha Satguru Sainath Maharaj ki Jai.
Baba's Timely Help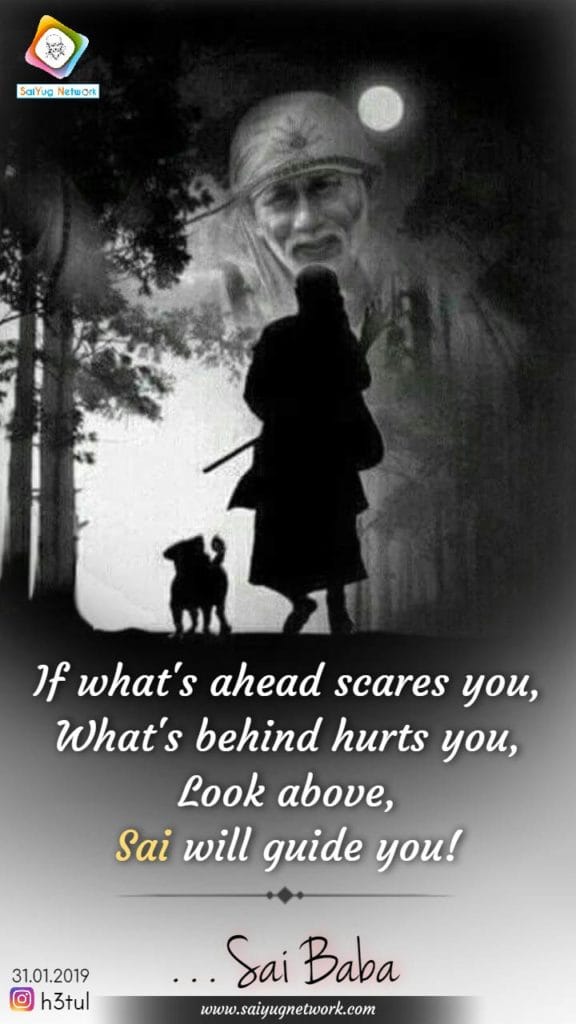 Anonymous Shirdi Sai Devotee from the US says: Om Sairam! I wanted to be anonymous and I currently reside in the United States. 'BABA' these four letters are miraculous, anywhere any time if You utter these words heartily in any situation, it will turn into your favour.
I consider myself as Baba's daughter, without Him I am nothing and can't imagine how I would have led this life. He is always there for me whenever/wherever I need Him. Everything in my life, every second is His blessings. I posted several experiences on this site earlier.
Coming to the recent experience I had a pain in my chest and when touched it felt like a lump. It used to be painful if I raised my hand. When I googled I read various things and really got very scared. I have two kids whom I need to take care of and this is the time they need a mom. I was worried that I might have cancer and was scared to go to the doctor. I cried in front of Baba not to have anything like that. Especially in this pandemic, going to the doctor is also a big thing.
I started applying Udi and then before consulting the doctor I thought of checking with a friend who is a research professor in breast cancer. She asked me several questions and based on the symptoms she mentioned it might be because of hormones. After a week there were no traces of pain and everything became normal. I was experiencing tremendous stress during this time, sorry Baba for not having Saburi. Thank You so much. Also there was another instance where I was struggling with my work but again my Baba was there to help me.
Thank You is a small word, even if I continuously chant His name throughout my life I am still indebted to Baba.
Please save everyone from this pandemic Baba. My heartfelt gratitude to Hetalji and team for this modern Satcharitra, where we can read all our Baba's leelas. Ananthakoti Bramhanda Nayaka Rajadiraja Yogiraja Parambramha Sri Sachidananda Sadguru SaiRam ki Jai.
Baba's Leela
Anonymous Shirdi Sai Devotee from India says: Namaste Hetalji, team members and dear devotees. I wish to share some more leelas of Babaji.
My family and I were visiting my brother in another city. I came to know that one of my mother's BP medicines was over. The one which I had ordered online was different and all due to my negligence, because I ordered the same without checking the prescription. Already a day was skipped without medicine and I was worried because the area in which we were residing was secluded with shops situated far away.
I started searching for an online medicine store which provides home delivery. I contacted a few of them but none of them responded. I didn't want to go out due to the current situation. I again searched a lot and one of them responded. Then I prayed to my beloved Babaji to help me. I prayed to Babaji to arrange home delivery of medicine as I didn't want to go out in such a situation and also promised Babaji to share this experience on this pious platform. Babaji heard my prayers and arranged timely delivery of medicine. Babaji You listen to even the smallest of our wishes and always help us out. I forget You Babaji but You never forget me. Babaji please forgive me for my mistakes and help me to think good thoughts. Babaji I speak badly, please help me to improve myself. Babaji please protect everyone and bless everyone with Your loving grace. Om Sairam.
Gratitude To Baba
Anonymous Shirdi Sai Devotee from Australia says: I have been a small devotee of Baba for the past six years. Thank you very much team for doing a wonderful job and this platform helps me to improve my spiritual beliefs. Baba is guiding me all the time. I normally speak to Baba or write a letter to Baba through this channel and I feel that Baba is with me every time I read the experiences on this site. Baba as per my promise You have helped both my sister's daughter and my son to overcome the vaccination symptoms. My sister's daughter is 22 years of age and is residing in Kerala. She wanted to get vaccinated and there was a delay in the process. By your grace she got vaccinated 10 days back and she is doing OK. Please protect her from any hazards and please be with her for the second vaccine too.
My son here had flu vaccinations as well and I was worried whether he would have some symptoms as he is only 16 years of age. Thank You Baba as You helped him and he is doing fine. Baba, please bless my son with good studies and it is so sad to see that he is not studying well like before. Please shower all Your blessings on him for all the HSC exams and without You, we are nothing. Please protect my uncle's son and his wife from corona symptoms. Please protect all families and friends and relatives and the whole world from this corona. Koti pranams to You. Sorry for the delay in posting this and please accept my thanks and please be with me all the time. Om Sairam!
Sai Baba Cured Thyroid
Anonymous Shirdi Sai Devotee from India says: I am a lecturer from Mysore. After delivery I was recognized with a thyroid issue. Then I came to know about Sai Baba vrat and I started doing it. After completing vrat for weeks, once again I went for a check up and my thyroid issue was solved.
Baba Helped In Laptop Repair
Anonymous Shirdi Sai Devotee from India says: I am an anonymous devotee of Baba thanking Baba.
Sai maa thank You for helping me in getting my laptop repaired. I was so tense. I am grateful to Maa. I am grateful to You. Sai Maa, thank You.
Shirdi Sai Baba Devotees.com – A Member of Sai Yug Network.com
---