Sai Baba In Dreams
Shirdi Sai Devotee Swarna says: Sairam Hetalji and team. Thank you very much for providing this opportunity to read and share devotees' experiences. I have been a small devotee of Baba since I was eight years old and have numerous experiences. I would like to share two of my most recent experiences here.

In December of 2018, I became pregnant unexpectedly. I say unexpectedly because I have infertility issues and conceived two of my previous kids with the help of medication. I was on a vacation in India (we live in the USA) and when I came to know that I was expecting; everyone at home was unhappy and I felt really sad with everyone's reaction. It was as if I had committed a crime by conceiving. Anyways, I lost that baby in the fifth month even though I begged Baba to keep my baby safe.
After I lost the baby, there was a void in me and I yearned to be pregnant again but my husband was totally against it as we already have two boys (10 and 5 years old). I don't keep good health so he did not want the extra stress on me. I tried my best to convince him but then after nine months I gave up as it was impacting our family life.
In March 2020 (I had lost my baby in March 2019), I had a dream where I was snatching away a baby girl from Baba and telling Him that this should be a healthy baby in all aspects. When I got up in the morning, I told my husband about this dream as I had already made peace with not going for another baby and left the matter there.
In May 2020, I started getting the feeling of frequent urination. I thought my sugars were not doing so well (even though I was exercising and trying my best to eat healthy) and I had not got my periods for the past two and a half months. This is normal for me as I don't get regular periods due to PCOS problems. But then I was joking with my husband about what if I am pregnant and he took me seriously and asked me to test. I said I don't feel pregnant and I don't want to test but he was adamant. When we tested we found out that we were pregnant. We were shocked and worried since I did not have a pleasant experience last time. Anyways to cut the story short, the pregnancy went smoothly and I gave birth to a healthy baby girl in December 2020. I was very happy as my husband always wanted a baby girl and his wish was fulfilled. Baba blessed us with a healthy baby girl as promised in my dream.
Now coming to my second experience, as soon as I found out that I was pregnant, I had another dream where an uncle was standing. He was very sad and when I enquired regarding the reason for his sadness, he said that he had lost his daughter during delivery. I was startled and got up from sleep as I knew Baba was warning me about something. I begged Baba to keep me safe as I wanted to be there for my kids, to take care of them until they are settled in life (I know this is a selfish ask but I really want to see my kids happily settled in life, as my father never got to see our happy days. He passed away when we were in the worst phase of our lives. Now we are happy and settled but he is not there to see all this). I was not sure if Baba heard my prayer but during my delivery, my BP suddenly went very high and I had post delivery complications.
I went home the second day after my delivery only to come back the next day to an emergency with severe water retention and high BP. I was admitted to the hospital and for the next eight days I was there. Those days felt like ages as I was locked in a room due to Covid 19 pandemic (but the saving grace was that they allowed my mom and baby to stay with me). During the hospital stay I almost lost my faith in Baba as no medication was working and my situation was not good. But Baba never left me and I told Baba that I will share my experience if I was discharged from the hospital and can go back to my family. I am back home and doing much better now. I know I took some time to post my experience Baba. Please forgive me for all my mistakes and please always keep Your blessing hands on me and my family. Please help everyone who needs or is seeking Your help. Protect and keep everyone safe from Covid 19. There is nothing impossible for You Baba. You made me fertile at this age and blessed me with a beautiful healthy baby girl. Shat Shat Koti Pranam Swami, Om Sai Rakshak Sharnam Deva, Om Sai Arogyakshemadaya Namaha.
Thanks,
Swarna
Baba's Grace Always On His Devotees
Anonymous Shirdi Sai Devotee from India says: Jay Shree Sai. Om Sairam to my Sai Family. Today I want to post one of my recent experiences. Baba, please forgive me for the delay in posting my experience. I had ordered some cloth materials for my mother online. I was tense about whether it would come on time or not and about the size; as the previous order was not as per the expected size. So I thought in my mind that if the order would be delivered on time and size also would be correct then I would post my experience here. So posting it here. Thank You so much Baba.

Another experience is as I have mentioned in one of my previous posts, I am trying to change my current company. So with His blessings, I got an offer in one of the big companies. But still I am in a dilemma. I have not accepted the offer yet. I have only two days for the offer to expire. I also did not get the resignation acceptance confirmation through mail from our Manager of my current company, even though he agreed to release me in time. I am really in a very difficult situation. I don't know what I should do. Always You have shown Your blessings on all of us. I have left everything on You Baba. You only decide what will happen next. If everything becomes smooth, I will post that experience here.

My life is full of hurdles. Nothing has happened easily till now. But always Your one ray of hope strengthened my confidence and gave me energy. Kindly reduce all the negative thoughts from my mind Baba. You are always there in every struggle, starting from my childhood, education, job in different forms. I could not make anything in this life without Your blessings. I have a strong faith in You Baba that You will surely drive it in Your way. You know everything and do accordingly. I don't want to ask for anything and will always seek Your blessing. Please keep me at Your lotus feet Baba.

Please keep this world Corona free. Om Shree Sacchidananda Sadguru Sainath Maharaja ki Jay.
Sai Baba Is Always With Us
Anonymous Shirdi Sai Devotee from the US says: Sai Baba always makes me happy. Mataji and Bhagwan always make me happy. They always do things that benefit their devotees and they always make their devotees happy. Mataji and Bhagwan do everything for a reason and that's a good reason. So have faith and hang on. Let's be grateful for what we have and appreciate Bhagwan and Mataji for giving us life. Everything will get better and they are always with us.
I think when I'm watching something or have Bhajan on, the video sometimes pauses for a moment or so while I'm praying or asking for forgiveness. (Like the video is playing and then I do a prayer or ask for forgiveness maybe when the video is still playing and the video pauses and loads like when there's bad WiFi. I think the video pauses for a quick moment or something like that. Thank You Mataji and Bhagwan for always helping.
Mataji and Bhagwan always help us, they do so much for us and they don't like to see us upset. We have to be patient. We should love them and appreciate them and be happy and have devotion towards them. They also remind us to do things and they always help us in life, sometimes they also let us solve problems on our own. Never give up on them and they will never give up on you. I thought what I typed here was going to go away but thank You Mataji and Bhagwan for not making go away what I had typed. Mataji and Bhagwan always help me and they don't let anything happen to me or my mom or dad. Thank You Mataji and Bhagwan for always helping. Jay Badha Bhagwan! Jay Badha Mataji!
Jay Sairam! Jay Badha Bhagwan! Jay Badha Mataji! Bless You All!
Sai Baba Does Everything For A Reason
Anonymous Shirdi Sai Devotee from US says: I think a couple weeks ago, I saw a cloud that looked like a God on a carriage, and in the front, (basically the right side of the cloud) looked like there were I guess big mice that were the ones driving the carriage (on feet). Today I also saw a cloud similar to the cloud I saw a couple weeks ago and parts of the cloud were changing. When the cloud was moving slowly, the one who was riding in the carriage looked like their hair was moving and the carriage was taking sharp turns (some of the bottom of the carriage was showing). The mouse driver was also grey (like a grey cloud) and that made the cloud look even more like a mouse.
Mataji and Bhagwan do everything for a reason. Their leela (their choice) is the reason why everything happens. When I was vacuuming and helping my mom to clean a room, Mataji and Bhagwan made me vacuum one area a certain way and when I was vacuuming that spot, I found a penny and then glasses. So, they had me vacuum that spot maybe so that I can get those things out. The room needed to be clean as well. Mataji and Bhagwan's leela are the reason why everything happens. This is not the only thing that happens from Their leela, everything happens from Their wish. Thank You Mataji and Bhagwan! Jay Badha Mataji! Jay Badha Bhagwan! Jay Sairam! Jay Swaminarayan!
Baba's Well Timed Answer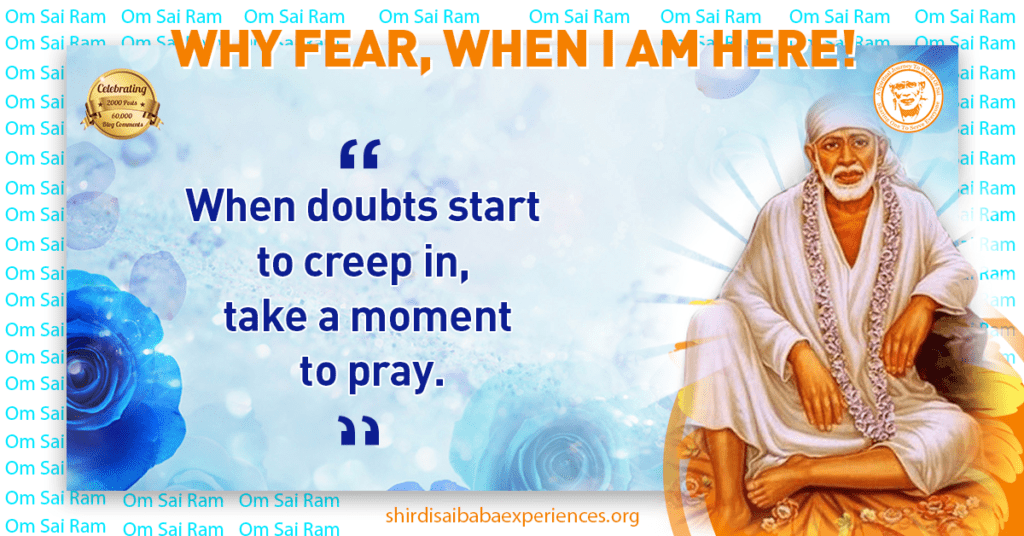 Anonymous Shirdi Sai Devotee from India says: I have been a member of MahaParayan for two years. I am grateful to my friend who made me join.
I would like to share a small experience which happened last week. My daughter was not keeping well for more than a week and I was very worried as I thought that she may be having Covid. I prayed to Baba if my daughter would recover then I would complete reading Sai Satcharitra in a week. By Baba's grace, she did not have Covid and recovered within a week. While reading the Parayan, I had a thought that it would be good if I wrote all the instructions from Sai Satcharitra which should be followed in our daily life.
Last Thursday (1st July, 2021) when I was reading a devotee's experience, there was a link which had mentioned all the instructions mentioned in the Sai Satcharitra given by Baba. I was so overwhelmed because what I wanted to do had already been done with Baba's grace through another devotee.
Fever Subsided With Baba's Grace
Anonymous Shirdi Sai Devotee from India says: My post about how my husband was cured with Baba's grace.
My husband suddenly developed a high grade fever. Since we are in the process of shifting to our new apartment, a lot of work is going on and he was in contact with many people. So we were worried if it could be corona. I isolated him from the kids and mother-in-law. We waited for three days, then did Covid test. I prayed to Baba that if it was negative and his fever subsided then I would post the experience. Baba's grace test was negative and after a week he is now completely fine, still very tired, has not got back to his normal self but I am sure in a few days Baba will make him totally alright. Thank You Baba for being with us in these difficult times.
Shirdi Sai Baba Devotees.com – Member of SaiYugNetwork.com
---