Found The Lost Item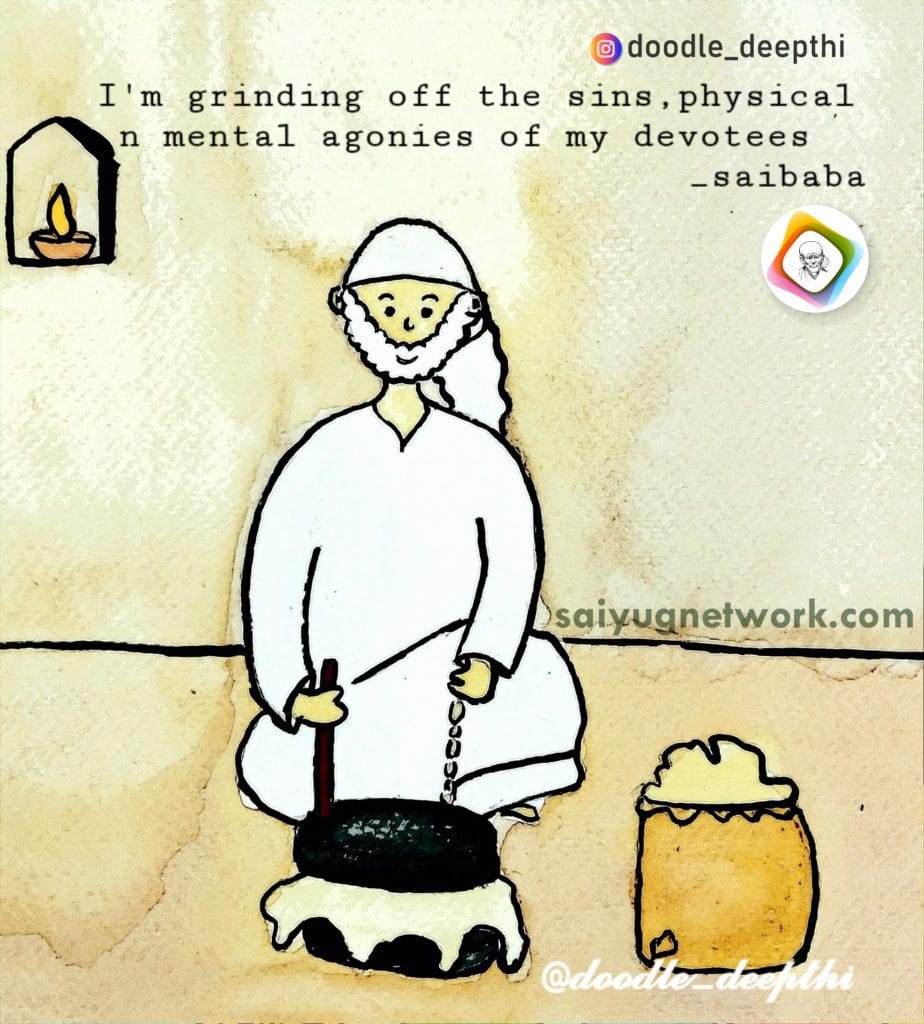 Anonymous Shirdi Sai Devotee from the USA says: Dear Sai Baba Devotees, I have been a small devotee of Baba since 2017. Firstly, I would like to thank everyone behind this platform for creating and maintaining the same as it would relieve all devotees who read others' experiences here. I have already shared a few experiences and am waiting for them to be published. I would like to share a couple of other experiences.

Experience 1: My son's gold chain tied to the waist was a bit loose. I did that as I felt it was tight. The next afternoon, we went for a walk and after coming home my husband found it missing and we were not sure if it had been there since morning or before we went for a walk. I was very sure that it would have fallen somewhere at home only. We searched in the clothes that we changed when we took him out and also in some other places but did not find it. My husband was very scared and then I prayed to our Sai Baba that the chain should be found and in about two minutes, my husband found it lying in the hall and we were relaxed.

Experience 2: We had to send my husband's original passport for some documentation verification to one of the Government departments. However, after a month of its delivery we received a notice saying that they had not received the document. We were tense and went to the postal service to enquire about the same (I was praying to our Sai at this time) as the zip code that we sent did not match the delivered zip code so we thought it had got delivered to the wrong address and we were not sure where it was lying. The postal service said that it has reached the same office but the person who received it usually receives it from one of the divisions and then distributes it to their respective divisions and the lady gave the details of the person who signed and received it and also asked us to enquire by calling to the office directly.

We called the office and had to wait for nearly 30 minutes and the call would get disconnected even before we explained the situation (this was due to high call volumes, they restrict the time given to one phone number). Sometimes the phone would get disconnected directly due to high call volumes. Like this a week passed and did not get any update. I was sure Sai would do something but was still worried and was thinking how to re-apply if it was lost as we are in a different country. Finally, we were able to speak to one of the people and heard good news that the document verification was done and the passport had been mailed back to us a couple of days ago and he asked to wait as it may take another week.
Just today when my husband checked the mailbox, the passport was delivered back to us and we are very happy that Baba is always with us.
Om Sairam's Grace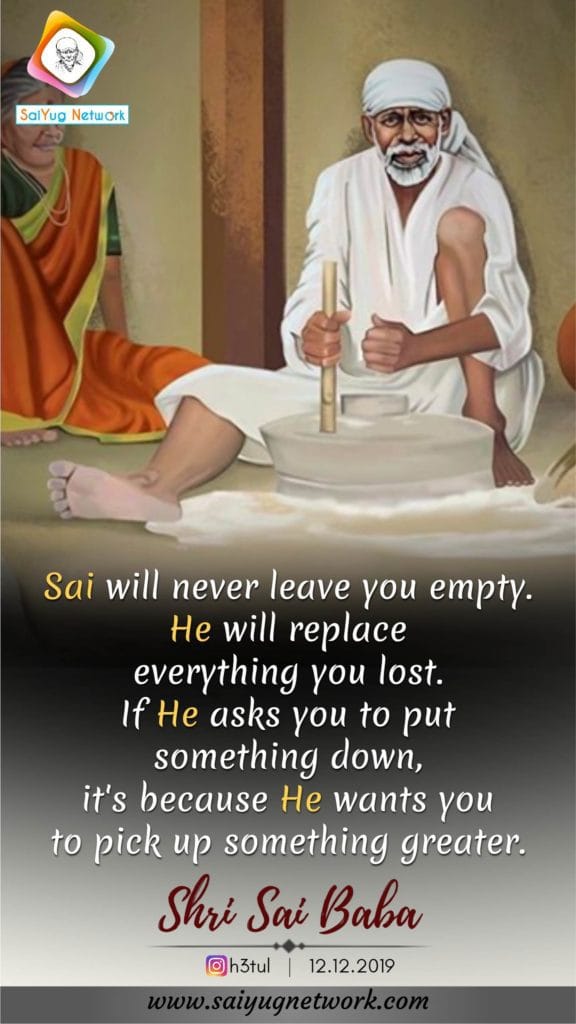 Anonymous Shirdi Sai Devotee from India says: Om Sai Ram. Please keep my name anonymous. Thank you for giving us this great opportunity to share our Sai Baba's experiences with all. I had shared my experience earlier once. Time and again I have experienced His presence and grace. This time as a family we really needed Him to help us.
My son gave his final year dental exams and when the results came out, he couldn't clear one of his subjects. That meant he had to wait for another six months for an exam and till then he couldn't start with his internship. He needed 25 more marks to clear. We all were upset but then we decided to go for a re-evaluation. As he had scored well in his practical exams, we thought it to be good to get the paper checked again. My son wasn't keen as he gave up saying that there was no way that he could get 25 marks then. He was very upset but we parents decided to go ahead. He finally completed all the formalities for getting the paper rechecked. I prayed to Sai and asked Baba through chits if we were doing the right thing and the answer was yes. Well, I didn't disclose this to anyone at home but was waiting for the results.
After 10 days we received a call from college that he had cleared his exam and could join his internship soon. This was all by Sai Baba's grace and blessings. Sai has always helped me. Sai gives us strength and courage to go through every difficult situation in life. He is great. May He bless us all. Om Sairam.
Sai Our Saviour
Anonymous Shirdi Sai Devotee from the USA says: Om Sairam, I am one of the sparrows that Baba has pulled towards Him. He humbly pulled me towards Him and Baba has been showering His blessings on us throughout our life. Baba also pulled my husband towards Him, now he has become a sincere devotee of Baba. Thanks a lot Baba for everything.
Kudos, to the people maintaining this blog. You all are blessed ones and may Baba continue showering His blessings on you all.
I am part of the Mahaparayan group because of His blessings. Whenever I feel low I read the miracles of Baba on this site and I get more energy and peace.
Baba has showered us with many miracles and He is the guiding light of our family. We had registered to participate in Guru Purnima puja in the temple in our area. I was searching for one of my dresses in my wardrobe to wear on that day and was not able to find it. I prayed to Baba that if I found the dress then I would post on the website and start searching again. I found it where I had already looked. Thank You Baba.
I had also prayed to Baba that we should be able to attend the puja without any hindrance. We had a very peaceful day at the temple and all the events took place really well. Thank You, Baba. Please bless all Your devotees. Om Sai Namo Namah, Sri Sai Namo Namah, Jai Jai Sai Namo Namah.
Sai Baba's Grace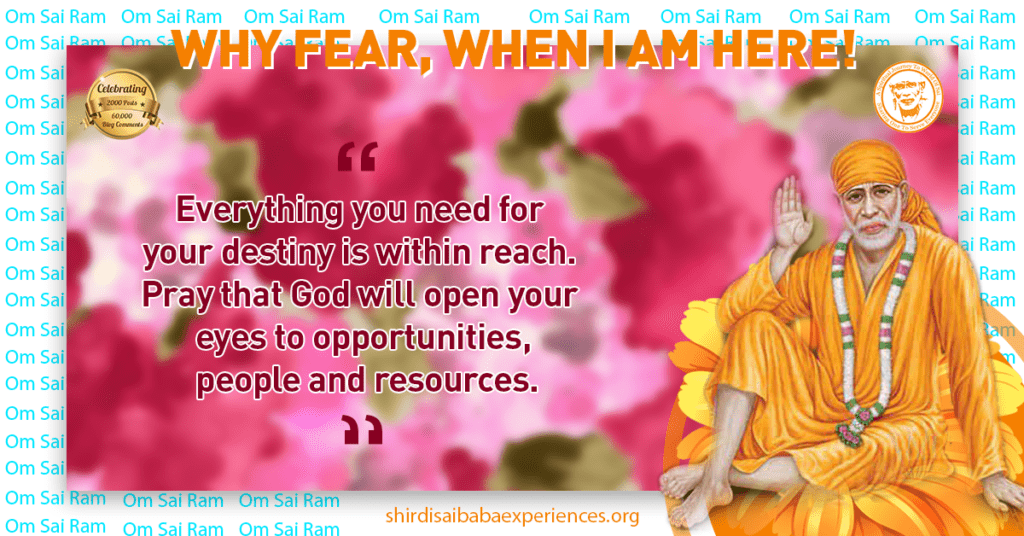 Anonymous Shirdi Sai Devotee from the US says: Om Sairam. I am a small devotee of Baba living in the USA currently.
Pranams to all devotees and people who maintain this blog. My day starts and ends with Baba. Recently when I got up in the morning I had severe neck pain but was not sure if it was due to not sleeping properly or some other reason. I was also not able to sit and work that day. I tried to take a rest in between but nothing helped.
In the evening when lighting diya, I prayed to Baba to cure my neck pain as it was becoming very uncomfortable for me to do even daily activities and to work as well. I applied Udi on my neck and slept without a pillow by doing naam japa.
Next day morning my pain had reduced and continued the same for two days. I applied Udi in the morning and in the evening. By the third day my neck pain was gone completely and was absolutely fine. Such is our Baba's grace on His devotees. Anything prayed wholeheartedly, Baba always listens and blesses us.
Baba save all and bless all. Om Sairam Om Sairam Om Sairam!
Sai Baba Helped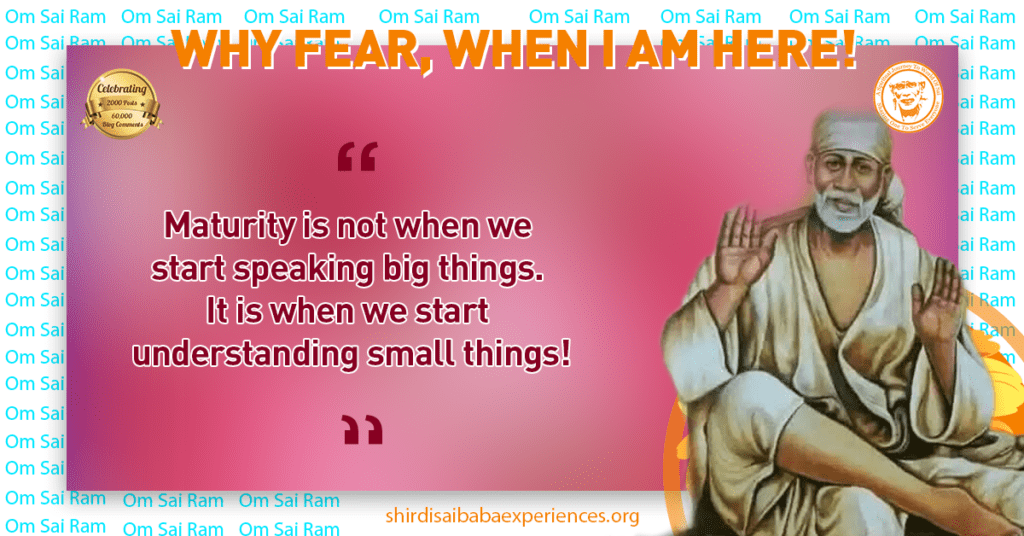 Anonymous Shirdi Sai Devotee from India says: I am a small devotee of Sai Baba. Couple of days back my kid was playing with the A/C remote and in the process did something and the A/C stopped working. My husband tried so much to fix the problem, changing the battery etc. but that did not help. He was scolding our son saying that he should not do all these and what exactly he pressed etc.
I also tried once but nothing happened. Then I took the remote and I said if he has done something and because of that it's not working then by now it should have worked as we had tried everything possible. Probably it could be a coincidence that he was playing with it but it might anyways have had this issue.
I have read many experiences of Sai Baba coming to rescue at such times. I had never thought it was such a big problem to disturb Sai Baba but as my husband started losing his patience I requested Sai Baba to help. The next minute I just did something and it started working fine. It was a proof that Sai Baba always listens to His devotees' prayers however small or big that problem could be. Thanks Sai for showing me that You are with me. Love You.
Baba Helped To Pass Driving License Test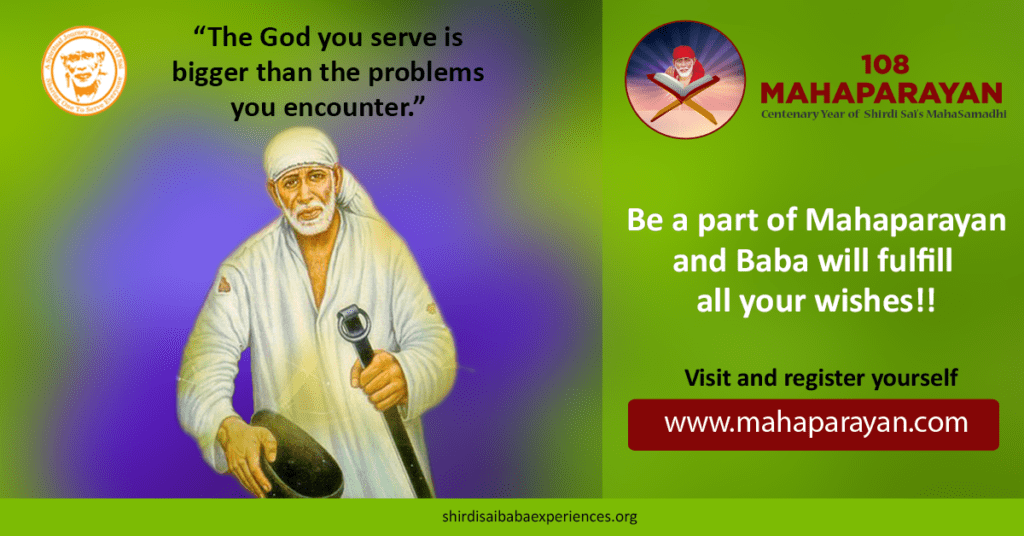 Shirdi Sai Devotee Aditya from India says: I'm Aditya from Karnataka. Today I had a driving license test but I'm not confident about my driving skills. Previous day I went for practice and today was the test. Before going to the test I prayed to Baba that if everything goes well then I will post my experience here. As I promised I'm posting my experience here.
Baba today itself I have a Dell company interview. Please help me to crack it. Sairam please bless all Your devotees. Baba, thank You so much!
More from SaiYugNetwork.com
© Shirdi Sai Baba Devotees.com – Member of SaiYugNetwork.com