Sai Baba's Help
Anonymous Shirdi Sai Devotee from the USA says: I have been a devotee of Baba for over a decade and still my faith flinches now and then. I am very thankful to the team for providing us with such a dedicated and beautiful platform for all of us to share our life experiences. 
This blog was also a tool for my trauma recovery when I was totally lost! It gave me solace that Baba was still listening to me in tough times.

During the Covid pandemic when India was going through the roughest phase of delta variant, my mom fell sick with Covid positive and she had to be admitted to the hospital but the situation was so bad, that availability of beds was almost nil. We had to do so much searching but none were ready to take my mom to the hospital. Through a lot of influence, she finally got a bed and was hospitalized. During the same time, all my family members were also positive and me being here in the US was the toughest time for me. I was in so much pain as I couldn't travel to India during my mom's ill health and hospitalization. 
During the same time, my niece was staying alone at her home and although not exposed to any of our family members, she started having symptoms similar to Covid. We were all shaken with fear because she had weak lungs and has been an asthmatic patient since a kid. So, I myself vowed to write the experience here if she was tested negative. With God's grace, she was tested negative.
Meanwhile, my mom, still in the hospital, was on oxygen support. She did well for a few days and then the curve suddenly went down. Somehow we all had hopes that my mom would recover but unfortunately, that didn't happen and we lost her after 10 days in the hospital. We all were heartbroken and I was not in a state to even accept what had happened to be in the US, not even able to see my mom. 
I couldn't control my emotions for a long time; blaming myself that how could God not give me a chance to see my Mom in her last moments? I could only see my mom on a video call. But then, since all were Covid positive, my dad postponed all the post-cremation rites to the third month, so that all could recover and perform the necessary rituals. I kept praying Baba to give me a chance, being a daughter to go to India to at least perform the rites that were possible and give me peace of mind. I performed 5 days of Divya Pooja to make it possible to travel to India and be back safe. With Baba's help, I could travel to India for the ceremony and return back safely to the US. Until then, there was a lot of pain in me. After I attended my mom's post-funeral rites, there was some kind of closure and I could feel that Baba helped me through this painful time. I also wanted to post the experience once I traveled back safe; on this blog. But for some reason, I wasn't feeling like posting it because of the painful moments that we all went through. But Baba reminded me to fulfill my promises made, so, I thought that I shouldn't delay anymore in posting this experience. I don't know if this is something that the blog wants to post or not but since Baba has reminded me to post I am doing so. Om Sairam. 
Blessings Of Sai Baba In Form Of Miracle
Anonymous Shirdi Sai Devotee from India says: Om Sairam. Hello to everyone, I am a very small devotee of Sai Baba from Rajasthan Ajmer.
Here I would like to share my experiences but before that, I would like to thank Hetalji for giving us this platform on which we not only share our experiences but it also gives us strength in tough times by reading others' experiences. 
My first experience was a few days before my father gave me six thousand rupees to pay the milkman. I kept that money in my lower's pocket which I forgot, and the next night the milkman asked me for the payment. Surprisingly I remembered that I had kept those rupees in the pocket of my lower which was on the balcony and had already gotten wet due to the rain that night. I was very tense and scared, when I remembered that the money was in my pocket which I had to give to the milkman. I wholeheartedly prayed to Sai Baba that money should be safe from water, and to please save me from my father. Baba listened to my prayer. He saved money from water and me from my father's scolding. 
The second experience is my father's Sugar report. I prayed to Baba that it should not be much higher. I had promised Baba that I would share my experience. Baba, blessed my father. His report was under 200. Thanks to Sai Baba. 
The third experience is related to my earrings which I wanted to be changed due to a design that I did not like. When I went to change them I was continuously praying to Sai Baba that I should be easily able to change the earrings and get the design that I had liked earlier and there was also an issue with my mother's earring. It was not getting rebounded in some shops. But this time I prayed to Sai Baba sincerely to rebind that earring so that my mother could wear it to functions. This all became possible because of Sai Baba and that too in lesser amounts. 
The fourth experience is related to my mother's eye operation. During the whole operation, I was praying to my Baba to please make her well and that the operation should be done smoothly without any complications. Due to Sai Baba blessings all was done safely and now she can see properly. 
The fifth experience is related to my phone as it has various issues. It is now working only due to Baba's blessings. Once I forgot my phone somewhere but by praying to Baba I got my phone in the car.
I am sorry Baba for the late posting. Please bless us. Om Sairam!
Sai Baba's Grace On A Kid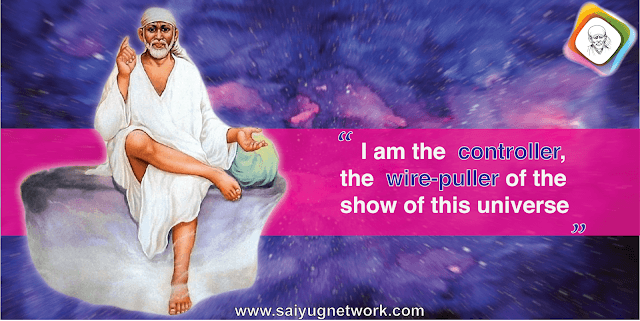 Anonymous Shirdi Sai Devotee from India says: I am from Andhra Pradesh and Sai is everything to me.
This happened last Tuesday (21/09/2021). My four years old kid suddenly started with a heavy fever and running nose and we took him to the doctor. He was given medicine but his fever was reduced by only one point (102 F to 101 F), the same temperature continued for Tuesday and Wednesday too. Some things are difficult with my son, he doesn't want to take warm water cloth, medicine and blood tests too. If we force him for medicine then he just vomits heavily and we can't see him going through such pain.
I was chanting my beloved Baba to save my child. With my beloved Baba's blessing, he took some medicine but vomited some. After taking the medicine also, his fever was 101 F.
On Wednesday night I prayed with faith to my Sai Tandri to please reduce my child's fever and make him normal and that I would bring him the next day morning (Thursday) to His temple with coconut and Dakshina. I was watching my child. He was murmuring something in sleep with a heavy temperature. I was just watching my child with a broken heart and negative things started rolling in my head. I was just crying and praying to my Sai. A miracle happened on Thursday morning. Suddenly his temperature was normal. I couldn't believe my eyes and tested with a fever gun. Lo, that was showing 97. 3 F.
I know 'thank You' is a very small word, Baba. I doubted You that nowadays You don't listen to my prayers but I am wrong Baba. You are always with me.
Please Baba make Gotham Sai strong and bless him with a healthy life. Please forgive me if I do any wrong knowingly and unknowingly. Anantha Koti Brahmanda Nayaka Rajadhiraja, Yogiraja, Parabrahma Sri, Satchidananda, Sadguru, Sainth, Maharaj Ki Jai.
Sairam's Grace Protected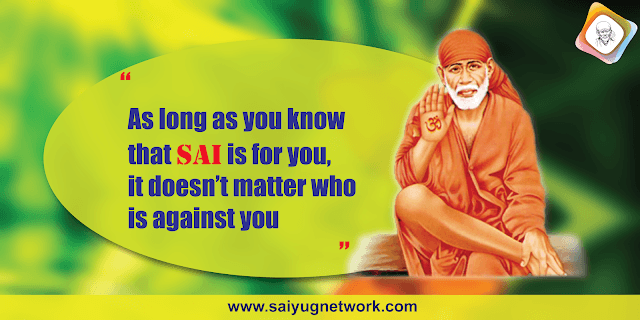 Shirdi Sai Devotee Venkatesh from India says: I am a tiny devotee of our Lord Sairam at His lotus feet. My name is Venkatesh and I am from India.
First of all while expressing my Anantha Koti Pranams at the lotus feet of Lord Sairam. I am really grateful to Hetalji madam and the entire team for managing this modern and digital Sai Satcharitra Platform that enhances the devotion of all Sai devotees in a very unique way. In fact, earlier, few of my experiences were already published with the grace of our Lord Sairam. 
Coming to my latest experience, just a few days ago, when I was having my dinner at around 7.40 pm, I started to cough. Coughing became very severe and almost uncontrollable. To tell a little more details, I was having lemon rice which was well mixed with peanuts and green peas. The cough sound and pain were severe along with little chest pain too. This continued for about 6-7 minutes and I was having a terrible time. Tears started rolling down my eyes and I was literally suffering. Very fortunately I took the name of my beloved Sairam internally rather in my mind and went to the wash sink/hand wash basin and bent my head down. Within a minute of taking Sai's name with a heavy coughing sound, a reasonably big-sized peanut came out of the mouth rather than the windpipe. Later I realized that Sairam induced very strong coughing and got the peanut out of the windpipe. The entire experience may sound simple, but it was truly traumatic for those few minutes. Otherwise, it would have led to aspiration and hence my hospitalization probably even for surgery.
From the bottom of my heart, I express my sincere thanks to our Lord Sairam for His grace on me and saving me from the eventuality. 
Anantha Koti Bramhandanayaka Rajadhiraja Yogiraja Parabramha Sri Sachchidananda Sadguru Samartha Sainath Maharaj Ki Jai. 
Sai Baba Miracle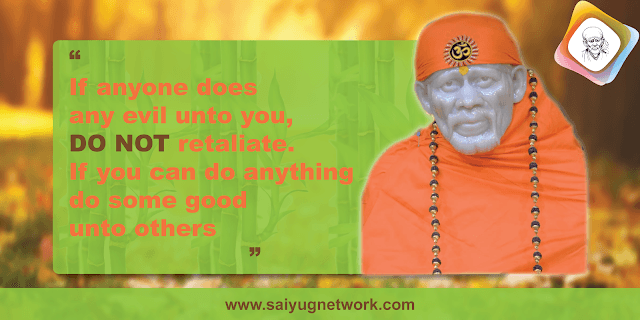 Anonymous Shirdi Sai Devotee from the USA says: I am Baba's daughter. He really is my everything. Without Him I am nothing.
It has been the most stressful period of my life. One thing after another is worrying me. I have been waiting for some test results for a long time and today with Sai Baba's grace it was all normal. I can't express my gratitude towards You Baba in words. I am indebted to You forever. You made me so relieved today. This is all Your Leela Baba. I have completely surrendered to Your feet, Baba. You are the wire puller. Only You can help him. Please Baba heal him and bless him. He really needs You.
Baba thank You for making me do the Sankalp. I will never forget its power. Baba, please bless them. That's all I ever want. Love You, Baba. 
Anant Koti Bramhand Nayak Raja Dhiraj Yogiraj Parabramha Shri Satchidanand Sadguru Sainath Maharaj ki Jai. 
Sai's Help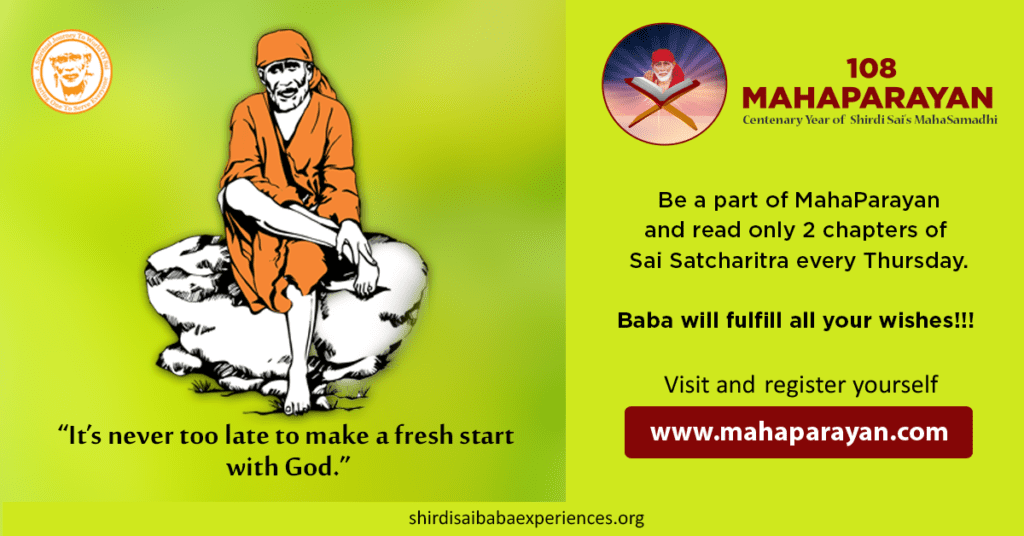 Anonymous Shirdi Sai Devotee from India says: I am a small devotee of Sai. Thank you Hetalji for this wonderful platform.
The day before yesterday our car got stuck in a ditch. I prayed to my Sai Appa and immediately He sent two persons to help and our car was out. 
As promised I am posting the experience. Sorry for the delay. Thank You Sai Appa. Please save this world and Your children from this pandemic and always be with us. Baba, bless us. Om Sai Shri Sai Jai Jai Jai…!
---
An interesting book "ShirdiChe Sai Baba" is being shared on Shirdi Sai Baba Books.com, in parts. It is a book worth reading by those who are keen in knowing veiled history of Sai Baba during His times. 
More from SaiYugNetwork.com
© Shirdi Sai Baba Devotees.com – Member of SaiYugNetwork.com