Always Need Sai Baba's Blessings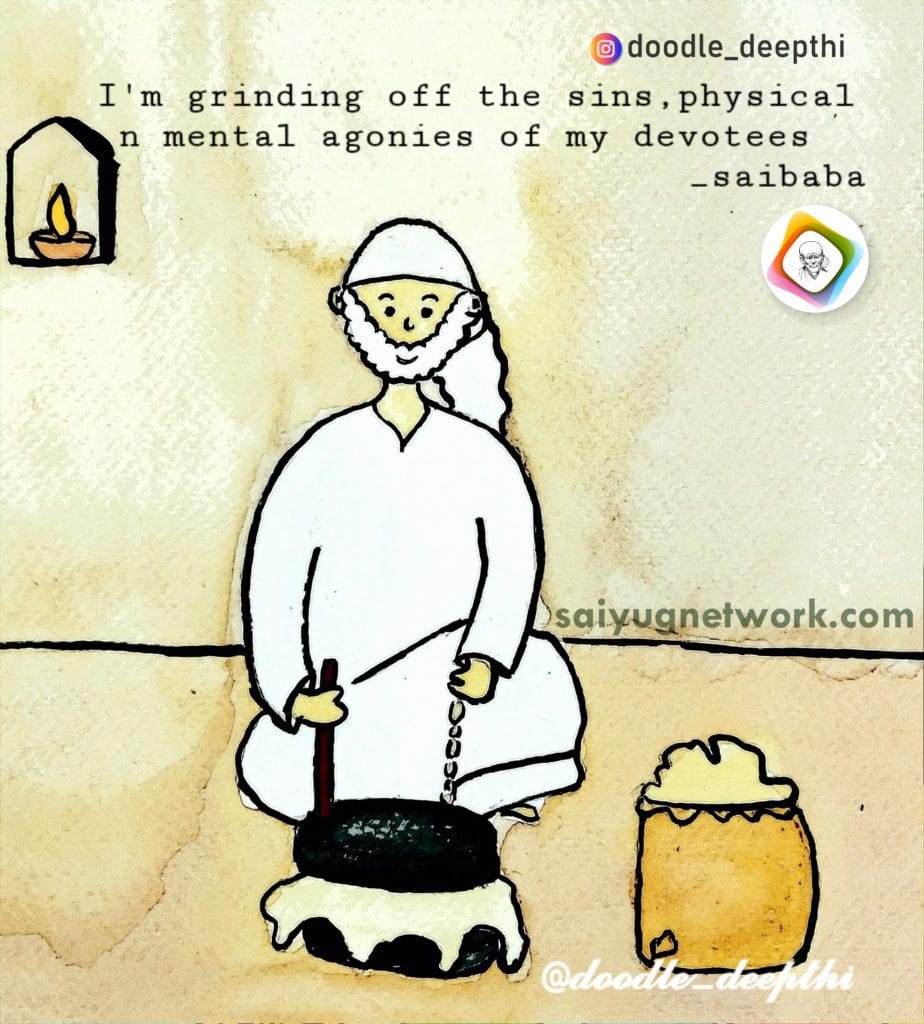 Anonymous Shirdi Sai Devotee from India says: Om Sairam. I will never forget to thank Hetal mam for creating this modern Sai Satcharitra. Thanks is a very small word to say to Hetal mam. You are doing a very great job. You are blessed by our beloved Baba.
Please forgive me Baba for writing this so late. You know Baba, for 15-20 days I wanted to write about my experience. But I couldn't do it. Without Your consent, a leaf too cannot move. So how can I? Perhaps it is Your wish.
Baba, in my previous experience I had shared about our vaccination. Baba by Your blessings, we had no such severe side effects, especially in the case of my husband. Baba, I hope that with Your blessings the second dose too will have no side effects. Baba, You know what kind of girl I am. I am always getting scared of very small health issues. I pray You to bless all the family members of both my family, my father's family as well as my in-laws' family with good health.
In my previous experience, I had also prayed for my brother's second dose vaccination side effects. By Your grace, he also had no such severe side effects.
Sai Baba, by Your blessings I have qualified for another promotion. But I am in a dilemma. Baba, I want to join in my promotional grade in my current place of posting, but not in my promotional place of posting. I am enjoying my current job in my current place of posting. So I pray to You Baba that when I will join in my promotional job, it should be in my current place of posting as by this I can also help my family. It is known to You well Sai.
Baba, I will again submit my experience after joining in my promotional job in my current place of posting. Baba our second dose vaccination is in December. That time also there should be no severe side effects. About this I will also submit my experience. Lastly I again pray You to bless good health to all the members of my both families. Om Sai Rakshak Sharanam. Please make the world Corona free soon. Om Sai AarogyaKshemadaya Namah. Om Sairam!
Thanks To Sai Baba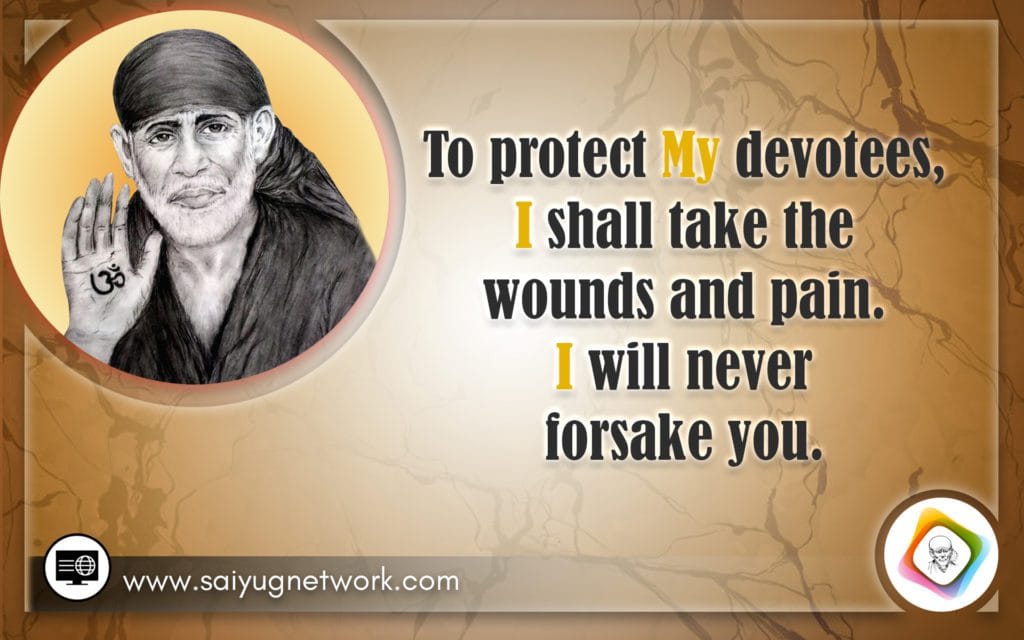 Anonymous Shirdi Sai Devotee from the USA says: Thank You Sai Baba. Love You Baba. Thank you admin and team for this modern Satcharitra.
A year back when I went in for my yearly Mammogram the results had a tissue and I needed to get another mammogram after six months. I got another one after nine months and the results were abnormal and the same day they did an ultrasound and found that there was a lump. I was told that the biopsy had to be done. I was scared but thought that I have to accept whatever the result is.
My husband, my son, my friends and family were very worried and scared. I was strong and they all appreciated me being strong. My biopsy was done and all my friends, family, husband and son started praying for me. They all were really scared. I wanted my results to be negative for their sake. I started Nav Guruvar Vrat and prayed to Baba that I want to do uninterrupted nine Thursdays' vrats. On Friday the lab assistant called and said that my biopsy report was benign. I was so relieved!9
Baba listened to all my friends', family's, husband's and son's prayers. Thank You so much Baba for showering Your blessings on me. Love You Baba.
Baba, please keep blessing my friends, family, husband, son and all Your devotees all the time. Everyone reading this, please have faith and patience as Baba is always with you. Jai Jai Sai Om Sai!
Got Proper Job With Sai Baba's Blessings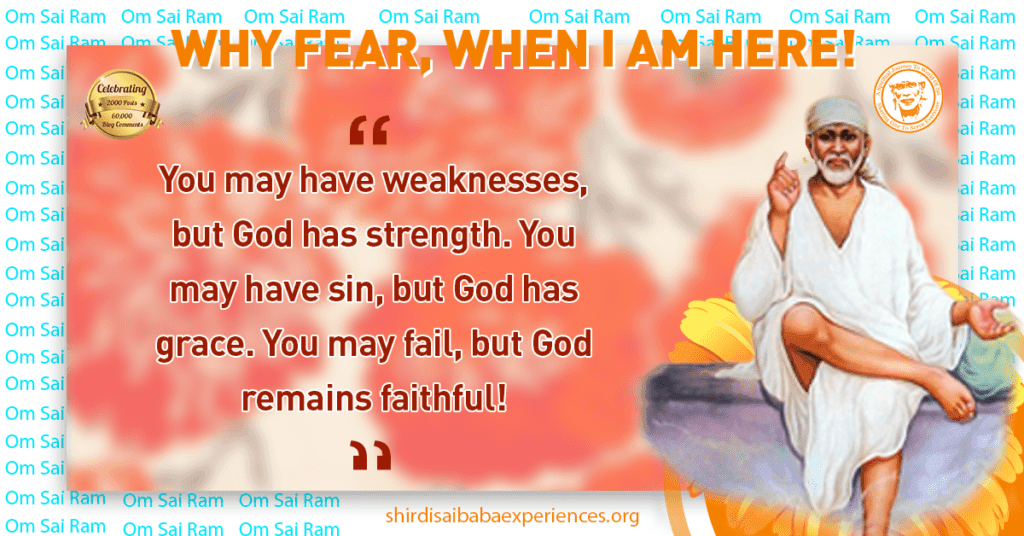 Shirdi Sai Devotee Mamata from India says: I am from Karnataka India.
Before 2011, I was not a devotee of Sai pa. I struggled so much after the completion of my graduation. I tried to get a job, but didn't find a job. My mother is a devotee of Sai pa.
One day I visited Sai temple along with my mother. Then I searched on the internet about Sai Paa. I read a number of devotees' experiences on your blog. Then every Thursday I visited Sai temple and thus I too became a Sai devotee. In 2013, I got a small job as a private lecturer in a college. That time I struggled so much because I had stage fright but with Sai Paa's grace I did my job for four and half years.
I had applied for a number of jobs. In the year 2017 I selected the government sector but I didn't get an appointment order. I did Sai Satcharitra parayan five times. I also did two Sai Nav Guruvar vrat. Finally I got an appointment letter on 27th Jan 2018 and I joined on 29 Jan 2018. Then I decided to post my experience. I believe in Sai Paa.
Today what I am, it is only His grace. I request all devotees to please believe in Sai and that everything will be alright. I have also visited Shirdi three times.
Thanks Hetalji for giving a good platform to Sai devotees to share their experiences.
Gratitude To Sai Baba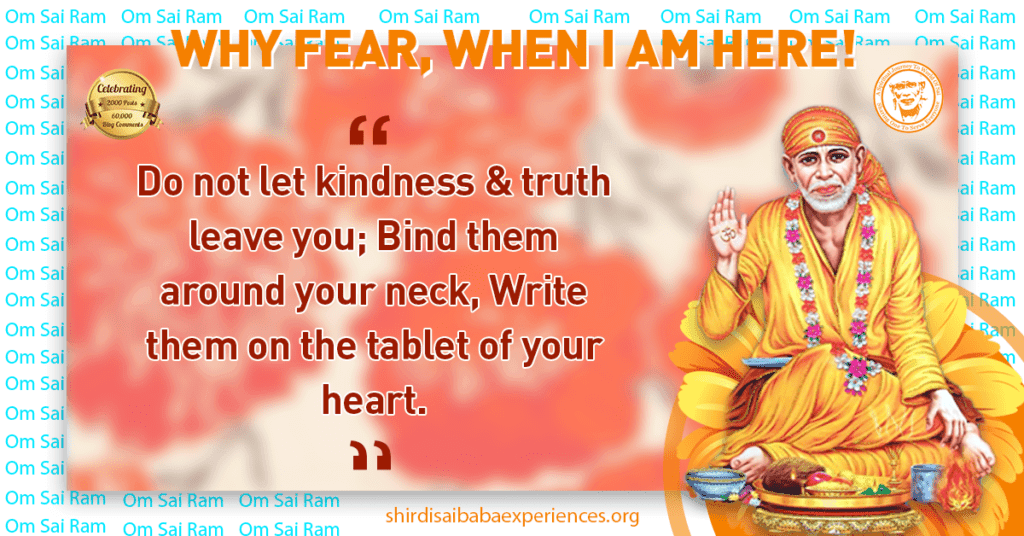 Anonymous Shirdi Sai Devotee from Malaysia says: Om Sairam. Thanks to Baba. Thanks Hetalji and the entire team for maintaining this wonderful platform.
Coming to my experiences, I was praying Baba to get my procurement requests on time and Baba helped me with approvals on the system. Baba, please help me to complete the full infra setup on time without delay.
I prayed to Baba on Thursday for an important thing. It happened as I had prayed. This is all due to Baba's blessings.
Last week, in the meetings all went well. This is also due to my Baba. Thanks Baba for all Your support.
You know what I am praying- people have to follow Your path to go in the right direction. Om Sairam.
Sai Baba Helped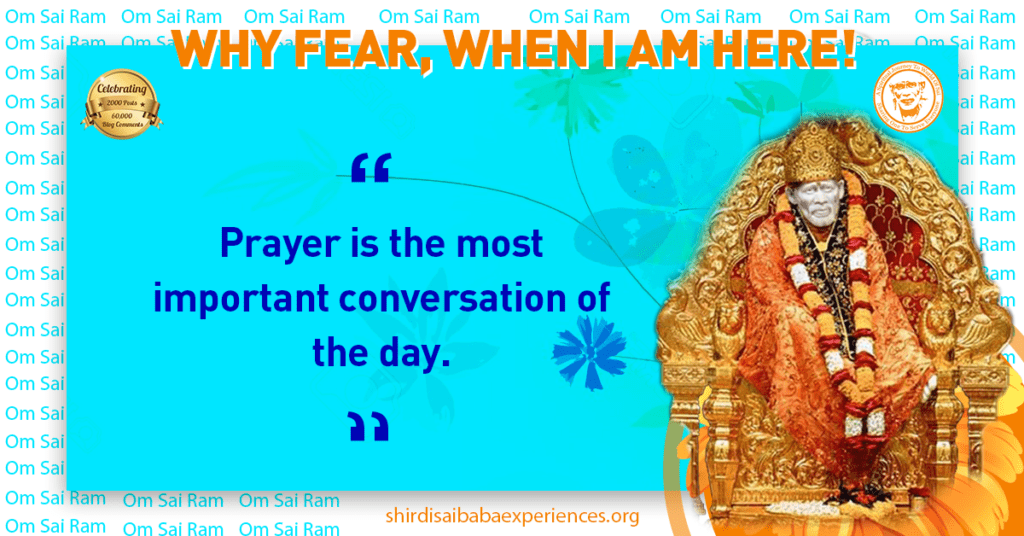 Anonymous Shirdi Sai Devotee from India says: I'm Baba's devotee and He is my everything.
My husband got a cold which first affected my school-going kid. His cold was not getting better and he too was coughing a bit. He was taking medicines but as they were low doses, it was not helping much. I started to pray to Baba to make him better in one to two days and that I will share my experience. Like magic, the next day he felt a little better and slowly all the cold was gone and he was ok.
I can't thank Baba enough, I always pray to Him for good health and happiness for me and my family. Please, Baba, shower Your blessings on us always and guide us. Om Sai Ram!
Sai Baba Responded Instantly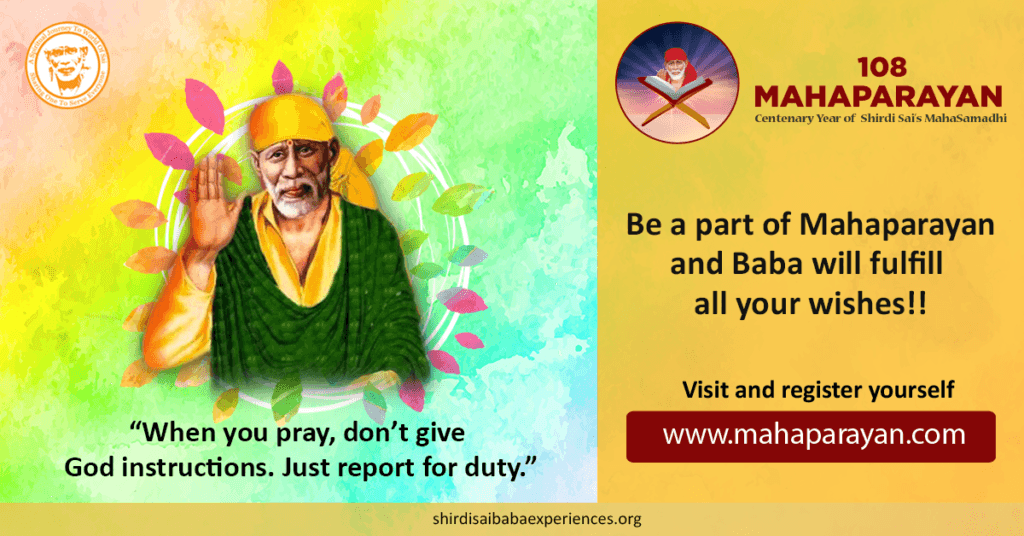 Anonymous Shirdi Sai Devotee from the USA says: I live in the US with my spouse and kid.
Two weeks ago, we went out and when coming back, suddenly just 10 minutes away from our house, our car had a flat tire. It was getting dark and I prayed to Baba to get someone from the local mechanic to come over to fix the car. Luckily, before it was too late, a guy was sent from the company and our car was fixed. Thank You Baba. Sadguru Sainath ki jai.
---
An interesting book "ShirdiChe Sai Baba" is being shared on Shirdi Sai Baba Books.com, in parts. It is a book worth reading by those who are keen in knowing veiled history of Sai Baba during His times. 
More from SaiYugNetwork.com
© Shirdi Sai Baba Devotees.com – Member of SaiYugNetwork.com