Sai Baba Bought Favourite Home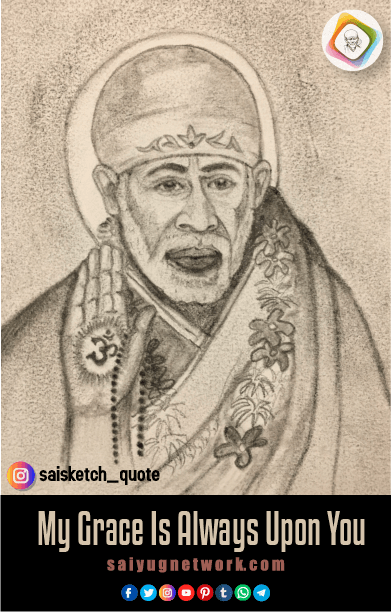 Anonymous Shirdi Sai Devotee from Australia says: Om Sai Ram devotees. Thank you so much Hetalji and team for Your wonderful work.
I consider myself lucky to have been given this opportunity to write this beautiful miracle in my life. I have been a Baba's devotee for more than 12 years now. Sai has always looked after me and helped me make important decisions in life. We live in Australia and we have been trying to buy a house for more than two years now. Every time I tried, we kept failing. So I was very upset and didn't know why Baba was not granting this wish of mine. But like you guys already know, Baba always saves the best for us.
I run a family daycare business, so I was looking for a house that would be ideal for me. I just realised yesterday. So, the house that I wanted and Baba willed was a two-storeyed home with the lower floor with all facilities which would help me run a family daycare. And this house was on auction yesterday. Auction sales can be a very daunting experience here because the buyers can get carried away and keep bidding more and more if they get emotionally attached. So, I had my fingers crossed and prayed to Baba before the auction. He blessed me with a flower and told me to have patience and faith and I did.
Yesterday came the auction day – we started the bids holding the flower and Baba's Udi. There was another bidder who was also very keen like us for the house and kept bidding a higher amount than us to get the house. I almost lost hope but when we were nearing our final amount which was just starting to touch our highest eligibility, I started getting really, really nervous. I closed my eyes and kept praying to Baba saying that we don't have more than this Baba and to take care and not to make us go beyond that amount. Baba came to my rescue and that was the final bid our opponent stopped and the hammer was hit to say that the house was ours!!! I can't describe the feeling…I was over the moon!
I finally realised that Sai waited for the ideal home for us. I am so, so thankful to This Deva. I am not sure how I can repay Him but I am definitely lucky to have found this platform. So, whoever is losing hopes or doubting their luck, please believe in Sai. He has the right time for everything. Please have Shraddha and Saburi. Om Sai Ram! Sarve Jana Sukhino Bhavathu!
Sai Baba's Kripa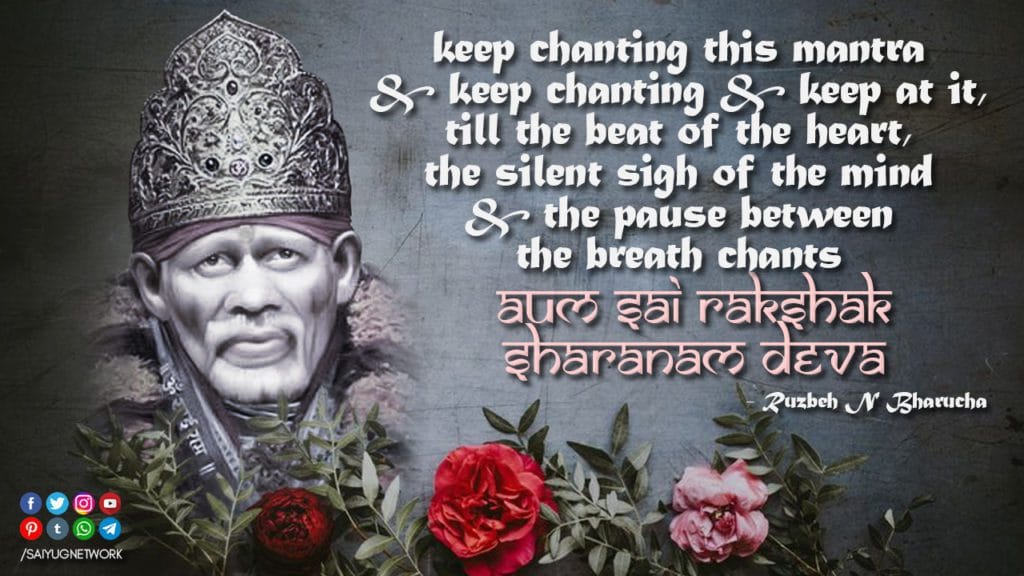 Anonymous Shirdi Sai Devotee from India says: Om Sai Ganesha Namaha. Om Sairam to all devotees. I am a small devotee of Baba. Thank you Hetal mam and team for providing this beautiful platform to us for sharing our dearest Baba's kripa with all Sai family members. Here I am going to share a recent blessing on me from our Baba.
Baba, I don't have words to express my gratitude for saving me one more time in the office. Sai devotees I can't share in detail as this is related to my job and is a confidential thing. I work in the Pharma background and in the IT department. There were some issues related to our server backup, which if got highlighted to seniors then it would have been a big disaster. When I came to know this issue, I wholeheartedly prayed to Baba and kept quiet. And as always this time also my Baba, my father resolved this issue without any trouble. Thank You, thank You so much Baba for saving me one more time.
My second experience is of our one HOD's laptop, which I had taken for repair. Baba, after almost two months it got repaired and is working fine. Only one small power button issue. Please resolve that also.
The third experience is of my mom whose health was not well but my Baba You protected her from the worst and now she is recovering. Please bless my family as well all the good human beings and every creature in this Universe with good health.
Baba, please forgive me if I have forgotten to mention something here and also accept my writing, as You know I am not good at penning down anything.
Om Sai Ram. Om Sai Rakshak Sharanam Deva.
Sai Baba Is Life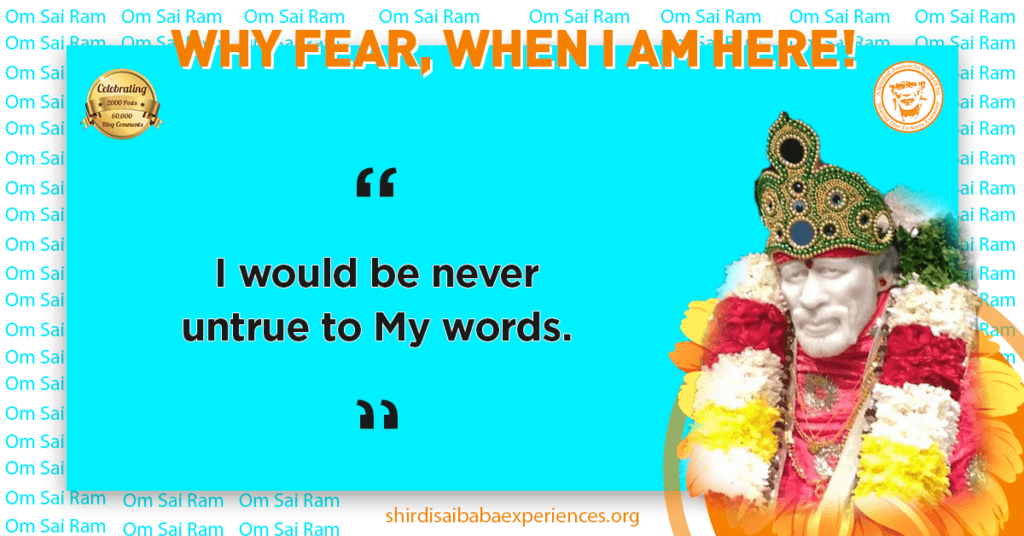 Shirdi Sai Devotee Richi from India says: I am from Odisha. I have been a devotee of Sai Baba for twelve years. I am living with my parents. I am a 30 years old lady. Baba, it is Your blessing that You have come into my life. It is a virtue of my previous births. Baba, You have transformed me and made my life worthy. The last request to You to please fulfil the last dream of my life. Give me a place at Your lotus feet. Baba without Your blessing nothing is possible. I have strong faith in You. I have patience but I can't wait anymore. If You do not listen to me now then what will I do? I am in a very difficult situation. Save me. You have shown me this dream, so You have to fulfil it. Everyone is mocking at my dream. But I know You will save me.
I will never change my dream whatever the situation it may be in future. But sometimes I am forgetting my dream. But in my heart, it always exists. If a child denies taking medicine can a mother support him? no, because she knows that medicine is good for his health. Like this Baba please do what is good for me. I am completely surrendering myself at Your lotus feet. As I am a human mistakes happen which is normal. But Baba You know everything about me. Kindly rescue me from this situation.
It is my humble request from the bottom of my heart to all Sai devotees please read "Bhagavad Gita." It is in Sanskrit but Hindi translated or any other language translated Gita is also available. The Gita, published by Gita press Gorakhpur, is the best one. Reading Gita means understanding the meaning of each verse of Gita. Total 700 verses are there in Gita. You have to read only one verse in a day. After you read Gita your ideology and perspectives about life will change completely. You can learn about the power of God, the birth of the soul, how God will rescue you from difficulties and other aspects which are essential for you to live in this world. You will live a happy and peaceful life after reading the Gita completely. Our ancestors were reading Gita but new generations are not even knowing the Hindu religious book Gita. Sai Baba also suggested His devotees read the spiritual books as written in the Satcharitra book. Another book I am recommending is Yogi Kathamrita written by Paramahansa Yogananda. I came to know these books because of Sai Baba's grace. So that my birth as a human is worthy. This is a miracle of Baba.
Baba, please help me to reach my destination. Don't leave my hand in the middle of the river, otherwise, I will sink. Baba will bless you all. Never lose faith in Baba whatever the situation may be in life, good or bad. Om Sairam.
Pain Got Relieved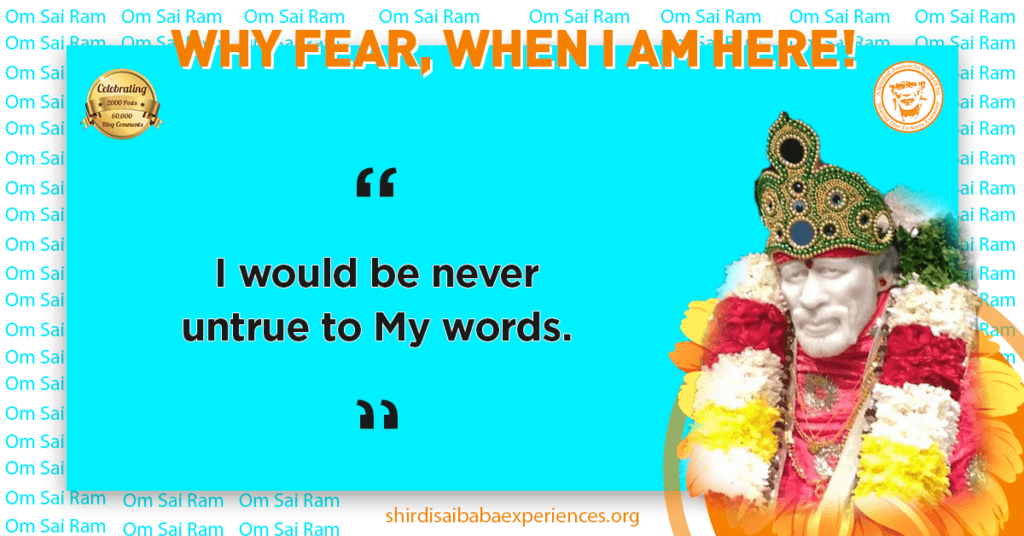 Anonymous Shirdi Sai Devotee from India says: I am a devotee of Shirdi Sai Ram since 2009.
Baba has done so many miracles in my life since the time I have started believing in Baba, though there are so many things that I have been desperately waiting to be granted, Baba has been delaying them. Maybe there will be something good hidden in that also.
I want to share my recent experience. Yesterday, I reached my place after spending a Diwali vacation of almost 8-9 days at home. After travelling for 8-9 hours on local roadways, I was very tired. Then while sleeping my headache started and I felt like a fever. I was scared that I wouldn't be able to join the office after so many days as they could point out to me (as my office is very strict about leaves). I was praying to Baba and I started chanting Om Sai Rakshak Sharnam and my pain vanished! This was a miracle for me as it doesn't go without taking painkillers. I didn't want to take any painkillers on an empty stomach. Thank You, Baba. I hope that very soon You will fulfil my wish which I have been asking for many years.
Thanks To Sai Baba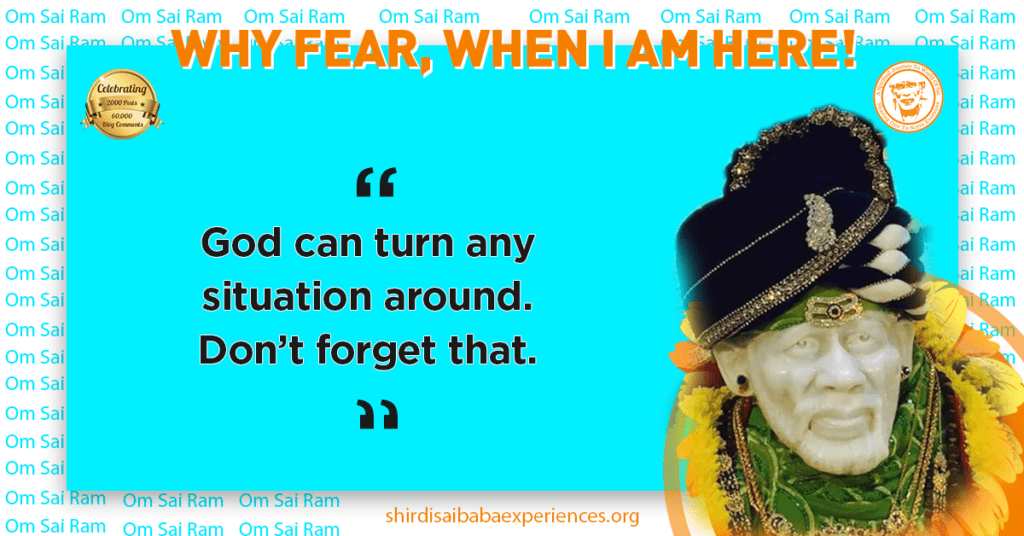 Anonymous Shirdi Sai Devotee from the USA says: Om Sai Ram to all Sai devotees. Thank You to the team for maintaining this blog.
Om Sai Ram. I want to thank Baba for His help in blessing us with a package that we were eagerly waiting for. I prayed that as soon as we received the package, I would share the experience here. Sincere sorry for the delay in posting, Baba. We are very happy that we safely received the package.
Another experience, I was in a difficult situation where it was my fault, but Baba saved me and I am ever grateful. Thank You for everything You do for us, Baba. We are nothing before you and are always at Your feet. Thank You so much Sai Baba.
Prayed To Get Well During Second Vaccine Shot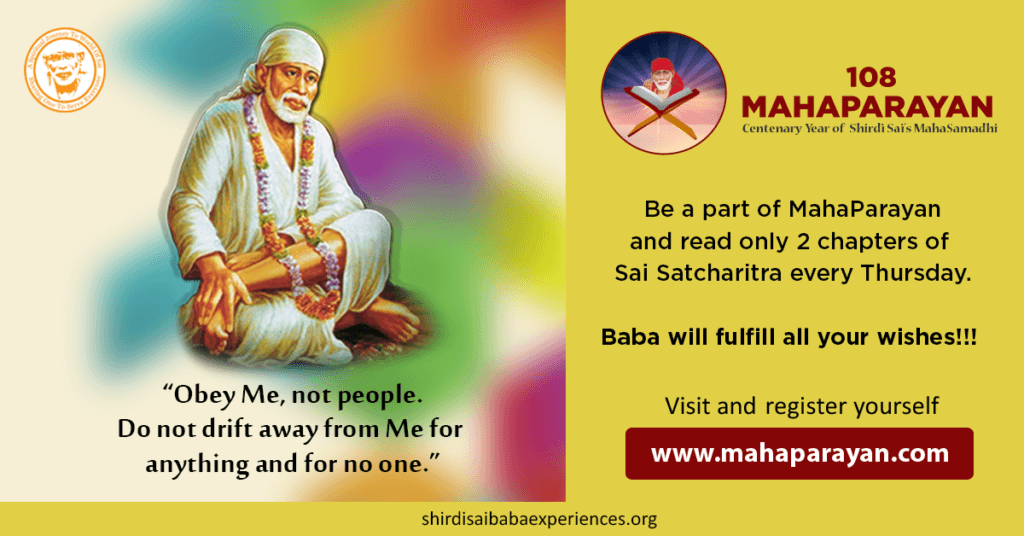 Shirdi Sai Devotee Ganeshwar from India says: I knew that I was about to be hospitalized. Trauma in the hospital was so high that I prayed to Baba to get me out of pressure from work, Covid and Dengue tests.
All the three happened like magic. Thanks, Baba. Dengue came negative and within the next hour, my PCR was taken, which became negative the same night. In between when they did CT there was no trace in any form; He was always holding me. Thank You Baba for saving me and my family throughout the gruelling time.
---
An interesting book "ShirdiChe Sai Baba" is being shared on Shirdi Sai Baba Books.com, in parts. It is a book worth reading by those who are keen in knowing veiled history of Sai Baba during His times. 
More from SaiYugNetwork.com
© Shirdi Sai Baba Devotees.com – Member of SaiYugNetwork.com