Got A Job In A Miraculous Manner After Two Years' Wait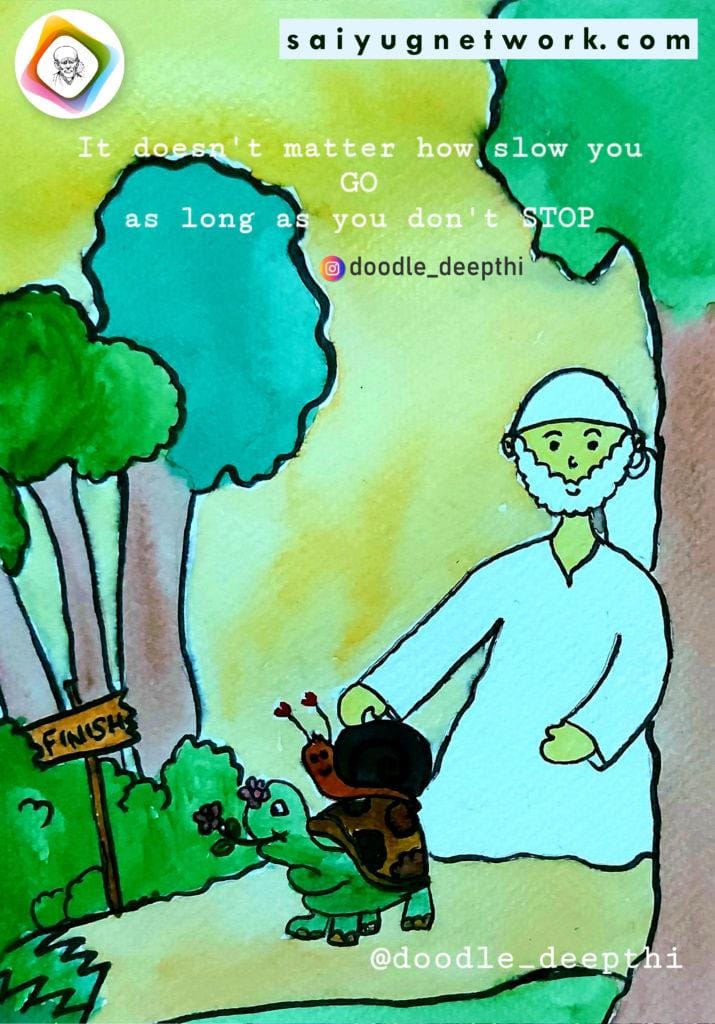 Anonymous Shirdi Sai Devotee from India says: I'm a small devotee of Sainath who is taking me closer to Him. I'm super excited to share my experience here because I'm sure many people like me will be facing this issue and hope my post will increase their trust.

I came back from the USA in Jan 2020 and since then had been looking for a job in India to settle down here. In 2020, I started seriously looking for jobs in May but nothing worked out. I did three or four cycles of 9 Thursdays vrat, 5 weeks Sai Divya pooja, and completed reading Sai Satcharitra many times but nothing actually worked. Towards the end of the year as I started losing hopes and was thinking if I don't get it this month then will stop praying to Him but somehow could not stop doing that as I love Him so much that I felt if I get angry on Him then whom would I talk to? So I again started bringing up my hopes.

Then things slowly started to change from the beginning of 2021. He slowly shifted my path towards spirituality. I used to think that I'm a spiritual person as I trust in God and do a lot of Pujas, but NO that is not the spiritual path that He wanted to take me to.

My first step towards change was introducing me to a concept called "Law of Attraction" (it was a very sudden thought and just came across it as a YouTube recommended video). I started to watch more about it, read more books about it, and started to understand that my thought process must be changed first. Have only positive thoughts in your mind if you trust the Universe.

Then came the second change, He (my Sairam) introduced me to Reiki energy healing. That is a method of healing where you use divine energy to help you heal any problem/person. Because of learning Reiki, I started to get more close to Him because I cannot be an energy healer if I think or do anything bad; so gradually started to have love and empathy towards everything.

Then suddenly one day while meditating I got a thought "When Baba gives me everything or gave me all that I have till now, then why didn't I ask Him the question why are You giving me all this, so what right do I have to ask Him now that why are You not giving me a job?" Then the actual meaning of waiting for His timing or Saburi struck my mind. So after that I stopped telling Him or asking Him the question "why delay or when will I get this" instead started saying to myself "whatever He does is for my good and that will be the best."

Now the miracle part; suddenly in Nov 2021 end, I got my interviews done for a company and they offered me more than I expected as Baba had always promised. I have then joined the company and am happily working there.

I want to tell all the devotees feeling stressed, to hold down as the wait is all part of cleaning your karma. Tightly hold to Him And he will come. Even though you face issues He will see to it that you have all the required things. Only thing is that we ignorant people cannot feel it. But he helped me realize all the good I have in my life which helped me to hold on to Him. Now I'm happy with my job, but more than that I'm grateful for the changes He brought into my life and we became closer now.

Love You Sai. I'm grateful and thankful for all the blessings You showered on me so far and for all the miracles that You planned in my life.

Om Sai Rakshaka Saranam
Found The Lost Diamond Stone With Sai Baba's Blessings
Anonymous Shirdi Sai Devotee from India says: Om Sai Ram, I am a small devotee of Sai Baba from Bangalore. I have been His devotee for almost 20 years. As promised I am sharing my recent experience.
My husband has been wearing a gold finger ring with four diamond stones for nearly 12 years. Last week he suddenly noticed that one of the stones was missing (not sure when it had fallen). He immediately called home and told me to check everywhere at home. I prayed to Baba and started looking everywhere. I badly wanted that stone to be found not only because it was expensive but a few years back he had lost one gold bracelet and didn't find it. He feels very bad whenever he thinks of it and then this incident too would make him depressed. After five minutes he called back and said that he found the stone in his friend's shop (on the floor) where he had gone a few hours back. I get goosebumps whenever I think of it. What else can this be other than Sai Baba miracle?
Baba, please make my son do well in his studies and always be with him and guide him. From the time we started constructing our dream house, there have been troubles and unexpected expenses but continuing with our only hope is Baba. Please see to it that everything goes well and we move to our new house in time, without any trouble. Thank You, Baba. Thanks for everything that You have given me in my life. Bless my family always.
Baba And Only Baba Listens

Anonymous Shirdi Sai Devotee from Singapore says: I am a small devotee of Baba who is forever indebted to Him.
I have shared quite a few experiences and I feel blessed that Baba is there for me. The past few days were terrible for me. My infant daughter had a diaper rash. I saw some weird stuff on her bib and I was frantically checking if there was something wrong with her. I did not find anything abnormal. I could not sleep that night, kept on chanting Baba's name. She was fine, playing and eating but my weak heart was trying to find a reason behind those marks on the bib. I did not get an answer but my daughter was thriving well. I realized that at times you don't need the answer, just trust. And that's what I did and left it on Baba. She is Baba's gift to me and He can decide what's good and bad, I am not qualified to challenge His decisions.
Dear friends, I still don't know what happened but my baby was happy and I just accepted that all is well. Also, she has recently started having solids and was not passing her motions well. I prayed and requested to solve the problem. Then late in the night she did pass her motions. I was convinced that Baba always listens to us; just that He knows the merit and demerit of what we are asking and grants it accordingly.

Baba, Raksha Karna (Baba, protect us)! Jai Sai Ram. Thank You for everything.
Sai Baba Gave Devotee A New Life

Anonymous Shirdi Sai Devotee from India says: I am a little devotee of Baba from Odisha India. Thank You to all the children of Baba in this group.
Every day of mine is a blessing from Sai Baba. I have health issues that I encounter almost every alternate day. Acidity, suffocation, dizziness, asthma, pulse rate fluctuations, and recently last night I had hypothermia. It's too cold this time in Odisha. I always wear my woolens properly but still last night I got hypothermia. Before it, the commencement Baba warned me too.
I stay with my father and my little son. My father is a hypertension patient. So I always make sure that I don't give him extra tension. Both my son and father were sleeping when I got the hypothermia attack. My only doctor is Baba. I prayed to Him, had Vibhuti on my forehead, and also had warm Vibhuti water. As always Baba came to my rescue. He saved me again, giving me a new life. He only knew my condition at that time. Baba is the best Doctor and Dhuni maai's Vibhuti is our best medicine. We should have it daily with water. Thank You Baba for a new day. Om Sai Ram.
Overcoming Fears With Sai Baba's Blessing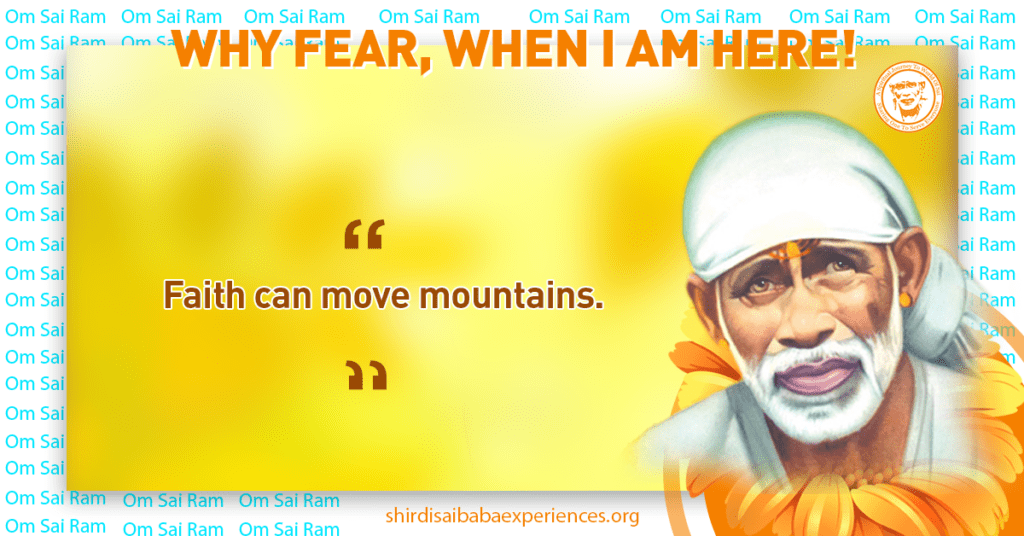 Anonymous Shirdi Sai Devotee from Australia says: As a humble Sai devotee for the past 15 years, I have experienced numerous blessings. With Sai's blessings, I wish to share my experience which is long overdue.
This miracle happened before Covid but I didn't have the opportunity to share it up until now. It was the year 2019 when I was down with an illness. This had a big impact on my personal and professional life. I was afraid and couldn't see a path to overcome this illness. Due to this, I was keeping my distance from family and friends, which also had an effect on my professional life. I almost felt like my life was meaningless and with no light. So I prayed to Sai wishing that I could come out of this and wipe out any past karma. I vowed to complete Sai Satcharitra within seven days and prayed to help me recover within seven days. I had promised to share my story of when I would get cured. Fast forward two years, I am grateful for all the things Sai has given me in this life. I pray to Sai to help everyone who has struggled during this pandemic. Sai Ram!
Experience With Sai Baba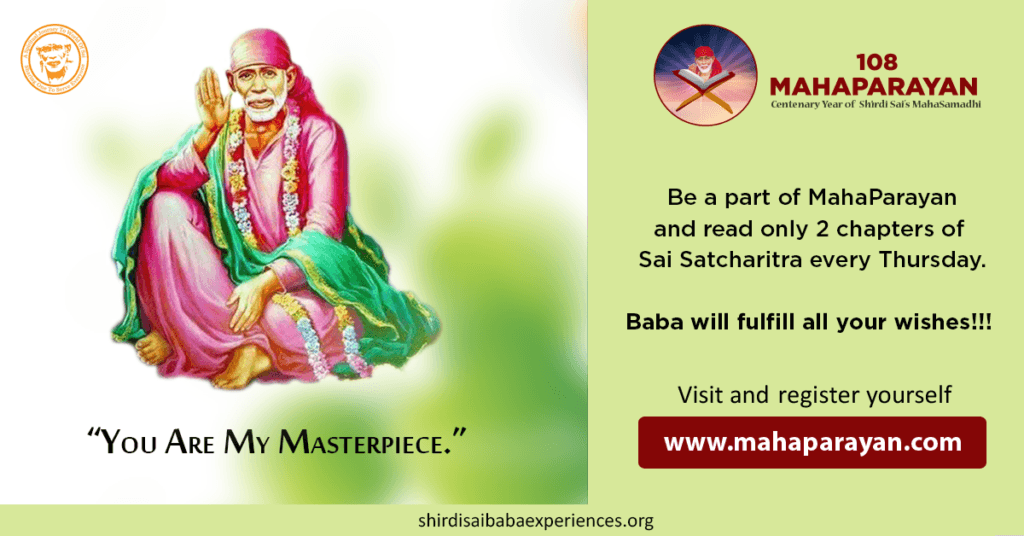 Shirdi Sai Devotee Maheswara from India says: I am Maheswara from Hyderabad working as an IT professional. Yesterday I was suffering from throat pain and due to the pandemic, I was a bit scared about it.

So I prayed to Baba to please keep me in a normal state then I would post my experience. So last night I mixed Udi in water and drank it by praying and chanting Baba's name. With Baba's blessings today morning everything was ok. Baba, please help my children to return home. I will post on this blog. I am worried about their education, Baba. Please help them to go in a good direction and with the help of good people. Om Sai Nathaya Namaha.
---
ShirdiChe Sai Baba Book
A book that can be considered next to Sri Sai Satcharitra is available for reading on our blog, kindly do not miss reading it.
More from SaiYugNetwork.com
© Shirdi Sai Baba Devotees.com – Member of SaiYugNetwork.com