Sai Baba Helped To Pass A Very Important Exam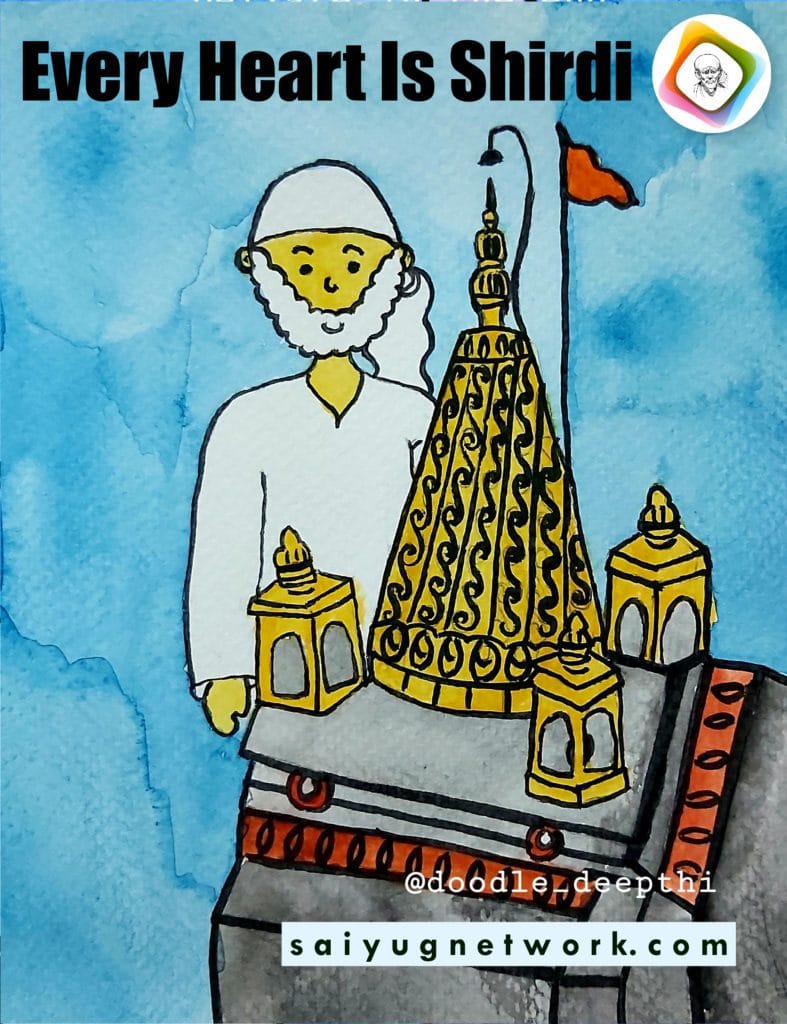 Anonymous Shirdi Sai Devotee from the USA says: I am a small devotee of Saima. I have no words to describe Sai Baba's leelas. He only knows how and when things need to be accomplished and when to bless a person. Baba re-entered my life or I should say that He was ever-present and I was the one who forgot Him temporarily until 2007. He pulled me towards Him and since then has been helping and taking care of me every time I call for Him.
I had health issues recently and had a very bad life-changing incident that pushed me into depression for which I was blaming Baba. But He Who always loves me did not feel bad for me blaming Him but rather walked with me and safely helped me to find my mental peace by introducing me to an online meditation program guided by Mataji (mother). He also made sure that I was able to concentrate on my studies even in ill health. What do I say about His leelas? He first gave me adequate time to rest and prepare as my health was not good. Taking this exam was very important this year as if I could not take it, then I would have to wait two years to take it next time. So He made sure that I had enough rest while preparing for my exam. He gave me a lovely husband who cared for me so much during my ill health and my exam preparation. He also helped me with my employer so that everything was smooth and no one caused any problem with regard to my health and exam and I was provided adequate time. He also made sure that I received my salary for the month by changing my status to exam preparation without causing any problem with my employment status. Krishna Ashtami, Ganesh Chaturthi and Navratri pooja were grandly performed and whenever I used to pray for my exam, He in the form of Krishna tande, Ganapati tande and Saraswati taayi, blessed me with flowers and prasadam, always assuring me not to worry, as I was tense and stressed out from my health and inadequate preparation. He made my husband's colleagues agree and they allowed him to travel with me to the exam centre as it required a drive of ~2. 5 hours. He assured me that I ate nicely during the exam as He made sure that my husband prepared lemon rice (my favourite) and brought tons of chocolates.
I was very tense during the exam but He was again there with me and assured me by giving me 9 as my exam counter which is my lucky number. However, me being a fool still started doubting myself, Saima; as my first part did not go as expected. My second part was good. I kept on taking stress until my exam results due to my first part and inadequate preparation because I had once dreamt of failing the exam. So I was more inclined toward my dream and forgot totally about all the miracles that Saima performed just to assure me so as to keep faith in Him and completely surrender to Him. His last miracle was that He not only released my results way ahead (within 1 month) to relieve me from unnecessary stress that I was carrying on my shoulders but He also made sure that the exam result was released on an early Thursday morning with my lucky number as the date (9). I was still doubtful and ignorant. He must have laughed at my foolishness that despite all His assurances multiple times, I was not willing to see my results. I waited till evening for my husband to come and see my results. I was dumbfounded when my husband saw the result and informed me that I had passed. We both thanked Baba so many times and I sought Baba's forgiveness for all my foolishness and ignorance.
Oh my dear Saima, please forgive my ignorance and not trusting You and not having faith in You. Please forgive me. Thank You very much for all the love, care, kindness and blessings that You have showered on me since my birth. Thank You Deva for helping me to pass my exam. Please do me the favour always like this and be always with me. Please do bless all souls born on this Earth with Your love and blessings. Om Sairam.
Sai Baba Blessings
Anonymous Shirdi Sai Devotee from India says: Baba helped in getting flight tickets booked and many more! I am a small devotee of my Baba Sai. 
I invoke my Sai's blessings to help me pen down my experiences. Thank You so much Hetalji and all the pious souls working behind the scenes. You have no idea the way this blog helps devotees. You all are blessed sons and daughters of Sai. May He bless you always and all the devotees and the entire planet!
Please keep my identity anonymous. My daughter is pursuing her undergrad in the US and she wanted to come to India during her winter break. I asked Baba to help us get the flight tickets booked and He made it happen! The flights were heavily booked and it was very tough to get a seat, but Baba made it happen! Nothing is impossible for our Sai.
Sai Baba Came Home: I have read so many experiences of devotees on this site where they said that we wanted the Sai Satcharitra and either someone gifted It to them, or they found It on their bookshelf and didn't know that It existed. So I would wonder when I would get a copy. I could buy It, no doubt but I always wanted It to just appear and It did, last Thursday, magically. This friend of mine visited Mumbai and she was introduced to Baba just two years ago. She bought a copy for me and gifted It to me on the morning of last Thursday! My joy knew no bounds!
I am a teacher in a school and the Thursday before that our school went offline. I was scared because of the pandemic but Baba assured me that everything will be alright! As soon as I got on the bus, I saw a Baba figurine. The bus driver had put a garland of fresh flowers around Baba's idol. It was as though He was telling me, 'Why fear when I am here. And you can imagine that seeing Baba there, all my fears were put to rest. And this doesn't end here – the next day when I boarded the bus, I was looking for Baba, but I was told that that bus had come only for a day!
Billions of prostrations to Sai!
Bow to Shri Sai, Peace be to all!
Sairaya – Our God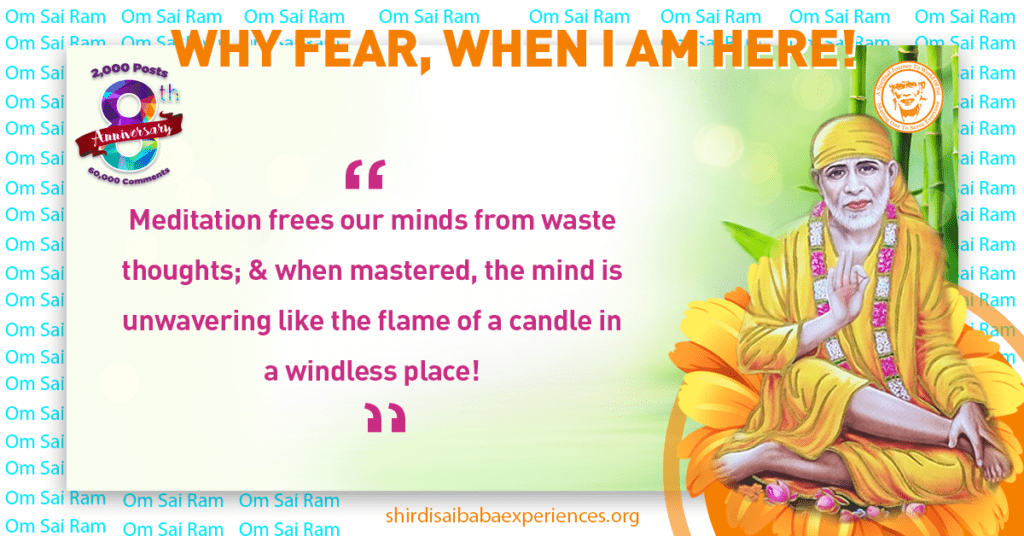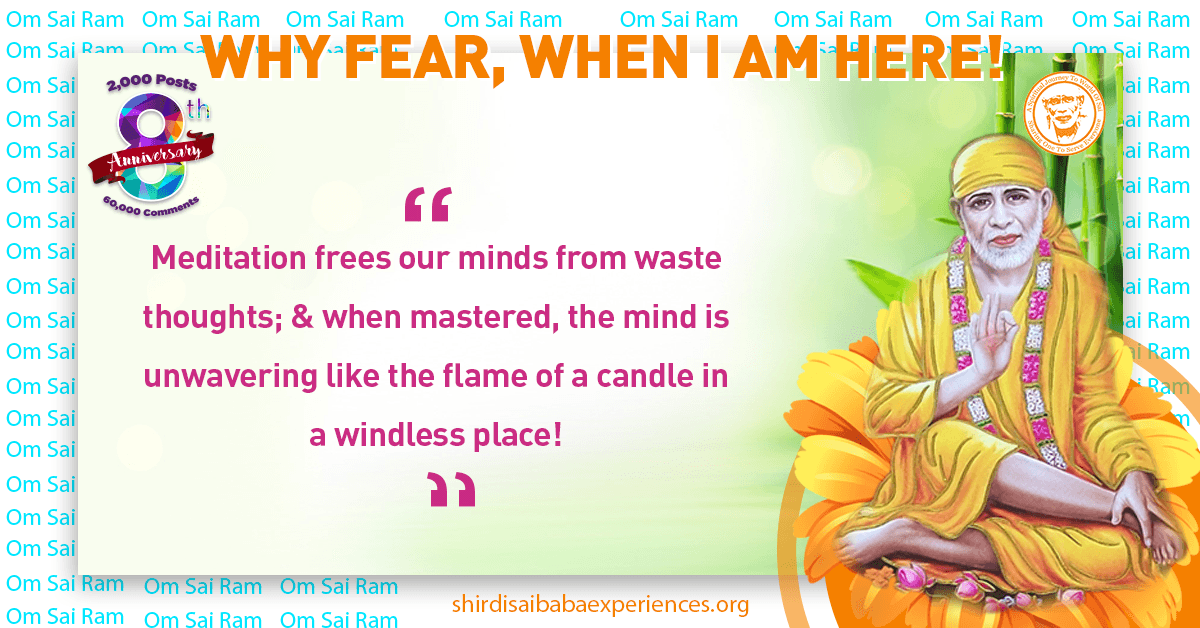 Anonymous Shirdi Sai Devotee from India says: Being at Baba's feet gives immense pleasure and protection to everyone. I am one of the fortunate. Om Sai Ram.
With Baba's blessings, a great disease didn't touch my son. Sorry, Baba for sharing and posting my experience very late.
One day I saw a mosquito in my bedroom. I tried to get rid of it but I failed. The next morning when I woke up I saw the same mosquito sitting just above my little son's head and the mosquito was plump with blood. I checked if there was any mark of a mosquito bite on my son's arms and legs. But I couldn't find any. When my son woke up I saw a big inflammation on his forehead. I was too worried for him. I immediately applied Vibhuti to his forehead and gave him Vibhuti water to drink. I prayed to Baba that if after 14 days my son didn't catch malaria or dengue then I would share my experience of Baba's blessings on His Saiyug network site. Baba being always merciful, accepted my prayer and protected my son from any such dangerous disease. Thank You, Baba. Koti koti pranam.
Baba has always been very kind and looks after all of us like a loving mother. Baba always helps my son with his studies, online classes, our health issues (acidity, suffocation, cough and cold) and travelling issues too. Thank You for Your loving glances. We belong to You Father, please take care of us. Om Sai Ram!
Sai Baba's Presence During Devotee's Delivery

Shirdi Sai Devotee Harini from India says: Hi I am Harini, a Sai devotee. Thank you Hetalji and team for creating this platform where we can share our experiences. Apart from many miracles in my life, this one is very close to my heart. This happened almost two and half years back. I found this platform today wishing to share my experience here so that all those who read may feel Baba's presence.
I was on my delivery bed for my second child. Unlike my first delivery, this situation was totally different. I was going through enormous tension due to family betrayal. I felt cheated and hopeless when I was about to bring a new life to this Earth. I may not be able to put my feelings in words. It was too hopeless is all I can say. I suffered the delivery pain for almost three hours and the heaviness in my heart and I could only hear myself calling out to Sai. The doctors said if we couldn't make it in some more time then it would be C-section (Operation). I almost gave up hope on going through normal delivery. Suddenly I felt that the room's environment changed and when I closed my eyes I could see Baba standing near my head blessing me. Within seconds I could hear my baby crying. That moment was a rebirth for me on this Earth. My Sai saved me and my child. I will never forget this moment in my life. Om Sai
Sai Gave Government Job To Devotee And Her Husband

Anonymous Shirdi Sai Devotee from India says: I was looking for a career change and to get into the government sector. The same was with my husband.
I started Mahaparayan last year. Along with reading in Mahaparayan, I took up some seva and I started volunteering and became a captain. I really love doing it. I was earnestly praying to God to give me a government job as I had lost work during Covid and my husband's work was restructuring. Then within three weeks, we both got into the government sector though it's on a contract basis. It was all because of Baba's Grace. 
Sai Baba Experience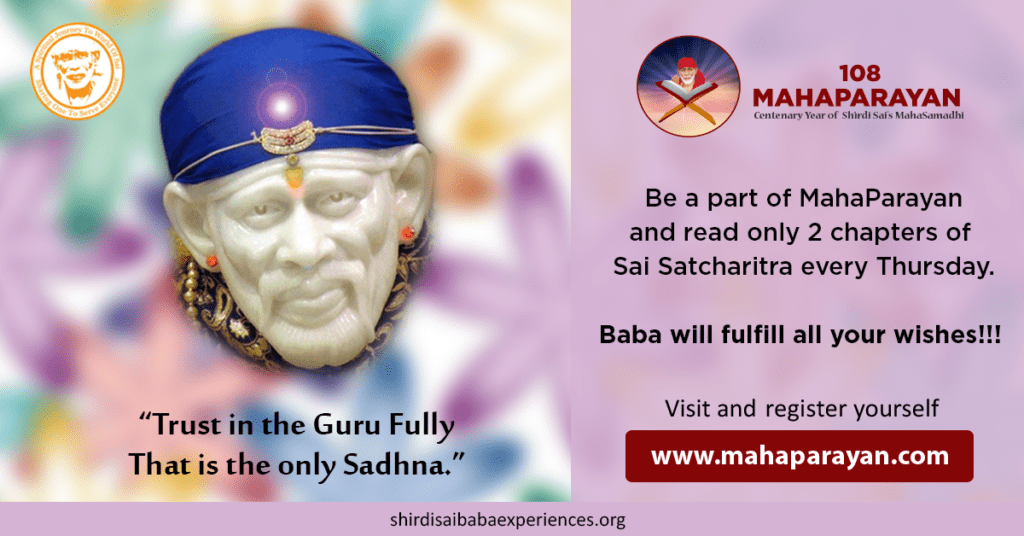 Anonymous Shirdi Sai Devotee from the USA says: I want to be called Sai's daughter.
Thank you Hetalji and team for providing us with this platform where we can share our beautiful experiences with our Sai family.
Today I am here again to say thank You to my Sai. Sai, thank You so, so much for again helping me get this week's thing successfully. Without You, we could not have done anything. Thank You so much for giving me the strength and blessings Sai. Thank You so much, Deva.

Love You Sai
Om Sai Ram.
---
ShirdiChe Sai Baba Book
A book that can be considered next to Sri Sai Satcharitra is available for reading on our blog, kindly do not miss reading it.
More from SaiYugNetwork.com
© Shirdi Sai Baba Devotees.com – Member of SaiYugNetwork.com