Ask Sai Baba and Get Precise Answers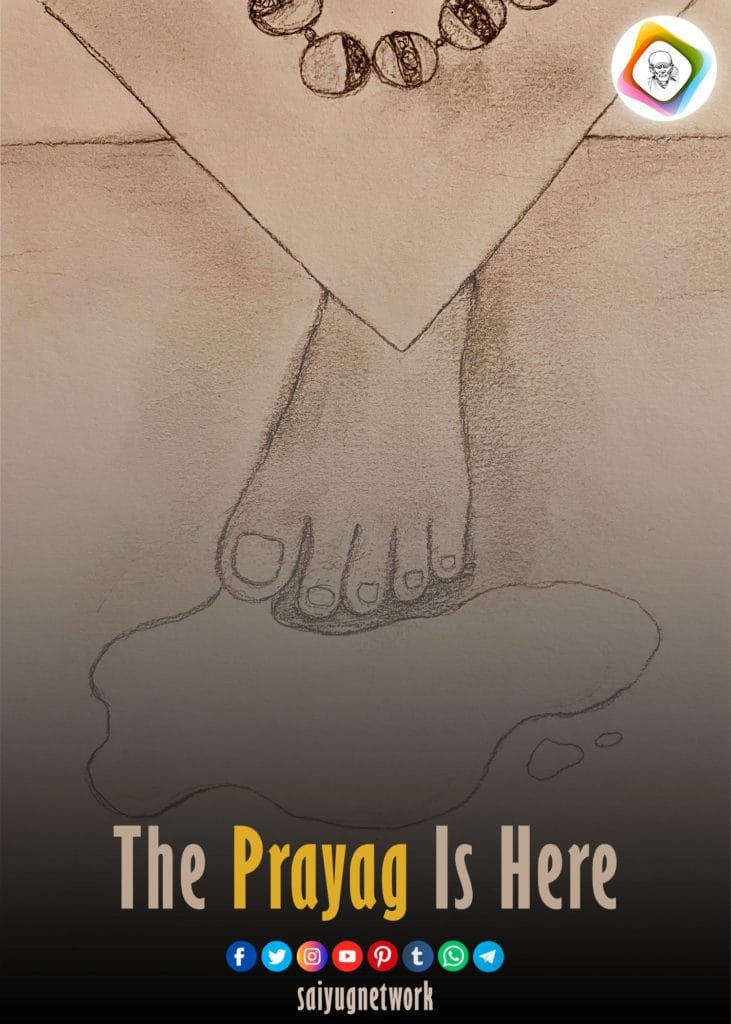 Anonymous Shirdi Sai Devotee from Mauritius says: My name is Mokshada and I come from Mauritius. Shiva's Nandi sent me here. I finished my undergraduate degree in 2021. The degree especially the third year was not easy at all. I consulted the Sai Baba website – asksaibaba.com; several times and all came out true. There were warnings in them as well which I disobeyed and faced the consequences of.
Question 1
How to pass this undergraduate degree is what I asked Baba after being unable to bear the pressure. I was also a perfectionist which makes things worst.
Baba replies
You have to do your duty. Friends and Family will not help you. Sri Sai Baba is with you. Do not worry.
Experience 1
I passed with a first-class with honors. No friends or family helped me to handle the stress. I chanted Gayatri mantra 108 times every day. (see below)
Question 2
Why I can't succeed in proper planning and why do I keep postponing things?
Baba replies
Donate, otherwise, you will not find a way. You have not done religious things planned in the past. Perform it at once. Thereby all things will be completed smoothly.
Experience 2
I was at my 4th or 5th time doing 9 Thursdays vrat but stopped after doubts and doubts after going on quora. So I decided to finish the vrat and donated bread to the church. My dissertation and viva were completed smoothly.
Question 3
Will I pass my exams and graduate this year?
Baba replies
Shree Sai Baba knows all things. Hence surrender to Him then He will relieve you from worries and bring success. The desired things will happen in the morning and afternoon.
Experience 3
When I finished each paper, I left the fruits of my actions to Baba and I passed brilliantly. I renunciated the desire for a first-class degree. That is surrender (Satcharitra chapter 1 I think). The exams sessions were in the morning and afternoon.
Question 4
How is the completion of the dissertation come about? (I was in distress; things were not going as I planned in my notebook)
Baba replies
Your work will be completed with the help of 5 women. Donate food. You will experience that you will get quick success by remembering Shree Sai.
Experience 4
Mother Gayatri, The Five-Headed Goddess was the one to help me. I did 108 times Gayatri mantra after Baba Sai gave me a dream. A policewoman told me in the dream that she can help me or otherwise I can help myself (it was before a test at uni). Then next dream was the number 107 + 1 = 108. I, however, forgot to donate food and did so after weeks thus all went well and I got a distinction in my dissertation. Shree Ganesh also helps, so I did Shree Ganesh's prayer also.
Question 5
I forgot the question but it was about my degree itself.
Baba replies
The work held up for three years will soon be completed. After completion of the auspicious function, new work will start. You are planning to travel. You will gain. There will be great profit in the month of Shravana (August).
Experience 5
Four out of five exams were on Mondays, in the holy month of Shravana dedicated to Shiva. After three years, finally I completed my degree.
Question 6
When will I finally have a routine to follow?
Baba replies
Baba does not want anything from you except devotion. Do not be deceived by false news. You will gain through liquid things.
Experience 6
I got deceived by false news that one exam might be postponed and as I did not prepare well, I thought I would have more time to prepare but it was not the case. I got a question on one topic worth 30 marks and did not know the answer. I wrote what I remembered. I got a C.
I hope this will boost faith in Baba's words. Following the above was not easy. There were doubts and confusion. I cried sometimes but Baba Who knows past, present, and future is always ahead of us and protects us. Later He told me through the website that a university degree was not in my destiny. Thank You Baba for everything. Today, my cousins who had only A-levels and who are less academically competent are going to universities. I would have probably been in a shop as a shop assistant and watched them enjoying the prestige and honor of being a graduate. I am very grateful to Baba that with little preparation I passed my degree; actually, it is His decree.
With Sai Baba's Grace Dreams Came True
Shirdi Sai Devotee Pallavi Gopal from India says: I am Pallavi Gopal from Karnataka.
I had always dreamt of studying abroad and had applied to a few universities in the United States in the year 2020, but due to Covid, I was unable to pursue my dreams because my family and I were concerned about the situation, safety, and job market.
After a year or so (2021), I again applied to universities in the United Kingdom and got an offer from a top business school in the UK. Unfortunately, I missed the deadline for the fee payment. I made the fee payment on 8th Dec 2021 and then received an email informing me that I had missed the deadline. It was my fault because of overwhelming joy; I had missed the deadline i.e. Nov 18th, 2021 which was clearly stated in my offer letter. The admission team strongly said that I had no other option than deferring my offer for the next intake i.e. Sep 2022 which was a very tough option for me because after receiving the offer I had resigned from my current job and was serving the notice period.
I did not lose hopes, because Baba had never ever let me down till now. He always holds my hand in each and every situation that I face in my life. He gave me the best of everything, He gave me more than I had asked for.
Keeping all hopes on Sai Baba I emailed an International office administrator and told them about my current situation and difficulties. In parallel to all this, I started 'Sai Satcharitra Saptah Parayan', and before completing the Saptah Baba made me witness His miracle once again. On December 20th (It was the fifth day of Saptah) International office administrator confirmed my seat for January 2022 intake. It was only possible because of God's grace. Baba had blessed and supported me to achieve my dream.

I would like to add about the first miracle of Baba in my life. In 2015 I got admission for my engineering. After attending the college I did not like the training environment and after completing two semesters I wanted to make the transfer to a good college. When I enquired in the admission office, they had demanded to pay the full tuition fee for my entire engineering (four years) so that I can get a No Objection Certificate (NOC) to make the transfer to the college that I wanted. Paying double tuition fees was impossible for me and it also sounded stupid. So I thought of dropping this plan.
One day I was bored in my room and sat at the main entrance of the hostel just using my phone. I observed many girls praying to Sai Baba Murthy (statue) which was placed at the entrance of the hostel. I was not a devotee of Baba by that time but still, I went near the Baba's Murthy (statue) and prayed for my transfer. I used to go home once a month to meet my parents but this time I did not go because I had my semester-end exams, so my parents decided to visit my hostel. Like every parent, they cooked my favorite dishes. Casually while eating I asked my mom to meet the admission officer and request them my transfer. With the reference of some college trustee, my parents spoke to the officer and after a long meeting luckily, he agreed to give me a transfer without paying my full tuition fee. Trust me, I have no idea how did this all happen within a day. After that, I got transferred. From that time till today I have been witnessing Baba's miracles in my life every now and then. I am extremely lucky to be His child forever. Heartfelt thanks to You for giving me this opportunity to write; Sri Sairam.
Sai Baba's Kripa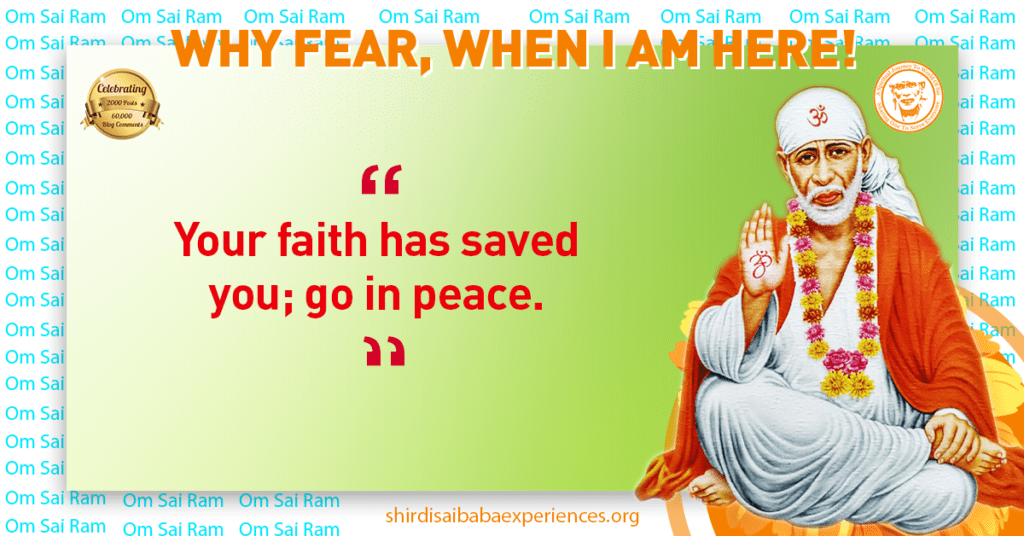 Anonymous Shirdi Sai Devotee from India says: Om Sai Ganesha. Thank You Hetal Mam and Team for giving us this platform to share our experiences. Thank You Baba for blessing me again. Baba has shown His blessings on multiple occasions.
Experience 1: Thank You Baba for showing the solution and completing data backup restoration. We struggled continuously for three days and when I promised Baba that I'll share my experience on this site Baba showed the solution. Thank You Baba for Your blessings.
Experience 2: Baba because of Your blessings our internal audit was successfully cleared. Keep Your blessing hand on all the work-related things. Here lots of politics are happening. Please bless me with a new job. You know all the things
Experience 3: Thank You Baba for giving a job to my friend. She was really in need.
Experience 4: Baba, once again You helped me in front of the Site head. QA HOD tried to give me firing from him but I prayed to You and entered his cabin. He listened to all the things politely.
Please forgive me Baba if I have forgotten to mention something here. Always keep Your blessing hand on all Your devotees. Please bless my parents with good health and also my sister-in-law. She needs Your blessings.
Baba, need a car now. It's becoming difficult every time go out to any medical appointment or some important thing. You know Baba my desire. Please bless us with a car of Your choice and I'll share the same experience here on this holy site. Om Sai Ram. 
Sai Baba Showers Grace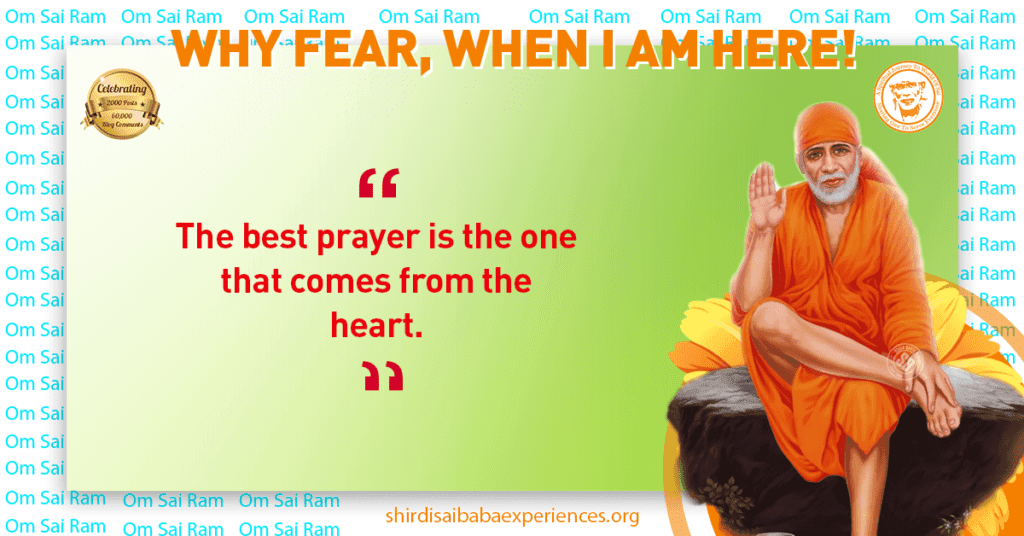 Anonymous Shirdi Sai Devotee from India says: I am an anonymous devotee of Sai Baba from India and thank you to all who are maintaining this blog.
Coming to my experience, today I wrote my lab exam and actually it was very tough for me to learn the programs and I was able to prepare for only one program. I asked Baba in chits regarding the program I get for lab internals and He gave me the one that I had prepared for. Today in the internals, I got the one that I had prepared. It's purely a miracle because before me most of them picked the chits and none of them got this one as if the chit was waiting for me to pick it up.
I really thanked Baba from the bottom of my heart. Also not only, I wasn't getting the output of the program but by Sai Baba's grace it was also solved and at the last moment I got the output as one of my friend gave me a hint and Baba had indicated the same situation before when I had asked it in the question and answer site as, "You will get help from a friend." Finally my lab internal went so well. Thank You, Baba.
Also whenever we ask the questions through chits or any sites we must have such a faith on Baba that whatever the answer He gives, you have to be ready to accept with your heart and soul. Only if You are ready to listen to His answers then He will give you the answer or else He will not.
Thank You Baba. Om Sai Ram. Om Shri Satchidananda Sadguru Sainath Maharaj ki Jai! Om Sai Rakshak Sharanam Deva! Om Sai Ram! Om Shirdi Vasaye Vidhmaye Satchidananda Dhimayi Tanno Sai Prachodayat! Om Sai Ram!
Sai Baba's Miracle On Health Issues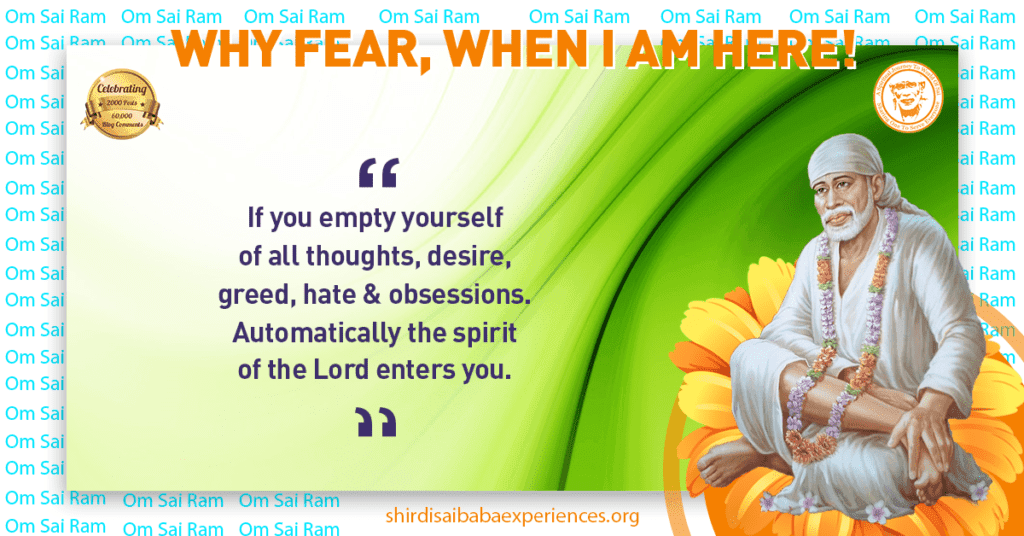 Anonymous Shirdi Sai Devotee from Australia says: I'm one of the devotees in Global Mahaparayan.
One of my family members was suffering from health issues. After a few tests the doctor said that they would observe for a few more months as it was not advisable to go for further tests as it may affect the patient's physical and mental health.
For every three months, we used to have blood tests to check the levels and capacity to fight. It was almost a year that we were with the hope that things will settle down but after a year the doctor called us and said that the patient might be suffering with such a disease which may be life threatening. He further said that they need to go for further tests and surgery to check and confirm the issue.
We were totally broke down and speechless and at that moment the only thing in my mind was Sai Baba. So I asked Baba why we deserve such a big punishment and the patient is so young. He didn't even start his life properly. So I asked and prayed to Baba to help me out from this situation. The only hope I had was Sai Baba and I was confident that Baba will save us from this situation which was impossible according to the doctors. They did the surgery and sent for further test. After four days the doctor called me to discuss the results. I was so tense and I turn on the online Sai Baba darshan in my mobile for Baba's presence and the doctor was so happy to inform that none of the results were positive which really was a miracle. I thanked Baba for such a miracle and performed Sai satyavartham. Still, the patient has some health issues but I'm sure Baba is definitely thinking of some big for him. Sai Baba has always been like a Father to me Who guides and protects me. Thanks Baba. Om Sairam!
Sai Baba Is Saviour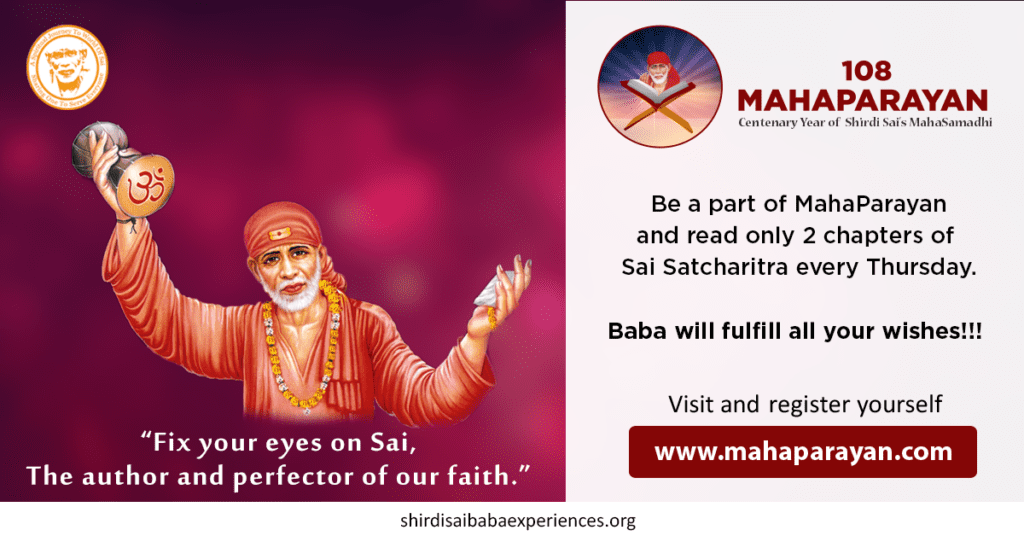 Anonymous Shirdi Sai Devotee from US says: Om Sairam, I am one of the sparrows that Baba has pulled towards Him. He humbly pulled me towards Him and Baba has been showering His blessings on us throughout our life. Baba also pulled my husband towards Him, now he has become a sincere devotee of Baba. Thanks a lot, Baba for everything.
Kudos to the people maintaining this blog. You all are blessed ones and may Baba continue showering His blessings on you all.
I am part of the Global Mahaparayan group because of His blessings.
Whenever, I feel low I read the miracles of Baba on this site and I get more energy and peace. Baba has shown many miracles in our life. We are in the process of getting a house here and there are many steps in that. By Baba's grace, every step is completed without any hassles. Baba, please bless our first home and stay with us.
One day I ate outside and the food had a little bit more vinegar. This created an unbearable stomach pain for me. I was scared and we prayed to Baba. I had Udi and taking Baba's name went to see the doctor. Thankfully, it was just food poison and subsided by itself. The whole time I was reciting Om Sai Raksha Smaranam.
My company is doing PERM process and I needed a document for that. By Baba's blessings I got the document. Baba, please shower Your blessings and make the process smooth. Thank You, Baba. Please bless all Your devotees. Om Sai Namo Namah, Sri Sai Namo Namah, Jai Jai Sai Namo Namah.
---
More from SaiYugNetwork.com
© Shirdi Sai Baba Devotees.com – Member of SaiYugNetwork.com