Sai Baba's Blessings – Blessed With New Job and House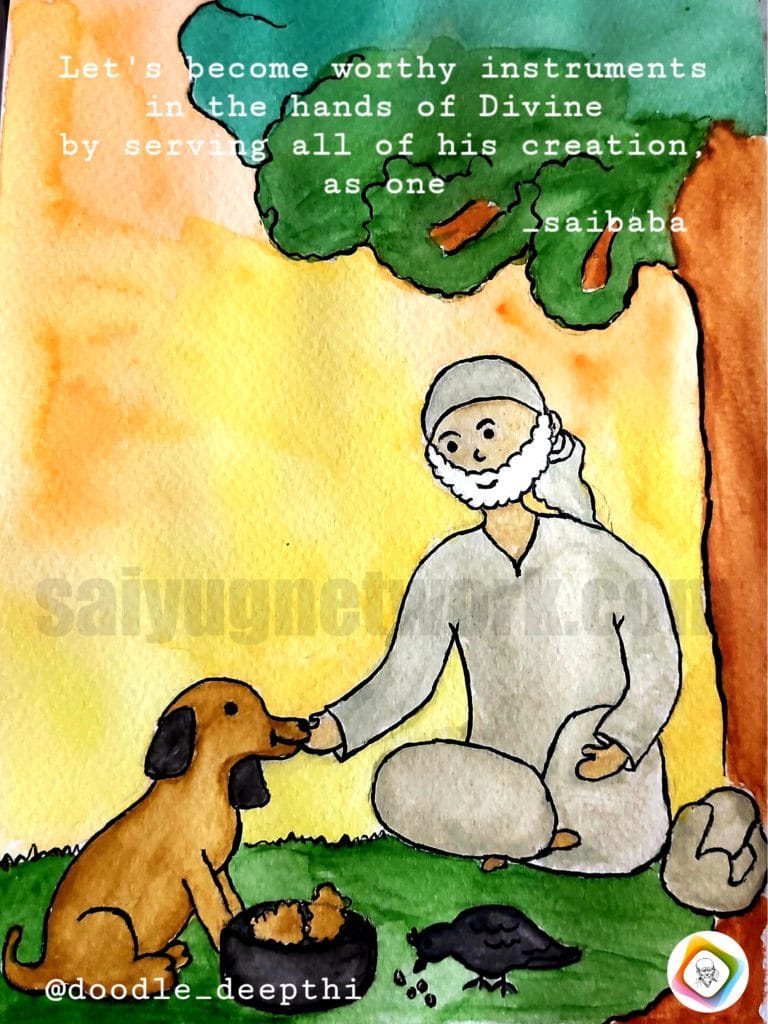 Anonymous Shirdi Sai Devotee from New Zealand says: I'm a small devotee of Sai and currently live in New Zealand.
Om Sairam, my life is nothing without Sai Baba, all I can say is that He is always there to protect us, guide us and only give us what we want as per His timings. We are humans and we cannot understand His leela.
Coming to my experience I've been a small Sai devotee since a very young age and my whole family is firm believers in Sai Baba. I was looking for a job change for the past two and a half years but was not getting any success, I got 2-3 offers also but for some other reason at the final stage, it didn't progress. This made me very disappointed in my life and stressed. I never thought a job would make so much impact on my life but it actually did!
I even thought of changing my field and moving to Australia from NZ and even convinced my husband who was very reluctant to move. I remember last year in May, I challenged Sai Baba that if NZ is good for me then I'll stay here. I was even frustrated because we were still renting and I didn't have a stable job. Then Covid hit and I dropped the idea of moving to Australia and we thought of buying a house. Our loan was not getting approved due to some issues and I prayed to Sai Baba, completing Sai Satcharitra from chapter 15 to 51 in one day. I finished reading at 4:05 pm and here comes our beloved Sai's miracle. We got a call from the broker at 4:45 pm that the bank had approved our home loan.
I couldn't believe this and I always encourage my friends and family to read Sai Satcharitra. In my current house, we only got it through Sai Baba's blessings. Then in Feb-March this year I again started my job search, did seven days of Sai Satcharitra parayan and I got three really good offers. I was confused about which one to opt for, and then I took chits in front of Sai Baba and opted for the job which Baba selected for me.
I'm really sorry Sai Baba for posting this bit late, please forgive me for my sins. Baba, please eliminate Covid and take care of my mum, dad, brother, husband, and the whole family. Baba, please bless all Your devotees! I'm nothing without You. You are my strength; I need Your help in losing weight, fixing my health issues, and also performing well in my job. Baba, help me become a better person and also make me understand other people's behavior. Om Shri Satchidananda Sadguru Sainath Maharaj Ki Jai.
Found The Lost Gold Earring
Anonymous Shirdi Sai Devotee from USA says: I have been in Mahaparayan for three years. Baba was in my life since my childhood. Sorry, Baba for being this late. Please forgive me for being lazy.
Baba has been in my life since my childhood. He has been showing His presence whenever I need Him even though most times I didn't realize it at that point. All the things that are happening in my life are as per His planning. If I go back and see their relations but at that point, I feel bad that something didn't go as I wanted. Please Baba make my mind calm and give me the strength to realize that everything is done by You and according to Your planning.
Now coming to my experience. This happened maybe three years back. All of us went to a movie. My older daughter was wearing small gold ear studs. After we were done with the movie when we were coming out of the theatre, I saw that her stud was loose. When I checked the back screw was not there. It was lost somewhere. We tried checking in the theatre, the hallways, etc. At that point, my husband was scolding me for putting on a gold stud for her and was feeling bad because everyone was watching us. At that time I prayed to Baba that if I found the screw then I would share my experience here.
After we came home I checked all over, my daughter was thinking that it might be stuck on her clothes somewhere, but couldn't find it. After a day or two I washed the jacket she was wearing and while folding it checked in its pocket and found the back screw of the stud. How could it have gone into the pocket is still a question.
Though this is a small thing He proved that if we wish for something wholeheartedly He would help us get out of that situation. Baba be with us and guide every one of us. Make all this suffering that's happening in the world go away and give a good future to mankind and all living beings.
Sai Baba Relieved Devotee's Pain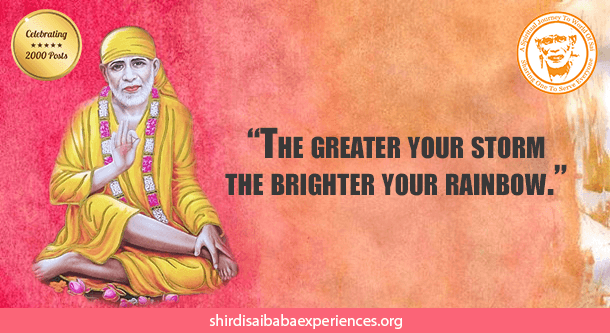 Anonymous Shirdi Sai Devotee from India says: I am a small devotee of Baba. I love You, Baba. You are my true Mother, Father and everything.
Last week I got constipation and suffered a lot out of pain. It was very uncomfortable for three to four days and I shouted out of pain. Later wrote Om Shree Sai Rakshaka Sharanam Deva 108 times. From the very next day, the pain subsided. I was worried if this turned into something critical. Thank You so much Baba for relieving the pain. I will always be indebted to You. I love You, Baba.
Along with me, my mother was also suffering from hand numbness and pain. It also got cured by Your grace. Thank You, Baba. I love You.
Today morning I was agitated due to some issues. But while sleeping after reading the experiences of devotees, You spoke to me and asked me to stay calm. Thank You, Baba. I love You.
I am always indebted to You and will be Your devotee in this birth and future births as well if exists. I love You, Baba. Please always be seated in my heart and guide me. I wish I would have been born at the time when You were in Shirdi. I would have kissed Your feet and seen You wholeheartedly and enjoyed the peace and love.
You are the Abode of peace. The peace I have never experienced when I visit other temples. In Satcharitra it's mentioned that wherever our mind gets peace that is the true place. I still remember the peaceful experience when I visited your temple two years ago. Baba, I truly love You.
Baba's Grace For Devotee's First Job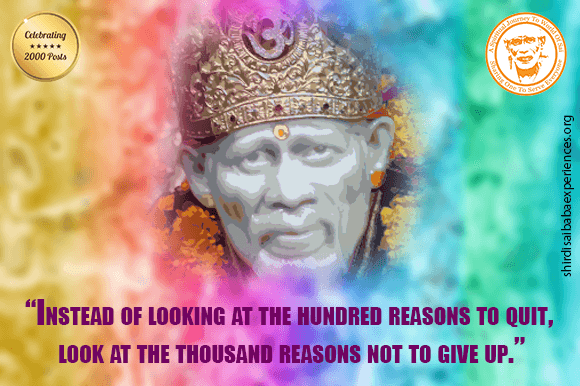 Anonymous Shirdi Sai Devotee from the UK says: Om Sairam! I am one of the beloved Baba's devotees who has received His blessings in many ways.
I have experienced various miracles of Baba in my life and I would say this is the first one I am posting here. I was looking for a job after a break of 12 years and it was very difficult for me to find one, especially during the pandemic. I almost quit looking for jobs and lost hope that I would get one.
I usually read this modern Sai Satcharitra once in a while and I have come across a devotee praying to get a job after chanting prayers "Om Shree Sai Nathaya Namaha" 108 times every day for three to four weeks. I was skeptical in the beginning as that was the first time that I was hearing this chant but I am glad that I did chant the slogan 108 times every day and I got a contract job for three months within a month. Also, my cousin who was looking for a job for one and half years also got one within the same month. I really wanted to thank Baba for His mercy on us. Thank You so much, Baba. Thank You for this opportunity.
Gratitude To Sai Baba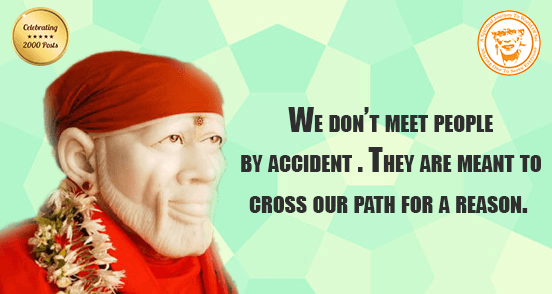 Anonymous Shirdi Sai Devotee from the USA says: I am a small devotee of Baba, unqualified and unworthy. Thanks Hetalji for the space to share His grace.
Thank You Baba for protecting us during the housework and our stay at the rental place.
Please take care of my mother. Please help her heal quickly Baba. She is in pain and alone. Please Baba help her to recover from the fall. Please keep her happy and at peace Baba. You know her pain. I will share my experience again.
Thank You Baba for quickly managing her emergency. Om Sairam Om Sairam Om Sairam Om Sairam Om Sairam Om Sairam Om Sairam Om Sairam Om Sairam.
Devotee Got Job With Sai's Blessings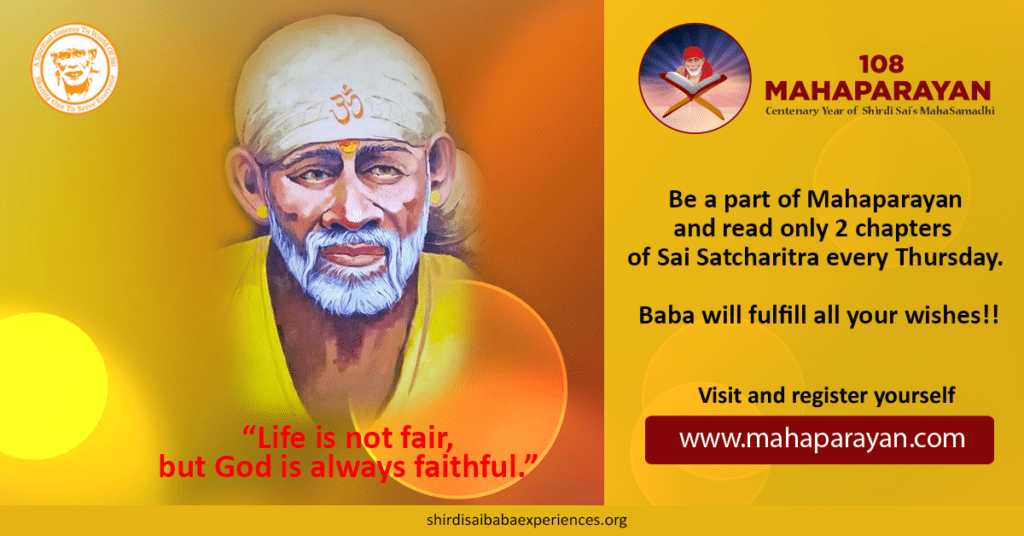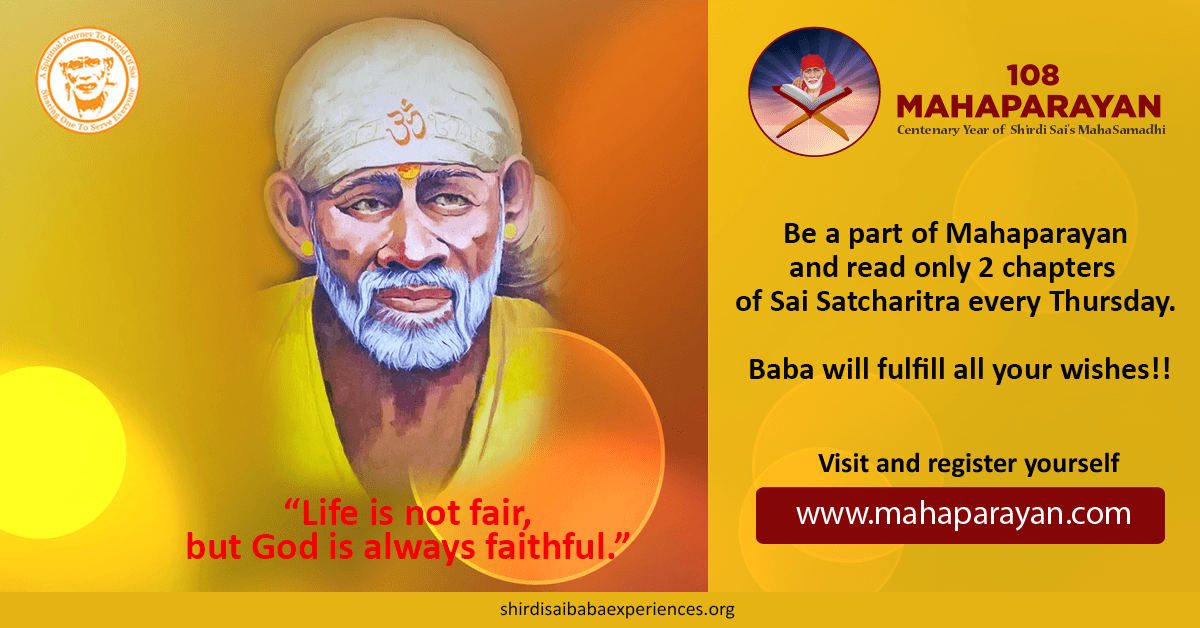 Anonymous Shirdi Sai Devotee from UAE says: Om Sai Ram. I am a Sai devotee staying in the UAE. This is the third experience that I am going to share today. Happy new year to all Sai devotees. Let Sai bless everyone with good health, wealth, and happiness. Thanks, Hetalji for giving us this platform for sharing our experience.
This covid_19 has disturbed everyone's life. My son working in health insurance lost his job in this pandemic in August 2020. There was very little hope of getting a job because of the corona. I read Sai Satcharitra daily. I got a chance to join a group of Mahaparayan. My son was ready to leave the country and settle back home if he did not get a job by the end of this year. But my Sai has always helped us and this time also he helped us. My son had given a few job interviews. Finally, he got an offer letter on 30 Dec. Om Sairam. He has started his work from today, 3rd Jan 2021.
Om Sai Ram.
More from SaiYugNetwork.com
© Shirdi Sai Baba Devotees.com – Member of SaiYugNetwork.com