Download Sai Baba Daily Calendar with Images
A Mother's Journey: Sai Baba's Grace And A Family United
Anonymous Shirdi Sai Baba Devotee from USA says: My sincere thanks to the admins of this holy website for allowing us to share the Leelas of Sai in each of our lives. Both my brother and I have been living with our families in the US for nearly three decades now. After we both left home, our mother had been living in Mumbai by herself. She had a full life in India and was very happy and quite independent.
However, due to COVID, neither of us had been able to see her in 2020 and much of 2021. She used to visit us in the US, but thanks to COVID, those visits were curtailed. In October 2021, I visited her with the intent of bringing her with me to the US. By then, she had been by herself for many months without much social activity. Her health had deteriorated, and she was unable to walk even a short distance. Her blood test also showed higher sugar levels (she was quite healthy before).
We decided to apply for her permanent residency. My uncle and aunt were also advancing in age, and they often traveled to stay with their children who were away. We did not want Mom to be by herself in these conditions. Mom was very much against staying here with us on a permanent basis, and she objected to it a lot. However, we convinced her and, placing our burden on Sai and asking for His guidance, we completed her application and submitted the immigration paperwork. By Baba's grace, the process went fairly smoothly. Many thanks to my husband who supported me and my brother throughout the entire process. Thanks to Baba for holding our hand every step of the way.
We had some small hiccups along the way – the biometrics had to be done a second time, the medical test had to be done a second time, etc. However, I believe the interview was waived in Mom's case, all by Baba's grace. In the meantime, however, we were able to take care of Mom's health by making sure she ate regularly and ate healthy. She was also very disciplined with her diet, exercise, and yoga.
Last week, after a long wait, we finally received a letter confirming her approval for permanent residency and received her SS card. I pray to Baba that her Green Card arrives soon as I have assured my mom that I will take her back to India to visit after that. I had promised to post on this site to thank Baba for His blessings on our family.
I cannot begin to list the blessings He has showered on us in the more than three decades that we have known and prayed to Him. We had been talking about bringing my mom to live with us, and finally, with Baba's blessings, this is now happening. It is all part of His plan for us. Baba, help us gracefully surrender to Your will and keep our faith in You always alive.
Jai Sai Ram!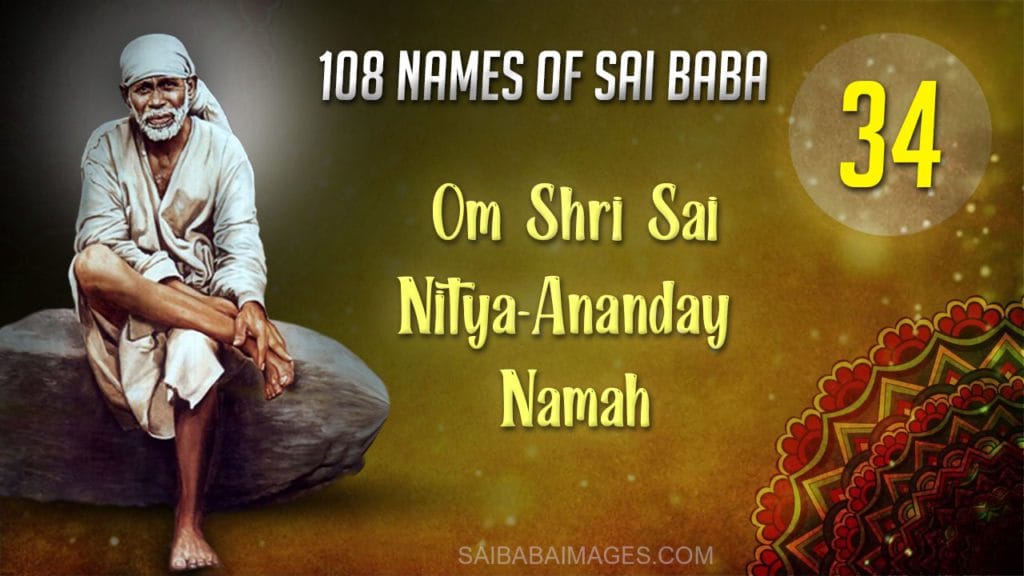 Anonymous Shirdi Sai Baba Devotee from India says: Hetal Mam and the team, thank you for providing us with this noble platform to share our Baba's Leela. I am not good at writing, so please correct me wherever necessary. Baba, please forgive me if I make any mistakes while sharing Your miracles with other devotees. Baba, as promised, I am sharing Your blessings here.
Download Shirdi Sai Baba Mantra Book for Free
We invite you to download our 'Shirdi Sai Baba Mantra' book, which is a collection of powerful mantras that can help you connect with the divine energy of Sai Baba and seek his blessings. We hope this book serves as a valuable resource on your spiritual journey and brings you closer to the love and grace of Sai Baba.
Baba, thank You for helping me resolve the issue with our Plant Head's laptop. He was okay with my solution and didn't get angry. Devotees, please note that he is usually short-tempered and tends to shout over trivial matters. However, due to Baba's grace, he was fine with me.
Baba, You assisted me in completing the software installation ahead of schedule and closing the documentation activities on time. Even our Quality Assurance department didn't find any major issues, and I managed to complete all the tasks on schedule. Thank You, Baba.
Baba, finally, yesterday, my friend received a job offer from that company. You blessed her with this opportunity, which she desperately needed. Please continue to bless her in the future and make her a true devotee of Yours.
Baba, after six years, You blessed me with a job, and yesterday, because of Your blessings, I was able to resign. Baba, the main issue for me here was the politics and favoritism displayed by my boss. Please guide me in the right direction and bless me. I have surrendered everything to Your lotus feet. Whatever is good or bad for me is Your blessing, and I will always accept everything according to Your will. You are my mother, and You know what is best for me. Please always hold my hand and keep me close to You. Whether I should stay here or join a new company is entirely Your decision, and I will accept it. I don't know anything. You do whatever is right for my future, and I will share it here with all Your devotees.
Friends, please always trust Baba even during your difficult times. He is always watching over and protecting us. We only need to go through our karma, and Baba will assist us in every situation. The key requirements are shraddha (faith) and Saburi (patience). Baba, bless me with these two virtues as well.
Also, Baba, please bless me with the love of my life. I have been waiting for Your blessings for a long time, Baba.
Thank You, Baba, for everything. Om Sai Ram. Om Sai Rakshak Sharanam Deva.
Sai Baba's Divine Assistance: A Personal Account Of Miraculous Experiences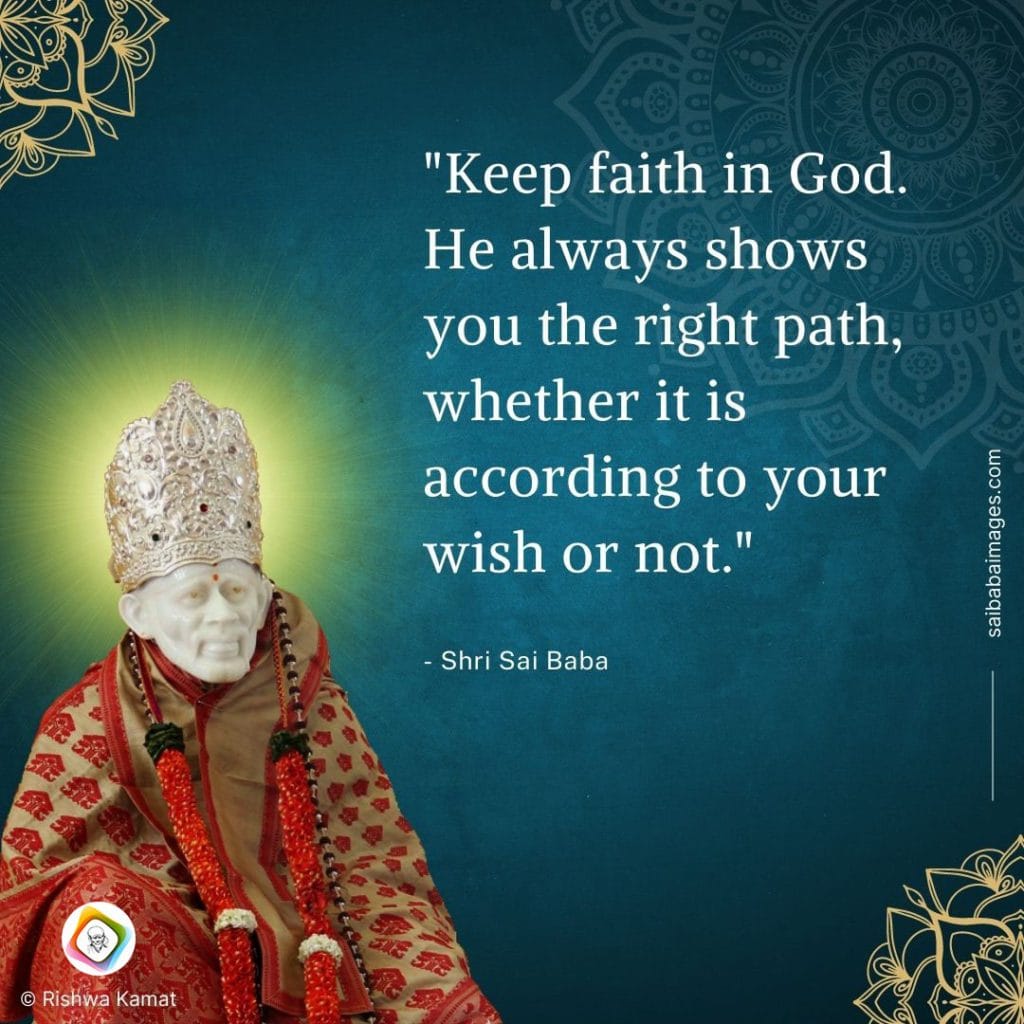 Anonymous Shirdi Sai Baba Devotee from Malaysia says: Thanks to the entire team for maintaining this wonderful platform.
Regarding my experiences, I prayed to Sai Baba to ensure that I would travel back to KL without any issues. Sai Baba helped me, and I reached KL safely without any confusion.
I prayed to Sai Baba to help me present the weekly meetings, and he helped me perform well.
My one-on-one meeting with my boss went well, all thanks to Sai Baba's blessings.
I was able to prepare the deck, and I was saved by my boss during the MT presentation. Thank You, Sai Baba, for all Your help.
There seems to be an abbreviation "SL no problem LS no problem Baba"
A Devotee's Prayer: Seeking Sai Baba's Protection And Blessings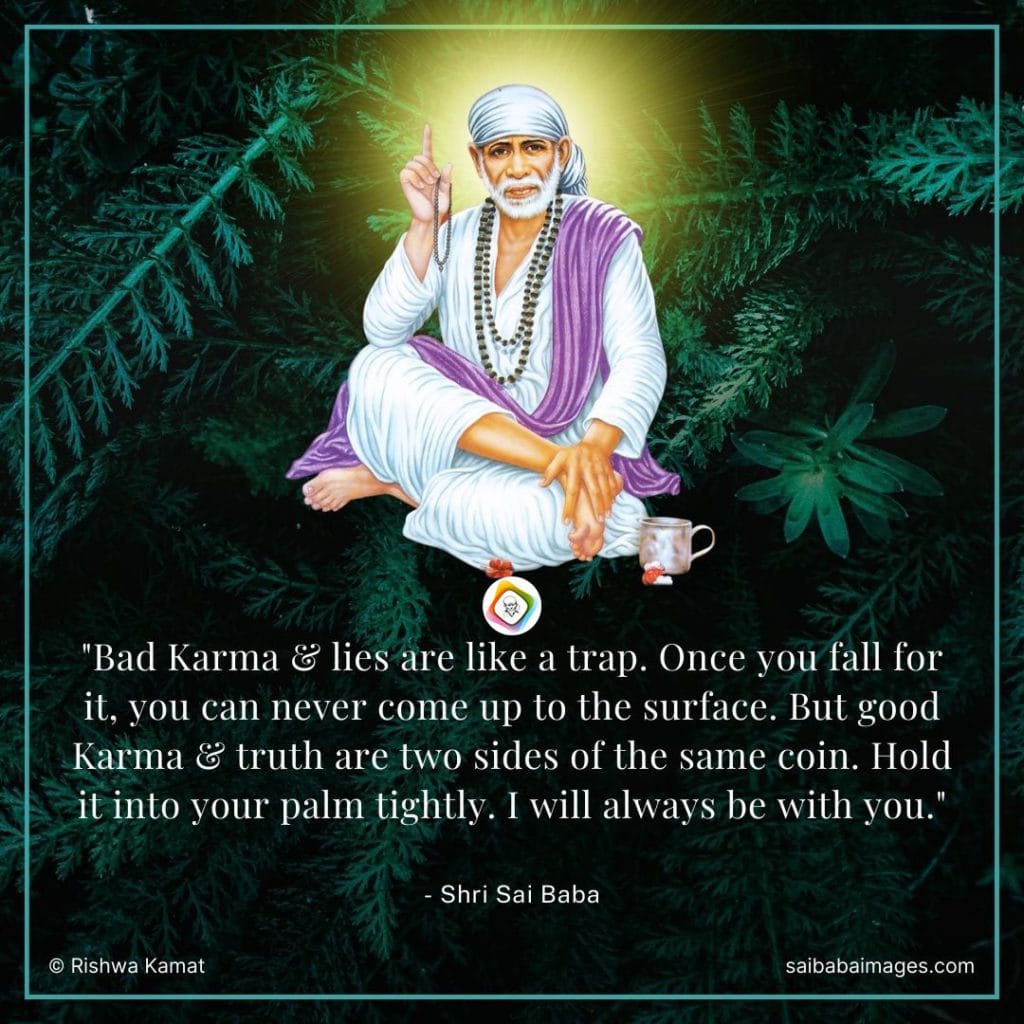 Anonymous Shirdi Sai Baba Devotee from USA says: Om Shree Sai Nathaya Namaha. Om Sai Rakshaka Saranam Deva. Om Sai Arogya Kshema Daya Namaha. Thank You for Your blessings on me and my family, Thandri. Please forgive me for all my sins, Thandri. I apologize for any mistakes I may have knowingly or unknowingly made. Now, let me share my experience from yesterday. My friend's pet dog bit my son on his back. Although the dog was fully vaccinated, I am still concerned about the bite. By the grace of Shirdi Baba, Lord Sitaram, Hanuman, Shiva, and all other gods and goddesses, my son is fine. I trust that my lords will take care of him. Thandri, please protect my son and everyone in the world. Bless us, Thandri. Provide food to the hungry, shelter to the homeless, and save those who need You. I will always surrender to Your lotus feet. I apologize for my mistakes, Thandri. Anantha Koti Brahmanda Nayaka Rajadhi Raja Yogi Raja Parabrahma Sachidananda Shree Sadhguru Sainath Maharaj Ki Jai. 
Sarve jana sukhino bhavanthu!!!
Sai Baba's Grace: Overcoming Workplace Trauma And Finding New Opportunities
Anonymous Shirdi Sai Baba Devotee from USA says: I have recently been going through a traumatic experience at my workplace. Due to the toxic environment, I have been jobless for the last two months. This has had a severe impact on my mental health, leading to significant depression and anxiety. By Sai Baba's grace, I was able to secure a job in the same town, which would have been impossible otherwise. I am extremely grateful for this new job opportunity in my city. I believe that I shouldn't have been in this situation, but perhaps Sai Baba has better plans for me and my family in the future.
Furthermore, Sai Baba has also blessed my brother with a clean cardiology follow-up, which provided great relief to all of us. We are sincerely thankful to Sai Baba for this.
Om Sai Baba, Namah!
Blessed By Sai Baba: A Devotee's Annual Pilgrimage To Shirdi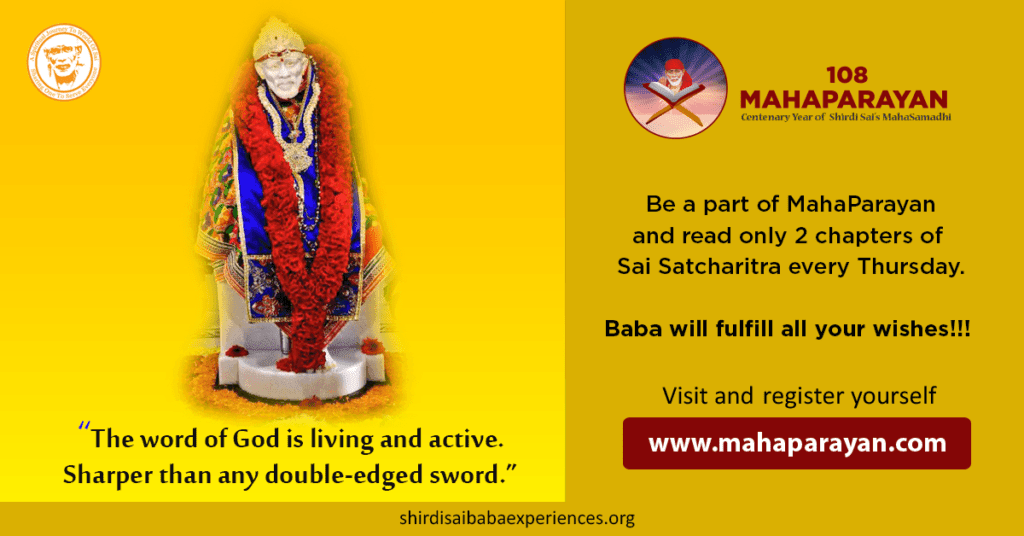 Maheswara Shirdi Sai Baba Devotee from India says: I am Maheswara, working in the IT field. Every year, I visit Shirdi and stay in a room near the temple. This time, I called the hotel a day before to book a room. I wasn't sure if I would be able to get one, but with Baba's blessings, I managed to get a room at a reasonable price. Thank You so much, Baba.
Om Sairam.
More from SaiYugNetwork.com
© Shirdi Sai Baba Devotees.com – Member of SaiYugNetwork.com