Life Is Full Of Sai Baba's Miracles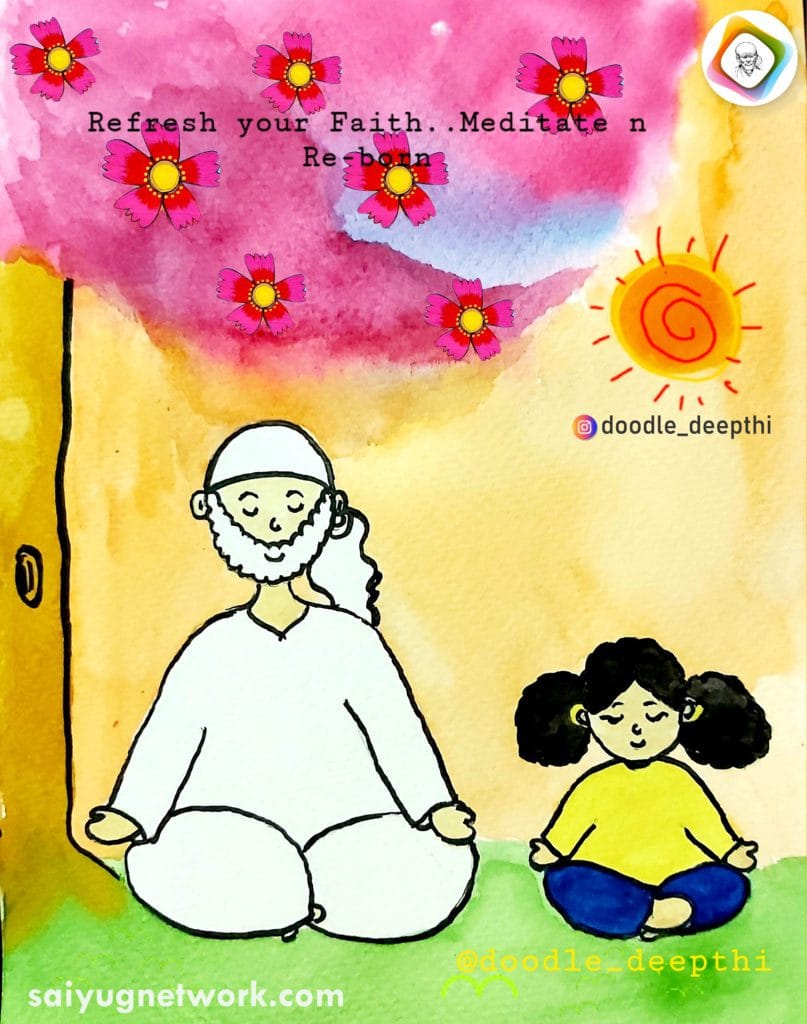 Anonymous Shirdi Sai Devotee from the US says: Om Sairam to all Sai Baba devotees. Thanks Hetal ji for posting my first post on 25-3-2017 and thank you for creating and maintaining this beautiful blog. Because of you, we all devotees are connected. This is my second post, which contains a few experiences which are very precious.
As I said in my first post, my day starts with Sai Nama and ends with Sai Nama. One of the experiences which is long pending is my job, as I mentioned in my previous post I was praying Baba for the new assignment. Baba showed me a solution that I should ask my new vendor if I could continue in the same project. With the courage that Baba gave me, I asked the new vendor's resource manager. He agreed for my role to continue and gave me a good package also. After that, for a year and three months I'm working on the same project. Thank You so much Baba for being by my side for every moment.
Next experience: My visa had to be renewed by Nov 6th 2017, in 2017 April US government paused the premium visa process for six months. So my employer told us to submit extension papers along with my husband's EDA extensions before four months, which was in July 2017. Regular extension process will take nearly three months. I was in tension and was talking with Baba and was doing Sai nama smarana every moment to help me and get the visa approved. Baba helped and relieved me from the tensions. Surprisingly my visa got approved within a month and my husband EAD also got it in one month only.
Another experience, my mom was not feeling well. Doctor suggested that she should undergo a heart check-up. We all were very scared. Me, my mother and sister were all praying Baba for my mother's health. On the day she went to check-up, I was praying Baba continuously and begging Him that she should not have any serious health issues. As I stay in the US my timings are different. It will be midnight for me by the time my mom's test reports come. So I was praying Baba by seeing live Darshan to show me a positive sign that my mother's health is alright. Suddenly a flower at the feet of Baba appeared. Few seconds before there was nothing. With that sign I felt so happy and my mind turned calm. Next morning when I called my mom, she told me that her reports were normal and that she needed some rest. All was fine. My mother also prayed to Baba that her health should be normal and she started 9 Guruvar vrat. Thank You so, so much Baba. I know I'm not conveying everything in the way You are helping us in every moment. Without You we are nothing; lifeless. We are at Your lotus feet Baba. Our family completely surrendered to Your lotus feet. Please bless us to remain in the same state forever.
Another one real miracle, I'm getting goosebumps writing about this experience. My father was sick. He met with a serious accident 10 years ago. His right leg had multiple fractures and surgeries. With Baba's grace he was fine with little trouble on his leg when walking, but he was able to do his regular activities and take care of his business as well. But in December 2017 his health was not good. In December last week he had a paralysis stroke. In an unconscious state my mother took him to Bangalore. In Bangalore, two very big hospitals refused to admit him due to his condition. Me, my sisters and mother were praying to Baba continuously. Finally the third hospital admitted and told that he has to undergo brain surgery. I was asking Baba that in any way He only has to take care of my father, He only should come in the form of a doctor and perform this critical surgery. I did sleep and was doing 'Sai' nama smarana till I got the update that my father's surgery was completed and he is fine. My mother was telling me that it was Baba Who came to save my father as a doctor, otherwise how can a person in an unconscious state start talking and be recognized within 30 minutes after surgery and how he coped up so fast? We are glad that Baba is with us always. He is listening to all of our prayers. He shows His presence when His children are in trouble and when He only can resolve it. 
One more experience: I have many, many of them as every movement is a miracle of Sai Baba in my life. In 2012 my family was coming from India to the US. I booked a hotel room for a month till they stay here about 20 days before. On the day when my family was coming I had to go and submit the hotel room registration papers at the front desk. My cousin came to my apartment and picked me up. We both went to the hotel. Then I realized that I forgot registration papers, and my apartment's outer gate will not open without a key. I was not having the key as I was not leasing it. If my cousin took me to the apartment I had to make him wait till someone came and opened the gate. It was a very embarrassing thing as he is almost 20 years older than me and working in a high position. He just came to help me, still he told me that we would go back and get the paper. While going back, I was just praying that Baba please help me and that someone should be there to open the main gate. It was a hard time, so nobody will be there during that time to open the gate. I was just taking His name continuously as I was helpless. To my surprise one lady was entering the gate and by seeing me getting out of the car, she held the gate for me. I left the vibes like Baba was there with me. He was beside me then went to my flat and got the papers. I get goosebumps when I remember it.
Thank you all for your patience and for reading this long post. Thank You Baba for being every moment beside Your children who need You really. Please bless all Your devotees. We don't know other Gods and anything else except You. You only are our saviour.
Faith In Baba Also Means Faith In His Timings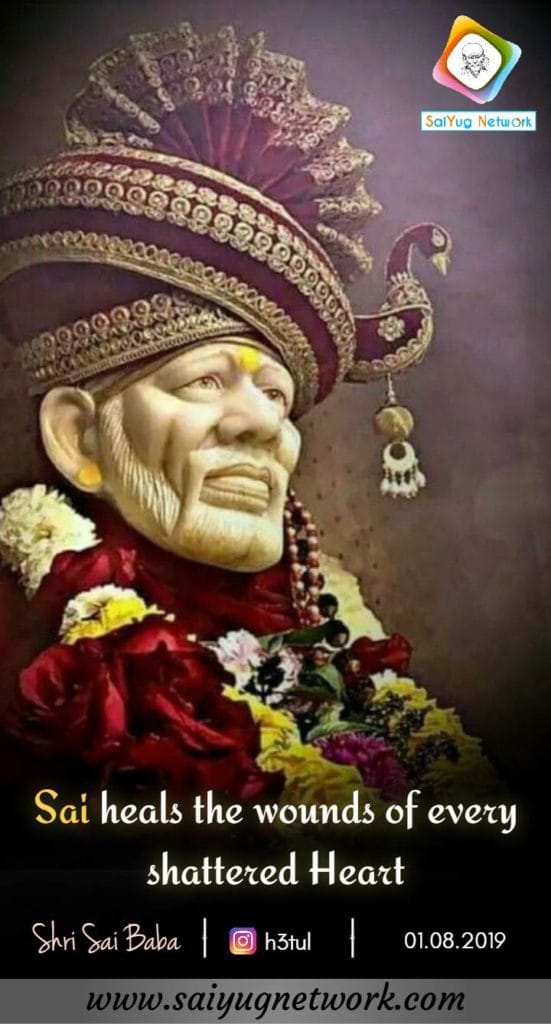 Shirdi Sai Devotee Vishesh Grewal from Australia says: Hi my name is Vishesh Grewal and this is an experience which happened to me just a few weeks back.
Shree Ganeshaaye Namah Jai Mushakji . Om Sai Ramji Jai Siya Ramji Jai Laxmanji Jai Bajrang Baliji Maharaaj. Jai Shree Raadhe Krishnaji Jai Balramji Jai Gau Mataji Jai Shree Laxmi Naaraayanji Jai Shesh Naagji Jai Garudji Jai Gajraajji Jai Naarad Muniji Jai Parshuramji Jai Narsinhji Jai Prahlaadji Har Har Mahaadev Jai Vaasukiji Jai Chandrmaaji Jai Ho Nandiji Maharaaj Jai Maa Paarvatiji Jai Ho Sinhji Maharaaj Har Har Gange Jai Mata Di Jai Ho Sinhji Maharaaj…!

I am currently residing in Australia and doing night shifts. Few weeks back I wasn't able to sleep properly for many days. Even when I would come home from a whole night of work and go to sleep I would wake up within 3-5 hours. As a result my head was always hurting. I was irritated, tired and could not focus on anything. One time I remember I was able to sleep only for eight hours in two days. I prayed to Babaji that I will share my experience on an experience sharing platform if I was able to sleep properly for one whole week but still I wasn't able to. I even applied Udi, kept it beside me while trying to sleep, but still I wasn't able to.
One night I was talking to my mother on call and told her what was happening. She asked me to keep Shraddha (faith) on Babaji and it will just be a temporary thing. I searched on the internet and came to a conclusion that maybe I am spending too much time staring at screens and because of the blue light effect it was happening, so I bought blue light glasses. But eventually after a week or two, I was fine and was able to sleep properly starting from a 15-22 hours of sleep on day offs and now I am back on schedule.
I still don't know what was happening to me but that was the worst time and I came to understand the importance of good sleep as usually I keep watching Netflix instead of sleeping. Babaji must be having some reason for that and He didn't make me well when I asked but according to His timing. Sometimes mental speculation can't justify some things but just faith can.

Jai Bheravnaathji!
Offer Accepted By Sai Baba's Grace
Anonymous Shirdi Sai Devotee from the UK says: I am a small devotee of Sai Baba living with my husband and daughter in the UK and soon the baby is coming.
Thanks Hetalji and team for this site. Coming to my experience, I am really feeling very happy and satisfied. Me and my husband were looking to buy a flat for investment purposes and it was taking a lot of time. Today the offer was accepted by Sai Baba's grace.
During the process, Sai Baba was telling me to have faith and patience and success is yours. Thanks Sai Baba as Your words are true and one should have patience as good things take time. Thanks Baba and always keep Your blessings on all of Your devotees.
Dear devotees, I am a regular visitor of this site and read and found many of my solutions by reading your experiences. Thanks devotees for sharing your experiences and please keep sharing and spreading your love towards Sai Baba.
Sai Baba I am 30 plus weeks pregnant and You know some issues that I am facing. Please help to solve this and make my delivery smooth. Koti koti Pranam Baba. Om Sai Ram!
Baba Saved Devotee's Reputation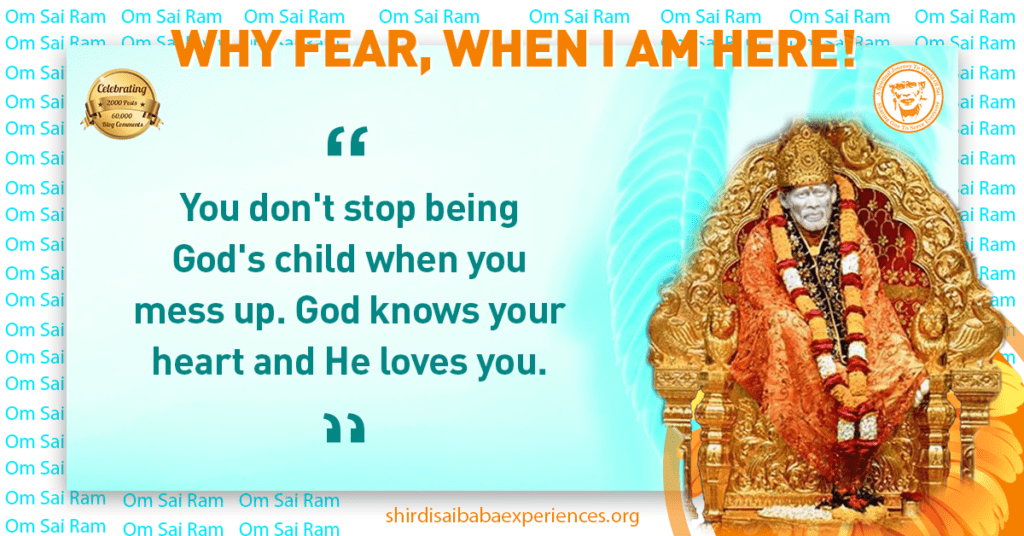 Anonymous Shirdi Sai Devotee from India says: I am a very fickle minded devotee of Baba but still think of Him everyday.
I live in a secured township along with my husband. On my birthday, my father and brother gave me some money. My husband went to his sister's place in another city for some work. As I was alone with abundant 'me-time', I thought let me do hair spa at home even though I know they don't allow beauticians to come home (Covid protocol). I thought that instead of going to the parlour where the fear of contacting the dreaded virus is more; it's better I call someone from Urban Company who is vaccinated since the virus is declining. I told her that if the security asks, tell him that you have come for AC cleaning. I didn't realize that this little lie would go to epic proportions.
The day came and I was getting ready. She reached the gate but then she realized that her I-card shows a beautician and I already told the security about so-called AC cleaning. She told them that I only told her to tell the lie. This created a ruckus that I didn't expect. I immediately cancelled my booking. The security called my husband telling him that they would complain to the higher officials. I lost my mental balance and immediately prayed to Baba that please don't let this incident be further reported because of me as my husband's reputation will be at stake. For my lie he would be answerable to the higher authorities. I couldn't sleep at night and even bargained with Baba (which I personally don't like) that if nothing further happens I shall write here. Furthermore my husband didn't scold me. Today is the second day and nothing has happened till now.
Thank You Baba. From today I assure You that I shall try my utmost not to tell a lie however small it might be.
Sai Baba Cured Devotee's Husband's Stomach Issue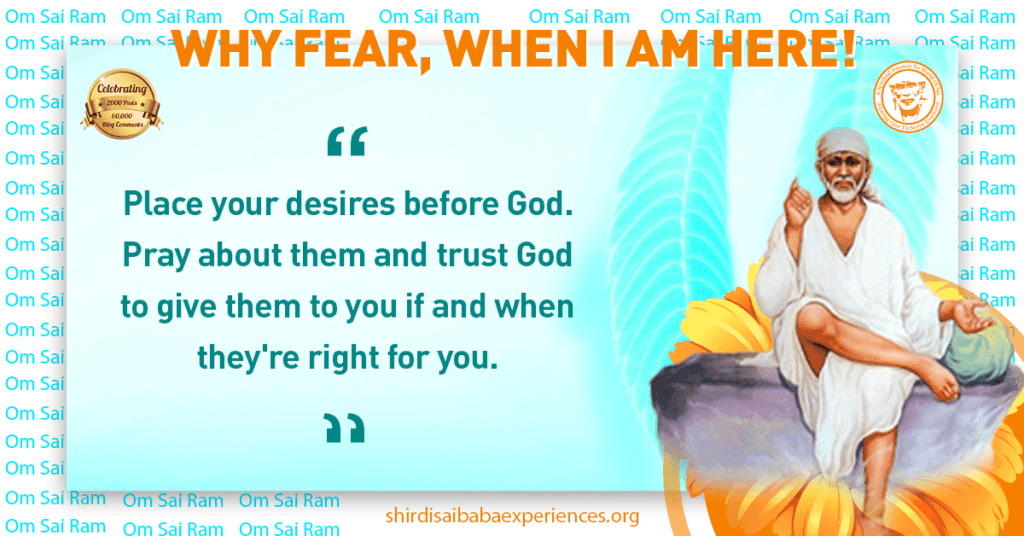 Anonymous Shirdi Sai Devotee from the UK says: I am a daughter of Sai Baba living in the UK with my husband and daughter and soon the baby is coming. Thanks Hetalji and team for this wonderful modern Sai Satcharitra. Coming to my experience, my husband has not been well for the last two days complaining about a stomach issue. I am really tense because it's almost a day with all the medicine still it's not going. He said he had a stomach ache and gastric pain in stomach especially after eating. I prayed to Sai Baba and asked Him to please cure him. Sai Baba showed me the way to cure him by applying Udi, which I did in the night and kept applying in the morning too.
By the power of Udi my husband is feeling better on the third day. Thanks Sai Baba, that's why you are my Mother, Father and I am Your daughter where You show us the path and cure and solve all our problems.

Sai Baba, please forgive all my sins and continue to show the right path and I promise You that I will try to follow it. Om Sai Rakshak Sharnam, Om Sai Ram.
At last I wanted to tell all devotees to please have faith and patience and see the wonderful miracle on Your way by Sai Baba's grace.
With Baba's Blessing Ear Piercing Done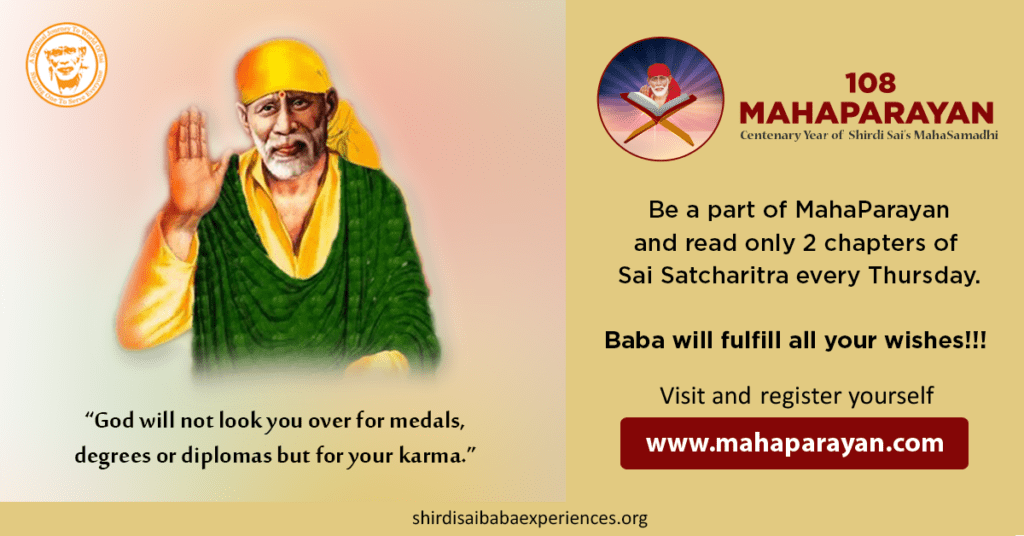 Anonymous Shirdi Sai Devotee from India says: Om Sai Ram! I have been a small devotee of Baba from my childhood.
Thanks to the admin team for sharing so many experiences of mine on this site. My parents brought my selected earrings for my kids. My in-law's family was not interested in putting on those earrings. But with Baba's blessings we did my kids' ear piercing with my selected earrings. Really it was a miracle for me because I had lost hope on this. Thanks a lot Baba for this miracle. I had prayed to Baba that if it happens as per my wish then I will submit my experience on this page.
More from SaiYugNetwork.com
© Shirdi Sai Baba Devotees.com – Member of SaiYugNetwork.com