Sai Baba Takes Care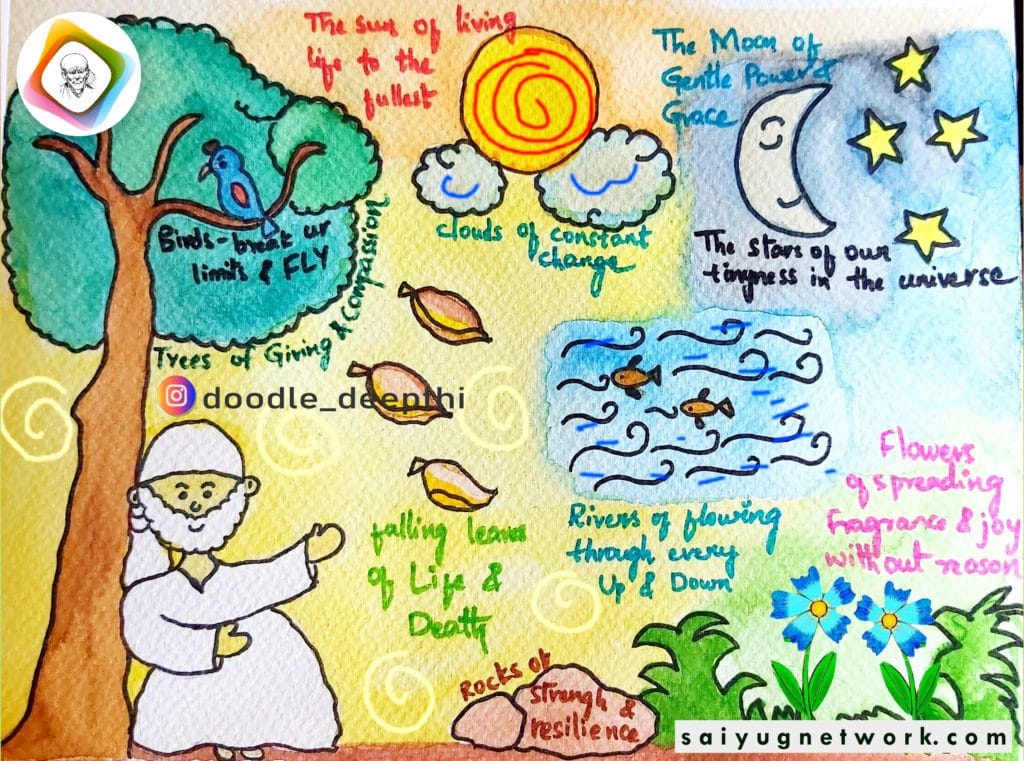 Anonymous Shirdi Sai Devotee from the US says: Hello Everybody. I'm currently staying in the USA, basically from Khammam district, Telanagana, India. Please keep my name anonymous.

In my childhood, I used to go to Baba's temple often. I feel Baba is so soft. In each of my classes at school level, before my exams, I used to go and pray to get first rank and again I used to go and say thanks to Sai once the results came. But, over the years I remember from my intermediate onwards I think, I had stopped going regularly in the sense of not that often.

After that, I remember one occasion clearly on the day of Annadanam in my engineering; I had visited Baba and a temple. That disconnect with Baba was my bad luck or God's instruction that I really don't know.

Again in the USA, I strongly remember where it started. I was in deep depression because of a couple of continuous instances and crying often during those days. One day, I was crying after coming back from the office looking at Baba's photo of course our Sai, (that photo belonged to my roommate) asking Baba that I wanted to see my mom desperately as it had been almost four years since I came to the USA leaving my mother and my family. All of a sudden, I received an email in less than 10 days' period informing us that our work orders/contract renewal paperwork was going to take some time. As I was not on H1B, not too many formalities were required to go and come back to the USA.
I immediately booked a ticket to India. In a few days everything was ready along with shopping. As I had already done some shopping as I had thought to go before or during November. Finally, I got into flight on December 31, 2018 in the USA and reached India on January 1, 2019. I actually didn't inform anyone in my family that I was coming to India. One of my cousins only knew that and he came to pick me up.
On the same day of arrival in India, I started my journey to my hometown which is 300 kms far away from Hyderabad. I finally reached my home. My mom was expecting my arrival actually as she was dreaming about the same. It happened that I went home early in the morning. I immediately started going to all nearby temples around my village from the next day onwards. But, after a week, we again went to Hyderabad which was actually for my health check up as it would be easy in India and also to go to temples which I used to visit when I was working in Hyderabad.
We reached Hyderabad early in the morning and we had been to the hospital directly without going anywhere. My mother and I were standing in the queue for long; only to get my opt, but I was suddenly crying and asking my mom to get her check-up done when I was with her there in India. All my tests were ok, but we found out that my mom was suffering from jaundice. I was so disappointed and scared as a few years ago we had got to know that my father was also suffering from jaundice. Later we got to know it as Cancer when all the tests were completed. My father went to heaven in 2014. I hope he is happy there and I'm praying for it.
Finally, we went back to my hometown after taking all the medicines for my mother. But, I was very tense as we ate non-veg before her test results came. So I wanted her to get her tested again after we reached my hometown. But, as I went to Shrikalahasti, I was not able to take her directly to Sathuapally where we have hospitals access quickly around my village, but doctor was not really ready to do jaundice test as she had gone through that test recently, which was not even three days. My sister was not able to persuade the doctor to get it done. But, after I came back from Shrikalahasti, I again took my mother to hospital and got her test done and the jaundice levels were the same. My mom usually will not rest on a single day and keep on doing chores. She was not ready to take a rest as it is our major festival Pongal season, but I didn't let my mother do any work and didn't let her come in the kitchen either. She was recovering at that time and it was a short vacation, so I was in a hurry to come back to the USA. Finally the day came and I didn't let any of my family members come to the airport either as it was too far from my hometown and they would need to go back again and thus travel so much. I took my cousins' help who are staying in Hyderabad and I got into the flight.
I remember in Dubai; after the immigration check was completed, I was trying to sit in one place and talking to two other ladies from the same flight. I suddenly realized that I forgot my passport at the place where all the checks went on. Oh God, I went back quickly and picked my passport as it was there, otherwise I couldn't even imagine what could have happened. Why I am saying all this is that our Samartha Sadhguru Sai helped me to go to India and take my mother to hospital on time and get the health check-up done. Otherwise, they would think that she was alright and she would have cooked all varieties of sweets and eatables as it was a festive season which could have aggravated her jaundice levels. But, our Sai helped me to go there and get her treated on time. I hope Sai will keep helping me to take care of my whole family's health. I forgot to mention, my Lord saved one other life in 2018 too, in my family which was almost the same time when I was finishing my 9 Thursdays' Sai vratham.

After coming back also, I was having some major issues not being resolved which were bothering me a lot which I cannot reveal here as it's about my family member and one other small issue. I was deeply hurt and kept on crying and worrying. But, somehow I managed to go to work and was sleeping around 5-6 pm CST to escape my pain or jetlag and getting up in the middle of the night and calling my mom/sister. I was crying on the phone as I was alone here and was unloading my pain. I was thinking of reading Sai Satcharitra from a few years onwards, but was not able to start. I actually read during my father's critical days and stopped after he went away from us.
One Thursday, without knowing I was listening to Sai Satcharitra on one of YouTube channels while cooking. I realized after some time that I had started my parayan and I had completed my first part of the parayan by listening.

My roommate got engaged and she had vacated the room as she was going to marry. She took all her belongings including Sai's photo. I felt bad that Sai went away from me. But Sai will always have different plans and make our bond with Sai even stronger. After a month, we vacated that house as the lease expired. I found a house, but suddenly she said that no room was available. I was left with one or two days to find another room. I finally found a house in the same community. In that house, one family used to stay and they got stuck in India and all their God idols and photos were here. Sai came back in an even bigger form on the wall than in my old house. Trust me, I used to cry in front of Sai from then onwards until today. Hope Sai will be with me in this photo form throughout my life.
During the same time, the Pulwama attack had happened in India in 2019 and after that pilot Abhinanadan was under custody of the Pakistan military. So, in one of my friend's groups, a few people created a new group and started posting that if we read the 11th chapter from Sai Satcharitra, Sai will fulfil our wishes quickly as the 11th chapter contains all 11 vachanas. Then I got a chance to join Mahaparayan through one of my friends. I thank Kalyanji for adding me to the Mahaparayan group. I started Mahaparayan from almost March/April, 2019 and will continue my journey till today and it will be forever.

In only one and a half month's duration, Sai helped me again with an important thing in my life. I had actually applied for my work visa and I was praying for Sai to help in picking my petition. It got picked! Thanks to my Lord.
I was just focusing on my daily work and activities. One of my friends called me one day to tell me to apply for a premium as one other consultant from my employer had converted to premium. I said, "Ok, then I will also do it." I called my employer and asked him to apply for a premium, but you know he said that we have already done your premium application along with other consultants. I was so happy and looked at my Sai's photo as Sai is the One Who takes care of everything before I realize or start doing anything. My visa got approved in less than few weeks on the first day of premium processing. Jai Sai Ram.

Sai, I know that You are there to take care of me before I ask for things to happen. You have moulded me as a person with qualities and to be independent. I am looking forward to posting many more experiences in my life and I request everybody to hold our Sai's feet strongly.

Sai, I know that You are trying to help me in my current and future endeavours. I was praying to Sai before starting to write my experience to help me in putting necessary instances as I'm writing physically, but Sai is actually doing it.

Really, Baba takes care of me and my family whenever needed. Shri Sachidananda Samartha Sadhguru Sainath Maharaj Ki Jai. 
Sai Baba Miracles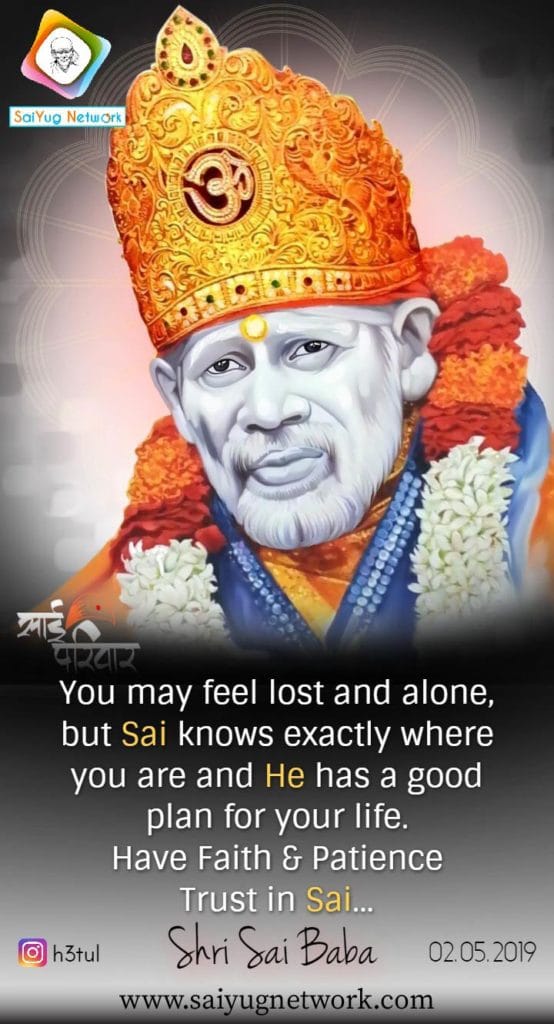 Anonymous Shirdi Sai Devotee from USA says: I am a small devotee of Sai from the USA. I am fortunate to know about this website as experiences posted here gives me strength to wait patiently for Baba's blessings during difficult times.
Baba showed me His presence many times during our journey to India. We planned to travel to India at the end of May but we postponed it because of Covid situation. As per Baba's acceptance, we wanted to travel after a month and decided to book tickets. After many trials with Baba's grace we got tickets for travel on Thursday. I was very happy as I wanted to visit my parents and so I applied for a leave. But I didn't get approval because of short notice. I was very disappointed and thought why Baba said that we will travel and I prayed to Baba to please help. In Q and A the reply came like "Friend will come with good news." I took it as a positive sign and sent him one more mail requesting leave approval. As Baba said he accepted my vacation. 
We had to take the Covid test before traveling. Again Baba helped us to book an appointment and get the negative results in time. Baba made our travel comfortable and we reached India safely. In India because of the rainy season and water change, my son had diarrhoea. Doctor prescribed tablets but even after three days it didn't subside. Doctor changed the medication for him. I gave him Udi water and prayed to Baba to cure him. Next day I heard Baba's songs and when I came out on the balcony I could see a cart carrying Baba's idol. From that time my son's diarrhoea started to subside. After two days it was completely cured but he started vomiting whatever he was eating. This continued for another three days. I continued my prayers to Baba and we went to my in-law's house. After three days, again I saw one more cart carrying Baba's idol and I was sure that His vomiting would be cured. The next day he stopped vomiting.

I thought both times I saw the Sai's idol but I was not able to donate as I was far from the carts. I prayed to Him like, "Baba, please help me donate money next time." Meanwhile my son developed a sore throat and a mild cough. I was very scared because of corona and prayed Baba to please cure his cough. After a few days when I woke up from bed in the morning, I heard songs and went to balcony to check. I saw that one small girl came near our gate and asked us for a donation. Baba's cart was stopped far away. I donated her money and I was very happy as Baba heard my prayers and also gave assurance that his cough would be cured. Again another miracle, my son's cough was completely cured by Baba's grace from the next day itself. 
After a few days my husband dropped me and my son at my father's place and after that he developed a sore throat and cough. He went to my in-law's place and started using antibiotics. Even after six days he was still coughing. Our return tickets were there exactly after four days and we had to take Covid test two days before the trip. When I asked in the Q and A website the reply came like You will travel. We should not travel if he had a cough or if Covid test was positive. I came to my in-laws' place four days before travel and I started giving him Udi water. Baba showed one more miracle as his cough was completely gone one day before the Covid test and his test results also came negative. We safely travelled back. Throughout the journey he didn't cough. Thank You Sai for removing all calamities during our journey and also for helping us in other things. It would not have been possible without You. Please save all the people from Corona. Om Sri Sai Arogya Kshemadaya Namaha.
Miracles Of Sai Baba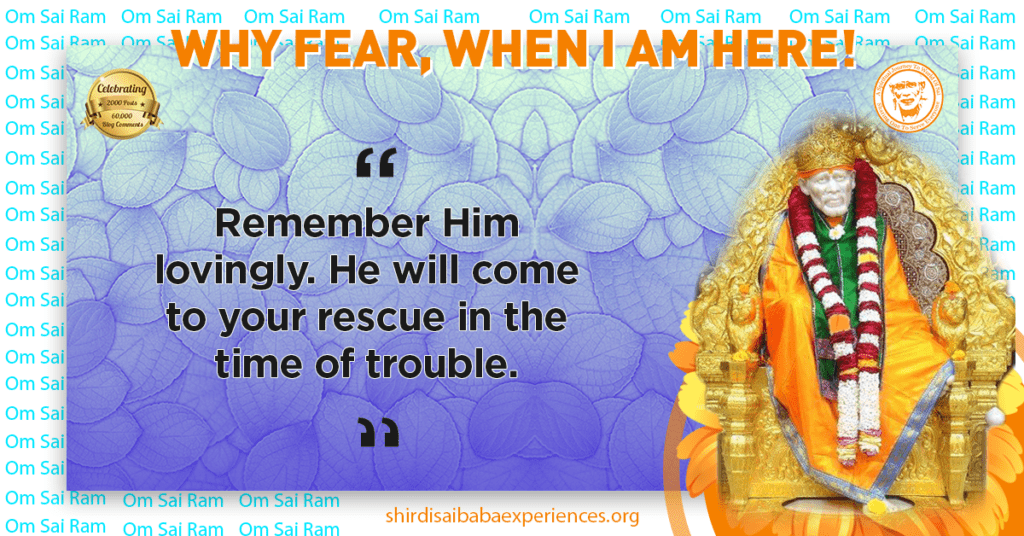 Anonymous Shirdi Sai Devotee from India says: I am an anonymous devotee of Lord Sai Baba from India. Please don't disclose my name and also heartily thank you to the whole team who are maintaining this blog.
Baba always helps me even in my small problems. For us now online classes are going on and in our home there are a lot of network issues. So many times I wasn't able to join the classes properly and also whenever they were doing something important, I would get logged out suddenly due to network issues. But then as soon as I prayed to Baba for all the smallest issues regarding this network, He always helped me to join as soon as possible. I had promised Baba many times to share this on this blog, so I am posting it now.
Coming to my second experience; in my house recently the bore well was dug and in that time after the casing pipe was fixed, mud water came. If it comes then it means that the bore well is going to be a failure and also for the bore well there will be a lot of expenses. If it fails, it means we have to dig another one which was also not guaranteed about the water and again there would be a lot of expenses. That day I prayed Baba so much and heartily too. Even everyone was thinking that this bore well is going to be a failure but we never lost faith in our Guru Baba. Finally the water came while reading Sai Satcharitra. Thanks a lot Baba, for this miracle. Baba without You it was all impossible.
Also I was reading Anand Rao's vision that day in Satcharitra. While reading the water sentence only, the water came. My joy knew no bounds that day and all credits goes to my most merciful Baba Who always supports me and Who always helps me in my difficult situations. Thank You so much Baba. 
My third experience is that yesterday in our home two aunties came for work on our farm. One of them was suddenly bitten by a snake but we couldn't see that snake. We all were so worried and my papa took her to the hospital immediately. We all prayed Baba that she should get fine and no harm should come to her life and that it should not become a police case. I vowed that I will post the experience on this blog. We waited till night and the doctor gave her anti venom. According to the doctor, it was not that serious to her health as it was not that dangerous type of snake. Finally we all were relieved and our Baba again saved us. Thank You so much Baba.
Baba, please bless my mom and one of my relatives who is suffering from corona. Please protect them. Please help my Amma to recover quickly. Om Sai Rakshak Sharanam Deva. 
Om Shirdi Vasaya Vidmahe,
Shri Sachidananda Dhimayi,
Thanno Sai Prachodayath.
Deva Helped And Helping At Every Step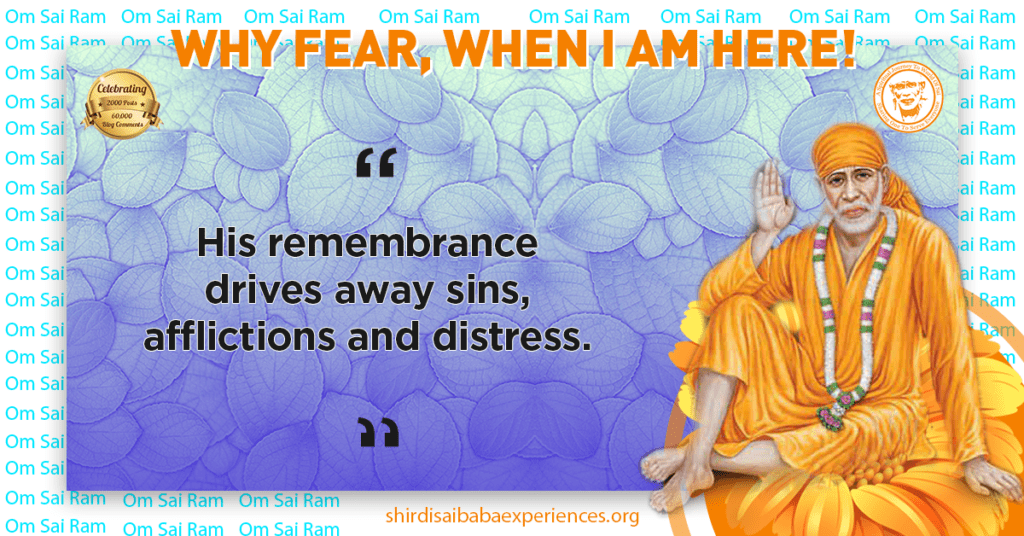 Anonymous Shirdi Sai Devotee from India says: Sai Ram all. I have been a small devotee of Deva for many years. I feel great and blessed with Baba.
Thank you Hetalji and team for maintaining such a wonderful website. Thank you is not enough as Baba always keeps us helping and saving us from all the obstacles. I would like to share a few experiences. Sorry for the late posting, Deva.
1) Thank You Baba for saving me from a big problem.
2) Baba with Your grace and blessings my marriage happened. Thanks a lot Deva.
3) Once my bike petrol got over and I was moving towards petrol bunk. Then suddenly one person came on bike and helped me. I reached the bunk. I wanted to thank that person but he disappeared. I was searching but could not. This is how Deva takes care of His children very nicely in all the situations. Dannyosami Baba.
Sarve Janaa Sukhino Bhavanthu.
Samastha San Mangalaani Bhavanthu.
Jai Sai Ram!
Deva, please save me from that person and bless Mannisu, Munndesu and Daritorisu Baba.
Sai's Help In Finding Lost Item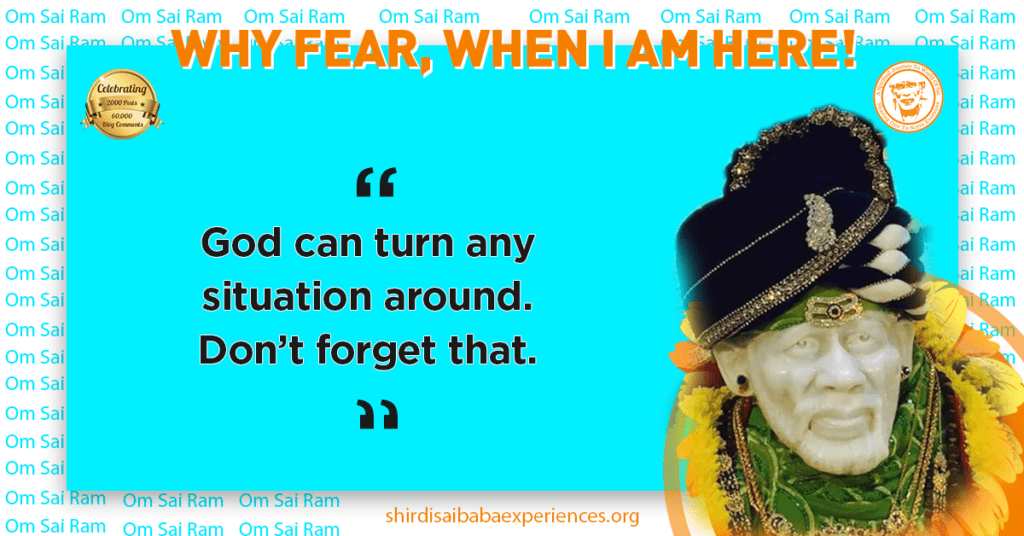 Anonymous Shirdi Sai Devotee from the US says: I want to share with you how Baba helped me recently. I always wear toe rings and very recently I found that one ring was missing. I was kind of disturbed as I had lost it and wished that I could find it. I was visiting several places during the time I lost and thought I could never find it.
However I did ask Baba to help me find it and I got busy with my routine. There was also a function at home, so I was really busy. Almost two weeks passed since I had lost it and I gave up all hope. I also had my house cleaned and I had guests staying with us for two-three days. After everything was over, I went into my daughter's room and stood next to her study table and just looked down to see that my toe ring was lying there. It was such a miracle that there were several people using that room due to the function at home and nobody noticed that ring. This truly shows Baba is living amongst us and answers our sincere calls. I am so relieved and happy that I found my ring. Thank You, Baba.
Baba's Miracle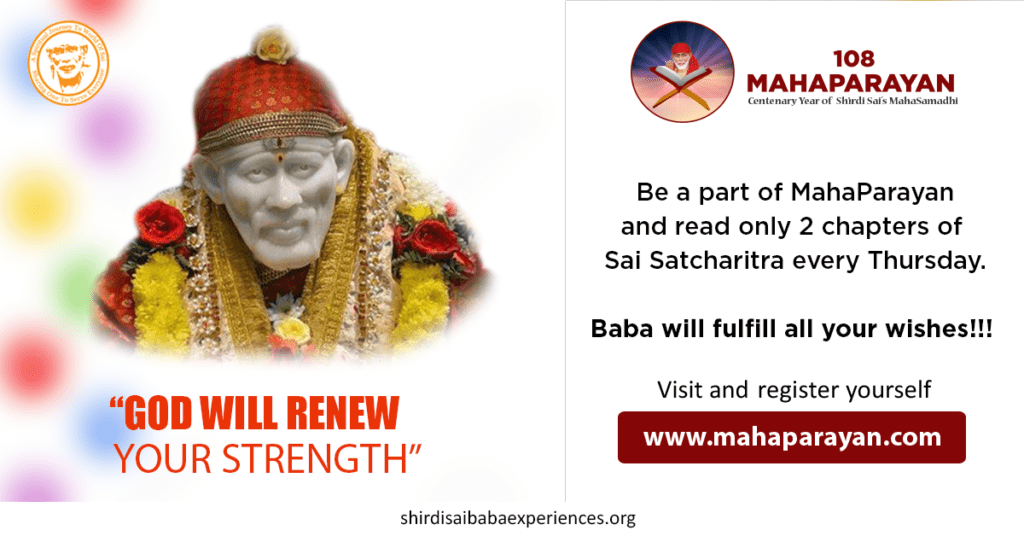 Anonymous Shirdi Sai Devotee from the US says: I have been a devotee of Shri Shirdi Sai Baba for 12 years now and have been to Shirdi twice. I am originally from Nepal. I've been living in New York with my husband and two daughters for 9 years.
Hetalji, you are doing a really great job with this blog. I am just a small devotee who loves Baba. In my life every day I experience countless Baba's miracles.
This was from February 2021. My daughter had a cyst on her back thigh and it was bothering her on and off for months. One day I was praying to Baba and I cried and told Baba to please heal my daughter's cyst and that I will post my experience. Due to Baba's grace now it is gone. Thank You so much Baba. Please Baba give her good health and a good job. Koti koti pranam Baba.
More from SaiYugNetwork.com
© Shirdi Sai Baba Devotees.com – Member of SaiYugNetwork.com