Sai Baba Saved A Family From The Clutches Of Corona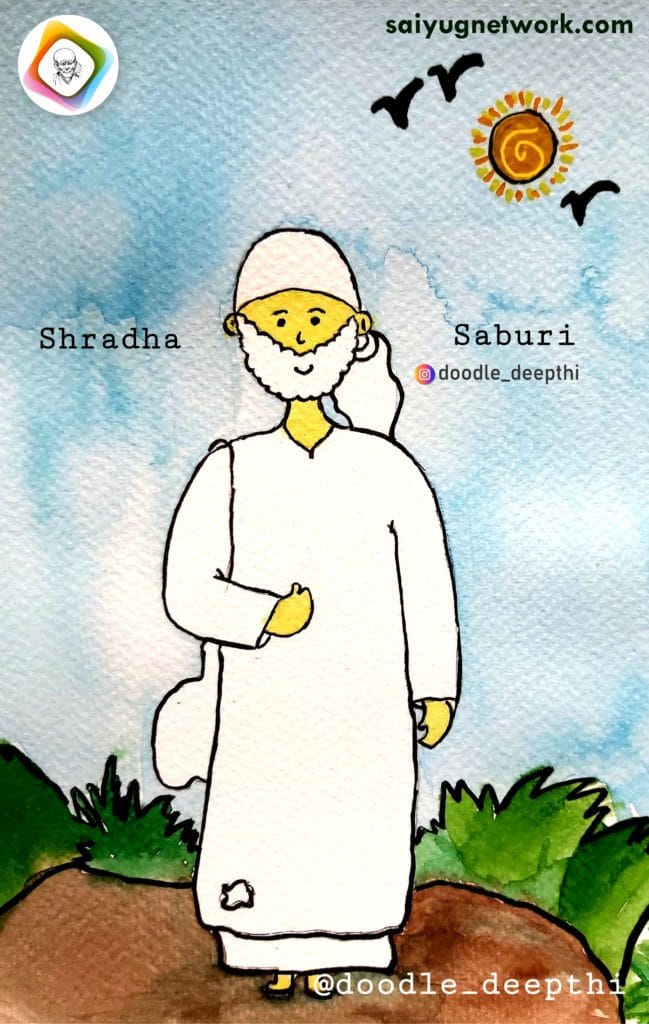 Anonymous Shirdi Sai Devotee from India says: I have been a Baba devotee for many years and I have experienced a lot of Baba's miracles. He has saved everyone in my family.
I belong to the Mahaparayan group MP-5560N1, green house. I got the opportunity to join Mahaparayan during August 2020. Since then, whenever I do Thursday puja, I feel immense happiness and am able to focus on meditation. I am very grateful to the Mahaparayan team for their seamless services and for providing us a good platform to share our experiences. I request the team to keep my name anonymous.
Now, I like to narrate how Baba showered His blessings on my family and saved us from the clutches of corona.
I have started Nav Guruvar Vrat on 15th April 2021 praying Baba for my son's internship. 19th April evening, my son got a fever of 101.5. I had given him Dolo as advised by my family doctor, who stays at my native place. After four hours again he got a fever. Mild antibiotics were given to him as advised by my doctor. Simultaneously, RT-PCR was done. The sample was collected on 20th April. I was continuously monitoring his temperature and he was given Dolo every four hours along with antibiotics.
On 22nd April (Thursday) early morning, the test results came and he tested positive. My husband and I were worried a lot. We didn't know what to do. I did my Nav Guruvar Vrat in the second week and read the chapters of Mahaparayan. On the same day, I started Saptah parayan of Sri Sai Satcharitra. Friday midnight he had a high fever and was shivering. Again Dolo was given to him. I woke up at 12 midnight and didn't sleep the whole night. My husband was trying to reach all the hospitals but no bed was available as the hospitals were flooded with patients.
On Saturday night, around 2 am I was sitting on the sofa closing my eyes. Some bhajan was going on TV. Suddenly, I opened my eyes and could see two images of Sai Baba (ashirwad posture) on the TV screen for a fraction of second only. I was so relieved and gained some confidence that God will take care of everything.
The next day, by Baba's grace, one doctor visited our home, and proper treatment started for him. The following Thursday i.e. 29th April, I tested positive. The same doctor treated me and my brother's family also. Luckily, by Baba's grace, my husband tested negative. Baba had showered His blessings and grace on us. I was so overwhelmed when the doctor told me that his grandmother is an ardent devotee of Baba and has constructed a temple for Baba.
I continued my Sai Vrat. On the eighth Thursday, my son got an internship with a good stipend. Thank You Baba for Your blessings and love and affection that You are showering on us.
How Baba Saves Life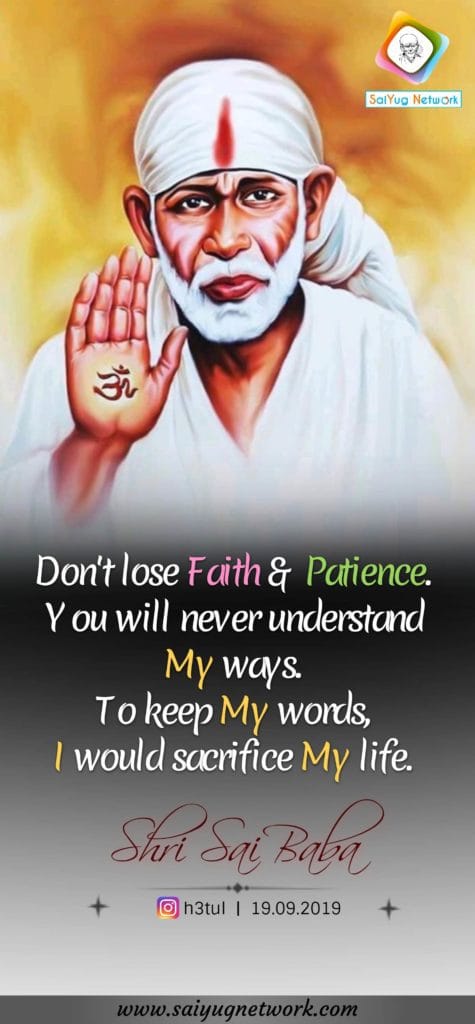 Shirdi Sai Devotee Rashmi Acharya from USA says: I am a small devotee of Baba; my mom introduced me to Him. Sai Baba thank You for everything.
I would like to thank the whole team who manages and works so hard to help all of us realize that Sai Baba still exists for us though He has left the mortal body a long time ago. As promised Baba I am sharing a miracle.
The miracle I want to share is about my neighbour's dog who suddenly stopped eating, walking and became lethargic. He was rushed to the hospital where the doctor told that his kidneys were failing. His kidney numbers (creatinine which should normally be less than 1.5 on admission was 8.5) He was on IV antibiotics and a lot of tests were performed. Results showed acute kidney problems but his kidney functions deteriorated. The doctor said the prognosis was grave and he may need to be put to sleep.
I was praying to Sai Baba to help and last Tuesday I went to see Spongy (my dog's best friend). He walked a little but looked very sleepy. I put Sai Baba's Vibhuti on his back and head and prayed to Baba. Next day his kidney function was much, much better and we thought that he was becoming better but Thursday the kidney function deteriorated which did not make any sense and I just kept praying to Sai Baba. We had decided that we would bring him home either Saturday or Sunday as the treatment was not really changing anything, and the doctors had told us before that he cannot be sent home with an NG tube (a tube placed from the nose into the stomach which helps to give liquid, good if the dog does not eat).
Friday morning when I visited the temple I requested Panditji to pray for Spongy's recovery. Later on Friday my neighbours texted me that they were bringing Spongy home. I was thrilled but worried as Spongy was still on IV and was fed through the NG tube. As per the doctors they could not send Spongy with a feeding tube and IV. Now see Sai Baba's leela when the kidney function results came they were much better and the doctor agreed to send home Spongy with a NG tube for a few days till he recovered. It was Sai Baba's miracle that Spongy came home and drank water.
I don't have enough words to thank Baba Who has always helped me and my family. Sai Baba You are everything for me and You care about everyone; even an animal that can't speak. I pray to Baba to help Spongy recover fully as he is not eating even till today. Baba I have full faith in You, please teach me Saburi. Please help Spongy to eat and recover. I hope his kidney function returns to normal.
Beautiful Experiences With Sai Baba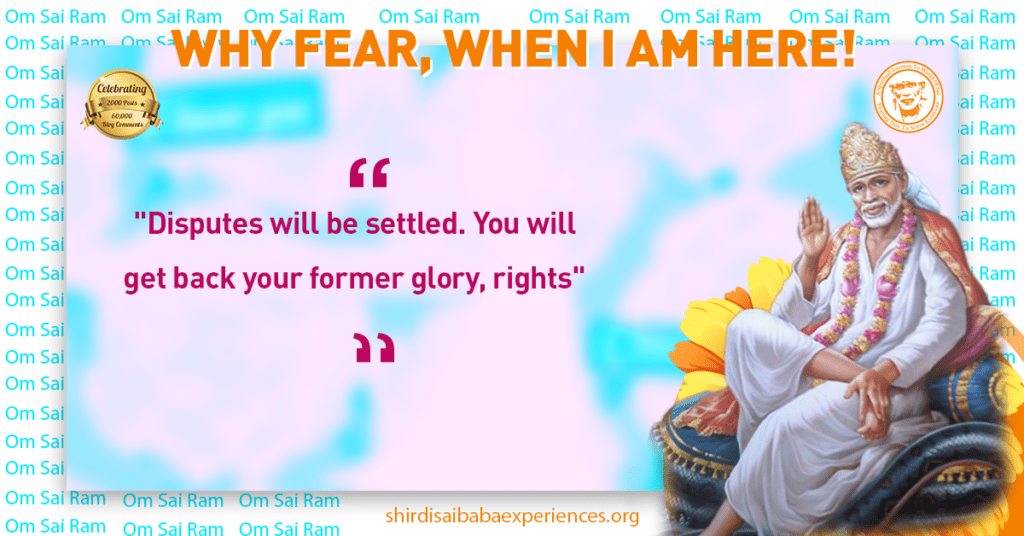 Shirdi Sai Devotee Sangita from India says: Om Sai Ram! I have had a lot of beautiful experiences with Baba. My mother used to tell me that He is the Head of the family and that He will always be there to protect. That is exactly how it happened. I have a beautiful miracle that happened to me a few years ago.
My mum passed away and I was very, very dejected. She was a bhakt of Sai and for her death anniversary the first year I wanted to be in Shirdi to offer my prayers to Baba. I booked the train ticket and with my friend, my daughter and my friend's mother we were planning to visit Shirdi. He was so kind to me that I actually got the train 20 minutes late than it was supposed to have taken off in the station and the best part was that my bogie in which I was supposed to get in, it was just in front of my eyes. I had never experienced anything so beautiful ever in my life and this was when I realised that Baba is always with me.
After the Darshan and every other formality that we were planning to do on the return we realised that our bus got cancelled. I had to travel back home because my boss was visiting my town again. I placed my bhakti in Baba and asked Him to help. Then lo and behold, I got the train tickets out of nowhere to go back to my hometown. I worked without any problem. This is how Baba is always being with me good. I never faced a day where there had been any need for me to ask Baba to give me. He is always there, giving me exactly what I want and taking care of me and my family in thick and thin. I always had the food even without a job because He has always been there. This is how He is serving me and taking care of me and my family. Om Sai Ram!

Sorry To Sai Baba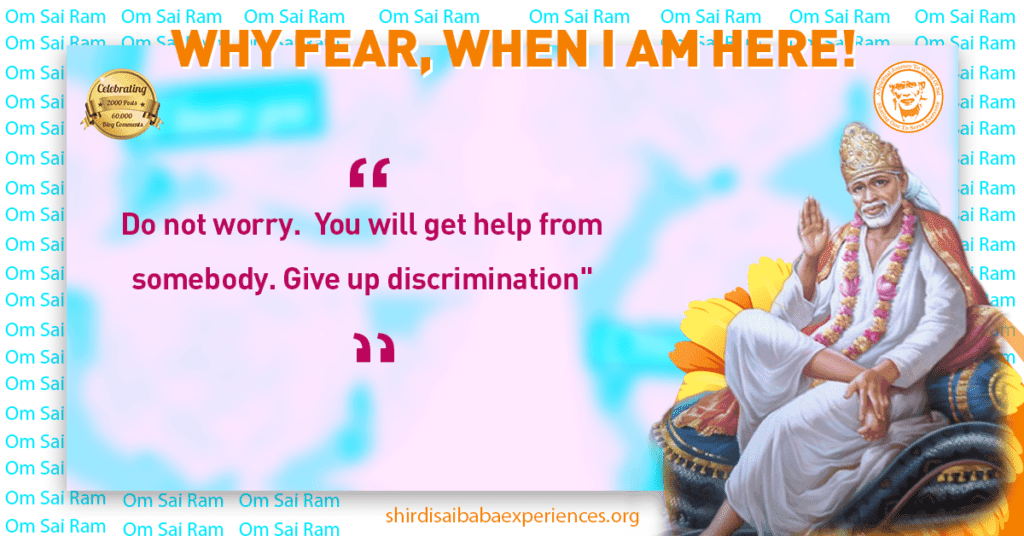 Shirdi Sai Devotee Meghna Sai from India says: Hi I am Meghna Sai. Thanks to the team. Baba, I am really sorry for what I have been doing for the last two weeks. I am a very bad child of Yours who doesn't obey. You always pardon me for that. You should only take care of our life and help me to come out of Maya. Don't leave me Baba, please forgive all my sins and negligence. Baba please, You are my protector and guide. Please don't mind my anger towards you. I will do the same with Om Shakthi Kallalamma Thaye Adhi Thimappa. Please forgive me, everyone.

As promised posting here as You helped me to get over my illness. Thank You so much as You know everything, forgive me and bring me out of this maya ASAP.

Please help me to get all my documents back and guide me to apply for that posting and be with that journey and all please.
Om Ganeshaya Namaha Om Sri Sai Arogya Kshemadaya Namaha Om Sai Rakshak Sharam Deva Om Shakthi Kallalamma Thaye Adhithimappa Om Sai Ram. MKDG
Baba's Guidance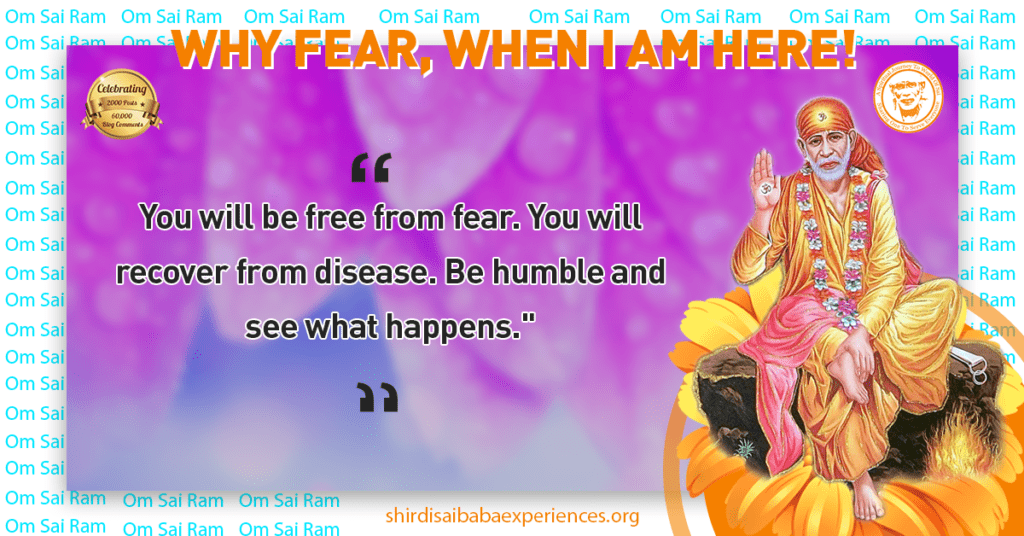 Anonymous Shirdi Sai Devotee from India says: Om Sairam. I am from Bengaluru. This is regarding a lost and found item where Sai Baba guided us. I have deleted/removed by mistake some photos of my kid's first day at school and also father's day celebration day photos from the mobile. After a couple of months we got to know that we needed to present them at the end of school for some activities. I started looking for the photos but both myself and my wife didn't have the pictures. Without knowing how to get them we prayed to Baba to guide us and Baba guided us to check with relatives to whom we shared the pictures and luckily we were able to get those pictures again. Thanks for the guidance and help Sairam. Om Sairam, Om Sai Sri Sai Jaya Jaya Sai. Om Sri Ananthakoti Brahmandanayaga Rajadhi Raja Yogiraja Parabramha Sri Sachidhanandha Samartha Sadhguru Sainath Maharaj ki Jai. Om Sai Rakshak Sharanam Deva. Om Sri Sai Arogya Shemadaya Namaha.
Baba, please eradicate this coronavirus from this Universe. Om Sairam!
Baba Listened To Devotee's Small Wish
Anonymous Shirdi Sai Devotee from US says: Thank you team for creating this platform and increasing the faith of all devotees in Sai Baba.
Before going to Sai Baba's temple today, I prayed to Baba to please wear pink or purple colour to show me that He is with me. When I entered the temple Baba was looking beautiful in a pink dress. While there I prayed to Baba, please give me a call or message from a specific person I was waiting to hear from. I asked Baba if I get a call or phone today then I will share my experience. This evening I got the call from that person, I was shocked. Thank You Babaji for always being with me, even when I sometimes doubt, You show me the signs that You are with me and I just need to be patient. Sorry Babaji, that I sometimes get upset when everything does not happen according to my time, I know You are always with me and working things in the background. Please always be with me and forgive my mistakes. Jai Sadguru Sai Nath Maharaj Ki Jai. Om Sai Ram.
---
An interesting book "ShirdiChe Sai Baba" is being shared on Shirdi Sai Baba Books.com, in parts. It is a book worth reading by those who are keen in knowing veiled history of Sai Baba during His times. 
More from SaiYugNetwork.com
© Shirdi Sai Baba Devotees.com – Member of SaiYugNetwork.com