Sri Shirdi Sai Baba – The Eternal Saviour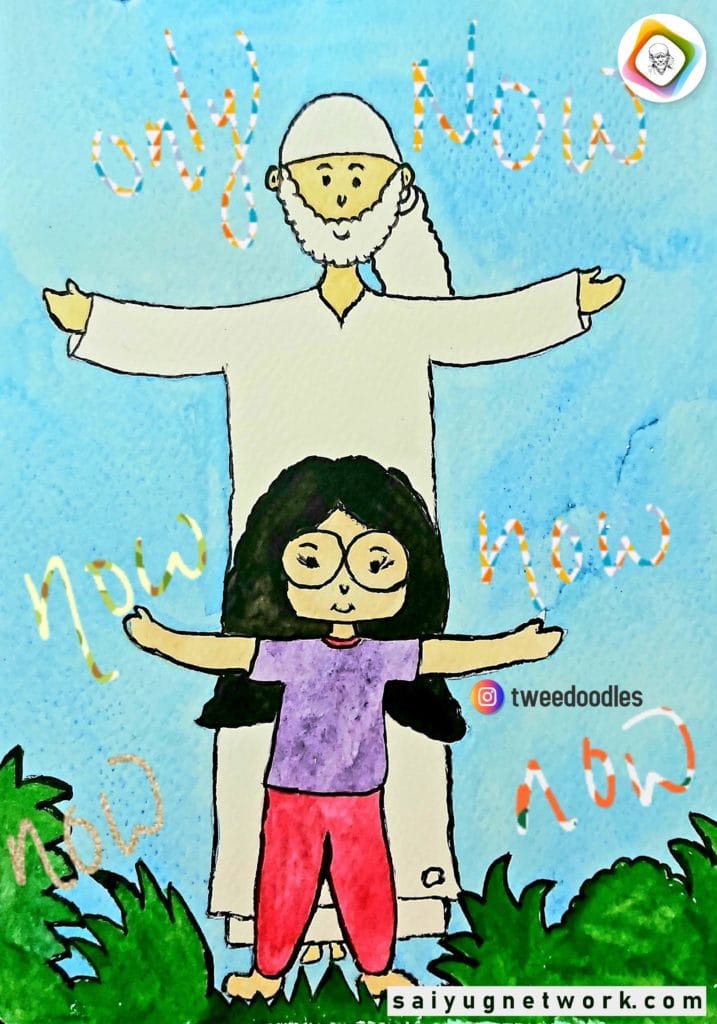 Anonymous Shirdi Sai Devotee from the UK says: I am a devotee from India, currently staying with my family in the UK for my job. I want to share a couple of my recent experiences of Sai Baba answering my prayer and saving me from dire and stressful situations.
Couple of months ago, we had to visit the Indian Consulate in London for my passport renewal. After finishing the work in the Consulate office, we decided to explore London for the rest of the day, before heading back to our town. However, after boarding an underground train, I realised that I left my bag on the station platform! The bag contained my wife's passport and a lot of other official documents like marriage certificates. My wife and I panicked and started freezing at the thought of somebody in the crowded platform might have taken the bag away and the hassles of losing passport and marriage certificate in a foreign country. We started praying to Sai Baba to help us get our bag back without any hassles. We got down at the next station and took the return train to the original station, frantically praying to Sai Baba all the while. After rushing to the platform, I saw that the bag was lying intact in the same place where I had left it by mistake! All the documents inside it were intact. We are deeply grateful to Sri Sai Baba for listening to our prayer and being our saviour in dire situations.
The other miraculous experience was saving us from financial loss in a very bizarre situation. I had bought an expensive Smartphone for my wife from a famous online retailer. However, as there were some issues with the phone, we decided to return it within the permissible return window for a full refund. However, an online retailer, on receiving the phone back, started claiming that although the make and model of the returned phone is the same, the serial number was not matching and hence they refused to refund my money! I was really taken aback by this claim, as I had no other phone of the same make and model that I would send it by mistake instead of the original one. After following up with them over phone, emails and chat and escalating the matter for next several weeks, I got the same response over and over again that they were unable to issue the refund unless I sent them the original item. All the while, we kept praying to Sai Baba to get our hard-earned money back and visited the Sai Baba temple in Wembley to convey our prayer.
One day, a customer care professional from the retailer sent one email assuring that they would refund within seven days. However, when I followed up after not getting the refund after the stipulated time, the retailer clearly told me that they would take action against the previous customer care person for going outside his rights to promise refund. On top of it, they reiterated that there was no way they could issue a refund unless I returned the original item. I kept telling them I did send the original device back to them, but they kept denying. I even contacted the police for a case of fraud, reached out to UK Trading Standards – Consumer Helpline, posted on Social Media – but none of these really helped to resolve the issue even after six weeks.
Then on advice from someone, I raised a dispute with my bank describing the issue and attached the email from the customer care where they promised the refund. The bank returned the money to my account within a few days! This was such an unbelievable miracle for me. I believe Sai Baba tests His devotees for 'Shraddha and Saburi' (faith and patience) and this was a glaring instance of such a test. I pay my utmost gratitude and respect to the lotus feet of Sai Baba for helping me get out of personal and financial distress.
Shirdi Sai Baba Answers
Anonymous Shirdi Sai Devotee from India says: Om Sairam! Please keep my name anonymous. I am an Indian. I used to watch Mere Sai serial and I had to go to Shirdi as my dad had wished but couldn't go due to Covid. I felt bad that we couldn't go.
I had a dream where I was waving Arathi to Sai Baba. My parents, brother, aunty were also there. Later my dad got the Karnataka Rajyotsava award after his 50 years of selfless service to farmers, but still I had a guilt that I couldn't go to Shirdi.
In the month of March 2021 I joined the Mahaparayan group as my friend introduced. Later I saw Sai Baba in my pooja room, coconut appeared exactly as Sai Baba. I thought may be an illusion later I dreamt that Sai Baba was telling me to read something in the evening time. Now I didn't understand what to do. I asked Baba's help. Then I asked Admin of the Mahaparayan group. He advised me to do pooja and read Sai Satcharitra daily.
I was too scared of second wave of Corona as already my parents had suffered a lot due to Covid in the first wave. Whole family being positive, my parents were due for second dose of vaccine but Covid cases spiked in my town. I prayed to Baba to help me. So Baba sent one health worker to vaccinate my mom at home and my dad took vaccine at our village.
I was facing too many problems with my servant. I prayed Baba and He immediately solved my problem the next day. Actually I was too much angry on God as I have experienced evil winning over truth so I was away from God. The way how a mother never leaves her angry child still loves and cares, Baba Himself came to me to change my mind set. Now surely the truth will win with Baba's grace. 'Thanks Baba'; these words are too few to express gratitude to Baba. But once again thanks Sai Baba for Your blessings. No words to express our miracles. I am sorry for getting angry. Om Sairam!
Power Of Udi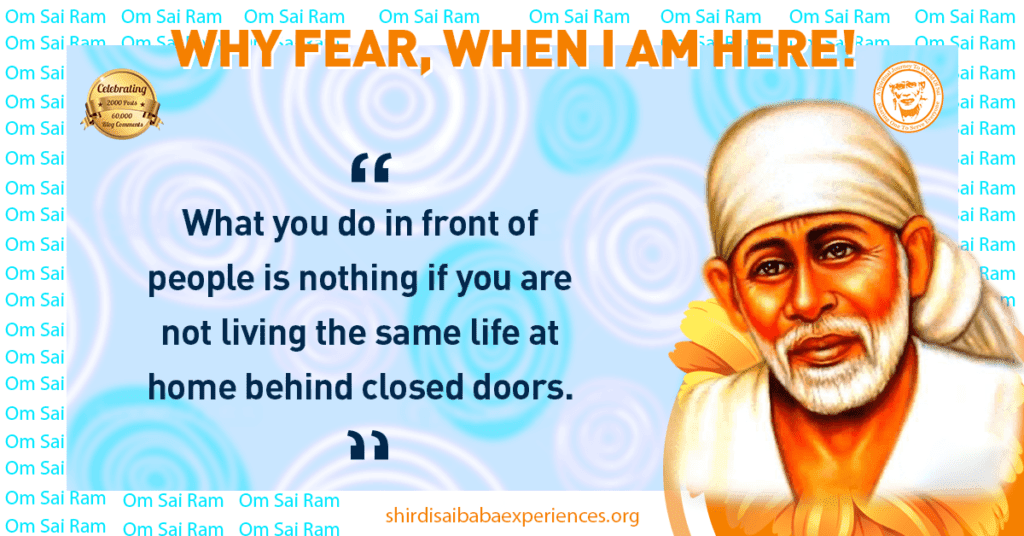 Shirdi Sai Devotee Ganapati Hegde from India says: Pranam. I am Ganapati from Karnataka, India. I have been a Sai devotee since 2018. My daughter-in-law was eight months pregnant. One day she complained about intermittent pain. Everyone panicked. As usual they initially suspected pain due to gas formation. Subsequently it was ruled out. Then I gave her a pinch of Shirdi Udi and asked her to apply it on the stomach area where she was experiencing intermittent pain. Asked her to recite Om Sai Rakshak Sharanam Deva. Within an hour the pain reduced.
Later they went to the hospital for a check up. During the check up the doctor found that fluid was less than recommended. She immediately recommended medicine to increase fluid levels. Reason for the pain was due to sitting position. It was nothing serious. However Baba helped with this incident, early detection of fluid level and necessary medication started. Thanks Deva.
Other experiences–
Of late I was feeling that Baba wanted me to join MahaParayan. Somehow I was not willing to join. However on 15th August I registered for the MP. I left it to Baba when I got the chance to join the MP. I was surprised to get a whatsapp message from a MP group the next day itself. Within three days for me the MP started and I was part of MP-5096N1. Really surprised at the speed I could join the MP and start with MahaParayan. Thanks to Deva.
There was some disturbance in our family. My wife was really concerned about these developments. I asked to keep faith in Baba and to leave all her worries at His feet. I asked her to continue to read Sai Satcharitra daily.
Yesterday (Thursday) while boiling milk she noticed Baba for a few seconds in the milk cream. She was delighted to see this and was assured about Baba's protection and guidance. Shraddha Suburi. Allah Malik, Sub Ka Malik Ek. May Baba protect His devotees and keep guiding them.
Baba's Blessing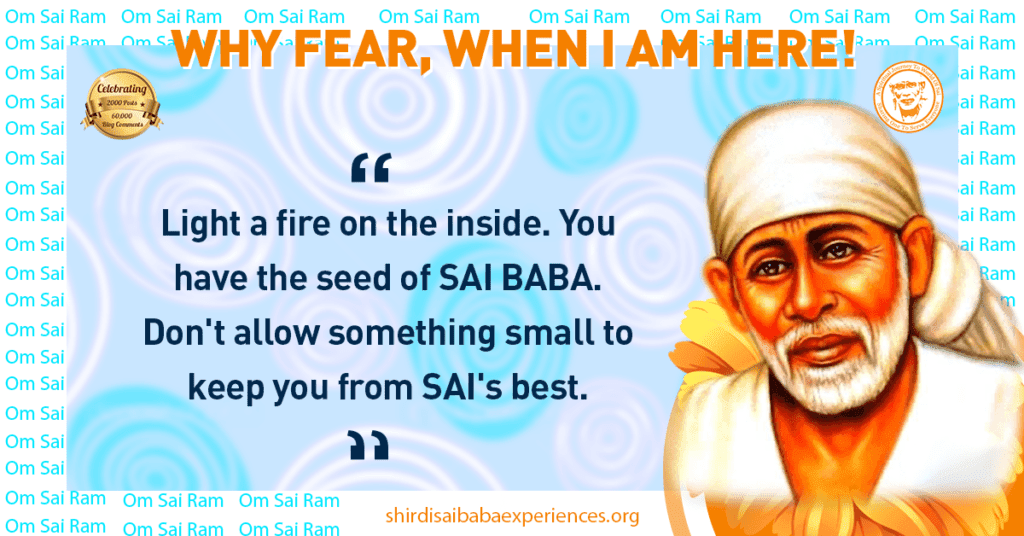 Anonymous Shirdi Sai Devotee from India says: Om Sai Ram! I am a devotee of Baba. Please keep me anonymous. I am from Mumbai and always feel blessed to be at Baba's feet. Thank you Hetalji and to the entire team for creating such a wonderful platform where we can express Baba's blessings in our life.
My experience: I had prayed to Baba and had Udi mixed with water for my problem. Today I am perfectly fine. Thank You Baba for blessing. Thank You Baba for blessing me and my family.
Baba sorry for posting my experience late. Baba's blessings are always there for me and my family.
Sai Made Impossible To Possible
Shirdi Sai Devotee Durgesh from India says: I am Durgesh kumar Verma a Sai Baba devotee from 15 years. Om Sairam! Pranam to my Baba – Lord of the Lords.
My experience is: I have been working in Allahabad high court for the last four years and one file was missing. Under my table when any file is missed from section or place then it is impossible to trace out in the thousands of files. My file was missing on 25 August 2021. I prayed to Baba that if my file would be traced out then I would share my experience on this holy platform. With the grace of Sainath my file which was lost was found in another section. Sai Baba proved that He is always with us. Bow to His holy feet. You will rise more if you bow down more at Sai's feet. Jay Sainath!
Be Kind To SadGuru Natha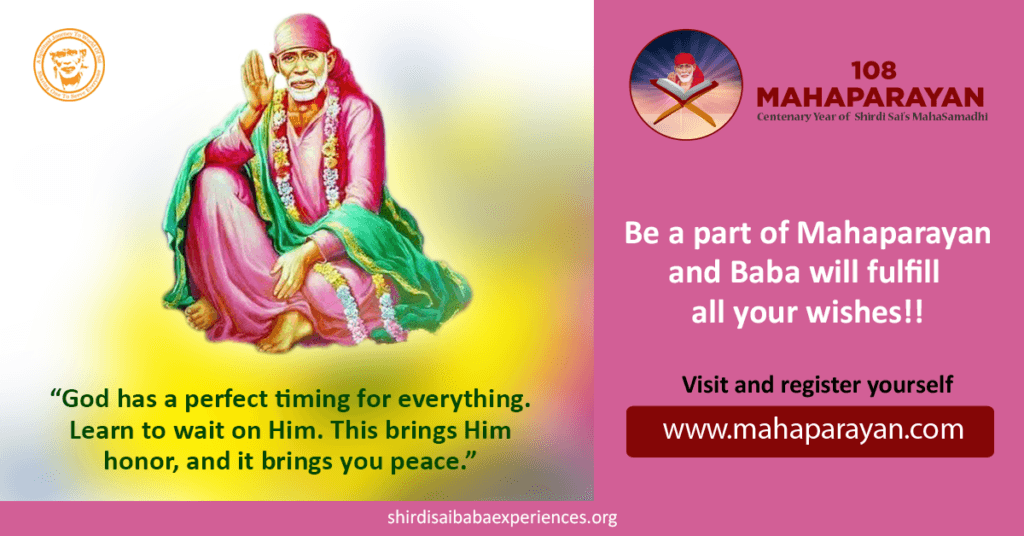 Anonymous Shirdi Sai Devotee from the USA says: Sai Ram brothers and sisters. Like you all I also love to read this blog every morning. For this whole week I was very worried about the back home issue. I told Sai Baba I know we all are suffering because of my prarabhdha. But I will keep chanting Your name and You make the situation better whenever You want. I tried to do that. I know the situation is not perfect yet but I saw one ray of hope. Baba, please improve the situation and make all of us happy and peaceful. Baba please be with us.
---
An interesting book "ShirdiChe Sai Baba" is being shared on Shirdi Sai Baba Books.com, in parts. It is a book worth reading by those who are keen in knowing veiled history of Sai Baba during His times. 
More from SaiYugNetwork.com
© Shirdi Sai Baba Devotees.com – Member of SaiYugNetwork.com