Sai Baba Graced With Motherhood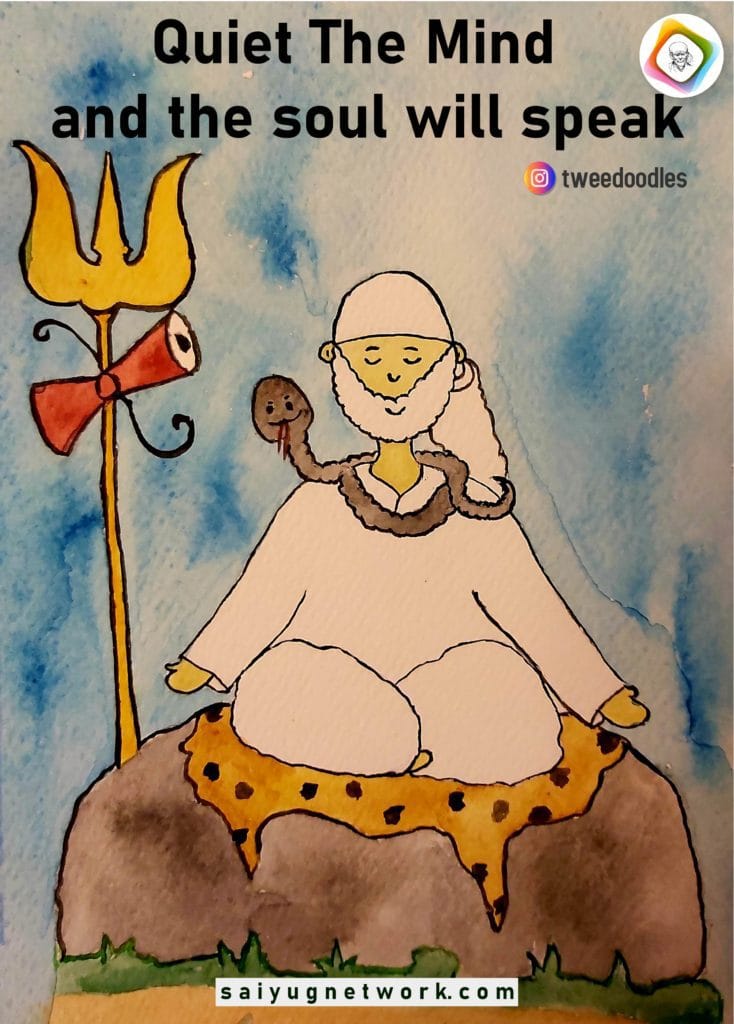 Anonymous Shirdi Sai Devotee from India says: Om Sairam! I've been an ardent devotee of Sai Babaji since 2009. I got to know this platform in the year 2015. I am from Bengaluru.
Baba is everything for me. My daughter Supriya and I have been a devotee of Babaji since 2009. Baba always gave me a solution for every problem. I would like to render my heartfelt thanks to Babaji and to Hetal Patil for creating this wonderful platform where I get very apt answers for all my questions and unknowingly tears flow from my eyes when I read the miracles shared in this platform. That is how I became closer to Sai Babaji and this site. I would like to share my experience where a miracle happened to my prayers for my elder daughter.
My elder daughter Supriya got married in the year 2016 with the blessings of Babaji. In the year 2017 she had an ectopic pregnancy and it was very critical and doctor advised to undergo surgery to remove the pregnancy. It was done immediately as it was dangerous for her life. The doctor said that it is doubtful of she getting pregnant again. We were completely shattered when we heard about it. I had true belief in Sai that one day He will give a solution to our problem. I used to pray fervently to Sai Babaji, started doing Nav Guruvar Vrat, visit Babaji's temple every Thursday with a belief that only source and hope is our Babaji. "Aapatbhandhav" I read daily one Chapter from Sri Sai Satcharitra; which I had started in the year 2016. I continued reading it without missing even a single day. Whenever I feel low I switch to FB to read the miracles shared on this site. Some of the miracles were a soothing answer for my burning thought. Based on my feeling and pertaining to my worries, I used to get the consoling words of Babia. So generally I open FB only to read the Babaji 's sayings and the miracles. As Babaji says "Shraddha and Saburi" is required. We waited for all these years with trust in Sai Paa.
My daughter has great belief in Babaji. She took a vow last year in 2020 to read and complete the entire Satcharitra in a week's time. She completed the reading with the blessings and grace of Sai Paa, and in the same month that is last September she conceived. She was very happy and her belief in Babaji got more strengthened. During pregnancy whenever she underwent uneasiness, pain, nausea, headache etc. she used to get immediate relief after applying Udi on the affected area and on the forehead.
With the blessings and grace of Sai on June 2nd 2021 my daughter Supriya was blessed with a baby girl. Both daughter and kid are doing well. What the doctor told became wrong and our trust in Sai Paa got strengthened. As soon as she reached the ward from the labour room the first thing my son-in-law did was apply Udi to the kid and my daughter. Had tears in my eyes.
We love You Sai Paa, we are nothing without You. In every walk of our life You are always guiding us, only understand clearly that it was Your Leela. Knowingly or unknowingly You are there in every situation. I thank You Sai Paa from the bottom of my heart. I had promised that I will post on this site once my daughter gives birth successfully. Koti thanks Sai Paa for all Your grace and blessings and fulfilment of my wish.
I once again pray to You Sai Paa to keep Your blessings always on my daughter Supriya, husband and the kid with good health, long life and happiness.
Always stay by all our side Sai Paa and please fulfil my other wish and bless me to share on this platform as early as possible. Once again Koti Pranams to Your lotus Feet Sai Paa! Anantha Koti Brahmanda Nayaka Rajadhi Raja Yogi Raja Para Brahma Shri Sat Chit Ananda Sad Guru SaiNath Maharaj Ki Jai Shri SaiNathaya Namah!
Power In The Name Sai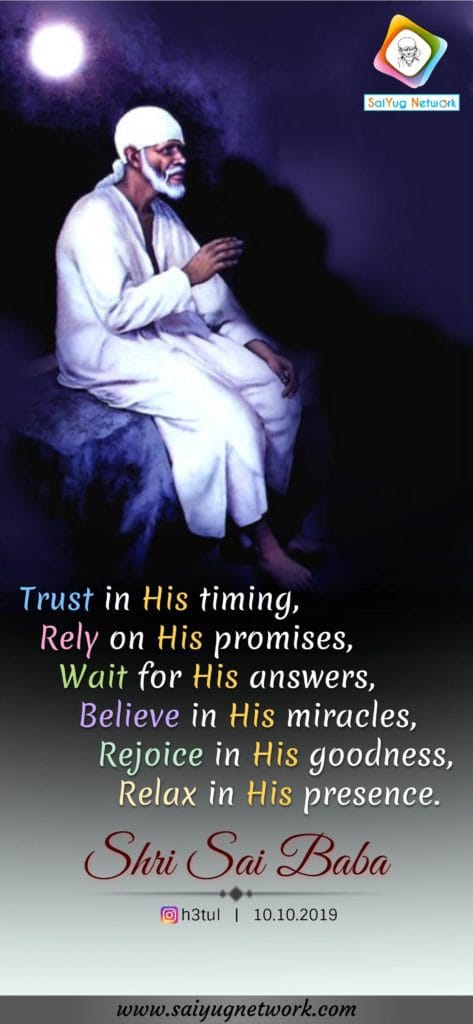 Anonymous Shirdi Sai Devotee from USA says: Hello to all Sai devotees and thanks to Hetal mam and team for all the hard work in sharing leelas.
We had a festival on Sunday and I cooked all the festive dishes. My husband and I had a peaceful lunch. Everything went fine that day. Next day from early morning I was feeling nausea and also was feeling heavy in my stomach. I prayed to our beloved Baba, "Please Baba, I am not able to bear it." I was chanting Sai Sai Sai and I prayed that I would post it on this divine website. Later I thought let me have some jeera and went into the kitchen and was about to open the box. Then I felt I have prayed to Baba and if I eat jeera now then it's like I am not trusting Him and so let me wait for some more time. Thinking that way I kept the box back. I came and sat in the hall and within a few minutes I got a burp. After that everything was fine. Posting as promised to Baba. Thanks a lot Deva.

One night I couldn't sleep as so many thoughts were coming to my mind. I prayed to Baba and within a few minutes I slept. During midnight I suddenly woke up with so much pain in my left arm. I didn't know why suddenly I got such a pain. Again I started saying Sai Sai Sai. I didn't know when I slept. Morning I woke up and all was fine and I didn't have any pain then.

Sai thank You so much Swamy. Without You I don't know how I would have survived. Thanks for pulling me towards You. Please bless me with unshakeable faith.

Bless everyone with good health and happiness. Thanks again Baba as my husband and my mum are talking fine.

Sai Sai Sai…!
The Glory Of Baba's Blessings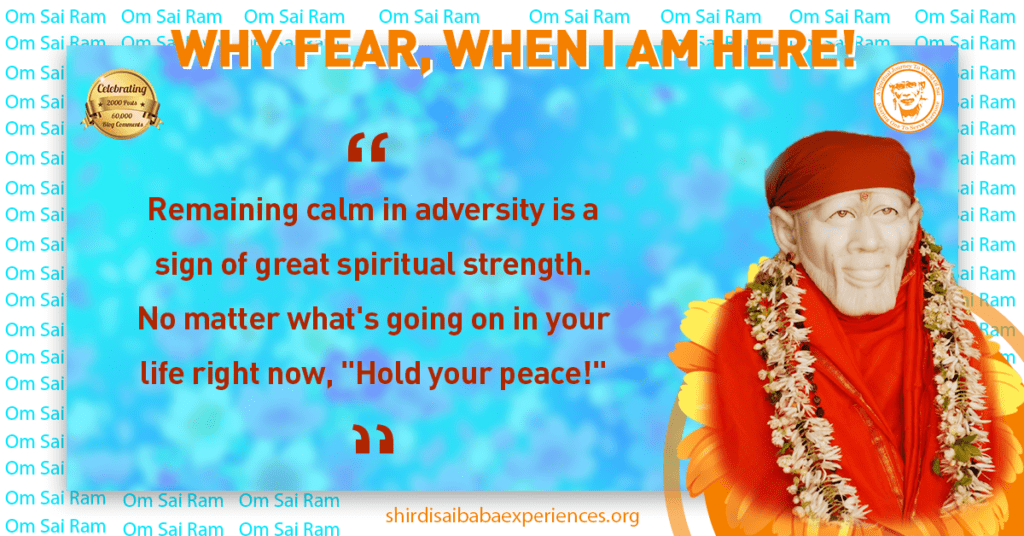 Anonymous Shirdi Sai Devotee from South Africa says: Om Sai Ram to all, I am a devotee of Baba and I believe in time He gives us the best.
Coming to my experience, in 2019, I lost everything. In 2020 He gave me strength and blessed me with all that I had lost. In 2021 I resigned from my job, prayed to Baba to bless me with a good job at a reputable company and two months later, I was employed.

Another experience: Baba gave me a business idea to make an income on the side, so please devotees, if you are reading this, I sincerely request you to say a prayer for my crafting business. It's called "The Happy Crafter." I want this side hustle of mine to have an influx of customers. I pray for success.

Lastly, with my personal life, I am definitely sure that He will give me the strength I require and the love I wish to receive. If I did anything wrong, then Baba You must forgive me and make everything that my heart bleeds for to become a reality.

To all the devotees, keep praying and never give up hope. Your miracle is on the way. Believe its yours and claim it. Peace be to all, Om Sai Ram!
Devotees Need Blessings Of Baba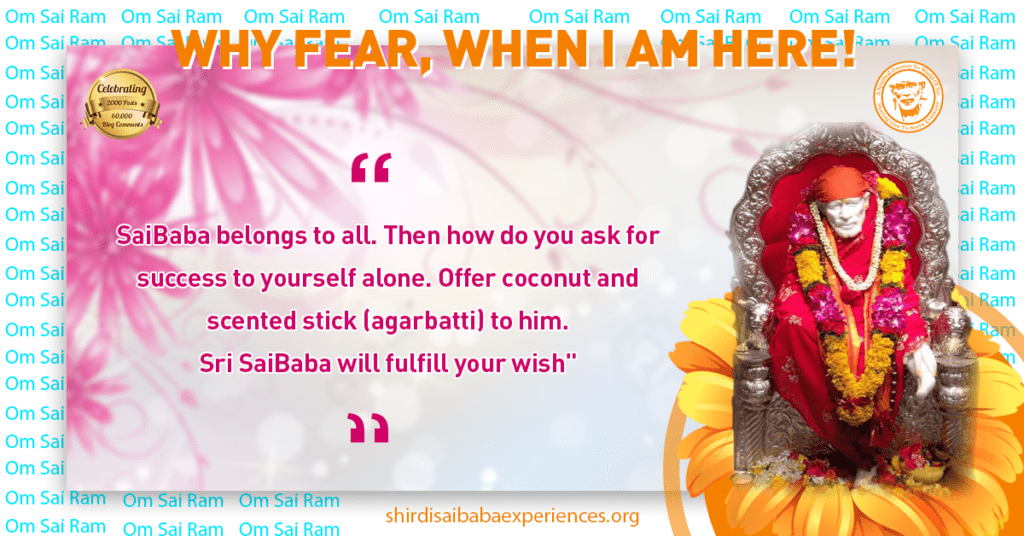 Anonymous Shirdi Sai Devotee from India says: Om Sairam! I have been a Baba's devotee for the past ten years. Have experienced many of His miracles. Thanks admin and team for keeping our hopes alive through this blog.
I had kept Nav Guruvar vrat for my husband's employment. Though he hasn't got an offer yet, I'm sure he'll find a job which will give him mental peace soon. As every Baba devotee is aware, we need to distribute Nav Guruvar vrat books on the concluding day. Since I'm pregnant and have been advised bed rest I wasn't able to visit a temple to distribute the books. So sharing the Nav Guruvar vrat link here.
Baba, please forgive me for not distributing the physical copy of books.

I would also request each and every single devotee reading this experience to pray for my sister. She has been diagnosed with a rare and aggressive form of cancer recently. I have no one else than Baba. I really hope that He'll bring her out of this ordeal soon. Please be with her and her family and give them the strength they need Baba. Sairam!
Baba's Blessings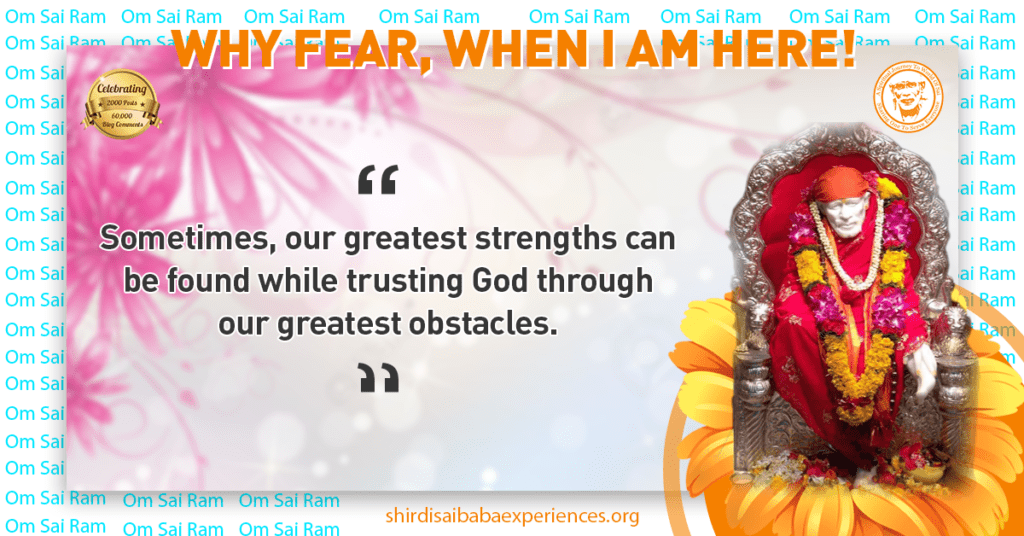 Anonymous Shirdi Sai Devotee from the UK says: I am a UK resident which is only due to the blessings of Baba. I was born and brought up in India, and migrated to the UK in 2006 for higher studies. After completing my education, I started making applications for visa extensions like PSW, work permit and ILR (indefinite leave to remain in the UK) and faced many hardships. My visa (ILR) was denied thrice in a row; I had no money left to survive on; as all my savings were spent in applying and re-applying for ILR, paying solicitors fees, admin fees for judicial review of the outcomes etc. Also I was not allowed to work whilst my application was in process. It took UKBA more than 18 months to come to any form of acceptable outcome/decision. I was struggling all that time with no family support by my side. My siblings also turned against me as well for various reasons.
All this time, the only hope that I had was received by praying to God and truly believing in that divine guiding power, I would spend my days reading Sai Satcharitra, Sai Kasht Nivaran mantra, reading devotees' experiences and viewing devotional movies. Finally, my ILR application was successful and I was given the right to stay and work in the UK.

Om Sai Ram!
Sai Always Helps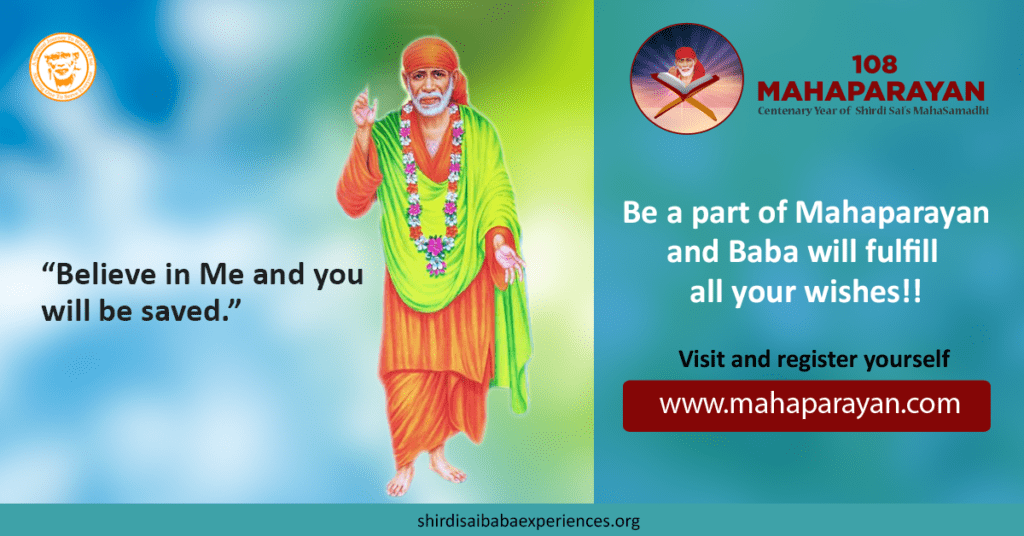 Shirdi Sai Devotee Sakshi Gupta from India says: This is not the first experience. I am grateful to Sai for so many things in my life. Thank You Sai.
So one day I had my university exam and I had stomach pain because of an unknown reason. The pain was for the whole day and I was not able to study. Next day was my toughest exam. I was so depressed. By night I took Udi water and got relief. Thanks Sai. Sai has helped me in various ways. I just hope that He helps me in my career path too.
---
An interesting book "ShirdiChe Sai Baba" is being shared on Shirdi Sai Baba Books.com, in parts. It is a book worth reading by those who are keen in knowing veiled history of Sai Baba during His times. 
More from SaiYugNetwork.com
© Shirdi Sai Baba Devotees.com – Member of SaiYugNetwork.com