Sai Baba Is Always With His Devotees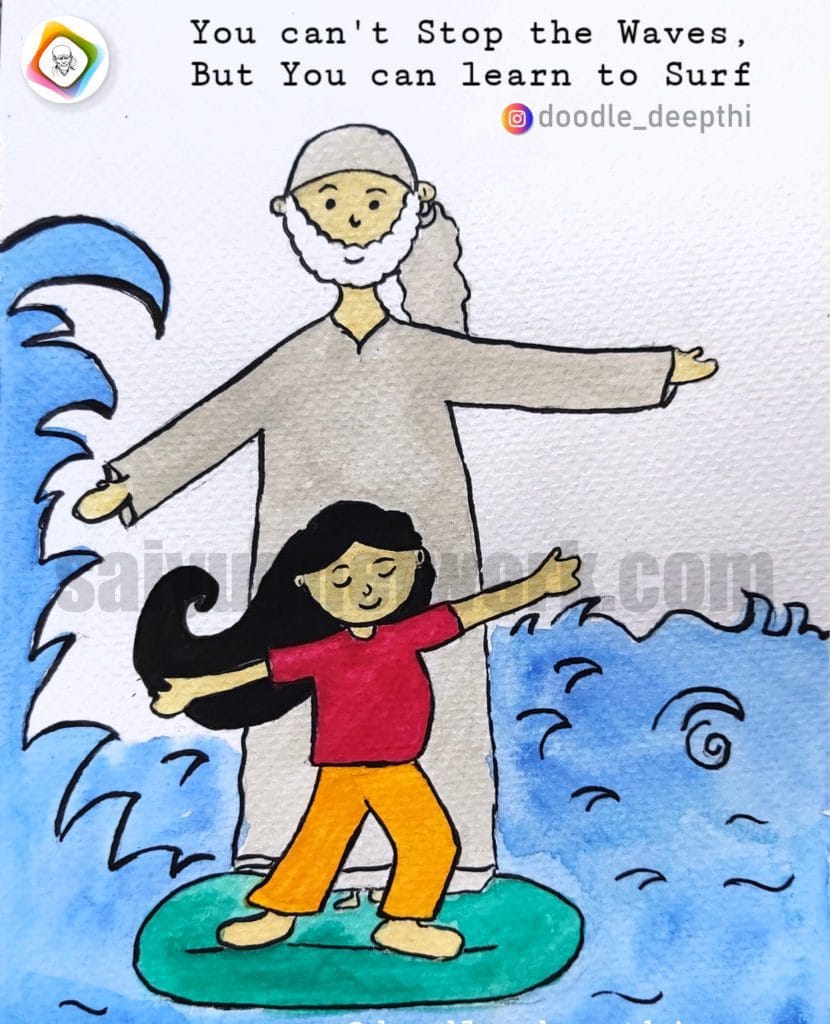 Shirdi Sai Devotee Meghna Sai from India says: Hi! Om Sai Ram to all devotees and thanks to the team for their divine work. May Sai bless you abundantly.
Trust Baba wholeheartedly and He won't leave your hand whatever the situation is. I am a normal devotee who always postpones His instruction but I love Him a lot. I will get angry with Him sometimes because He is my only friend.

Yesterday my sister-in-law came to house and she was disturbing my cooking process. I got very angry and I wanted to throw the ingredients on her face. Then I prayed to Sai that I would cook, You and my home God, Om Ganeshaya, Om Shakthi Kallalamma Thaye Adhithimappa Mkdg should help me in my cooking. I put some Udi on that kheema gravy. Finally, the taste was outstanding. I had never cooked like that before. Baba and my home God didn't let me down in front of that critic mind lady. She had everything without any critics. Thanks, Baba. Please bless her and her mother with peace of mind and make them love everyone with a pure mind. Make their soul pure.

So many times You helped me with my office work and timing, thanks for that. Please take care of daddy and Ammaya and all youngsters and elders of the family. Without You I am nothing. I call You for even small things and I behave like a child but You tolerate me, thanks for that.

Please solve my mobile GPAY issue and make Ammaya get a tenant. You know their situation. Only You and Ganesha can help them. Shower Your blessings on them. Give us continuous work and we have everything left on Your lotus feet.
Please arrange for a Tirupati trip, my son has been waiting to give mundane for two years. Please erase all our sins and give us darshan please, Balaji.

I want to touch Shirdi soil. I know You will arrange it and I want to go for Kallalamma temple, also plan for that.

Financially we should be stable, bless us for that. You are watching everything going on in our life. You take care of good and bad. I have surrendered to Your lotus feet completely. No one can harm us when Sai is with us.

Thanks for everything that You did for us. No thanks are enough. Koti Koti Koti Koti pranam Baba. Sorry, sorry, sorry, sorry for my silly behavior. Guide me to be a good human. Bless with Shraddha and Saburi.

Mere Sai I love You always. You are the sole protector of our life.

Om Ganeshaya Om Shakthi Kallalamma Thaye Adhithimappa Om Sai Ram Mkdg Om Shirdi Vasaya Vidmahee Sachidanandaya Dheemahe Tano Sai Prachodayath Om Sai Rakshak Sharanam Deva Om Anantha Koti Bramhanda Nayaka Rajadiraja Yogiraja Parabrahma Sachidananda Sadhguru Sainath Maharaj Ki Jai Om Sai Ram.
Sai Baba Handled Situation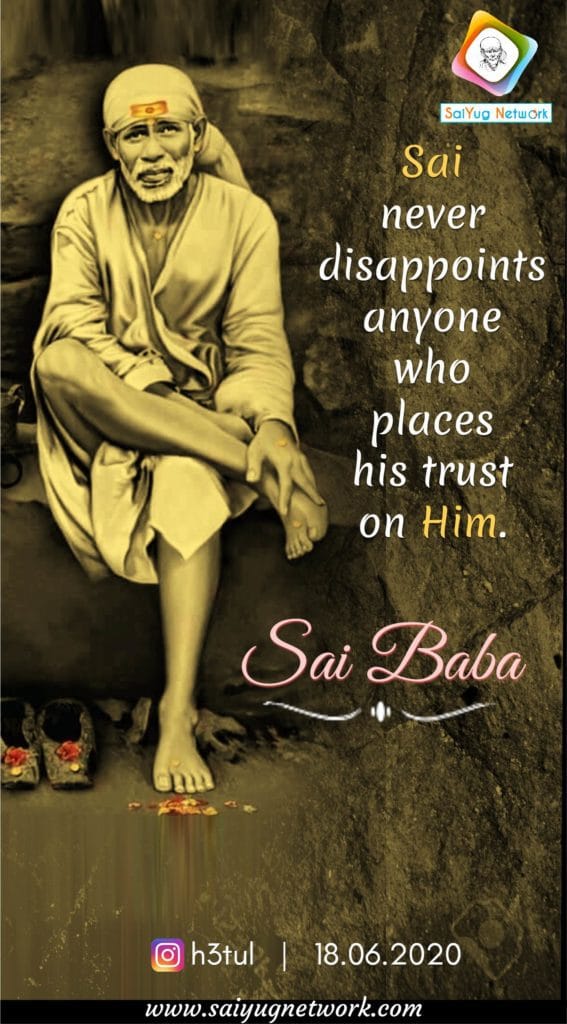 Anonymous Shirdi Sai Devotee from India says: Dear Sai Bhandhus. I want to share a recent experience with Baba. I'm from Hyderabad. I am the mother of two kids. I have been sharing many on this divine blog for a year. Hetalji my Sashtanga Namaskaarams to you.

Recently I went to my cousin's engagement without any planning. My other cousin was going to Vijayawada to attend the function and so we spoke to him and he agreed to take us along with him. As we four – mom, brother, sister and children were there I didn't invite my husband to join us as there was no place in the car and earlier also he had said that he would not come.

But suddenly on the day of our journey, he became serious with me and my mother and started speaking rudely that we don't respect him and we didn't invite him to join us in the car. I was so upset. He didn't speak to me properly nor said bye properly. All the way I was telling him sorry and it was not intentional as we ourselves just decided a few hours before the journey by confirming the car availability. I literally started praying Baba for this unnecessary blame from my hubby on me and Amma.
Baba has sorted the issue by that night itself. To my surprise, my husband came in a private vehicle and came to function with a cool mind and was having smiles on his face without any anger. He spoke to my mom and me very normally. We happily attended the function and returned.

Baba, You raise the storm and drag us towards You and then pamper us like a mom. Koti pranam Deva.

The room which we were offered to stay in Vijayawada had a big portrait of Baba. Tears were rolling out my eyes. With Baba's grace, we went safely and came back with kids. No one was affected with cold or cough.

Sai, both elder and younger ones' health issues are sometimes worrying me. I left my burden on You. Please eradicate this virus from this world and show everyone the divine path.

Om Sai Rakshaka Saranam Deva
Om Sai Rakshaka Saranam Deva
Om Sai Rakshaka Saranam Deva
Sai Baba Is Everything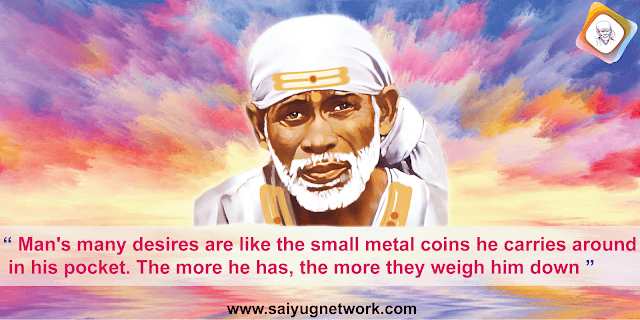 Anonymous Shirdi Sai Devotee from India says: Namasthe Hetalji thank you for having this platform for sharing experiences with Sai Baba.
I am a small dust having Babaji's grace on me. After meeting Baba, my life started changing, and I came to know that I was alive only by Baba's grace. I had many experiences with Baba and I am sharing a few experiences that I had in the pandemic.

Experience 1: During 2020 when lockdown started, due to some situations I was in depression and it became hard for me to understand what Baba is directing me to follow where I made a mistake in understanding the direction and faced hard situations of misunderstanding. While I was in such a situation Baba was with me throughout the journey and guided me to join this platform and the MahaParayan group where He made me back. Thank You Baba for this.

Experience 2: Before joining this MahaParayan group I used to feel alone and had some confusion that Baba's devotees had the thinking process that I had. After joining this network I got relief and a lot of my questions were answered through many devotees' experiences. And slowly I am transforming.

Life is beautiful with Baba. Please Baba increase more and more faith in You among all the devotees and living creatures. Thank You Deva for choosing me as Your devotee and thanks a lot to Poojaji and hoping to encourage a lot of things. Thank You Deva for everything. Please bless everyone with good health Deva. Om Sai Ram.

Apologies for having any mistakes in orchestrating the experiences, since it was my first sharing of experience.

Om Sai Rakshak Saranam Deva. Peace to All. Shower Your grace on everyone and let everyone follow the path of Sai Baba.

Thank you all.
Sai Baba Cured Devotee's Daughter's Ailment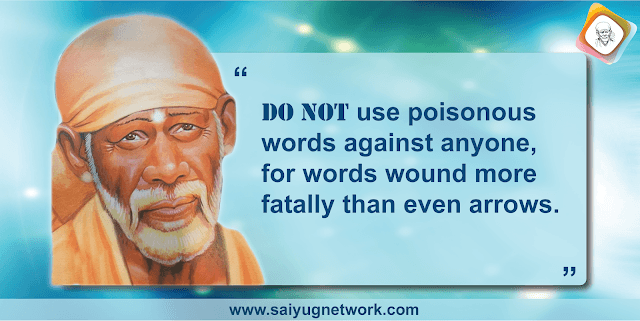 Anonymous Shirdi Sai Devotee from India says: I am native of Tamilnadu. I became a Sai devotee a decade ago. My daughter had a menses problem during her college days in 2011. We came to know that it was due to a PCOD problem. In 2015 after exhausting all indigenous treatments, we started with allopathic medicines for one year but in vain. As per the advice of near and dear, we took homeopathy treatment for one year without result.
We were asked to take a lot of scans and medicines but nothing happened. She had erratic menses with heavy hair fall due to which we had to stop taking the treatment. Our neighbour suggested we perform pooja at the local Goddess temple as her daughter was cured after performing the pooja. We performed the same pooja for the stipulated four months. During that period my daughter had regular menses but again became irregular after a few months. We tried with a spiritual healer but the cure was temporary. My daughter performed pooja with fasting as suggested by the followers of a Saint of Trichy. She took Siddha medicine Kazharchikai nut powder for three years twice a day. But the problem was not solved.
While praying Sai Baba in a deep anguish, a thought crossed my mind that Udi can be tried as It is the best medicine to cure any disease when it is given in faith. Nowadays my daughter is taking Udi twice a day as medicine and her menses have become regular. Great relief for us. Jai Sai Ram.
Thanks To Sai Baba
Anonymous Shirdi Sai Devotee from Malaysia says: Thanks for Your blessings Baba. Om Sairam. Thanks to the entire team for maintaining this wonderful platform.

Regarding my experiences, I was able to obtain necessary approvals for my request. This was due to my prayers to Baba and His blessings.

Last week all went well and this is also all due to Baba's blessings.

One of my friends was in trouble. I prayed Baba that I will post it by 26th Sep if the problem was resolved. By Baba's grace, we can't believe that the miracle happened and it was a great relief to my friend. Thanks Baba.

I am preparing a few materials for my project, it should come well and the things should progress by Your blessings Baba. Thanks Baba
Experience With Sai Baba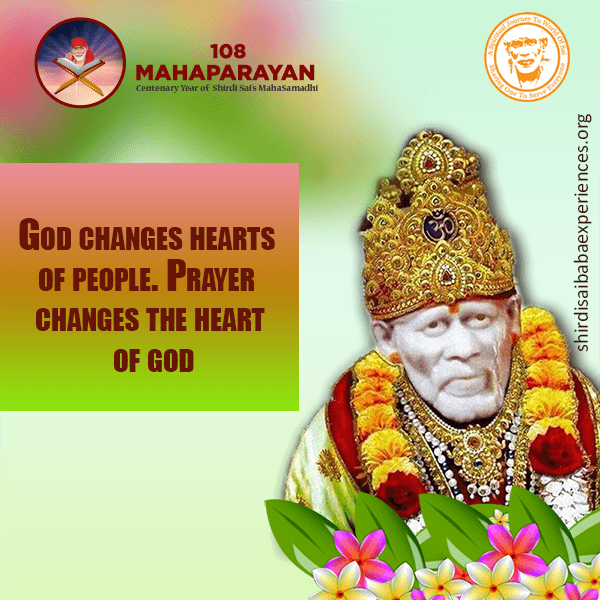 Shirdi Sai Devotee Maheswara from India says: I am Maheswara from Hyderabad working In IT field. Today I had a very good experience with Sai. I attended one of the critical exams as part of my company norms. I needed to complete this exam in five attempts and three attempts had failed and I was missing my confidence level. I prayed to Baba and gave the fourth attempt. I went to Baba's temple and put my head on Baba's feet and asked questions and answers as well. I got positive feedback and also I got passing marks. Thanks Baba for showing Your blessings on me. Om Sainathaya Namaha!
---
An interesting book "ShirdiChe Sai Baba" is being shared on Shirdi Sai Baba Books.com, in parts. It is a book worth reading by those who are keen in knowing veiled history of Sai Baba during His times. 
More from SaiYugNetwork.com
© Shirdi Sai Baba Devotees.com – Member of SaiYugNetwork.com