Sai Baba's Blessings All Time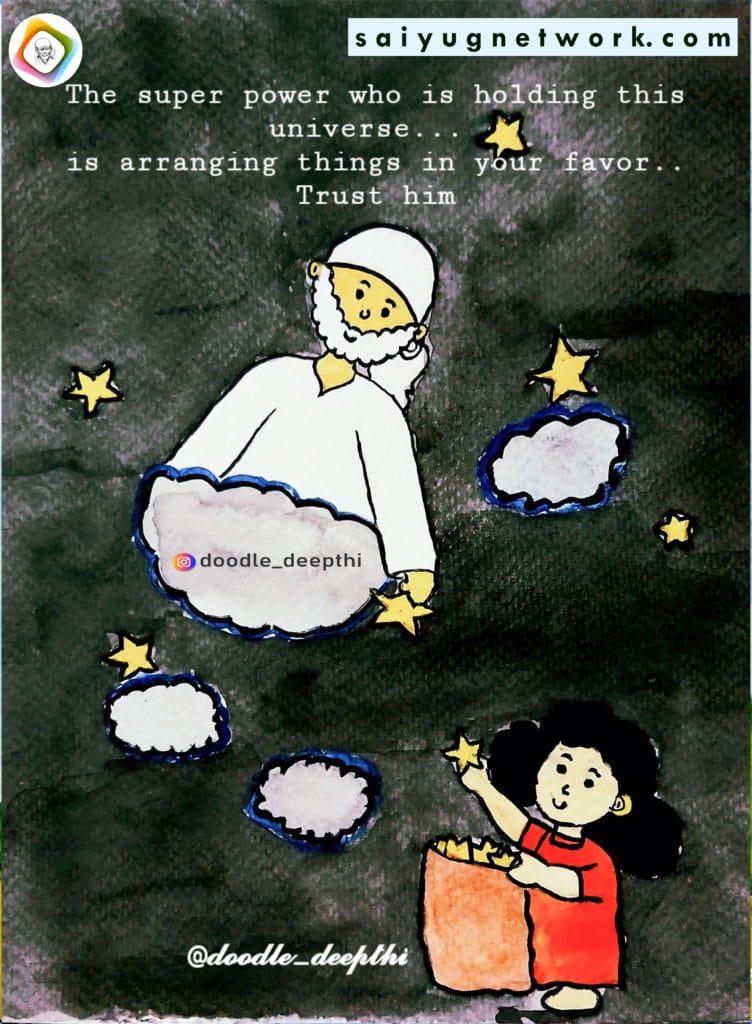 Anonymous Shirdi Sai Devotee from India says: I have been a small devotee of Sai Baba for 15 years.
First of all bow to the lotus feet of Sai Baba. He is my Guru.
Thank you admin for maintaining such a good platform where devotees share their experiences. We all feel so motivated by reading experiences whenever we have problems. This is my second post. I am writing this post not only because I had promised our Sai Deva but also so that devotees will feel motivated that nothing is impossible for our Deva.
In an earlier post, I told that my job, my promotion, my marriage, my baby, and my home all had been possible because of Sai Baba only.
Everything was going well in our life but suddenly my husband's behavior changed towards me. He had not told me the reason for his behavior. He was not talking to me and at last, he left home. I was alone with my seven-month baby and he said that he would never come back.
I cried a lot but Sai gave me the strength to face the situation. Later I came to know why he was behaving like this (I'm not sharing the problem but it is big). I prayed to Sai Baba all day and night. I also joined the Global Mahaparayan, reading Sai Satavan Manjari daily and by Baba's grace, he came back in 11 days. We both are trying to do the things normally and I know by Sai Baba's blessings all things between us will become perfect as our Sai said, "Don't take tension when I am here." It is also written in Sai Satcharitra that "Mere rehte agar mera bakht dukhi ho to mera yaha rehna ka fayda kya?" (In Spite of Me being here, if My devotees have to be sad then what is the use of Me staying here?)
Hey, Sai thank You for everything, and please solve all the small problems between me and my husband.

All Sai devotees, I want to say one thing whatever be the situation remember one thing "Sai sab thik karenge chahe kuch bi ho jaye" (No matter what Sai will make everything fine).
Om Sairam!
Sai Baba Always Helps In Bad Time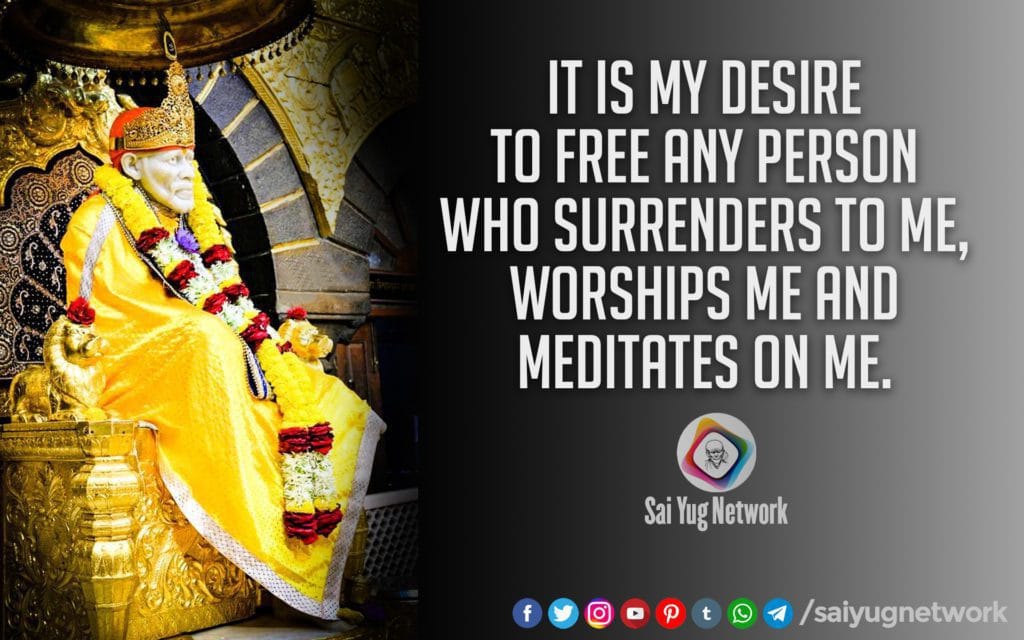 Anonymous Shirdi Sai Devotee from India says: "Om Sai Ram" I am Sai's daughter from India. I have been Baba's staunch devotee since 2008.
First of all, thank you Hetalji, and her team for giving us such a divine platform to share our experiences and getting the energy and strength to face the hurdles of life.

Thank You Baba for making my hubby's journey safe and pleasant. He reached home safely.

Thank You Baba for helping my son with constipation pain last time. My son developed a constipation problem after we started giving him packet milk.

For the last two months, he has been popping out once a week. He is crying and screaming due to pain at the time of passing his stools.

Last night he was crying badly. I started reading Sai Kasht Nivaran Mantra and he pooped out easily after some time. Thank You, Baba.

Baba, please cure his constipation problem and take care of him. I have left everything on Your holy feet. Please take care.

Om Sairam. Sabka malik Ek!
Sai Baba Helped To Find Keys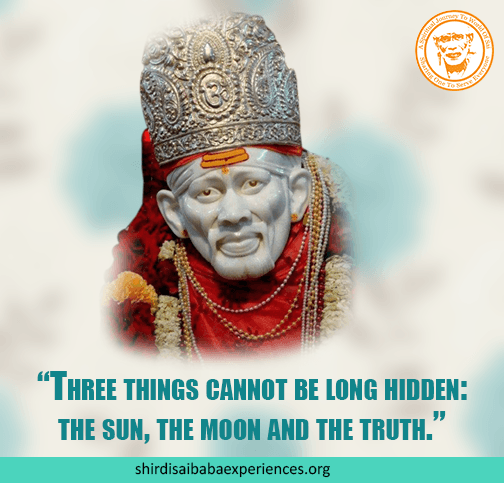 Anonymous Shirdi Sai Devotee from the USA says: Om Sai Ram. I am a small devotee who is currently staying in the USA.
Heartfelt thanks to the team who works behind this platform and devotees who read and submit their experience because of which many Sai devotees are benefited.
This is my very recent experience with Baba.
We had to start early in the morning to attend a friend's house warming function. We got ready and were about to start but did not find our house keys. It was raining heavily and we were already late. I and my daughter searched everywhere with no luck finding the keys. Then suddenly I remembered and called our Baba for help and told him to please help us to find keys and that I would post the experience on this platform. As soon as I prayed, my daughter immediately told me that the key was there itself on the countertop which was not found earlier. As promised here is my post, Baba. Thank You is a small word to express our gratitude to Baba. Om Sai Ram Om Sai Ram Om Sai Ram!
Sai Baba Udi Miracle
Anonymous Shirdi Sai Devotee from Australia says: I am a small devotee of Sai Baba. One day my kid got a fever and He always vomits if I give him medicine for fever. Then I thought that our beloved Baba's Udi is a miraculous medicine. So I applied Udi on my kid's forehead and started chanting Om Sai Rakshak Sharnam. I promised Baba that if the fever came down then I would post it on the site. Then my kid slept for a while.
When he woke up, the fever was still there. I took Baba's name and gave him medicine. To my surprise, my kid didn't vomit and his fever came down after some time. Thank You so much Baba for always taking care of us and helping us in need.
Second Miracle: Due to prolonged sitting I usually get pain in my back and legs. Every day I apply Baba's Udi and it has healed my pain. Thank You Deva for everything. Om Sai Rakshak Sharnam.
Thanks To Sai Baba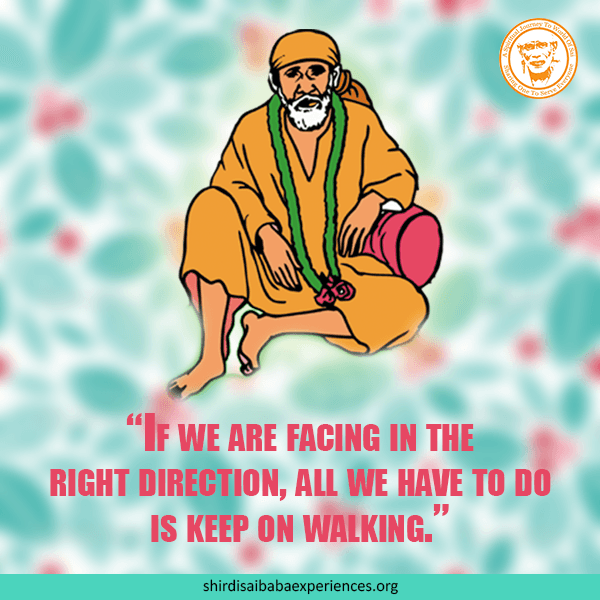 Anonymous Shirdi Sai Devotee from the USA says: Om Sai Ram to all Sai devotees. Thank You to the team for maintaining this blog.
Om Sai Ram. I want to thank Baba for His help in making me get some sleep the last few nights. I was having a lot of trouble and prayed to Baba that I would share the experience. Yes, our dear Baba helped.
There were a few other situations as well that I was in because of my fault but Baba helped me to get out of them and I am ever grateful to Him.
Sai Baba, You know what I am praying for, You only should make it happen. Love You always and I know I am not deserving of Your love but I will always and forever be at Your feet dear Baba. Thank You so much.
Sai Baba's Help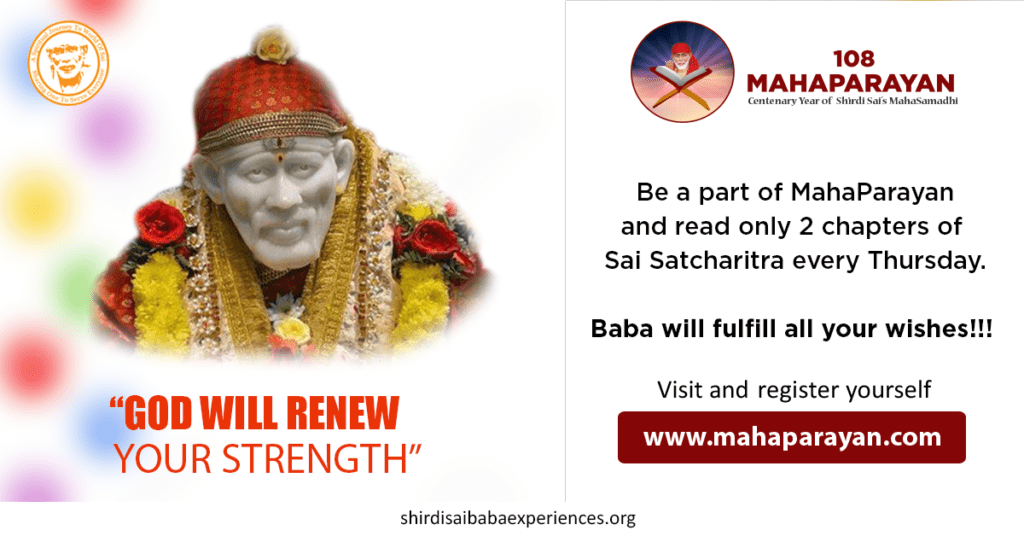 Anonymous Shirdi Sai Devotee from India says: Thanks a lot Hetalji and team for this wonderful opportunity to share experiences.
I am a Sai devotee and I believe that He can make miracles. He helped me yesterday with my work. As I had promised I am sharing it here. Thanks a lot, Sai for always helping me, supporting me, and blessing me. Kindly be with me Sai always. If You are with me then I don't have any fear. Sai please take care of my father's health. Pain is increasing day by day. We all believe in You Sai. Please help Him Sai. Please.
---
An interesting book "ShirdiChe Sai Baba" is being shared on Shirdi Sai Baba Books.com, in parts. It is a book worth reading by those who are keen in knowing veiled history of Sai Baba during His times. 
More from SaiYugNetwork.com
© Shirdi Sai Baba Devotees.com – Member of SaiYugNetwork.com