How Sai Baba Settled The Fight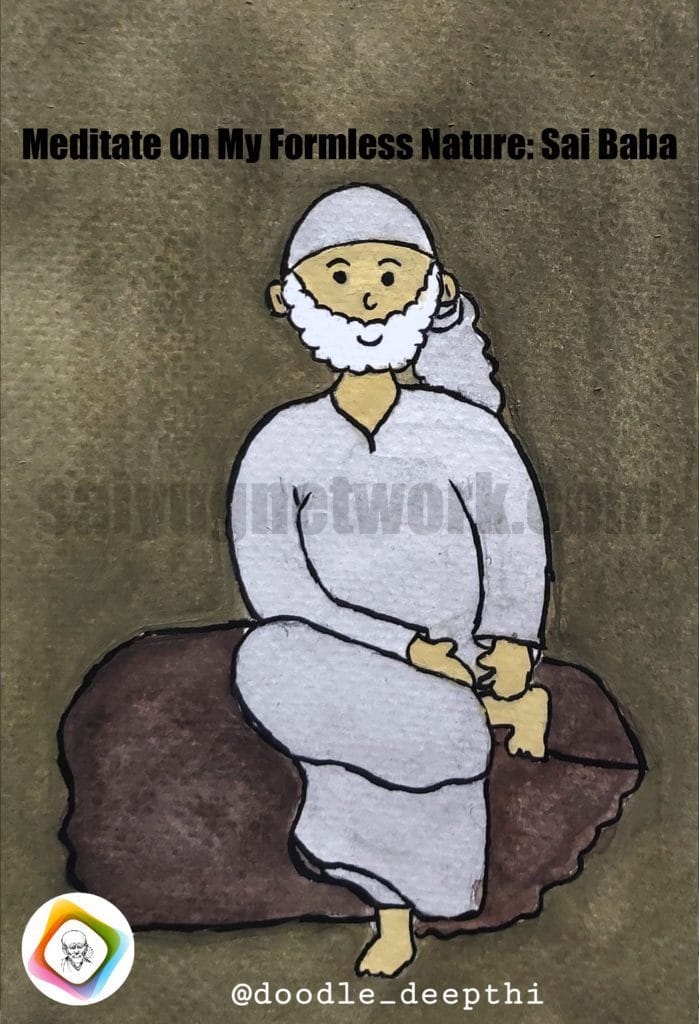 Anonymous Shirdi Sai Devotee from Japan says: Sairam. I would like to remain anonymous for this post. I would firstly like to thank everyone who works for creating and maintaining this platform and all those who contribute to this platform to keep us all connected to Baba and inspire us every day with their experiences.
My husband and I live in a different country and my son lives in Canada studying at University here. As all the Covid travel restrictions are being relaxed I immediately booked a flight to come to Canada and stay with my son but my husband could not join me due to the work situation. My son had just taken a three months break from UNI to take some extra credits outside and research on higher studies in other universities after his under graduation. Like thousands of children around the world, he was also stressed about his academic pressure and the pandemic had kept him isolated and he could not even mingle with friends. I came to Canada and he was very happy and relaxed.
His study permit and student visa had expired in July and he had applied for the extension way before the expiry date but he did not get his student visa stamped. The site showed that it was being processed. He applied in May but until now in October it is still being processed. He was very worried because he did not want to waste these three months but use them to get his driver's license and also find a part-time job. He was not sure if he could still work and get the license if his student visa was under processing. He called them multiple times but they would not even pick up the phone he sent several emails but there was no reply. Due to Covid regulations, they were not allowing people to go and enquire too and we were all very upset.
I had been patiently praying to Baba for several months now and keeping my faith but as days go by and a mother sees her child going through stress, my patience and faith flew away from me, and yesterday evening I had completely lost it. I did not show anything in front of my son but I was totally upset with Baba, screamed at Him, threatened Him, and even told Him that He was totally useless! I generally do not ask Baba to do many things and let Him take all the decisions for me, but this time somehow I lost it.
Today, being Thursday, my son and I went to the CIC office to enquire about his eligibility to work and I was not even sure if they would let us in but we decided to go anyway. Before going I was totally fighting with Baba and told Him, 'If they give a clear cut answer to the questions about his working eligibility and driver's license issue then I will go back to being patient and calm and just wait. But if they don't let us in or say some vague answer then Baba be ready, I am going to nag You day and night and give You no peace of mind.'
We went there and stood in the line with people who had come with appointments or for some other reason. It was raining and cold. We were fully drenched. We waited for over 90 minutes in the rain and I was chanting Sai Rakshaka Saranam Deva constantly. When our turn came the officer in the frontlet us in without a question. We went to the lady at the counter and my son asked about his eligibility to work with the student visa being processed and that lady said, 'Oh, we can't give you that kind of information, it is against our rule.' Just out of the blue another lady officer from inside showed up suddenly beside the counter and happened to hear our inquiry. She turned out to be one of the people who was well versed in these kinds of rules and she patiently gave all the answers to my son's questions. She also said of course he could work and told us about what documents to show to the prospective employer. If not for this new lady interfering, we would have come again without any answer. It was Baba's grace that brought her in the right time and blessed us. Baba also blessed us by sending my friend with her car to pick us up and take us out for lunch. I regretted fighting with Baba and am still apologizing to Him. Om Sai Rakshaka Sharanam Deva.
Sai Baba's Blessings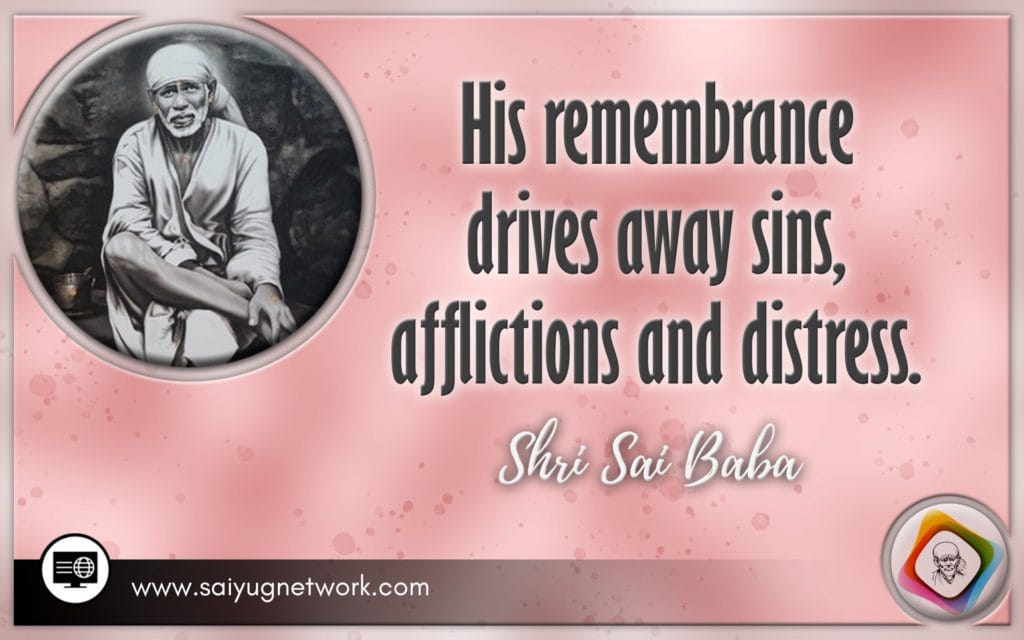 Anonymous Shirdi Sai Devotee from the USA says: Hello All, please keep my details anonymous. Thanks to Hetal mam and team for all your efforts. Thanks to all devotees for sharing their experiences.
Baba, thank You so much for helping me whenever I pray to You. Baba, please bless me to have steadfast devotion and faith. Baba, I think many times not to trouble You with all my problems but I have no one to go to or share my problems with. Baba, You are the one and only one Whom I have.

Thanks, Sai for helping my husband to get DL. Without Your grace, it would have been delayed.

One day I had a very bad headache. It was somewhat scary. The pain was different; which I had not experienced before. I prayed to Baba and applied Udi and slept. When I woke up I was fine.

A few days back I had a Nausea feeling all of a sudden. I prayed to Baba and had Udi water and after some time I was feeling better.

Thanks, Baba for helping me whenever I call You. Please bless everyone with good health and happiness. Baba, please bless me and my brother with some job please. I am going for an annual health check-up please be with me. My parents and husband are talking fine. Thanks a lot, Baba.

Sairam Sairam Sairam
Power Of Sai Naam Jaap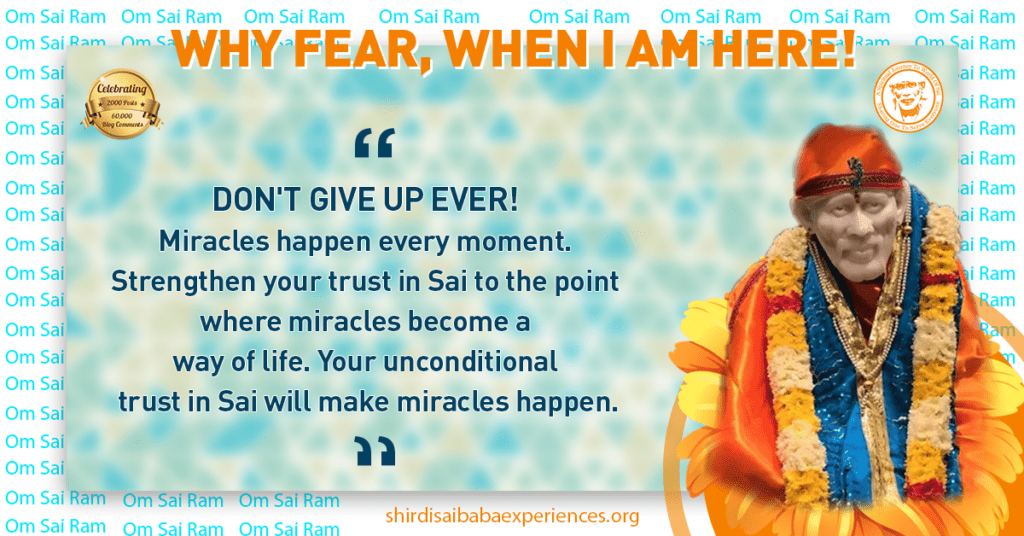 Anonymous Shirdi Sai Devotee Mahima from USA says: Why Fear when I am Here? Om Sai Ram to all devotees and people maintaining this platform. I have shared a couple of my experiences here and today I want to share another one.
My daughter got her flu shot and the next morning she was down with a cold and sore throat. I got tense and started chanting Om Sai Ram Naam. I gave her medicine and Udi water and applied Udi to her throat. She is getting better and she was able to attend school. Thank You, Sai Ram.
After two or three days my husband also got a cold, I gave him Udi water and chanted Om Sai Rakshak Sharnam Deva mantra 108 times. He is all better now.
Now my son has a cold and a sore throat and I am doing Naam Jaap, mantra Jaap and giving him Udi water. I know Baba will heal him soon.
Naam Jaap se bada koi Jaap nahi, isme bahut Shakti hai (Naam Jaap is the greatest and it has so much power).
Baba, please keep everyone healthy and happy. Keep Your hand of blessing on my family.
Om Sai Ram!
Thanks To Sai Baba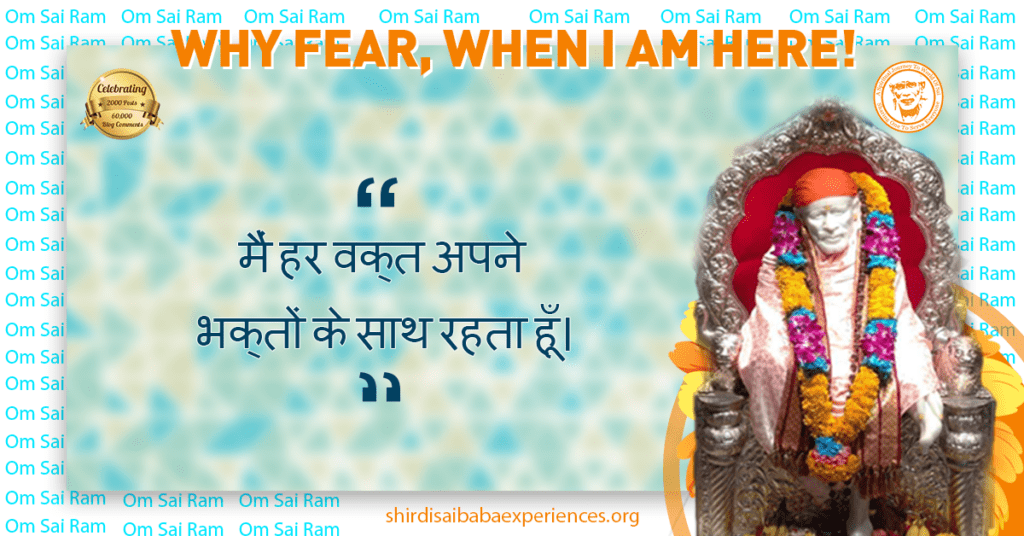 Anonymous Shirdi Sai Devotee from the USA says: Om Sai Ram. Sincere thank you to the team maintaining this blog.
I was praying to Baba to help me with a situation and that I will definitely share the experience here. I was so nervous that I can't explain but I had just left everything on Baba. I know He will always do the best and never hurt us.
Baba made everything go well and I cannot thank Him enough for blessing me in such a way. I am not deserving of Your love Baba. You know I am only dependent on You and I am praying that You will complete this work for us. I trust You, Baba. Thank You so much, Baba. Om Sai Ram.
Got Promotion By The Grace Of Sai Baba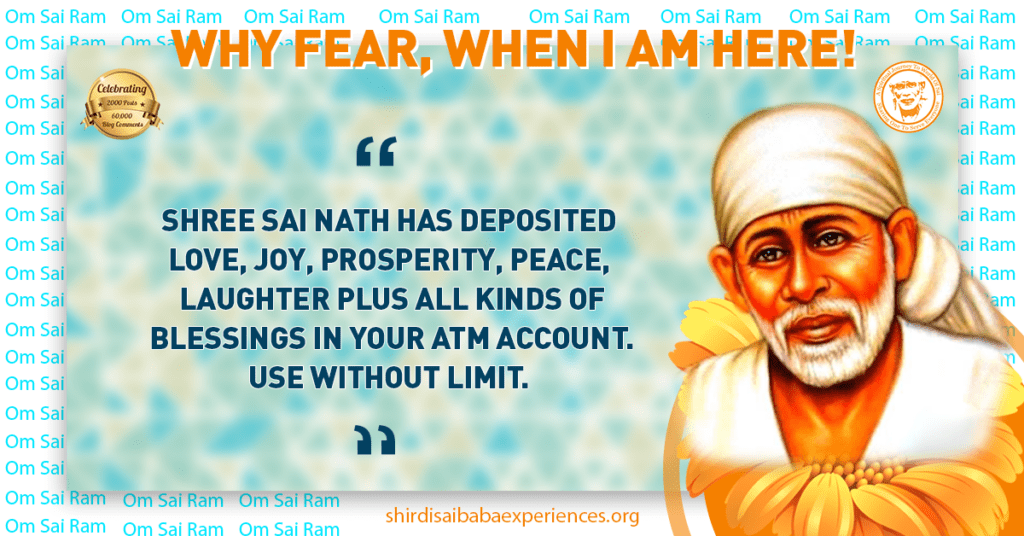 Anonymous Shirdi Sai Devotee from India says: Om Sai Ram! I would like to keep my name anonymous.
I am a staunch devotee of Baba for more than 15 years. Baba is my guiding light and has been with me all these years. Whenever I feel I have hit the lowest and will not be able to carry on further Baba does not let me lose and shows His presence in miraculous ways. Whatever little I have achieved in life is all due to His grace. I just pray to Him sincerely to guide me, be with me and my family and friends in the future as well.

Om Sai Ram!
Thanking Sai Baba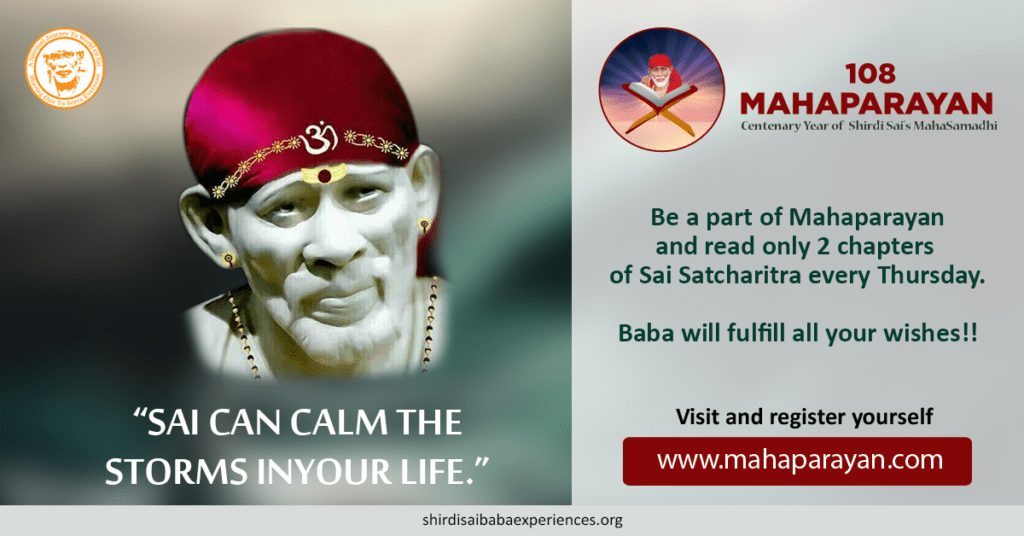 Anonymous Shirdi Sai Devotee from India says: I'm an anonymous devotee of Baba, thanking Baba. Saimaa thank You for reducing my toothache and bringing me out of that hell. Thanks, Maa. I love You Sai Maa.
---
An interesting book "ShirdiChe Sai Baba" is being shared on Shirdi Sai Baba Books.com, in parts. It is a book worth reading by those who are keen in knowing veiled history of Sai Baba during His times. 
More from SaiYugNetwork.com
© Shirdi Sai Baba Devotees.com – Member of SaiYugNetwork.com