Sai Baba Gave A Job
Anonymous Shirdi Sai Devotee from the USA says: Sairam, I want to be anonymous and share a wonderful Leela of my dearest Baba. I know He has been blessing every one of us in every possible way whether we realize it or not. But some miracles go unnoticed in everyone's life at least once.
Sharing this experience has been pending for two years. Baba, please forgive me!
I don't remember how I came across this wonderful site. As soon as I saw it, I registered myself and became a part of the Global Mahaparayan group. I was on a break with respect to my job and after two years started looking for a job. But I was not confident and was so tense thinking of entering the job market. Though with Sai Baba's blessings I have many years of experience and am confident in doing whatever kind of work there is at the office the feeling of interviews makes me uncomfortable. I prayed to Baba every single day to help me with a job and prayed sincerely that if I got a job then I would share my experience. Lo! I got a job in my dream company too with only one and one interview from a hiring manager! Though it was a contract position, I got to work for a big tech company which was my dream; so much that I remember writing in slam books of my friends in my college days that I want to work in that company at least for one day! I never thought I would work. But when Baba is with us what is not possible!? The faith in Baba and patience in waiting to get there would definitely take us anywhere.

Now after one year of working there I had to go on a break again because of my work permit and stopping contract employees which happened at the same time. Totally because of the work permit approval pending I had to go on a break for one more year. And now that I have got my work permit, I have started looking for a job again. I have my first round of interviews tomorrow (October 25, 2021). Baba, please help me to get through all the interviews with this company and get a job. A sincere request to all devotees to include me in the prayer as well. I again pray to Him sincerely that if I get this job then I would again share my experience and this time I would do it as soon as I get a job. Please Baba, please help me!

Thanks to Baba and everyone who is responsible for making this happen. Thanks to all the Sai devotees here whose energy helps every other devotee collectively to make things happen with the help of Baba! Om Sai Shree Sai Jai Jai Sai! Om Shree Sairam!
Thanks And Prayers To Sai Baba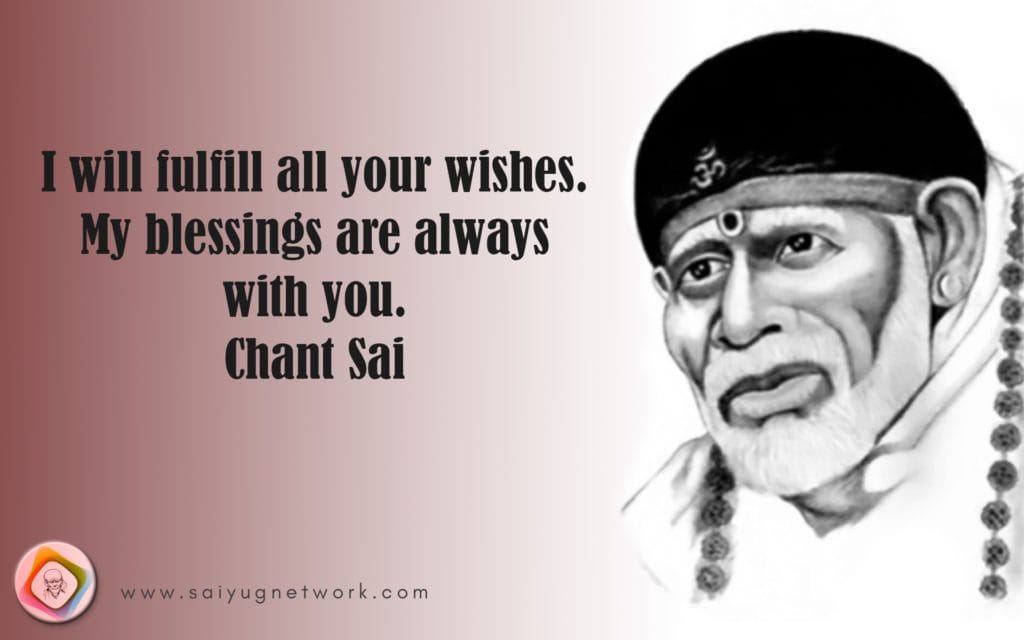 Anonymous Shirdi Sai Devotee from India says: Thanks to Hetalji and the team for their wonderful Satcharitra.
COVID Fear – We spent a weekend with our son. Both my husband and I fell sick with cold and cough. We were concerned about COVID as he was in and came back home and got it tested. Thanks to Baba as it came negative. We are feeling much better now. Baba, please keep my family safe from Covid! Om Sai Rakshaka Sharanam!

Dance – Few of the ladies planned to practice and record a dance for an event. It was challenging to coordinate with all, but we met, practiced and the recording went very well. One of the ladies who is good at photography came to help us out. Also, thanks to my husband who came to help us out, which was a total surprise for me and I was very happy. The weather was also very cooperative. This was possible only with Baba's blessings. Om Sai Ram! Baba, please bless us to have a successful dance event, and may people donate generously.

Son's School – My son started college, trying to work on a business, adjust to the weather, etc. Baba, please show him the right path and help him make the right decisions. Please help him with his mid-terms and he really wants to do well and work hard. He also wants to get into good clubs. He has interviewed for consulting club and please bless him to do the interview well and get admitted into the club. Please help him with his business and give him the strength and courage to handle any tough situations. Please guide him and bless him with good health, education, and success. I will repost this. Om Sai Ram!

Daughter's life – I am worried about my daughter's life. She is getting old and is yet to find a suitable boy for herself, Baba. Please guide her to do the right thing and help her find a nice boy who is educated and from a good family. I will repost this. Om Sai Ram!

Thanks for everything Baba! Please bless my mother, sister, brother, and their families and my husband and kids with good health, education, success and give us enough strength and courage to handle any situation.
Passed The Driving Test With Sai Baba's Blessings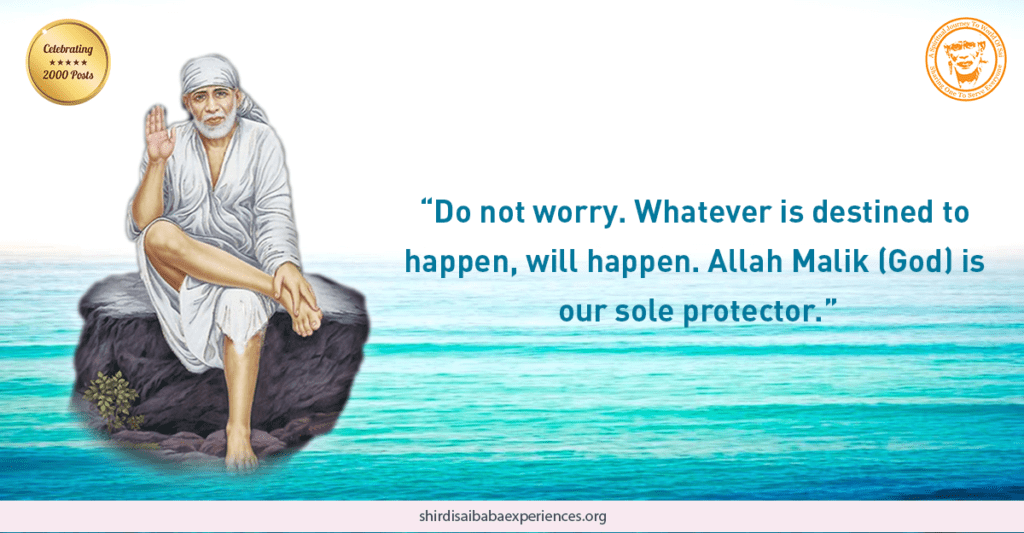 Anonymous Shirdi Sai Devotee from India says: I am a housewife from Hyderabad and a blessed daughter of Sri Sai Baba. Om Sairam! Thanks to Hetalji and the team for providing us with this wonderful platform to share our experiences with other Sai devotees.
This is a very recent experience of mine where Sai helped me learn driving and clear my driving test to get a permanent driving license. Whenever I used to see women driving, from the bottom of my heart I used to pray to Baba to provide me enough courage and confidence to learn. In the past, I had always wanted to learn driving but could not ever succeed due to my low confidence level.
Several times I and my husband had discussed buying a new car for me but never bought one. After joining the Global Mahaparayan he suddenly decided to buy a car for me and within two months I had a car for myself.
By Baba's blessings, I gained some driving experience but the next big challenge was to pass the driving test. So I applied and appeared for the test but unfortunately failed. I felt extremely discouraged and got angry with Baba for not helping me. Soon I realized that He did not help me pass the driving test because I lacked the expertise and needed more training.
I started practicing more and more and applied for a retest. Meanwhile, I got a "yes" from Baba through the yes/no chits. Also, Sai prashnawali Baba assured me that I will pass between the new moon and full moon day. This time I actually managed to clear the test.
To my surprise, the test day was actually between the new moon and full moon day.
So once again I was convinced how Baba actually fulfills our each and every wish but only when He feels we are prepared for it and the time is perfect. So with folded hands, I request all devotees to have absolute faith in Baba, never lose hope, and trust His timings. He knows when is the right time to grant our desired wish.
Sai Baba Took Care Of Mother's Health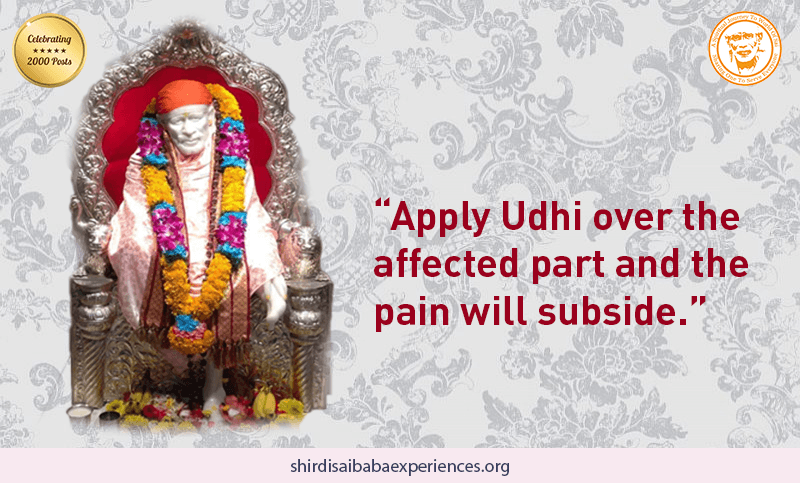 Anonymous Shirdi Sai Devotee from India says: I am a Sai devotee from Bangalore.
This experience proves that Sai hears His devotees' prayers and runs to help them in times of crisis. My mom, who is diabetic, was suffering from gastritis and had become weak due to purging.
On Wednesday morning while doing routine pooja she fell down unconscious due to weakness. I was scared to see her in that condition and literally prayed to Sai.
The same day we admitted her to the hospital and I returned home as my father was staying back in the hospital. Once I returned home I started crying in front of Sai and prayed to Him from the bottom of my heart to take care of my mom's health.
Look at His miracle then; the same night I had a dream of Sai mandir and Sai idol ( which was a Thursday). This time onwards my mom started getting recovered and in two days she was back home with all vital parameters being in the normal state. Such a relief! I couldn't thank my Sai more and this entire experience was just His Leela. I had promised Him that I would post this experience immediately after my mom recovers and gets discharged from the hospital. Thank You, Sai and I Love You!
All the fellow devotees, please have faith in Him always and you will see that miracles will be happening always! Then you will reach a stage when His miracles won't be a surprise but it will just be a NORM because you will have so much faith in Sai that your inner voice will
just say "Sai will take care!"
When you are a Sai devotee just report to duty and do your job (to have faith and patience).
Sai Baba Is Father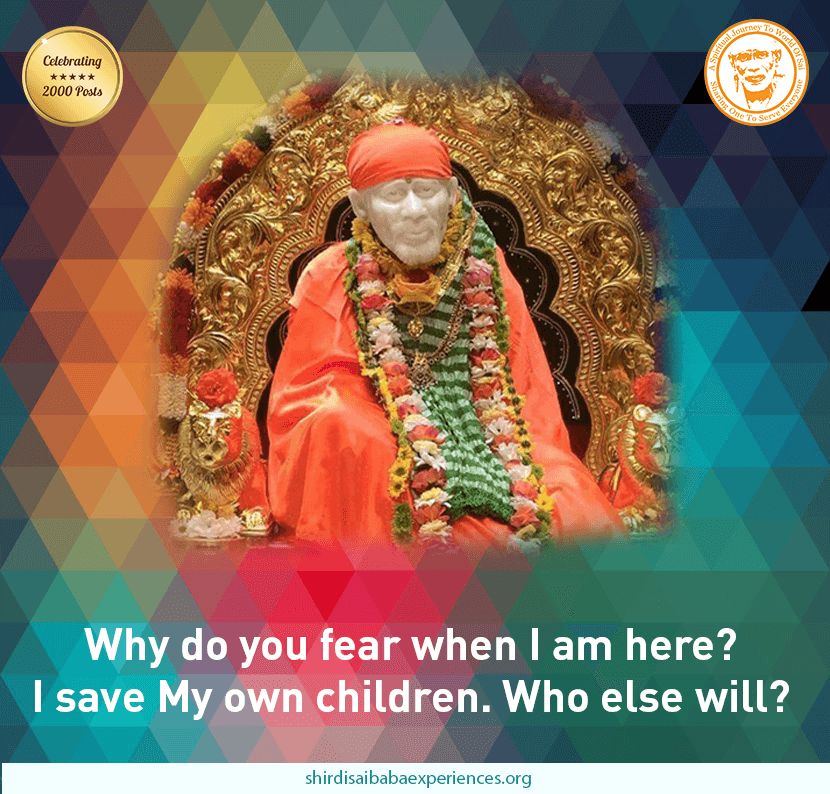 Anonymous Shirdi Sai Devotee from the USA says: Thank You, Baba, You are my father. I don't have a mother because I lost her long back. But Baba You are my father. Baba, as I said I lost my mother long back. I have my father and Baba is my father as well. I ask Baba so much and trouble Him a lot.
I am always afraid that when there is any festival or birthday I might be sad or tense for some reason. I was praying Baba that let Navaratri, Dasara be good and I should be happy. Also, there was a birthday, which was on the 24th of October and it should be a happy day. I told Baba that if all the time I should not be tense or worried and that I would share the experience. Baba heard my prayer and Navaratri, Dasera and birthday went well. Thank You, Baba.

May this Diwali be very, very happy, healthy, and full of joy to all my family. And I will share my experience again. Baba sorry to disturb me again and again.
Thanks To Sai Baba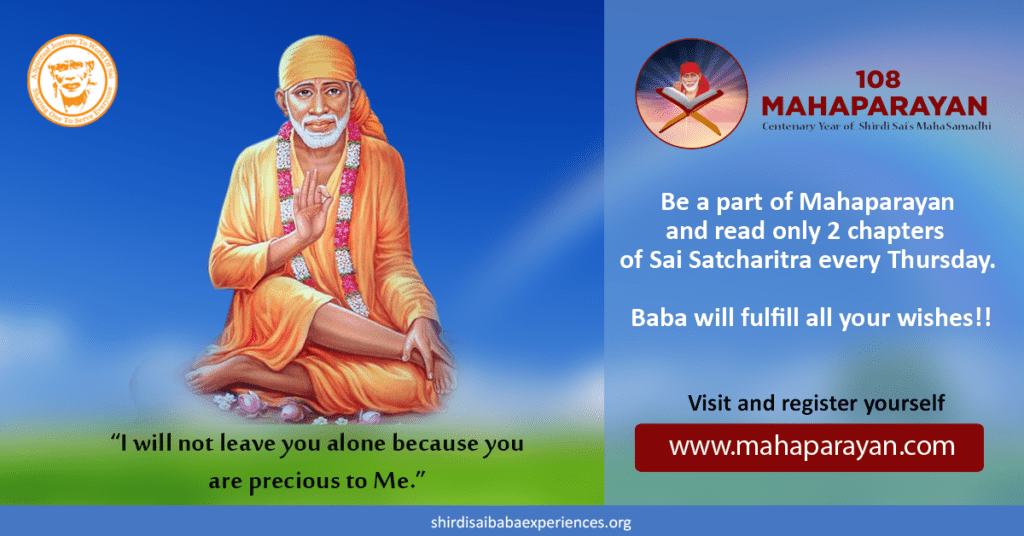 Shirdi Sai Devotee from USA says: Om Sai Ram to all Sai devotees. Thank you to the team for maintaining this blog.
Om Sai Ram. I am a very small devotee of Baba who makes a lot of silly mistakes but Baba is always there to help me. I was praying that a meeting should go well and that if it does then I would share the experience.
Yes, it went well. I have much gratitude for You Baba. I am not able to express it in words. Thank You for taking care of the other situation that I was praying about as well. Baba, I do not deserve You nor I am worthy enough of Your love but thank You for always being there for me. Devotees, please surrender everything to Baba. He is there and no matter what we think He will give us everything that we need and more. Thank You so much, Baba.
---
An interesting book "ShirdiChe Sai Baba" is being shared on Shirdi Sai Baba Books.com, in parts. It is a book worth reading by those who are keen in knowing veiled history of Sai Baba during His times. 
More from SaiYugNetwork.com
© Shirdi Sai Baba Devotees.com – Member of SaiYugNetwork.com