Sai Baba's Love – Light Of Love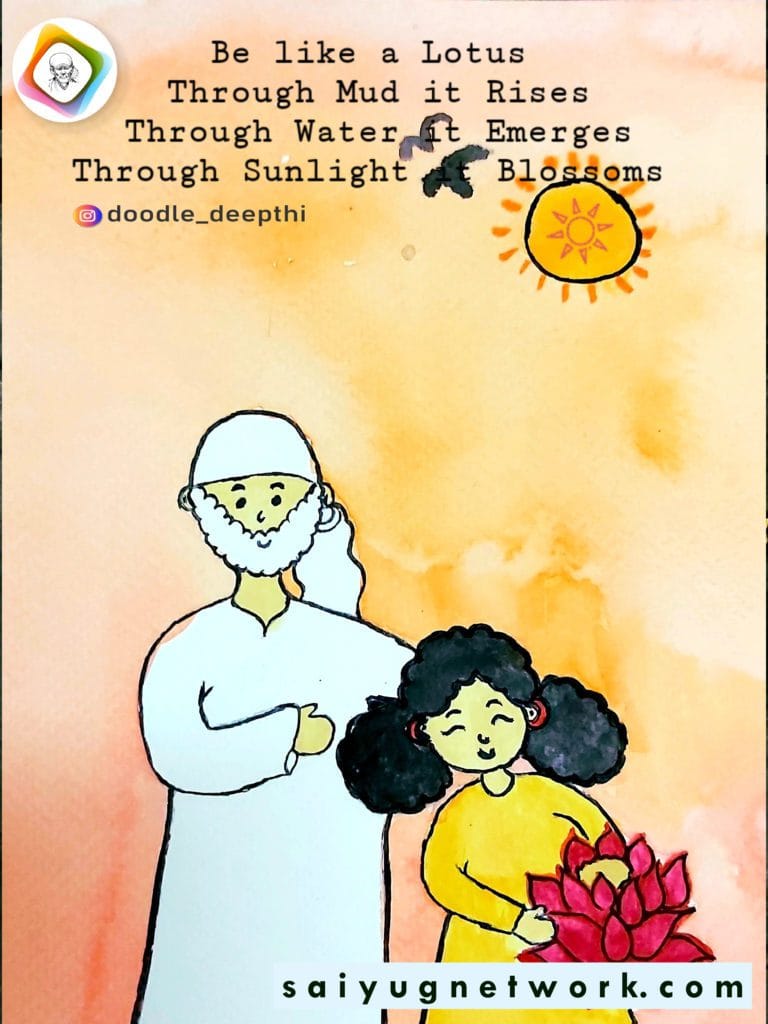 Anonymous Shirdi Sai Devotee from India says: Om Sairam! Thank you to all the people who are behind this platform. For the past three days, this blog didn't work and I was a little sad but thankfully now the blog is back.
I would like to share a few experiences with which Baba has helped me and my family. Baba, because of Your grace we were able to buy a car. We think of it as Your blessing only. Baba, now it is causing some problems. We are very worried. Please make it alright, Sai.
I don't know Saima if I did anything wrong but why did the accident happen to my father Sai? He also got affected by diabetes but still, he is not changing his health habits. I beg You to please cure his injuries quickly and let him stop or reduce his smoking and drinking habits and make him develop healthy habits, Sai.
Sai, my mother is having some swelling in her legs. What everyone is saying is scaring me. I don't have anyone except You. Please make my parents healthy, Sai Maa.
My mother was having some inspection in the hospital in which she is working. All the staff members had made all the arrangements but my mother was very scared. I prayed to Baba that if everything goes well then I would post here. Thanks, Baba that the program went well by Your grace.
Currently, amidst the Covid, my parents and we all had to attend two wedding ceremonies but I was scared. I prayed to Baba again to take care of us. Thank You Baba that You protecting us.
Baba, please forgive me if I forgot anything that I promised to post.
Shirdi has opened again after the second wave. I beg You Sai to please don't let us again be hit by Covid. Please stop this pandemic completely. Shirdi should be inviting all the devotees all the time and this time it should not close because of anything. Please protect us, protect Your children and protect Your creation Sai.
Mother Became Alright with Sai Baba's Grace
Shirdi Sai Devotee Saranya from India says: Thank you Hetalji and team for this platform that brings all Sai devotees together. Sharing my recent miracle with all Sai devotees.
My mother suddenly fell sick a few days back. She had vomiting and diarrhea at least six times in the middle of the night. She did not tell any of us and the next day morning she could not get out of bed. She was extremely weak as she is old. I panicked as I don't have my father and got scared if something would happen to my mother. So I gave her Udi water and prayed to Baba that I would share my experience here if she got alright. That evening I took her to a hospital and they gave her some drips and medicine and sent us back home. The next day she looked better and I continued giving her the medicines. By the middle of the night she had stomach discomfort and pain, so we took her to the hospital and gave her drips. And the whole time I kept praying to Baba to please cure her the next day. And my dearest Baba cured my mother just like I prayed and here I'm sharing my experience with my Sai family.

Thank You Baba for always being there for me. Baba, You know my long-term wish of getting married. Please bless me with the right boy and get us married. Baba, so far I don't like the profiles that I am getting and the ones I like are not interested. Not sure why it has been happening for many years. Please, Baba, bless me to get me married to a guy I like or make me like a guy You show. I really need Your blessings and miracles, Baba. I feel so lost in life because I am not able to make this decision and I feel stuck. Please, Baba, I need Your guidance. Please bless me with the right guy. Please, Baba. Om Sairam.
Sai Baba Is Everywhere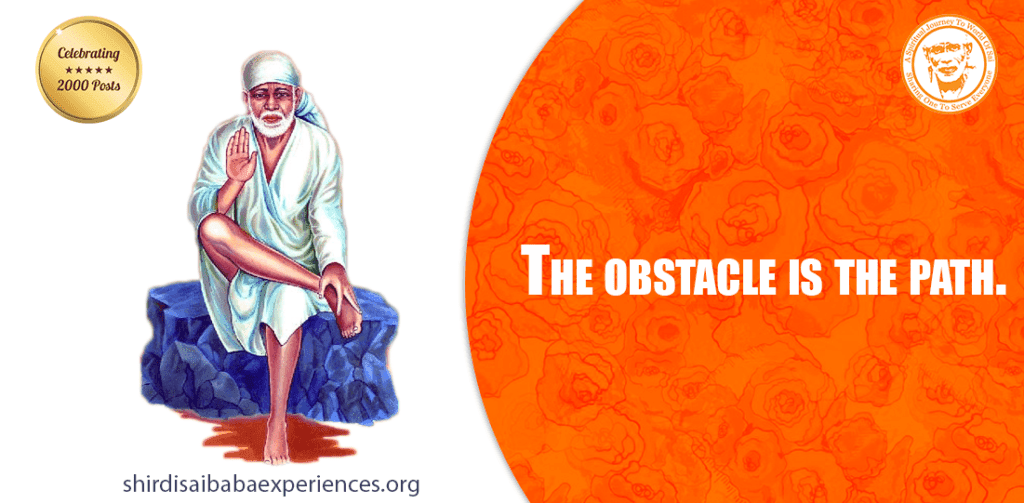 Anonymous Shirdi Sai Devotee from India says: I am a normal devotee of Shree Sai Baba who experienced His miracle. I have a foreign friend whom I met online but never met personally. We have known each other for 2.5 years. I often tell her about Sai Baba. She is a Buddhist. Once I asked her to get a photo of Baba and started offering regular prayers. She happily agreed and on the same day, she printed a picture of Baba, framed it, and started offering Him her Namaskars and garlands.

One day she sent me a picture of her friend who was shifted to the ICU due to Covid. I asked her the name of her friend. I told her to pray to Baba so that she could go home straight from the ICU as He is the most powerful God for me. I also prayed to Baba and read a Sai Satcharitra chapter for her friend. We requested Baba to please help us.
After three days when I asked where her friend was, she said that she was home and recovering so fast that even foreign doctors were amazed. I was stunned. Thank You Baba for helping us and even the people who do not even know You. Please help every devotee of Yours who is in dire need of Your help. Thank you to Hetalji and the team for giving us this platform. Please accept our humble Pranams at Your lotus feet and thank You so much for saving us from big troubles.
Thanks To Sai Baba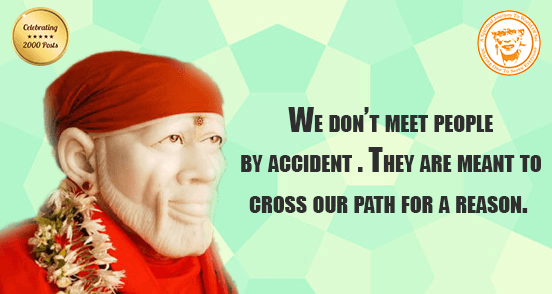 Anonymous Shirdi Sai Devotee from India says: Thank you Hetalji and team for providing us with this platform where we can share our miracles.
Thank You Baba for helping my mother's bank problem to get solved. She had got her account blocked during an online transaction but by Your grace, she managed to send the required message and got her account unblocked. She also remembered whom to call for proper advice and You helped her throughout.
Without You Baba we are nothing. Thank You Baba for giving us Your Udi. It is really a miracle. By drinking Udi water only for two days I finally got my periods much before my travel. I was so worried but Udi helped me so much. Udi always rescues all our health and other problems. I am so helpless without You Baba. Thank You for always being there for me. My life would be so difficult without You Baba. Om Shirdi Vasaya Vidmahe, Sachidananda Dheemahi, Tanno Sai Prachodayat. Om Sai Ram.
Gratitude To Sai Baba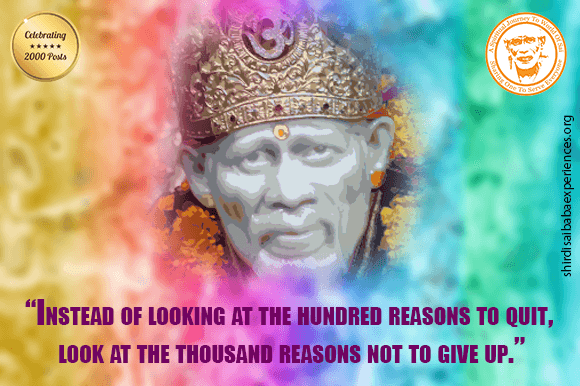 Anonymous Shirdi Sai Devotee from the USA says: Om Sai Ram to all Sai devotees. Thank You to the team for maintaining this blog.
Om Sai Ram. I want to thank Baba for His help in helping me get some sleep. I was having a lot of trouble and I asked Baba for His help. Yes, He took care of me like a mother and helped me sleep.
Another thing I want to thank Baba for is, I was in a very difficult situation. I had no idea how to resolve it and was praying to Baba that if He makes everything go smoothly then I would share the experience. It was a wonder how beautifully Baba solved it and helped me. The last thing is Baba saved me from a tough situation and I am ever thankful to Baba.
Sai Baba, You know that I am Your child and that I make a lot of mistakes. Thank You for always helping me even though I do not deserve it. Thank You so much, Sai Baba.
Sai Baba Helped With Video Recording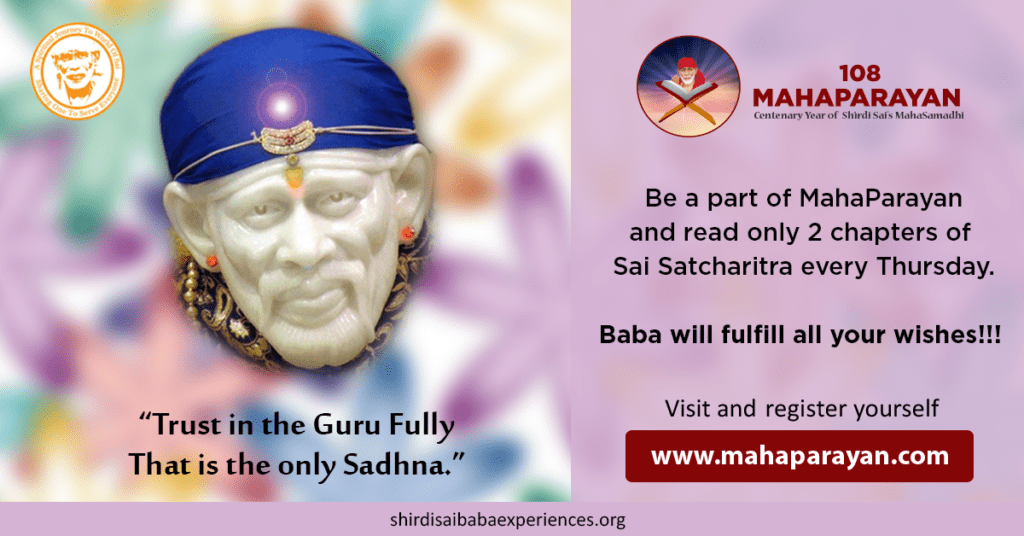 Shirdi Sai Devotee Harish N R from USA says: Om Sairam! I am a simple devotee of Baba.
Yesterday, I was recording a song that my wife was singing and that needed to be submitted to some other organizer forum. But, since we started late my phone switched to night mode at 10 pm and the video being recorded was showing up black and white. I noticed this nine minutes later and started adjusting during her live recording and was praying to Sai, "Please theek kar do(please make it fine)and please keep the video in color format." To my pleasant surprise when I played the video and turned off night mode, the video was intact and in colour mode. This is a small Leela but due to the timing, circumstances, Sai really saved us from re-recording. Jai Jai Sai!
---
An interesting book "ShirdiChe Sai Baba" is being shared on Shirdi Sai Baba Books.com, in parts. It is a book worth reading by those who are keen in knowing veiled history of Sai Baba during His times. 
More from SaiYugNetwork.com
© Shirdi Sai Baba Devotees.com – Member of SaiYugNetwork.com