Sai Baba Is The Protector
Anonymous Shirdi Sai Devotee from India says: I am an anonymous devotee of Sai Baba from India and thank you Hetalji for maintaining this holy blog.
Sai cured my Baba's tooth pain. He was suffering from a lot of toothache for a week. He showed me to the dentist. He told me to remove the teeth. So he got worried and I was also worried about this. I prayed to Baba for taking his pain. Then after two days he again went to another doctor where he suggested a root canal and did the same. Now he is relieved from the pain. Thank You so much Baba for curing my Baba. Protect my Appa and Amma Sai. Keep them healthy and give them peace. Be with them. Thank You so much Baba because I have written many experiences but for about six months none of them got published. I had completely lost interest in writing experiences and suddenly during my second parayan, my experiences started getting published. Thank You so much, Baba.
Om Shirdi Vasaya Vidhmaye Satchidananda Dhimayi Tanno Sai Prachodayat. Om Sai Ram. Om Sai Rakshak Sharanam Deva.
Sai Baba Answered Prayers
Anonymous Shirdi Sai Devotee from India says: Hi to all Sai devotees. I am in Chennai. I want to post my experience of Sai Baba. I had promised Baba to post. Please don't disclose my name. Sai Appa (father) please forgive me if there are any mistakes in this post.
Last year my daughter had an eye check-up and she had myopia with high power. I prayed Baba not to increase anymore and there should not be any eye disease. I did 9 week Sai Vrat and regularly I chanted Sai mantras. Two days back we went for a regular check-up. There the doctor told slightly power had increased but there was nothing to worry about. At the time of the check-up by the doctor I imagined the doctor as Baba and that he is the best doctor ever in this world. It took almost two hours and at that time I chanted Sai slogans. Baba answered my prayers. He never leaves His devotees in pain and crying. He is the doctor and His Udi is the medicine for all the diseases. Om Sai Shree Sai Jaya Jaya Sai.
Sai Baba Changed Devotee's Daughter's Life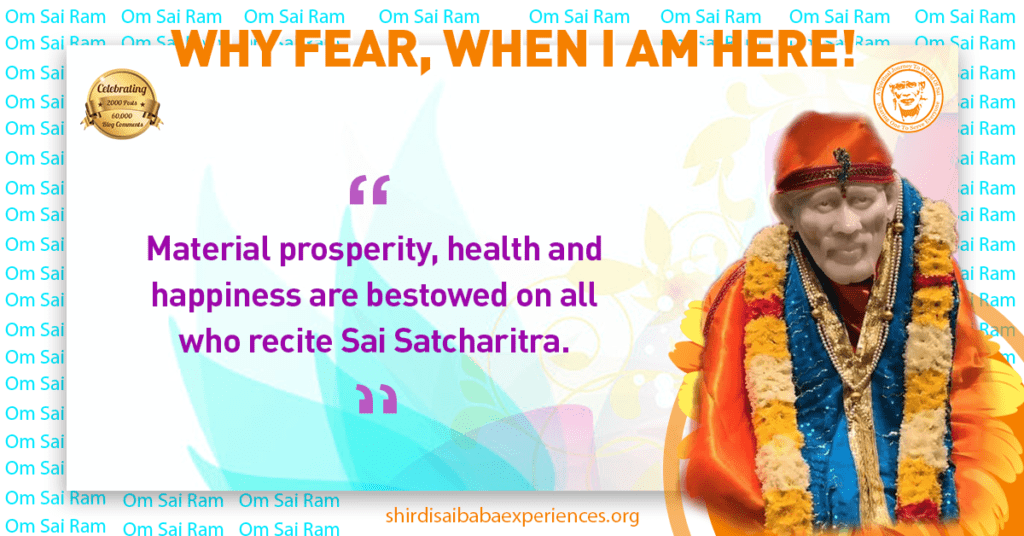 Anonymous Shirdi Sai Devotee from India says: I want to be anonymous. I am a Sai devotee from India.
Thanks a lot, Hetalji. I am a Sai devotee. Here I am sharing my miracle. My daughter is now studying in class XI. I recently put her in a hostel in a private school. She is a single child. After her willingness for her future studies, I put her in a hostel. She was doing well there.
Once she became sick and was brought her back home. After she recovered once again she went to the hostel. But this time she was so adamant to study in the hostel. I didn't know what to do, considering her future life we put her in a hostel. Further, we did have a better school near our place. I just prayed to Sai Baba to please be with her and make her understand. Sai Baba brought a miracle in her life and finally, she said that she would stay in the hostel considering her future. Om Sai Ram. Thank You Sai Appa.
Sai Baba Experience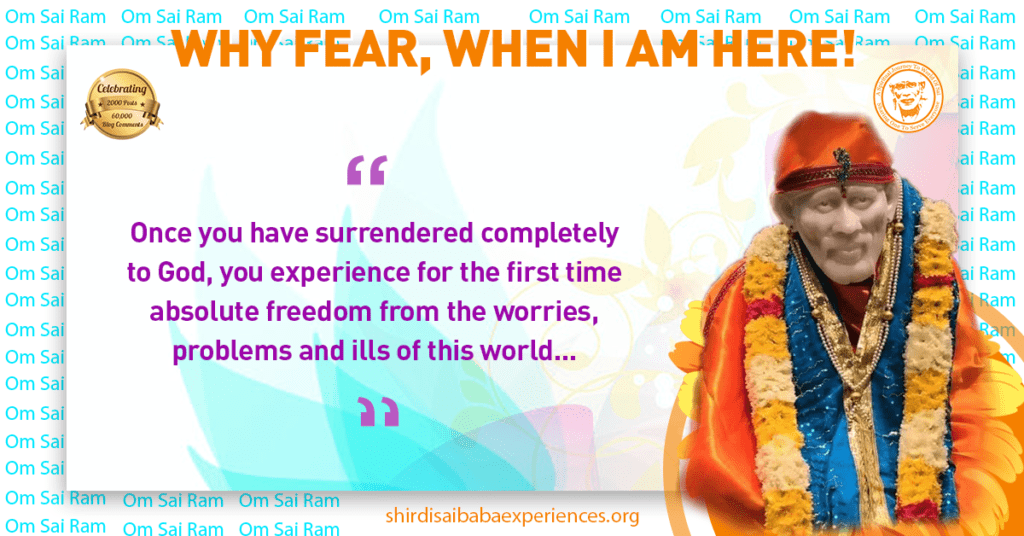 Anonymous Shirdi Sai Devotee from the USA says: I am very fortunate to start this parayan.
My father was hospitalized and was in a very serious condition and all our siblings are far away and we were very, very tense. But I had immense faith in Baba and prayed to Him sincerely to take care of my father. I feel that the doctor who was responsible for taking care of my father was none other than Baba Himself. Because we have never seen anyone who could be so supportive and had taken so much care of my father and updated us from time to time. Finally, my father was out of danger after 15 days and it was exactly Thursday that we came to know that he was doing fine. I told myself that I would post this experience to express my gratitude to Baba for all that he does for His children. Jai Sai Ram!
Thanks To Sai Baba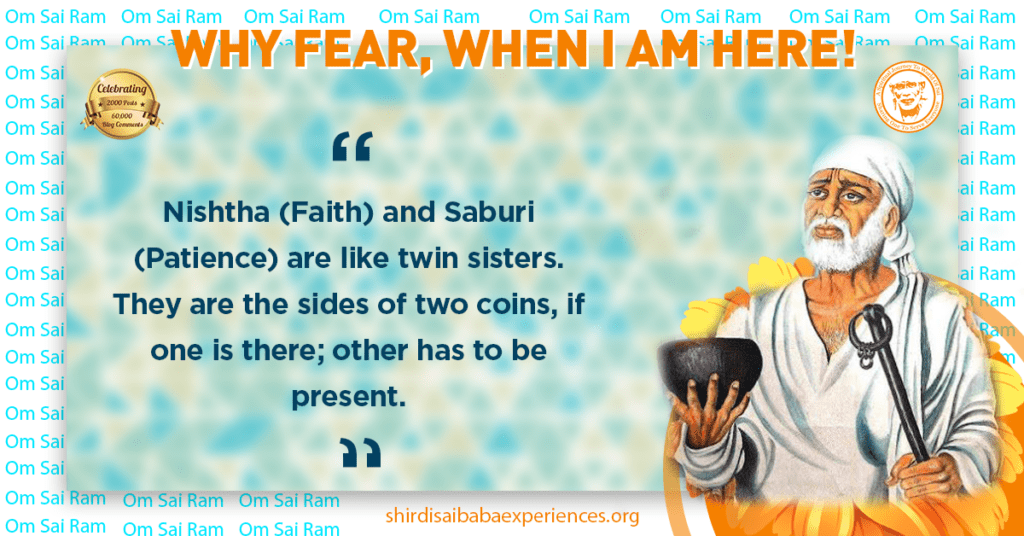 Anonymous Shirdi Sai Devotee from India says: Om Sairam! Om Sairam. Thanks to everyone who is maintaining this wonderful platform.

Regarding my experiences recently, my brother and his family were running with fever and I prayed Baba to get them cured. As usual Baba through blessings answered my prayers and they have all recovered completely. This is all due to Sai Baba's blessings. My skip level meeting went well, thanks, Baba. Overall, the week went well due to Baba's blessings. Please help me Baba to complete the outstanding tasks and help me not to keep any pending work at my work. Thanks, Baba for all Your support. I always pray for You to make people follow Your path to go in the right direction. Om Sairam!
Sai Baba Kripa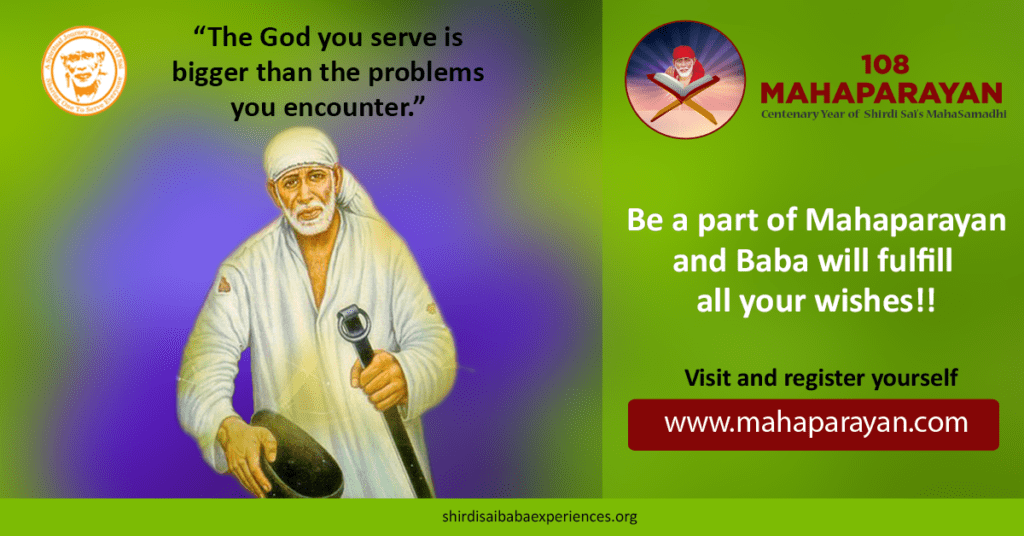 Anonymous Shirdi Sai Devotee from India says: I am a small devotee of Sai Baba. Recently I have had many experiences. Sai has helped me in so many ways. My father's sugar level has improved. My son has left breastfeeding. My nephew's allergy is cured. All this happened due to Sai Baba s Kripa. Om Sai Rakshak Sharnam Deva!
---
ShirdiChe Sai Baba Book
A book that can be considered next to Sri Sai Satcharitra is available for reading on our blog, kindly do not miss reading it.
More from SaiYugNetwork.com
© Shirdi Sai Baba Devotees.com – Member of SaiYugNetwork.com