Return Of Unused Sector And Issuing Of A New Ticket
Anonymous Shirdi Sai Devotee from Russia says: I am working in Russia and basically from India.
Om Sai Ram to all the devotees and to our very own angel, Hetalji for maintaining this blog so devotedly and dedicatedly and thus giving us all devotees the much-needed energy and devotional realization which is missing either due to our lifestyle that we tend to lead or on the pretext of hectic work schedule.
I would prefer to remain anonymous and hereby share that in the last few months, I have had many experiences and sharing below one of the most amazing incredible experiences, which if not for Sai Baba's omnipresence intervention this miracle would not have happened.
Experience: Baba helped me to cancel the unused sectors of my return ticket which was under one single PNR 24 hours before the flight and had a new ticket reissued due to foolishness of mine. The ticket was issued by my company based on the travel route I had requested (Saint-Petersburg-Moscow-Delhi -Ernakulam / Ernakulam-Delhi-Moscow-Saint-Petersburg). Onward journey was smooth, but the return journey, as I had flown to Bangalore to see my parents, I purchased my own ticket to Delhi from Bangalore, and then was to take the flight from Delhi to Moscow two days later. I had requested my office colleague to book the seat for the return journey based on the ticket issued by my company on the eve of the flight date. He reverted, telling me that it was not possible since the ticket was under one PNR and since I was not flying from Ernakulam it was not possible to reserve the seat.
Now the panic in me started as it was almost evening in Moscow when I informed my office about the blunder, I informed the travel coordinator through whats app message. Luckily the travel coordinator happened to see my message and responded immediately, saying that due to short notice of the time, she was afraid that it would be very difficult to resolve that issue. At this moment I knew that the only person Who could get me out of this terrible situation created by my foolishness was our very own Sai Baba. The travel coordinator was worried that she would not be able to reissue a new ticket, as it was the last moment and only two flights per week, many students studying in Russia were returning to the university after their holidays. During these tense moments I was hugging the Sai-Satcharitra book to my chest and was talking to Sai Baba to get me out of this mess.
One hour after my communication, the travel coordinator messaged me back saying that she not only managed to get the return journey cancelled but also got a new ticket issued and more importantly at no additional costs. Had this miracle not happened I would have ended up staying in Delhi for another 4 days at my own expense and for days of unapproved leave.
I really don't know how to thank Sai Baba, or any number of praises will not be enough, I can only say to all the devotees that He is always present everywhere irrespective of whether you're in trouble or not. We realize it only when we are in trouble. Just believe in Baba and He knows the best for all of us. Om Sai Rakshak Sharanam, Om Sai Rakshak Sharanam, Om Sai Rakshak Sharanam, Om Sai Rakshak Sharanam, Om Sai Rakshak Sharanam, Om Sai Rakshak Sharanam, Om Sai Rakshak Sharanam, Om Sai Rakshak Sharanam, Om Sai Rakshak Sharanam.
Sai Baba Kripa
Anonymous Shirdi Sai Devotee from India says: Om Sai Ganesha. Pranam to all Sai devotees. Thank You Hetal Mam and team for this wonderful site.
Sai Baba, thank You for helping me one more time. Hetal Mam please keep my identity anonymous. Sai devotees I don't have words to explain Baba's Leela; how He helps and in what way. This is my job related experience.
I work in a Pharma company and here data integrity is a major issue. I had signed some documents back dated which were identified by our reviewer person and he took this matter to HOD. Now I was in fear of what to say.
Silently I prayed to our saviour Baba as always and kept this issue at His lotus feet. As usual, nothing happened and HOD said that we could explain the thing.
The second experience is that one backup file was not generated on one PC and I also failed to check the same. Now if this issue came in front then again I would have been held responsible but with Baba's Kripa no one noticed this.
Thank You Baba for keeping Your Kripa on me. I wrote about my experience on this holy site as promised. I know I am not able to follow Your teachings in daily life. Please forgive me for all the mistakes done knowingly or unknowingly and always take me the way You want.
Baba, please bless my parents, family and friends with good health and thoughts. Tomorrow we are taking daddy to the doctor. Please see to it that his health problems should be cleared soon and he will be perfectly healthy and fine. I will write the same here.
Om Sai Ram. Om Sai Rakshak Sharanam Deva.
Sai Baba Is The Saviour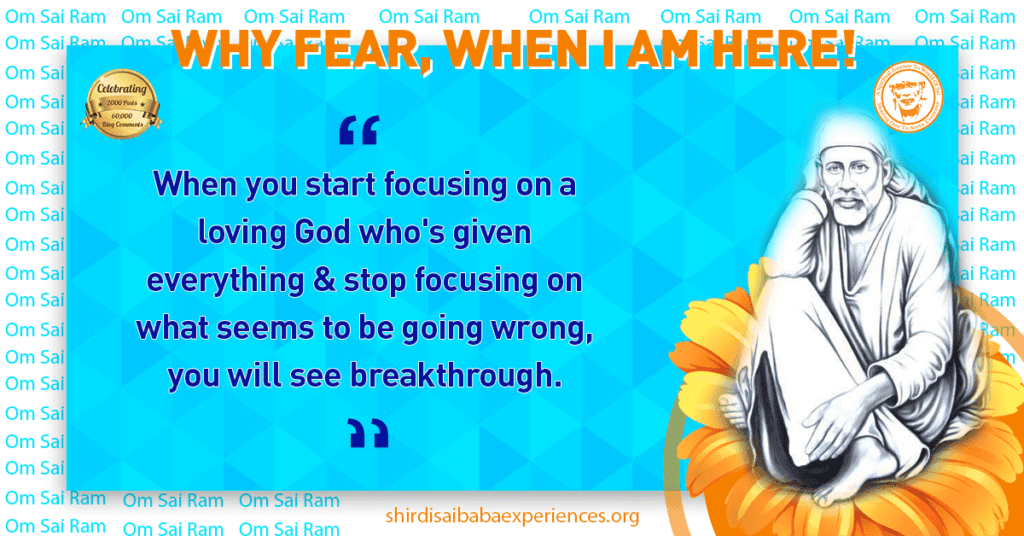 Anonymous Shirdi Sai Devotee from the USA says: I am a Sai Devotee from the USA staying with my husband and kid.
Thank you Hetalji for this platform where we can share our innumerable experiences with Baba in everyday life.
Om Sai Ram to all the devotees! Coming to my experience today we went to Walmart for shopping and my kid was holding the car and the home keys. While playing he kept it somewhere and did not remember. So we searched everywhere. It was 11 at night and the store was closed and no one was helping. Even the camera was not in that area to locate. Then I prayed so much to Baba my Saviour that as always Baba came to rescue and suddenly I got the key hanging in one area. Always grateful and blessed to have Baba with me and I can feel Him all the time around me.
My 2nd experience is when we are travelling to India and prayed to Baba for a negative PCR test and not spreading the Omicron variant and hampering our travel. Right now we got our negative PCR result and we will be travelling tomorrow I know with Baba's grace all will be smooth during travel and in India as well.
Cannot thank You enough Baba for everything. Om Sai Nathaya Namah.
Sai Baba Is The Ultimate Protector
Anonymous Shirdi Sai Devotee from Ireland says: I am a Sai Devotee staying in Dublin. Baba is my breath and everything for me. Your team is doing great work.
The country where I am living, the climate is cold. Recently again I went through some stomach problems and I prayed to Baba to heal me. Really, it is so nice of our Sai that whatever may be the situation He stands with us every movement till it gets resolved. I surrendered to Baba and prayed to Him to help me. The next day, Thursday, I felt better. Really Baba is always protecting me. The problem occurs sometimes but I have faith in our Sai Who helps to resolve it permanently.

As it is truly said by Our Sai, "Your problem is my problem until it gets resolved." So, everyone just pray to Sai wholeheartedly and He is there for you. Have faith and patience then everything will fall right. May Baba bless everyone. Om Sairam!
Bow to Shri Sai and Peace be to All.
Sai Baba Answered Prayers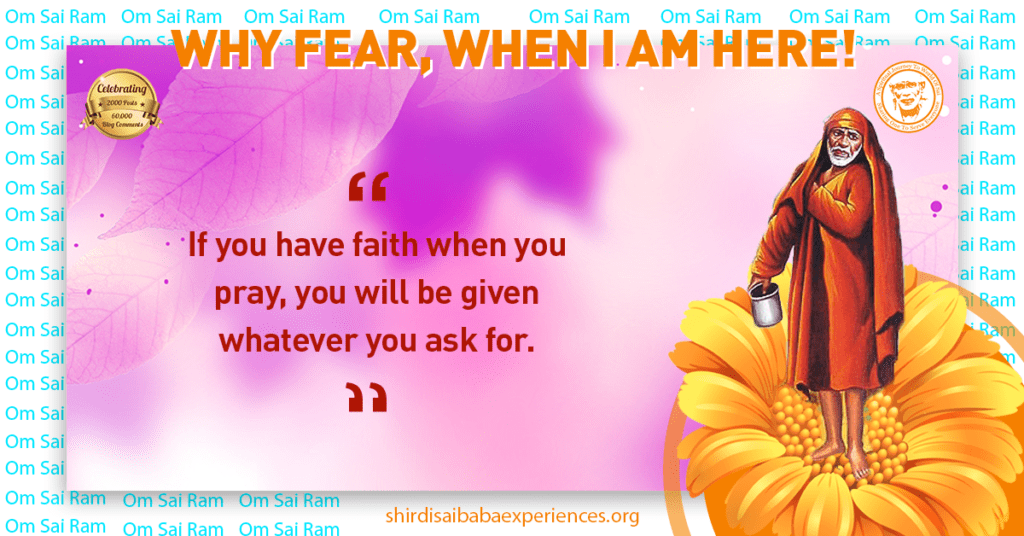 Anonymous Shirdi Sai Devotee from India says: I am an anonymous devotee from America.
Hello All! I am a devotee from the US. I have shared multiple leelas before. A huge thanks to Hetal mam and team for all their hard work in keeping up with this Modern Sai Satcharitra.

My mom recently got eye surgery and woke up hours later in lots and lots of pain. She was feeling cold symptoms which were stopping her from falling back asleep. I tried everything, pain medication, nasal medication, cold cloth on her forehead and eyes but nothing helped. But as soon as I started "Om Sai Ram" in my head, she soon fell asleep! After almost 3 hours of suffering, the only remedy that worked was chanting Baba's name and that is the power of Baba! Baba never fails to come to help whenever I think of Him. I can only hope that I will always have His love and support as I fight my daily battles and conquer my fears.

Om Sai Ram!
Thanks To Sai Baba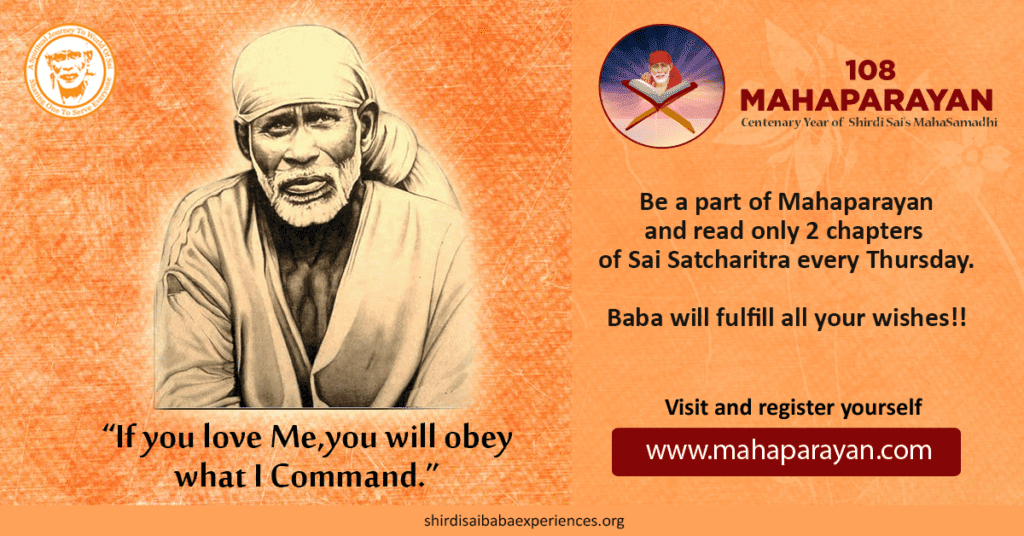 Anonymous Shirdi Sai Devotee from the USA says: I am a small devotee of Sai Baba and trouble Him a lot all the time.
As I said I am a very small devotee of Baba. When I read about experiences and I read what people do for Baba, I realized that I do nothing for Baba and expect a lot from Him and trouble Him a lot.
I have a few other problems but I don't even think about them. I only keep worrying about my family back home in India. They don't talk to me often, don't pick up the phone and I start feeling panic until I get that they are doing ok. Thank You Baba for getting a message from them. I am really tired Baba but I know I have to pay off my karma. Thank You, Baba.
---
ShirdiChe Sai Baba Book
A book that can be considered next to Sri Sai Satcharitra is available for reading on our blog, kindly do not miss reading it.
More from SaiYugNetwork.com
© Shirdi Sai Baba Devotees.com – Member of SaiYugNetwork.com