Have Faith, Trust Sai Baba And Experience The Miracles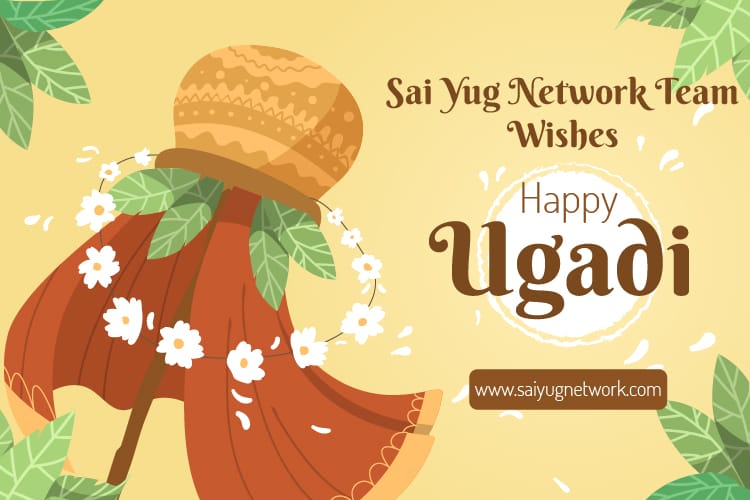 Anonymous Shirdi Sai Devotee from Australia says: I am a Sai devotee from Australia. Jai Sri Sairam. Thank you admin team for maintaining this excellent blog. I think it is Sai's wish that this blog is created and maintained and also it is His wish that I came across this website.
I have been a devotee of Sai since 1990. I was in year 12 at that time. Normally children follow whom parents pray. But in my case, I was the first one in my family who became Sai's devotee and my parents followed; that it is Sai Who dragged me towards Him.
It is an unbelievable story of how I went to Shirdi for the first time. Though I was a devotee since 1990 and wanted to go to Shirdi since then, that moment came after three years at the end of 1993. I was preparing for my exams. I told a senior that I wanted to go to Shirdi while we were having a casual chat one day and moved on with my preparation for exams. I was studying interstate and after exams normally we would go to our home town. So I was planning to go to my hometown as well.
One fine day one of the seniors came and asked me if I really wanted to go to Shirdi as few of them were going. My happiness had no limits. Next thing was to get the train tickets. It's quite difficult to get train tickets at the last moment because we have to take a train from Bangalore to Delhi to get down at Kopargaon. That train is always full. But when Sai had decided already to call us to His feet Who can stop that? We got the train tickets as well and had a great and my first Shirdi trip. There were multiple miracles in my life in all these years. He held my hand, showed me the path, and walked me through.
Now I will write about the experiences that I had recently with Sai Ma. These are the experiences that I had promised to Him that I will post. No one's life is a bed of roses. Everyone has their struggles. If you hold on to Sai's hand, have faith in Him, trust Him and you will be definitely saved. Another thing that we need to have is patience which is quite difficult when we are going through tough times. There were days that I fought with Sai and told Him that I was going to stop praying but never, not even a second I doubt His existence. I was frustrated that why; He was not helping me in the tough time. But what I realized is that if Sai was not next to me then every day and every moment would be a struggle. There are many, many miracles of Sai that happen every day but we don't even realize that they had happened. Sai never leaves our hands; He is always with us, protecting us.
Recently, I had an issue at work, something which potentially could go very wrong. I prayed to Sai Baba to help me and the outcome was that everything went alright. Nothing had gone wrong.
My wife has had a few health issues recently. They were coming one after another giving a lot of stress which was affecting my health and work. I prayed to Sai Ma to heal her completely from all of them without a need for surgery. Each of these health issues if they went wrong could have posed a lot of difficulty in the family, particularly living overseas without our own family here and the current pandemic. But Sai got her out of these health issues without any trouble. Sai still has knee-related issues. Please help her to come out of that without a need for surgery and as promised, I will post that here. It was all Baba's grace that she was saved from these health issues.
I had some blood tests recently and I was quite worried about the results because I was having some symptoms and I was quite stressed about it. I prayed to my Sai to help me, to make sure that all the tests were negative and all the results were normal. Baba, please help me with this spine issue. It is miserable to live in fear of doing regular daily physical activities; worrying if my spine issues may get worse.
Dear Sai Family, please pray for me to come out of the spine-related health issues. Your prayers mean a lot. Thank you Hetalji for creating the Sai Family so that we could all pray for each other and wish for everyone's happiness.
Sai, my daughter had another challenging year with her health issues. Please bring a better the year 2022 for her. You know about her health. You have been seeing her since her birth. She is Your child, Sai. She prays to You at this young age sincerely. Please be with her and protect her. She had enough struggle for so many years. Please give her good health so that she can progress with other aspects of her life. Please bless her to have good health without a need for surgery. Sai, we are sitting at Your feet. Please protect us. Om Sri Sai Rakshak Sharanam Deva. Jai Sairam.
Sai Baba's Help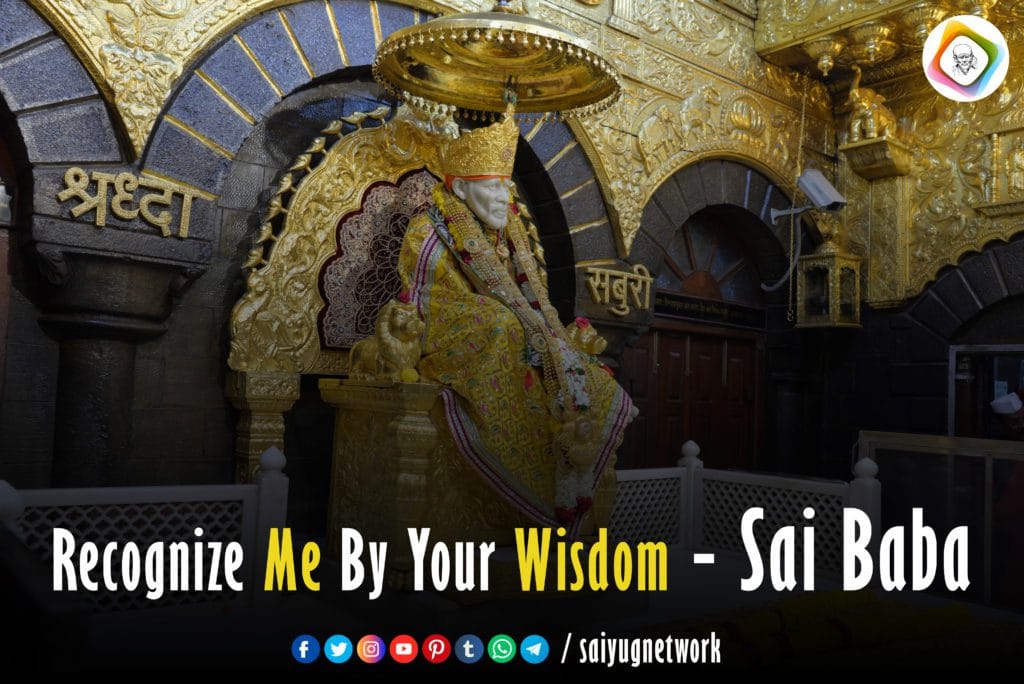 Shirdi Sai Devotee Athira from India says: Thanks a lot Hetalji for this platform to share experiences that give us positive energy.
I am a Sai devotee and I used to share experiences here. Today I want to thank Sai for helping me. I was Covid positive last week and I became Covid negative without any complications with Sai's grace. His Udi made me strong. Also, no one got Covid from me. Sai thanks a lot for Your help Sai.
Also, You are always with me while doing my work and help me whenever I need support. Please continue Your blessings Sai. If I have Your blessings then everything is possible.
Sai, I am very sad. You know about my father's health condition. He is not even responding to radiation now. Also, cancer is spreading to more places. Please Sai please cure him. He is having Your teertha and Udi. He has faith that You will cure him. Don't disappoint him, Sai. I and my sister also believe that You can cure him. Please Sai, please, please reduce his pain. Bless him Sai. Don't test him more Sai, please.
Sai Baba Always Listens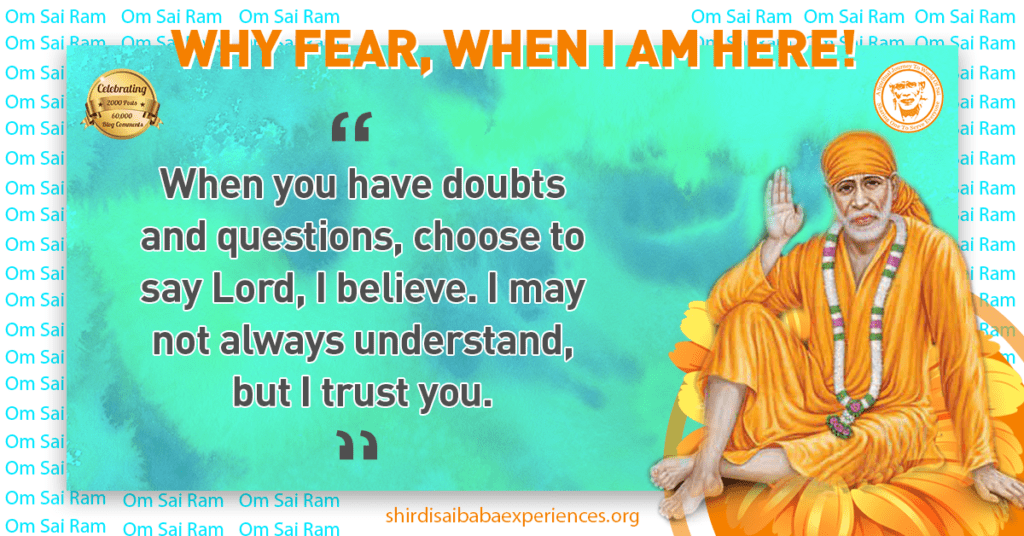 Anonymous Shirdi Sai Devotee from India says: Om Sairam to everyone. Thank you again Hetal mam for maintaining this site. Thank You, Baba. Really thank You is a small word to describe Baba's blessings.
Baba, I had submitted my experience regarding my son's health. He had a fever. Baba, by Your blessings now he has no fever. He is well now. His fever had gone away from the very next day of submitting the prayer. I had told Baba that if his fever would go away the next morning then I would submit my experience. Baba listened to my prayer. Now he has rashes on his skin. I hope, this will also go away very soon with Baba's blessings.
Baba, give good health to my both families, my in-law's family, my husband, son and my mother-in-law, my parents' family, my mother, my uncle, my aunt, my brother, sister-in-law, my three sisters, my three brothers-in-law, and all my nephews and nieces. Please Baba bless everyone with good health. I beg You with folded hands for everyone's good health. Baba, end the pandemic soon. Om Sai Aarogya Kshemadaya Namah. Om Sai Rakshak Sharanam Deva. Om Sairam!
Sai Baba Cured Small Health Issue Immediately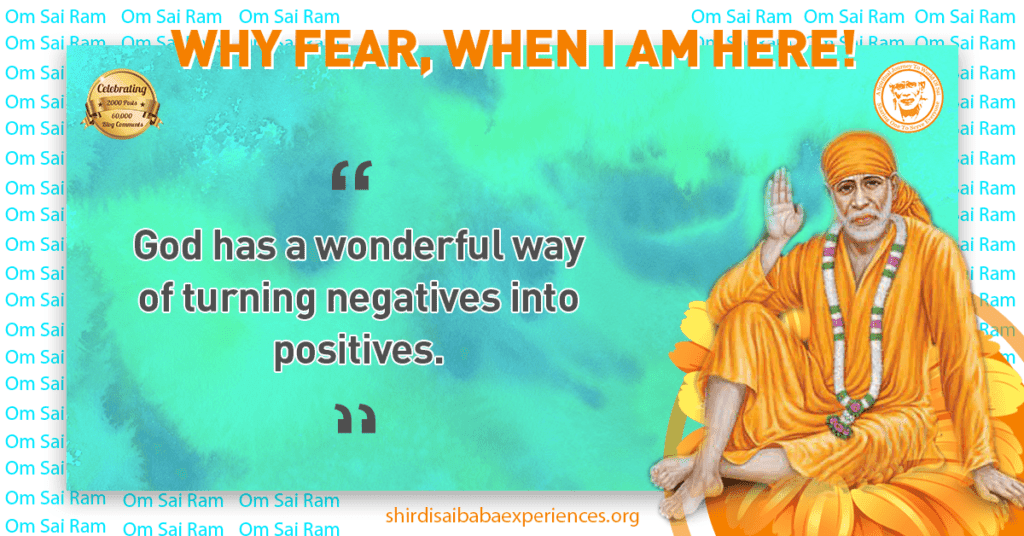 Anonymous Shirdi Sai Devotee from Germany says: Greetings Hetalji. I am a staunch devotee of Sadguru Sai Baba. He is my everything.
Baba is everything to me and my family. I consider Him as my Appa/father. Recently I had a minor health issue and I tried some home remedies but they didn't work out well. I prayed to our beloved Sai Appa and kept His Udi and asked Him to cure me soon. With Baba's blessings, my health issue was cured within 1 day. As I promised I am sharing this experience on this holy site. I am also suffering from a major health issue and I am holding His holy feet and strongly believing that my Appa will save me from that health issue also. Please keep me in Your prayers. Soon I will share my experience here. Baba, please protect everyone from all the health issues and give them all a healthy peaceful life.

Om Sai Sri Sai Jai Jai Sai. Sadgurunatha Saranam. Om Sai Rakshak Saranam Deva.
Thanks To Sai Baba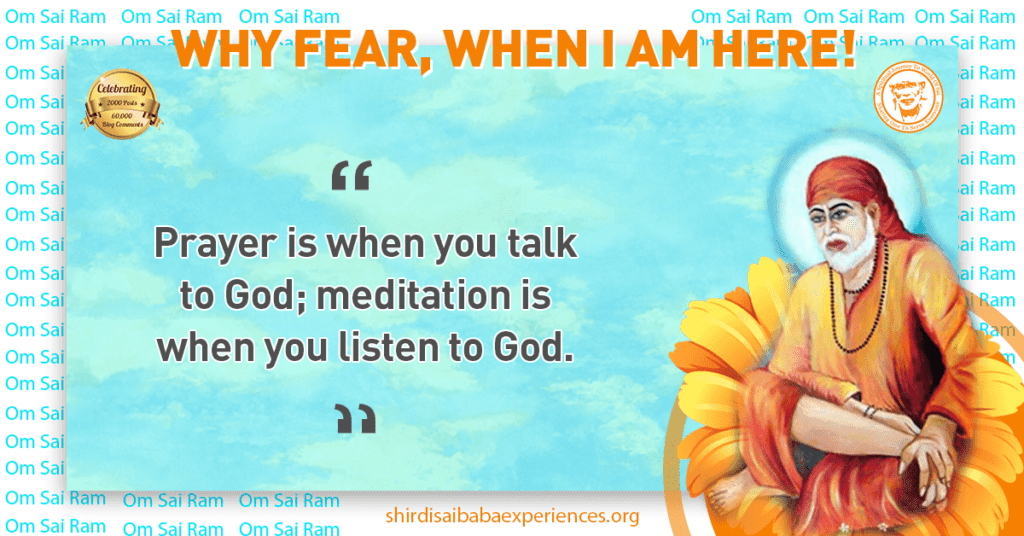 Anonymous Shirdi Sai Devotee from the USA says: Om Sai Ram to all Sai devotees. Thank You to the team for maintaining this blog.
I want to thank Baba for helping me with this situation. It was causing me so much stress and I was not able to say anything. I prayed to Baba that if it gets solved then I would post the experience and yes, Baba helped to resolve it. I am not able to thank You enough Baba. Thank You for Your love and kindness. Thank You, Dear Baba. Om Sai Ram.
Sai Baba's Timely Help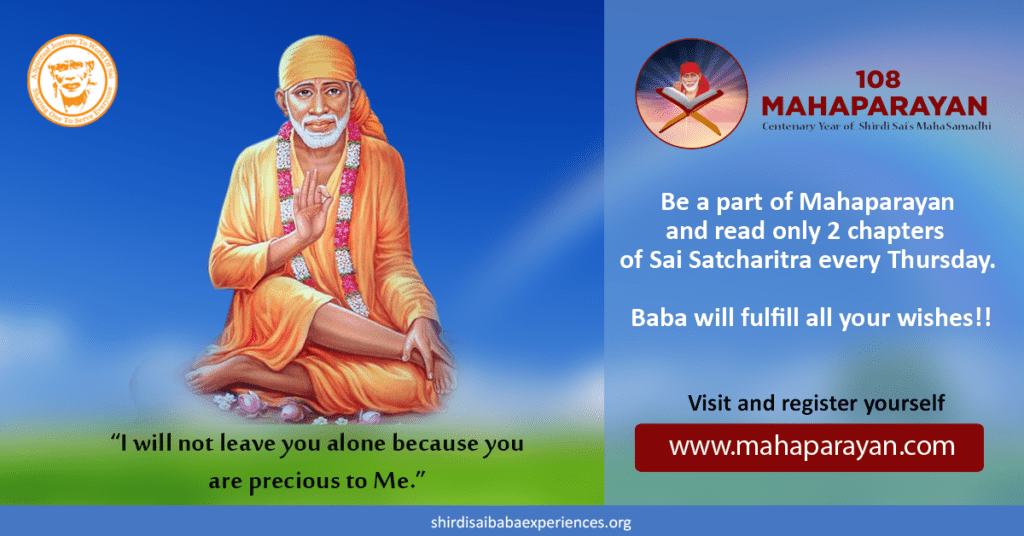 Anonymous Shirdi Sai Devotee from India says: Om Sairam! I am a small devotee of Baba. Coming to my experience: A few days back my three years old son's noses got blocked due to a cough. That's why he didn't sleep well. I prayed to Baba and he slept comfortably for the next five minutes. Thank You Baba as You always listen to my prayer. I have some concerns about my son, please Baba removes them too.
Thank You Baba for everything. Without You, I cannot move a single step. Om Sai Ram.
---
ShirdiChe Sai Baba Book
A book that can be considered next to Sri Sai Satcharitra is available for reading on our blog, kindly do not miss reading it.
More from SaiYugNetwork.com
© Shirdi Sai Baba Devotees.com – Member of SaiYugNetwork.com