Sai Baba's Help With Devotee's Work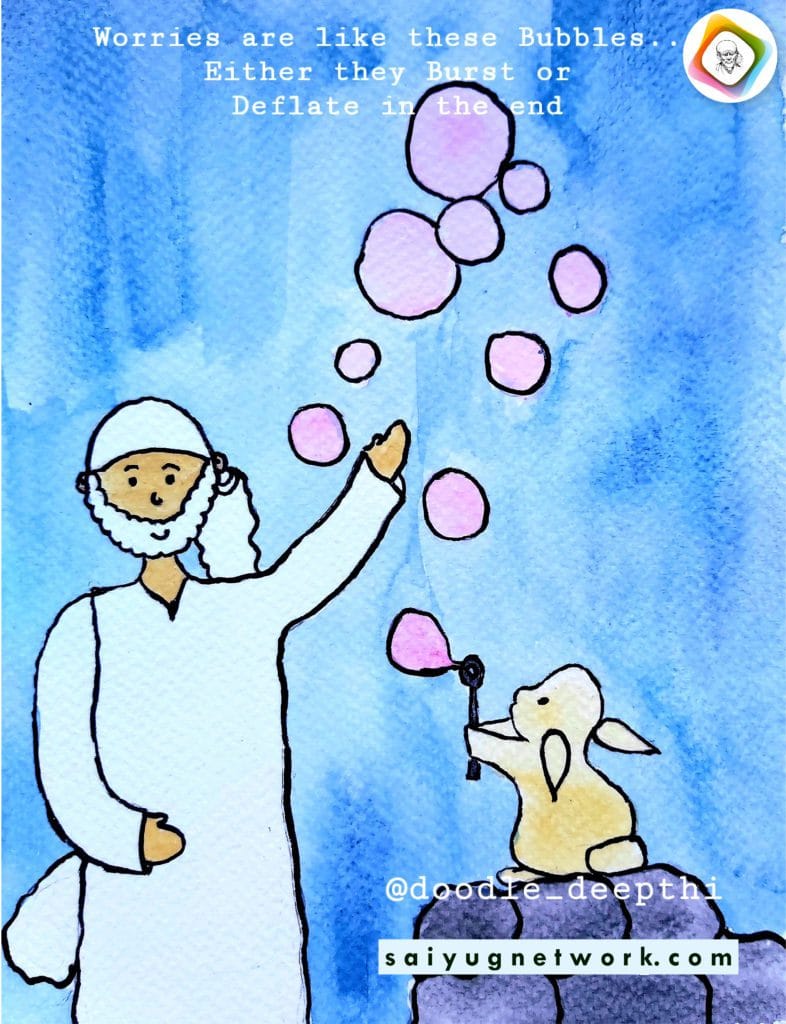 Anonymous Shirdi Sai Devotee from the USA says: I am a small devotee of Baba currently staying in the USA. Thank you Hetalji and team for this divine site which connects many devotees of Baba.
My day starts and ends with Baba's name and prayer. Baba is there for all I have to share about my feelings, problems, and everything.
Recently I started to work on a new assignment and when I started work I was confident that it would be done on time. Due to some other disturbance, I lost my concentration and when I started to work, I was finding it very difficult to complete my work. I tried many possible ways and checked for different possible solutions but there was no luck. I was getting tense as I was taking more time with no results. Finally, I decided to seek Baba's help and asked His blessings to help me do what I was not able to do. Baba gave me a hint that everything will be fine by His appearance of Padukas in a dream. I was so happy when I got up in the morning, remembered my dream, and was confident that everything will be fine.
I got timely help from my teammate. I am sure Baba would have made all the arrangements for me to come out of my difficulties and today I am very happy and satisfied with what I am working on and it is all due to Baba's blessings.
Thank You is a very small word to express our gratitude to Baba. He always goes to help people when called with devotion. Forgive me for all my mistakes done knowingly or unknowingly. Bless all. Please protect this world, Sai Baba. Om Sai Ram Om Sai Ram!
Sai Baba's Blessings And Unconditional Love
Anonymous Shirdi Sai Devotee from USA says: I am a Sai devotee residing in the USA.
Baba has always made me feel His presence beside me. I got to read the experiences of a devotee that on reciting 'Om Shri Sai Nathaya Namah' daily 108 times, the devotee was blessed with a good job within a month. I also started reciting 'Om Shri Sai Nathaya Namah' daily 108 times and within a month I was also blessed with a new job after six years of gap. It has been possible only by Sai Baba's grace.

I keep consulting Baba in all my day-to-day activities and problems and get solutions from Him. I always approach Him with any problem and He shows me the solution in His own unique ways. Recently my younger son got a fever. I prayed to Baba that if his fever comes down and becomes alright then I will post my experience here. The next day my son's fever came down and he was fine. Thanks to Baba.

There are so many positive experiences that I got by the grace of Baba and I am ever thankful to Him. I am also very thankful to all those who are maintaining this site which is helping many people get positive thoughts and also giving solutions to their problems. 

Sai Baba Miracles For A New Devotee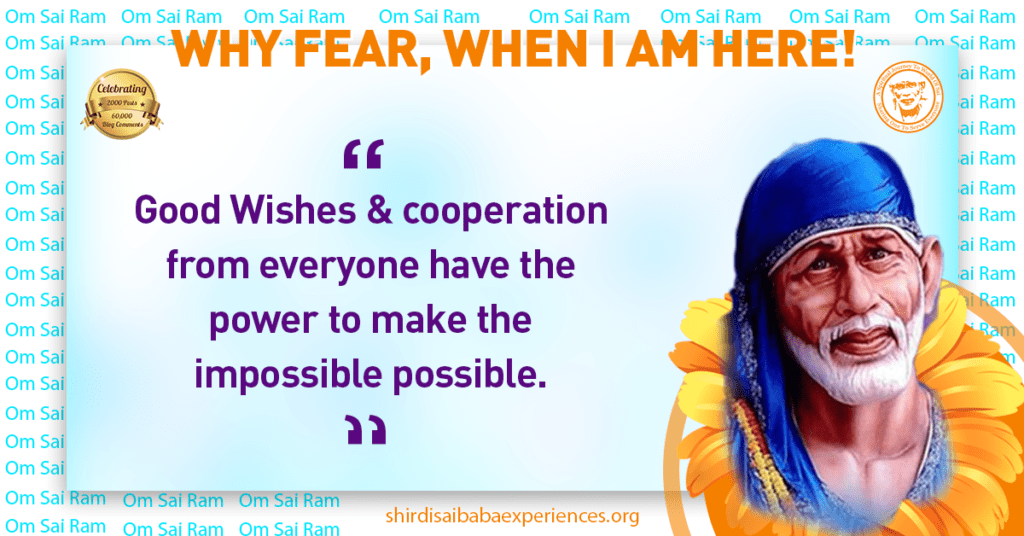 Anonymous Shirdi Sai Devotee from India says: I am a new devotee of Shirdi Sai Baba because of my mother and I am grateful to be a Sai devotee.
I started to learn a lot about Baba from my mother who had placed a background image of Him on her phone. She kept talking about how good she feels when she prays and devotes herself to Him. So I got curious and started reading about Shirdi Sai Baba online. I could not believe how drawn I was to His leelas and miracles.
I downloaded the Sai Satcharitra and read it in the mornings on the train while going to work (I live in NYC). It made my day reading about Sai Baba miracles and about His devotees. I started praying and talking to Baba. I do suffer from depression and I found that praying and surrendering to Him gave me peace. The first miracle I experienced for myself was a job offer. I was not making much at work and I was constantly in debt. He helped me with a promotion. I could not believe it. I am grateful that I can worship Him and continue to listen to His leelas. Om Sai Ram. 
Sai Baba's Krupa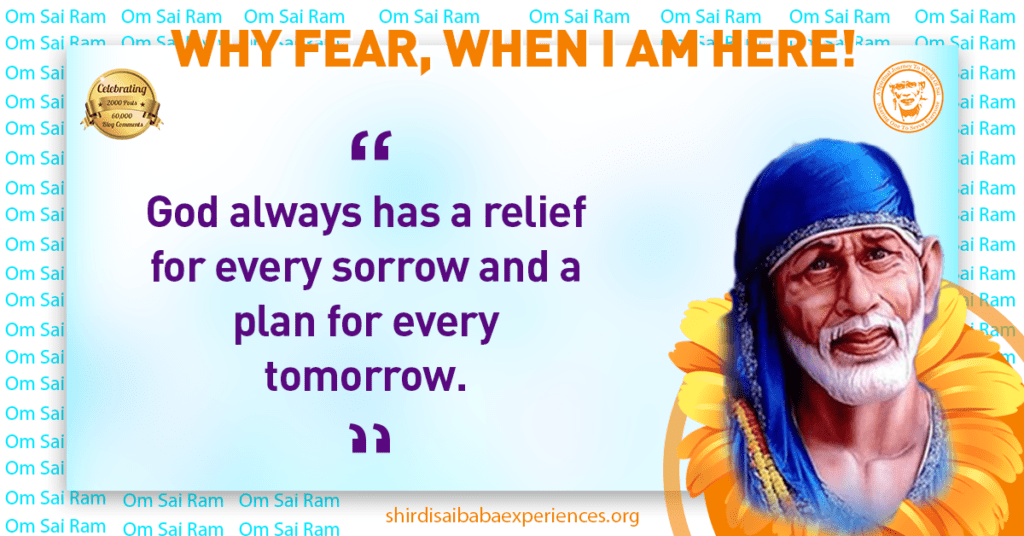 Anonymous Shirdi Sai Devotee from the USA says: I am Baba's daughter. He is really my everything. Without Him, I will be completely lost.
The last year and a half have been extremely difficult for us. We have been going through a lot of health issues. I have been pleading to my Saviour Baba to please heal him completely. While reading about one of the devotee's experiences I found out about the 41 days of pooja of Baba. I started doing this pooja the next Thursday and continued for 41 days. A couple of days after finishing it; I did get some resolve for what I was worried about. I was overwhelmed by Baba's grace and how He will always be there for His children. I am so grateful to Baba, You are our only Saviour. I have completely surrendered to Your lotus feet.
Baba, I am waiting for Your miracle. Only You can heal him. I will always be indebted to You, Baba. Please keep Your blessings on them. Love You, Baba. Anant Koti Bramhand Nayak Raja Dhiraj Yogiraj Parabramha Shri Satchidanand Sadguru Sainath Maharaj ki Jai.
Got Debit Card With Sai Baba's Grace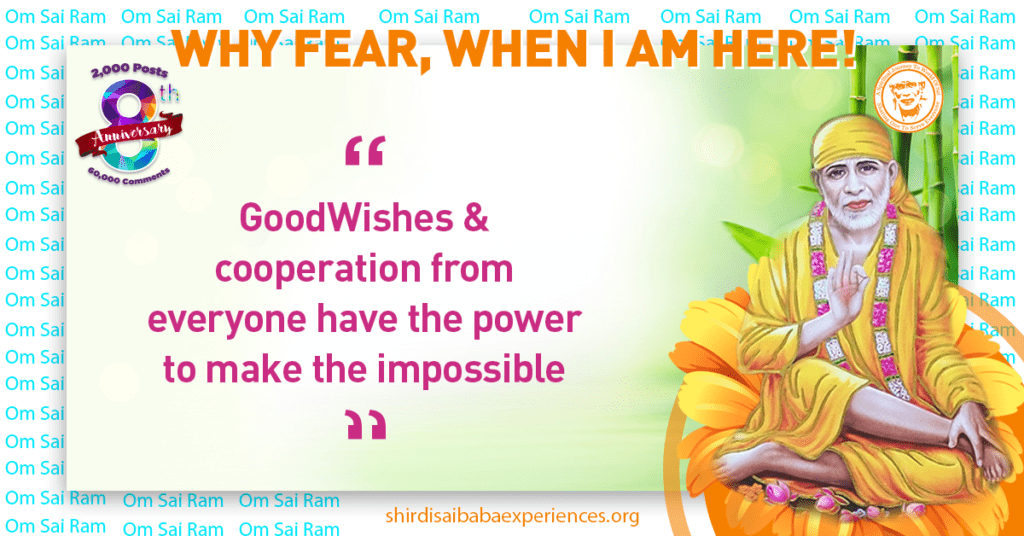 Anonymous Shirdi Sai Devotee from India says: Please keep me anonymous. With Baba's blessings, I am going to write about my experience. I created an account in a reputed bank. After a few days, I was supposed to receive the debit card through the post. But many days passed and I didn't receive my card. When I tracked the post it said that it was delivered. I made many calls to customer care but with no solution. I visited the branch many times, but the card was not at the branch also. Like this two months passed, but no one had any clue about where the card was. I prayed to Baba, that I will post the experience once I get my card. Then one day I received a message that the card was sent back to the branch as it couldn't be delivered to the address. Again I rushed to the bank and got my card. I had lost hope that I would ever get the card and maybe I will have to apply for a new card, but with Baba's grace, I got the card. Om Sai Ram!
Sai Baba's Grace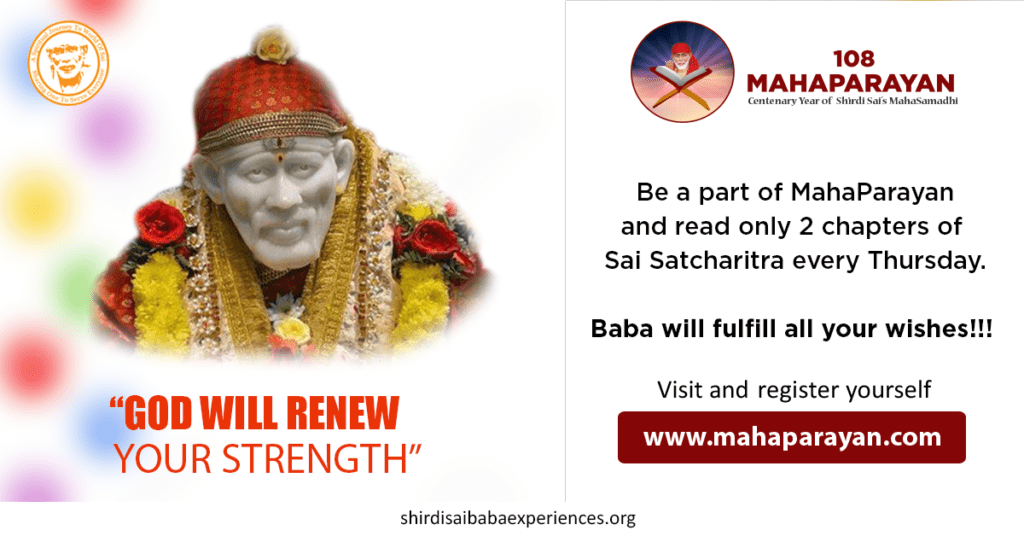 Anonymous Shirdi Sai Devotee from the USA says: Om Sai Ram to everyone who is reading this.
One night I was experiencing severe pain in my abdomen due to gas. I prayed to Baba and applied Udi and had It mixed with water. I kept Baba's book under my pillow and I don't know when I fell asleep chanting Baba's name.
Another experience is my son had a small bump in his eye. I am applying Udi on it and will write Om Sai Ram 108 times. I have full faith in Baba that my son will be cured soon.
Baba, please keep Your hand of blessings on our head. Thank You Baba for everything.
Om Sai Ram .
---
ShirdiChe Sai Baba Book
A book that can be considered next to Sri Sai Satcharitra is available for reading on our blog, kindly do not miss reading it.
More from SaiYugNetwork.com
© Shirdi Sai Baba Devotees.com – Member of SaiYugNetwork.com