Sai Baba Saved Devotee From A Car Accident
Anonymous Shirdi Sai Devotee from India says: I have been a Baba devotee for the past 11 years.
Thanks to Hetalji for maintaining such a wonderful website to share our experiences.
Coming to the experience yesterday we started our trip to Ooty via Mysore. Yesterday we reached Mysore safely. Today morning we started to go to Ooty in our own car. There were hairpin bend roads and while turning the road one van came opposite the car. My husband didn't see while turning the car and the van guy too didn't horn but suddenly my husband stopped the car and put the gear. We were almost saved from the accident and the car slightly bent on the tree and we got down from the car safely. Thank God everyone was safe in the car. Really Baba only saved us. Than one vehicle came to us and asked us to come in that vehicle for the remaining journey.
 In that van, I saw Baba's picture on the backside and Baba's idol inside the car. Really I felt that Baba's idol and the picture were saying, "I am with You. You will be saved." 
Then the tipper came and with the help, they removed the slightly injured car and they said that we could continue our trip by checking the car. But still, I am scared because the hairpin bend was still present. We were coming in another van and my husband was driving the car in front and we were backside. I prayed to please save my husband as he was alone. 
Finally, we reached the hotel. Still, up to one week, we are staying in Ooty and in Mysore while traveling please save us, Baba. Baba saved our lives. Thanks a lot, Baba. Koti Pranam Baba. Ananthakoti Bramhandanayaka Rajadi Raja Yogiraja Prabrahma Satchitanandha Sadguru Sainath MaharJ ki Jai. 
Sai Answered Prayers
Shirdi Sai Devotee Meghna Sai from India says: Hi I am Meghna Sai from Bangalore. Thanks to the team for your great service. Baba, this week I prayed for so many things and You answered them and have promised to post here.
Thanks for maintaining harmony at the workplace and helping me in my work.
You also helped me to start seven weeks of Sai Divya Pooja and to submit my son's admission form. I have completely surrendered our wish at Your lotus feet.
Thanks for making my trip smooth and jiju was calm and he slept without screaming after singing Your arathi. As promised to post here.
Thanks for helping me to do Datta pooja and prasadam on Datta Jayanthi. Thanks as also You made them open the temple for me when it was closed in the afternoon.
If I forgot anything to post here then please forgive me.
Be with me always to help me to concentrate on my studies. Bless all elders and everyone with good health and peace of mind.
Om Ganeshaya Om Shakthi Kallalmma Thaye Adhi Thimappa Mkdg Om Sai Rakshak Sharanam Deva Om Shirdi Vasaya Vidhmahe Sachidananda ya Dheemahe Tano Sai Prachodayath.
Sai Baba Saved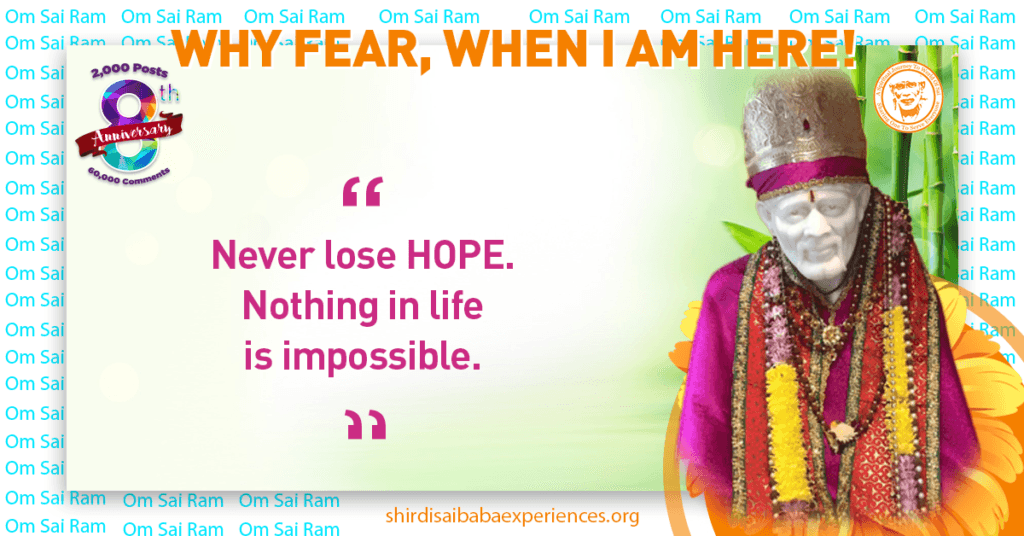 Anonymous Shirdi Sai Devotee from India says: First of all I want to thank everyone in the team for providing this wonderful platform for reading and sharing experiences of devotees. This is the second experience that I am writing about on this blog, though the first one is not published yet still I want to share my experience with devotees on this blog.
In October 2019, I was very upset as a few days before I had lost my job. So I told my son to take me to Baba's temple. We went, had darshan and on the way back home suddenly a girl came in front of our scooter and my son applied brakes. As I was sitting behind him, I lost my control and fell down lying straight on the road on my back. I didn't get hurt as I was falling. I felt that someone held me in his hands and laid me on the road as the mother put her children on the bed. Everyone was surprised as immediately I got up and then we came home. That was my Sai Who saved me and no one else could do this. Please Sai, always help me and my family.
Jai Sai Ram. Sai Sharnam. Sachidanand Sai Nath Maharaj ki Jai.
Sai Baba's Grace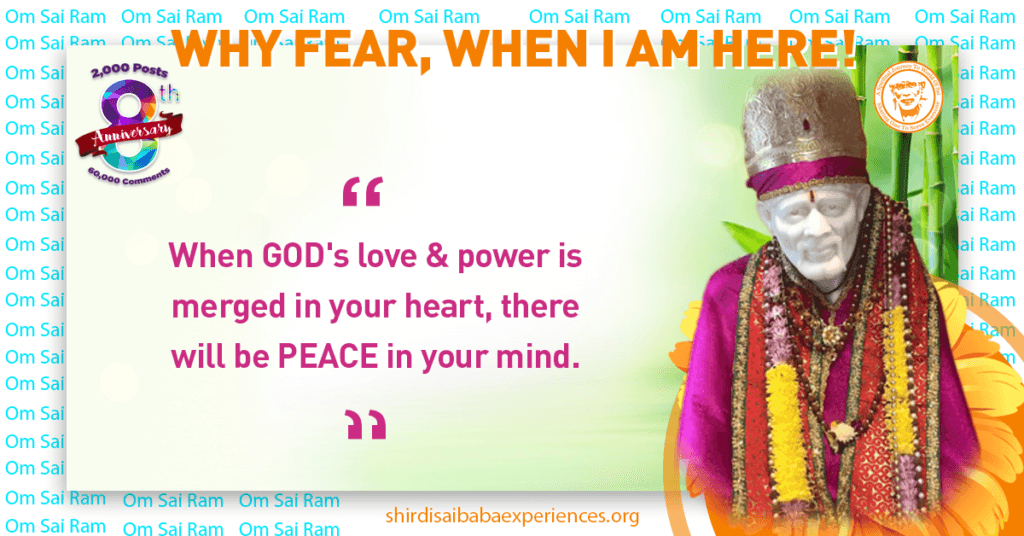 Anonymous Shirdi Sai Devotee from India says: Om Sai Ram. Thank you to all for making this blog such a beautiful experience for us readers. Om Sai Ram. Thank You Baba for answering the prayer regarding my father. He got okay in two days. Thank You so much, Baba.
I used to visit Lodhi road Baba mandir in Delhi regularly when I stayed there. But when I shifted to another city, it was not possible. One day I was just remembering the mandir and then when I opened my WhatsApp I saw that my relative in Delhi had visited the temple and shared the pictures. Baba knows even our smallest of desires and thoughts and always takes care of them. Thank You, Sai for the beautiful darshan.
I had kept fasts for 9 Thursdays, not for any particular purpose and not with Katha. Just normal fasts and I as a person used to find keeping fasts very tough but by Baba's grace, all 9 happened very smoothly. Thank You, Sai.
Baba, keep us under Your shade and guidance, You are our sole refuge. Baba, please keep ma, papa, Bhai and me always healthy, happy, safe, and protected. Thank You, Sai for everything. Om Sai Nathay Namah.
Sai Baba Heard Prayer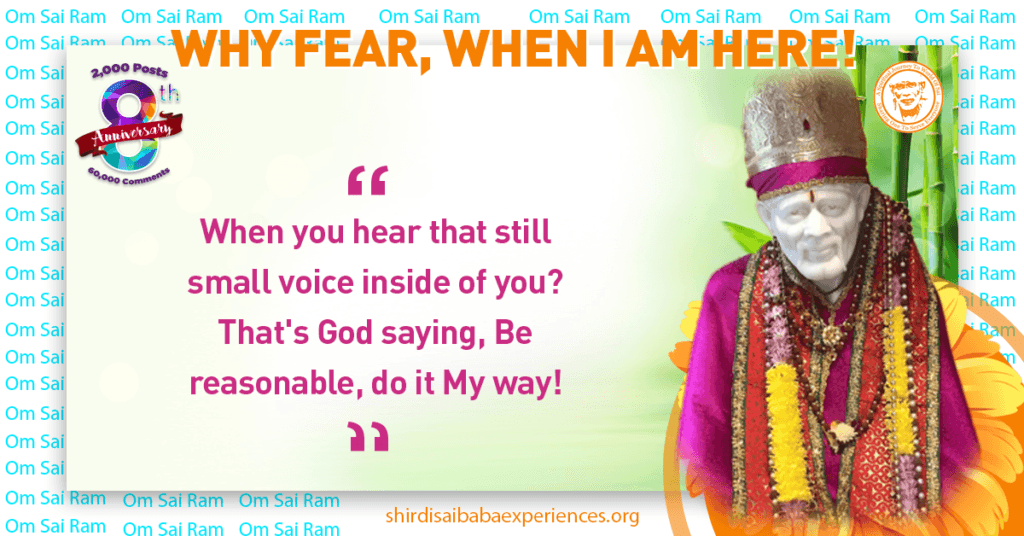 Anonymous Shirdi Sai Devotee from India says: I am a small devotee of Baba.
Today was my birthday and after almost two years of not going to the temple due to the pandemic situation, I wanted to go to the temple to have a darshan of my Sai Baba. My husband had a meeting; my brother-in-law was ok to drop me but he said that it showed that the temple was temporarily closed. I checked Google and it showed in a few results that the temple was temporarily closed but somewhere within my heart I still wanted to go. 
Meanwhile, my husband's meeting was going on and I went with him. I prayed to God that if He was with me then let the temple be open and let me get my Baba's blessings. I was pleasantly surprised to see that the temple was open and we had a nice darshan too. Thank You Baba for always showing Your presence. Love You. Please keep my family members healthy and also let the world be free from this pandemic now. Bless all Baba. 
Love You. Om Sai Ram. 
Sai Baba's Blessings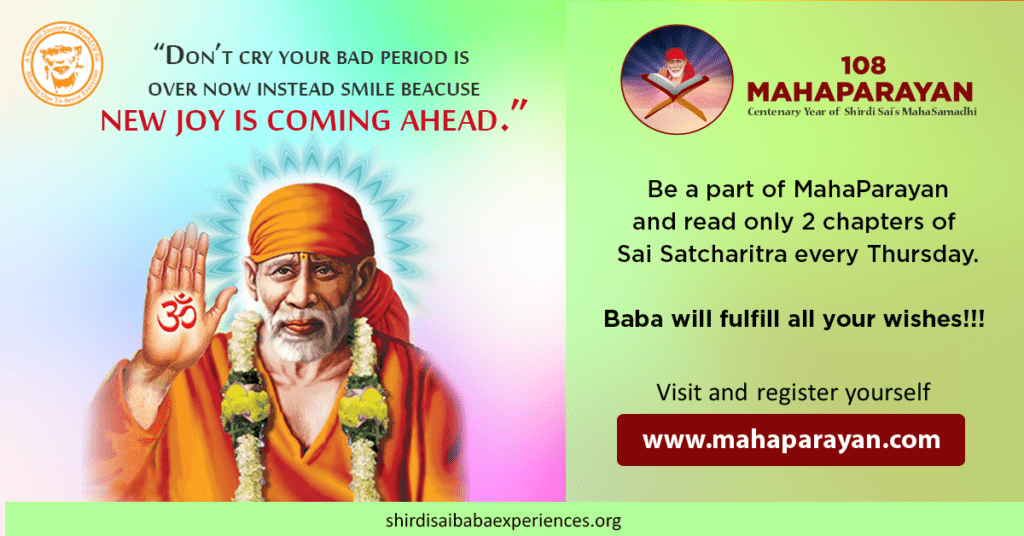 Anonymous Shirdi Sai Devotee from the US says: Bless you Hetalji and the group for a wonderful site for Sai Pariwar (family). I live in the US with my two daughters and husband.
Recently we bought a house. Muhurat for gruhapravesam was on Thursday and that was a blessing from Baba. The biggest hurdle I had was that I couldn't take leave but had managed to get just a couple of hours off. But with Baba's abundant blessings we could finish the pooja and I was able to log back in time. Also moving and packing in our busy schedule were made possible with Baba's grace. Thank You so much Baba for being with us.
Please save the world Baba and bless everyone with good thoughts, positive energy, and good health. You are our only Saviour Baba.
Om Sree Sai Rakshaka Saranam Deva
---
ShirdiChe Sai Baba Book
A book that can be considered next to Sri Sai Satcharitra is available for reading on our blog, kindly do not miss reading it.
More from SaiYugNetwork.com
© Shirdi Sai Baba Devotees.com – Member of SaiYugNetwork.com