Sai Baba Accepted The Prasad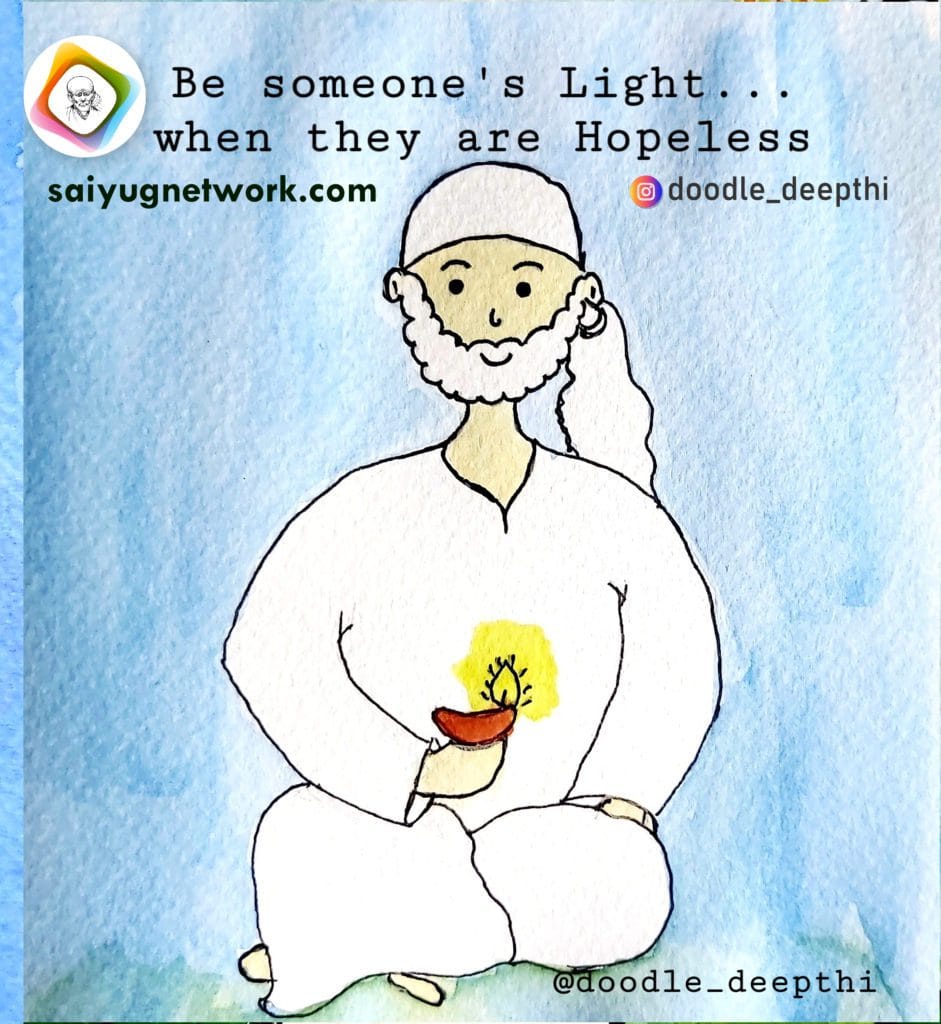 Anonymous Shirdi Sai Devotee from India says: I am an anonymous devotee of Sai Baba from India and thank you to all who are maintaining this blog. 
Om Sai Ram. I want to share my experiences on this holy blog. I was doing my candy vrat not seriously having any wish in mind but just wanted to experience how Baba would accept my candies. On the first day of my vrat only He accepted that. I kept a KitKat for my first day pooja and it just fell down when I prayed after the pooja for Baba to accept the candy while closing my eyes. I really felt very happy and just continued my vrat but somewhere I was not satisfied with this. Literally, I was expecting Him to come in some form and take all the candies. My vrat got over and I was waiting for the same and cried for the same but nobody came to take those chocolates.
After two days I was reading some experiences of Baba from the online copy to know more about Shirdi Sai Baba. There Nana kept some prasad for Baba and many flies came there Baba after some time told Nana to partake in the prasad and told him that He took the prasad. But Nana was not satisfied and he came repeatedly to Baba saying that He should take the prasad or else he would not take his food. then Baba told him, "O Nana, I already took your prasad and I live in all creatures. Please take your food". After this Nana took his part and was satisfied. I was very moved by this story because I was almost in the same situation as Nana and decided to eat the candies by myself that evening and before that a wonderful miracle took place. 
We were going out and I felt that someone may ask Dakshina from me so I took some 10 rupees for the same purpose. This was the first time I was feeling like this. Then in the middle of the traffic, someone in the dress of the Vaishnava saint came asking for Dakshina and I was searching for 10 rupees but after so much searching I couldn't find the 10 rupees. The red light was about to end and vehicles started moving forward but this saint was not moving. Seeing that I opened my purse and gave him 100 rupees and as soon as he received it we went. After coming I checked my total candy price and it was exactly 100 rupees. What more could I ask for? Om Sairam. Om Sai Rakshak Sharanam Deva!
Sai Baba Saved A Devotee From Work Blunder
Anonymous Shirdi Sai Devotee from Australia says: Om Sai Ram, I am a working mother and trying my best to balance work and household at the same time.
I'm a marketing analyst at a telecommunication company and my job involves sending marketing and compliance emails to customers. Recently I made a huge mistake of sending a key business client's details to another customer. When I realized, the damage was already done and I couldn't recall the message. It was a privacy breach as you cannot share the personal details of one customer with the other.
I panicked and immediately the only name which came to my mind was Sai! I prayed to Him with all my heart to save me this time again (as He has saved me several times previously from similar blunders) and somehow have the customer to whom I sent the email not open the email and delete it. I promised to share His Leela here too if everything went well. And now it's been almost two weeks and there has been no reaction or queries regarding it.
Such is my Sai! To date, I cannot recall a time when I remembered Him and asked for help and it was not granted. Every single time Sai has been so merciful and kind that I cannot gather enough words to sing His praises and thank Him. Thank You Baba once again for coming to my rescue. Love You now and forever. Om Sai Ram.
Sai Deva Saved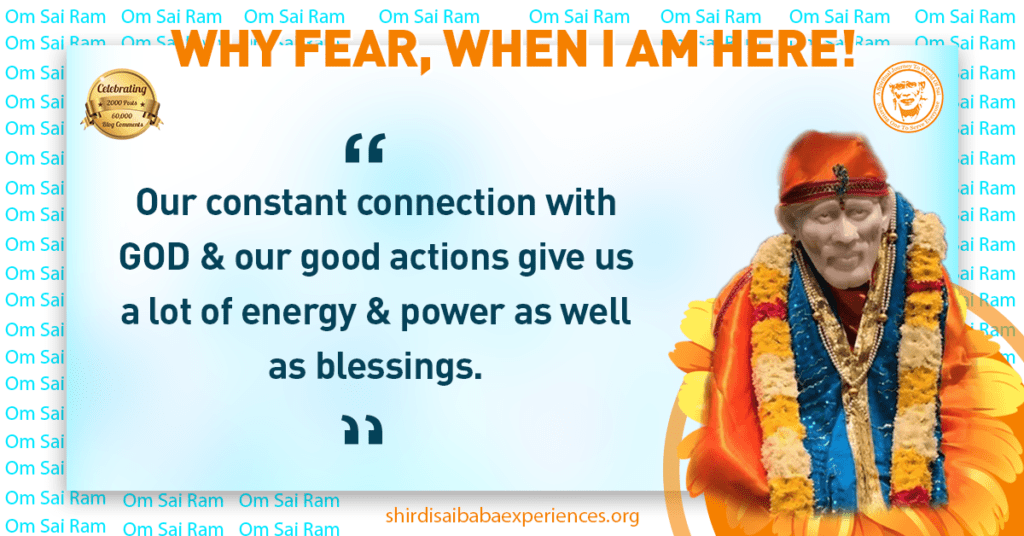 Anonymous Shirdi Sai Devotee from India says: Om Sai Ram! I am from Karnataka.

I would like to thank the admin and team for this wonderful platform. May Baba give them good health and happiness as well as a great success in their life. I feel that Sai Baba's grace is on me always and forever. Without Baba, I am nothing, and day in and day out Baba will help me in one or the other form. Thanks to Deva.

Coming to my experience
1. I was in a big problem where Deva came to help me immediately after praying to Him and saved me from a very big problem. Thanks a lot, Baba.

2. Once I was riding a bike on the road and one sadhu was in Kavi dress walking beside the road. I felt like stopping and giving Dakshina to that sadhu. I did that and after that, that sadhu said "After seeing me you stopped the bike" and he said, "Sai Ram." For a moment I felt blessed and like Baba gave His darshan to His small devotee. Danyosmi Deva felt blessed.

Baba, please forgive me for my mistakes and I am sorry. Thank you for everything that You are doing Baba. Deva doesn't leave my hand at any moment and teaches me lessons whenever and wherever required. Mannisu, Munnadesu mate Daritorisu.

Deva, please and kindly keep Your eyes and blessings on this small Sevak Baba.
Samastha Loka Sukhino Bhavantu
Samastha Loka Sadmanglani Bhavantu.
Jai Sai Ram
Sai's Blessings For Children's Health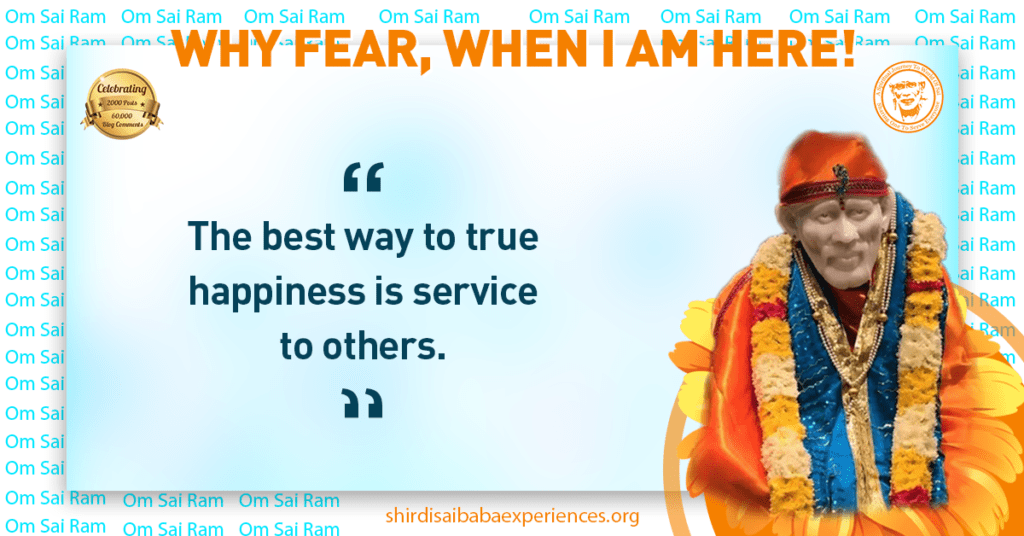 Anonymous Shirdi Sai Devotee from Australia says: I am a small devotee of Sai Baba thanking the whole team of this wonderful site. I am very sorry to post it late Sai.
Thanks for taking care of me and my family. Thanks for forgiving me even when I am not worshipping You properly. Thanks, Baba.
My little boy had lumps over his head after shaving but they are gone after Sai Baba's blessings with the help of antibiotics. Sai please get rid of his lumps forever. Please make scars disappear from the face of my son which he got from scratches. 
Thanks for giving us this beautiful house and when it's time to leave it You got us a good rental home. Thanks, Baba. Please remove my pigmentation totally. Thanks, Baba.
Take care of our careers and please guide me to my destination which is good for me. Thanks for the jewelry. You have given me what I liked. Thanks for everything Baba. All our families' health is in Your hands. Thanks for everything Sai. Om Sai Ram.
Thank To Sai Baba For Blessings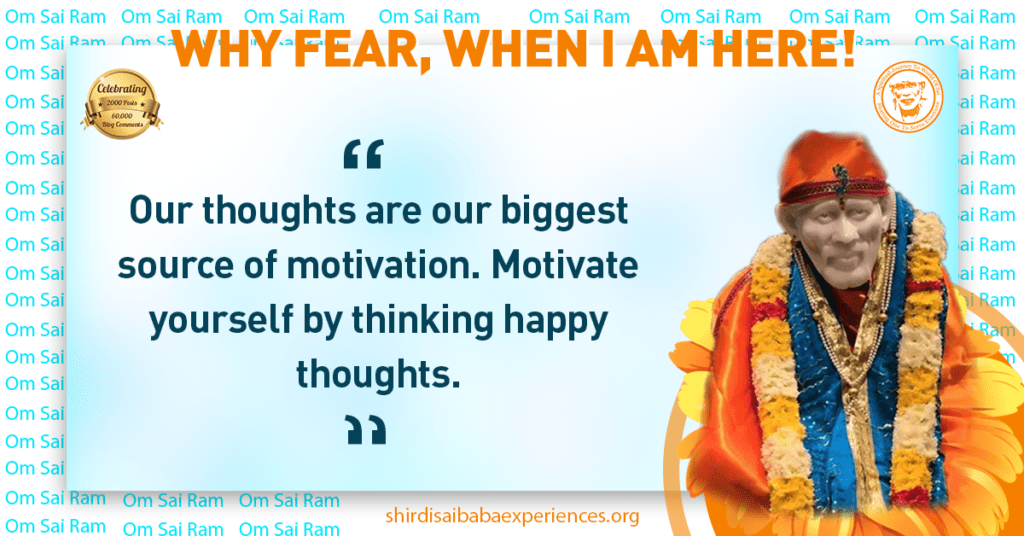 Anonymous Shirdi Sai Devotee from Malaysia says: Om Sairam! Thanks, Baba for Your blessings. 
Om Sairam. Thanks to everyone who is maintaining this wonderful platform. Sorry for posting late.
Last week was really good and this is all due to Baba's blessings.

There were some problems while driving on the hill. Baba helped me by sending someone on His behalf and we were rescued by Baba.

Office work was really good and it is all due to Baba's blessings. Please take care of my brother and his family. Thanks, Baba for all Your blessings. People have to follow Your path to go in the right direction. Om Sairam!
Thanks To Sai Baba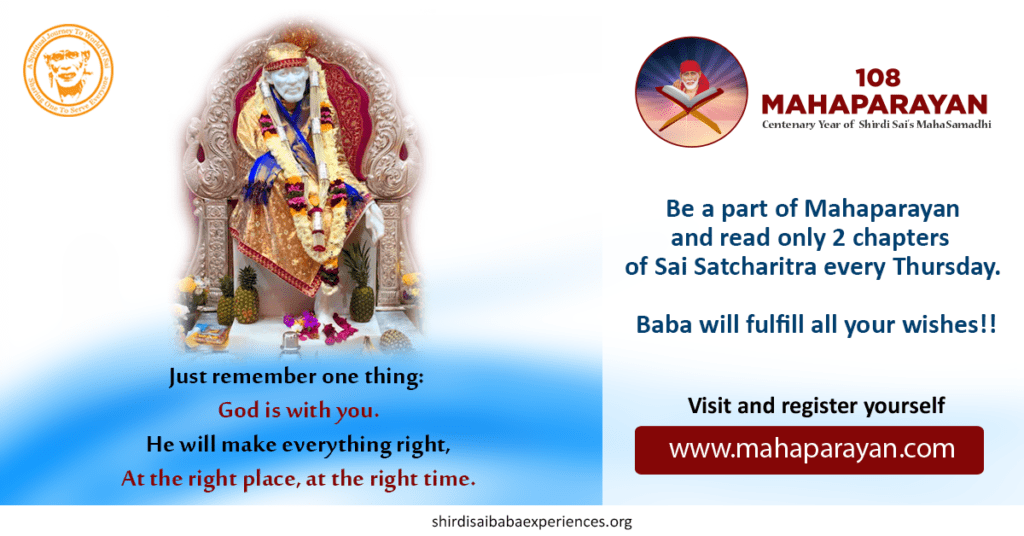 Anonymous Shirdi Sai Devotee from the USA says: Om Sai Ram. Thank You to the team maintaining this blog. Om Sai Ram. I want to thank Baba for all of His help with a difficult situation. It was causing so much stress for me and I was not able to resolve it. I prayed to Baba that if He solved it, I would post the experience. 
I am not even able to express my happiness in words but Baba helped solve it and as promised I am posting. Another time I was not able to find something important and I was looking at so many places. I prayed to Baba that I would share the experience if I found it and within a minute I found it. Baba, we are not deserving of Your kindness but thank You for all of Your love for us. We are always at Your feet Baba. Thank You so much, Baba.
---
ShirdiChe Sai Baba Book
A book that can be considered next to Sri Sai Satcharitra is available for reading on our blog, kindly do not miss reading it.
More from SaiYugNetwork.com
© Shirdi Sai Baba Devotees.com – Member of SaiYugNetwork.com