Seeking Guru – Sai Baba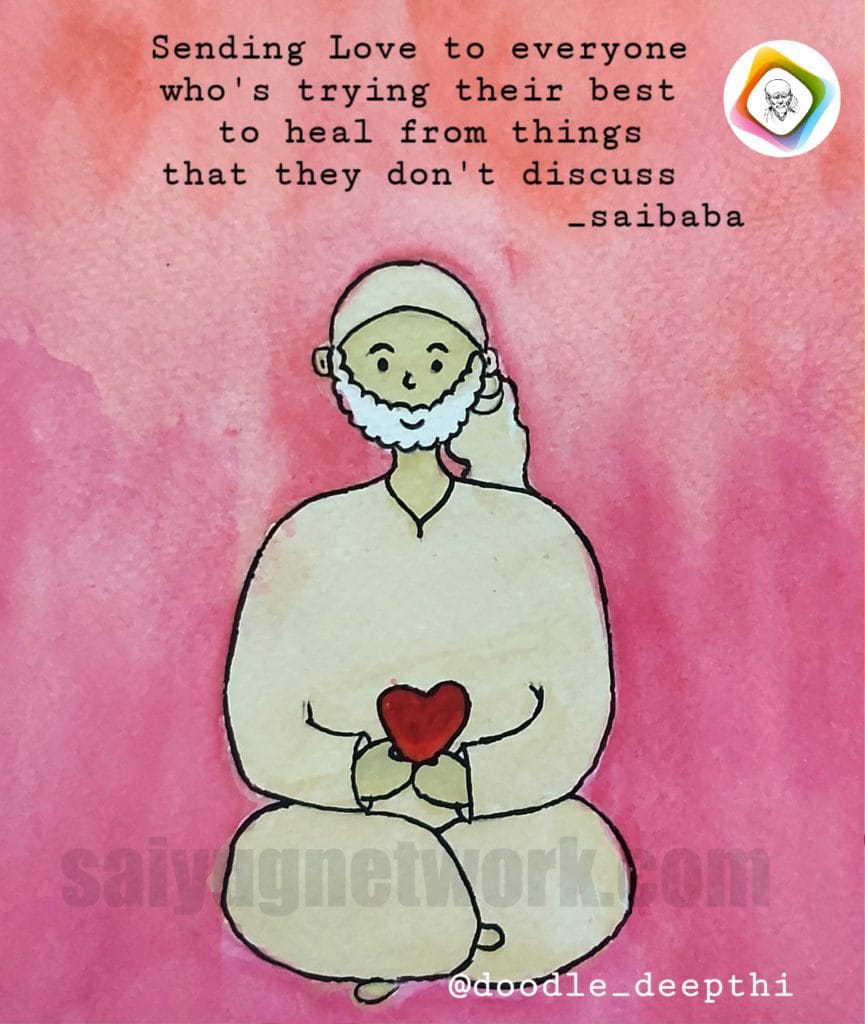 Shirdi Sai Devotee Guruvesharanam from India says: My post is about finding my Guru, getting a job, and healing physical and mental health.
During 2017 I went through so many hardships. I was at home waiting for my Call letter for six months after my graduation. I felt so depressed. I liked a guy. He liked me too but because of some misunderstandings, he hurt me so much. I felt so lifeless; first, me being at home without a job, then this guy thing, all made me feel so depressed. By God's grace, I had a friend who really helped me deal with my heartbreak. One day she called me as usual, but this call was so special and different from any of our calls. We started to talk on Wednesday at 10:40 pm. We spoke some random things and we kept speaking about so many things, but at 3 am somehow suddenly she told me about Sai Baba. That was the first time I heard of Him and she told me to visit His temple. That day was a Thursday. I was astonished how our silly talk suddenly became so spiritual at 3 am. Then the same day at 4 pm, my dad called me and suddenly told me that he was in Sai Baba temple and I should also visit sometime. I never knew my dad even prayed to Sai Baba. That day was the first day when I was hearing about Baba from two people who are close to me, and they both insisted that I go to Sai's temple. That's how I started to know about Baba.

I went to my Pooja room and somehow I suddenly took a Sai Baba book. I really don't know how that book we had, as it was the first time I became aware of Baba. I don't know how Sai's book we had or how correctly I went and took His book? I started to hug His book and cried and cried and cried, it felt like I finally came home, it felt like I already knew Baba and after being lost I finally found Him and He pulled me to His safe heart.

I visited His temple with my parents within a few days. Correctly when I was about to enter His temple, a girl from my college who also got in my same MNC came out of His temple and told me we will get our call letter soon, it felt as though Sai gave me hope through her for my worrying heart.

The guy I liked spoke to me and finally, I felt strong enough to let him go as I wasn't sure if he is good or bad, I wasn't able to forget him for the past six months but suddenly I felt strong. The same day I got the good news that I got the job in a metro. I was so happy and so were my parents. I thanked Him. I purchased new clothes and with my parents, I went there and purely by His grace not only did I get a great, posh apartment to stay in, but also my college friend as my roommate and also I got the same location as my friend and also made many best friends. My stay was awesome; I had never experienced such happiness, friendship and sisterhood before and now all was because of Sai. Each day I used to see Sai in pictures of shops etc., I kept seeing Sai everywhere; my devotion for Him grew and grew. I could feel Him every day. I stayed there for three months after that I got transferred to my hometown. They were the best three months of my entire life filled with fun, luck and joy, mainly for someone who felt depressed and lost in my life, it felt like heaven. I finally felt happy with my life, friends and everything. It turns out that guy I liked also started to like me.

I was in a deep depression before this job due to various things, but Sai came into my life, knowing it was dark, He came as Light and He took my depression away and gave me many reasons to smile.

I had four best friends. One of my best friends woke up one day and with one eye suddenly she couldn't see anything. Her eye's vision was completely blank. We all became so shocked and she went to her hometown that day. She called us and told us how the doctor told them they need to do an operation to bring sight to that eye. I was so shocked. I prayed to Sai. I prayed to heal her eye and that I will take her to Sai's temple when she came back to the city and within two days, my friend called us and told us how another doctor told us that it was just a vitamin B deficiency. After a week she came back to the office, and I told her how Sai healed her and that we needed to go to His temple. We along with another friend after our office time of 8 pm, went to His temple correctly for night Arati. It was my first time seeing Arati. Sai looked so beautiful and the Arati literally looked like a movie scene, there were so many coloured lights beautifully reflecting on Baba. I was so awestruck. Sai also gave us the grace to visit Iskon the same night, somehow by 10 pm too all these temples were open. My friend became a Sai devotee. Now I notice that a lot of my friends are Sai devotees.

During my college years, when I used to watch the Kung fu panda film, how Panda has Oogway – a master who believed in the Panda, I always cry wishing I had a Guru, I normally don't cry, but for some reason, I kept crying for Guru. I had no clue Guru can be God, I always cried wishing I had a Guru and I keep seeing this quote "What you seek is seeking you", I never knew what it meant then but after getting Sai, I came to know I have a Guru, I just didn't know at that point that I was seeking Sai deep in my heart and He was seeking me or pulling me to Him. To everyone who has Sai, it is our biggest gift to even have a Guru to call our own, what all problems you have isn't as big as our Guru or His love for us, so believe in Him, you will become a better person and cross this mundane sea of existence.

Jai Sairam!
Sai Baba's Gift For The New Year
Anonymous Shirdi Sai Devotee from India says: I am an anonymous devotee of Sai Baba from India and thank you to all who are maintaining this blog.
Please publish my experiences. I hope this experience of mine will get published at the right moment when Baba wants it to be to give hope to many devotees exactly when they read what they were searching for.
Coming to my experiences, I have had a PCOD problem since then. I was so tense because without the doctor's medicine I was not at all getting my periods. Some three months ago I took the medicine along with lots of home remedies and lots of workouts. I also almost daily cried and prayed to Baba. Even my mom was worried a lot but more than me she has unshakeable faith in Baba because whatever she asks for me she asks from her heart and soul. She prays to Baba with pure devotion. PCOD gives me horrible experiences like anxiety, and no concentration and my eyesight also becomes very bad. Then at that moment, Baba guided me through one video. They were talking about the Udi and its miraculous powers. I also did my Sankashti pooja for Bappa. 
After a week I started taking Udi daily. I was using joss sticks ash as Baba's Udi. It was even less than a pinch a day. Finally today I got my periods naturally without any workouts, home remedies and doctor's prescription. Never before in the last year had it happened like this. Yesterday being Thursday I was so lazy to do the Baba's worship and somewhat neglected the pooja but He was not as He is as caring as my mumma. I thought of sharing this earlier but then my mom called me and I was sharing this with her. She told me that yesterday she was very busy at work and it was almost midnight. Then she lit a lamp in front of Baba and prayed to heal me and today I was healed by Him. What to say about all these?
These are all the blessings of Baba, Bappa and Rama. Today is the end of the year. Baba gave me a New Year's gift. Also it is so clear that Baba doesn't expect extraordinary poojas, naivedyam etc. from us. He likes the devotion of simplicity. He likes simple souls. One single voice of love and He is there to heal you from anything. Also, His Udi is like Sanjeevini if you believe in it but if you don't believe it's nothing but ash. The same thing is with His answers. Whenever You ask for His answers through sites or by any other means, you need to have faith and belief that you will believe that answer only then He will give you the answer. If you are not ready to accept his answers then He will not give you the answers.
Om Sai Ram!
Om Sai Rakshak Sharanam Deva!
Om Shirdi Vasaya Vidmahe Sachidananda Dheemahi Tanno Sai Prachodayath!
Om Sai Ram!
Sai Baba Darshan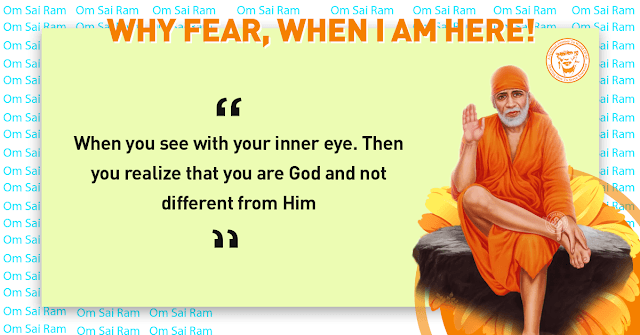 Shirdi Sai Devotee Guruvesharanam from India says: I would like to share about Sai's Darshan in a dream during my greatest difficult time.
During 2018-2019 I was going through so many phobias, anxiety, fearful thoughts, depression, suicidal tendency etc. I felt that I couldn't live my life. I felt so hard.

One night I got a dream. The dream was like a dark place, the sky was filled with stormy clouds and lightning, I was running and running and a flash of big lightning with a whip hit my back. It hurted me and I was running and running. Then after one point, I knelt down and I started crying. Then suddenly two people patted my arm and when I looked up, they told, "This person is the greatest Lord Shiva Devotee," pointing at me, when I looked up they showed me a Lord Shiva Idol which was blue in colour and He came as Swayambhu (He came from Earth by Himself). He looked all blue (like how eating Poison and saving the people, his throat turned blue. In my dream His entire body was blue. He took all my fears). I went to Him and prayed to Him. This was my dream. I felt so happy to see Him.

But as days went by I forgot it. My phobias were still there in my life and I felt so miserable and depressed. It was controlling my life. I kept imagining bad events and kept being scared. One day again I saw a picture of Sai Baba along with Lord Shiva Who was completely blue in colour. The picture has Earth and sky filled with His grace and the wording says "You are always in my sight and don't forget that. That is why I gave you Darshan. Without my permission, nobody can even touch your shadow." That is when it struck me that it wasn't just a dream, but Darshan from Sai. Sai says He will give us darshan in the form of our favourite God. My favourite God is Lord Shiva. Everything in that dream is a sign that Sai knows everything happening in our life, the good, the bad and the ugly.

In that dream the stormy clouds and lightning describe how hard my life was filled with my karma, the storm and lightning were my own karma. Also in the dream, the first lightning struck my back with a whip. I didn't know much about it at that time, only after a few months by Sai's Grace, a colleague of mine who is also a Sai devotee kept asking me to accompany her to Sai's temple every Thursday. I went for her to Sai's temple for four Thursdays and also she told me to go for an annual health check-up that our office gives for free. Because of her, I fixed an appointment and went to Sai's temple first and as prasad, I got a red flower. Then I went for that free annual check-up. Through the ultrasound I came to know that I had the biggest cyst in my left ovary, even the doctor was in a big shock. She said that she never saw this big cyst. I had back pain for almost two years or one year, but I never gave much thought to it. Only due to Sai's grace I got that free health check-up, if not for it, I would have never gone for any check-up. It was His grace that I went to His temple every Thursday for four weeks and the fifth week I was getting diagnosed.
My parents were so shocked. I felt so sad that I had the biggest cyst in my ovary. After two days the doctor told me to come again for a proper scan. I went to Sai temple before I went to the hospital, this time I got two red flowers as Prasad (later only I knew one red flower I got last time denotes my one ovary is healthy and two red flowers I got this time is a sign that both my ovaries are healthy) and I went to the hospital. When I lied on the bed for a scan, I kept hugging Sai's idol praying and pleading my ovaries must be healthy. I was 23 years then and I kept praying. The doctor told me that I still had got the biggest cyst in my left ovary from the girl who notes the reading. I kept chanting Sai Sai and within a second, the doctor told her to rewrite the observation. She said that the cyst wasn't in the ovary, but below it. Then after the scan, we found out that the cyst was from the spine and it was an infection in the spine. Again we were shocked but I was so happy that my ovaries were so healthy. By Sai's Grace, the doctors we went to were all friendly and told me that I would be alright. I was directed to the three doctors (cause first we thought it was ovary, then we came to know that it is bone) and each doctor clinic had Sai Baba Idol. It was like Sai was guiding me to which doctor I must go and He showed me a sign that He is with me all along and I needn't fear.

Now I am healthy because of His Grace. If not for Him, I still would have had severe back pain and ill-health and still, it all would remain undiagnosed.

To anyone going through health issues or love issues or money or family trouble, anything, remember that it is our karma we did that is biting us, but don't worry, since we are Sai's devotees, he will surely destroy all this karma. They say Sai carries 99.9% karmas, we only carry 0. 1%, but that itself is hard for us. So imagine what all our Guru is doing for us.

If you haven't got Sai's dream, don't worry, each of us gets His Darshan in various ways, some get it in the form of a dream, and some get it in the form of normal people or as a bird like a pigeon. Sai comes in various ways. I know how hard life gets but Sai can pull us from any storm we are going through. Keep praying to Him. Keep asking Him for a sign. I begged for His dream. I felt scared of life. I felt that my life was dark, but when I needed Him most Sai gave clear signs. Sometimes I can't see His sign because of my ignorance, but when we keep searching for meaning and His signs then we will surely find it. He is always with us and guarding us and destroying our Karmas. We might or might not know it, but He surely is there beside you.
Dad's Recovery Due To Sai Baba Grace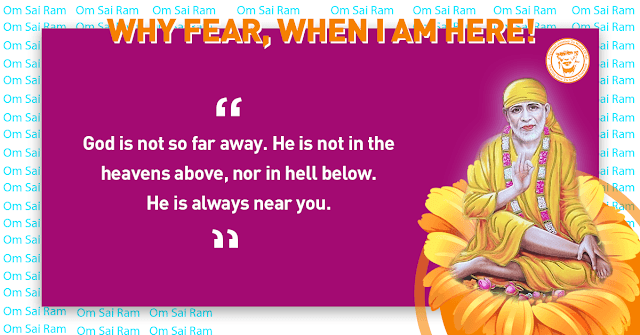 Anonymous Shirdi Sai Devotee from India says: I'm from Chennai and have submitted many of my experiences till now. I'm a regular reader of this site and have submitted a few experiences which I had with Sai Baba. My father has also posted a couple of his experiences here. Today I want to write about how Baba helped him to recover and come home from the hospital.

Two weeks ago on December 18th, early morning I got a message saying that my dad was vomiting blood and had to be admitted to a hospital. I rushed to Hyderabad the same day, praying to our Baba to keep him safe and healthy. 
The next week was very bad. My dad who is above 70 years and diabetic had to undergo not one or two but three endoscopies to find the reason for the blood loss. This happened over a period of five days during which he was only on drips and was not given any food as they wanted to complete the endoscopy. They had to do the endoscopy thrice as the first two times the doctor could not see anything as there was dark fluid inside his throat and abdomen which had to be removed first before the third endoscopy. The reason for the blood loss was the blood thinner tablets which he was using coupled with the oesophagus ulcers. All this took its toll and on the fourth day, the doctors observed a variation in ECG and did a test to check if he had suffered from a heart attack. That day till the result had come we all were praying for him.
I read two chapters from Satcharitra in front of the ICU. The cardiologist did not find any major concerns in the report and we were very grateful to God.
The next day his Sodium levels shot up and he became unresponsive, which was another tension for us. With medication that too became stable after a few days. That day we visited the nearby Sai Baba temple and had the good fortune of listening to Shej Arati. The next day they shifted my dad from the ICU to the room. Still, there was much to be done. He was very weak and was not able to eat or drink or speak. It took another week for him to get discharged and finally today Dec 31st he returned home. I will always be thankful to Baba for helping my dad. I had promised that the day he returns home I will write about this experience. Thank You Baba for helping my dad to recover and come home. It seems he had lost hope of coming out of the hospital. But why fear when Sai You are there. Please shower Your blessings and always take care of my parents. Om Sai Ram!
Sai Baba Blessings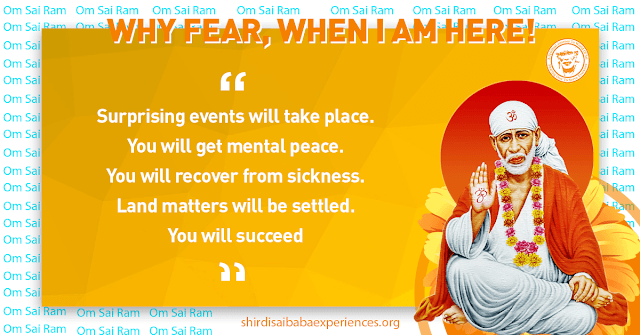 Anonymous Shirdi Sai Devotee from India says: Om Sai Ram. Thank you to all for this amazing blog. My gratitude and Pranams!
1. I have been preparing for this exam for which I had prayed a lot to Baba. While going to check the centre I prayed that if I see Baba's photo then I will take it as a positive sign. I did see Baba's temple. I was so blessed and my heart was full of gratitude. I was very confident. Then my exam got over and as soon as I sat in the car, I saw a car in front of me which had Sai written on it. I was very happy. Although I couldn't make it, I knew that Sai is with me always. He always has something better planned for me ahead and His timing is perfect. So always my gratitude for Sai.

2. Thank You Baba for the smooth refund process. It was a big amount and all of it got refunded to our pleasant surprise. Thank You Baba so much.

3. Thank You Sai for the safe trips for which I prayed.

4. I got to read the Gokul Ashtami chapter in Sri Sai Satcharitra just a day before the actual Gokul Ashtami. I was so, so happy. Thank You Baba.

Thank You, Sai for this year and for everything. Thank You, Sai for every moment and every breath. I bow down in gratitude. Please always keep ma, papa, Bhai and me happy, safe, healthy and at peace. Om Sai Nathay Namah! 
Global MahaParayana Miracle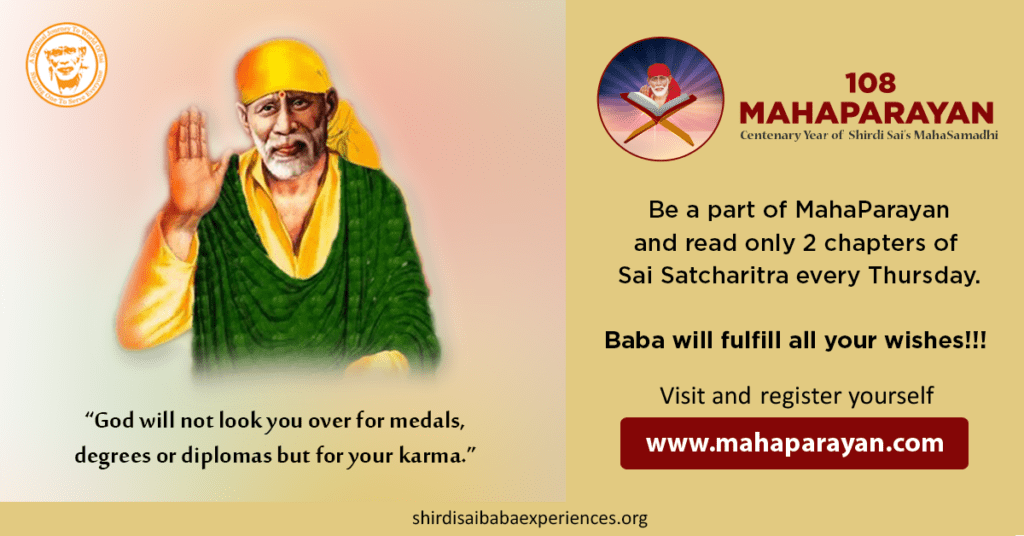 Anonymous Shirdi Sai Devotee from India says: I would like to share a Sai miracle with Baba's divine blessings. Actually, I have been a Baba's devotee since my childhood. With blessings from my mother I got the opportunity to come into Baba's divine fold. In 2019 I joined the Global MahaParayan Group and every moment I am experiencing blessings with Baba's grace. During mid of April I tested positive for Covid 19 and after 10 days again went for testing. On 30th April my Covid test was negative and on the same day I got a promotion in my career. In every movement of my life, Baba's blessings are there. Sai Ram!
---
More from SaiYugNetwork.com
© Shirdi Sai Baba Devotees.com – Member of SaiYugNetwork.com