Trust On Sai Baba's Planning And Timing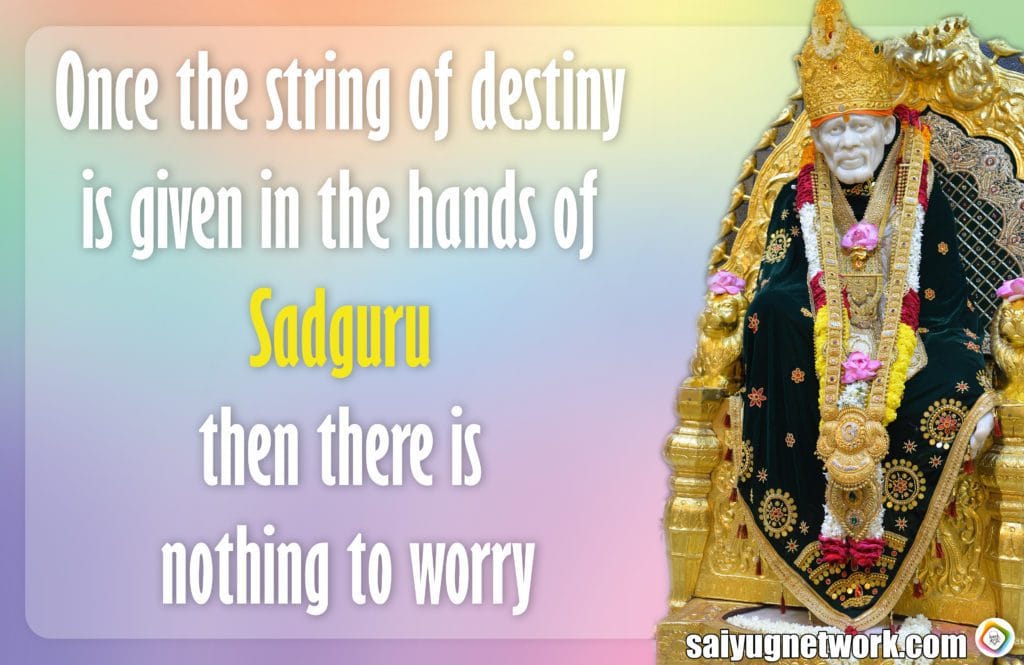 Anonymous Shirdi Sai Devotee from the USA says: Om Sai Ram to all devotees. Thank you very much, Admin and team, for providing this platform to share devotees' experiences. I am from India and currently located in the USA. My family and I are Sai devotees. Baba pulled our family towards Him 10 years back and it all started with a trip to Shirdi. Since then, He has been taking care of us like a Father. We feel blessed, guided, safe, and protected every day. Under His holy feet, we have prospered in all matters of life like devotion, faith, patience, health, and livelihood even in these difficult times (pandemic). My wife and I do Shri Sai Satcharitra Saptah Parayan twice in a year and are also part of the Weekly Global MahaParayan group.

In past so many years we have experienced many miracles, so I would like to share an experience that happened to us in 2019 when I got an opportunity to advance in my professional career but the chances to grab the new opportunity faded as I was waiting for an important piece of immigrant document required for considering any new job in the USA. But Baba was right there listening to our prayers and His grace helped me to overcome all the hurdles to achieve success.

We moved to the US in 2013 through an Indian IT firm and I was working for them till mid-2019. I was distressed with no career growth and continuously prayed to Baba for a new opportunity. In the first week of May 2019, I received a call from my close friend to check if I was looking out for a job change and if I agreed then he could refer me to a company where he was recently selected and there was still an open position. I was happy and excited to hear this, but my mind started pulling me back as I was lacking the necessary immigrant document which could hold up my recruitment process. But a part of my mind kept telling me that this is an opportunity sent by Baba and He would surely remove all the obstacles. So, I should leave all my worries and fear to Baba and rather focus on the interview.
I thanked my friend for sharing this opportunity and showed my interest in the new role. The next few days I had a brief telephonic interview with the hiring manager and HR followed by a skype interview with the entire recruitment team. With Sai Baba's blessing, things were gradually moving as I hoped and the last step was to appear for an in-person round of interviews. I was anxious and was praying to Baba all the time to help me fight my fear of failure and rejection as I was experiencing the interview process for the first time in the US.
On the scheduled date, I flew down for an in-person round and with Sai Baba's grace, the day was well spent. It was more of an interactive session with team members, managers, senior leaders, and HR rather than a formal interview round. On the return trip, I was scheduled to take a connecting flight from Chicago back to my home. I reached Chicago around 5 PM and my connecting flight was scheduled for 10 PM. Without any delay, I collected my boarding pass, cleared the security check, and reached the boarding gate. I was exhausted by then and fell asleep. The mere thought of this incident still gives me goosebumps; a voice in my sleep just ran past my ears and I was awake. To my surprise, I saw the time was close to 10 PM and the boarding gate was open with passengers boarding. I could have easily missed it, but Baba was taking care of me, so I was able to board the flight at the right time and reached home safely around midnight.
A few days later I received the confirmation/appointment letter from HR and to my surprise, the compensation offered was more than I expected. I accepted the offer and thanked Baba wholeheartedly for always taking care of us and blessing us with all our needs at the right time. But the process was not completed yet, I knew the recruitment team would now ask for all my immigrant documents and that was something that I was still waiting to receive. I and my wife were continuously praying to Baba to clear the remaining obstacles. My wife promised to stay awake all night, light up a Diya, and read Vishnu Sahasranamam. I joined her but after an hour or so, I went on to sleep. I woke up around 4 AM and found my wife still in prayers. To my surprise, she asked me if I stepped in around midnight to wake her up. She told me that she fell asleep around midnight and somebody called her to wake up, but she didn't find anyone around. This was again an astounding experience, where Baba wanted her to finish reading Vishnu Sahasranamam making sure His devotees are completing their promises. Finally, we entered the miracle day when all our prayers were going to be answered, around 10 AM I refreshed my Inbox to receive the document I was waiting for. I rushed to my wife to let her know the good news and we fell in front of Baba thanking Him for everything and letting Him know how blessed and protected we are under His holy feet. I sent out all my immigrant documents to the recruitment team and with Baba's grace, all legal activities were processed successfully on time.

It's been more than two years now since I write this experience. Baba, please forgive me for being late, lazy, and sluggish in writing Your blessings in our life. These last two years have brought so much change. This new career opportunity has bought so much learning me and helped me to grow both professionally and financially, especially at a time when we are seeing so many job losses due to pandemics. We are protected and safe under Your holy feet. You blessed us with a son and now You have blessed me with a new career opportunity. We thank You for everything, all the happiness, sadness, difficulties, learnings, opportunities, and most importantly accepting us as Your devotees.
Sai Baba Helped In Quick Recovery From Covid-19
Anonymous Shirdi Sai Devotee from Belgium says: Hello Team, Thank you so much admin for maintaining this wonderful blog. This blog serves as motivation for millions of Sai devotees all over the world and also keeps our faith in Baba intact. Reading miracles on this blog every day gives me an immense boost and courage.

Coming to my recent experience, suddenly last week everyone in my Aunt's family got sick in India and were having severe Covid symptoms. It included my 83-year-old grandma, who is already weak and was an asthma patient. When they took the test, it was confirmed to be Covid. I was really worried, as there was nobody to take care of the entire family in such times, as I live abroad.
First two days, my grandma had only a cold, but on the third day she had a throat infection and she couldn't talk at all, along with body pain and shivering. I was very much occupied with thoughts about their health and wellness. I prayed to Baba, that if He helps in the speedy recovery of my grandma and family, I will post my experience on this site. In the next two days, miraculously everyone got well and was having little body pain and cold. My grandma herself called me and said that her voice had improved and she got better. Thank You Baba for saving the entire family without big struggles and taking care of my grandma. Your blessing is the only thing that helps us grow and face all difficulties in our lives.

Sri Sachidhanandha Sadhguru Sainath Maharaj Ki Jai.
Sai Baba Is Always Merciful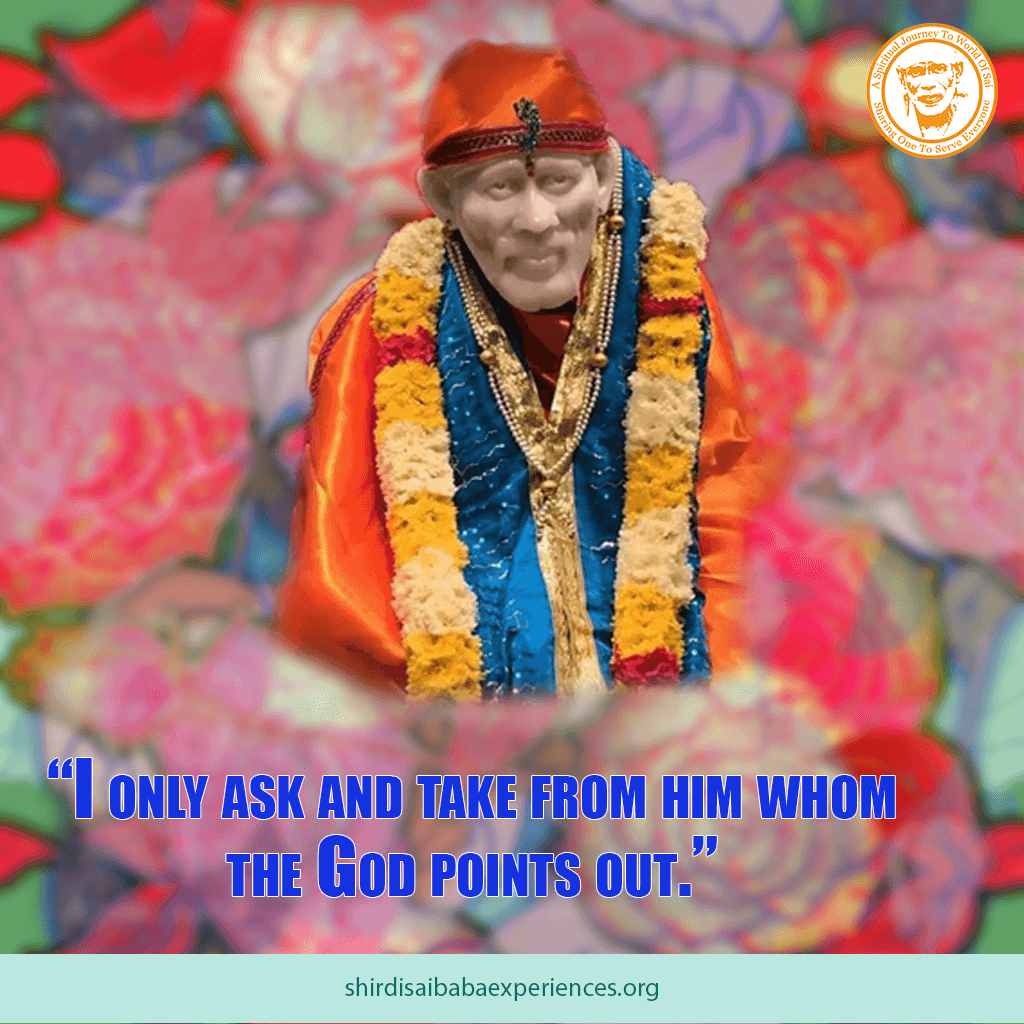 Anonymous Shirdi Sai Devotee from India says: Hi to All Sai Devotees. This is my recent experience.
Two days back my sister went for a one-day trip with my sister-in-law and her husband along with their friends. She was actually interested to go but due to her work timings, she initially said no to go. But my sister-in-law called on that evening and said that her husband came near our home due to some work and while coming back he can wait and pick up my sister once her work is completed. So, I insisted that she go with them. She went with him after her work was completed at 9:30 pm. That night they stayed in my in-law's house and the next morning they planned to go on the trip.
After she left on that day I got some scary thoughts in my mind regarding her trip. So, I prayed to Baba to please make sure that her trip was safe. Once she returned home safely I would post my experience here. Meanwhile, I would read 108 times the Sai Kasht Nivaran Mantra on that day.
As I am a new mom I wasn't able to complete 108 readings of the Sai Kasht Nivaran Mantra. I read only 22 times. I was a little scared as I wasn't able to complete the reading. Later I thought that this was Sai's will as He knows that I am a new mom and I would be busy taking care of my child so I am not able to complete the reading. So, Sai put one thought in my mind to complete 1008 times Jaap of Om Sai Rakshak Sharanam. So, I completed this Jaap, and the next day my sister came home safely after the trip. So as promised to Baba I am sharing this experience here. I am sorry Baba I had promised to post this on that day only after my sister returned but I couldn't and I am really sorry for that. As You know Sai I have my pregnancy journey experience and one more experience to be shared here. I will be sharing them soon. Baba, You know a few scary thoughts have really disturbed me because of which I am not able to enjoy my motherhood. I am not able to share these thoughts with anyone except You, You know what are those thoughts. Please resolve this scary thought issue so that I can connect more with my baby and live happily and peacefully with my husband, baby, mother, sister, and all.
Jai Shree Ram Anjaneya Om Sai Ram Om Sai Ram Om Sai Ram Om Sai Ram Om Sai Ram.
Sai Baba Udi Saved Kitten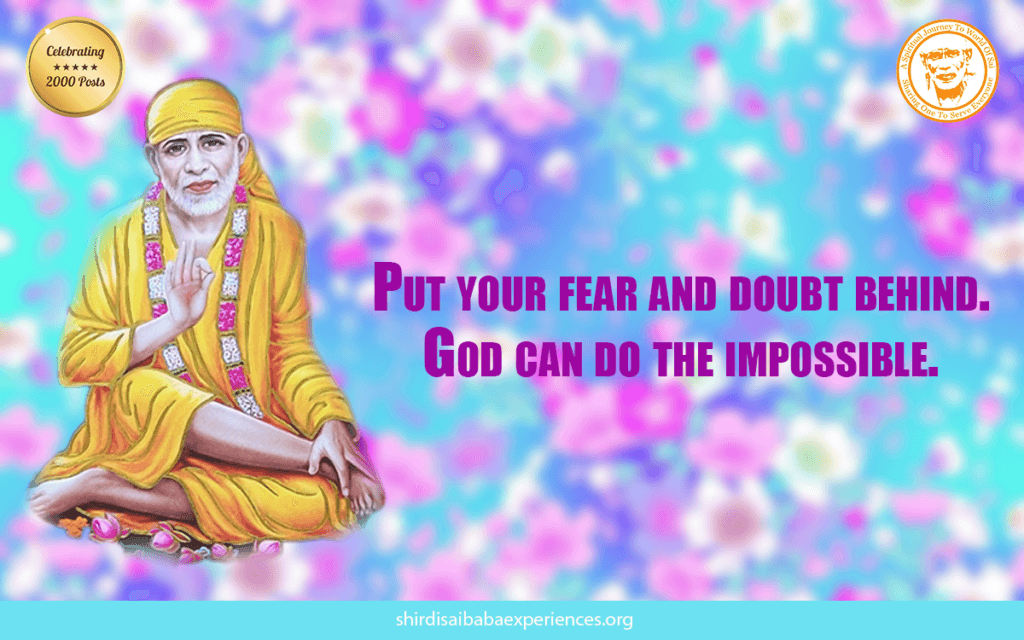 Shirdi Sai Devotee Malini from UAE says: Baba saved a tiny kitten with his miraculous Udi
Om Sai Ram!

My name is Malini. I live in Dubai. I feed a few cats in the building car park. One mother cat brought five of her tiny kittens and abandoned them under one car. Four did not survive, unfortunately, but I found the remaining one. It had terrible loose motion and was so tiny that it barely covered my palm. I took him to the vet who said that the kitten had Parvovirus. This is very deadly for kittens and 95% do not survive. In addition, he had ringworm infection all over his body. I was completely upset and prayed hard to my Babaji. The doctor gave me medicine for three days. I gave the kitten these medicines with a bit of Udi mixed in the food. After three days the loose motions had stopped and he started jumping around and playing. Kittens with Parvovirus do not even survive for hours, yet he was okay. Babaji's Udi had worked its miracle on him. He's still tiny and has ringworms, but I'm applying coconut oil mixed with Udi on him, so I'm sure he will be fine soon. Baba looks out for even the tiniest creatures of this world, where there seems no hope; He is the ray of light.
Om Sai Ram!
Life Is Smooth By Sai Baba Blessings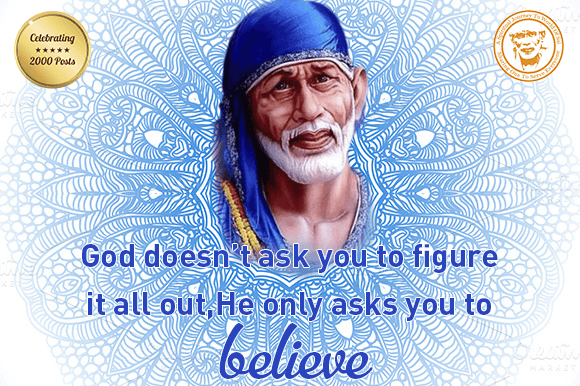 Anonymous Shirdi Sai Devotee from India says: I am a Sai devotee from Sambalpur, Orissa, India. Thank You for giving us the opportunity to share.
Thank You, Baba, with Your grace last week went smoothly starting from our health status to Goodloo's (my son's) online classes. Thank You for helping him in his study. With Your grace, my husband's entire journey was smooth and safe. Thank You Baba forever guiding us and protecting us. We are complete with You and we are nothing without You. Be with us always, oh Father. Om Sai Ram!
Vow To Submit My Experience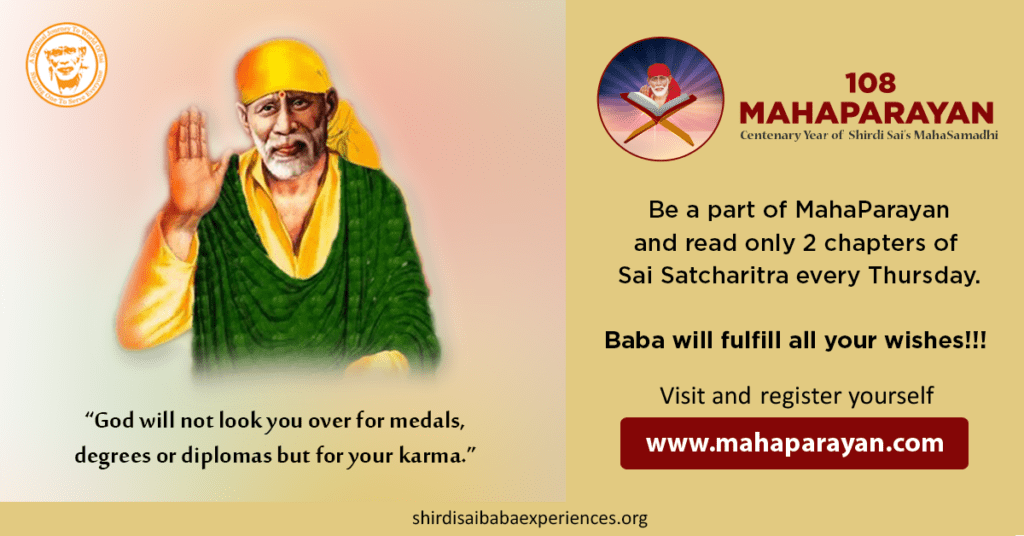 Anonymous Shirdi Sai Devotee from India says: I would like to always be a Sai Baba devotee. I usually read this blog as a habit. I am facing a lot of issues like my situation and circumstances are not favorable for even small things in life. I vowed to Baba for every small thing to happen and it is happening. Whenever I feel heavy, I hold Baba's feet mentally, so that I get little hope. Om. Sai. Sri Sai Jaya Jaya Sai. Om Sai Rakshak Sharanam Deva.
---
More from SaiYugNetwork.com
© Shirdi Sai Baba Devotees.com – Member of SaiYugNetwork.com