Sai Baba Saves Chenbasappa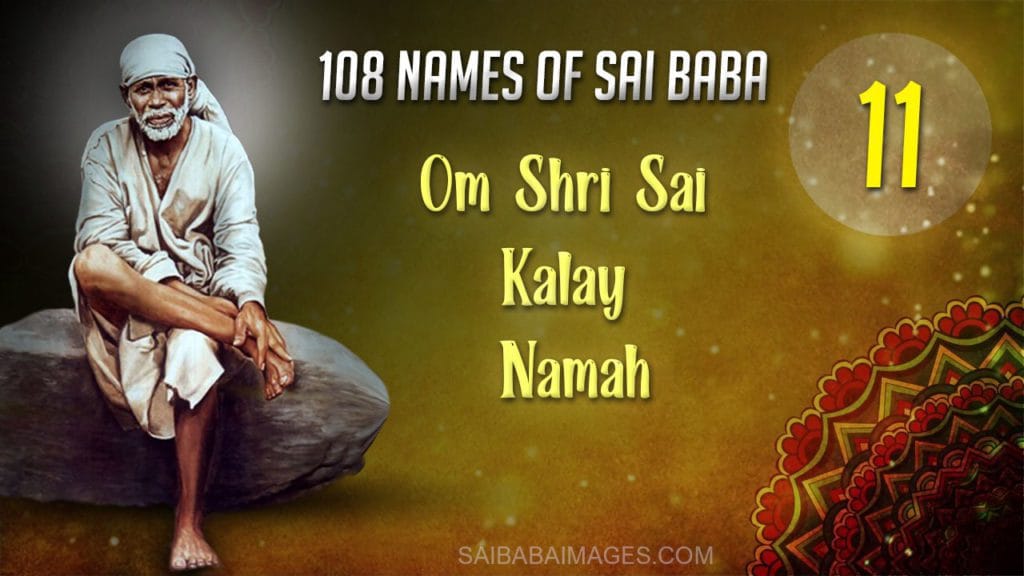 Shirdi Sai Devotee Ritwik Sai Gajendra from India says: Sai Sai Sai Sai Sai Sai Sai: This is Ritwik Sai, one of Baba's little kids, getting back to His Modern Satcharitra!
Sai Sai: This is to share our Bhole, Merciful Baba-Peer's (Baba's) Leela today i.e. on Wednesday, 02nd-March-'22, right a day after MahaShivratri!

Was on my way to a plant office to NH48, Delhi-Jaipur Highway from Gurugram, with Baba-Peer's grace, always do play Chapters from Shri Sai Satcharitra, Shri Sai Baba Kashta Nivaran Mantra, Shri Sai Chalisa, Lord Shri Shani Chalisa, Baba-Peer's Divine Message (From Divine Bliss YouTube channel) and more as per Baba-Peer's grace. Also, I always carry two packets of Vibhuti in my shirt's front pocket!

Today after crossing a stretch near a petrol pump, a biker who was riding in front of me, suddenly stopped his bike out of the blue, was at quite some distance, though then realized that he was not moving and was at standstill. I too then applied brakes and stopped successfully more than half a meter from the bike but then heard the screeching sound of brakes and in those moments of hearing those brake sounds which was of the car behind me, Baba, Insurance value, one of the colleagues whose car was hit badly and lot many things ran through my mind and it was as though the world stopped for a while!

Then heard a loud band sound from the behind and didn't have the courage to go and see it out rightly, though I gave an 'It's Ok' gesture to the driver as it was not at all his fault and then asked the bike rider to stop by so that we could talk, though deep inside I was still at ease and somehow felt for the biker too as he was not looking good enough in a position to make up for the losses. Though he again speeded up but got stuck in between the dividers. I too saw that and assertively (and not rudely, thanks to Baba for giving me that control) asked him to stop but to no avail, gave a good look at his number plate and then took some Vibhuti in my hand and prayed to Baba to save me and the car and would post the experience on the Hetal Di's blog, many of which are already pending. May Baba make me pen them at the earliest (one of them being Baba-Peer's gifted recent Shirdi Trip from 10th-12th of Feb'22) And lo behold, there was not a single dent on the car, only a slight touch mark, just couldn't believe my eyes.

Met with the driver behind me, He was with His entire family, two couples and a kid or 2. He told me that he had already got two accidents since morning and this was his third one, could see his car damaged from the right side of the headlights, told him that I am a Baba-Peer's kid and he too told the same, gave him one of my Vibhuti packets which he gladly accepted and as and so. He was moving on, could see Prabhu Khatu Shyam ji's symbol behind his car with, "Hare Ka Sahara, Baba Shyaam Hamara" and Baba had amazed me once again. As soon as this was over, felt a strong urge to take Baba-Peer's Darshan and thank Him, though had even thought to postpone it but then took a resolve to do that first at the earliest and He was waiting.

All this had happened in less than 500 meters from His abode across the highway, saw Him, it was on the other side of the Highway, and stopped my car, a bit farther from a patrolling police van (again it was a test of faith over fear), went to His court which I had visited earlier too. There Lord Shri Hanuman, Lord Shri SiyaRam, Lord Goddess Shri Durgamata, Lord Shri Shani Dev and our Bhole Sai Baba are there. His idol is there in the open and was still open and not closed, bowed and knelt down to Him and saw His wrist broken which explains it all as He took the calamity on Himself and saved me and all concerned! How He is the ever guarding and Protecting mother! This again brought tears to my eyes. May He bless all of us!
Sai Sai
Sai Baba – Guardian Angel
Shirdi Sai Devotee Meghna Sai from India says: Hi everyone. Om Sai Ram to Sai family and thanks to the team for your divine work.
I am the daughter of Sai. From the last fifteen days I went with lots of ups and downs. Still it's there but I know my Sai is taking care of our family. Present situation is like everyone from husband's side are willing for us to come on road without any assets and income. They want us to come on the road and beg or else we should surrender to them. They are torturing mentally so much by giving complaints from one station to another. We always are in fear but in that also we are peaceful and happy because "We are rich in Sai." He is holding our family. He has sealed His name on our family. No one can harm us and only they can think of more ways to harm us.

Baba, as promised I am posting my promised and answered prayers:

1. Thanks for giving sleep to my mother-in-law. She was suffering from tooth pain for the whole night and after the prayer, she slept peacefully.
2. Whatever they tried to spoil his day, You didn't give them a chance to succeed. You showed us Your blessing. Thanks for making my husband's birthday so special.
3. You always help me with my invoice and work at the office. Thanks a lot.
4. Without any hurdles he completed his work with Your blessing. Thanks, Baba, after long days we got that due to Your grace.
5. After praying to You, the Tulsi plant is growing well. As promised posting here. Protect Tulsi, don't let any evil eyes spoil that.
6. Shivratri was very special. Everything went well as You planned. Nagara Pooja, Kalikamba Blessing, Shiv Prasad, Kalikambaa Vibuthi and everything went well. You only arranged for auto too. Thanks Baba ( If Sai plans then everything has to go smoothly).
7. Every time they give a complaint, I will promise to post here if everything goes smoothly. As promised posting here.
8. When everyone went to Anna's house, You only took care. Thanks for that. As promised posting it here.
9. Thanks for reducing Adhi's fever. As it was a Shivratri we felt good by seeing him without fever and tiredness.
10. Thanks for making my quotation right without any error. As promised posting here.

(Devotees don't think bad as many times I complained here. We are in a house which was built by my father-in-law. He is no more. After that, it was divided and everyone wants us to vacate but due to this pandemic, we are not able to get financially stronger and are unable to vacate. Suddenly, they all want us to vacate for a bad intention not because they are in need and they want money. It's full of politics but Sai is with us. He knows good and bad. He will decide everything)

If I had forgotten to post anything then please forgive me

Om Ganeshaya Om Shakthi Kallalamma Thaye Adhithimappa MKDG Om Sai Ram Om Sai Rakshak Sharanam Deva. 
Sai Baba Is Everything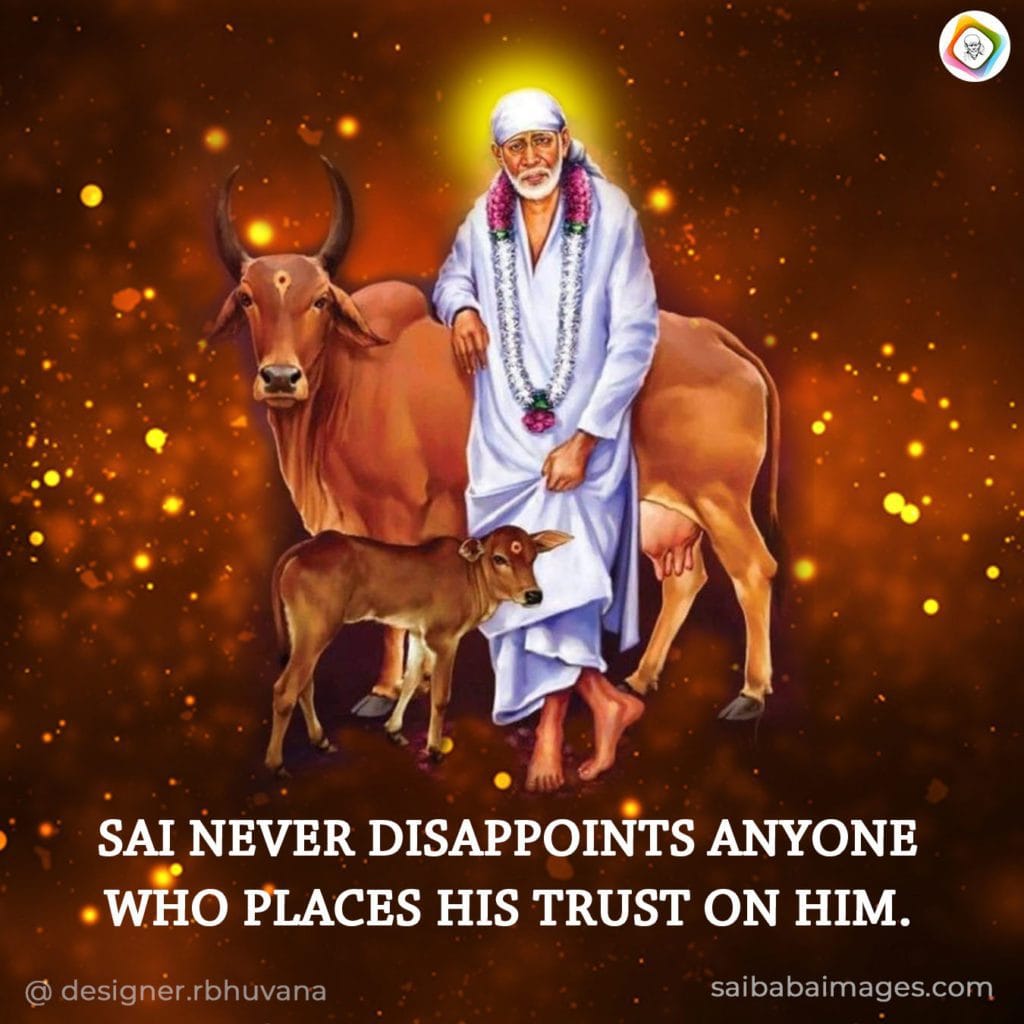 Anonymous Shirdi Sai Devotee from Germany says: Greetings Hetalji. Please keep me anonymous. I am from Germany. Baba is everything to me and my family. 
Experience 1
For my two Covid vaccinations I prayed to Baba only to protect me and only with hand pain. I was protected by our beloved Baba. Again for booster also I prayed to Baba to protect me and this time also I had very minimal hand pain and I was doing good. Thank You Baba for always protecting me and everyone.

Experience 2
I have been facing health issues for the past year. I even shared my prayer request here. Each time Baba is helping me to face the situation and to overcome them. I am having gallbladder stones and kept my prayers under Baba's holy feet. Today I had brinjal for lunch. Then suddenly after some time, I got itching over my hands and legs. Then rashes started coming here and there. I was scared and worried. I applied coconut oil and prayed to Baba that it should go off soon and it should not go much worse. With Baba's grace slowly the rashes went on by themselves and I was perfectly fine. It was all because of Baba's grace. Thank You Baba for always protecting us. Please everyone pray for my gallbladder stone issues to solve on their own with Baba's grace without surgery. Soon I will share my experience about that on this holy site, Baba. 
Baba, please protect everyone from all the evil things and health issues.

Om Sai Rakshak Saranam Deva! Om Sai Sri Sai Jai Jai Sai! Om Sai Ram.
Miracle Of Sai Baba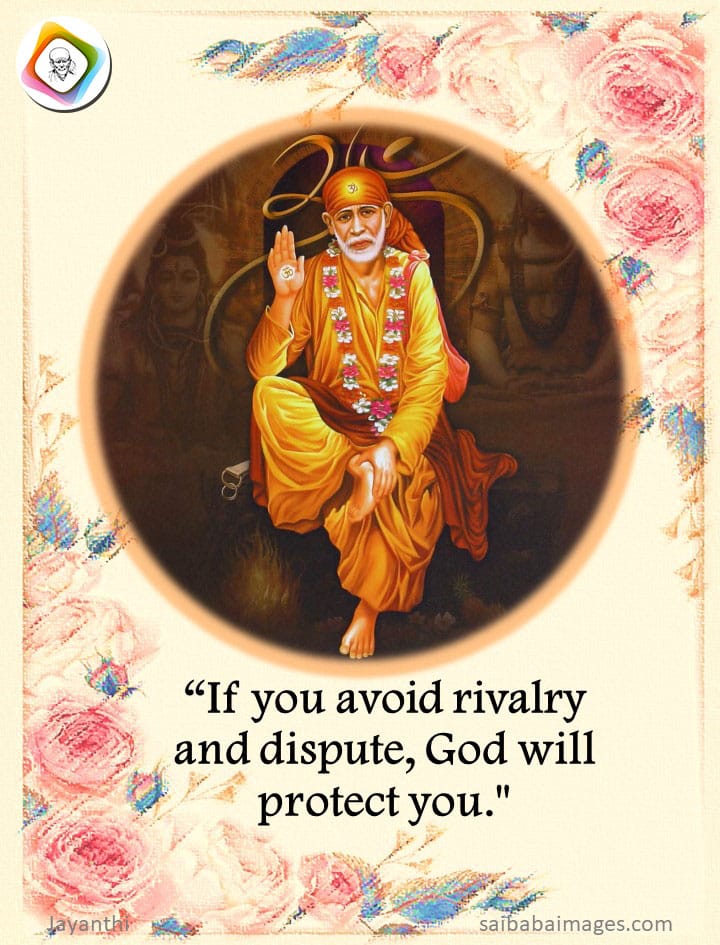 Anonymous Shirdi Sai Devotee from India says: Hi I am a member of the Global Mahaparayan group.
I want to share one of my experiences of Baba's miracles. 
I am a software employee looking for a job change. I just believed Baba that I will get a job with a good hike. I got one of the best job offers. I cleared the first round and waited for the results for almost 15 days. I did not receive any mail from the recruiter. One day I had a dream regarding the job that I had cleared the round and on the same day, I got an email that I had cleared the round. I was very happy that Baba listened to my prayers. But then the situation turned out of my hands. The person who took the interview was not accepting me for the role. I was waiting for the next round but the recruiter came to me and explained the situation. At that moment I was with no hopes and cried in front of Baba stating that I am an unlucky person but my mom made me trust that Baba can do miracles. Yes, the day has come. HR pushed my profile to another account, got a call from them and I have cleared the round and received my offer letter with an unexpected hike.

Baba is always with us. He knows what to give and when to give if His devotees are in trouble. Baba will take the pain. Whatever happens, will happen for a reason. Trusting Baba will make the miracles happen.

Om Sri Sai!
Thanks To Sai Baba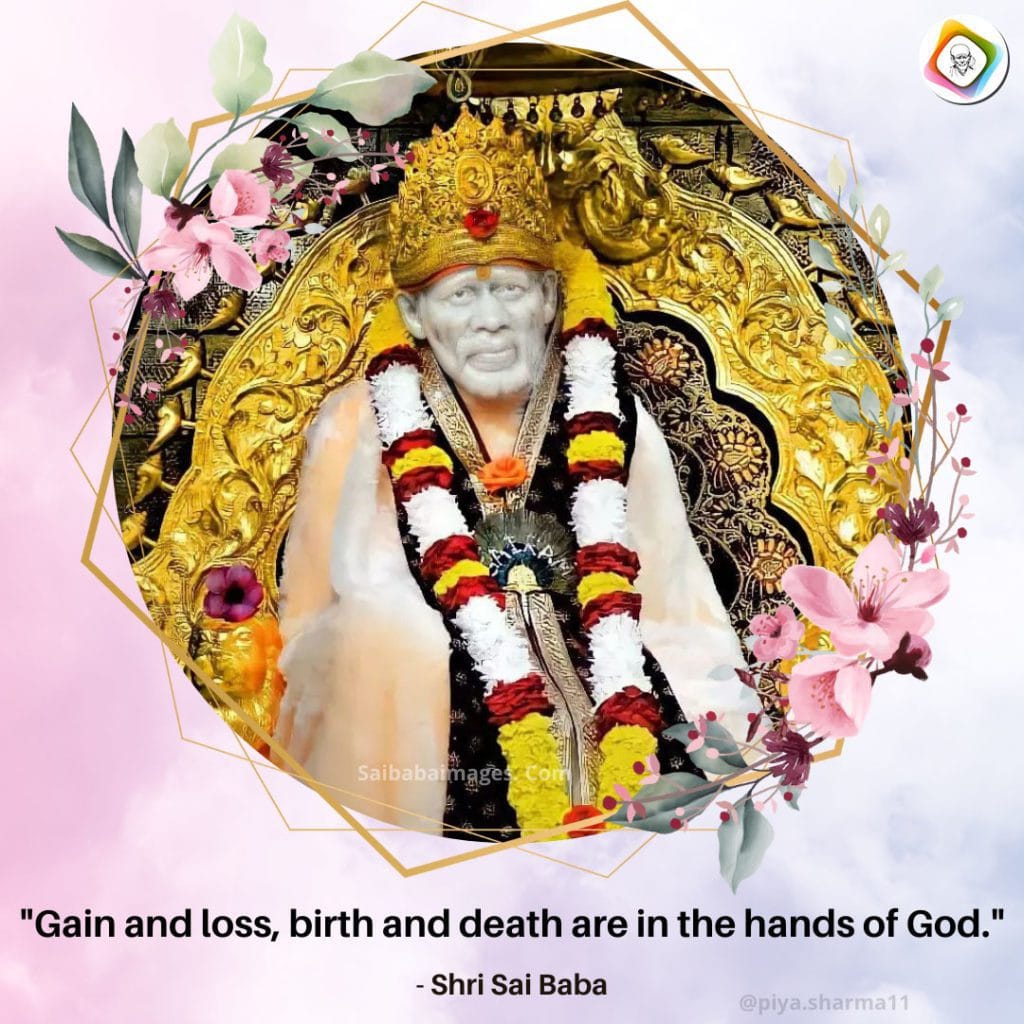 An anonymous Shirdi Sai Devotee from the USA says: Om Sai Ram to all Sai devotees. Thank You to the team maintaining this blog.
Om Sai Ram. I was praying for an issue to be resolved and it was not looking like it was going to get solved at all. I prayed to Baba too that if He helped to solve the issue then I would share the experience. Yes, our dear Baba helped and I have not enough words to say Thank You because without Baba it would not have been ok. Baba, thank You for always forgiving us when we make mistakes. Thank You for all of Your love even though we don't deserve it. Thank You so much, Baba.  
Gratitude To Sai Appa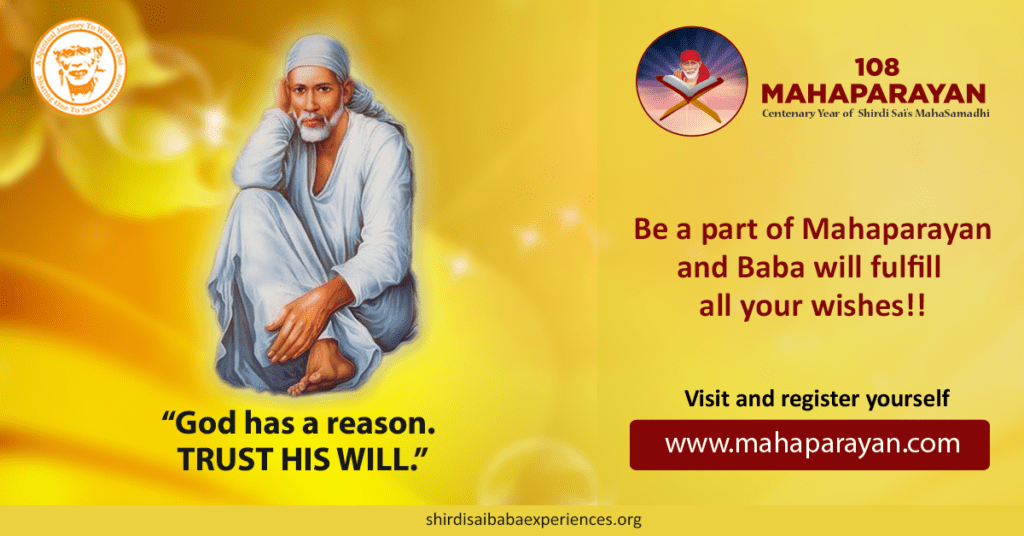 Anonymous Shirdi Sai Devotee from India says: I am a small devotee of Sai. Thank you for this wonderful platform. Yesterday afternoon suddenly I developed pain in my right ear. I applied Udi and prayed that my pain would go away. By Sai Appa's grace, my pain went away. 
My husband was suffering from a headache; that too was cured due to the blessings of Sai. Thank You, Appa for everything. You have always been there whenever we needed you. Please shower Your blessings on Your children. Om Sai Shree Sai Jai Jai Sai. 
---
More from SaiYugNetwork.com
© Shirdi Sai Baba Devotees.com – Member of SaiYugNetwork.com