Sai Baba Blessings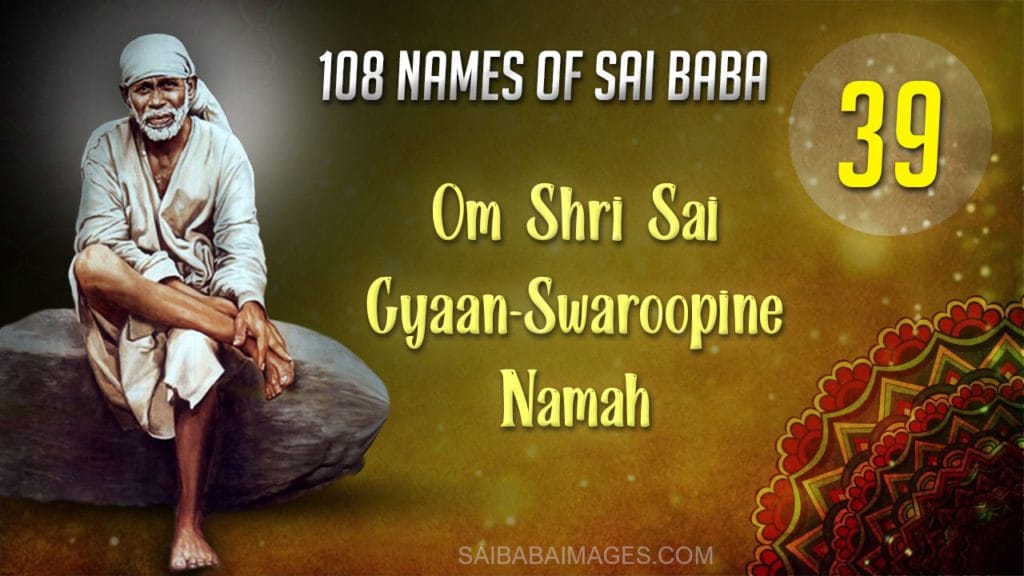 Anonymous Shirdi Sai Devotee from Ireland says: Dear Team, I have been Baba's devotee since 2013 and have experienced countless blessings from Baba.
Experience 1: My brother gave his English exam to study abroad and was nervous if he would get the desired results in 2021; if not then he would have to repeat the exam this year thus delaying the process by 1 year. I prayed to Baba to bless my brother and had good indications from Baba on the results. Needless to say, my brother got good results and also has offers from a few good universities. Please bless my brother with the money required for his education, and student visa and help him throughout his education and career. Please always be with him and bless him with a good wife and family life too.
Trip to India: I wanted to visit my family in 2021 since I hadn't been home for more than 2 years. With the merciful blessing had my leaves approved, booked tickets, etc. A week before my travel dates omicron variant started in India and throughout the world causing too much fuss. I was very worried about this especially due to the long layover in the Middle East and was also thinking about canceling the trip. However, when Baba decides to help you, who can get in the way! I went ahead with my trip, spent 15 hours of layover and after multiple Covid tests, I reached home safely. Though I had a cold and sore throat after reaching home I tested negative and Baba blessed me to spend my time happily with my parents and brother. Baba, please bless my parents with a good and healthy long life and improve their financial stability.

Baba Removed My Anxiety Over Sight: During my regular eye check-up, the optometrist suspected me of having glaucoma which would result in loss of vision after a few years. I cannot think of myself becoming blind since I am the only earning member of the whole family. While I was in India, I thought of getting a second opinion and I prayed to Baba for a positive sign. Baba gave me an indication that everything was good by appearing in a car and nevertheless my results were negative. Baba, You know my heart desires and something that I have been praying for years is manifesting right now. However, there are some hindrances and delays. Oh Sainath, please remove all the hindrances and delays and let me move on with my life, Baba.

Baba, I beg You to give my husband a stable and good job so that he can carry on with his life. He's really a gem and has borne a lot of bad things in his life so far. Maybe You are grinding his previous births' sins. Kindly get him a visa that enables him to work in Ireland, Sairam

Prayers: Sainath, You have been constant in my life since You took me in Your fold. I have been blessed with numerous miracles through Your blessing and I know that You take care of me and my family. You know my heart worries and my life which is a mess right now. Help me to overcome this chaos and reduce my anxiety, Sainatha. I feel so low and disappointed by the fact which is currently killing me inside. Help me to see the persons in their real forms and bless my family, husband, and in-laws abundantly.

Om Sri Sainathay Namah! 
Thanks To Sai Baba
Anonymous Shirdi Sai Devotee from Malaysia says: Om Sairam! Thanks to the entire team for maintaining this wonderful experience platform. Coming to my experiences, last week was very hectic and challenging but it was nice due to Baba's blessings.

The first experience is about Covid Infection To Me And My Family In KL: We all recovered due to Baba's blessings only.

Approvals From Big People Within Cut-Off Date: Through Baba's blessings I was able to complete it.

My Senior Boss Perception Towards Me:  I prayed to Baba that I have to be in his good books and he has to offer me the role that I requested. He acknowledged and I am praying to Baba to make it happen.

Governance approvals were all obtained. It is due to my prayers to Baba and His blessings. Thanks, Baba.

You know what I am praying for is that the people have to follow Your path to go in the right direction.

Baba, please bless me to sell my property at a reasonable price and with a decent deal.

Thanks for all Your support and blessings, Baba. Expecting this week to be great through Your support. 
Sai Baba's Grace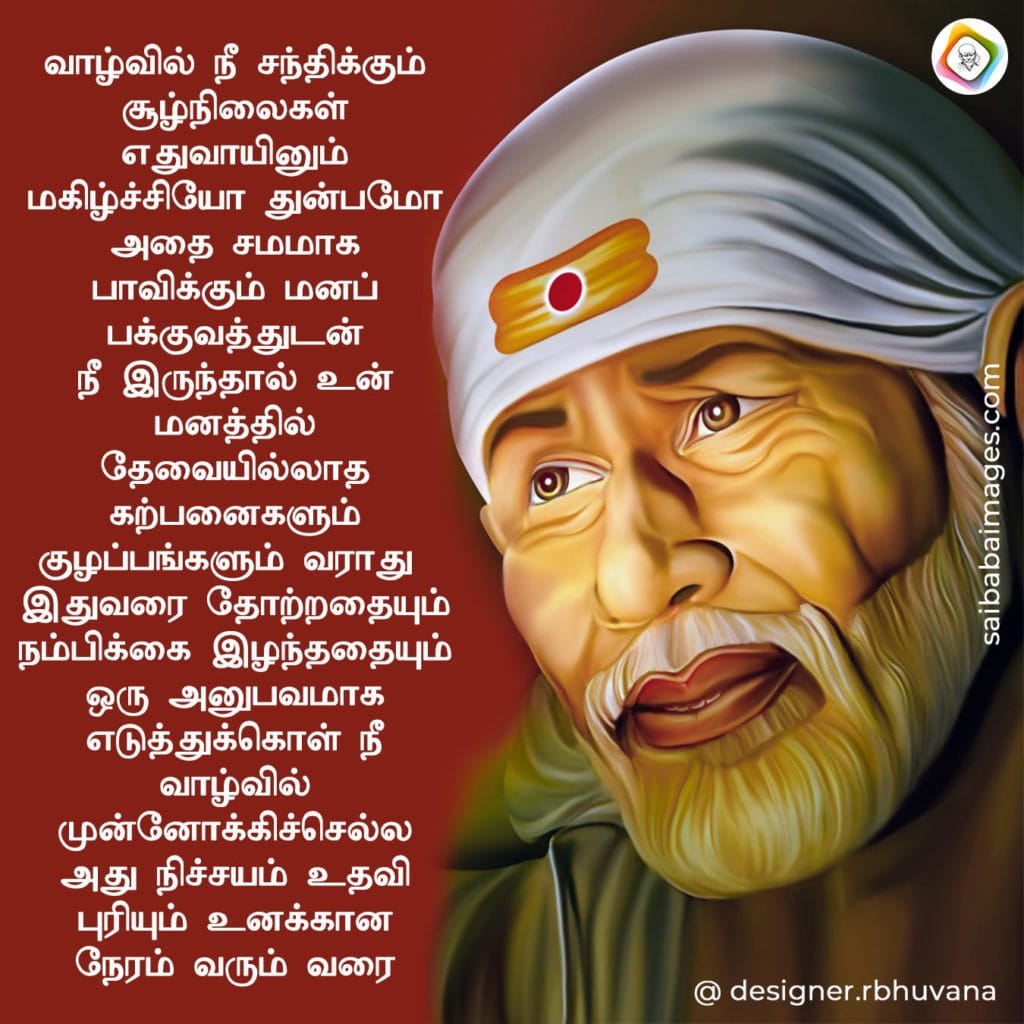 Anonymous Shirdi Sai Devotee from USA says: I am a small devotee of Sai and a member of the Global Mahaparayan group
My son had surgery and was recovering in the hospital. One night he was having pain in his back and shoulder and also his heart rate and breathing were high. Initially, doctors thought it was muscle pain but as it worsened the next day, they suggested a CT scan of the chest and abdomen. Throughout the CT scan, I chanted Sai's name and Sai Rakshaka Sharanam Deva. By Sai's grace, everything is normal except small fluid collection in the liver. The next day they did a procedure to remove fluid and throughout the procedure, I read Sai Satcharitra and Ammavaru Stotram. The procedure went well by God's grace and his breathing rate came back to normal. His pain also reduced a lot and his output also reduced. I know Baba will completely cure his pain and make his heart rate normal. Thank You, Sai for taking care of him. Please make him drink and eat well Sai and make him healthy. Om Sri Sai Arogya Kshemadaya Namaha. 
Gratitude To Sai Baba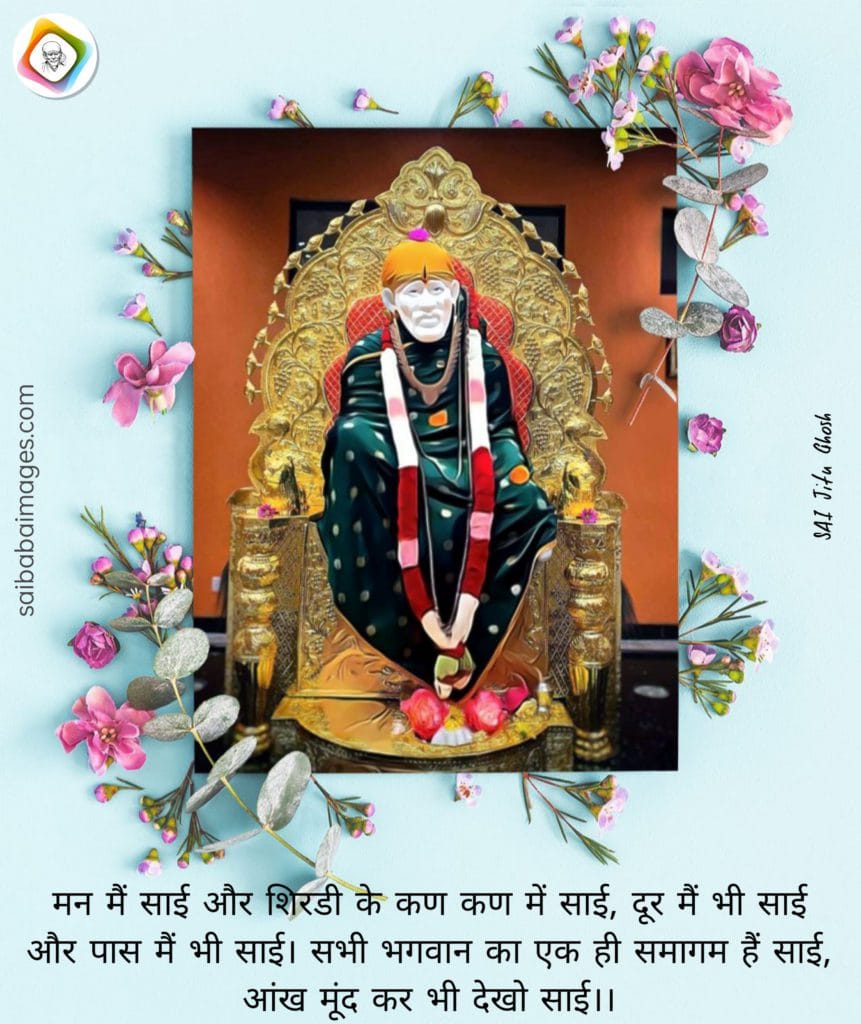 Anonymous Shirdi Sai Devotee from the USA says: Om Sai Ram to all Sai devotees. Thank you to the team maintaining this blog.
Om Sai Ram. I want to thank Baba for His help in resolving a difficult situation. I was not able to even understand how to solve it and I prayed to our dear Baba to please help resolve it. Yes, our Baba helped me and the situation got solved easily with Baba's blessings.
Baba, thank You is such a small word for everything You do for me. I am not at all deserving of Your love and kindness but thank You always for looking after me and doing what is best for me. We are always at Your feet, Baba. I am praying that my desire in my heart should get fulfilled with Your blessings soon. Thank You so much dear Baba.
Sai Baba Miracle For Sister's Life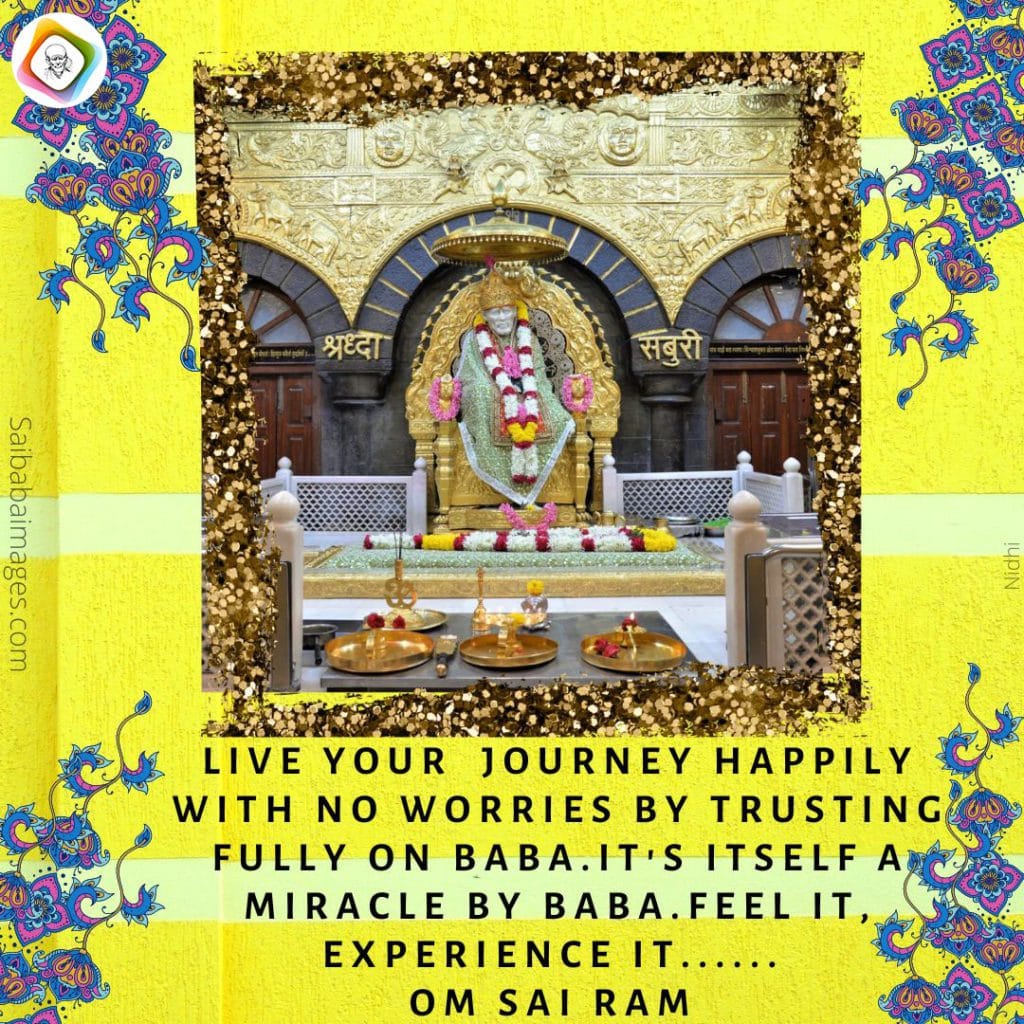 Anonymous Shirdi Sai Devotee from India says: I am a small devotee of Baba who visits this blog daily. I would like to be a small devotee of Sai Baba as always. After a long time, my sister's life is likely to turn positive. The bridegroom came to see my sister, which was not happening for a long time. Now it has started, though we rejected that bridegroom for some reason. I know Baba would send His man to marry my sister soon. I take this as a positive note since I know the toughest part of her life. Thank You, Baba, please bless my mom, brother, sister, my two sons, and my husband for good health and longevity. Om Sai, Sri Sai Jaya Jaya Sai. Om Sai Sri Sai Jaya Jaya Sai. Om Sai Sri Sai, Jaya Jaya Sai. 
Thank You So Much Sai Baba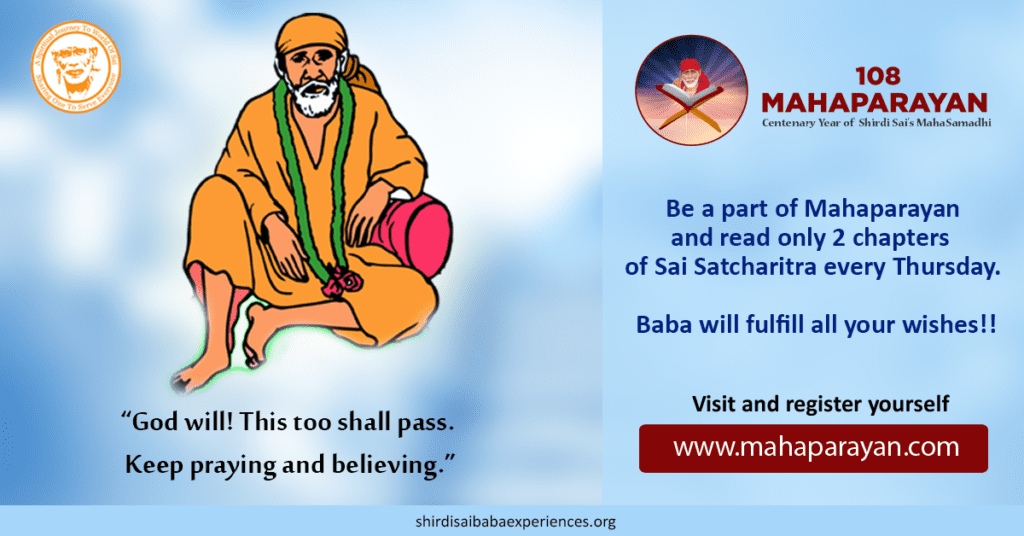 Anonymous Shirdi Sai Devotee from USA says: Om Sai Ram to all Sai devotees. Thank You to the team maintaining this blog.
Om Sai Ram. I want to thank Baba from the bottom of my heart for His help with a situation today. I was so stressed and could not even find words to say but I just prayed to Baba that He only should take care of everything for me. I am not able to express it in words but Baba helped me in such a difficult situation and I will always be grateful. Baba, I have realized my mistake and have learned as well. Please take care of the other situation as well that I have been praying for. Baba, You know what is good for us so You please take care of everything because I have surrendered to You. I only trust You and will always be at Your feet. We are blessed to be Your devotees, Baba. Thank You so much, Sai Baba. 
---
More from SaiYugNetwork.com
© Shirdi Sai Baba Devotees.com – Member of SaiYugNetwork.com