Sai Baba Blessed Through Blog And Reduced The Neck Pain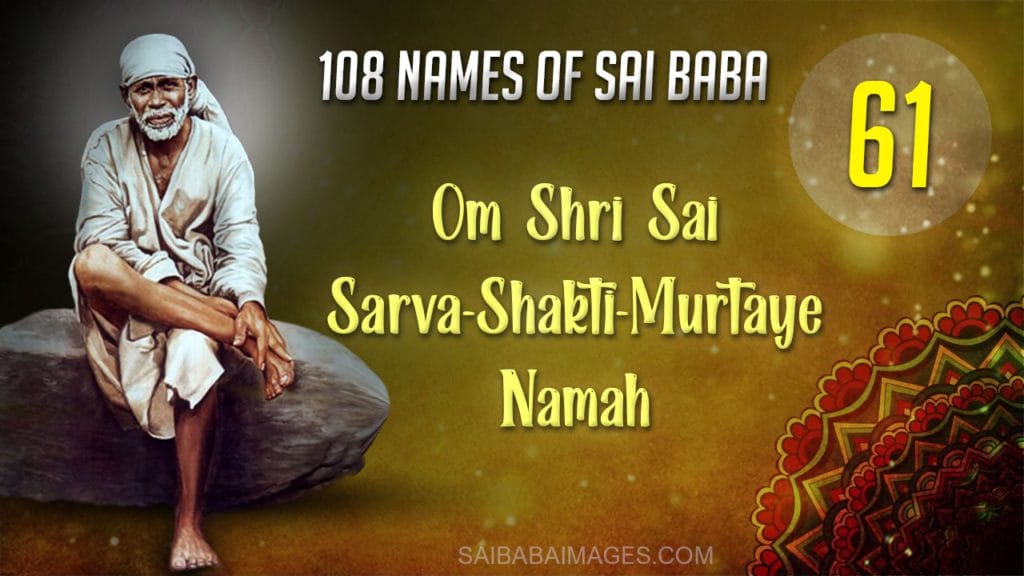 Anonymous Shirdi Sai Devotee from USA says: First of all my wholehearted thanks to the team who are managing or providing such a beautiful platform where all Sai devotees can share their views and their experiences. This blog gives happiness and peace to Baba's devotees and proves Baba's love and affection for His devotees. Baba first came into my life when I was 13 years old. Since then I started believing Baba blindly. I went through so many difficult situations in my life and in all those hard times Baba was there with me. Every time He reaffirms that He is always there with me by showing His miracles to me. Below are two experiences among them. This is the third time I am sharing my experiences with this blog.

Experience 1:  I took a Covid booster shot on my left shoulder, on top of that after one week my physician gave me a TDP vaccine. After 10 days my shoulder started paining badly. My left hand was swollen very badly and also I started getting neck and shoulder blade pain. My whole left side of my body was paining. I was clueless about what was going on. So again I visited my physician. She said that it might be due to a needle infection and it would have spread to my neck and shoulder blade. She gave me high-dose painkillers as my pain was severe. Even after finishing the course of antibiotics for ten days, my shoulder pain didn't get reduced. I was very much worried about my health. Again I called my doctor and she suggested taking an MRI scan for my shoulder or to visit an Orthopaedic surgeon. So again I visited Ortho-surgeon and he took X-rays of my left shoulder, neck, and shoulder blade. He said the x-ray was normal and suggested Physical therapy (PT). Later I even visited PT for six sessions which is usually very expensive and my insurance won't be covering that. Even after going for six sessions, my pain didn't reduce at all. 
One day in the morning I cried a lot with pain and asked my friend who stays adjacent to my apartment to come and apply some balm to my shoulder blade. She came and she applied it. Then I cried a lot sitting in front of Sai Baba's photo requesting Him to reduce my pain. I have a habit of opening the Sai Baba devotees' experiences blog every day and reading at least the headings of devotees' experiences shared on that blog. I see the pictures of Sai Baba and I will be reading whatever is message written beside that picture every day. I feel as if Sai Baba is speaking to me through this modern Satcharitra. On that day night, I got a picture of Sai Baba saying "Sai Baba Cured devotee's Neck pain." I felt so happy on seeing that and thought that Baba said those words to me. To my astonishment, within the next two days, my pain started reducing and within seven days it reduced completely. So our Baba assured me through that picture/message that pain would be reduced. I had promised Baba that if my pain reduced then I would write my experience on this blog. Thank You so much Baba for vanishing my pain and I am so sorry for my delay in writing this experience.

Experience 2: One day on the weekend I went biking to a nearby park along with my friend. After some time I stopped and rested at one spot for some time and modified some settings for biking on my i-watch. Later after five minutes, I drove back from that endpoint of the park. It was very late in the afternoon around 3 PM and I went to a friend's place for lunch. We cooked together and we had lunch around 4 PM. While coming back I realized that there was no watch on my hand. So we searched it everywhere in the house and didn't find the watch anywhere. So I was a bit disappointed. I then came back to my home in the evening with disappointment. Later I prayed to Baba that if I found my watch then I would post my experience on the blog and guess what, my friend called me and said I left my phone on their computer table. I was shocked on hearing that because I had already searched on that computer table previously while searching for the watch and I didn't find it at that time. Because of Sai Baba's grace, I found my i-watch again. Thank You Baba for making me share my experiences with other Sai devotees. Please bless my parents with good health. Please bless me with good health and a good future with a loving and caring husband. Please bless all the devotees. Ananthakoti Brahmanda Nayaka Rajadi Raja Yogiraja Prabrahma Sri Satchindanda Satguru Sainath Maharaj Ki Jai.
Sai Baba Blessed With A Medical Seat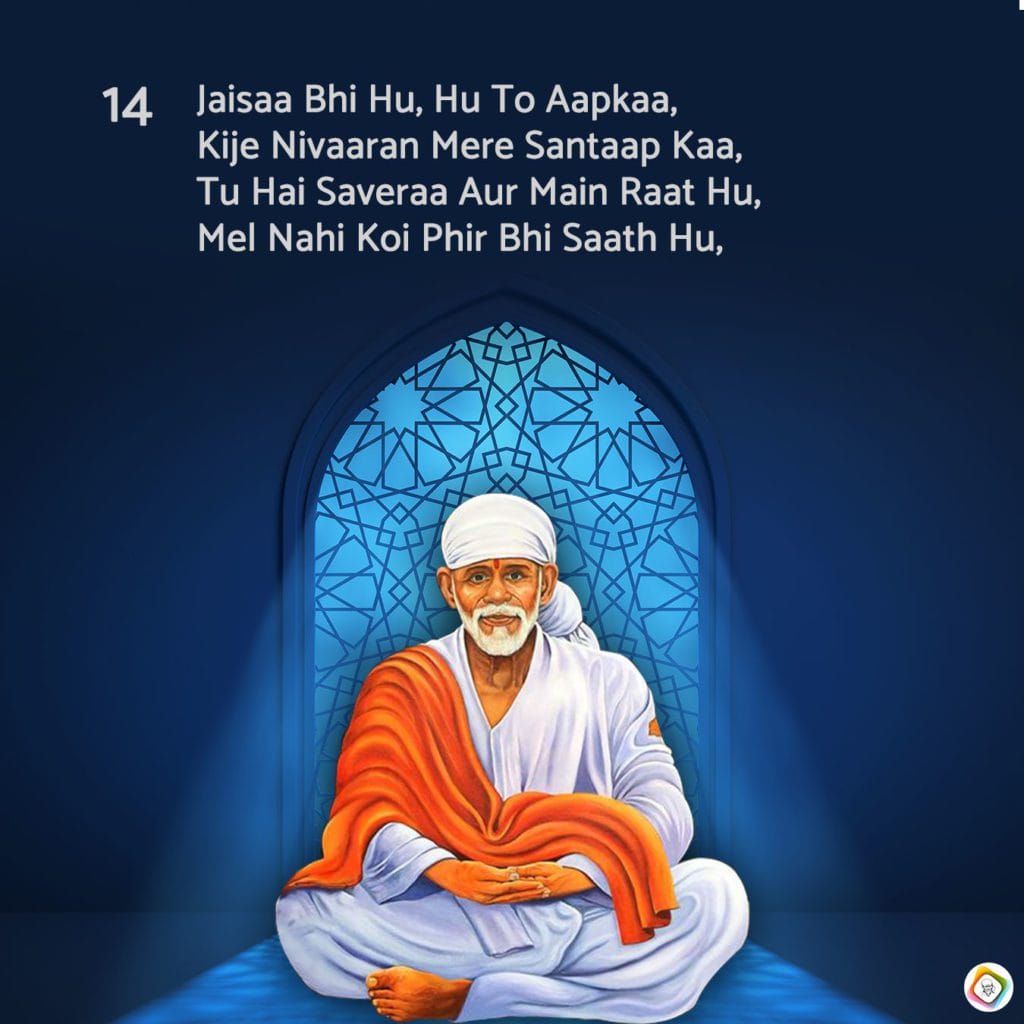 Anonymous Shirdi Sai Devotee from the US says: "Sincere prayer to Baba never goes unanswered." Thank you is a small word to express my gratitude to Baba. I don't think there is any word that can express my gratitude to my father. 'Baba' my day starts and ends with this word. I am unfortunate enough to experience Baba's blessings and have countless miracles in my life. My life itself is Baba's Bhiksha (alms). Here is my recent experience. 
Baba blessed me with a loving husband and two wonderful kids. My daughter who is in her senior year of high school wants to pursue her career in medicine. Studying medicine courses in the United States is not an easy thing as it takes a long journey to complete and high competition to get a seat. The first step is to get good grades at school. My child did her best and with Baba's blessings, she was able to achieve this. The second step is to get good SAT coaching but because of COVID, she was not able to get good coaching before COVID we planned to join her in a coaching center that got closed because of COVID. With Baba's blessings my daughter put her best foot forward and wrote the SAT, she got a good score but not great enough to get into the integrated medicine program. Third thing is to get shadowing experience under a doctor. Third, we tried many places to get volunteering opportunities under a doctor but nothing materialized. Again we held Baba's feet, as everyone guessed that she got an opportunity to work under an ophthalmologist.

After all these, my daughter submitted applications for colleges and she got selected for a program at one university where she does not need to pay a single penny to complete her undergrad. She was very excited and attended the interview, but she could not make it to the final round. She was very sad and cried a lot in front of Baba. My husband and I are part of the Global MahaParayan and encouraged my daughter to join the Global MahaParayan and told her to hold on to Baba's feet tightly. We also told her that if Baba did not bless her with this opportunity then there was something else that was much better. Yes, Baba blessed her with an integrated medicine program.

Both my husband and I started Nav Guruvar vrat during this time and again it's proved that He gave us what we prayed for. There is no such thing in this world that Baba can't give. Only sincere prayers are required. Shraddha and Saburi are required.

We are indebted to You Baba and my sincere prayers to You to be with my child during this journey and help her to excel in her studies. I wanted her to complete medicine and become a wonderful human being so that she can do seva in Shirdi Sai hospitals and help the needy and poor people. Thank You so much. Ananthakoti Bramhanda Nayaka Rajadhi Raja yogi Raja Sachidananada Sadguru Sai Nath MahaRaj ki Jai. 
Sai Baba's Teachings And Blessings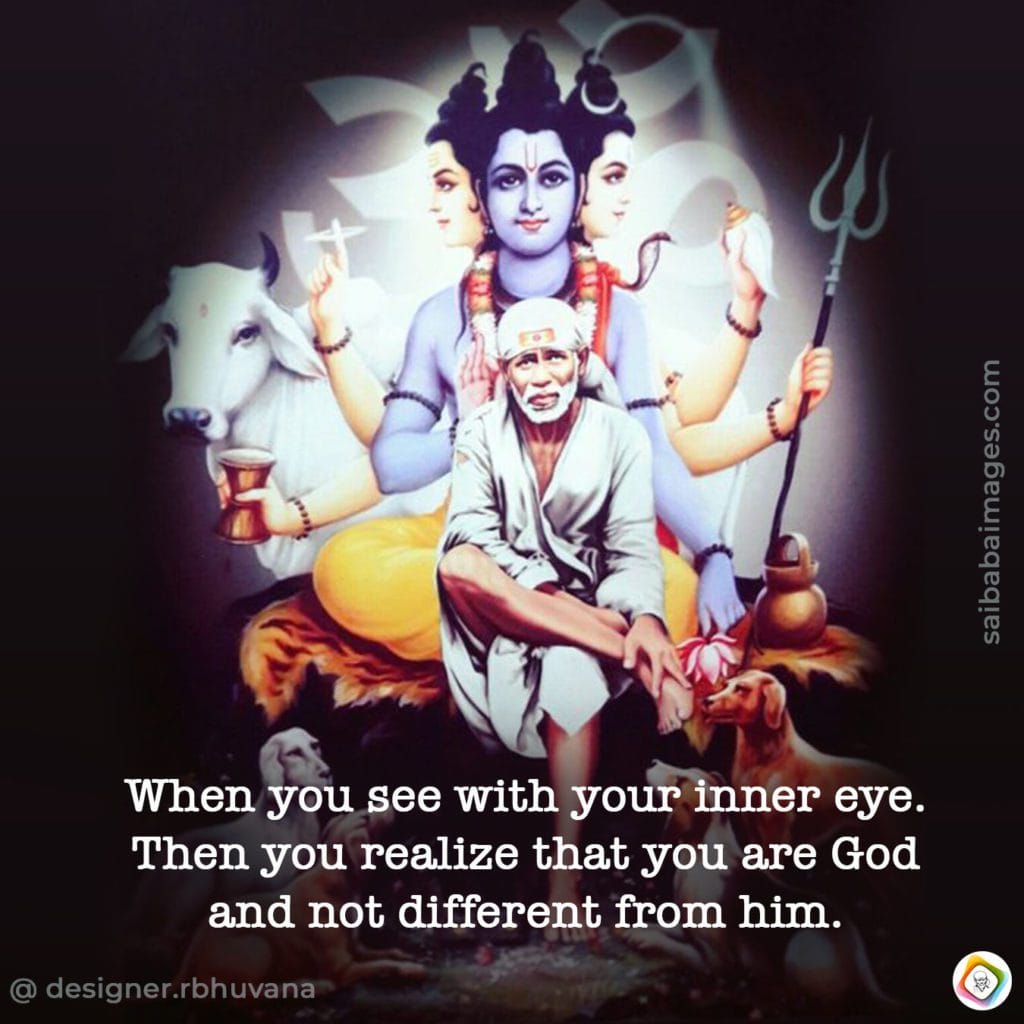 Anonymous Shirdi Sai Devotee from Mauritius says: Om Sairam! I would appreciate it if my posting could be considered anonymous. Thank you. Om Sairam. I am very grateful to the whole Sai Satcharitra Team for giving us this great privilege to join this devoted group and share our experiences which bring blessings and upliftments to the senders as well as the readers. 
Since I joined the Sai Satcharitra group I noticed a lot of positive changes in my everyday life. I have more peace of mind and feel happier. I never feel agitated as before even when situations are overwhelming. On the other hand, when I try to analyze my situation, I noticed that my perspective of looking at life has changed quite a bit. I approach people and situations with more understanding and love which in return brings more positive vibrations in everything I undertake. There is more respect and love in return. You get what you give! All I could conclude is reading the Sai Satcharitra and following the teachings and principles of Sai Satcharitra changes everything in life, our approach to life, our path, and our ways of thinking and uplifts us to a higher dimension. I am extremely grateful to you all for giving me this golden opportunity to join this group. It's priceless! Om Sairam. 

My experience for today is the following: My daughter's son who is three years old and the family moved to a different country and are all facing that vast transition. They are two brothers, a mother, and a father. The three-year-old fell sick with a very high fever. The doctor said that he had a very bad virus in his tummy. 
When I received the picture of my little grandson lying on the hospital bed unconscious with the Doctor adjusting the strum by tube, I could imagine the feelings of a mother and grandmother. Even writing this episode filled my eyes with tears and so many emotions. At that very moment, I took my Shri Sai Satcharitra Book close to my heart and closed my eyes feeling that this sacred book is our Life Saver. I promised to read the whole Satcharitra in a week or so and to publish my experience. To start with I read chapter 7, which is considered for sickness. As you all know it's always a miracle of Sai Baba. The next day, he could open his eyes and feel less helpless. He is much better now and as promised I'm publishing my experience. I have learned quite a lot by reading experiences from you all. Today I am sharing my experience with you. I'm sure you will learn something from it. Om Sairam. 
Sai Baba Held Devotee's Hand As Always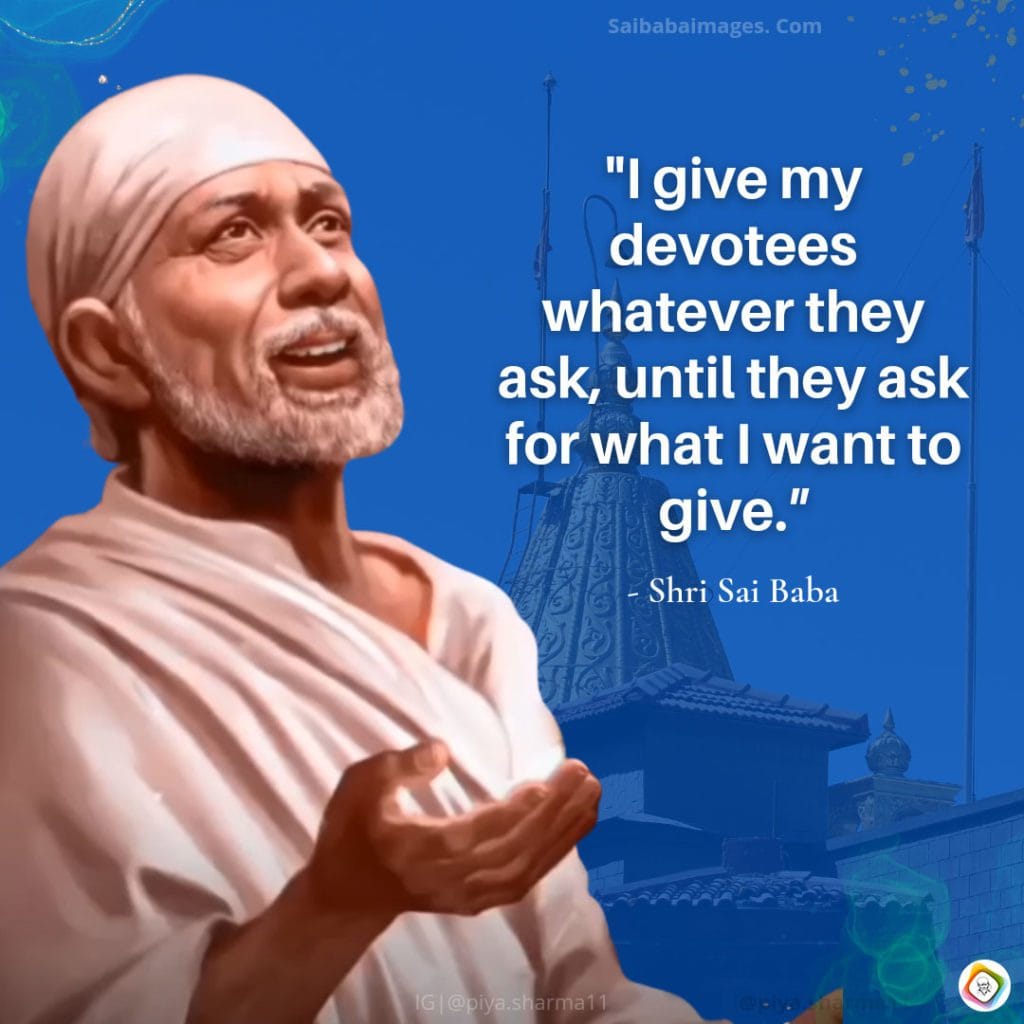 Anonymous Shirdi Sai Devotee from India says: I am blessed to be able to say Sai and that He comes running to save me always. May Baba bless all. 
I am nothing in this life, but Baba loves me so much, even though I don't deserve His love. Some days I forget this and become stressed, but still, Baba is always holding me. 
Hetal ji, your website is like a thread that holds us to Baba. Someday when we forget Baba or my faith or patience is wavering (which should never happen, but it's in our nature as doubtful humans), I read your website blog or experiences and it immediately reminds me how much Baba loves me. Each and every picture giving the messages is like literally talking to Baba. 
Recently, I woke up to read BMP (Brahma Muhurat Khichdi Parayan) at 4 am, but then fell asleep. Suddenly I had a phone call from work at 4.30 am for some emergency. Baba woke me up at the right time to finish my parayan. 
At work, something went really wrong. I fainted worrying that I would be blamed for it and also couldn't eat anything for two hours, till things were being set right. I had promised Baba that I would write my experience here, as it had been months since I wrote anything. And after two hours, all problems were resolved, like they never existed. Baba brought the storm, for me to learn from it, become stronger, and be able to face these hurdles with full positivity and strength.

Baba, You brought me here though I feel guilty that I forced You to fulfill my wish of coming here. but You kept telling me that You are there and that things would work out well. I believed in You and would continue to believe in You. You know my wishes, even the ones I don't say and are deep in my heart. You take care of everything. I know, You would do the best for me and everyone who says Sai…Sai…
Baba, always bless all. Om Sairam. 
Sai Baba Fulfilled Wish
Anonymous Shirdi Sai Devotee from India says: Hello I'm from India. I have been a Sai Baba devotee for 8 years.
Thanks to this platform to share our experiences. I'm very happy to share my experience. I'm sorry Sai Baba for sharing it late. I had promised to post my experience here once I got a job. I was very sad about losing my job but I believed in getting better as I believed Baba and my Mom always used to say not to worry and that Baba will look after it. She asked me to just keep attending the interviews. I prayed wholeheartedly and I got to a better place. Thank You, Sai Baba. My boss is also a Sai Baba devotee. I also promised to visit Shirdi, but still I didn't go. I will be going soon to see Sai Baba. Baba, please help me in difficult situations and remove the obstacles. Om Sairam!
Sai Baba Kripa
Anonymous Shirdi Sai Devotee from India says: I am from Haryana. My son had got a swollen eye when he woke up. I was worried. With Baba's blessings, I put some eye drops in his eyes and he got well. 
Then I had a severe gastric problem and with Sai Baba's blessings, I am better now. Again then my son was vomiting badly. I prayed to Sai and he was fine in the morning. Now he is down with a cold and cough plus loose motions. My nephew got asthma. I am heartbroken, Sai. Please make them both totally fit and fine. I will again share my experience. Om Sai Ram! 
29-4-22.
---
More from SaiYugNetwork.com
© Shirdi Sai Baba Devotees.com – Member of SaiYugNetwork.com