Sai Baba Saved Devotee's Parents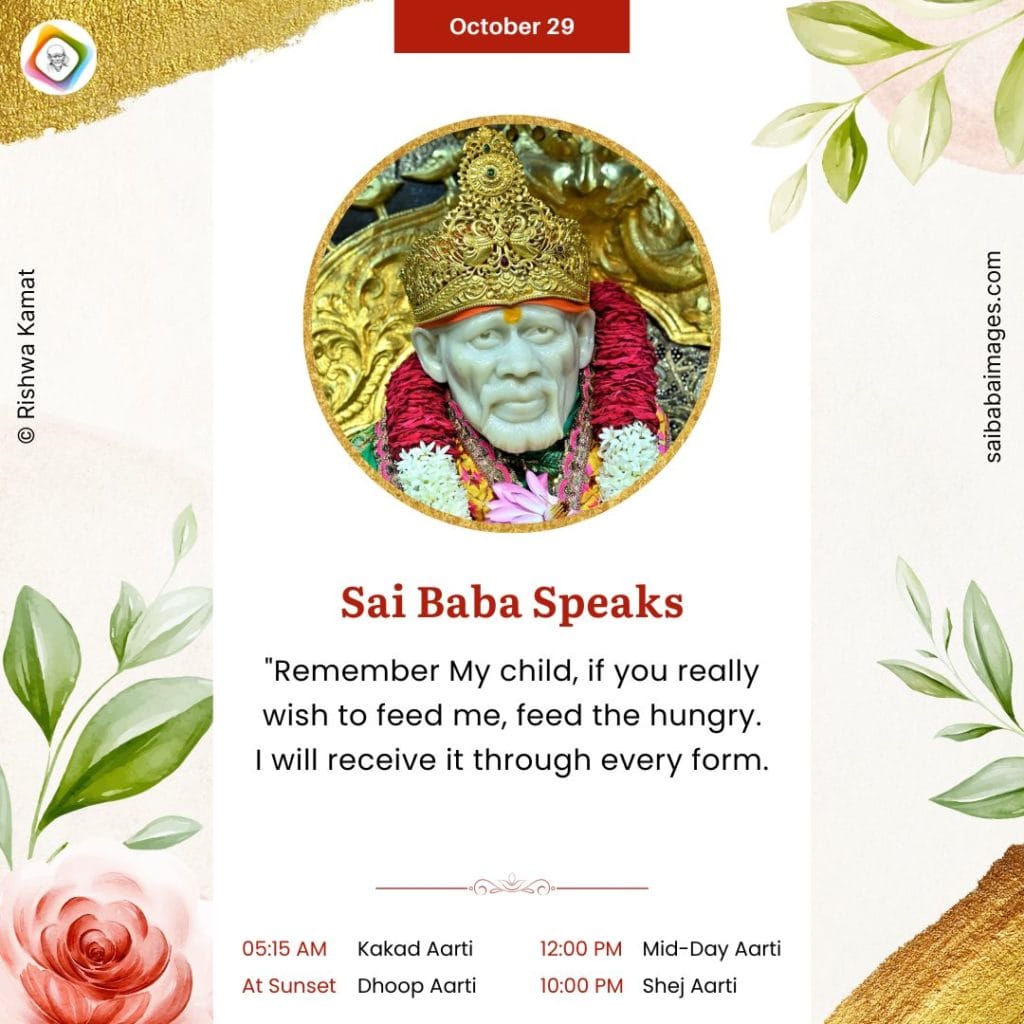 Shirdi Sai Devotee Radha from India says: I am Radha and in Mahaparayan Group MP11289N1. I want to share my experience and Sai Ram's Leela after I started Mahaparyan on 16-7-2020.
When I went to Photo Studio in the first week of September 2020 I saw a photo of Sairam, and when I asked about the photo the studio owner immediately gave me a pocket-size photo that I kept in my purse and felt blessed. I didn't know that time why Sairam came to me on that day.
Exactly one month afterward my father 83 years fell seriously ill and was admitted to the hospital on 7-10-2020. He tested Covid-19 positive on 14-10-2020 and was shifted to Corona Ward. We were very much worried about leaving him alone since he couldn't do anything himself. The doctor gave special permission due to my father's age and physical condition to keep one attendee with my father and within 3 hours one youngster who is a nurse came to take care and he along with his friend agreed to come on alternate days to take care of my serious father. On the night of 15-10-2010 (Thursday) my father's oxygen levels went low and he was put on high-flow oxygen doctors told that his lungs were damaged by more than 60% and 48 hours has to cross due to his age and Co-morbid conditions wanted us to sign forms for shifting to ICU and other treatments.
We were continuously praying and by Sairam's blessings 48 hours crossed but doctors told due to his age and other conditions we have to wait to see how he comes out of oxygen support. My mother is 78 years a Diabetic patient and I also got Covid-19 positive. my mother was admitted with my father and I was in some other hospital. My mother was also very sick. I read Mahaparayan on 22-10-2020 and on Vijayadasami day 25-10-2020 in the hospital. By Sai's blessing, my mother recovered and she was discharged and I also recovered. My father's oxygen support was slowly reduced and monitored daily and he was out of oxygen support on 5-11-2020 (Thursday). After observation for three days, he was discharged. All these are miracles of Sairam and the His Blessings on our family. Now I understood that Sai Ram wanted to protect my family and that is why He came to me in September 2020. 
Thank You, Sairam for Your Mercy and I surrender to Him. Sai Ram, please bless my son to overcome the difficult phase of life now he is undergoing. Om Sairam.
Radha
Sai Baba's Rakshabandhan Gift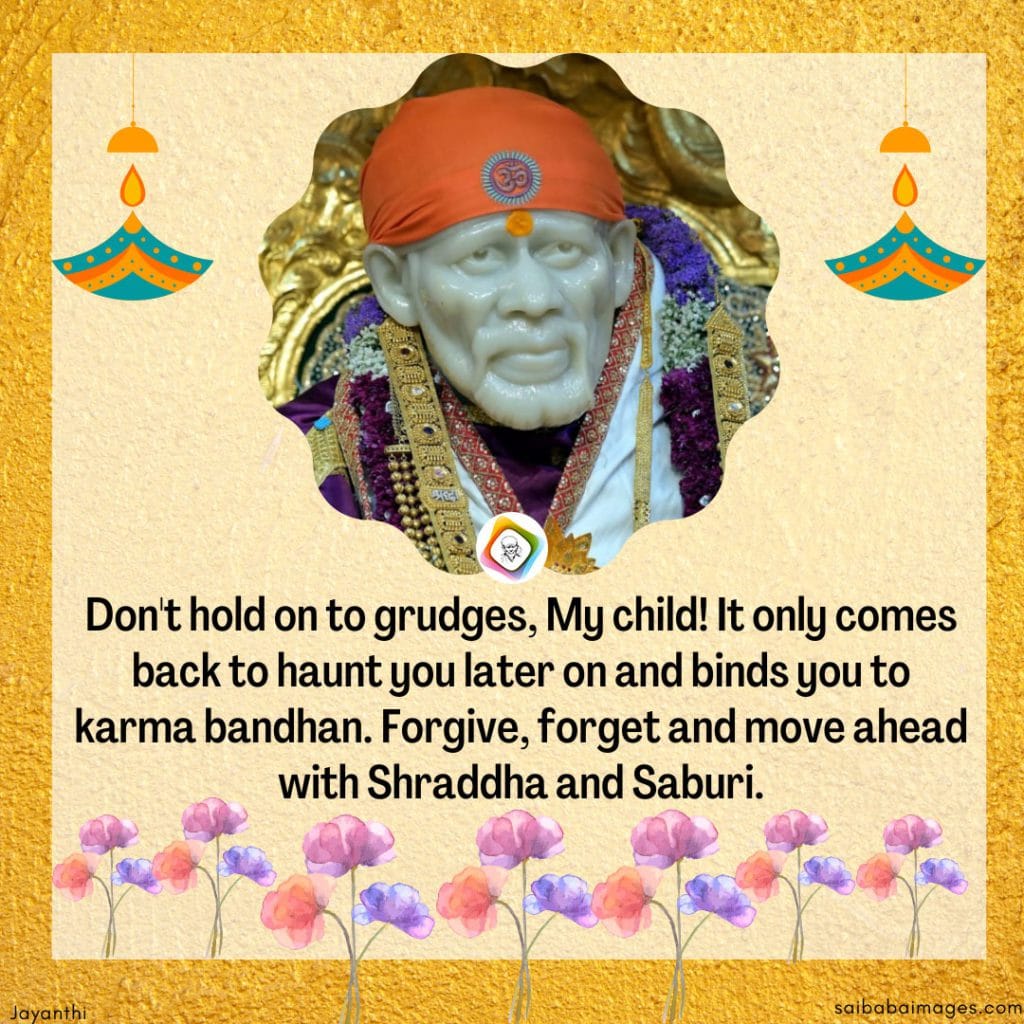 Anonymous Shirdi Sai Devotee from India says: I am Baba's Child. Thanks to Hetal ji and the team. I want to be anonymous.
Baba has blessed me a number of times and in a number of ways. One wish which is left unfulfilled is having my baby. I had two missed miscarriages. One in May 2021 and another in February 2022. I visited Shirdi in April 2022 and did Nav Guruvar vrat after returning from Shirdi. As my fasts got completed, I got the news that I was pregnant. Again hope was given to me by my Baba.
As I approached completing my two months, I fell ill and got a fever, body aches, chills, weakness, etc. all came along with fever. This time again I was very worried about my baby. All negative thoughts started coming to my mind. The scan day came. I was very worried. Though I knew Baba was with me, even then I asked Baba to give me the gift of promise on Rakshabandhan that my baby was healthy then and that He would give me a healthy and normal baby in my lap after a complete time period and that the pre-pregnancy and post-pregnancy should pass with ease. With Baba's love, the doctor did the scan and told that the baby was fine. Baba gave me the gift on Rakshabandhan by saving my baby. I had promised Baba to post on the same Raksha Bandhan day. I wrote about the experience but got delayed. Sorry, Baba for this delay in my post. Please forgive me one more time. I love You, Baba. Thank You is a very small word for that. I deeply feel grateful to You, Baba. I love You.
I pray to Baba to help me in completing the full term of pregnancy successfully and give me a healthy and normal baby by normal delivery. I will share my experience again once Baba will do the Kripa.
Thank You and love You, Baba. Please keep me and my family under Your feet always. Om Sai Ram. Anantkoti Brahamandnayak Rajadhiraj Yogiraj Parabrahma Shri Satchidanand Sadhguru Sainath Maharaj Ki Jai. I love You Baba. Om Sai Ram. 
Seeking Blessings From Sai Baba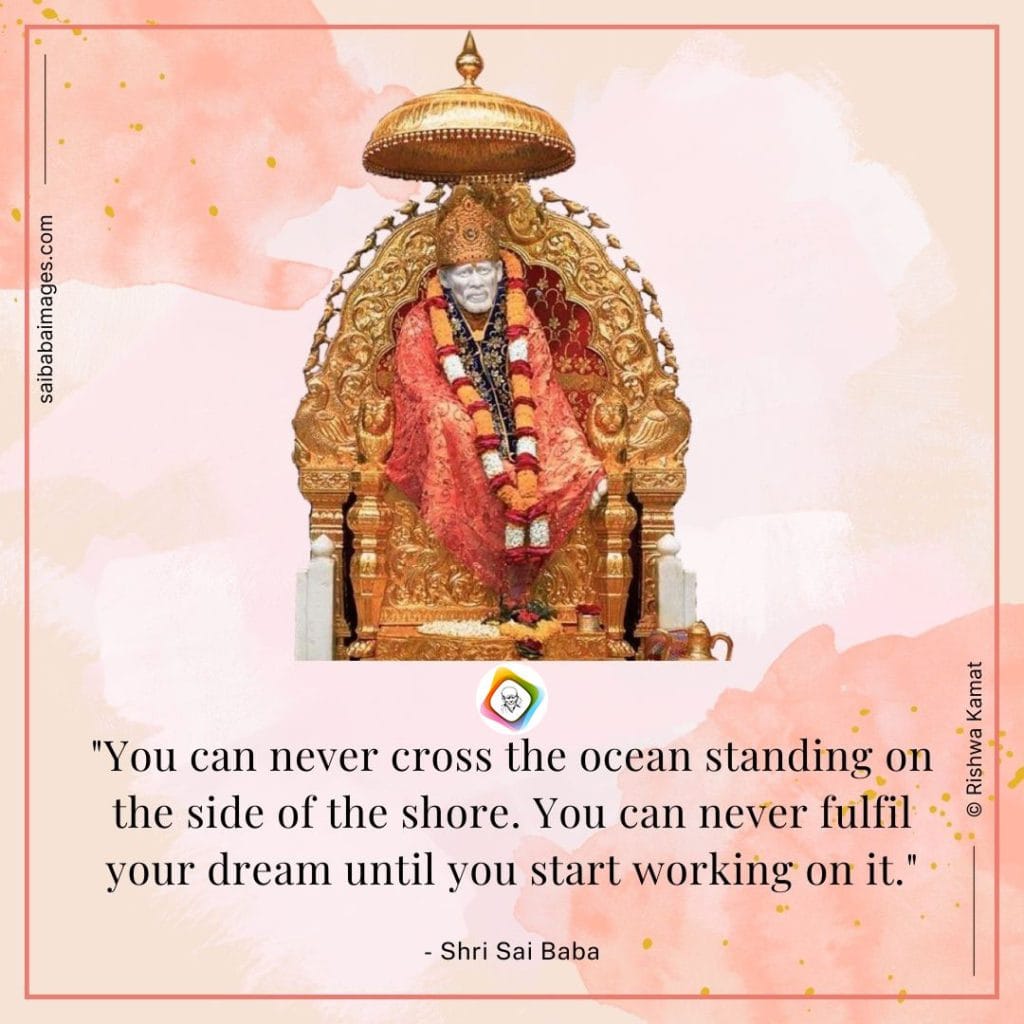 Anonymous Shirdi Sai Devotee from India says: Shirdi Sai Baba is my Lord. Love You Sai. I have full faith in Shirdi Sai Baba as whenever a tense situation occurs I chant Sai's name and immediately it gets resolved. Today I am writing this post for my sister who is 43 years old. She does not have a stable job nor is she married. I am worried about her future and my mother cries for her. She is a bright student holding a master's degree but still, she is so unlucky that nothing good happens in her life. I get devastated seeing her. 
I am her younger sister who with Baba's grace is married with two kids and a stable job but my sister is so unlucky. I tell her every time to read Sai Satcharita but her hopes are shattered. She keeps many fasts and does pujas but all in vain. But my hope for Sai is so, so strong that I feel my Baba can make anything possible. I request all the readers to pray for my sister and my faith in Baba that He can do wonders in our life. Baba, please help my sister. I wish I could come to Shirdi to seek Your blessing for my sister but I live so far. My devotion to You is so strong that just like mine, my sister's problem will also get resolved. Om Shirdi Sai Baba.
Sai Baba Sent A Suitable Groom For Devotee's Daughter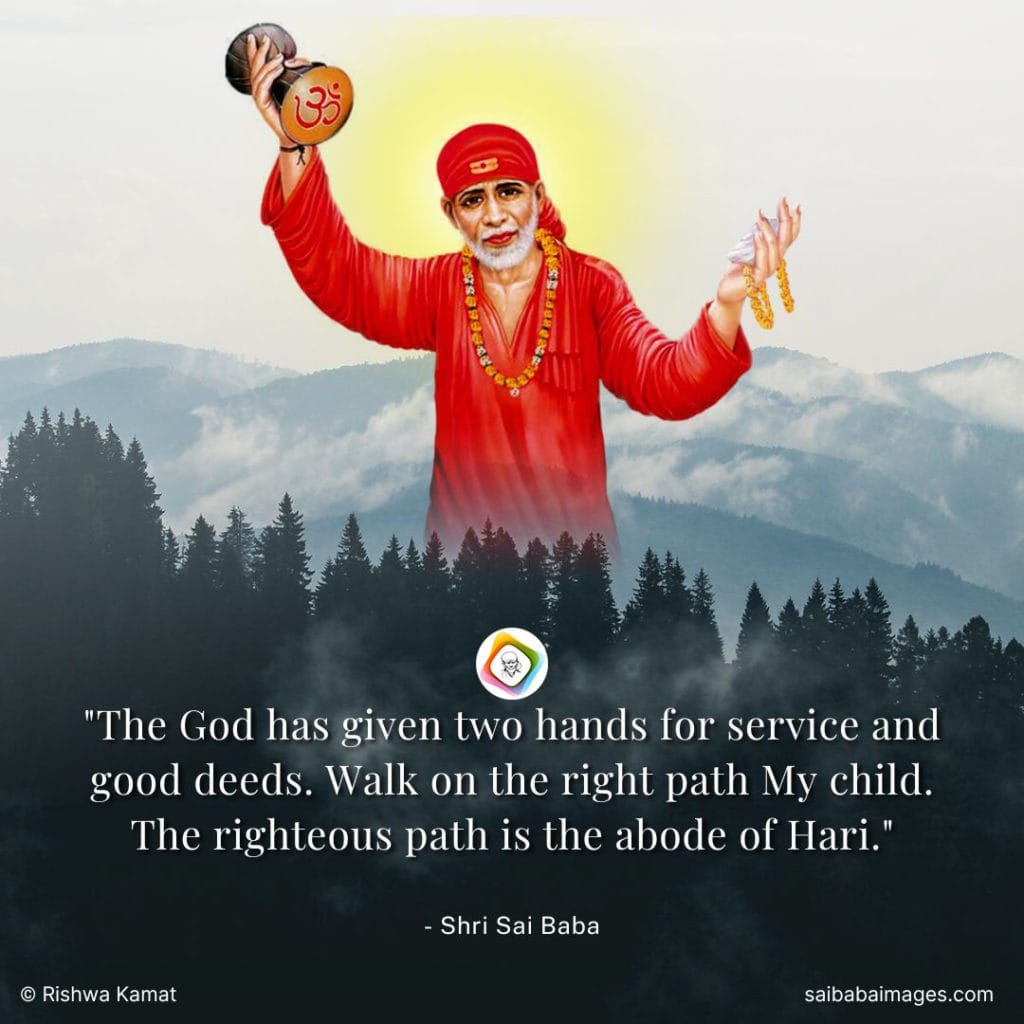 Anonymous Shirdi Sai Devotee from India says: I belong to the Global Mahaparayan MP-2696N1 classroom and have been a Sai devotee since 2019. We started searching for matches for my daughter. One year passed and we started worrying. I began chanting Sai Baba Chalisa but nothing happened. I then did the Sai Satcharitra Parayan and completed it three times.
One day I was going through the experiences of a devotee and I heard kalyanam from Sai Baba's photo. I was shocked and happy, feeling that the time had come when Baba was telling me that my daughter was going to get a suitable match. Two months passed and nothing happened. I was dejected and sad. Then the least expected match got fixed by Sai Baba's grace and miracle and my daughter's wedding happened in a 10 days span. My daughter is happily married now by Sai Baba's grace and blessing. We are very grateful to Sai Baba. Thank You Sai.
Devotee's Son Got Masters Seat In A Very Good College In USA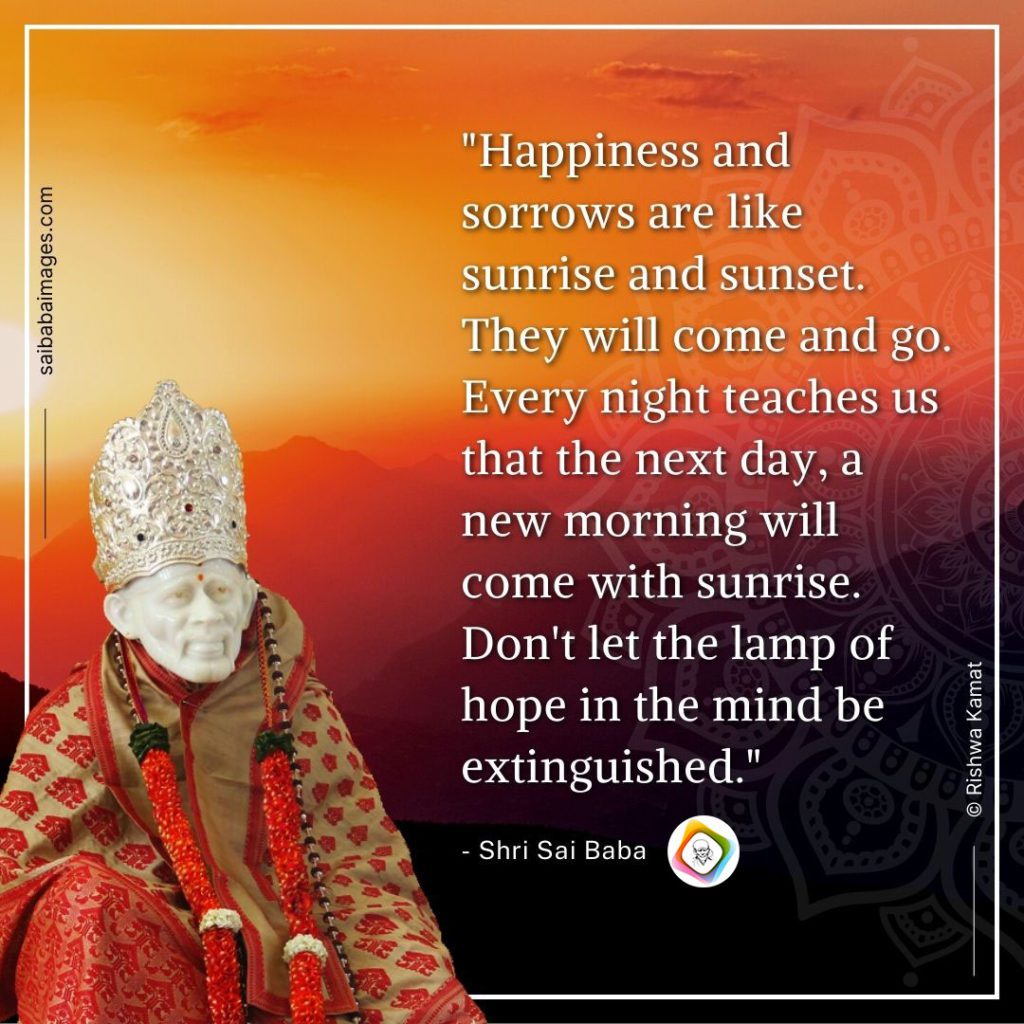 Anonymous Shirdi Sai Devotee from India says: I have been in the Global Mahaprayan MP-2696N1 since 2019. My Son had completed his engineering and was working. He had plans to do his MBA in a good college in the US. Though he applied to many colleges, he was not getting an opportunity for a seat in a good college. He got a seat in a small nonleague college and was very disappointed. I then took a Sankalp in front of Sai Baba and started the parayan recital of Vishnu Sahashranamam for 41 days. And lo behold at the end of the parayan with Sri Hari and Sai Baba's grace and blessings my son got an MBA seat in a very good college and is now in the USA. I am very grateful for Baba's miracles and grace. Thank You Baba for helping me with my daughter and son's future. Thank You. Om Sai Ram!
Sai Baba Sole Saviour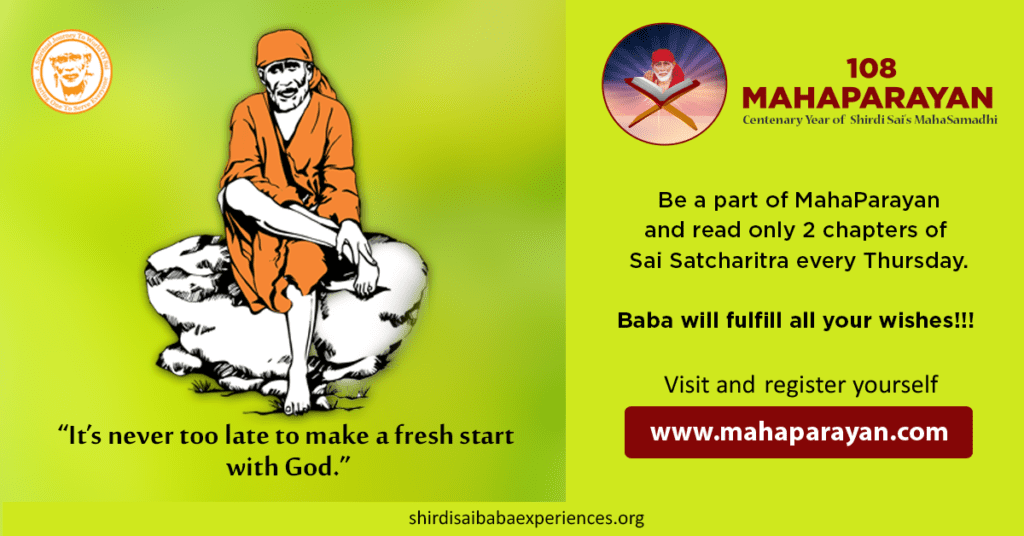 Anonymous Shirdi Sai Devotee from US says: I would like to share a recent experience where Baba helped my niece to recover from a health issue. My niece is 7-year-old and one day my sister said that the child's skin was full of rashes and was increasing as time passed. I was so worried as she had such skin issues before and why a kid must suffer such pain. I prayed to Baba that would post my experience if she got well soon. After the doctor's visit, we got to know that it was food poison and nothing to worry about. My niece is doing okay now. Thank You Baba for taking care of our family. Baba, please protect our family from any health or financial issues we get as You know You are the only One Who can protect us. 
---
More from SaiYugNetwork.com
© Shirdi Sai Baba Devotees.com – Member of SaiYugNetwork.com