My Life Is Full Of Saibaba Miracles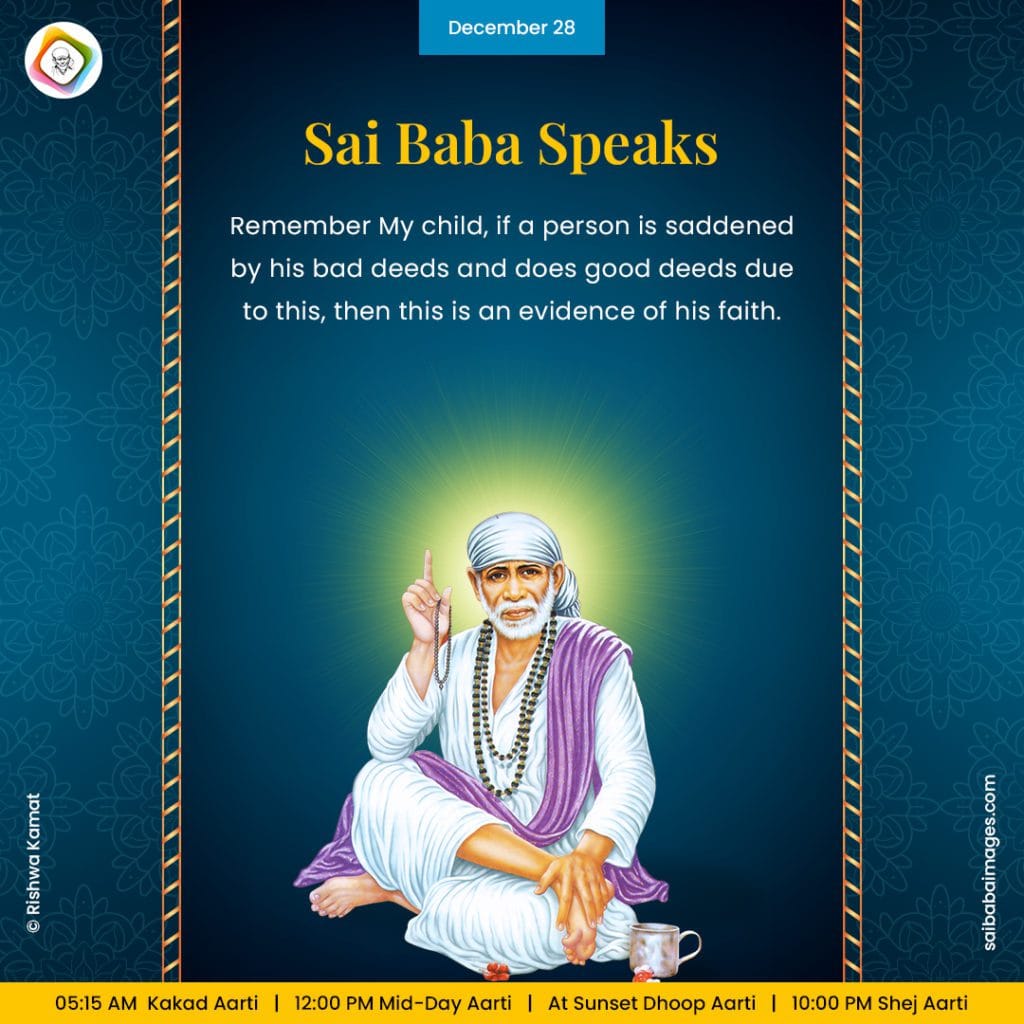 Download Sai Baba Calendar for December
Anonymous Shirdi Sai Devotee from USA says: Om Sairam to all Saibaba devotees, Thanks Hetal ji for posting my first post on 25-3-2017, and thank you for creating and maintaining this beautiful blog, because of you, we all devotees connected. This is my second post, which contains a few experiences which are very precious. As I told in my first post my day starts with Sai Namah and ends with Sai Namah.
One of the experiences which are long pending is my job, as I mentioned in my previous post I was praying to Sai Baba for the new assignment, and Baba showed me a solution that I should ask my new vendor if I can continue in the same project. With the courage, Baba gave me I asked the new vendor's resource manager, and he agreed for my role to continue and gave me a good package also. After that, for a year and three months, I'm working on the same project. Thank You so much Baba for being by my side for every moment.
Next experience, my visa has to renew by Nov 6th, 2017, in 2017 April US government paused the premium visa process for six months, so my employer told us to submit extensions papers along with my husband's EDA extensions before four months, that in July 2017, regular extension process will take nearly three months. I was in tension and was talking with Baba and was doing Sai Nama Smarana every moment to help me get the visa approved. Baba helped me and relieved me from the tensions, surprisingly my visa got approved within a month, and my husband EAD also got it in a month only.
In another experience, my mom was not feeling well, the doctor suggested undergoing a heart checkup. We all were very scared. I, my mother, my sister all prayed to Baba for my mother's health. On the day she went to check I was praying to Baba continuously and begging Him that she should not have any serious health issues, as I stay in the USA. My timing is different, it will be midnight for me by the time my mom's test reports come. So I was praying to Baba seeing live Darshan show me a positive sign that my mother's health is alright. Suddenly a flower at the Feet of Baba appeared, a few seconds before there was nothing, with that sign I felt so happy and my mind turned to calm. The next morning when I called my mom, she told me her reports are normal, but she needs some rest, and all is fine. My mother also prayed to Baba that her health should be normal and she started 9 Guruvar vrat, thank you so so much, Baba, I know I'm not conveying everything in the way how You are helping us in every moment, without You we are nothing, lifeless! We are at Your Lotus Feet Baba. Our family is completely surrendered to your Lotus Feet Baba. Please bless us to remain in the same state for every moment.
Another real miracle, I'm getting goosebumps to write this experience. My father was sick, he met a serious accident 10 years ago. His right leg had multiple fractures and surgeries, with Baba's grace he was fine with little trouble on his leg when walking. However he was able to do his regular activities and take care of his business as well, but in December 2017 his health was not good, December last week he had a paralysis stroke, in an unconscious state my mother took him to Bangalore, In Bangalore two very big hospitals rejected to admit him due to his condition. I, my sisters, and my mother prayed to Baba continuously. Finally, the third hospital admitted him and told us that he has to undergo brain surgery. I was asking Baba in any way You have to take care of my father. You only come in the form of a Doctor and perform this critical surgery, I slept and was doing 'Sai' Nama Smarana till I get the update that my father's surgery is completed and he is fine. My mother told me that it was Baba Who came to save my father as a doctor. Otherwise, how can a person in an unconscious state start talking and recognizing within 30 minutes after surgery, and how he cope so fast? We are glad that Baba is with us always, He is listening to all of our prayers, and He shows His presence when His children are in trouble and when He only can resolve it.
One more experience, I have many many as every movement is a miracle of Saibaba in my life. In 2012 my family was coming from India to the US, I booked a hotel room for a month till they stay here about 20 days before. On the day when my family was arriving, I have to go and submit the hotel room registration papers at the front desk. My cousin came to my apartment and picked me up and we both went to the hotel. I then realized that I forgot the registration papers, and my apartment outer gate will not open without a key, I did not have a key as I was not in leasing, If my cousin take me to the apartment I have to make him wait till someone come and opens the gate. He is almost 20 years elder than me and working in a high position, he just came to help me, still, he told me that we will go back and get the paper, while going back, I was just praying that Baba please help me, someone should be there to open the main gate, it was a hard time so nobody will be there during that time to open the gate. I was just taking His name continuously as I was helpless. To my surprise, one lady was entering the gate and after seeing me to get from the car, she hold the gate for me. I left the vibes like Baba was there with me. He was beside me. I then went to my flat and got the papers. I get goosebumps when I remember it. Thank you all for your patience and for reading a long post, Thank you, Baba, for being every moment beside your children who need you really, Please bless all your devotees, we don't know another God and anything else except You, You are only our savior.
Sai Baba Miracles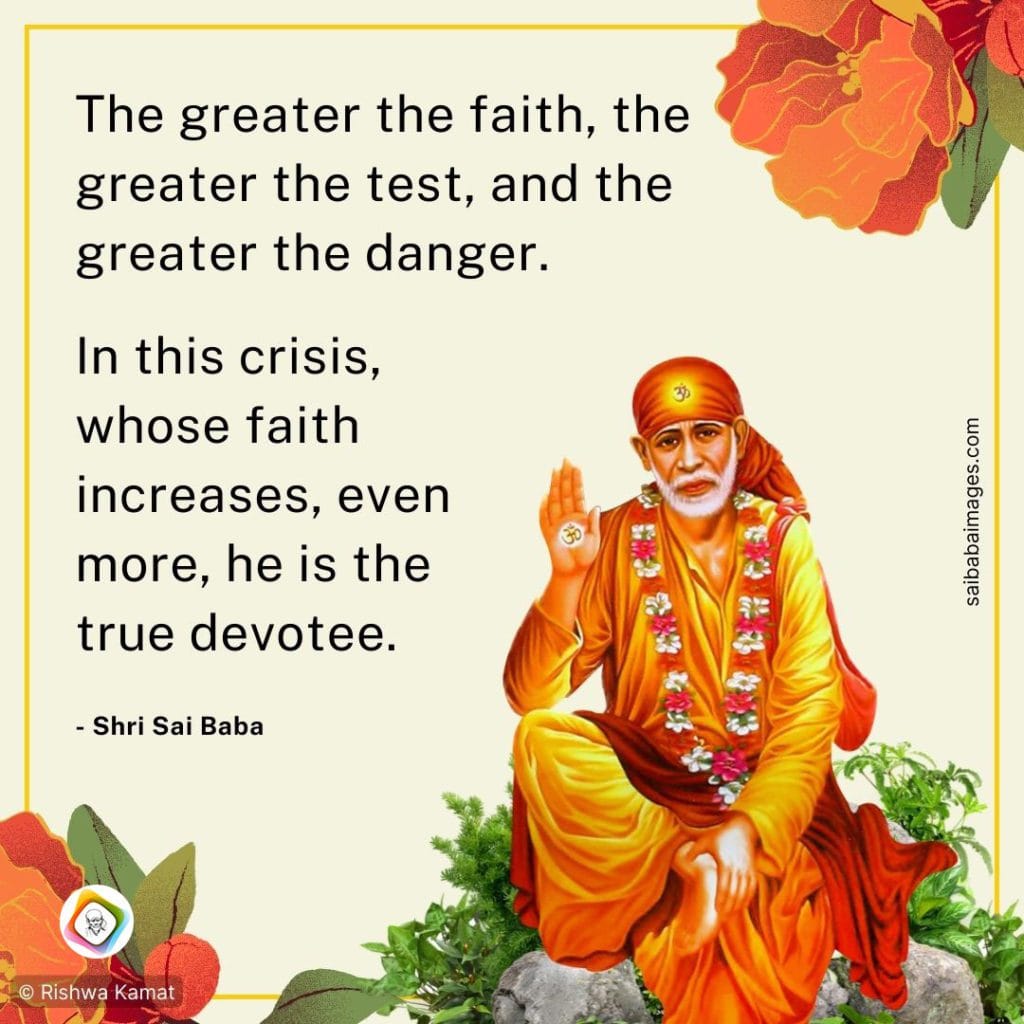 An anonymous Shirdi Sai Devotee from the US says: Om Sai Ram! Thanks, Team for this great platform. I wanted to share a few miracles which happened to me through my Sai. Really sorry Baba for the delay.
Experience:1
I went on vacation to India from the USA. I did WhatsApp calls using my USA network and the bill was very high. My husband started scolding me after seeing the bill and prayed to Sai that if I came out of this situation without blaming myself then I would share my experience. Miracles happened and I came out of the situation without paying the bill. I was saved by Sai.

Experience:2
I got an expensive bag. I did not return it after I created the return label and the time was over. My husband told me that he had not got the refund yet (seeing his credit card statement). I was worried and because of Sai's grace, the barcode worked when I went to return and I got the refund with His blessings. Om Sai Ram!

Experience:3
My son is 3 years old. When we started him at school, he used to cry a lot and he had a pee accident at school. I was worried. Then I prayed to Sai that if it does not repeat then I would share my experience. Again Sai came for my help and my son got adjusted in school. Love You Sai Maa.

Experience:4
My son has a 3-month assessment at his school. I was praying to Sai that if he does well then I would share my experience and he did great in school. Om Sai Ram.

Experience:5
I placed an order for expensive jewelry and was waiting for it to be delivered but there was a delay. So I prayed to Sai for help and vowed that if it would come by the next day without any damage then I would share my experience. I got it the next day with Sai's grace. Om Sai Ram.

Experience:6
I ordered a dress. It had a shipment delay and did not have any update on it for 3 days and I was really worried. The delivery date was rescheduled but there was no new date update. So I prayed that if the dress was safely delivered the next day then I would share my experience. The dress was delivered the next day. Om Sai Ram.

Never think that you are praying to Sai for silly things. If you truly pray from your heart then the smallest of the smallest wish will be fulfilled through Sai Maa. Love You always forever.
Sai Baba Cured & Prayers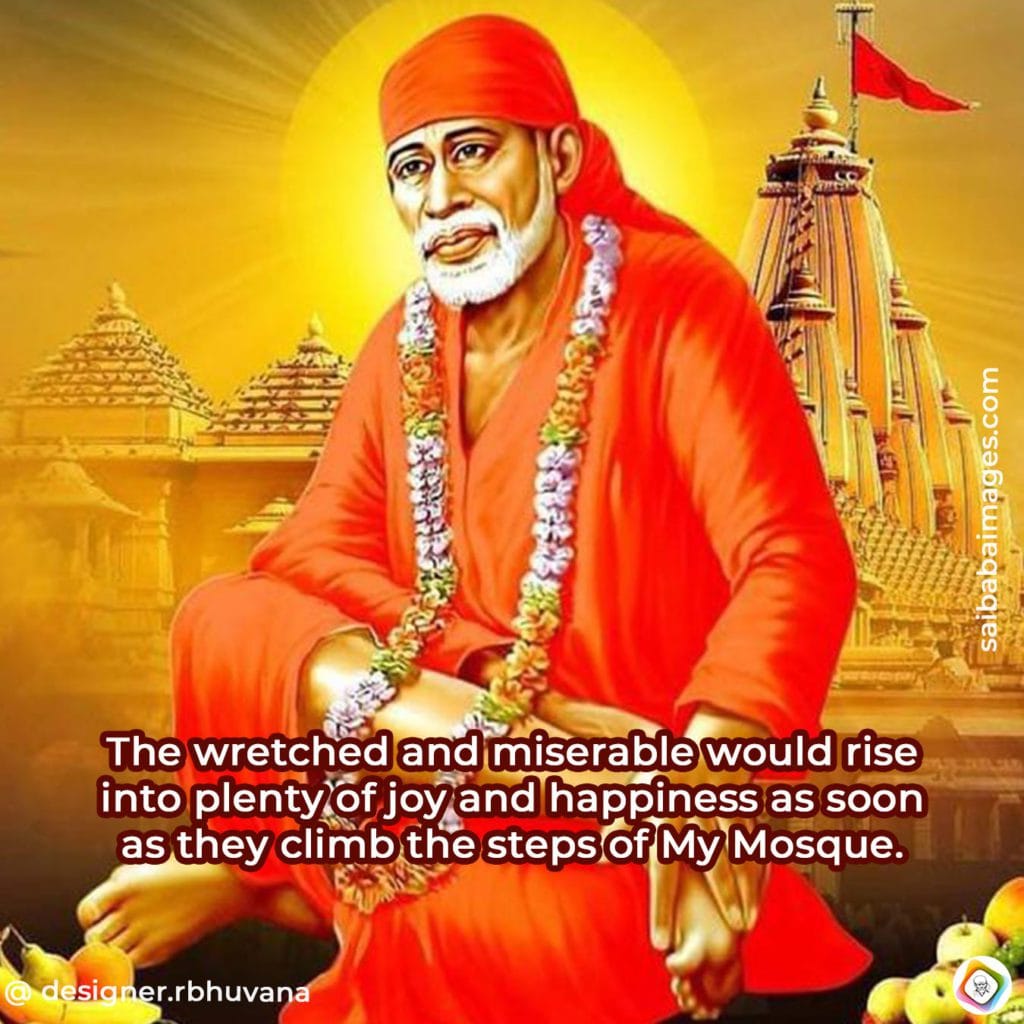 Download Sai Baba HD Wallpapers
Anonymous Shirdi Sai Devotee from US says: I have been a Sai devotee since childhood and thank you Hetalji and team for this wonderful platform.
For the last two weeks, we have all been suffering from cold and cough. It didn't seem like a normal cold and we have a small baby in the house. I prayed to Baba, that this should not be covid with His blessings and I also chanted "Om Sai Rakshak Sharanam" 108 times for each family member. We all used a home kit to test and it showed up negative for all of us. Love You, Baba. Please help all of us to recover soon from this cold and bad cough. Om Sai Ram.

Prayers:
Baba, I am still feeling very sick and even lost my sense of taste and smell today. My head is also hurting. Please help me to recover soon so that I can take care of my sick kids.

Baba, please help me to find a job here soon and make Omprakash buy a house here. I don't want to go back to India and spoil the future of my kids. Baba, You know why I am saying this. Please help us, Thandri.

Please take care of us, my parents, sisters and their families and all Your devotees. Om Sai Ram.
Sai Baba, I Trust You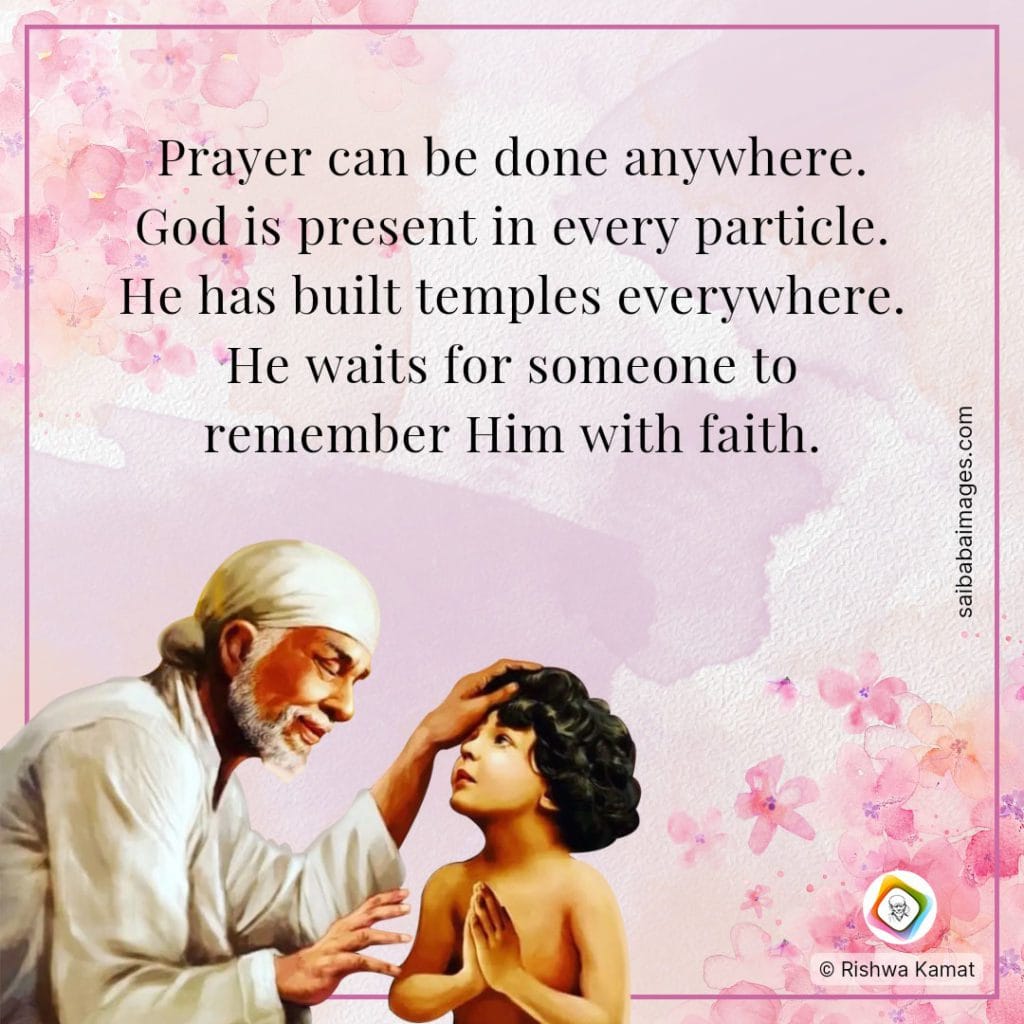 Anonymous Shirdi Sai Devotee from US says: Shree Sai Ram. I am a very small devotee from the USA. I want to tell Baba that I trust You a lot. This is about my tooth problem. My teeth are really bad and I cannot even smile like other people. I always try to avoid going to a dentist because I always feel that they will judge me and think why my teeth are not good.
Finally, I tried to open my teeth. I wanted to do a dental implant for my lower jaw and upper jaw and wanted to fix the teeth and get a good smile. I was planning an India trip in December and thought that I will do treatment in India. I found one doctor also but I was there for a limited time. I want to take an X-ray and send it to India so that the doctor could tell me how much time it would take and how many times I need to go to India and if my teeth would get good and that I could smile like other people.
Baba, please help me get a nice X-ray so that the doctor can see everything clearly. My case should not be complicated and the doctor should give me a nice plan to improve my teeth and make me happy. Baba, I am not able to take any more stress and so please help me. I trust You. I want to leave everything to You. Next week I should get good news about my teeth. Again I will share my experience over here once I am confident about my treatment and again after I am done with my treatment. Thank You Baba and protect me, please.
Project Went Live With Sai Baba's Blessings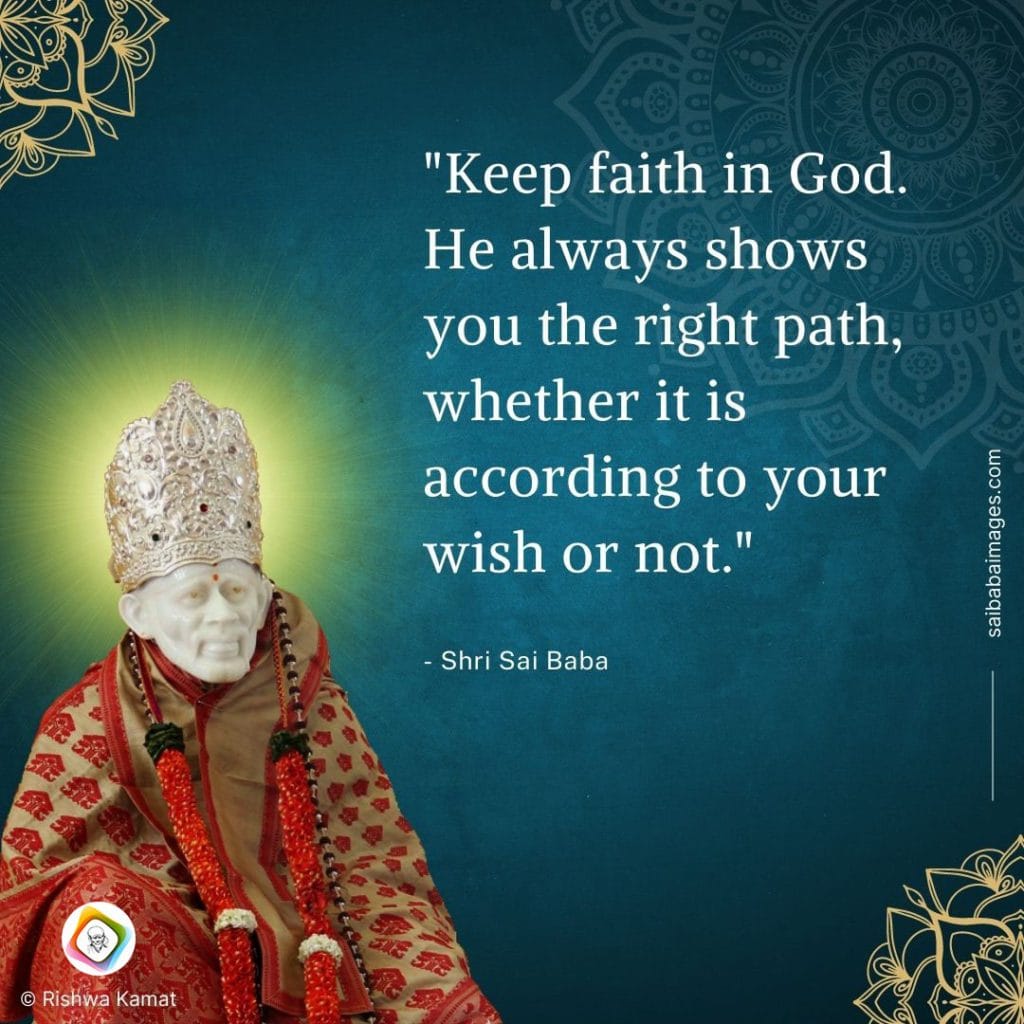 Shirdi Sai Devotee Ravi from India says: Myself a small dust under Sai Baba's holy feet. Thanks, Hetalji and team for the noble work.
Feel free to modify if any corrections are required. I needed to support one project of which I didn't have detailed knowledge or in and outs of the project. I supported it to some extent. A few scenarios I missed during the UAT phase. I was the only person that should be supporting this project, go live was planned and if something failed in PROD then I would be held responsible. I prayed to Sai Thandri that if the project goes live and it is a success then I would post the experience on this holy site. The project went live and there were a few issues that were taken care of due to Baba's blessings. Thank You Sai Thandri for making 'project go live' a success. I bow to the holy feet with all my eight limbs.
Sarve Jana Sukhino Bavanthu, Loka Samasta Sukhino Bhavantu. Anatakoti Brahmanada Nayaka Rajadi Raja Yogi Raja Para Brahma Sri Sadguru Sainath Maharaj Ki Jai. Om Shree Dattatreyaya Mamah, Om Sri Sri Pada Vallabaya Namah, Om Shri Nrushimha Saraswethe Namah, Om Akkalakota Maharajaya Namah And Sadguru Shree Sai Nathaya Namah.
Shirdi Sai Baba Cured Devotee's Gum Pain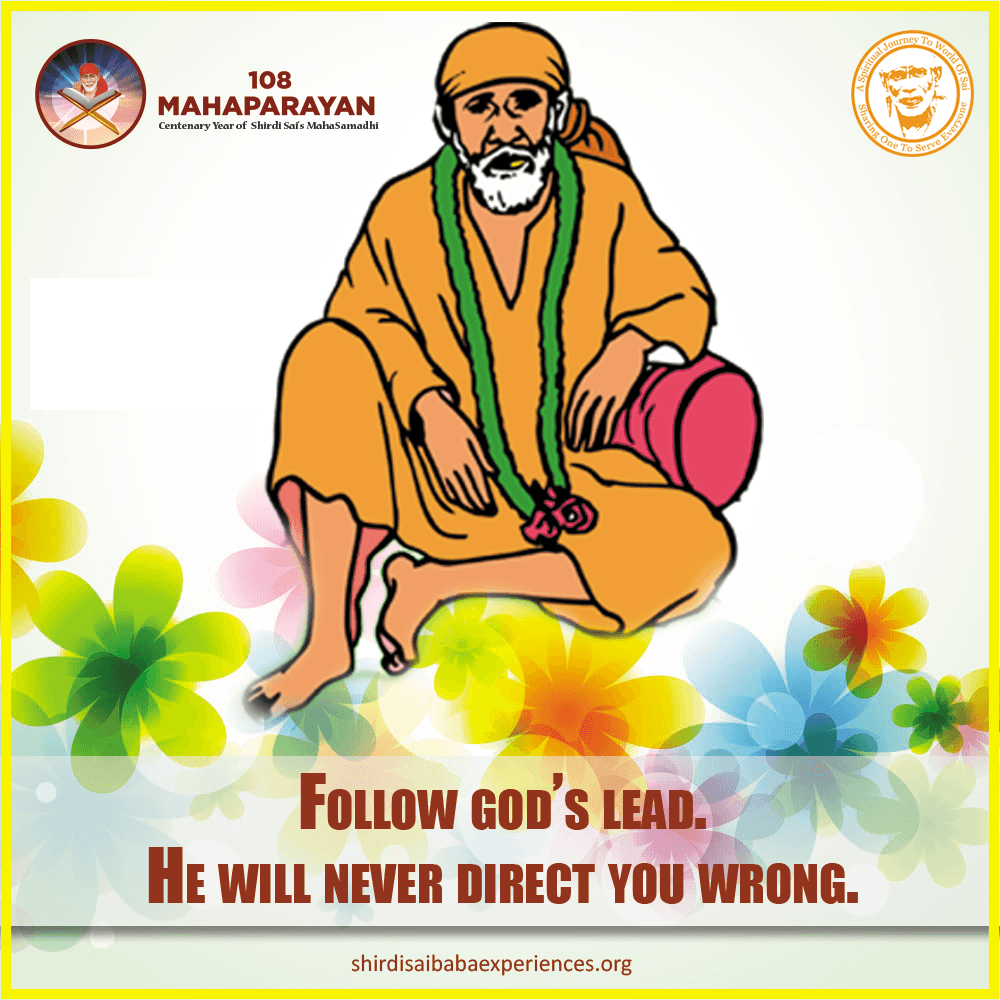 Shirdi Sai Devotee Suraj RV from India says: Om Sai Ram to all! Thank you Hetalji and team for providing us with this e-Satcharitra for us to read all the Sai devotees' experiences and for keeping us positive. I would like to mention my experience of how my beloved Baba cured my gum pain after a week.

On 14th Oct 2022, I was brushing my teeth and suddenly I felt pain in my tooth gums. I was slightly taken aback as I never brushed fast and touched the gums while brushing. In spite of my taking care, the pain did not subside. I was not able to chew, eat and drink properly due to the pain. I prayed to my Baba to cure it and that I would post my experience on this site. I am posting it today i.e. 21st Oct 2022. I applied Baba's Udi on my gums and even drank it for a whole week. One week later (21st Oct 2022), I felt relieved when the gum pain totally disappeared. There is no pain at all. I sincerely thank Baba for curing my gum pain.

Om Shirdi Vasaya Vidmahe
Sachchidananda Dheemahi
Tanno Sai Prachodayat

Jai Sai Ram!
---
More from SaiYugNetwork.com