Download Sai Baba Daily Calendar with Images
A Devotee's Personal Experiences With Sai Baba's Blessings In Daily Life
Anonymous Shirdi Sai Baba Devotee from India says: I am an anonymous devotee of Sai Baba from India and I want to thank all those who are maintaining this blog.
Experience 1: Thank you Baba for helping me come out of a difficult situation. I apologize for the delay in posting this. My friend had asked me to go out with them, but I was not interested. Thanks to Baba, the plan was canceled.
Experience 2: Lately, I have felt that I am spending money unnecessarily, so I wanted to cut down on my expenses. Baba, You have saved me from many situations. Even when I don't want to go out or when a friend calls me to go out, I couldn't say no. But with You, Baba, everything becomes easier. You are a lifesaver. Thank You, Baba.
Experience 3: I am not good at communication, and because of that, I face many problems. Needless to say, Baba saves me from every situation. I had a presentation yesterday, and most of the time, I couldn't express my views correctly in front of others. Also, due to tension, I was not remembering things properly. One of my friends, who is also in our group and is good at communication, dominated the situation. She was speaking sarcastically and using harsh words toward me. I couldn't take those words, as I get hurt easily. That day, during the presentation, she was supposed to present, but she shivered a lot and was unable to present it properly. As a result, my turn did not come, as the topic got rejected in the beginning. It was Baba who made her understand her mistake at that stage. Baba's idol was present, and I was continuously watching Baba. Before this, I used to get posts on Instagram saying that their actions would only affect them and that I shouldn't worry. But Baba made her stand in my place and realize how it feels when someone speaks in that manner. 🙏🙏
Experience 4: Having complete faith in Sai Baba can make the impossible possible. I had never thought of going on a trip with my friends due to various reasons, but for Baba, nothing is impossible. He knew my inner desire and fulfilled all my needs without me specifically saying it. Suddenly, plans were made, and surprisingly my parents agreed, and we went on the trip comfortably. Baba made sure that I never felt any awkwardness going with others who were not that close to me. Before all of this, Baba gave me a hint through a post that said, "Everything you have to see with your own eyes, and there is a big surprise ahead". Of course, I enjoyed it a lot, but I feared telling my parents that I would return that day. Unfortunately, we missed the train and couldn't reach it, but one of my friends made arrangements for us girls, and we reached our destination safely. Throughout this, Baba was with me, always ahead of me in cars or many other forms. Even during playtime, I prayed to Baba, and He saved me, and everything went well. As I had told my parents that I would return that day only, there was a little tension, but Baba solved it. He was giving hints that I should take His name, and there would be nothing like impossible. Truly, He is everything. Thank you, Sai Baba.
Shri Ram Raksha Stotra: Significance and Benefits of Parayan on Ramnavami
Experience 5: Today, there was a test for us, and I was not prepared because I had gone on a trip. So, I prayed to Sai Baba to postpone the test so that I could do well. But, see the Leela of my Baba, the teacher told us to write an open book test and also take the books home to complete it. Thank you, Sai Baba. That is my Baba, He knows how to handle situations and the right time to do so.
Experience 6: It is well-known among all the devotees that Sai Baba does not appear in dreams when we ask, but He shows His presence when we actually need it and when He wants to. Recently, I had been praying every night for Baba to come in my dreams but would wake up disappointed. I used to argue and ask Baba to come again, as I was going to sleep for some more time, but He didn't. One time He appeared as an idol for a few seconds, but I wasn't satisfied. I forgot about these incidents and used to sleep normally. However, recently, I had a very wonderful dream where I saw Baba. I could see His feet, and it was such a precious moment for me. Moreover, the idol of Baba was very large, and I couldn't see Baba's face, but it was made of soil that was not connected to each other. The soil particles were not attached; instead, they were moving, and the color was a shining brownish color. It was so divine that as soon as I touched His feet, the feet made up of soil started to separate and move out of the space. Someone offered me Thirth, and I thought I couldn't drink as it was going through the holes in my palm, but I was able to drink a lot of it without spilling even a little of it. Om Ganeshay Namah! Love You, Baba, love You so much.
Another divine dream was when Baba came into my dream after three days, but this time He was with me in person. Perhaps I was in Dwarkamai, and Baba was going to sit down, and I was trying to help Him sit down. It was a wonderful moment, and I felt like I was actually living in that era with Baba. That day was special because it was the festival of Karthika Deepa in our house, where my home deity Pooja, Ram (RMNtA), was there. It was so peaceful to hear, and I felt like Bhagavan came to bless me because that day I saw one post that said, "Since you were asking me to come to your temples, but I wasn't, so I came here to bless you". True to these words, it had been months since I had visited any temples. Baba, Bappa, or RMNTA, sorry Deva, it is You who make me come to the temple somehow.
But the dreams were amazing, and one dream helped solve one of my dilemmas. Thank You, Baba, You guided me correctly to choose the one which I needed. You turned every negative into a positive in my life, and I selected my choice because of You, Baba. Om Sai Ram.
Experience 7: My friend asked me to pass on a message to the working staff. I agreed but soon regretted it as I didn't feel comfortable saying those words. It was a big dilemma for me, and I was gathering the courage to tell her. However, she was sitting on the stairs, and when I saw Baba's wallpaper, I felt it was not right to say it like that. Baba opened my eyes, and I waited for some time to tell her. But she did not show up, so I decided not to say anything as it seemed inappropriate. Thank you, Baba, for correcting me. Om Sai Ram.
Today is Thursday, and Baba blessed me in the form of a cat. Yes, a cat. I love it so much, and I feel like the cat also likes Baba very much. Sadly, the management has decided to get rid of it by leaving it somewhere far away so that it does not come back. I was a little sad because of this, and also, it was separated from its kittens. Today morning, I heard the voice of the cat. It was here, that too on Thursday. It found its way and came to see its only kid. It was going to see Baba, but today it was left at some other place. Please take care of it, Baba. I know you will make sure that the cat is safe because it's also a devotee of Baba. How will Baba forget his devotees? Never. I hope it will reach the right place. Om Sai Ram.
Om Sai Ram 🙏 Om Sai Rakshak Sharanam Deva 🙏 Om Shirdi Vasaye Vidhmaye Satchidananda Dhimayi Thanno Sai Prachodayat 🙏 Om Rajadhiraj Yogiraj Parabrahma Shri Satchidananda Sadguru Sainath Maharaj ki Jai 🙏 Om Sai Ram 🙏 🙏 Om Sai Ram 🙏 🙏 Om Sai Ram 🙏 🙏
Blessings Of Sai Baba: A Devotee's Journey To Finding A Suitable Match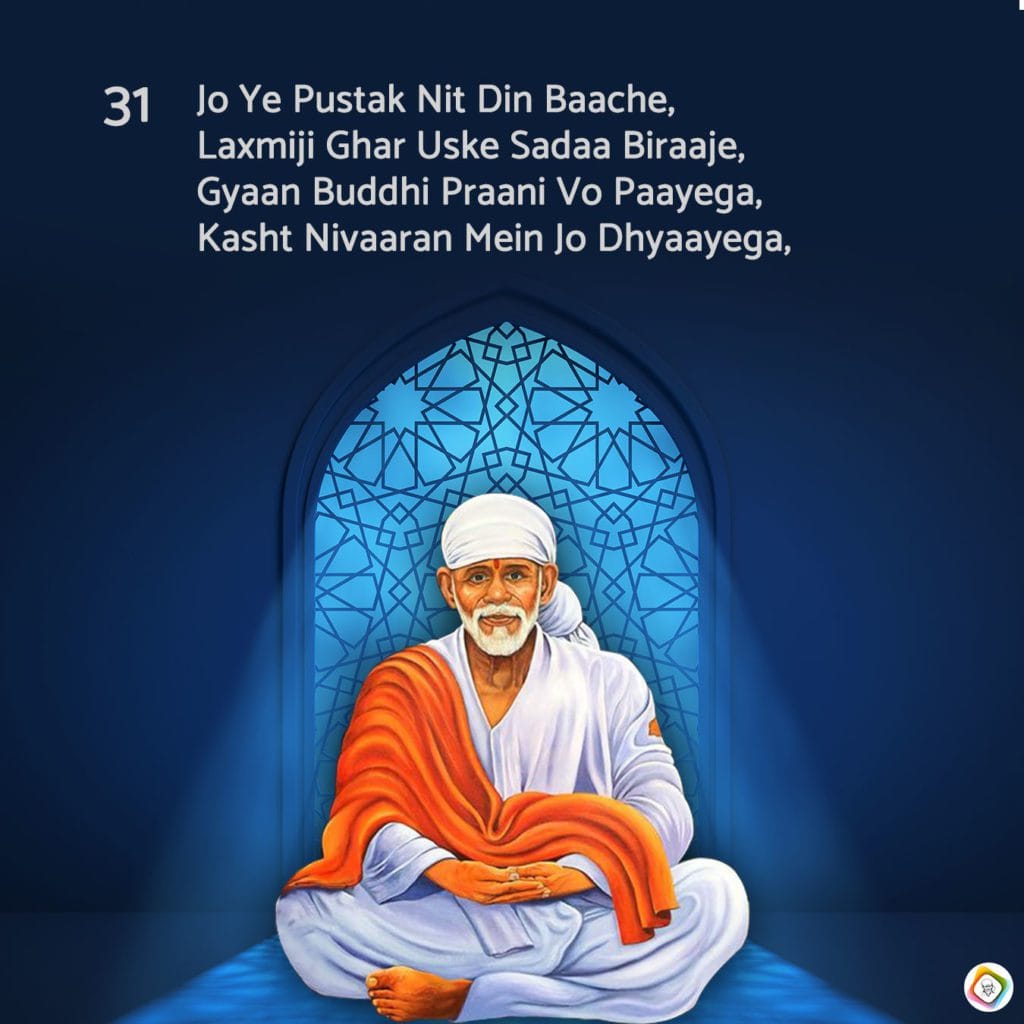 Shirdi Sai Baba Devotee Kanaka from India says: Om Sai Ram to all. My name is Kanaka Durka, and I am from Chennai, Tamil Nadu, India. I hope everyone is doing well by Baba's grace. I prayed to Sai Baba for a suitable match when my parents were searching for a partner for me. By Baba's grace, I found a good alliance, and my marriage was fixed on 11-03-2022. From the engagement to the wedding, everything went smoothly with Baba's blessings. He was present with me at every event during my marriage. My family and I were able to manage everything only because of his grace.
I made a vow to Sai Baba that I would share my experience if my marriage went well, and thanks to His grace, my marriage was a success. Devotees, please have firm faith in Sai Baba, and He will undoubtedly be with you in every situation of your life.
I would also like to share my personal experience of how Baba helped me in obtaining my visitor visa.
I got married on 12-09-2022, and my husband, who is based in New Zealand, came to Chennai for two months for our wedding ceremony. As per the rules, we had to apply for a visitor visa only after our marriage. The process of applying for the visitor visa was extensive, and my husband was gathering all the necessary documents for the same. Finally, we completed the application process on 29-9-2022.
On 16-11-2022, my husband received an email stating that my visitor visa had been approved. I was overwhelmed with happiness and gratitude. However, during this time, my father-in-law passed away on 06-11-2022. Before his demise, he would always express his wish that my husband and I should go to New Zealand together, and my visa would soon be approved. As fate would have it, my husband had to return to India on 08-11-2022, due to his father's death.
My father-in-law's wish for us to travel together to New Zealand was fulfilled, and I am grateful that my visitor visa got approved. I firmly believe that Baba's blessings, Goddess Durga's blessings, and my father-in-law's blessings made this possible. Obtaining a visitor visa is not an easy process, but with Baba's grace, anything is achievable. I urge all the devotees to have unshakable faith in Baba and witness how He takes care of His devotees, just like a mother takes care of Her child.
In conclusion, I express my heartfelt gratitude to Baba, Goddess Durga, and my father-in-law for their blessings, which helped me in obtaining my visitor visa. I hope my experience will inspire and strengthen the faith of all the devotees. Om Sai Ram to all.
Thank you. Om Sai Ram to all.
Sai Baba's Divine Presence: An Account Of Personal Experiences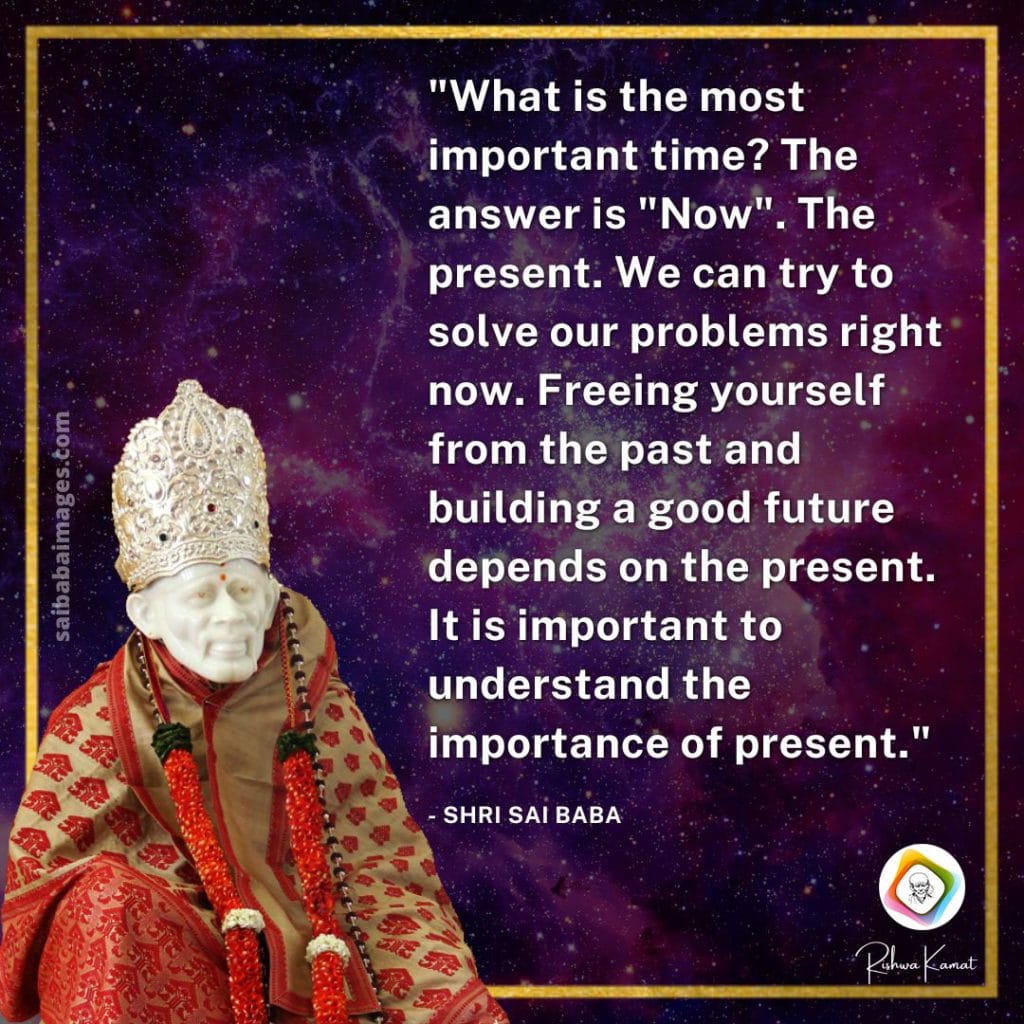 Anonymous Shirdi Sai Baba Devotee says: Sai Baba ki Jai! I request to remain anonymous.
Firstly, I am thankful to Baba for His blessings that have brought me where I am today. Secondly, I am grateful to every member of the team who created the beautiful new Sai Satcharita.
I want to share an experience I had, where Baba indicated that He would appear in some form while I was at work. Last Wednesday, I was listening to Baba's "thought for the day" on YouTube, Aaj Ka Sai Sandesh, and Aaj Ka Shirdi Sandesh. In one of the videos, they described how Baba would come in some form to reassure me that He knew how I felt and was listening to my prayers. Later that day, while I was working, a person who hadn't seen me for a year came to see me and gave me a small blue bag containing Vibhuti from Shirdi. She said that she received the Vibhuti by mail from a house she had purchased, which was previously owned by a Baba devotee. She got the Vibhuti for me, even though she wasn't a big believer in Baba. Baba had proved His presence as promised.
I also remember Hemadpant's dream on Holi, where Baba came in his dream and Hemadpant received Baba's photo during lunch.
Another experience I want to share is that our tickets were booked for India on the 8th, but two weeks ago, we all got COVID-19. My husband didn't feel comfortable going to the wedding, so we requested to cancel our trip due to COVID. However, our tickets haven't been canceled yet. We were planning to visit Shirdi after 3-4 years, and I felt bad. I prayed to Baba to guide me, and early one morning, I had a dream where a panditji was cleaning a Shiva Lingam and saying "Shirdi aa jao kuch nahi hoga" (come to Shirdi, nothing will happen). Also, in the morning, Aaj Ka Sai Sandesh was about Shirdi. I am praying to Baba to guide my husband to agree.
Baba, please keep showering Your blessings on all of us. Baba, I know You are always with me.
A Devotee's Prayer To Sai Baba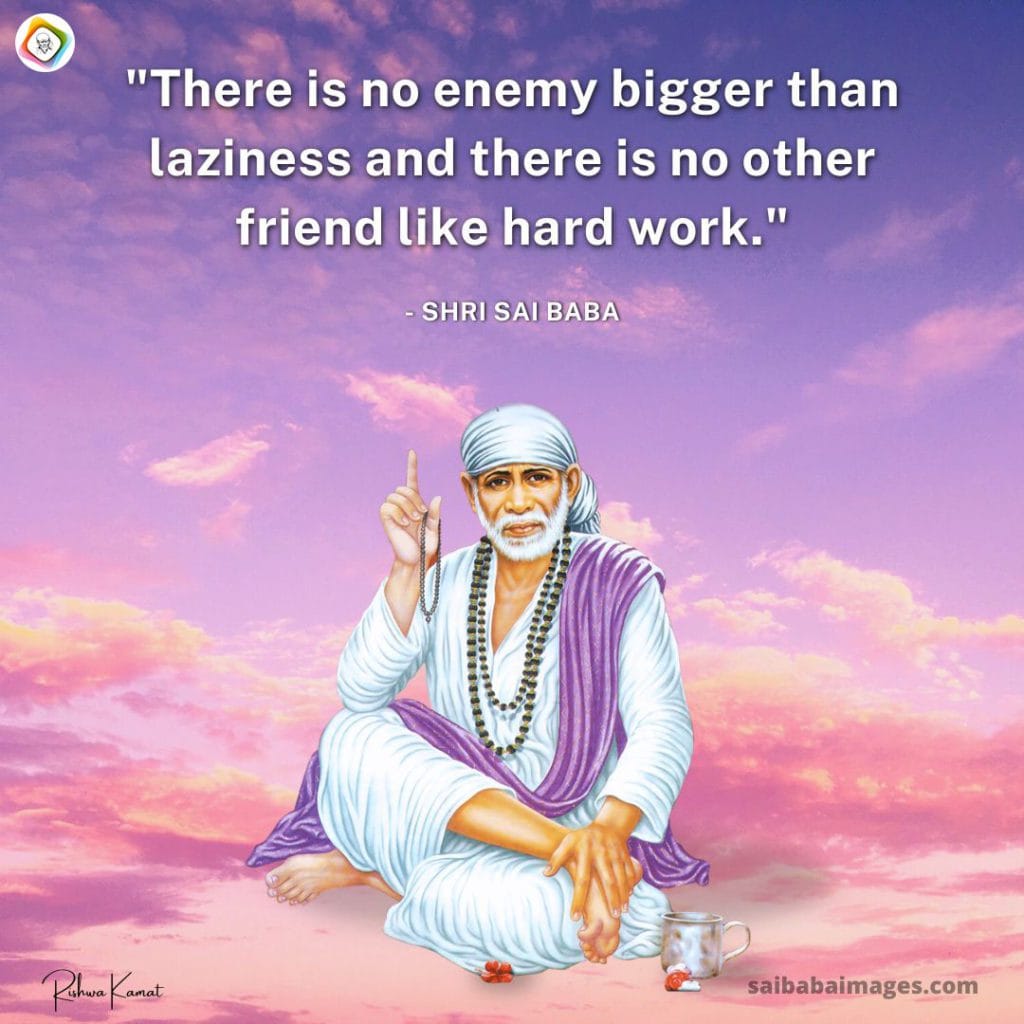 Anonymous Shirdi Sai Baba Devotee from India says: Om Sai Ram 🙏🙏🙏 Baba, please forgive me for sharing this experience late. Last week, my son, who is four years old, got sick and had a fever. At that time, my husband was not at home; he went to a bachelor's party, which was near our home. I messaged him about my son's sickness, and firstly he told me that he is going to come home soon, but he was taking a long time. He likes to drink and enjoys chit-chatting with his friends. I was thinking about my son and my husband. I was scared that my husband might drink more and wondered how I would manage that night with my son and husband. I prayed to Sai Baba that my husband should not drink more. By Baba's grace, he didn't drink much. Thank you very much, Baba. You answered my prayers. Otherwise, I couldn't imagine that night. Baba, my humble request is please make my husband stop drinking. Please make it possible, Baba. I don't know how many questions will arise while my son is growing up, and how should I answer them. Baba, please save me.
I know You have done so much for me. If You couldn't help me in the past, my life would have been over. Because of You, only I am here on this earth. All these things are Your Bhiksha to me. Om Sai Ram 🙏🙏
Baba, please be with my mom and dad. Baba, one of my friend's father is suffering from cancer. Baba, please save that uncle, Baba 🙏🙏🙏
Om Sai Raksha Sharanam 🙏🙏🙏
Om Shirdi Vasaya Vidhame Sachitandaya Dimahe Tano Sai Prachodayath 🙏🙏🙏
A Divine Intervention By Sai Baba: The Miracle Of The Misplaced Bracelet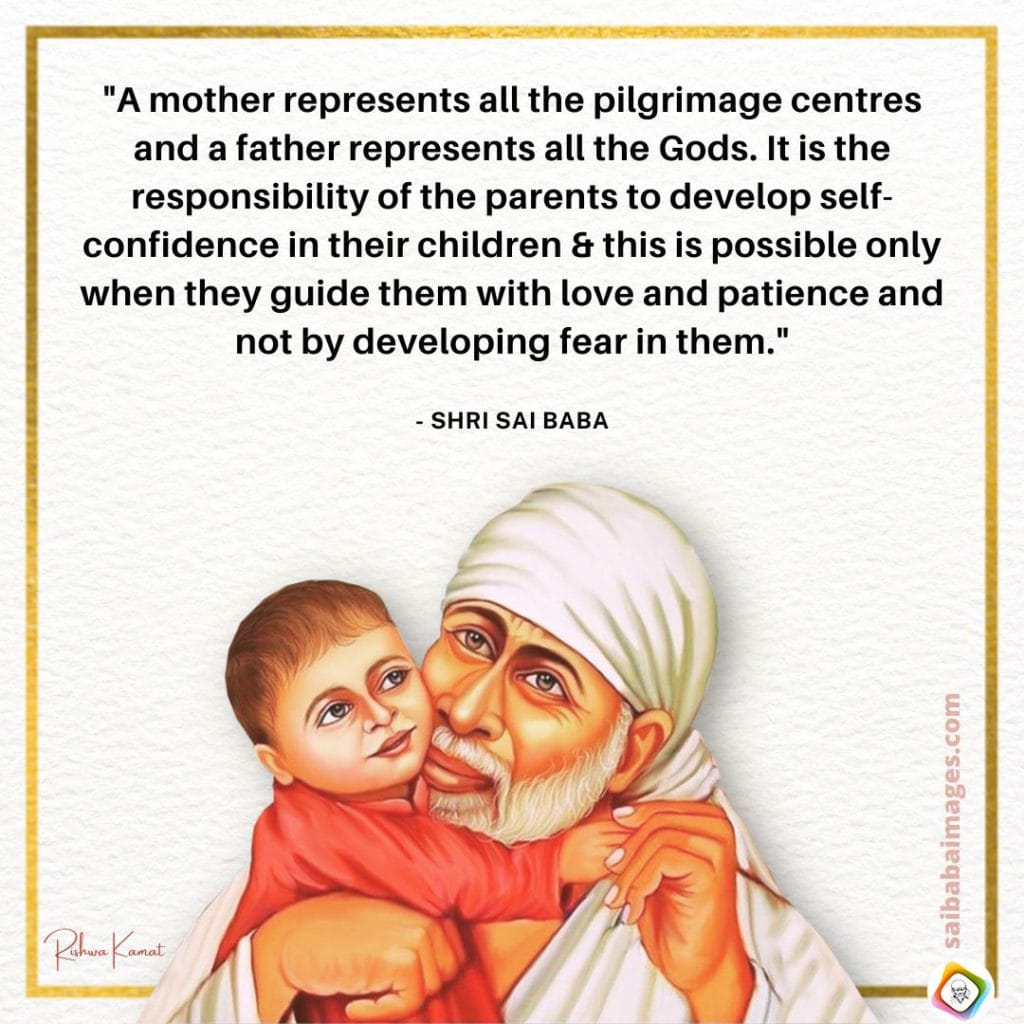 Anonymous Shirdi Sai Baba Devotee from India says: Om Sai Ram, Thank you, Hetal Ji and the team for providing this platform. Please keep my identity anonymous.
I am back with one more divine experience of dearest Sai.
I had misplaced my gold bracelet, which is extremely precious to me due to sentimental reasons. It was a gift from my dearest mother with her hard-earned money, and I love my mum a lot. So, I was quite upset.
Somehow, I was not worried since Sai and His presence had become a part of my life in various forms and ways. I just prayed to Sai and told Him how much that bracelet meant to me. I also resolved to share the experience on this platform once I find it. One evening, while reading the messages on Pinterest, Sai said, "What belongs to you will not be stolen," and the next morning…
Lo and behold, I found it almost after three months in a place where I had searched twice before. It miraculously appeared right in front of me from nowhere. I had checked the same place before with someone and confirmed that even she had not seen it before. Only divine intervention in the form of Sai made it possible.
Sai Mai, thank You. You are always present with me in various forms, looking after my well-being. I love You, Sai. 💕
Om Sai Ram. 🙏🏻
The Miracles Of Sai Baba: Two Experiences Of A Devotee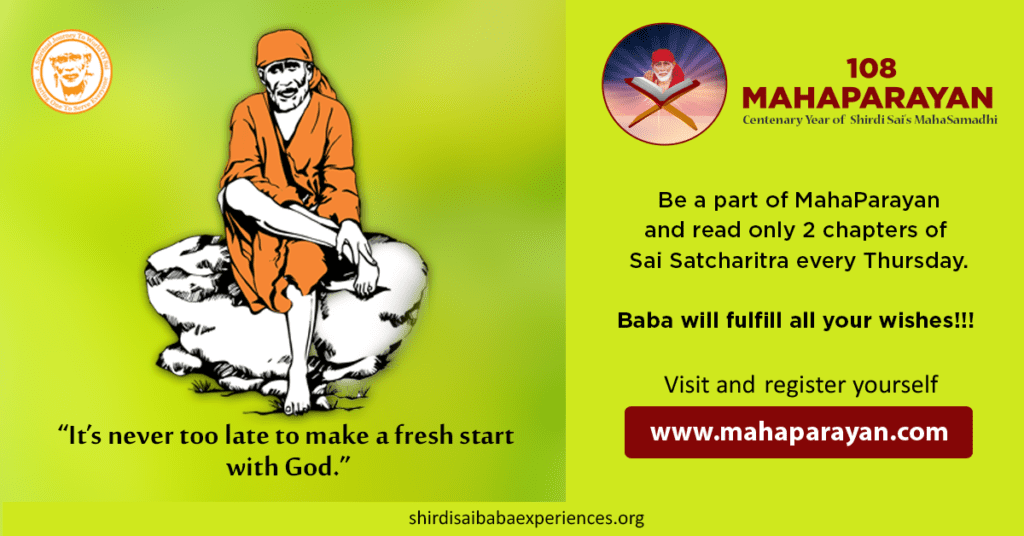 Anonymous Shirdi Sai Baba Devotee from India says: Om Sai Ram to all devotees of our Sai Baba. Please keep my identity anonymous. I am a small devotee of Sai Baba from India. In this writing, I would like to share with fellow devotees two of my prayers that were fulfilled by Baba.
Firstly, with His grace, I got a job in the marketing field after a gap. I strongly believe that He will guide and sustain me in this new job. He also called me to Shirdi where I had a wonderful darshan.
Secondly, I went to the Treasury Office to renew my Fixed Deposit certificate. After completing the necessary paperwork, I left the office and went to work. However, I realized the next day that the original certificate was missing. I was in a panic and searched for it, but I could not find it in my bag. I tried to contact the Treasury Office by calling over the landline to check if I had left it there. The phone kept ringing, but nobody took my call. I continued trying for three days. Finally, I prayed to Sai Baba and promised to share this experience on this divine blog if it was found in the Treasury Office. After this, I tried one more time to contact them. This time, a lady officer took my call and told me that the original certificate was indeed there. To fulfill my promise, I am sharing these experiences with you all.
Jai Sai Ram.
---
More from SaiYugNetwork.com