Sainath Made Love Story – A Success
Shirdi Sai Devotee Swarna from India says: I am Swarna Sumakeerthi. I am from Nellore AP. I was in love with my husband for nearly eight years. But my family didn't accept my love. I tried a lot to convince them. I waited for my parents to agree for nearly four years. But they didn't. They tried to convince me and to marry someone else. But I didn't let it happen.
I was worried about my parents too. I couldn't leave them and go, because they love me a lot. They wanted me to lead a royal and happy life but I needed a happy life. My husband's caste is low and financially also not so good, so my parents didn't agree.

One day I stood in front of Sainatha and asked Him, "My mother loves You so much. She treats You as her Father, but then why are they looking into caste and status? You won't give preference to those, but why do Your devotees look at those. I don't know or understand whom I should select; whether my parents or my love? Both are genuine and love me a lot. I love my parents and my love. Whom should I select? I am not able to select one? I don't want to lose anyone. Are You supporting my parents who oppose low caste and status? Please show me the way."

One night in my dreams "Sainatha tried to convince my mom and my mom said that there was no objection to me, but her father doesn't agree to it." Sainatha convinced my mom that He would take care of her husband. He came near me and said, "Your mother accepts your love, you go with your love. I will take care of your parents. No need to worry, trust me. Your love is true, true love never fails."

Next day I married my love and I am having a happy life now. Miracle is that I never thought that my parents would accept me again. But the miracle was that my mom and family members accepted me even when I went away and got married. Now we are all happy. I have a beautiful mother-in-law, a house and parents. Thanks a lot Sainatha. You gave me a new life.
Baba's Miracle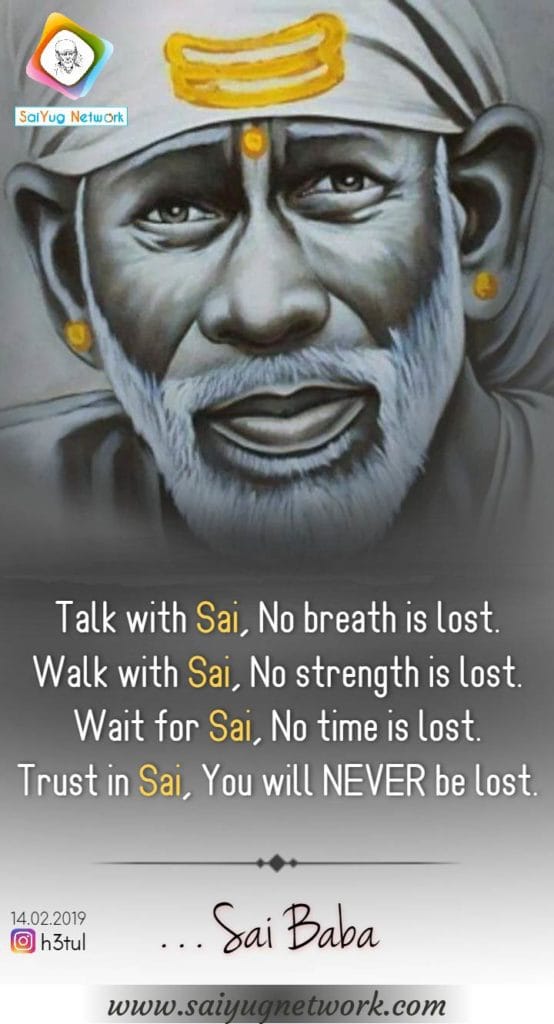 Anonymous Shirdi Sai Devotee from India says: Om Sairam. I am from India. Thank you Hetalji for this wonderful site. I am narrating two experiences which happened recently.
Miracle#1: My cousin tested positive for Covid19. After two days he was seriously injured and admitted to hospital and after three days he was shifted to ICU and was diagnosed with mild pneumonia. Everyone was very scared about him. Then I sat in front of Baba, cried and prayed to Baba that when he would be discharged from hospital then I would post this experience. Everyday I was applying Udi on my head like I am applying on his head. Next day we heard that he was recovering. And after 2 days he was shifted from the ICU to the cabin. Then in the next 4 days he was discharged from the hospital. Thank You Sai. Thank You Baba.
Miracle#2: Same incident happened with my husband's friend. He was also tested Covid and his oxygen level was down and admitted to the ICU. Then I prayed to Sai that once he got discharged from the hospital, I would post this experience. Then with Baba's grace he completely recovered. Thank You Sai. Thank You Baba.
Baba Cured Tooth Pain Without Medicines
Anonymous Shirdi Sai Devotee from India says: I am a small devotee of Baba from Bangalore. Thanks Hetal for this platform.
My mom had a severe toothache. She was not able to open her mouth due to pain and she got a light fever also due to the pain. My mom doesn't like to take medication, so I prayed to Sai wholeheartedly to cure my mom's tooth pain and offered Sai that I could take the pain of my mom if possible. Then when my mom got up in the morning she was much better and she was recovering without taking medicines. I cannot thank Sai enough.
Baba Cured Cold And Sneezing
Anonymous Shirdi Sai Devotee from India says: I am a small devotee of Sai Baba. Chanting Sai's name gives me a lot of strength to face difficulties.
Recently in this Covid scenario I had accompanied my dad to hospital for a minor surgical procedure. After one day I started sneezing, my nose started running and was a bit feverish. This happened around 5 o'clock in the morning. I got worried due to the pandemic situation and prayed to Baba that I should recover by evening and slept. When I got up at around 8 o'clock that day I was completely alright. Thanks a lot Sai. Please bless my parents with good health, long life and happiness.
Sai Baba Helped Devotee's Parents To Come Safely
Anonymous Shirdi Sai Devotee from India says: Please keep my name anonymous. Om Sai Ram.
Today my parents were travelling from Kolkata to Bangalore. They were old and because of the pandemic I was scared of how they would come. But Sai made all the arrangements and my cousin accompanied them and they came to my place safely. This happened only with Sai's blessings. Please Sai always keep my family in Your lotus feet and protect us. You are everything for us. Koti Koti Pranam.
Sai Baba Is Always There For Us
Anonymous Shirdi Sai Devotee from India says: I am a devotee from India. My daughter got a fever after two days of her outing to a small shopping mall. I was petrified due to the ongoing pandemic. I prayed to Baba to cure her and that I shall post it here. In two days she was fine. Thanks Baba. Thank You very much.
More from SaiYugNetwork.com
Shirdi Sai Baba Devotees.com – A Member of Sai Yug Network.com
---