Sai Baba Helped To Clear Certification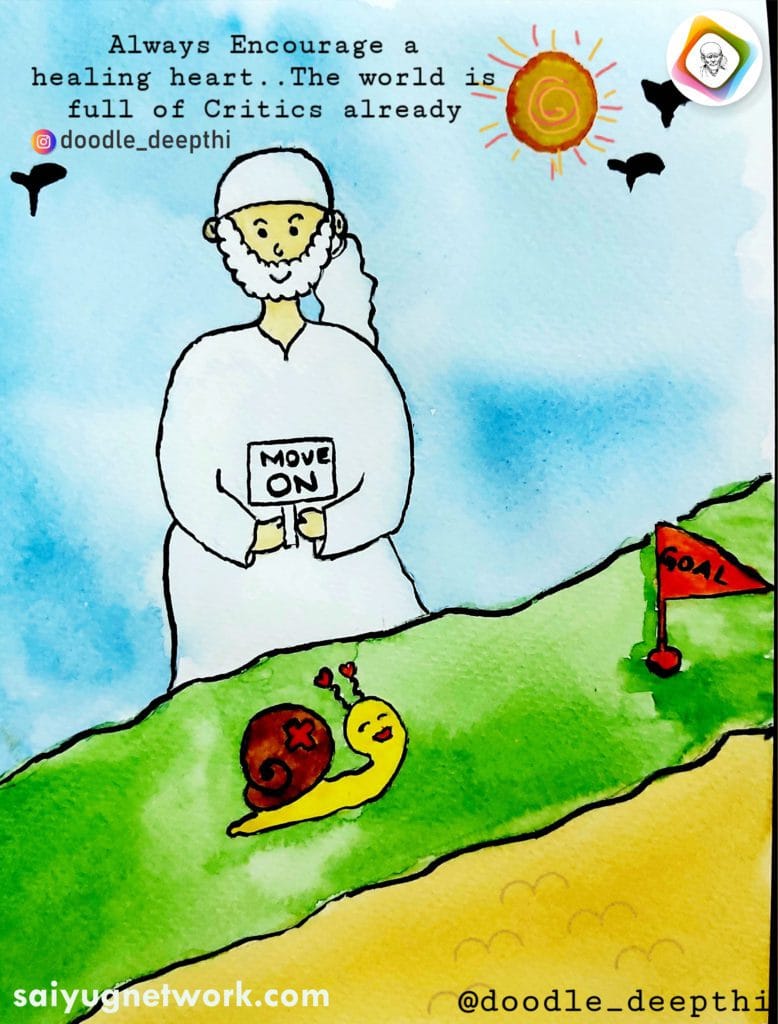 Anonymous Shirdi Sai Devotee from India says: Sairam to all the devotees, I'm Sai devotee from India, would like to share my recent experience.
My family and I have been Sai devotees from the beginning. By Baba's grace, I am in a good position working for a reputed IT firm. While in the process upgrading my career path, I decided to get a certification done.
One day (that day was my birthday) I was going through a random website to get to know more details about the training and the examination that I had to take. While I was checking the slot, there was no training (date) which was starting on Thursday. I am a firm believer of starting/doing new things only on Thursday. I have filled in the pre-registration form but thought of not taking it seriously as there was no training slot beginning on Thursday. Felt quite upset about it, closed my laptop and gave up on the thought of getting certified.
After an hour or so, I received a call from the training institute but I did not answer. Around 3:00 PM in the evening, I received another call not knowing that it was from the institute. I answered randomly. Support team member was very courteous and gave me a glimpse of the entire certification process. Website says training slots are available only at the end of August and I was looking to join in the same week (from the day I called which was Monday) and that too I wanted training to begin on Thursday. But, I did NOT say this out on the call and I decided to not take this forward. But Baba had a different plan for me. I thanked the support guy on the call politely and said that I will call later (Just to ignore the call).
To my surprise, he said that there was a batch which was starting on so and so date that week and if I was interested then he would add my name in the same group. Not paying attention to what he said, I said NO straight away. While about to drop the call, the support guy repeated, "Please think about it again, we have a batch which is full starting this Thursday, if interested I can use my influence and add your name right away in the same batch, if you are OK to start this Thursday." I was in shock and said that all that was not shown on the website for which he replied, "Yes, the batch is full. So we removed the display on the website, if you are interested – I can add you right away."
This was definitely my Sai Sadhguru's leela. My joy knew no bounds. Thanked Baba and said ok happily. Now, successfully completed the two day training without any hassles and attempted the exam immediately and cleared it with flying colours. How can I not? Anything we start on Thursday will turn out to be a successful journey. My job itself is Sai Appa's bhiksha. I will share another chilling experience about how I got my job back after a painful break.
Closing on a very positive note, Baba will listen to every heart's sincere prayer and we need not utter a single word out. With joyful tears in my eyes- "Dear Devotees, Please do not stop believing in our Baba, sometimes we may not understand His divine timing but surely He will show us the brighter side of life." Shri Samartha Sadguru Sainath Maharaj ki Jai!
Sai Baba's Blessings On Devotee's Mother
Anonymous Shirdi Sai Devotee from US says: First of all my wholehearted thanks to the team who are managing or providing such a beautiful platform where all Sai devotees can share their views and their experiences. This blog gives happiness and peace to Baba's devotees and proves Baba's love and affection for His devotees. 
Baba first came into my life when I was 13 years old. Since then I started believing Baba blindly. I went through so many difficult situations in my life and in all those hard times Baba was there with me. Every time He reaffirms saying that He is always there with me. I know it's our past karmas through which we are suffering in this birth, but I strongly believe they will gradually reduce through our Baba's blessings.

Recently my parents visited the US in August 2020. In the month of March 2021, we took our parents for a general physical check-up, through which we found slight blood in my mother's urine analysis test. So the doctor asked my mother to drink lots of water for 15 days and come back to the hospital so that she could repeat the urine analysis test for traceability of blood in urine. Later we were hoping that as she drank a lot of water, everything would be alright. But it was not the case. In April 2021, my mother was not well. She was unable to pass urine and then my brother and I took her for an ultrasound and we got to know that her kidneys were swollen slightly. Then doctors suggested going for a CT scan of abdomen to know the exact reason why kidneys were swollen slightly even though her kidney function tests were normal. We were really worried.
We took the appointment for a CT scan. Meanwhile I asked her to read the 13th chapter from Satcharitra everyday. I was continuously praying Sai Baba for my mom's health. Then the day came to take her for a CT scan. My brother and mom went inside the room. I sat outside the scanning room in the hospital and read the 13th chapter hoping that no major problems should be there and everything should be normal. In the results we got to know that there might be chances of some blockage in Urinary bladder or some bladder issue (neurogenic bladder) and that was the reason that urine was accumulated in the kidneys and they were swollen. The doctor said the reason could be due to contracting urinary muscles or there could be chances of a major problem in the bladder. So again doctors asked her to do bladder scanning. I was so worried and really got scared.
I have also prayed to Baba that if everything comes as normal then I will share my experience on this website. We took her to a urology specialist and he did the scanning and throughout the scanning I was holding my mother's hand and started chanting the sacred "Om Sairam" mantra. After urinary scanning, the doctor said that there was no major problem/no tumours found and it could be due to contraction of muscles. He gave medicines and she is using them now. This is because of our beloved Sai Baba. She is not completely relieved. But I am sure that she will be alright by Baba's grace and she is performing 5 weeks of pooja for Baba. Sorry Baba for sharing my experience very late and thank You for making me write my experience. Ananthakoti brahmana nayaka rajadiraja Yogi Raja Sri Para Bhrabha Sri Satchitanadha Sainath Maharaj Ki jai. Om Sairam. 
Sai Blessed Couple With A Baby After Six Years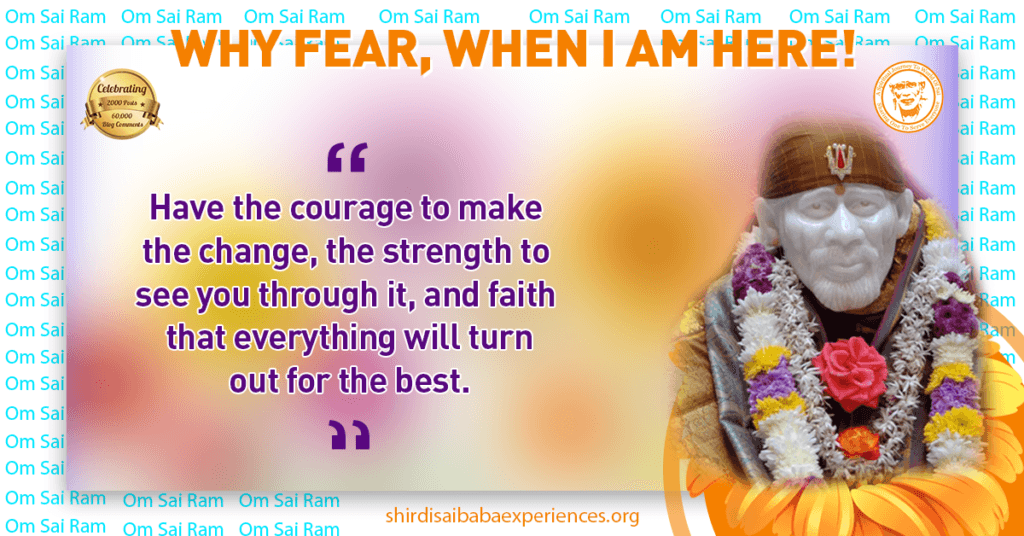 Anonymous Shirdi Sai Devotee from India says: I belong to the Mahaparayan group MP-3418N1-Harshini Sai, yellow House. I wanted to share my experience.
I got married in 2014 and due to many reasons was not having a child for six years after marriage. I tried many doctors and there was no specific reason for this delay as both mine and my husband's reports were all normal. I was praying to Baba before marriage but after marriage I couldn't/didn't worship Baba as my in-laws don't have faith in Baba. Years went by and we shifted to another country for my husband's job. I started my pooja to Sai Baba in my new house and joined this Mahaparayan group in 2020. I prayed to Baba every Thursday and read the chapters without fail along with arti and naivaidyam to Baba. I prayed to Baba that I will stop having one of my favourite foods until I see my baby in my hands. 
In Sep 2020, I got good news that I am pregnant after six years. I was very much overwhelmed and told Baba that the baby is a gift to me from Baba and Baba should hold my hands throughout pregnancy until I see my baby healthy in my hands. To every scan I went to, I always thought that Baba was accompanying me to the scan room to make sure everything was fine. All of a sudden when I came to India for delivery in Jan 2021, I was tested Covid positive with no symptoms. I lost my father-in-law due to corona in the same month. Life took twists and turns in Jan 2021. I was admitted to the hospital for isolation and I prayed to Baba to be with me taking care of my baby. To everyone's surprise, I didn't have any symptoms and the doctor who treated me told that I don't even need any medicines other than a good diet and sleep. I came out of Covid without any mishaps to me or my baby.

When I read about pregnancy, I used to pray to Baba that I should recognise my baby kicks on Thursday. Surprisingly, when I was isolated in hospital alone I was in panic, as I couldn't know if my baby was fine or not. On a Thursday (on Purnima) I felt my first baby kick, ensuring that my baby is fine and I need not worry. 
Throughout my pregnancy I always felt Baba was with me taking care of me and my child which proved right when I gave birth to a baby girl on a Thursday evening during Baba's Arati time. I never missed reading the chapters on Thursday. Even on the day of my delivery, I completed my chapters and got admitted for delivering my child.

Baba will always be with us. Only thing is faith and patience. We will get whatever we need at His timing.

Om Sairam!
Baba Lifted Up A Devotee's Life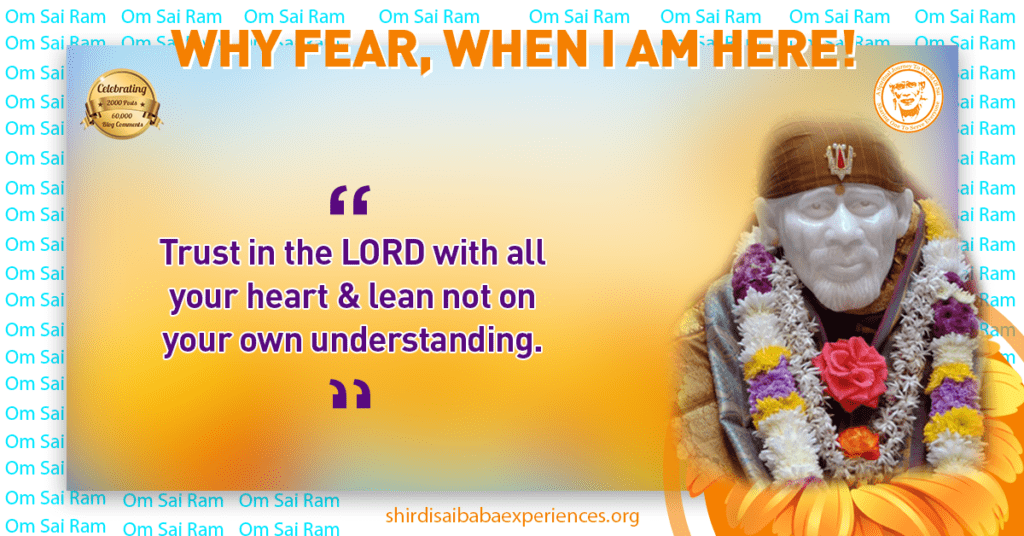 Shirdi Sai Devotee Meghna Sai from India says: Hi I am daughter of Sai Baba who always calls Him for even small things and tensions. Thank You team.
I have been Baba's devotee for less than years but now I am feeling I know Him from many births. I faced many problems in my life. At each and every step my home God Om Shakthi Kallalamma Thaye Adhithimappa MKDG was there with me. Maybe they only made me believe in Baba. I think today Baba became everything for me. He lifted my life and gave me hope that He never leaves down. Before due to some incidents in my life I was not liking Baba and even worshiping simply for name sake. There were days when I was even scared to see Baba's image or idol. I used to close my eyes and get scared. But now if I see His name also I will be very happy and I feel blessed. Om Sairam.

Baba, thank You for everything, mainly for being 24/7 with me. No words to explain Your miracles and Your motherly love. You gave work that is Yours. Please take care of that from evil's eyes.

Thank You as yesterday my husband worked without any problem and it rained only because of You. And my invoice had no mistakes. Yesterday it went smoothly. Thanks for that, as promised posting it today. It feels like a princess to be a daughter of Sai. I didn't feel my father's love more in my life. Everyone used to tell that a daughter is dad's princess. That time I used to feel that I am not a princess for my dad, but You fulfilled that wish. Now even Meghna Sai is a dad's little princess as You are my Father. You did all that one Father should do for a daughter and also You are my caring Mother like My lovely God Om Shakthi Kallalamma.

Happy Guru Poornima my Guru. Love You. Lots of love. Be with me till my last breath like how You were with great Shiva devotee Megha In Sai Satcharitra. Guide me, my husband, kids, sisters, granny, parents and everyone on the right path.

Om Sai Ganeshaya Namaha. Om Shakthi Kallalamma Thaye Adhithimappa MKDG. Om Sai Rakshak Sharanam Deva! Om Sai Samarth! Om Shirdi Vasaya Vidhmahe Sachidanandaya Dheemahe Tano Sai Prachodayath! Om Anantha Koti Brahmanda Nayaka Rajadi Raja Yogi Raja Parabhramha Sri Sachidananda Sadhguru Sainath Maharaj Ki Jai! Om Shani Singapura Shaneshwara Swamy Namaha! Om Sai Hanuman. 
Baba Shows His Presence
Anonymous Shirdi Sai Devotee from USA says: Thank you to everyone involved in maintaining this website.
Today I had to appear with my wife for an interview related to my Green Card application. While my wife and I had prepared thoroughly and assembled all the documents that our lawyer had asked us to, we both were still a bit anxious as to what would happen at the interview.

Nevertheless, we prayed to Baba and left for the interview. Before I left, I had quietly prayed to Baba saying, "Please be with us throughout this." We arrived at the interview location at 9.45 a.m. and were waiting to be called. Time passed quickly and we kept waiting for our turn and it was almost 11.30 a.m. About 15 minutes before our interview, an Indian gentleman arrived at the location for his interview carrying a bag, one would typically get when buying things at a shop in India. He was carrying his documents inside this bag.

My wife quietly whispered in my ear and asked me to look at what was printed on his bag. The yellow bag had the words, "Shri Sai Sari Centre" with a picture of Baba. We were both stunned! It was as if Baba had heard my quiet prayer in the morning and said, "I am here to take care of you and I am here with you." This incident reminded me of the story in the Satcharitra, where Baba said to Kakasaheb Dixit and Nanasaheb Chandorkar, when they came to invite Him for various ceremonies, "After Kashi and Prayag, I will be ahead of Shama." In that story, Baba appears as a picture on Gayawala's wall.

Needless to say, our interview went smoothly, as Baba put the right words into our mouths and handled everything. Baba shows His presence when you least expect it! Om Sairam. Om Sai Rakshak Sharnam!
Sai Is The Ultimate Healer And Doctor
Shirdi Sai Devotee Eva Das says: A couple of weeks ago my mom was experiencing sharp abdominal pain for over a week. Every time she moved wrong or took a deep breath there were sharp pains. It was so severe on a Saturday that she was in bed all day and we thought about going to the emergency room. We decided to go to her doctor and they ordered a CT. The CT results did not show any emergent issues, however my mom was still in aggravating pain. Mom decided to drink Udi water and place Udi on the area of pain. The next day mom felt 100% as if there were never any issues. It has now been two weeks and she is still feeling very good with no pain in that area.

Shortly after that my dad started to experience back pain. No matter heat or stretching or over the counter medicine allowed for any relief. Laying or sitting down was very uncomfortable. That evening my dad couldn't sleep all night and was restless. There was no relief for his excruciating back pain. When he woke in the middle of the night he drank Udi water and put Udi in his mouth. He went to bed. The next morning when he woke up, the back pain had completely gone. Om Sai Ram. 
More from SaiYugNetwork.com
© Shirdi Sai Baba Devotees.com – Member of SaiYugNetwork.com