Sai Baba Helps To Find Lost Jewellery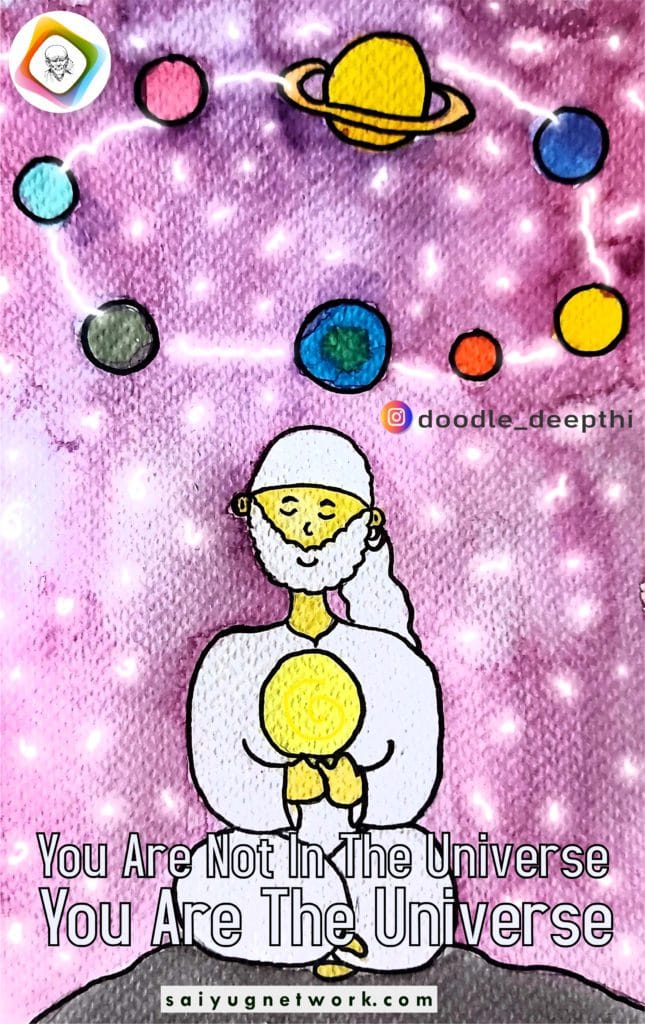 Anonymous Shirdi Sai Devotee from India says: My humble pranam at the lotus feet of my Lord Sai.
Every Thursday before our vrat, I read aloud experiences of fellow Mahaparayan devotees from this group and have felt enthralled at the grace of our Sai Who has touched so many lives. I also felt compelled to share my experience as I had promised to Sai.

I had moved back from the US after 12 years to India to be closer to my mom, who is also a staunch Shirdi Sai devotee. As a homecoming gift, my mom presented me with a pair of gold and diamond earrings that are precious to me not for the gems or gold but because my mom had gifted them to me. I wore it for a function once and then hadn't used it for a while. I recently searched for it to wear to a different function but to my shock couldn't find it anywhere. We both searched the whole house and turned over every bag and purse to check but it was nowhere to be found.

I was so upset that the gift my mom so lovingly gave me was now missing and started praying earnestly to our Sai saying, "Baba, please give me back the gift because I can't accept losing it." Although we searched everywhere we couldn't find and I had promised Baba that if I found it then I would share my experience in this group the very same day.

We left the city and came back to my brother's place and when my mom opened the locker there, to our utter surprise we found a purse with the same earrings that we had lost before. If this was not Sai Baba miracle then what is? Our Sai is so merciful that He appeases every single prayer of His devotees.

Thank You so much Sai and I hope to keep sharing the experiences of our divine Baba here on this forum. Om Sai Shree Sai, Jai Jai Sai. 
Sai Divya Pooja Miracle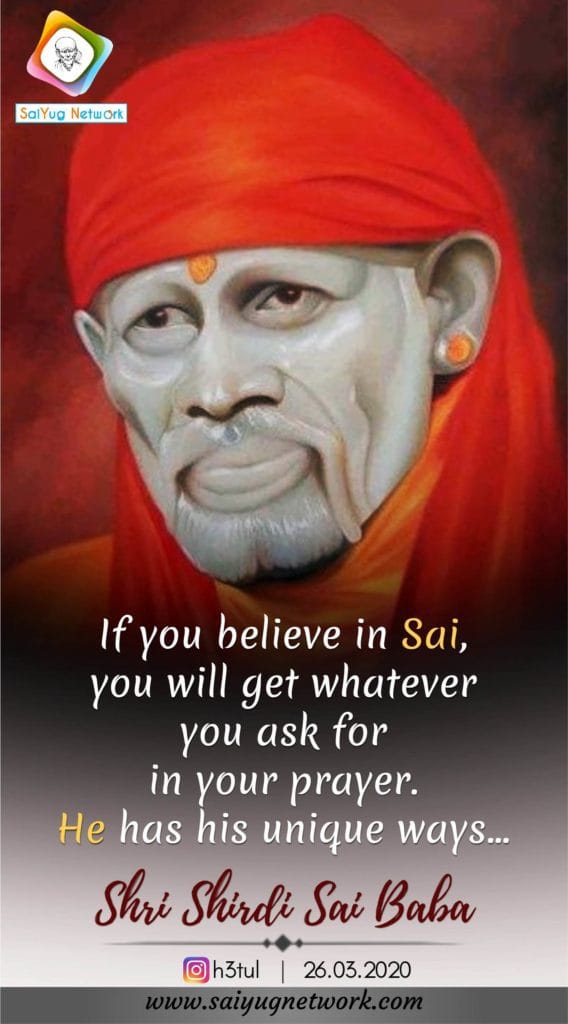 Anonymous Shirdi Sai Devotee from India says: Om Sai Ram. Baba is my saviour, my helmsman. I can't imagine our lives without my Deva.
I got married in May to a most wonderful person because of Baba. I had the worst relationship issues in the past. Baba saved me from getting into toxic relations. I'm really thankful to my Saima.
Coming to my experience, my husband applied for NIE approval to get back to the US, and had been waiting for two months. His cousins got approval within 25 days. We both were desperately waiting as my visa processing depending on approval. 
I kept complete faith in Baba, at times lost patience too. But finally believed that it was a testing phase and whatever Baba would give would be only for our good. I finally decided to start my Sai Divya pooja. I made preparations for pooja, and sat. Just when I lit the lamp and lo the miracle happened, the very moment we got approval. I was shocked and tears ran when my husband told me the news. I fell at His feet and thanked Him. I completed the pooja. He is my Almighty. He is my everything.

He reduced my sister's fever as well. Thank You so much Baba. Don't ever leave me. Can't live without You my Deva. 
Sai Baba Cured Breathlessness Due To Acid Reflux
Anonymous Shirdi Sai Devotee from India says: Om Sai Ram. Mother Sai saved me. As we all know we ladies, being very good at taking care of all our family, friends and relatives, never take care of ourselves. We just neglect our food, health, choices, etc. This is the main reason we mostly encounter diseases at a very young age. I also had a very bad habit of skipping my food most of the time, due to a shortage of time mostly. Finally, a time came where my acid reflux was so severe that I was unable to breathe.
Firstly I didn't understand what was happening. In this pandemic time, breathlessness means only one thing as we all know. But my case was different. My problem started before Covid even started anywhere on Earth. I left outside food, non-veg, still, I was suffering. I became frustrated though I was praying to Baba. Day before yesterday my condition became severe. Then by the grace of Baba, I suddenly remembered this site of Baba. I had vowed to share my experience if my acid reflux and breathlessness went immediately and by the grace of Baba, miraculously it disappeared. By Baba's grace I don't have any problems related to acidity anymore. Sai Rakhshak Sharanam Deva. 
Sai Baba Changed Devotees Life
Anonymous Shirdi Sai Devotee from India says: I am an anonymous devotee of Shirdi Sai Baba from India. I thank everyone who is maintaining this e-Sai Satcharitra. I want to share my experience with everyone here. 
Sai Baba has been my saviour; He is always looking out for people who trust Him. During my 12th standard I did not take my studies seriously. I had not prepared well for the engineering entrance exams also. I was not very confident about how I would do. The nervousness for my future was gripping me and made me very anxious. 
I prayed to Baba very reverently. I placed all my trust in Him and surrendered myself with complete devotion. Baba helped me by giving me results more than I even expected. He is truly my savior. He guides me like a Father and protects me and I have learned a lot reading from His miracles and stories from fellow devotees. He has and always will be kind to me, as He is my Protector and Saviour. Thank You Baba for showering Your blessings on me. Thank You for showering it continuously on an ignorant soul like me. Thank you all for reading my experience. Om Sairam. Om Sai Sri Sai Jai Jai Sai!

Sai Baba Cured Ailment In Less Than A Minute
Anonymous Shirdi Sai Devotee from India says: Hello everyone, I am Baba's girl and I love Him so much. This is my first communication, however not my first experience of Baba's miracle. I thank the admin for giving this wonderful platform to share experiences with all.

The miracle I am sharing is of this morning (15/9/21). I got up with UTI symptoms and it was very painful. I prayed to Baba and promised Him that if I would feel good post taking Udi in water then I would share my miracle here for this new Sai Satcharitra. I took a small pinch of Udi in water and sat down. In less than a minute, my pain vanished.

I have several miracles to share, including how I went to Shirdi in 2006 for the first time. Since then, I have always been Baba's girl. 
Got Fridge Replaced With Sai Baba's Grace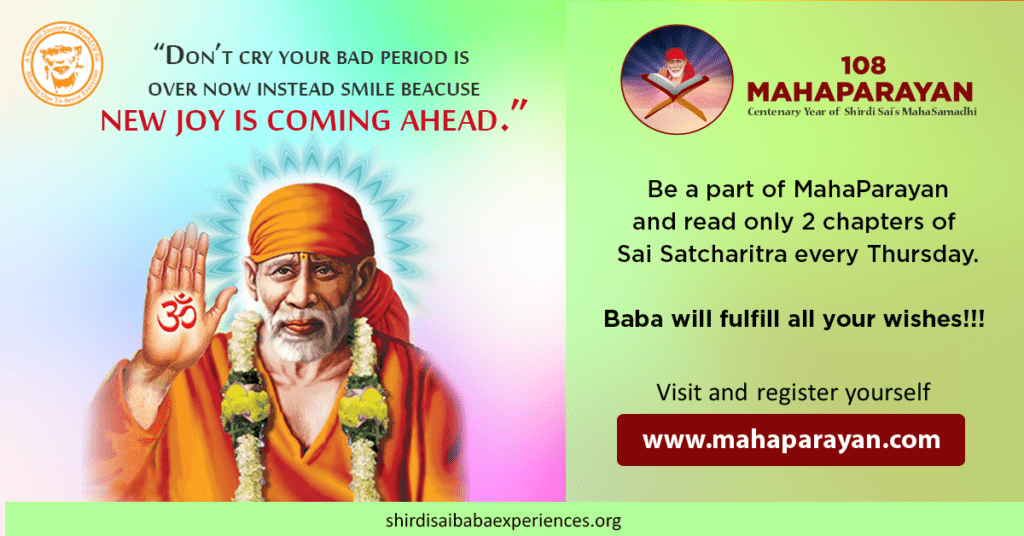 Anonymous Shirdi Sai Devotee from India says: I am a Sai devotee from India. I have shared my experiences many times before.
We bought a new fridge for 95000, we had taken the dimensions of the space reserved for it in our modular kitchen and the store people confirmed that it would fit. But we had missed measuring the wall tile width which was preventing the fridge door from opening fully and the store people were not ready to replace it.
We were requesting it for a long time since it would not fit anywhere else in the house. I promised to share my experience if they agreed to replace and now we are on the way to selecting our replacement. Thank You Baba for Your blessings. 
---
An interesting book "ShirdiChe Sai Baba" is being shared on Shirdi Sai Baba Books.com, in parts. It is a book worth reading by those who are keen in knowing veiled history of Sai Baba during His times. 
More from SaiYugNetwork.com
© Shirdi Sai Baba Devotees.com – Member of SaiYugNetwork.com