Sai Baba Cured Devotee's Neck Pain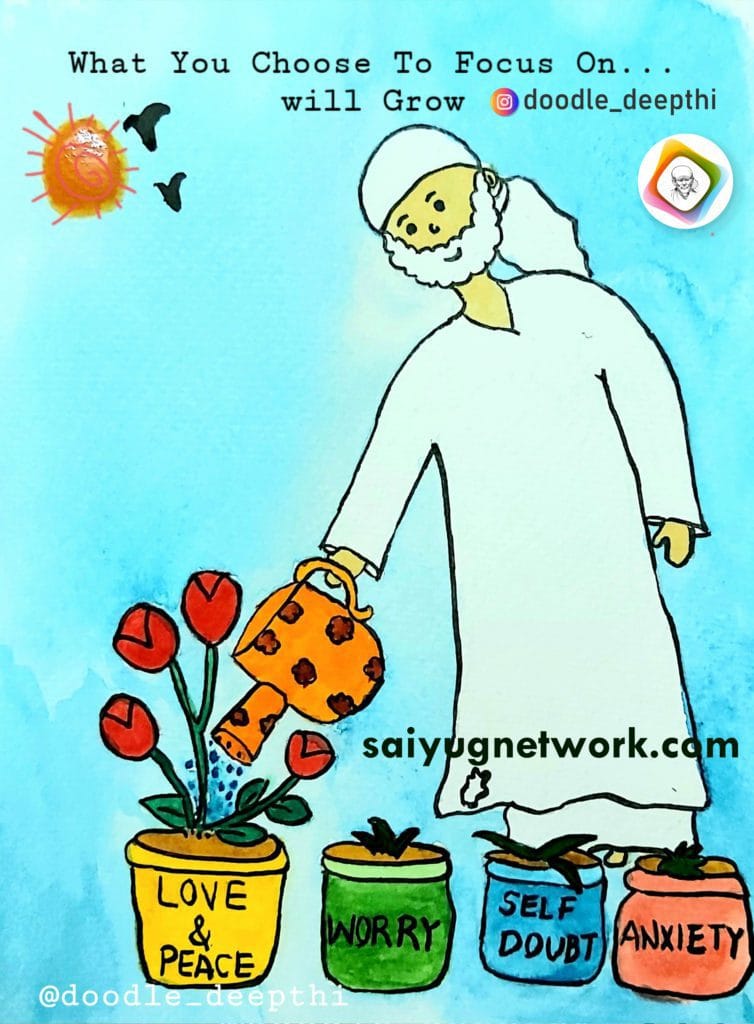 Anonymous Shirdi Sai Devotee Suraj RV from India says: Om Sai Ram to all the Sai devotees across the world.
Kudos to Hetalji and the team for creating this beautiful platform of sharing experiences and miracles of our beloved Shirdi Sai Baba. For seven years (2014 to present), I have been devotedly reading experiences on this site and still continuing even today.
Coming to my experience; on 30th September 2021, I got up with a slight pain in my neck. Since I thought it to be a mild catch, I ignored thinking that our body has the capacity to heal itself. Then slowly, the pain started increasing and it became so severe that I was unable to turn around, sleep properly or do my yoga. I started applying Baba's Vibhuti over the swollen neck and also started to drink the holy Vibhuti mixed with water. I also started chanting Sai Sai… and also the Sai Gayatri mantra along with taking Brufin 400 tablet (Vibhuti water drinking and applying on the pain part was also going on simultaneously). I was also chanting Hare Krishna along with Sai Naam Jaap. During this critical time, I learnt many things like:
"Do not forget to take medicine when any pain is just starting"
"Do not forget Baba in your bad times"
"Do not stop Yoga as health is important"
On 5th October 2021, I felt so much relief and my neck pain had fully gone. I thanked Baba from the bottom of my heart. When I was walking, I suddenly saw a white car passing inside my apartment complex which had a white idol of Sai Baba on the dashboard. I hailed Baba mentally and thanked Him for giving darshan to me even though it was for a few seconds.
I would therefore request all the Sai devotees to remember and pray to our beloved Baba in all their times and not to forget Him.
Om Shirdi Vasaya Vidmahe
Sachchidananda Dheemahi
Tanno Sai Prachodayat !
Thanks To Sai Baba For Answering Prayer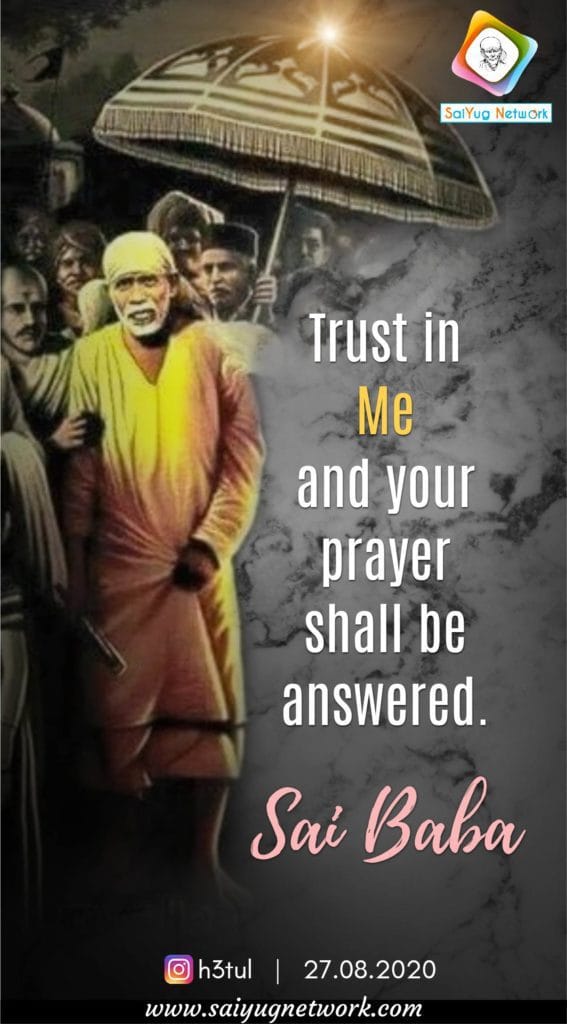 Shirdi Sai Devotee Saranya from India says: Thank you Saipa for blessing me. Thank you Hetalji for this forum where I can share my experience.
My dear Saipa, thank You for making my wish one by one come true. I know You are always around to bless and guide me. Ever since my father left this Earth I have been feeling helpless. But from the day I met You, I know You are here to always protect me and bless me with the best.
I did Nav Guruvar Vrat two times and have read the Sai Satcharitra many times. I am currently doing the Sai Divya Pooja and Sai Kashta Nivaran Mantra with a wish in my mind. I wanted to meet the boy You showed me.
Thank You Saipa as last weekend I met him. He is a really nice boy and I like him a lot. The moment I saw him I thanked Saipa as without His blessings this couldn't have happened. After many years I feel something nice happening in my life.
Please Saipa, I now need Your blessings to make us a couple. Please make this wish a reality Saipa. Bless us to get married and live a happy life. Meeting this person still feels like a miracle. Many thanks and prayers to You Saipa for making my wish come true. After this, it's all in Your hands Baba. I'm Your daughter, I know You won't do something without a reason. I need Your blessings for my marriage to happen. You have shown me the boy, now You have to bless us to get married. Every girl gives the marriage job to her father and similarly I'm leaving it to You. Need Your blessings Saipa. Waiting with Shraddha and Saburi.
Ananta Koti Brahmanda Nayaka Rajadhi Raja Yogiraja Parabrahma
Sri Satchidananda Sadguru Sainath Maharaj Ki Jai.
Sai Baba ki Jai.
Doctor's Visit Was Positive With Baba's Blessings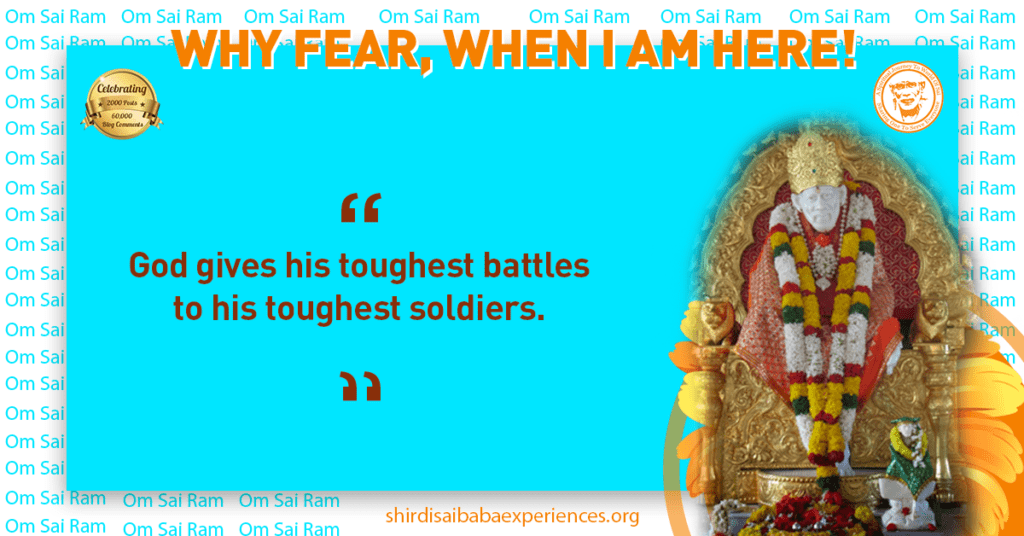 Anonymous Shirdi Sai Devotee from India says: I am a small devotee of Sai Baba. Thank you is a small word, but Baba blesses me always to say Him 'Thank You.'
I am pregnant with the second baby, though I have a lot of complications and risk factors, I trust Baba to fulfil my desire to get my second baby delivered without any complications.
I had prayed to Baba that whenever I do a doctor's visit or scan or any test is taken, if I receive positive comments, then I would post my experience here. I got positive comments and as promised I am posting my experience.
Please bless my mom with good health and longevity, also my brother, sister, my kid and my husband. Thank You, Sai Baba.
Sai Baba's Amazing Grace And Love For His Children
Anonymous Shirdi Sai Devotee from the USA says: I am Baba's daughter. I love You, Baba.
Last week I was going through a really terrible time. One after the other problems just started coming to me. I was so worried and felt defeated. I felt why Baba is not protecting me from this suffering. So I prayed to Baba to please take care of him and resolve this issue before Thursday. I can't watch him suffer like this anymore. I kept on chanting the 'Sai Rakshak Sharanam Deva ' all the time. Baba answered my prayers. He showed me signs that He was with me. It brought tears to my eyes to feel His presence. Only because of Baba's grace do things improve. Baba, I cannot tell You how grateful I am. I will never ever forget what You did for us. You truly are our Saviour. I am always indebted to You.
Please Baba keep Your blessings on my children. Keep them healthy and happy. That's all I ever want. I surrender to You completely. Love You, Deva.
Anant Koti Bramhand Nayak Raja Dhiraj Yogiraj Parabramha Shri Satchidanand Sadguru Sainath Maharaj Ki Jai.
Sai Baba Comes for Rescue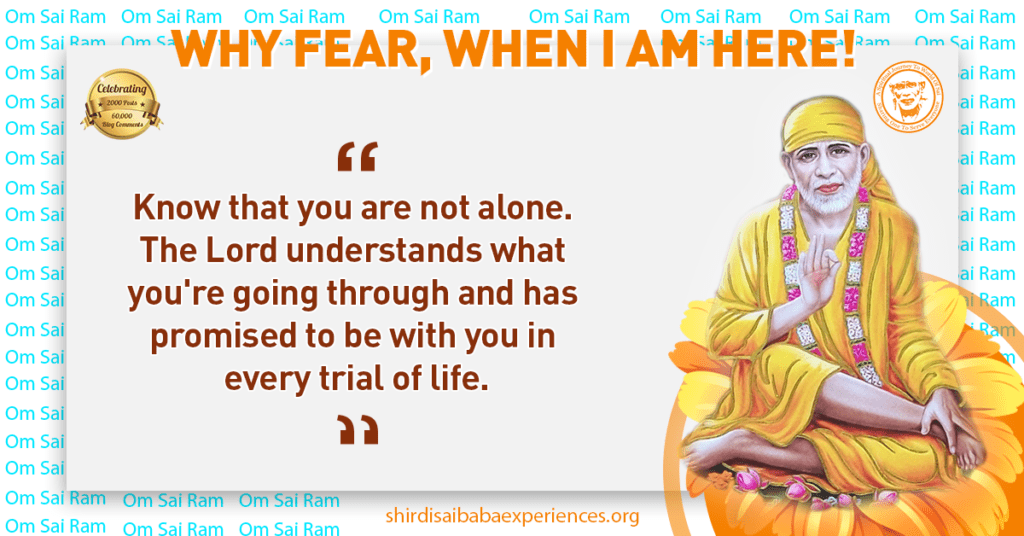 Anonymous Shirdi Sai Devotee from India says: My mom-in-law was diagnosed with a stone in her gall bladder. That is not uncommon but it was 20 mm in size, almost twice the size of a regular stone (if there is one).
My wife took her to a Sai mandir just before going for the scan. After the scan was done, they got into the car when something strange happened. An old man with a headgear similar to The Great One was smiling at them. He had assumed a look of a beggar and the security was trying to whisk him away. My wife was glancing at him from the rearview mirror and started to move. As suddenly as he appeared, he had gone too. My mom-in-law just said, "I should be alright." The stone is supposed to cause immense pain. My mom-in-law since the diagnosis has travelled to Mumbai and has not suffered even an iota of pain. And the doctor, who is my childhood friend, can't believe that there has been no pain. He has now been prescribed medicines to dissolve the stone. I can only think of one reason for this miracle. Jai Sai Ram!
Sai Baba Fulfilled Devotee's Wish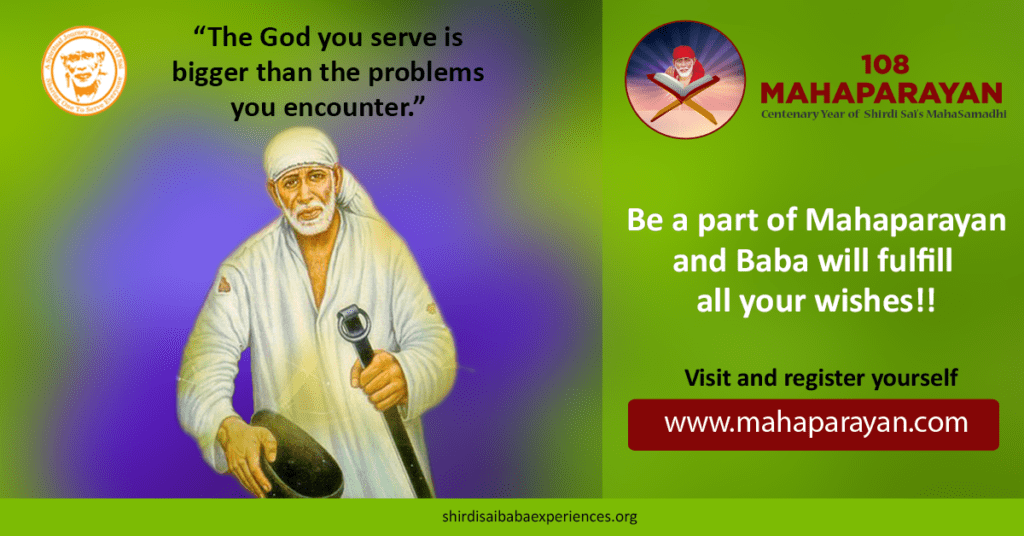 Anonymous Shirdi Sai Devotee from India says: I want to thank our beloved Sai Baba and members of this group.
Sai Ram, as promised I am sharing my experience here. I was expecting my period from two days as the Devi Navarati festival was approaching. I wanted my period to be on time but due to my bad luck, it was getting delayed.
Today morning I promised Baba that if I get my periods today or tomorrow then I would post my experience. As per my wish, I got it and as promised I am posting it here. Thanks a lot, Baba. Thanks is a very small word. Without You, I am nothing Sairam.
---
An interesting book "ShirdiChe Sai Baba" is being shared on Shirdi Sai Baba Books.com, in parts. It is a book worth reading by those who are keen in knowing veiled history of Sai Baba during His times. 
More from SaiYugNetwork.com
© Shirdi Sai Baba Devotees.com – Member of SaiYugNetwork.com