Sai Baba – The Safest Harbour
Anonymous Shirdi Sai Devotee from India says: I am residing in Sai House in Noida, the tiniest dust particle under our Deva's lotus feet. 
Om Sai Rakshak Sharnam! Thank You Deva for giving ideas to Hetalji and the team for running this blog, where we devotees get our solace and strength. Thanks, Hetalji and the whole team for maintaining and improving this blog continuously. You are the current Hemadpant chosen by our Deva.

The current experiences and blessings that I am trying to share today are nothing very big but small, small happiness given by our Deva through the smallest matters of our life. I have no words to explain His kindness showered to an ignorant soul like me. He always takes care of my smallest matter like my dressing, behavior, food, etc. 
Within two months I had to attend a lot of functions, official as well as personal. I was a little bit nervous as I didn't have anyone to guide except Deva. But why fear when Deva is always with us? So, Deva arranged everything meticulously. Everything I ordered online within budget as per Baba's guidance, arrived on time and was appreciated by all. Whenever someone appreciates, I always tell them that it is arranged and chosen by my Baba. Many people laugh at me and take it as a joke but I firmly believe that the very smallest of the smallest good things that happen in my life is due to my Deva only. 
Two weeks back, I placed my most costly ring on bed to wear for a function but I forgot. After coming back to my room, I suddenly remembered and started searching but found it nowhere. I requested Deva not to play hide and seek with me and to give it back. After some time He gave it to my daughter. 
Thanks a ton, Deva for Your unconditional love, blessing, and guidance. You are the safest harbor for Your devotees. Deva, it is a humble request to take my kids under Your wings and guide them to become nice human beings. Deva, thank You for doing my job on my behalf.
Om Anantkoti Brahmand Nayak Rajadhiraj Yogiraj Parbrahma Shri Sachidananad Sadguru Sainath Maharaj Ki Jai.
Sai Baba's Blessings
Anonymous Shirdi Sai Devotee from India says: I am a devotee of Sai Baba from India. My pranams at the lotus feet of Baba, Hetal madam, and all the team members. I have been a regular reader of this blog since the year 2008 or 2009. Please keep me anonymous. I am going to narrate a few of my experiences which I had promised Baba that I will post about.
Experience 1: My dad was shouting at my Mother for silly things when I had been to my mother's house during the lockdown period. I was praying to Baba to solve the problem. Usually, my father creates a scene even if the mistake is on his side, like not having food, etc. But that day the situation was normal by evening.
Experience 2: I stayed for 2 to 3 weeks in my mother's house during the lockdown. After I came back, I found that my husband's behavior towards me and my children had totally changed. My husband is a very short-tempered and rude person. He started finding fault for everything in me and also blamed my parents. Most of the time problems between us arise due to my in-laws. Even I got frustrated and was showing my anger. We were not speaking properly. He too was harsh and stubborn. Slowly Baba made things normal between us.
Experience 3: My mother was trying for the past 1 to 1. 5 years to conduct a ceremony of head tonsure and ear piercing for my younger brother's daughter (who is now 2-years old). It was getting postponed and sometimes even got canceled. At last, due to Baba's grace, the function was fixed and everything went well.
Experience 4: One day at night, I suffered from severe stomach pain on the right side. I could not bear the pain. I was scared as I have the problem of umbilical hernia also. Most of the time I don't share my heart problems with my husband or my in-laws. My husband is a careless person and my mother-in-law creates drama by finding faults or blaming me for my health problems. My pain reduced after applying castor oil to my belly button while praying to Sai.
Sai Baba Experience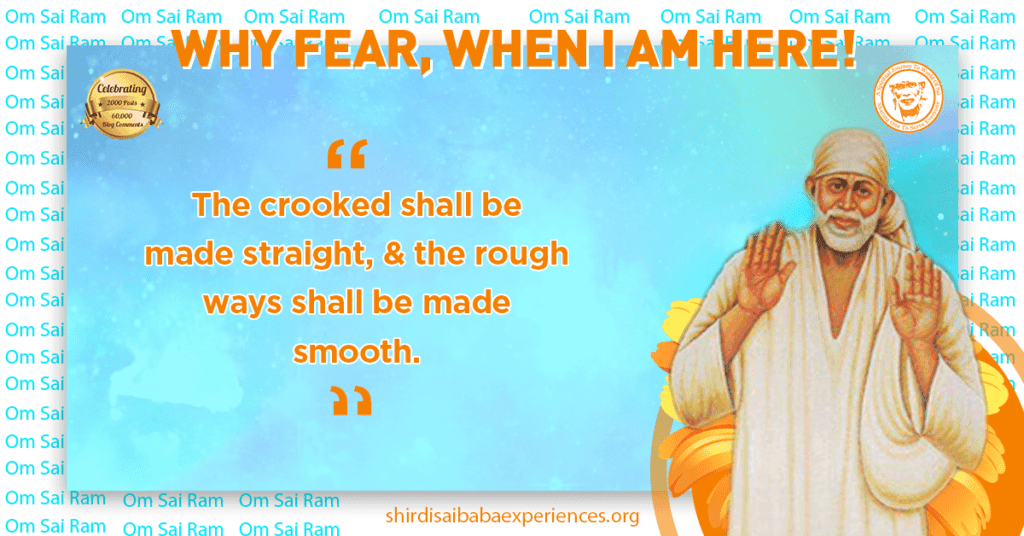 Anonymous Shirdi Sai Devotee from Russia says: I am working in Russia. Om Sai Ram to all the devotees and to our Angel – Hetalji for maintaining this blog so devotedly and dedicatedly and giving us, all devotees, the much-needed energy and devotional consciousness that is found absent in most of the people these days. I would prefer to remain anonymous.
Very recently I had shared an amazingly incredible experience regarding the reissuing of tickets and I now would like to share with you all another amazing experience which after you have read will conclude that Sai pa is omnipresent.
Experience: I am experiencing severe pain in my left shoulder, which I am not sure if is due to a frozen shoulder or shoulder blade. The pain is so severe that I am unable to put on my thermals, wear a shirt or winter jacket. The severe winter season in Russia makes it even more difficult as you put on additional clothing during this period. So, one can imagine the suffering and the pain experienced. 
Before leaving home every morning, I bow to Baba, Lord Ganesha, and Lord Hanuman. On that day I bowed with my winter jacket after putting the zip and also had my mobile phone in the pocket of the winter jacket. Due to the tightness, while bowing, the zip opened halfway, and I was unable to either pull it up or down. Finally, after removing it over my head with a lot of pain in the hand, I placed it on the even surface trying to get the zip to the bottom of the connecting point to unzip it, but the zip got permanently locked at the connecting point due to which I was now able to put on my jacket comfortably by inserting my legs first like how a pant or skirt is worn. This miracle now allows me to put on my winter jacket comfortably without any pain in my shoulders. Only Baba knows how to solve your problem at the need of the hour.
I really don't know how to thank Sai Baba, or any number of praises will not be enough. I can only say to all the devotees that he is always present everywhere irrespective of whether you're in trouble or not. We realize it only when we are in trouble. Just believe in Baba and He knows the best for all of us. Om Sai Rakshak Sharanam, Om Sai Rakshak Sharanam, Om Sai Rakshak Sharanam, Om Sai Rakshak Sharanam, Om Sai Rakshak Sharanam, Om Sai Rakshak Sharanam, Om Sai Rakshak Sharanam, Om Sai Rakshak Sharanam, Om Sai Rakshak Sharanam. 
Thanks To Sai Baba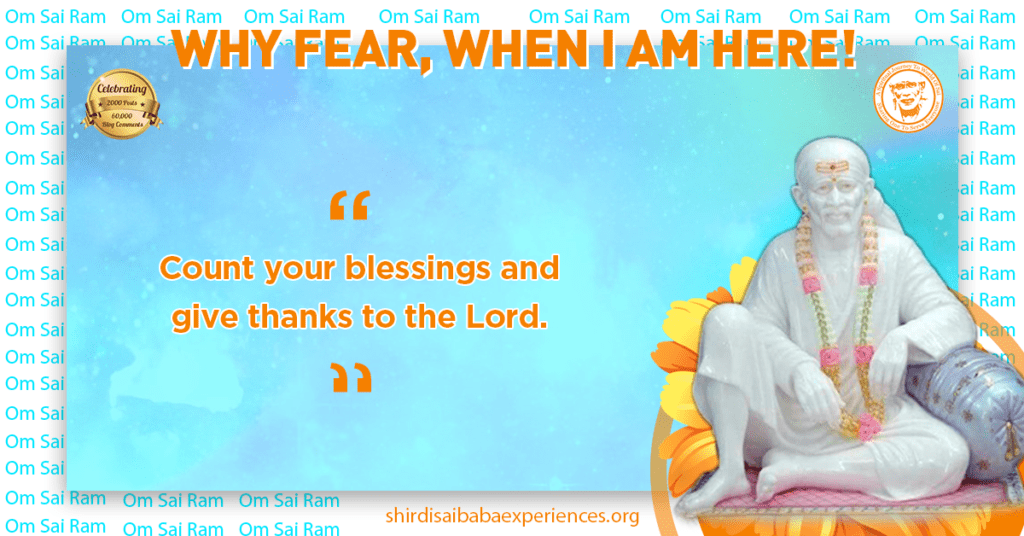 Anonymous Shirdi Sai Devotee from the USA says: Om Sai Ram to all Sai devotees. Thank You to the team for maintaining this blog. 
I want to thank Baba so much for His help yesterday. I was planning a trip and was praying to Baba to make everything go smoothly as I didn't know any directions and shouldn't get lost. Baba took care of each and everything and was with me for the entire day and saving me a lot. I cannot thank You enough dear Baba for making everything go well. Thank You from the bottom of my heart for all of Your guidance. Thank You so much, Baba. Om Sai Ram.
Gratitude To Much Sai Baba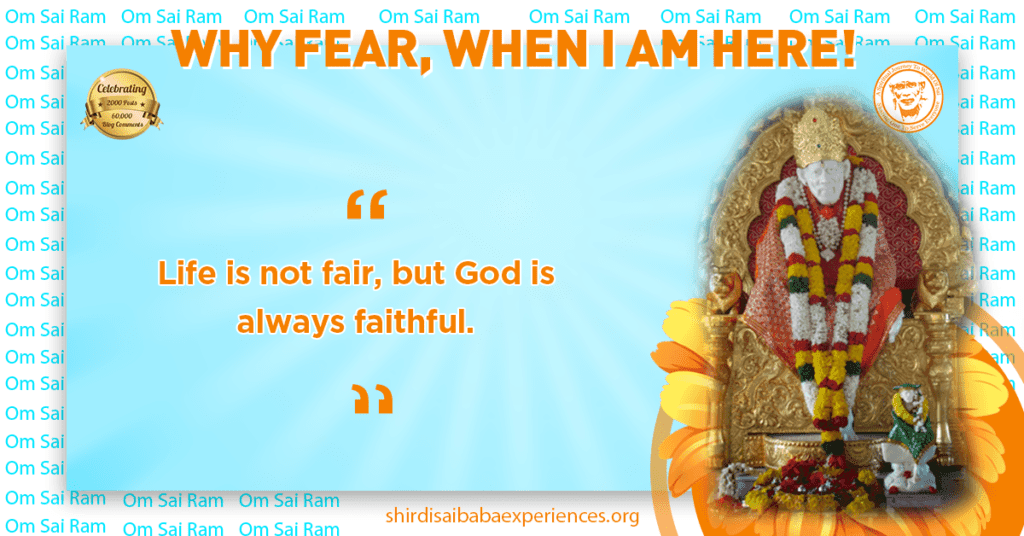 Anonymous Shirdi Sai Devotee from the USA says: Jai Sai Ram to all Sai devotees. Thank you to the team for maintaining this blog.
Om Sai Ram. I want to thank Baba so much for helping me today in many difficult situations as I was totally confused and needed help. I just trusted Baba and kept chanting His name and Baba helped me at each and every step. Baba, I am so thankful to You and cannot express my gratitude. I am very scared and I hope You will save me from another situation, please. Thank You from the bottom of my heart dear Baba. Om Sai Ram.
Sai Baba Is Life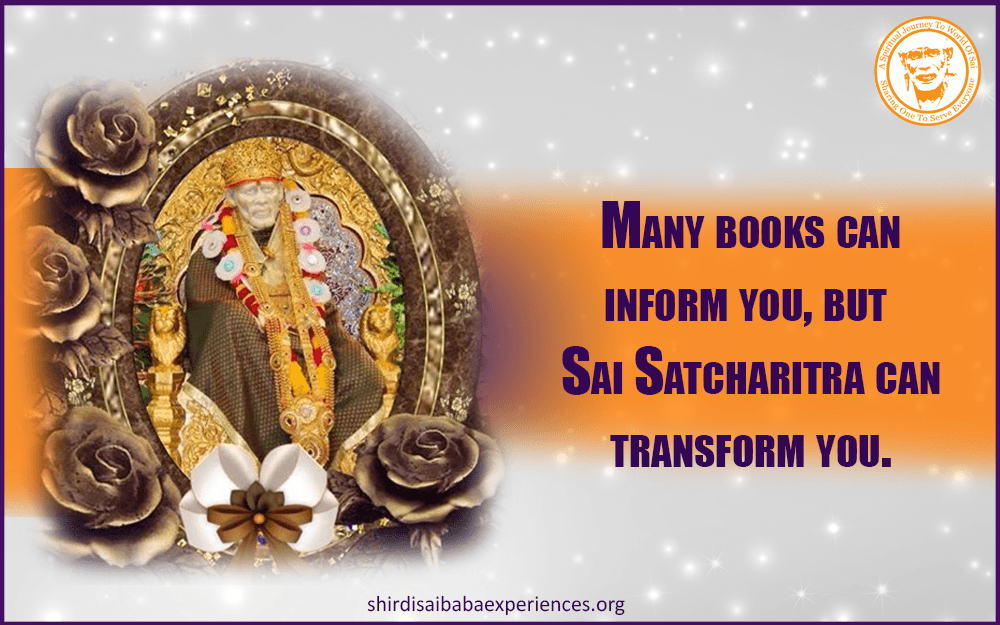 Anonymous Shirdi Sai Devotee from India says: I am a Sai Sister. With the blessings of Baba, my father didn't get cold even after getting wet in sudden rain. Also with Baba's grace, my son is able to sleep comfortably at night.
---
An interesting book "ShirdiChe Sai Baba" is being shared on Shirdi Sai Baba Books.com, in parts. It is a book worth reading by those who are keen in knowing veiled history of Sai Baba during His times. 
More from SaiYugNetwork.com
© Shirdi Sai Baba Devotees.com – Member of SaiYugNetwork.com