Sai Baba Always Listens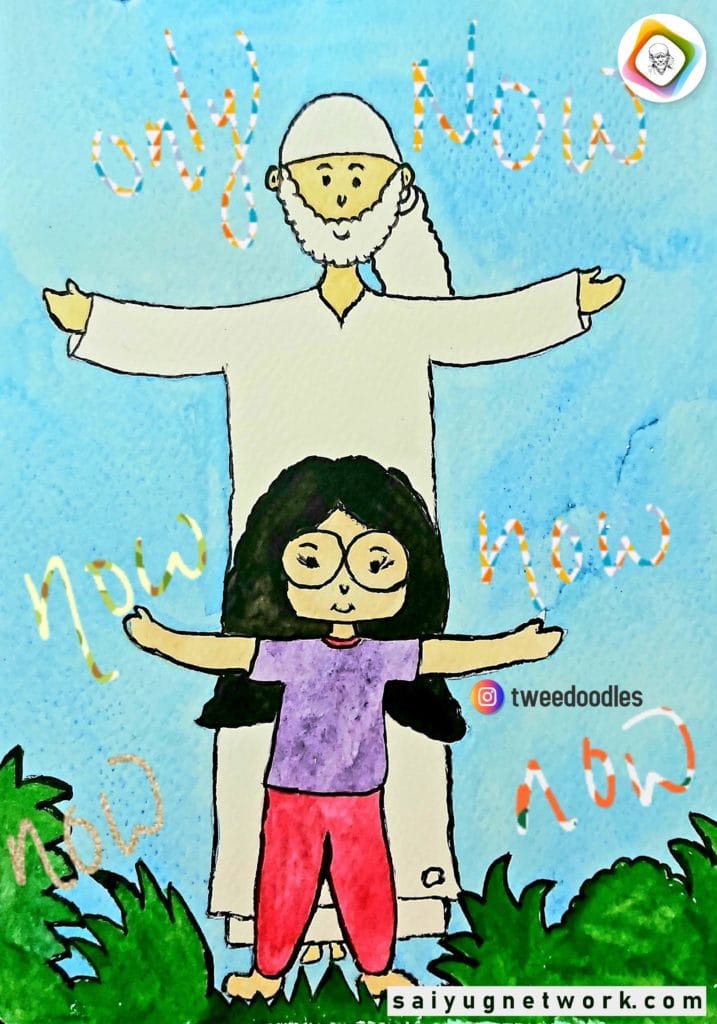 Anonymous Shirdi Sai Devotee from the USA says: I am Baba's daughter from the USA. I would like to be anonymous. I would like to pen down two blessings from Baba. Like many other devotees, for me, this website is the place where I get messages from Sai Baba. This is a divine website where we all get solace and comfort. Baba is my mother, father, and everything.

My husband's friend lives in a European country in a big government post and he had been inviting us to go to visit Him. But I didn't have a pleasant experience at his house a long time back when they were in India. Hence, I was reluctant to go. I had many fights with my husband regarding this trip. Though my husband loves me very much, sometimes he neglects me in front of his friends. At least that is how I feel. Also during Covid time, I was a little hesitant to go to any other country. I asked Baba several times if He could stop this travel. But finally, we had to go. All my other friends also joined this get-together. With Sai Baba's grace, I was well dressed all the time. I had some other problems too, Baba took care of them.
My husband's friend's wife again misbehaved with me. That made me so upset that I fought with my husband and cried a lot. But in the end, she behaved nicely. Not only that, Baba made sure that we would be announced as the No.1 couple who love each other the most in front of all our friends. My husband was so happy with this announcement that I can't tell you. Baba had hinted me the previous night with two words from the Sri Sai Satcharitra and I knew all along that it was His doing. Ah how much He loves us really!
My Baba, my Deva make me Yours and only Yours! After my friend's place, we went to two more European countries where my children joined us and I had a superb time there. It was an experience of a lifetime. We reached home safely after this tour. Baba plans everything so smoothly and beautifully.
Devotees, enjoy everything in life, good or bad but every moment think of Baba. This is true meditation.
During this trip, we went for a hot air balloon ride. It was an awesome experience. We were in the air for almost one and half an hour. It was really cold. My husband didn't have gloves. I was hesitant to ask others for gloves thinking they might make fun of us as we live in a cold place in the USA and didn't take our gloves with us. I prayed to Baba sincerely to keep my husband safe. That is what exactly happened. Nobody noticed it that seriously. But more importantly, my husband didn't feel very cold and managed well. Who helped?
Devotees surrender to Baba completely. Love You so much Baba. Om Sai Sri Sai Jai Jai Sai!
Sai Baba's Ways Are Impossible To Predict
Anonymous Shirdi Sai Devotee from India says: I am an anonymous devotee of Sai Baba from India and thank you to all who are maintaining this blog. This site now has become my daily routine to visit and this blog is literally life-saving. I want to share many of my experiences today of which some are the promised ones and some are inspired.
I had an Olympiad exam today and by the evening, I got my results also. It was a very good score until I learned about my friends' scores. They scored out of out and compared to them, I got fewer marks. I was thinking like this while eating food also. Among them, one of my friends who is also a Sai devotee also got full marks. I was not like this. It really made me think and I was mentally talking with Baba that Baba I am also Your devotee and You gave her full marks and for me, it was less than them. Then suddenly I saw the screenshot of my report and wondered if I had made exactly nine questions wrong and was satisfied that maybe it was not in my karma to get those marks but due to Baba I have got the better marks and Baba also taught me to find the positivity even in the negative situation and thus made my mind calm. Baba's ways are always unfathomable, sometimes when I wish to see Him suddenly and urgently He may not show up but sometimes even though I am lazy and not paying attention to Him properly He shows His immense blessings whatever we may do we are His children and even we may neglect Him but He doesn't. He has His own timings and His own ways to give the things that are needed for us. Today Baba also taught me not to waste the water unnecessarily. I was wasting water unnecessarily for so many days and I also felt bad about my ways and prayed to Baba that henceforth I will not waste water but I was not following the same. Today as I went to bathe, the water stopped and it was coming very slowly. So after waiting for a long time I could take my bath and come out. Seriously, Baba, I will not repeat the mistake.
Baba, please reduce my papa's tooth pain and cure him. Baba, also protect my family members, give them good health and peace of mind. Bless all and thank You for making me complete the exams. Also thank You so much, Baba, for my internal results because I thought that I would not be able to get even the minimum marks and by Your blessings, I got the highest marks. I also remained out of remedial work. Baba, You helped me in my research paper group. Thank You so much Baba and please control my egoistic nature, Baba. I love You so much. Om Ananta Koti Brahmanda Nayak Rajadhiraj Yogiraj Parabrahma Shri Satchidananda Sadguru Sainath Maharaj ki Jai. Om Sai Ram. Om Sai Rakshak Sharanam Deva. Om Shirdi Vasaya Vidmahe Sachidananda Dheemahi Tanno Sai Prachodayath!
Got Job Because Of Sai Ram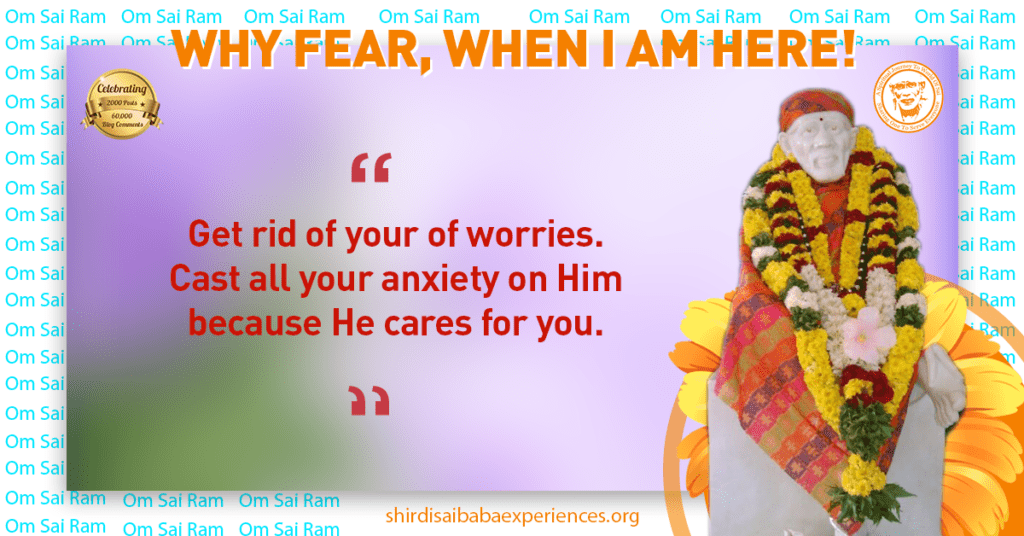 Anonymous Shirdi Sai Devotee from Ireland says: I am an IT working professionally in Ireland. Thank you Hetalji for this amazing platform. I've been a Baba's devotee for more than six years. Baba has been with me since then and miracles keep showering. In every step of my life, He has helped me.
Coming to my experience, I was working in an IT company for nine months (2020) and I got an offer from another company. I decided to take that opportunity and left my current role. Two days before joining, I received an email from my HR saying that they couldn't hire me. I tried my best to convince them but they said that they couldn't. Following that Covid happened and the hiring was stopped all around the country.

I was unemployed for more than a year. Through this tough time, Baba was with me throughout and provided food and shelter through various sources. I am very, very thankful for that Sai Ram. Without You, I don't know how I would have survived in this foreign land. I was very much stressed as my visa was about to get over too. I did 7 days parayan of Sai Satcharitra and to my surprise, I got a job before finishing my parayan. It's all because of His grace that I was able to do it. I have started working (Oct 2021) and my visa was sorted. God knows when to give, what to give and how to give.

Thank You for everything and bless us! Om Sai Ram!
Sai Baba Helped Throughout The Journey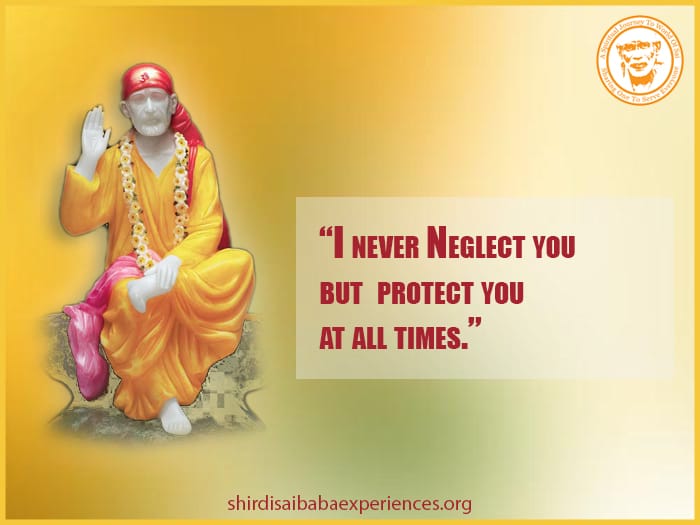 Anonymous Shirdi Sai Devotee from India says: I've been a Baba's devotee since childhood. Married for four years and awaiting Baba's grace on us.
This is related to How Baba helped us to smoothly handle our journey. My husband got deputed to a state 1700 km from the place we live. So we decided to go together and stay till his project ended. We booked a flight and train for the journey and at the last moment my office laptop got turned off suddenly and was not turning on.
We had a flight in the evening and we were already late for time. My husband went to put all luggage in the transport and there he was stuck for more than four hours. We had no idea how we were going to catch the flight. With all His grace we both reached home, I with the replaced laptop after four long hours and he placed the luggage in the transport. We were able to reach the airport on time. We didn't cook for ourselves either. Our friends got us things cooked and packed dinner for both of us. The flight was 40 minutes late and finally, we were able to board. It was all smooth only because of Him. We had a gap between the flight and the next train where we got such a beautiful lodging to sleep in at a very reasonable price. We were really glad for Sai Baba's blessings on us. Thank You for everything Baba. Om Sairam Om Sairam Om Sairam.
Sai Baba Saves A Kitten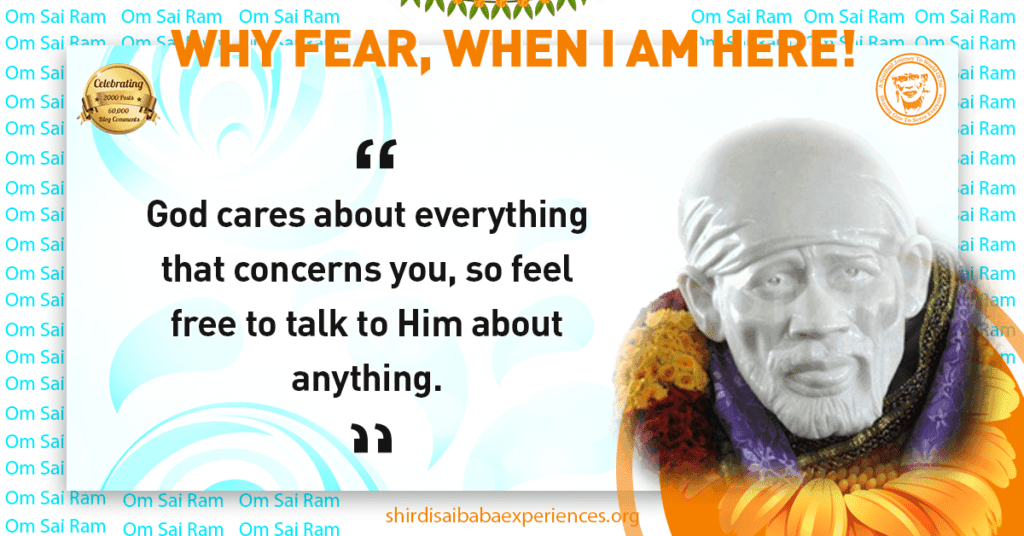 Anonymous Shirdi Sai Devotee from USA says: Om Sairam, I am one of the sparrows that Baba has pulled towards Him. He humbly pulled me towards Him and Baba has been showering His blessings on us throughout our life. Baba also pulled my husband towards Him, now he has become a sincere devotee of Baba. Thanks a lot, Baba for everything. Kudos, to the people maintaining this blog. You all are blessed ones and may Baba continue showering His blessings on you all. I am part of the Mahaparayan group because of His blessings. Whenever I feel low I read the miracles of Baba on this site and I get more energy and peace.
Baba has shown many miracles in our life. One day my husband found a white kitten on our patio. The cat looked like a pure white cloud but it did not have any collar. It was freezing cold outside and it was night. Since we are pet free we didn't know what to do and prayed to Baba that someone should come looking for it. After 15 minutes a lady came by and knocked on our door. She informed us that the cat had been there for more than 2 days and if she could take it. We thanked her from the bottom of our hearts. It's Baba Who sent her to save the poor kitten. Baba always speaks the truth and He never leaves His devotees. Thank You, Baba. Please bless all Your devotees. Om Sai Namo Namah, Sri Sai Namo Namah, Jai Jai Sai Namo Namah.
Sai Baba The Saviour
Anonymous Shirdi Sai Devotee from India says: I am from India. Thanks to the entire team for maintaining this wonderful platform which acts as nectar to modern society.
Thanks, Baba for saving my brother, as he experienced acute inferior wall MI when he went to attend a seminar. He developed sweating so he immediately consulted the cardiologist of that hospital. He was thrombolysed immediately which was a life-saving decision. He was helped by his friends. I prayed to You that if Angiogram comes negative then I would post it here, while my brother was taken inside the Cath lab, I felt that Baba was inside and handling everything. He is the Divine Doctor. I had given him Udi and applied Udi along with other prasad too. Miracle of miracles happened as there was no block in the arteries. Thanks, Baba. Om Sairam!
---
 "ShirdiChe Sai Baba" book has been uploaded on Shirdi Sai Baba Books.com, have you read it? Kindly do not miss to read as It is a book equivalent to Shri Sai Satcharitra.  
More from SaiYugNetwork.com
© Shirdi Sai Baba Devotees.com – Member of SaiYugNetwork.com