Sai Baba's Blessings
Shirdi Sai Devotee Kruthika R from India says: I am Kruthika from Bangalore here to share my divine experience. I'm not sure how do I start this but I'm sure that my Baba will help me complete this. I have multiple experiences to be shared starting from my Global Mahaparayan reading.
My mother initially started reading the divine stories of Baba and me somewhere wanted to be a part of the Global Mahaparayan reading. I voluntarily gave my name to the Global Mahaparayan. With utmost devotion and faith, I started reading the Sai Satcharitra. The reason behind my starting was to get married to my desired person. As we had a few hurdles to be crossed to get where we are today we went through a lot of tests. I also wanted to do the Nava Sai Vrat along with this. As and when things started settling down we went through the toughest phase of our life. Both of our parents fell sick due to Covid in a week's difference. My dad was severely infected and was struggling every day.
Now all my poojas and prayers were for my dad to recover and come back home safely. There were days when we used to get calls only after praying Baba and lighting the lamps. My Baba stood beside me as a source of strength throughout those 15 days of my dad being hospitalized. As and when I was reading the Sai Satcharitra I knew the benefits of our Udi and I somehow wanted my dad to get the Udi as it was a source for my dad to recover. Apparently, along with my dad, the person who stayed beside him was a priest of Sai Baba temple and he gave Udi every day once he was shifted to the general ward from NICU. I was so surprised to see my dad on a video call keeping Udi.
Even during the day of discharge, he had Udi while coming back home. Even if dad was discharged doctors had suggested keeping an oxygen cylinder as his saturation was varying. I used to put the oximeter praying to Baba so that his saturation should be stable and it was stable at 97 all the time. Slowly with the blessings of our Sadhguru Baba and the divine Gods, my dad recovered completely. During these phases, my dad wanted to get me married and the discussions also started. We had to experience those tough phases to see the fruitful days. I also started my Nava Sai Vrat as I had prayed to Baba that I'll complete the Nava Sai Vrat once my dad gets discharged. Later I started the pooja.
My dad also recovered and our marriage discussions also started on a Thursday our first event of house discussions started and by the end of the 9th week of Nava Sai Vrat before that, we got engaged. Everything went well and it was beyond our expectations. We were blessed and during the marriage phase we had financial difficulties and family disturbances but our divine strength, our Sadhguru, was always there for us. My partner and I are blessed devotees of our Baba.
During the tough phases, my mind was extremely weak and I was mentally not stable but my Baba always used to share messages either through Instagram messages or through the Mahaparayan experience. I again started my Nava Sai Vrat before marriage with utmost devotion and faith and now I have completed my three weeks of pooja and successfully married to my desired person. Now I have got a chance to thank my Baba for being there throughout. Baba will definitely be right next to us. We just have to pray and trust Him. My Baba also visited our marriage as I wanted His blessings. I believe that he came in the form of my makeup artist who was wearing a Baba's blessing pendant chain. There is so much to tell and words aren't enough. Just that I will pray to my Baba and serve my best till my last breath. Thank You my Sai Maa. Thanks for everything.
Sai Baba Helped To Understand In-Laws
Anonymous Shirdi Sai Devotee from the UK says: Om Sai Ram, hello to all Sai devotees. I am a small devotee of Baba living in the UK with my family.
Om Sai Ram, Sai Baba please help me to pen down this experience very well so all the bahus or daughter-in-law would understand their in-laws and live happily with them.
Coming to my experience, I am pregnant and have to deliver my baby soon. So my in-laws were visiting me to help me for six months. Also, they usually visit us. Having this thing in my mind, I sometimes get frustrated because if you live alone you have your space, sometimes you cook or sometimes not as we live in the UK we don't have domestic help as well and you have to cook, wash utensils, do cleaning and many other things have to be done alone which becomes tough if any person adds up and that too for six months. This thing was haunting me about how I was going to do this as I have done previously as well but my in-laws had not visited for the last four years due to Covid and other reasons, so I had not done this for a long time. But when I got married my in-laws came with me here and at that time I was newly married. I hadn't done many household chores and that too without a maid was really tough. As I was newly married, I didn't understand much. Also sometimes I didn't understand my husband too as we were in the process of understanding each other and so with my in-laws. So many confusions occurred and sometimes I too behave selfishly and immaturely. That's why while remembering the past I am not able to sleep because when I see lots of cleaning, cooking and other household chores I get frustrated easily and start shouting at my husband and end with fights which my in-laws don't like all. But deep inside I really don't want that to repeat and I asked Sai Baba to please help me to live happily and peacefully with my in-laws and in that case, I would not fight with my husband too.
Sai Baba really listened and though I was pregnant and delivered my baby; I was cooking, cleaning, doing all household chores, looking after my baby at night, and helping my other child to study without any frustration. I can't believe how I am doing these things without any issue and even my in-laws don't help me sometimes but Sai Baba is helping me to not develop any negative feelings for them and helping me to believe they are my parents too and to help them. Thank You so much Baba for overcoming this haunted feeling and understanding that if I do good to them they will also feel I am their daughter and help me in return.
Thanks, Sai Baba. Sai devotees I will undoubtedly say please try to understand your in-laws and they will also understand you. Sometimes it happens when they don't listen to you but that's okay, just do as you do to your parents, and believe me that they will meltdown but have some patience and faith and ask Baba for more clarity.

Om Sai Ram!
Sai Baba's Blessing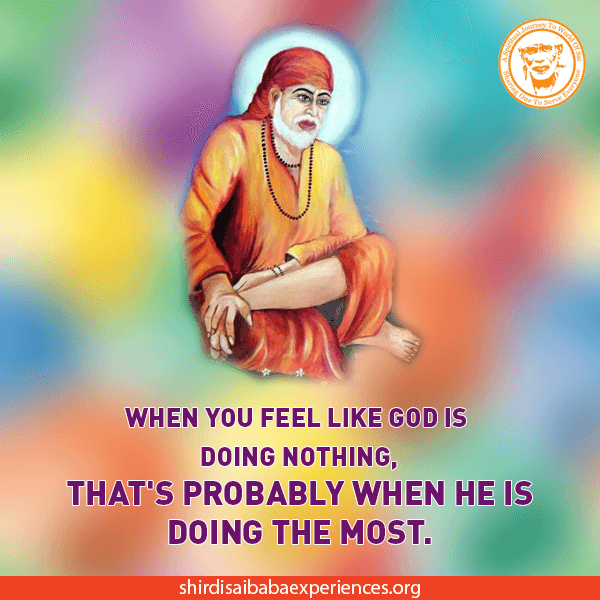 Anonymous Shirdi Sai Devotee from India says: I am Baba's devotee for the last many years. Om Sai Ram! I am thankful to Shri Sai Babaji for always helping me and guiding me. I invoke Baba's blessings and help to write this first miracle on this pious site and devotees see how Baba helped me.
It was my son's admission to college. After he had cleared his written entrance exam we had to fill in the council form which had to be filled out online. The last date had approached and the site was not working. My son was trying to fill it online every day but the site was not working and after filling the first and second page, the file used to freeze. It was not letting us go to the third page. Then it was the last day and 11.59 p.m. was the cut-off time to submit the form. My son tried filling it several times on the last day. Then I prayed to Sai Babaji to help me and show me the way to fill it. Just an hour before, I called one of my son's friends; spoke to him and my son started filling the form step by step. Then to my surprise, we were able to fill out the form smoothly. We faced no issue and we could submit the form well in time, at 10.30 in the night. All this happened only because of Sai Baba's blessings; else we would have missed the opportunity to get admission to college this year because it was the common form for all the colleges. I have no words to thank Baba and would like to pray to Him to always guide me and bless me and all my family members the way He has been guiding me every single time. Om Sai Ram.
Sai's Blessings On Devotee's Baby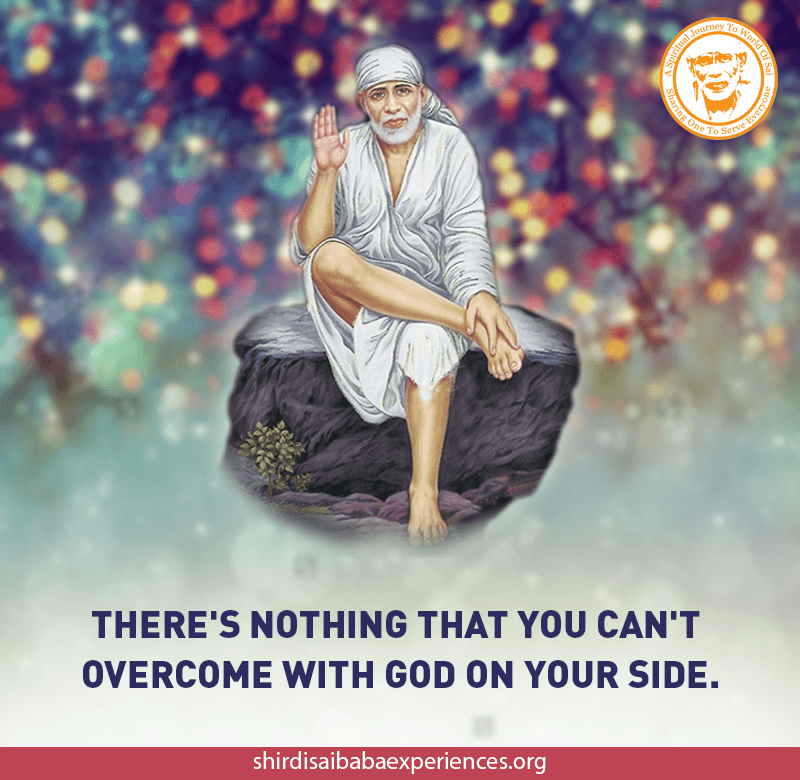 Shirdi Sai Devotee Divya Walia from India says: This experience is regarding my toddler son.
He completed two and half years in March 2021 but wasn't potty trained. No matter how much I would ask him, he would still do it in bed or on the floor. Since it was time for his school admission too, I wanted him to get trained before that. I requested Baba and see His Leela. My son got trained in just one month. I can't believe that something for which I had been trying for 8-9 months got done by Baba's grace in just a month.
Also, he was suffering from a cold and it was really painful to see him suffer so much. By Baba's grace, he got better in a few days.
Baba, please bless all the little babies and kids with good health and remove this virus from our life. Jai Sai Ram!
Thanks To Sai Baba
Anonymous Shirdi Sai Devotee from the USA says: Om Sai Ram to all Sai devotees. Thank You to the team for maintaining this blog. Om Sai Ram. I was looking for something and couldn't find it. So I started getting panicked. I prayed to Baba and He immediately helped me find it.
Another situation; I was not getting sleep and prayed to Baba and He helped me greatly. There was also another difficult situation that Baba helped me with. Baba, I am always grateful to You for Your kindness and love. We are always at Your feet. Thank You so much, Baba.
Thanks To Sai Appa (Baba)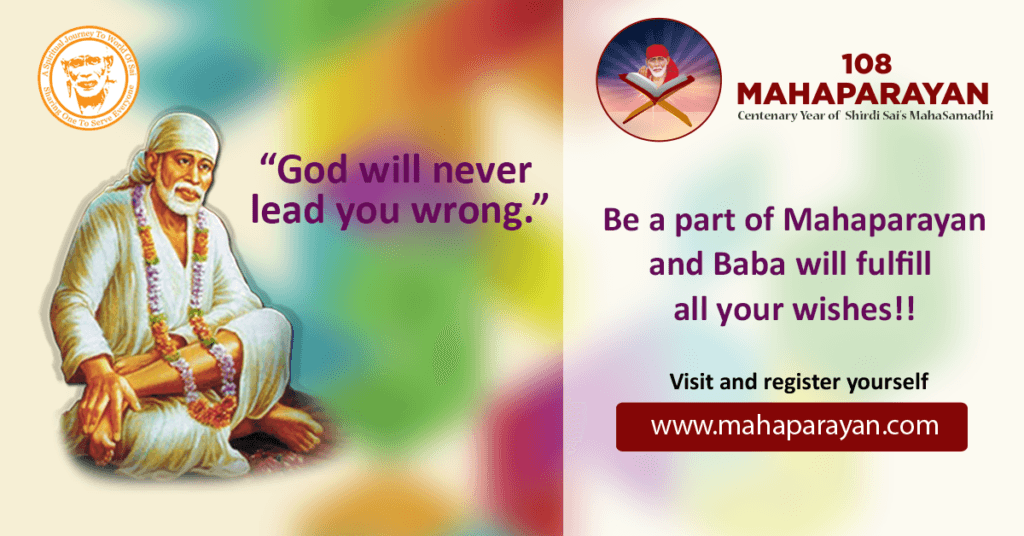 Anonymous Shirdi Sai Devotee from India says: I am a small devotee and daughter of our lovable Sai. Thank you team for this wonderful platform.
The day before yesterday my father complained of a cold, cough, and yesterday he had a mild fever. I prayed to Sai Appa that my father should be ok the next day i.e. today. By Sai Appa's grace, he is limping back to normal though not 100%. I have full faith that he will be 100% fit by tomorrow. Thank You, Baba. I am experiencing Your miracle daily. Always be with me and my family; blessing and guiding us. Shower Your blessings to all Your children. Om Sai Sri Sai Jai Jai Sai.
---
ShirdiChe Sai Baba Book
A book that can be considered next to Sri Sai Satcharitra is available for reading on our blog, kindly do not miss reading it.
More from SaiYugNetwork.com
© Shirdi Sai Baba Devotees.com – Member of SaiYugNetwork.com