Thanks To Sai Baba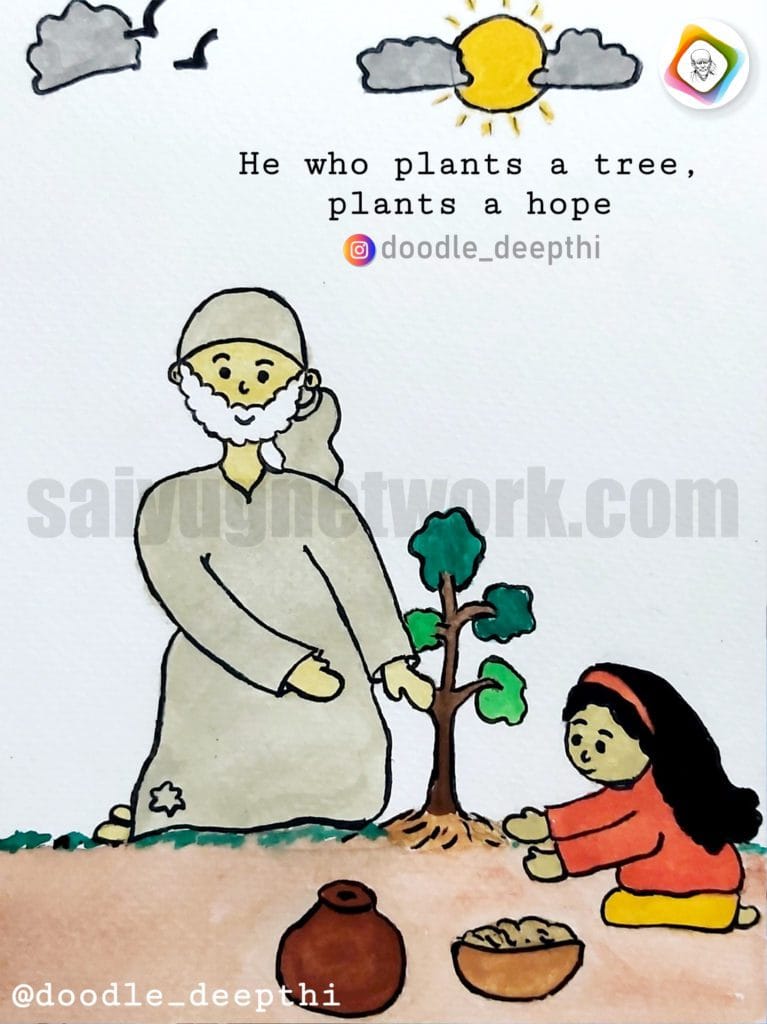 Anonymous Shirdi Sai Devotee from India says: I would like to share a wonderful experience in finding the lost items. I want to share my recent experience.
I was looking for my original driving license and PAN card. I came back from the USA last year and after I came back, I kept my Indian driving license and PAN card in someplace. I searched for them after some days but could not find them. I looked for the originals in the complete house and got worried because it was a very big process if I had to re-apply for them. So as usual prayed to Sai and left it to Him.
Yesterday I bought a new phone and after exporting all the phone numbers, I saw the number of an RTA agent who had helped me previously. So a thought came to my mind that maybe I need to call him to get my driving license again, but immediately thought that I hope Baba helps me to find them instead of re-applying.
And here comes the miracle, I randomly started to clean a cupboard in my room and got an old purse. When I opened it, I could find my original driving license and PAN card. It was really strange and a miracle. I don't know how they were in that purse and in that cupboard. Of course, who else can do such a miracle than our Sai?

Thank You Sai for helping me to avoid going through the pain of re-applying. Love You, Baba.
Sai Baba's Miracles In Medical Scan And Job Offer
Shirdi Sai Devotee Shradha from Singapore says: I am Shradha, a devotee of Sai Baba from Singapore. I always follow His teachings in my life. Through this platform, I want to share two miraculous experiences.
In Feb 2020, I had my usual ultrasound scan for my breast. The doctor informed me that there was a very small lump but asked me not to worry and that we could scan after six months to see whether it was growing or not. Immediately I prayed to Baba and told Him that I will do His Bhandara (distribution of food) if all was okay.
After six months I had my mamo and ultrasound scan. Mamo did not show anything. If a lump would be there then Mamo should show it and an ultrasound scan suggested that it was a cyst instead of the lump. The doctor said that it was okay to have a very small cyst and it would disappear on its own. I was amazed at the power of Sai. He can do anything.

Another incident is related to my job. I was searching for a permanent job after the contract. I did Sai Nav Guruvar Vrat and after doing Udayapan next Thursday I got a contract job again and next to next Thursday a permanent job with a very good profile and package.

Just pray to Sai wholeheartedly and surrender your life to Him; you will encounter His miracles every day.
Om Sai Namo Namah!
Blessed With A Baby After 11 Years With Grace Of Sai Baba
Anonymous Shirdi Sai Devotee from India says: I stay in South India and got married 11 years ago.
We did not have a baby and after some tests discovered some medical problems. The doctor advised IVF. After two failed cycles I was under depression and age wasn't on our side.
The doctor recommended we try donor eggs etc. and we weren't comfortable. I started doing Sai Thursday vrat. After two months one day, while I was lying down on the bed upset and suddenly turned, I saw an old man in white clothes for a second. I spoke about it to my family and thought maybe I was dreaming. In the middle of Corona, I traveled to another city to get the third round done. I was wondering how many more rounds will be needed since it was physically, mentally, and financially putting a lot of pressure.
After the third round while I was in the two weeks waiting, one day I asked in Sai prashnavali asking Sai Baba for advice and typed a number. To my shock, it said a baby will be born. Finally, I tested positive and had a smooth delivery process. I am blessed with a baby boy and hope Sai Baba will protect him in the future as well.
Request To Sai Baba To Help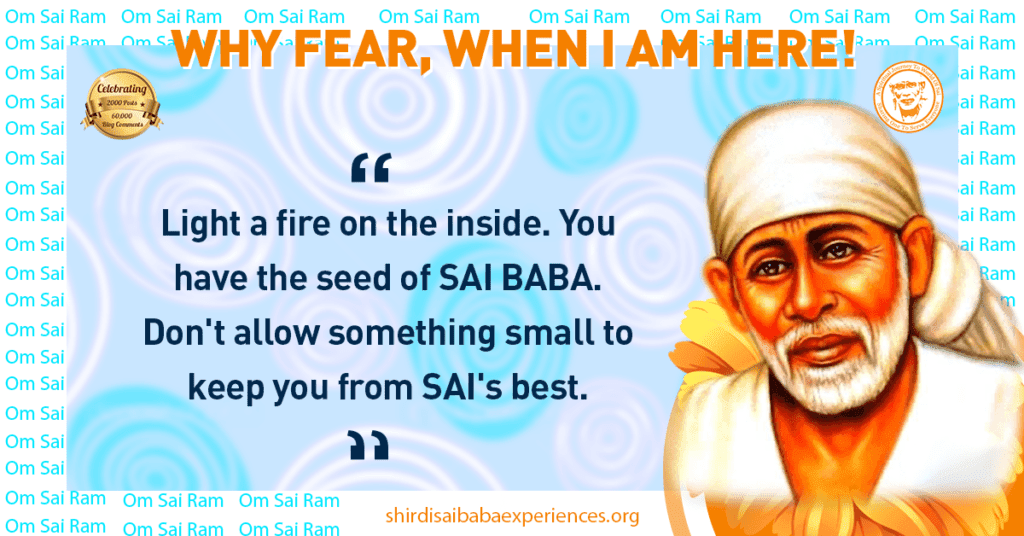 Anonymous Shirdi Sai Devotee from India says: I have been a devotee of Baba for the past 12 years.
Thanks to Hetalji and the team for maintaining such a wonderful platform to share our experiences.
Thanks a lot, Baba till now for all that happened in my life that is job, marriage, and kid. It's all because of You Baba.
Last year I started trading. I lost almost around 2 lakhs. Now I got stuck in NCC share. I had bought these three months ago but I wasn't able to sell the shares. Even though my price came already 4 or 5 times but unfortunately I didn't sell. But now the NCC share price is very less than the price I bought. Baba, please save me from this; if it comes to my price 84.50 Rs. then I will sell the shares. Baba, please help me to sell these shares. Please cure my leg pain and make it healthy.
Ananatha koti Bramhandanayaka Rajadhi Raja Yogi Raja Parabramha Sri Sachithandha Sadguru Sainath Maharaj ki Ji…!
Love To Sai Baba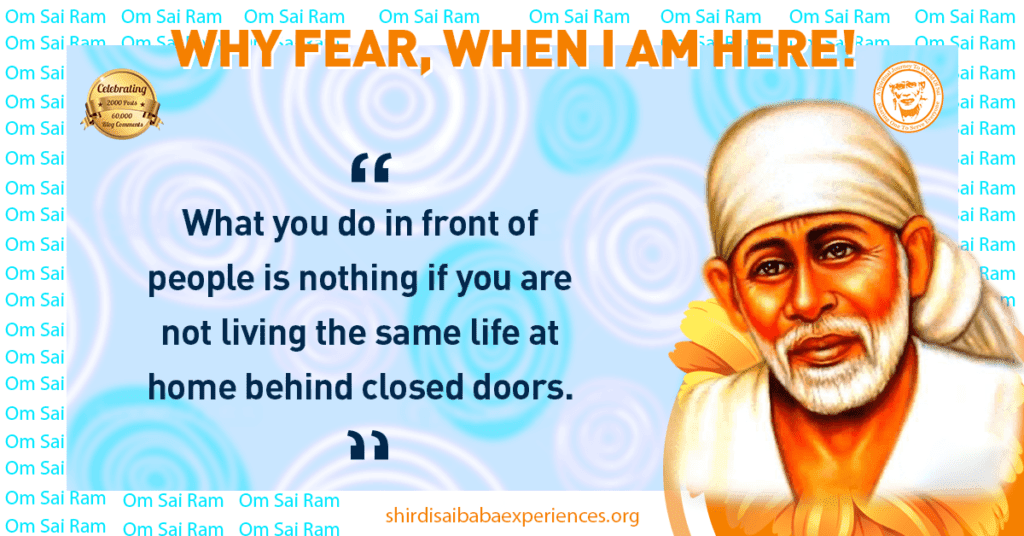 Anonymous Shirdi Sai Devotee from USA says: I am a very small devotee of Baba from many, many years and Baba has always been with me. I have always been thankful to Baba for showering His blessings on us. This experience may be a small thing when you read but for me, it was a very great thing. We as a family were traveling to California and immediately after coming back, my husband had to travel to India in two days. I prayed to Baba that we all should be safe and my husband should also be safe after traveling to India and Baba made it possible.

But after two my daughter was vomiting and passing motions continuously. I was so tense but again prayed to Baba that He has to take care of His granddaughter. She was totally fine after that.

Thanks a lot to Baba. We all need to have full trust in Him as He is always there for His devotees.

Om Sai Raksha Sharnam Deva!
Sai Baba Cured Son's Illness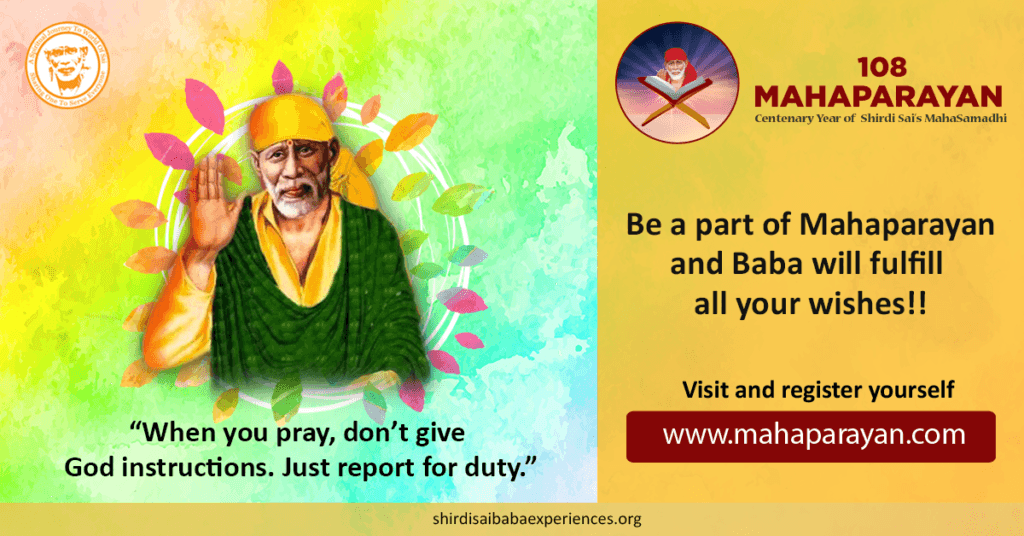 Anonymous Shirdi Sai Devotee from India says: I am a small devotee of Sai Baba from Bangalore. Thank you Hetalji and team for your work. I had shared many of my experiences here and with Baba's blessings many had got published.
Coming to my experience, my son became sick with gastritis and a mild fever. I became tense because of the present Covid scenario. We started the treatment and prayed to Sai Baba to cure him without any testing for Covid. I vowed to post the same here.
With Baba's grace and blessings, fever subsided the next day only and he became alright after two days. Thank You very much Sai Baba for Your kind help. Sai Baba, please shower Your blessings on me and my family always. Please excuse me for the delay in posting this. Sarve Jana Sukhino bhavantu. Om Sairam. Om Sairam.
---
ShirdiChe Sai Baba Book
A book that can be considered next to Sri Sai Satcharitra is available for reading on our blog, kindly do not miss reading it.
More from SaiYugNetwork.com
© Shirdi Sai Baba Devotees.com – Member of SaiYugNetwork.com