Sai Baba Never Disappoints His Devotees
Download Sai Baba Calendar for January
Anonymous Shirdi Sai Devotee from India says: I would like to keep my name anonymous. First of all, thanks Baba for coming into my life. Since then You came into my life, and it started changing for the better. As promised, I am sharing my experience.

I am a small devotee of Baba. I got a job and started my professional career with Baba's grace. As soon as I got a job, my parents started looking for a guy for me. They had seen so many matches for me but nothing was getting fixed. They went to so many astrologists and showed my Jaatakam to them. They told my parents to do some Rahu Ketu poojas and Naga Puja and all. My parents did everything but still, nothing was fixed. Four years passed but still, nothing was fixed.
I had seen my parents getting worried about my marriage and then I started praying to Baba for my marriage. I used to cry in front of Baba why was this happening and why are You making my parents sad? After a few days, one match came and my parents asked the guy's family to come and see me. They came and saw me but they did not say anything. My parents thought that they did not like me and that's why they didn't call. My parents were disappointed again. Even my parents didn't call them. After a month the guy's brother called the mediator and asked what the update was. After that, the mediator called my parents and asked what was the reason to reject the guy. My parents told him, "We didn't reject him. The guy's family didn't call us and so we thought that the guy did not like our daughter." Actually, the groom's family was also thinking in the same way. So finally all misunderstandings were cleared and the guy's family asked my parents to come to their home to fix the match. They went to their home and fixed the engagement date. 
The engagement was done and they fixed the marriage date as well. I used to pray to Baba always to please come to my marriage and give His blessings. One day my fiance and I went to see the function hall where our marriage was going to happen. There's a small Baba temple but I did not observe it that day. A day before marriage we came to the function hall and that time also I didn't observe Baba there. On the marriage day, I woke up and came out, and at that time I saw Baba's temple and a big Baba picture on the wall. When I saw Baba I got tears in my eyes. My marriage happened very well and after that, we went to Baba's temple to take His blessings. I used to pray to Baba to please come to my marriage as He is my Father and Guru. So He came to my marriage in that form to bless me.

And also one of my husband's friends gave Baba's photo as a gift in our marriage. After the marriage, I went to my in-law's place. There I was opening all the gifts. Then I found Baba's photo in one of the gift boxes. I was really happy that time after seeing Baba's photo. Baba not only came to my marriage but He also came to my home for me.

Thanks, Baba for everything and please show Your mercy on everyone and make them happy. I always believe that You never disappoint Your devotees. You give everything that they ask for but at the right time and neither early nor late. Whatever You give either good or bad, all are for Your devotees' good only.

All devotees, please never leave Baba's hand. Leave all your worries to Him. Stay at His feet. He will take care of us.

If there are any mistakes in my English then please excuse me, Baba. 
Sai Baba's Blessings To Have More Sales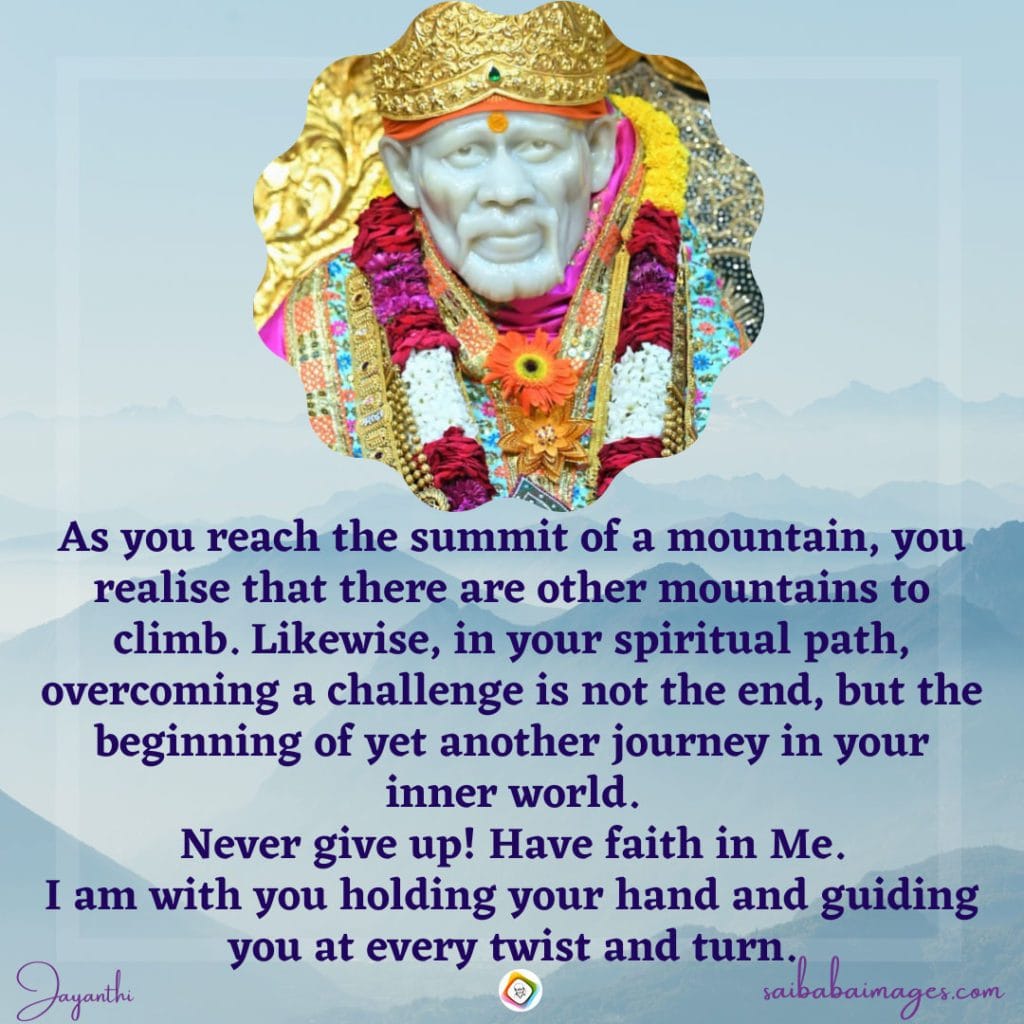 Anonymous Shirdi Sai Devotee from Germany says: I am from Germany.
My heartful Pranaams to all the devotees and the people behind this divine group. I am once again here to pen down some beautiful blessings that Baba has showered on me. Baba has blessed me to have decent (more than expected sales) this month. He also keeps me strong even though some days when there are no sales. I know how much depressed I was before as I didn't know which field to choose or where to start after so many years of break from my career. I was depressed and aimless. I knew that I cannot work in the same IT atmosphere again and always prayed to Sai to show me a way in which I was interested.

Here I am with my Baba's blessings. He is guiding me toward what I asked for. Now I have my goal, even though everything is still a work in progress but I believe that Baba is leading me that way and indefinitely trust and believe that sooner or later my Sai will certainly help me reach my goal. Patience and perseverance are the only things that I am trying to attain along with hard work. Sorry for writing my experience late, Sai. I know I always do this and apologize to You.

Please help me grow in this field and bless me with good benefits Deva, as You know my income and expenses are almost equal and my benefits are little. Please bless me to get established in this field and also please make my mind calm and peaceful. Bless me with being a hardworking, positive, and creative Deva. Please always bless me to be at Your divine feet and closer to Your heart, Thandri.

Raajaadhi Raaja Yogi Raaja Parabramha Sri Satchinandha Sathguru Sainath Maharaj ki Jai!
Sai Baba Shows Miracle On Every Step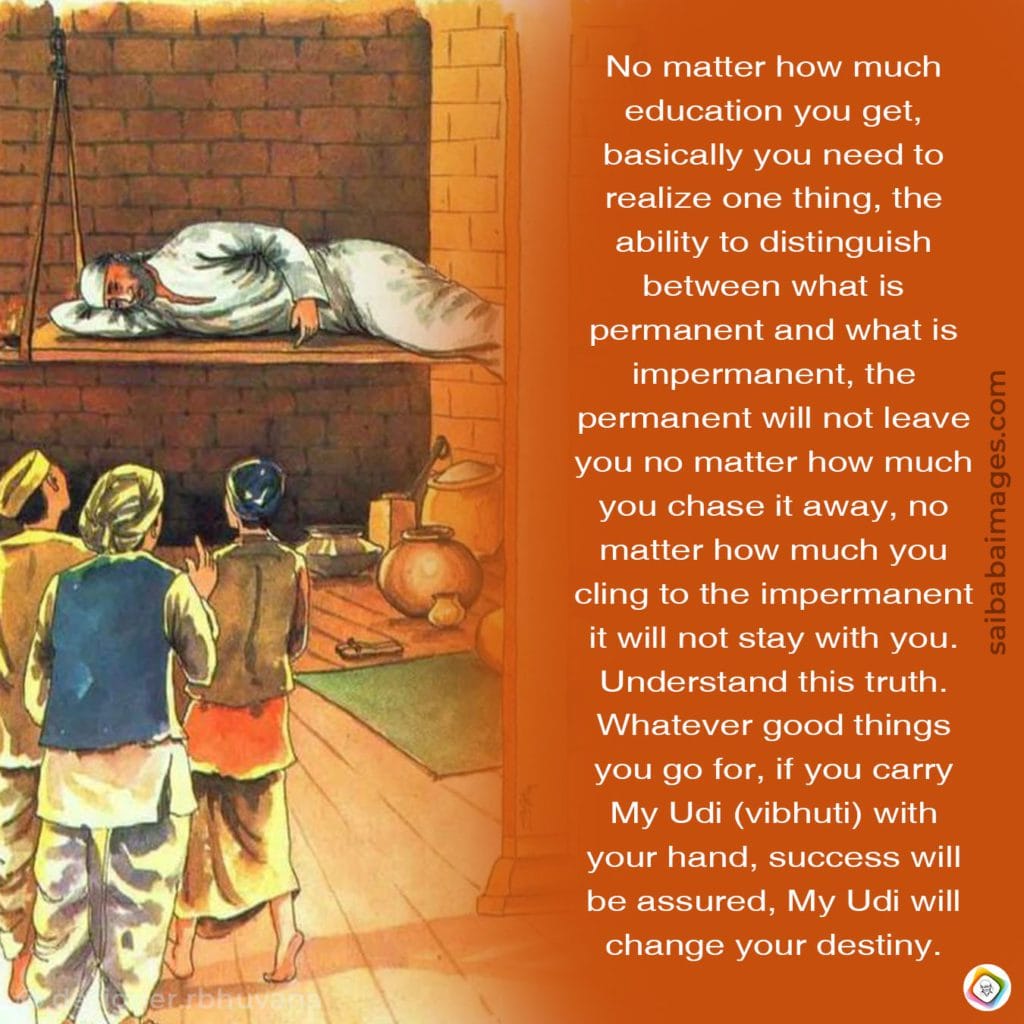 Anonymous Shirdi Sai Devotee from India says: I am an anonymous devotee of Sai Baba from India. Please don't reveal my name. I am thankful to all who are maintaining this blog. Coming to my experiences, I was reading Sai Baba's blog. Suddenly I noticed that some part of my head is very painful and I was not able to even touch that. But I have not experienced any accident in my head so I felt very bad and started thinking negatively about it. Then I prayed to my Sathguru Sainath Maharaj to reduce the pain and prayed to Him saying that You're my Only Doctor. The pain started reducing and by the next morning, it reduced completely. Thank You, Baba, You're the world's best Doctor.
Coming to my next experience. On 15th March I started my first Mahaparayan and for the past few days I was very tense because of an exam problem and I needed to go home but because of the bus strike, I wasn't. In spite of all these today on my first Mahaparayan day, I was blessed by Baba. He came into my dream as a name in bangles. My ATM was blocked due to some problems so I was not having cash with me. It was not arranged in the dream. I asked someone for money but they gave me glass bangles and said me to leave the place. As soon as I took the bangle from them it turned into gold ones and it was written Mere Sai on the bangles. I got up. I was really in a good mood today. Also my lab exams also there. I was really worried about it as I wasn't prepared for it. I asked for a particular experiment that should be asked in the exam and also I prayed that if the exam goes well I will post my experience. My exam went well and today I got the news that some private buses are going to my city. Previously I was thinking that to go by train. But I have never even stepped into the railway station so I prayed to Baba to help me out. It is Thursday today and He showed His miracles and saved me. Please Baba I want You to be present throughout my journey and I am sure that You'll be there with me and guide me. I reached home without the slightest problem. Baba thank You for everything. I want all my family members to be safe and healthy. They are facing a gastric problem and keep my mom safe and healthy and support my pappa and protect him. Thank You so much for everything, Baba. Love You a lot.
om sai rakshak smaranam jaya jaya sai namo namah
Sai Baba's Help For Exam
Download Sai Kasht Nivaran Mantra
Anonymous Shirdi Sai Devotee from India says: Om Sairam, Blessed are the people who are behind this blog
I would like to thank Baba for making me clear one certification exam which was required for my project Compliance. Thank You, Baba. I attempted before too but wasn't able to clear it. I prayed to Baba to help me clear this time and as a gratitude for posting it here. There was some technical issue with the laptop after the exam started. I thought that the attempt would be wasted. Baba helped with that too. Dear Sai maa, You are the reason for everything behind my success. Please show me a good path.

Baba, please make my parents healthy. I am very scared because of them. Sai, You know my trauma for all these years about how I could go to work and mingle with people with my condition. Please do something I am very scared of. Please, Baba, I beg You. Om Sairam!
Sai Baba's Timely Help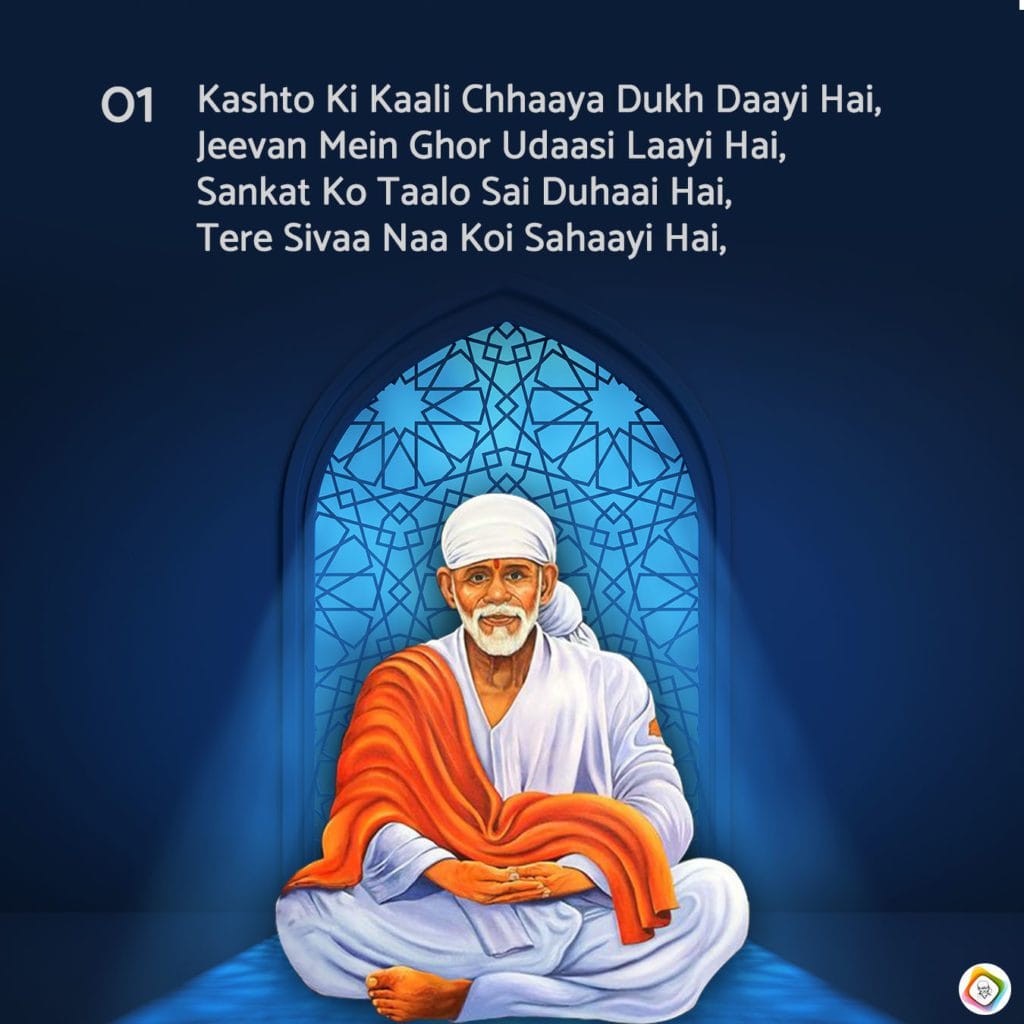 Shirdi Sai Devotee Shivani from India says: I am a housewife and a mother of two. I am a simple bhakta of Sai Baba. 
Namaste everyone. Last night my daughter, who is four years old, suddenly fell ill. Even the paracetamol was not giving any relief. She was heating up due to a fever. I applied Udi at 3:30 am and prayed to Baba to please forgive me and bless my daughter. After that, suddenly my daughter started having a panic attack and started sweating. I was feeling helpless as medicines were also not working. I gave her medicine again at 3:45 am. To my surprise, my daughter got normal. She was perfect when she woke up in the morning. Baba gave timely help. Due to a high fever, she started talking nonsense but Baba made her calm and blessed her. Om Sai Ram. 
Sai Baba Blessings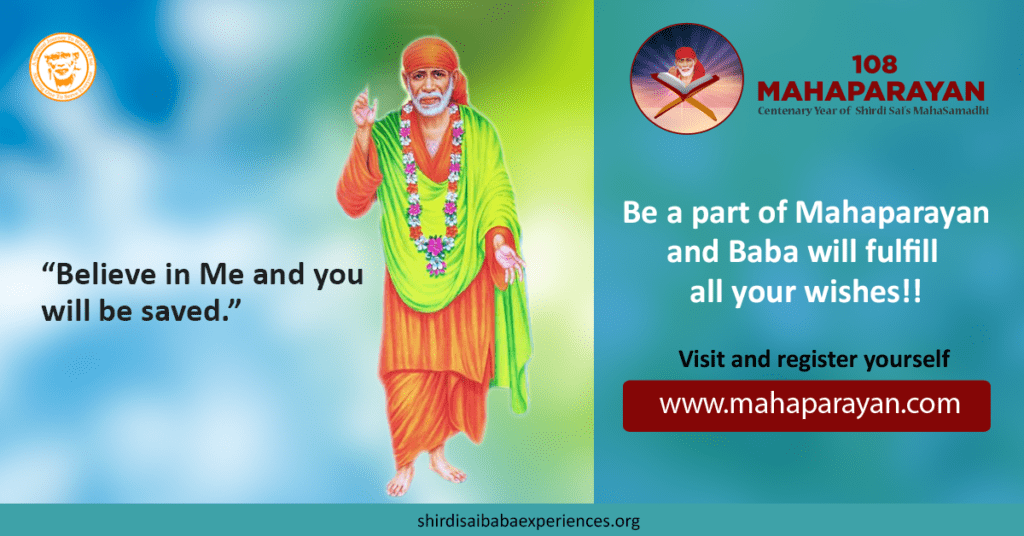 Anonymous Shirdi Sai Devotee from India says: I am a small Sai devotee. I became a Sai devotee soon after completing my college days. I thank Hetal ji and the entire team for maintaining this blog.
My brother's home has an electrical problem and the electricity is not coming easily. Also it was the last day for electricity which needed to be recharged or else they would disconnect. So I prayed to Baba to resolve this issue and come back home. As prayed, they came and put in a permanent power supply. Thank You so much, Baba.

Please bless my mother's longevity and health, my brother's longevity, and good wishes. Also wish my sister's longevity and good wishes, as well as the two little kids' longevity and good health.
Om Sairam Sai Rakshak Sharanam Deva.
Om Sai Rakshak Sharanam namah.
Om Sai Rakshak Sharanam deva.
---
More from SaiYugNetwork.com