Sai Baba Is Sankatmochan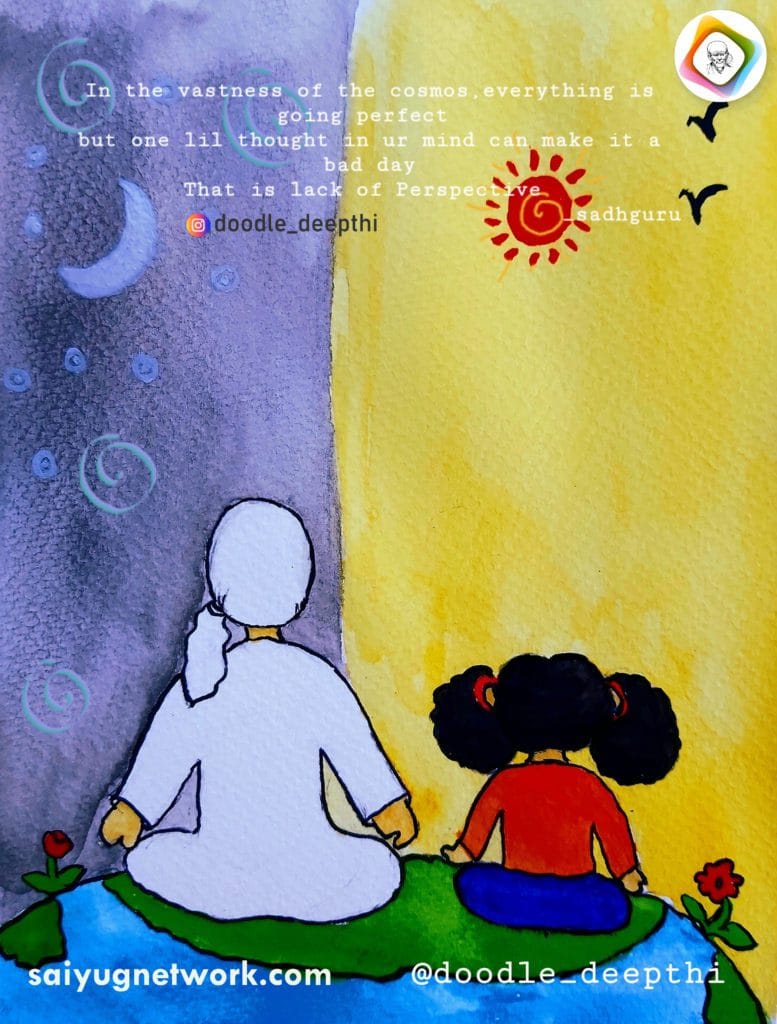 Anonymous Shirdi Sai Devotee from India says: I am a daughter of Sai. Om Sai Sankatmochan! Om Sai Mangal Murti!

Deva, I cannot explain Your love, mercy, support, and guidance in words. Deva thanks for taking care of us in each and every moment of our life. Thanks, Hetalji and the team for providing positivity to all Baba's children through this blog. Deva, help me in recalling and writing Your some blessings out of infinite.

I have two diamond rings and some of the diamonds were missing. So I wanted to replace both the rings with some other jewelry. I requested Deva for His guidance as I always feel helpless in the smallest to the smallest matter of my life without Deva. Deva did His magic and completed the process perfectly and selected very nice earrings.
I had to attend one marriage, about which I was completely confused whether to attend or not. Some of my family members were against it due to the conflicts. I was feeling helpless about what to gift and how to attend without hurting others. I requested Deva for His mercy and guidance. The whole time I was quite stressed but Deva did His magic like always and saved my dignity and position in front of both sides of my family. Baba, tons of thanks for Your mercy. I was fearful of the long car journey but why fear when Deva is with us.
I have had neck and shoulder pain for two weeks but for two days the pain was very acute. I thought to not disturb Deva and to bear the pain of removing my bad karma. But yesterday, it was unbearable and at midnight, I applied Udi and requested Deva to remove the pain by today. My world's best Doctor Sai guided me to go to a physiotherapist and reduced my pain by 80 %. I still have pain but I know my Baba will remove this also, so I am sharing this to thank Deva for His remedy.
I have to attend one party tomorrow and my tailor was bluffing. After complete frustration, Deva guided me to another boutique and maybe I will receive my dress today i.e. within two days.
Love You Deva and thanks for loving me more. Deva, please cure my daughter's urine problem completely. Please always hold our hand and bless us.
Always chant Sai's name in any form.
Om Sai Rakshak Sharnam
Om Sai Bhakt Vatsal
Om Sai Sharnam
Om Sai Bhava Bhaya Harnam
Om Sai Ram
Sai Baba's Help In Right Time
Anonymous Shirdi Sai Devotee from India says: Thank you for the site, Hetalji and team. I am a devotee of Sai Baba. I am thankful to Saipa for everything. I am still learning. I have shared many experiences and few have been published and few have not. I am waiting for the same with Sai Baba's grace.

This happened when I was at my native place. At night I had to add curd to milk to prepare curd for the next day but I forgot to keep the thick curd aside. So instead I had to put in it some buttermilk. I was worried as usually my mother-in-law asks and was praying Baba that I was sorry to forget and left to Him that curd should come well the next day. Thank You, Baba and it came well. This is a small incident but I was actually worried as everyone needs curd and was also scared of my mother-in-law getting upset. Things were fine with Baba's grace.

Also the next day I was supposed to have a test after training and I couldn't prepare well. But it was not there that day due to technical issues. When it was there I tried but it didn't go so well. Baba, please help me to learn that well.

There are many experiences with Sai Baba's blessings. Forgive me my dear Sai Baba for the delayed posting. Please request to post this and others too.

Thank You for everything Baba. Take care of everything Baba.
Please shower Your blessings on everyone and show them the right path. Please take away this pandemic from the world.

Sarve Jana Sukino Bhavantu.

Om Sairam!
Sai Baba Miracles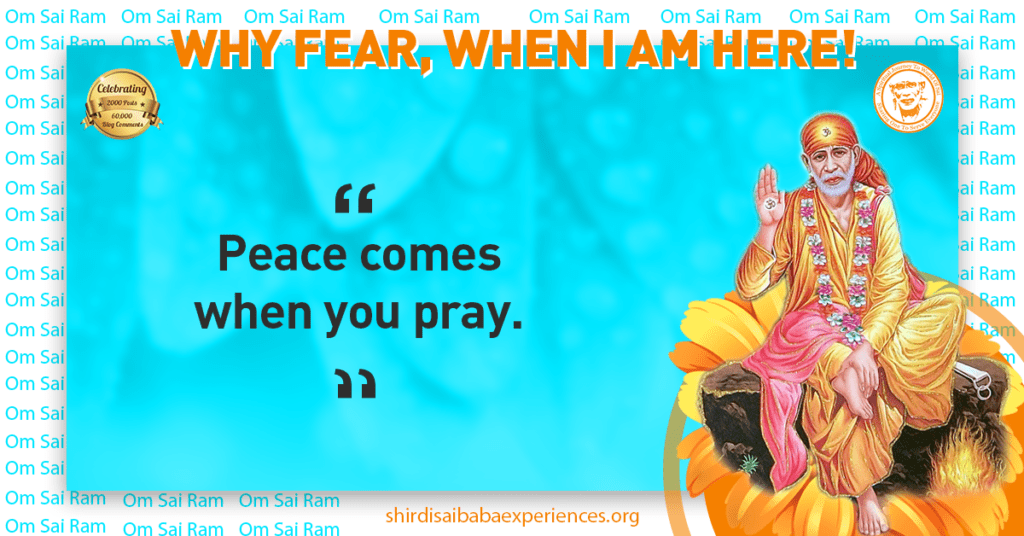 Anonymous Shirdi Sai Devotee from the USA says: Hello to my dear Sai family. I want to be called Sai's daughter. Thanks, Hetalji and the team for providing us with this platform where we Sai devotees can share our Sai experiences with our Sai family.
Today I am here to again thank my Sai for always being there for us and protecting us like a small baby.
1. Sai thank You so much for giving me the strength to take care of this sale also so well. I know very well Sai without You and Your blessings we would not have been able to do this.
2. Thanks for taking care that everything would be sold out and nothing would be wasted. Everyone liked it and we are so glad that they liked everything Sai. We know very well that You only did this miracle.
3. Thanks Sai for helping kids in all their endeavors. My kids are really blessed to be under Your shade at such a small age. Sai, Please be with them always.

Thanks for everything my Deva. My Baba, what could I do without You. I am nothing without You Sai.

Love You, Deva.
Om Sai Ram
Thanks To Sai Baba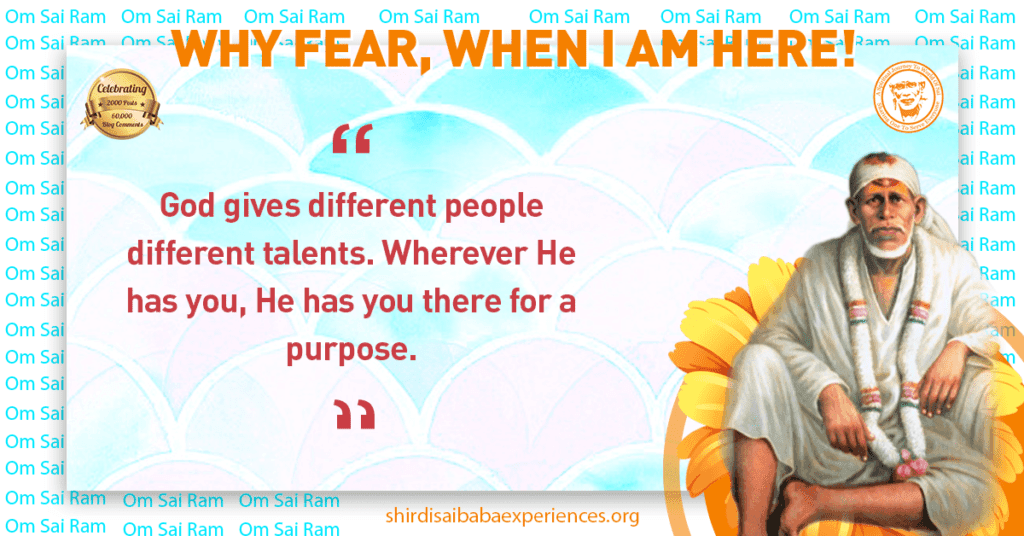 Anonymous Shirdi Sai Devotee from the USA says: I am a humble devotee of Baba. Thank you Hetalji and team for this service.
I missed my periods for a few months. I told Baba that if this became normal then I would post the experience. It started soon after I had prayed. Baba, please make it normal.

Baba, You know how much pain I am suffering. Please make things better like last time. Please, Baba, take care of everyone's health. My mother, husband, sons, all my family, and the rest of the world should stay happy and fit.

Please make the world Corona free and heal the ones who are suffering.

Thank You, Baba.

Om Sai Ram Om Sai Ram Om Sai Ram
Om Sai Ram Om Sai Ram Om Sai Ram
Om Sai Ram Om Sai Ram Om Sai Ram
Sai Baba Saved From Getting Covid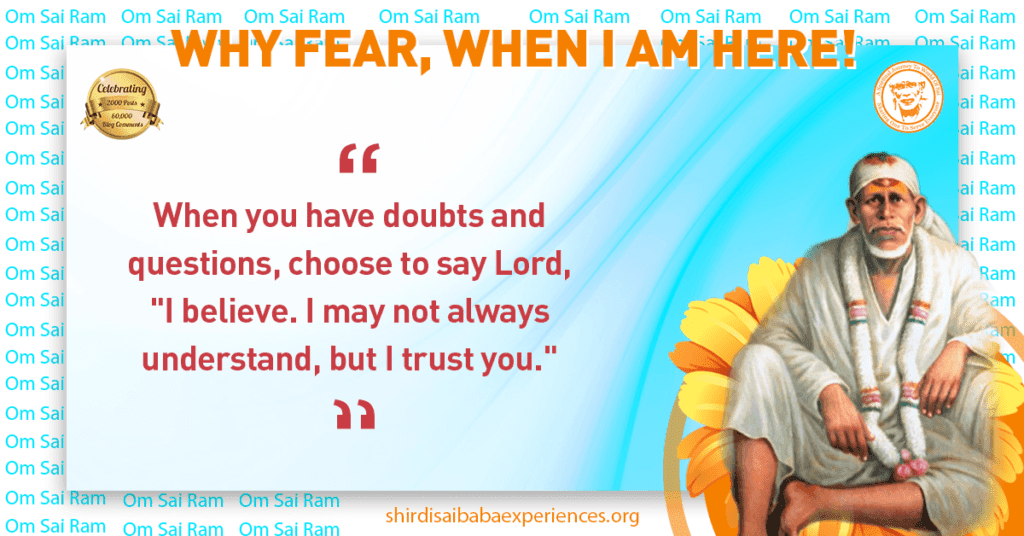 Anonymous Shirdi Sai Devotee from South Africa says: Om Sai Ram. I'm from South Africa. I have been a Sai Baba devotee for many years.
In South Africa, we have the new omicron variant. My father-in-law visited my sister-in-law on Thursday. Then he came and visited my house. I have an eight-year-old son and unfortunately, the vaccine isn't offered to that age group as yet. My sister-in-law tested positive on that Thursday but was showing symptoms from that Tuesday. After my father-in-law left my house my sister-in-law called him to inform him that she had tested positive. I was so worried as I have an elderly father and a son who is young. I prayed to Baba and started doing parayan. It was the 5th day of doing my parayan and my father-in-law's test came back negative. We have been drinking Udi water daily, doing parayan and I was promised to do Sai Divya Pooja. Baba protects us and continues to bless us. Baba, please protect and bless everyone and please let Covid now end. Om Sai Ram. Thank You, Baba.
Gratitude Sai Baba
Anonymous Shirdi Sai Devotee from the USA says: Om Sai Ram to all Sai devotees. Thank You to the team for maintaining this blog.
Om Sai Ram. I want to say a very big thank You to Baba for helping to resolve an issue. It was my mistake and I got greedy and it turned into a very big issue. I prayed to Baba that if the problem gets fixed then I would surely post the experience and give up my favorite food. I cannot believe it but Baba solved it within 10 minutes. It is usually not something that gets ok that soon but my eyes filled up with tears as our Baba helped me. Baba, I am a very undeserving devotee of Yours. I make a lot of mistakes and trouble You so much but thank You for always being there to help me. We are nothing without You, Baba. Thank You so much, Baba.
---
ShirdiChe Sai Baba Book
A book that can be considered next to Sri Sai Satcharitra is available for reading on our blog, kindly do not miss reading it.
More from SaiYugNetwork.com
© Shirdi Sai Baba Devotees.com – Member of SaiYugNetwork.com