Thanks To Sai Baba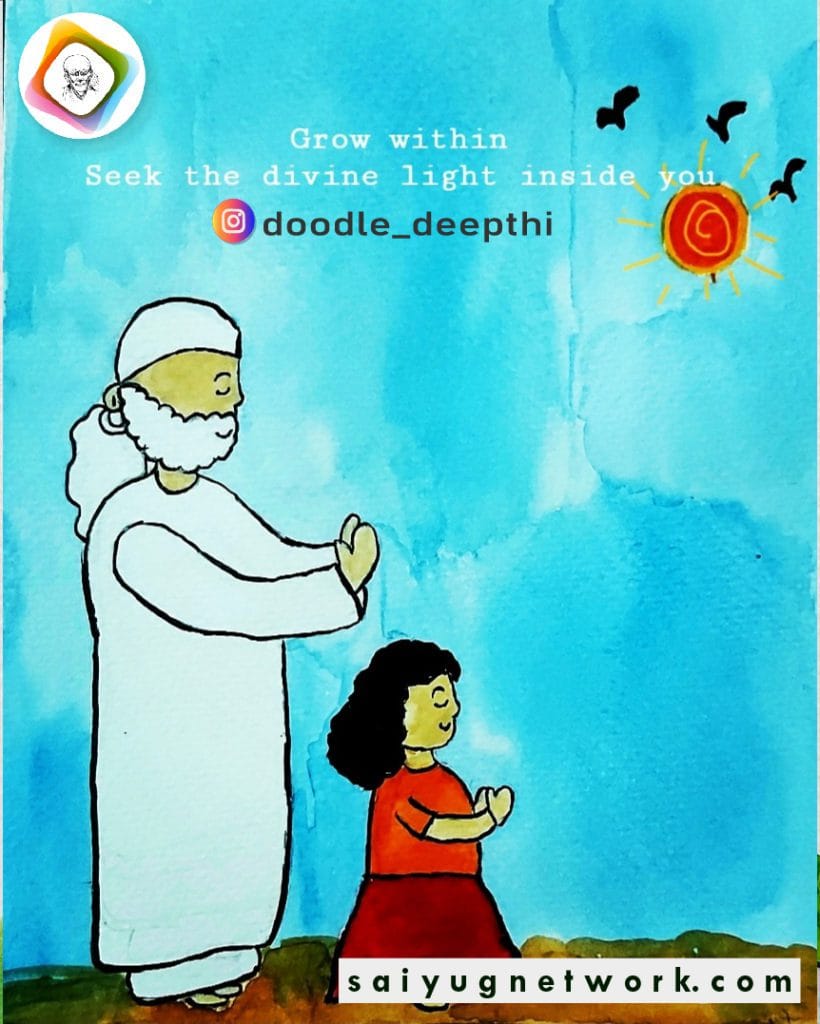 Shirdi Sai Devotee Meghna Sai from India says: Om Sai Ram. I am Meghna Sai from Bangalore. Thanks to the whole team for divine work. 
Baba this is a gratitude letter for You from Your daughter. From the time You came into my life I got more boldness and strength. Thanks for that and sorry for impatience and fickle mind.

I don't know whether I can talk to You like this. You know I am facing so many problems. Please bring me out of it. I know You will do that one day but my immature mind thinks a lot about everything. Sorry for being a bad child. Correct me, Baba.

Gratitude 1: Thanks for helping in office work all the time when I ask for Your help. I am sure You will do it. I know You have a plan for my career. You did a lot for me but being unsuccessful at the age of 28 hurts a lot. It makes me compare with everyone and I feel ashamed.

Gratitude 2: Thanks for helping my son with his rashes. I feel bad to see him like that. You helped me instantly. Thank You so much. He is Your kid. We all are Your children. Keep us under Your shadow.

Gratitude 3: Last week the mirror at our home was broken. Thanks for helping us to remove it safely.

Gratitude 4: Thanks for helping with our house disputes. I am praying that no one should put our family down. That is Your responsibility. I don't want anyone to take advantage of our weaknesses. You know about our surroundings and our relatives. I am living with complete faith in You.

Sorry for sins done knowingly and unknowingly. Guide us, Baba. I am getting older. I can't face myself. I was proud that I was a good learner but look at my condition now. Is there any value for education? I always question myself like this. You are my God Father. Guide me, help us to do our business, make all the stopped projects to start with Your blessings.

I don't know, nowadays I will always feel negative. Bless me to think more about You. Bless our family and everyone. Everyone reading this, please pray for my career. Thanks in advance.

Om Ganeshaya Om Shakthi Kallalammathaye Adhithimappa. Om Sai Ram! MKDG Om Sai Rakshak Sharanam Deva. 
Sai Baba In Dream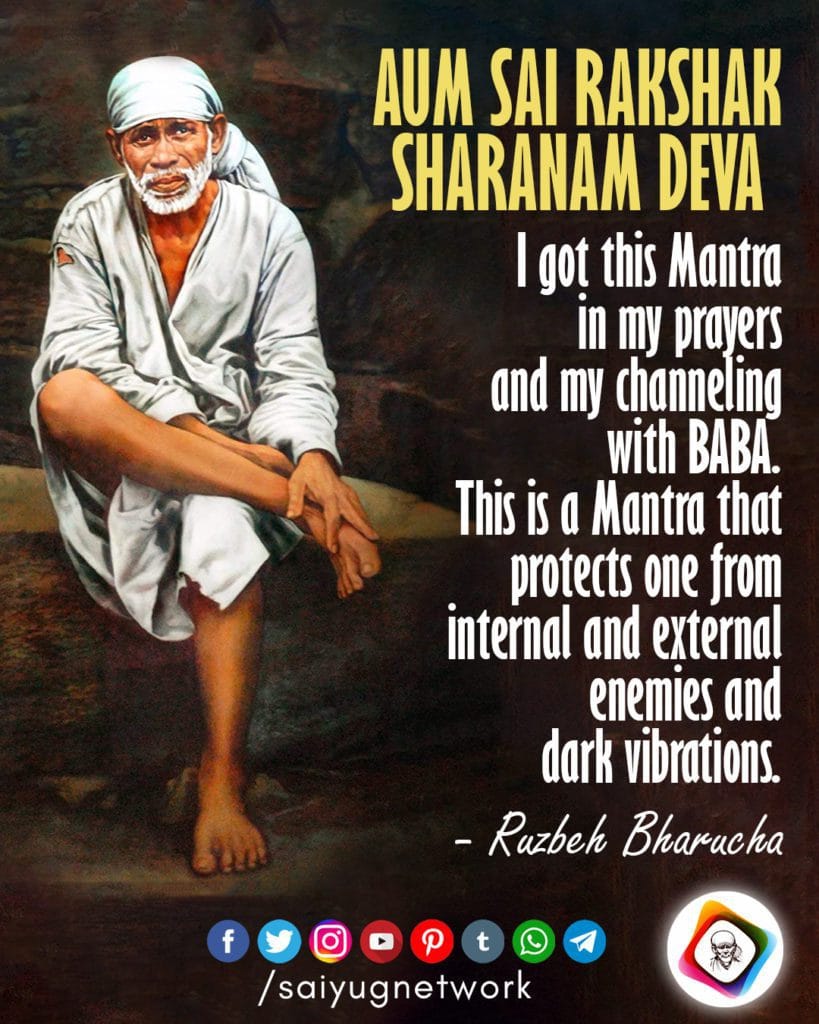 Anonymous Shirdi Sai Devotee from India says: I am from India, kindly keep me anonymous
Thanks to the entire team for maintaining this wonderful platform.
The regulator of LPG gas was not fitting today. I promised Baba that I would post it if I am successful. Then within a fraction of seconds work was done. I have heartfelt gratitude to Baba for helping me. 
Thanks, Baba for keeping us safe with multiple diyas during Diwali.
Baba, kindly send me a good cook to my home, I promise to post my experience as You know how much we are being troubled. 
Baba, I want to share my dreams, the meaning of which I didn't understand, kindly make it clear.
My first dream was that it was a temple with three Goddesses side by side; maybe in different rooms. I can't remember exactly. I was told that the middle one is Tulja Ambabhavani. Baba, It can't be Vaishnodevi as three Goddesses would be together in Vaishnodevi and I didn't visit Tuljapur also. The same day, my second dream was Kukke Subramanya and Vasuki was breathing, so to avoid poisonous breath there was another way it seems from where I went. The third dream on the same day was that I was hugged by an idol that was black in color, but black will be Shanidev and he doesn't allow females. I was wondering then who but I could see Your legs alive not an idol (There is one original photo with Your legs crossed, the same way I saw), if It was You then it should have been a white idol, then why black; didn't understand?
The next day I dreamt that without registering, I and my dad went to Shirdi. My dad was allowed inside in spite of age restrictions. I saw again the feet of Baba at Shirdi but this time white, the one present at Shirdi. My elder brother, Mami, and cousin were there. My brother and father were sitting on chairs inside the temple in a hall. I was sitting just in front of Baba's idol with a few others besides me who were again on chairs. Inside Samadhi mandir there are no chairs, so why did I dream like this? I don't understand, was it some other hall? Why was the original Baba's idol there? Don't know if some Baba-related work was going on with respect to Mahaparayan with papers and pens just in front of Baba's idol. Maybe He wants the Modern Satcharitra of Global Mahaparayan to be published, don't know? 
One more day I dreamt of a saint, the reason I don't know. Kindly clarify my dreams, Baba, as I am in a dilemma, totally confused, give rest to my monkey mind. Om Sairam!
Gratitude To Sai Baba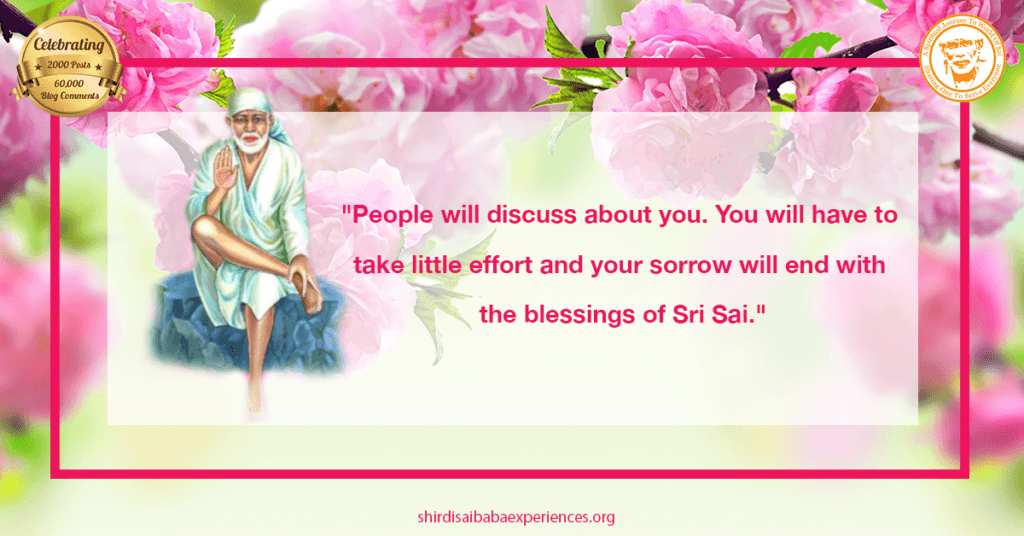 Anonymous Shirdi Sai Devotee from India says: I am a small anonymous devotee of Sai Maa from Bangalore. My pranams to all Sai devotees. Thank you very much Hetalji and team for publishing my previous experiences. Coming to my recent experiences:
1. During this weekend I planned to visit Coorg with my family for two days. I prayed to Sai Maa for a smooth and comfortable trip. We left early in the morning and reached Madikeri by afternoon. Then we visited surrounding tourist spots and the next day planned to visit Talakaveri. When we returned to our hotel, my son became sick. Then I immediately prayed to Sai Maa to help him to become alright by the next morning and promised to post the same on this blog. By Sai Maa's grace he became alright and the next day the program went on smoothly with Baba's blessings. Thank You very much Sai Maa.
2. While returning to Bangalore, at the toll gate my car's fast tag had a problem in spite of having balance. He asked to pay in cash, paid, and continued. Next, another tollgate was there. Sometimes they would put a fine and collect if the fast tag had a problem. Then I sincerely prayed to Sai Maa to make it work and would post the same on this blog. With Baba's grace again, the fast tag worked in the next tollgates without any problem. Again thank You very much Sai Maa.
Sai Maa, please always shower Your blessings on my family and all Sai devotees. Sarve Jana Sukhinobhavantu. Om Sairam. Om Sairam.
Request To Sai Baba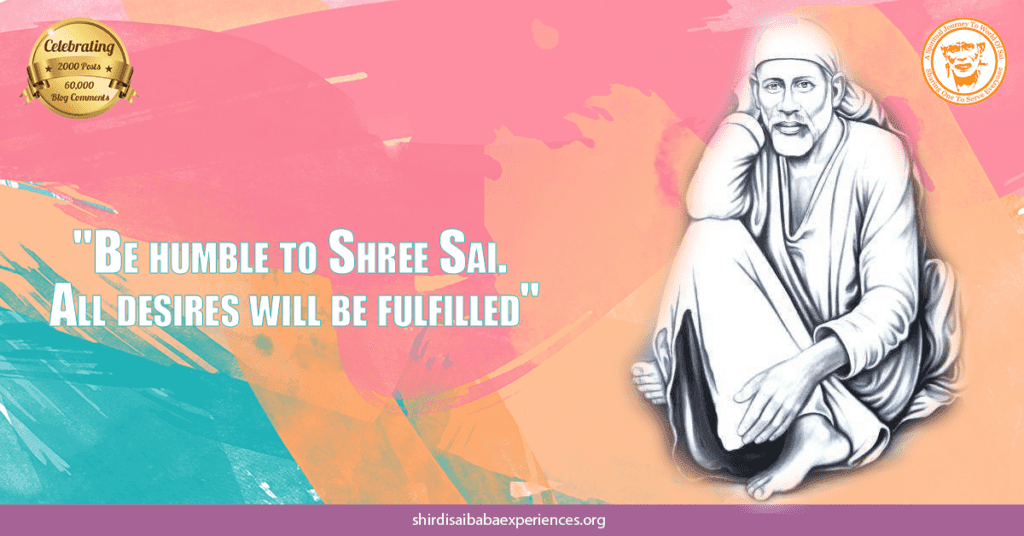 Anonymous Shirdi Sai Devotee from the USA says: I am a very small devotee from the USA. I know I trouble Baba a lot. Baba, please let me do Your bhakti. As I said, I trouble Baba a lot. I know that but what else can I do? I hope Baba will accept my seva but that is in happiness and not in tension all the time. 
Last few days I have been praying to Deva that this Diwali should be very happy, healthy for all of us. My future daughter-in-law was supposed to come for Diwali and I was hoping that I would not be tense in front of her because I was worried about my family in India.
I know from last Monday Baba gave me joy and I was not tense. For the last two days, I did not get any updates about my family in India. Baba, please make everyone happy. I promised Baba that I will share my experience after Diwali, so I am sharing it right now hoping that everything is good. Baba, I hope I will get a happy update very, very soon. My father is happy. Baba, sorry for giving You trouble. Please be with me. 
Sai Baba's Blessings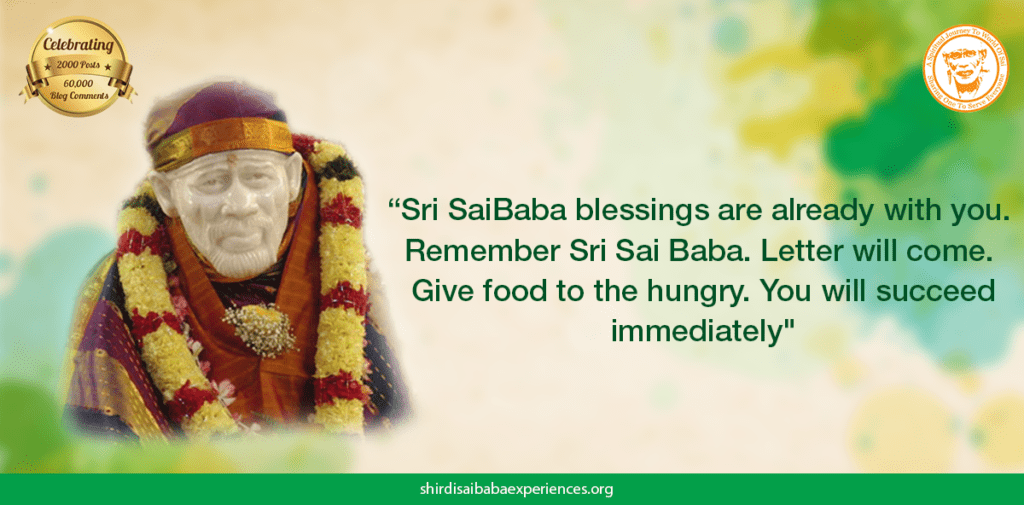 Anonymous Shirdi Sai Devotee from the USA says: Namaste to Sai family and thanks to Hetal mam and team. Please keep my details anonymous. I am invoking Baba's blessings to pen down the experience.
Recently my husband and I did our annual health check-up. By Sai Baba's grace, there is no major issue. It's only a minor problem. Hope by Baba's grace everything will be fine.

I had stomach pain for many days. Every day I used to apply Udi and drink it by Baba's grace. It's completely gone now without any medication. Udi is the best medicine.

Baba, there are still a few things that are bothering me, please help me to overcome them.
By Your blessings, my husband and mother are talking fine. Thanks a lot, Baba. Please bless everyone with good health. Sai Sai Sai
Sai Baba Saved Again And Again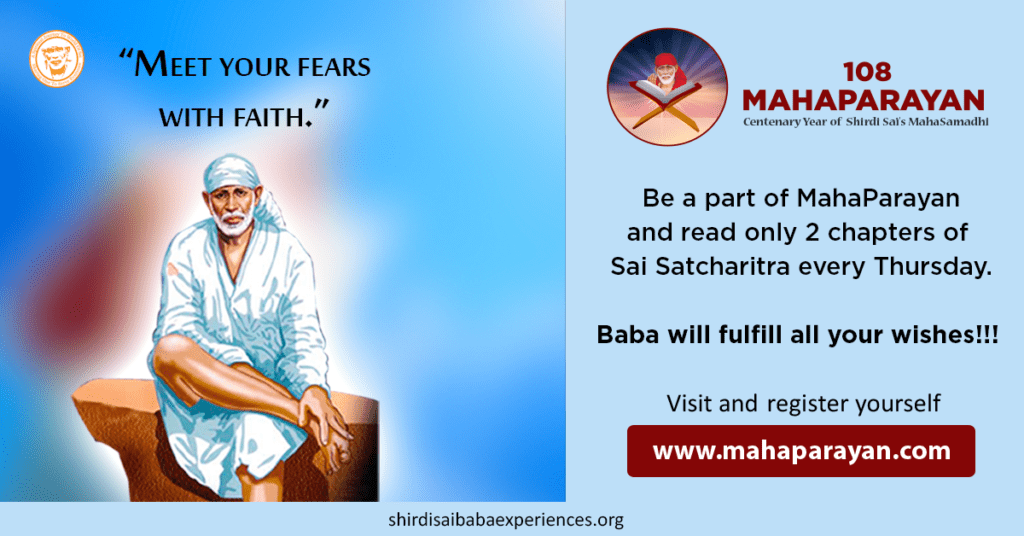 Shirdi Sai Devotee Priti Purohit from India says: Om Sai Ram. I am a Sai Baba devotee from Sambalpur Orissa, India. Because of Baba, my life is smooth.
I am a very stubborn child of Baba. Baba has many times saved me from many health issues which mostly happen because of my negligence. Sorry, Baba for my mistakes. Please forgive me, Father. I have shared many times about my health issues and Baba's timely help and blessings. Thank You Baba for always saving me. My every breath is Your blessings. Thank You Sairaya, Gururaya for stopping my acid reflux and suffocation again. Om Sai Ram.
---
An interesting book "ShirdiChe Sai Baba" is being shared on Shirdi Sai Baba Books.com, in parts. It is a book worth reading by those who are keen in knowing veiled history of Sai Baba during His times. 
More from SaiYugNetwork.com
© Shirdi Sai Baba Devotees.com – Member of SaiYugNetwork.com