Sai Baba Grace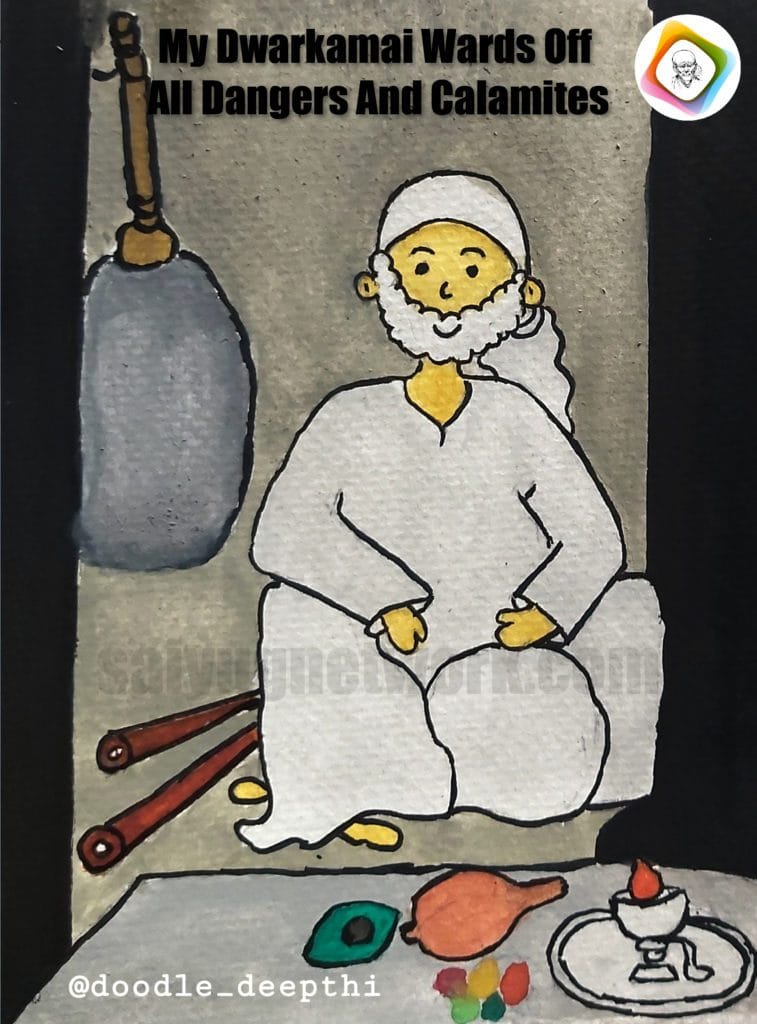 Anonymous Shirdi Sai Devotee from the USA says: I am Kavitha. I am a Sai devotee working in the USA. 
I am grateful to Sri Sai Baba and Hetalji for giving me this opportunity to publish the wonderful leelas of Baba.

Om Sri Sairam!

Three months ago my husband faced a very difficult situation at his office as he was given a poor rating which would be a black mark if he continued working there and this rating was given due to internal politics for promotion. We are living in the US and to get another opportunity would take at least three months. 
My husband gave a couple of interviews a few months ago before he got this rating. He was able to clear one of the interviews but was waiting for the visa transfer to happen during which he got this bad rating. Since my husband had EAD but was waiting for the Green card, the new company was planning to use it and we were okay with it but it complicated the visa issues for my son (who is a minor) as we didn't apply for his Green card. Unaware of this we said ok and by Baba's grace one of my husband's friends called up and started asking about the transfer process and he indicated that my son might have to go back if we use the EAD the current h1 b will become invalid. This created a lot of tension and I immediately prayed to Sri Sai asking for His divine interference as my husband needed to switch jobs, if not then he would lose the opportunity but if he switched then my son would have to leave the country. This created a lot of havoc and I promised Sri Sai that if the situation was resolved without losing the job and without having to send my son back to India, I would publish this miracle. 
My husband and I were under deep stress and my husband took the lawyer's advice the lawyer suggested that we ask the new company to file for h1b and use the receipt as secondary while he joined the new job on EAD. If anything untoward happens during Green card processing and we don't get it then we would still have h1b. With the help of Baba's blessings, my husband joined the new company as the company agreed to file h1b without any delay (There might be a chance the new company could have denied filing H1b as initially, they had other people whom they interviewed had Green card) but by Sai's grace, the company has filed h1band he joined the new job. As I promised Sai, I am publishing this experience and I also did a Sapthaham. Jai Sri Sainathaya Namaha!

Second Miracle: I was in a project where a lot of politics were played against me and I wanted to move out of the project but my Career Counsellor wanted me to check with the current manager if he was willing to give me a promotion. The current project manager denied my promotion and said that it would take another year for my promotion. I thought it was my fate and left it. Both I and my husband due to saade sathi faced similar situations at the same time but with Shani Dev's grace and Sai Baba's blessings, I was able to overcome this hurdle by taking release from the project and I was troubled by my project members to do additional work while I was on the bench. The Project manager thought that I wouldn't get any opportunity and he could give me a bad rating. I prayed to Baba. I also promised to do saptaham and publish this miracle if I got into a project soon. Then within one and half days, I got into another project as a lead. My previous Project Manager after two months pinged me and told me that I would be promoted in the next promotion cycle. This is something that will happen only by my favourite Gods Sri Ganesh's and Baba's grace. With their blessings, I got promoted to Assistant Manager recently and I humbly pray Baba to give me all that is required in me to be a successful manager. It is all His divine blessings.

Third Miracle: I have a house in Hyderabad and I had not been getting tenants for the past 6 months. My neighbours were discouraging all the prospective tenants as they were spreading rumours that the house is vacant due to some bad things happening to the ex-tenant which was not true. I waited for five months and my house keys were with a neighbour and the villa was visited by some prospective tenants who might have made the house dirty by bringing pets and spoiling the paint. I have got a person who helped in repairing the house and he was okay in getting the work done. Thanks to Sri Sai.
I wasn't getting tenants and I was scared that my house wouldn't be rented out due to bad neighbours. I prayed to Baba and promised to finish Saptaham and publish the miracle if I got a good tenant. Within 15 days I got a tenant and I finished my saptham but forgot to publish the miracle. This could be the reason why my tenant had reached back to me stating that my house was then showing seepages on the roof and it could be because of bathroom leaks. This is a three-year-old house and many people faced issues with their villa in the initial one year mine too had an issue for a bathroom initially and it was sorted but again this new issue had cropped up. I humbly pray to Sri Sainath to help me out by getting it fixed at a nominal rate and let my tenants not get disturbed due to the work involved in the repair. Please Baba I can't take this tension of getting labour and getting it fixed. I need Your divine blessings to fix these seepages forever and let my current tenant stay continuously without issues. Please help me, Baba. 
Without Sai Baba, Nothing Can Happen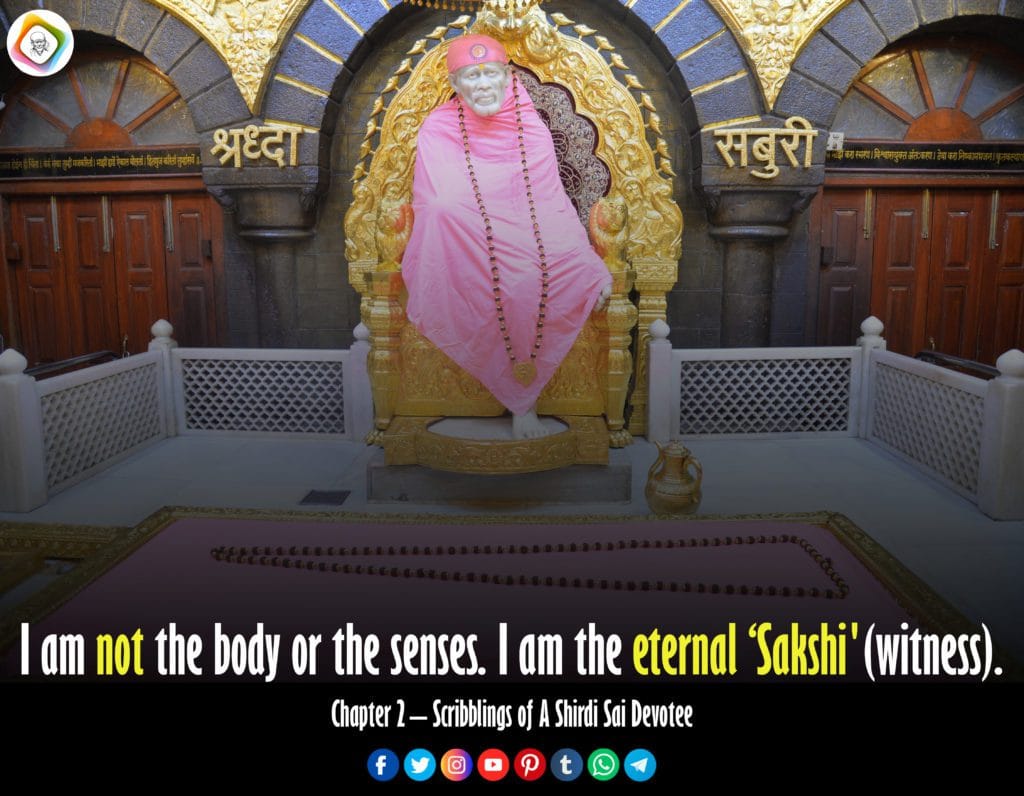 Anonymous Shirdi Sai Devotee from India says: I am a Sai daughter from India. I am a staunch follower of Sai Baba. 
My day begins and ends with the word Sai alone. He is the centre of my universe. Thank you Hetalji and your wonderful team for maintaining such an amazing platform to share our experiences cum miracles. I have posted many experiences on this holy blog and most of them have already been published. We are experiencing miracles on a daily basis but sharing all these on this holy blog is not possible. Today I am posting for those which I had promised Baba to post.

Hubby's Delhi Trip- By Baba's grace, my husband returned safely to Bangalore safely from Delhi. Now again he is in Delhi. I have full faith in Baba that He will help him and his trip will be safe and good. Om Sai Ram!
Kid's Constipation Issue: Baba, please help my kid with his constipation problem. For the last two weeks, he was popping out easily. Now again he hasn't passed stool for the last three days. He is not eating solid food nicely. Please shower Your blessings on him so that he can have solid food properly and poop easily with pain. Please bless him with good health. As You know he is Your small devotee. Most of the time he is singing Om Sai Namoh Namah and last time when he was having constipation he was asking for help praying. "Baba, meri raksha karo mujhe poti nahi aa rahi, mujhe dard ho raha hai (Baba, please protect me, I am unable to pass the stools and it is paining me)." After that, he could poop out easily. Please cure his constipation issue. Om Sai Ram.
Kid Slept Well: The kid was not sleeping well last night. Baba, thank You so much for helping my son to sleep well as he was very restless due to a cold and cough. Please cure his cold and bless him with good health. Om Sai Ram!
Itching Problem: Baba, Thank You is a very small word in front of Your kindness and help. Thank You a ton for curing my itching and burning problem. 
Mom's Health: Thank You for curing my mom's anger due to blood pressure. Those days she was not behaving properly and was always in fight mode. With Your grace now she is fine. Please bless her with good health and good sleep.

Baba, You are my everything. I have left everything at Your holy feet. Now I am looking for a good job. I have full faith and trust in You. You will give me the right job at the right time. I will fulfil my past promises soon. Sorry for the delay and thank You very much for reminding me through questions and answers.

Please root out this corona from the world. Everyone should be happy and healthy under Your wings. Please bless us all.

Om Sai Namo Namah.
Sai Baba Acknowledges Devotee's Thankfulness
Anonymous Shirdi Sai Devotee from US says: I am a devotee from California. Jai Sainath to everyone. It's been a while since I last shared my experience. 
Due to some unfortunate experiences in the past, I developed major anxieties. I was afraid to drive and avoided driving on the freeway. When my new job started, I didn't have a choice. I tried driving and after a few tries and determination, with Sai Baba's blessings, I was able to finally do it. I felt a bit more confident and decided to take a road trip with my son. The road trip required almost 3hrs driving on the freeway as well as on the highway. By Sai Baba's grace, I was successful! Then I decided to take a longer road trip which required almost 7 hours of driving on the freeway and highway. I was excited and felt confident because of Baba's grace. But when I checked the weather, the forecast was for heavy rain and winds. I got very worried and prayed to Baba. I knew that Baba can control the elements. And He did! 
On the two days of driving, there was no rain but there was beautiful sunshine and on the other days of my trip, it rained, but not that much. Baba made sure that it was bright and sunny for me to drive safely and confidently. On the drive back, when I was almost home, I thanked Baba in my heart and said thank You for the sunshine and thank You for giving me the strength to do this and keeping my family and me safe. The second I communicated that to Baba, I smelled "Marigold Flowers." There were no marigold flower fields around but I could smell those strongly. Marigold flowers are Baba's favourite. I believe that Baba accepted my thankfulness and validated that by giving me a sensory experience. 
Baba, please bless us and keep us healthy and happy and full of love. Please forgive us when we have feelings of negativity towards other people. Please bless all the vulnerable children of this world. Om Sai Nathay Namah!
Sadhguru Sai Baba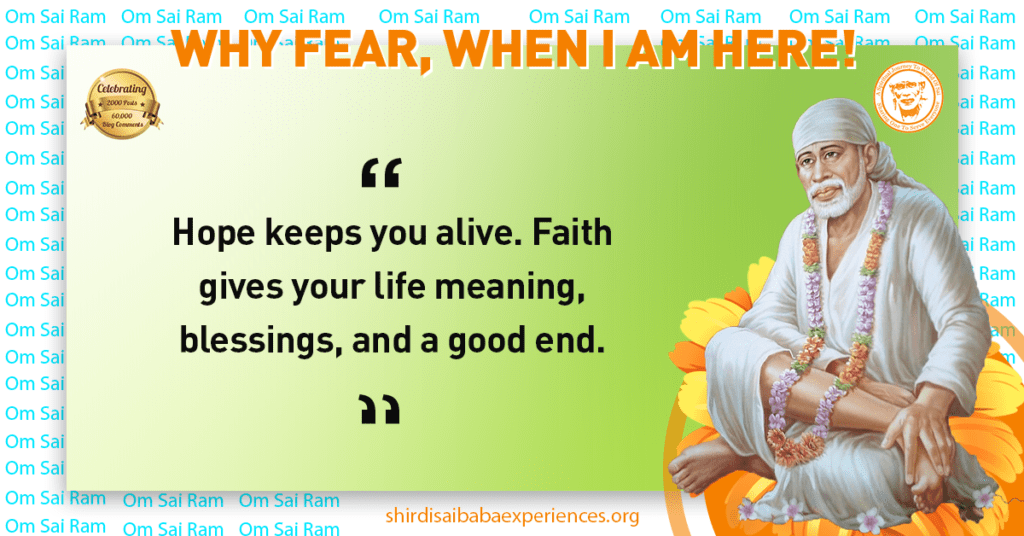 Anonymous Shirdi Sai Devotee from India says: I am from India. Om Sairam! Thank you Hetalji and team for this holy site which gives pleasure and peace by reading Sai leelas every day. This is a modern Satcharitra. I have shared many of our Sai leelas here and there will be no end to our Sai's leelas if we start sharing. Each and every second in our lives is Sai's blessing. Now I will share some of our Sai leelas here. 
Thank You Sainatha for making us move to our own house even though we faced challenges. You took care of every issue to go off smoothly. After moving here, my husband and I were affected by Covid. It's a tough time for us as we have small kids and my mother-in-law came here recently. Baba took care of us these 20 days and we are doing fine.
 In India, my parents also got affected with cold, cough and fever. It was so severe and nobody was there to take care of them. I prayed to Baba to cure them and with His grace, they are doing good now. 
Baba's Udi Sarva Bhaya Haranam. We took Baba's Udi every day which is the primary medicine to heal all diseases. During this tough time, I had to mail my kid's visa extension documents to an attorney which was not possible for us. Baba helped us by sending my colleague to collect the signed documents and mail them to the attorney and delivered also by Baba's grace.
I have been facing many issues at work, if one issue is solved some other issue is coming up. I prayed to our Sai Nana to help me to come out of this situation and I was fully stressed because of work. With the grace of our Baba, some of the issues are solved and I hope all the issues will be solved. Sairam without Your grace we cannot live even a single second. Please show Your blessings always on us Baba. Sri Satchidananda Sadguru Sainath Maharaj Ki Jai. 
Sai Answered Both The Prayers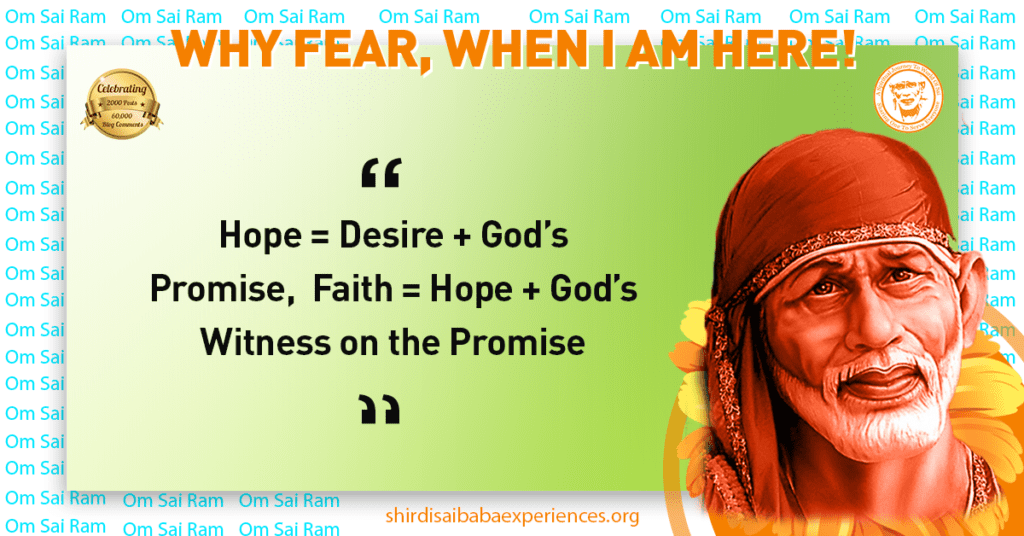 Shirdi Sai Devotee Jyoti from India says: Sai Ram. My name is Jyoti. Hello Hetal, I want to thank you for such a nice blog. May the blessings of Sai Baba be with you always. By the grace of Sai Baba, the son got a good job. I am from the Global Mahaparayan group MP-5197N1.
I want to share my two experiences. The first experience is when I was praying to Baba for my son to pass the engineering examination with good marks. Baba listened to my prayer. My son passed his exams with good marks.
Another experience is when I was praying for my son's job. Baba got my son a job in a good company. My son's first day was also a Thursday. That's why I am very thankful to Baba. Baba, shower Your blessings on everyone. I am also a devotee of Ganeshji. I would also like to thank Ganeshji.
Sai Baba's Leela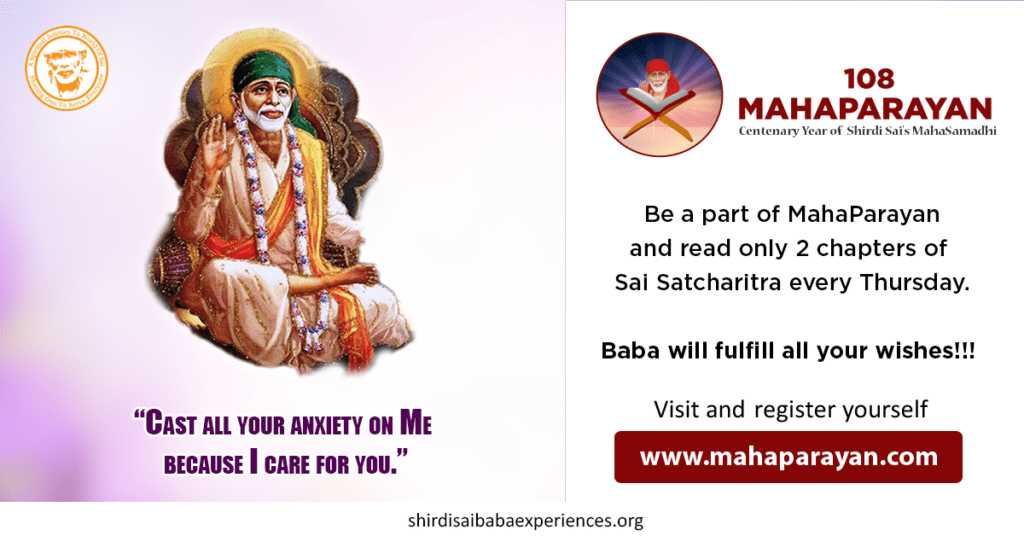 Anonymous Shirdi Sai Devotee from India says: Om Sairam. Thank you Hetalji and team for relentlessly maintaining this blog for such a long time.
I was planning a trip to Rajasthan with my friends to different cities. As part of the trip, we were visiting various places by cabs, buses, flights and autos. Due to the Omicron virus, I was afraid that either we may not be able to travel, or any of us may catch the virus since some of the members were not following safety protocols. However, Baba helped us to complete the trip successfully without any issues. 
Once I had left the phone in charging mode for a very long time. I was afraid that something may happen to the phone and was praying continuously. With Baba's grace, nothing happened. Baba, please take care of everyone's health in the current situation. Om Shri Sai Nathaya Namaha. 
---
More from SaiYugNetwork.com
© Shirdi Sai Baba Devotees.com – Member of SaiYugNetwork.com